Sports branding is everywhere. Some good, some bad, but there is no one formula in creating a sports brand.
It all depends on the situation and what you are wanting to achieve with your brand.
Are you a new sports team, looking to create a global brand?
Or an established sporting body that needs to update your brand to move with technology and culture?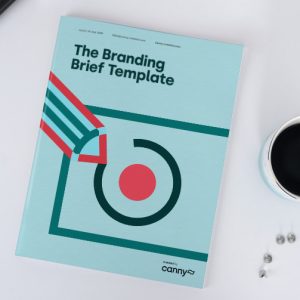 The Branding Brief Template
The Branding Brief Template is a free template that will help you get the brief for your branding project right. W...
All these different situations can determine the route you take when it comes to branding or rebranding.
Below we have picked out a few sports branding projects that we think are successful, along with trying to bring up some important aspects that need to be considered.

Credit to Matthew Wolff Design
Manchester City & New York City
In the past, sports teams were always separate entities.
But times have changed, and in some sports (e.g football) money has been poured into the industry. Team owners have began to invest in multiple teams.
Now this isn't a totally new idea, to some extent the American main sports have been doing it for a while, the basketball and ice hockey have development leagues where most major league teams have a minor league team with similar branding.
With Manchester City getting a rebrand a few years ago, we also seen a very similar logo design pop up for New York City Football Club. New York City is renowned worldwide as a city, but not so much as a footballing city. This partnership with Manchester City hopes to crack the US market and make New York City FC into a nationwide known club.
This sort of branding strategy works both ways.
The Manchester club builds their brand globally, including in the USA, by appealing to a closer to home subject. And New York FC get the backing and boost of a well established name in the sport.
In an ever growing need for all sports brands to become a globally recognised brand, this tactic seems to work, and has seen NYCFC fly high right out of the gate.

Credit to RB Leipzig
Red Bull Teams
Similar to the Manchester City and New York City FC situation, we have seen a massive increase in sports teams being sponsored, and then named after already established brands that are not in the sports sector.
Red Bull have been one of these brands. This is not only a good branding strategy, because it gets your fingers in plenty of pies, but I think the football teams branding look great.
The website, marketing, and other brand elements are all consistent and exciting, following the Red Bull way, utilising the brand colour palette and the now iconic two bulls logo design.
The football teams are not the only sports that Red Bull have gotten themselves into. They have practically spread into every extreme sport thinkable and many other sports.
They are a true example of global branding in the sport industry and beyond. Imagine the pile of brand briefs the Red Bull marketing team have to put out daily!

Credit to WWE
WWE
The WWE (formerly WWF) had an interesting conundrum when it came to their branding way back at the turn of the century.
There's a long and storied legal battle between the WWF (the wrestling) and WWF (the wildlife people) around usage rights of the name and abbreviation.
In 2002, WWF (the wrestling) agreed to stop using the abbreviation, and launched a campaign called "Get The F Out", officially declaring themselves as WWE (World Wrestling Entertainment.)
The interesting thing about the whole rebrand, was what it allowed the company to do.
During the late 90s, the wrestling's "Attitude Era" was in full swing. You had characters like Stone Cold Steve Austin drinking beer, half naked women wrestling, and violence and swearing through the roof. Wrestling was a product for teenagers and above.
The transition to WWE allowed them to drop this "dirty" stereotype and re-open the floodgates to a mass family market. Something they'd been missing since the mid 90s.
The scratchy old WWF logo was updated, and the F was indeed dropped, leaving them with a new logo that carried the brand through to 2014.
In 2014, with the huge influx in HDTV, they modernised again and were left with the slick logo mark we now see across all WWE related productions.

Credit to Rare Design
Rare Design NBA Teams Branding
Rare Design seem to have a monopoly on rebranding NBA teams.
I love the basketball and with so many teams getting a rebrand recently I decided to find out who did what…
Then realised they were all by the same agency. From the Kings, to Charlotte Hornets, the Timberwolves to Atlanta, they have done them all.
Trying not to sound like an advert for another agency, but I like all of their rebrands. They have all connected the branding back to their respective cities, whether that be connecting it to a piece of history from the area, or reconnecting a brand to a much evolved city.
I think sports branding is very culturally influencing and influenced, meaning that it could be constantly changing, but all these brands have brought through the story of an area, its people and its progression as a city.
Finding this story in your sports team branding can really cement the brand with the people who really matter in all of this, the fans.

Credit to Nike Graphic Identity Group
American College Sports
American college sports are becoming more and more popular and the money involved in these sports will only increase with that.
Some say this is a bad thing, some say it isn't, but one thing that can be accepted is that branding these college teams is getting more and more important.
Every season, more and more American college teams, whether that be in basketball or football, or just a whole college sports program are looking to rebrand and bring a fresh new look to their side.
This doesn't necessarily mean a new logo. When you are trying to recruit the next best prospect, having a strong relatable message could be a deciding factor that brings a recruit to the college.
So with college teams, your brand messaging really comes into play.
It is important to have a strong brand message that will relate to your target audience, this is a pretty specific audience of possible recruits.
Whereas with a professional sports team, fans tend to make up the target audience.

Credit to Hulse & Durrell
Team Canada Olympic Branding
Team Canada's rebrand is something I will always go back to when it comes to sports branding. The project is complex with many assets, creating a brand identity that consistently spreads through every branded material from shades, to business cards, and team kits.
The mixture of the bright red and the multiple colours and shapes that represent the Olympic colours, work hand in hand to create a strong and hard hitting brand identity.
Logos and brand marks like this need to be flexible. Sports branding systems will be used in many different situations and the Team Canada identity does just that.
From school programs to foundations, the logo mark has a system allowing it to be used to its full extent.
When creating sports brands, and any other brand for that matter, the logo mark will be used in many different places and ways, so keep that in the back of your mind.

Credit to Sport England
Sport England – This Girl Can
Sport England created a campaign to get more women exercising and feeling great doing it. Their seems to be a little bit of a stigma for everyday women exercising and feeling comfortable doing it.
The 'This Girl Can' campaign portrayed everyday women, not athletes, not only enjoying, but really succeeding with their individual goals, expelling the stigma.
The campaign is based very much around strong imagery with a considered and simple brand coupled with it.
Strong imagery is an important part of sport. Through an inspirational video or an emotional image, it attacks the senses and the passion of the consumer.
The imagery in the 'This Girl Can' branding and marketing campaign relates perfectly to the target audience.

Credit to Design Studio
Premier League
The top tier of English football no has a visual identity that reflects its top tier status.
The Premier League underwent a significant rebranding for the 2016-17 season, which was designed by DesignStudio in collaboration with Robin Brand Consultants. The new identity features a redrawn lion, a rounded sans-serif typeface, and a bright and vibrant colour palette that will be updated every three years.
Contrary to rumors that the Premier League lion would be removed, it now has a completely different look and feel, but remains as prominent as ever. The CEO and Co-Founder of DesignStudio, Paul Stafford, stated that the lion represented the Premier League to people around the world, so the rebrand was about building on that equity and heritage rather than destroying everything that was there.
The new look is a complete shift from the previous serif typeface, with a friendlier typeface in an effort to make the game feel more inclusive.
The Premier League's rebranding was a much-needed update for an outdated brand that plays a massive cultural role in people's daily lives. Despite critics of the rebranding effort, the new identity brings fresh, exciting colours and big bold text, reflecting the league's status as the most watched in the world.
The stripped-back logo sheds unnecessary bulk, allowing it to be used more effectively throughout all the different brand touchpoints. Undertaking such a project could be daunting, given its many facets, but the Premier League and its design partners, DesignStudio and Robin Brand Consultants, delivered a successful outcome.
The new Premier League branding has been likened to the much-talked-about MLS rebrand, and both have been well received.
The Premier League's updated image reflects its top-tier status in English football and its impact on people's lives. Overall, the rebranding effort was a bold move that brought the Premier League into a new era while retaining its heritage and equity.
Oh, and the website is beautiful, too.

Credit to Slam Magazine
Toronto Raptors 1993 Branding
Being a massive basketball fan, 90's jerseys and branding scream out as some of the best and most creative jerseys of all time. They seem to utilise printing and creative flair to their fullest.
Basketball is full of interesting rebranding projects.
The Toronto Raptors branding in 1993 was no exception.
Toronto had recently been given a franchise and the task was now to brand it up. The story of how the brand was created makes for a fascinating read.
An owner desperate to stand out in both basketball circles but in a very ice hockey led culture. The last thing he wanted was a Maple Leaf logo, which would be a pretty normal step if you were trying to connect with a Canadian city.
But the owner wanted to be different, and wanted something that would stand the test of time and relate to the new generation. So examples like Disney and McDonalds happy meals were used as inspiration, and with the major success of Jurassic Park the 'raptor' idea was born.
This branding shows how you can really push the boundaries and strive for something totally different than normal.
I mean when have you ever seen a raptor in Toronto? Well until this branding came around that is.
A nice lesson that being different can make the right kind of splash, but it has to be executed properly.

Credit to Inter Miami Club Football
Miami Football Team
Their has been plenty of controversial football club rebrands and branding recently, but I think the potential new logo for David Beckham's rumoured new Miami Club is a winner.
The proposed Miami branding uses an uncommon pink and black colour palette that reminds me of the Italian team, Palermo.
Pink has always been a colour used in anything to do with Miami, the new Miami Vice jerseys for the Miami Heat utilise this colour and do it very well.
And when you read into why the colour was an obvious choice for the logo it all starts to make sense, from the pink sunrises to bold vibrancy of Miami.
The potential logo has some really nice subtle touches, the Heron's have interlocking legs which create a M and represents unity in the city and football itself.
These subtle touches can really add depth and story to a sports brand, this one especially links beautifully to the city and it's values.

Credit to Chermayeff & Geismar & Haviv
US Open Rebrand
Reading about the US Open rebrand is really interesting.
The problems and roadblocks the brand was having, was that it was a complicated brand and had difficulty with recognition and digital application.
Digital application for brands is now bigger than even and you will read about that later in this post with the FC Barcelona Crest redesign. But the new US Open logo has been simplified, and with it's bright blues and yellows will really stand out online.
Recognition seemed to be another problem for the old brand.
We read that their were many variations of the logo and branding, so with this slightly disjointed approach the brand didn't have a recognisable element that they could hook into to grow the brand further.
This is a good lesson to learn:
Setting up a brand structure and how the brand is used in different situations is great but be sure not to go too far! If you do, you run the risk of diluting the overall goal of becoming a recognised brand.
With the US Open's new brand identity, it is instantly recognisable and consistent throughout its materials, making it an ace in my book.

Credit to Mr B & Friends
GB Basketball
GB Basketball has recently had a rebrand, and it is all about making your mark, literally!
Using a painted basketball and what I imagine some DIY clothes, an identity was created.
As a standalone logo mark, I have to say I am not entirely sold on it. But as you know, that's not the be all and end all of brand identity. At Canny, we're big believers that your brand logo is rarely used just by itself.
And the application of the brand throughout the GB Basketball materials I really enjoy. From posters, to merchandise, this hand made feel, this 'making your own mark' approach sits beautifully with being all inclusive through sport.
Couple this with big bold brand messaging, and the brand breaths a fresh life into a ever-growing sport in the UK.

Credit to Summa
Barcelona Crest Simplification
In the world where digital media is king, brands are reviewing the application of their identity online. A great example of this is the new Barcelona simplified crest.
Fast scrolling thumbs on social media sites have an endless stream of information being thrown at them, so the ability to stand out and make these thumbs lift from the screen for a couple of second is vital.
A complicated football crest can get lost in the masses.
So Barcelona have simplified the crest, keeping key elements but ditching black lines and the 'FCB'.
The hope is that this updated brand can be easily reproduced with any change across all types of social media and other media, keeping a consistent visual style throughout its applications.

Credit to Wieden + Kennedy
Formula 1 Rebrand
After the Formula 1 rebrand, existing fans quickly slated the move, feeling it was too simple and rushed. The 'if its not broke, don't fix it' mentality took hold.
The new F1 logo is trying to connect with a new audience. With an almost "gaming" feel I think does this very well but it is important when rebranding, especially in sports, that you don't leave behind the loyal existing fans.
Because without the fans, sport would be a pretty boring prospect. A lot of existing fans felt a little betrayed by the lack of reflection.
The old logo was in place for almost 25 years and has build up a considerable amount of brand equity.
It is important that if you are thinking about rebranding that you don't throw away an already established brand without careful consideration.
Sometimes it is necessary, or something that is wanted, but it's not a step to be taken lightly.

Credit to Pentagram
Credit to DixonBaxi
Eurosport Rebranding
Eurosport was, in our opinion, in major need of a refresh. The logo had began to look old and weathered, and the refreshed logo simplifies everything with a brand new, modern typeface, and the single star representing the European aspect.
The brand has a more flexible logo (which must've been a clever addition to the design brief) with the ability for application online and in digital and social channels using the monogram.
The new brand messaging is focused on passion, the key moments in sport that thrill and change history.
World Taekwondo Federation
The rebrand of the World Taekwondo Federation is a perfect example of a rebrand that was forced by culture to change.
With technology moving faster than ever, and with that, our speech and communication style is changing. Phrases become abbreviations like LOL and LMAO, and more importantly for the World Taekwondo Federation, WTF.
Now all the younger, tech savvy generation will only see this as, well… you know what it means.
This became a massive problem for the World Taekwondo Federation. Their logo was made up of the abbreviation WTF, so a change was desperately needed to avoid negative connotations from the younger generation.
This also gave them an opportunity to update the imagery, they have updated but kept the kicking athlete, that was the T in WTF.
Coupling that with just the typography "World Taewkondo" and dropping federation takes away all links to WTF. The logo has many different lock ups, making it versatile and flexible. Exactly what an effective logo design needs to be.
With technology showing no signs of slowing down, the influence on culture can only increase, so it is important that your brand isn't getting caught out or becoming connected with something you don't want it to.
Trying to connect with a new and younger audience will always help with this.

Credit to Rugby World Cup
Rugby World Cup 2019
The Rugby World Cup is being held in Japan later this year, the tournament is the first to use the new branding of the board since their high profile rebrand.
It features two of the most iconic Japanese symbols, the rising sun and Mount Fuji.
This is the first time the Rugby World Cup has been held in Asia, so getting the branding right was important. But unlike, say the Tokyo Olympics, which has a fair amount of creative leash to run with, the Rugby World Cup has a particular style and when it comes to the logo a particular shape and system to keep to.
Keeping within a branding system can sometimes be tricky but is definitely a challenge worth taking for a creative.
The brand has to push the heritage and culture of the tournament host but stay the course within the brand system of the Rugby World Cup.
17 Winning Examples of Sports Branding
Sports branding can be tricky to get right. Especially if you have legions of loyal fans to try and appease. Even more so if you run a sportswear or fitness brand.
Hopefully in this post, we've given you some tips and inspiration of how you can execute a sports branding project effectively.
When it comes to sports branding, there are plenty of things to be considered, and most importantly you must assess and identify your situation and what you want out of your sports branding or rebranding project.
Are there any sports branding projects you think we've missed? Let us know in the comment below.