Looking at office branding has become a part of my regular routine at Canny.
With Canny moving from office to office, and recently moving into our newest space, and clients requiring help with their office branding and signage, I'm becoming a bit of an office branding, and signage planning expert.
I used to work as a signmaker too – so it's no surprise that I find myself gravitating towards shop fit outs, signage, and office branding projects.
But getting your office branding right can be a tricky task.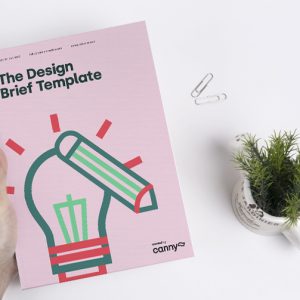 The Design Brief Template
The Design Brief Template is a free template that will help you get the foundation for your design project right. Whet...
It sounds easy doesn't it?
"We need to get our logo put up all over the place."
First of all, that's the wrong mindset. Second of all, even if that is what you wanted to do, there's a right and wrong way to do it.
At Canny, we've been involved in several big office branding projects. In my lifetime, I've been involved in hundreds.
Here's what I've learned along the way:
Think Outside of Your Logo
Everybody defaults to using their logo for absolutely everything.
It's the default position when thinking about your office branding and signage requirements.
However;
Overusing your logo becomes boring, fast
Too many logos around the office can overload your eyes
And frankly, there are more interesting ways to handle things than slapping your logo everywhere
Remember, there's more to your brand than your logo alone.
By the time you come to your office branding, the chances are your company branding has been through the wringer.
You should have;
A full range of branded elements
A flexible colour palette
And possibly a range of icons
Even if you only have minimal brand assets, you should have more than your logo mark to work with.
That gives you a full range of visuals to work with that go beyond your logo design.
This isn't to say your logo shouldn't feature in your office branding at all. Quite the opposite in fact. Your logo should be prominently displayed. But at the right time, in the right place.
Think about the practicalities of people visiting your office space.
Maybe a large logo greeting them on the way in (perhaps in the reception area), or, on one of the main walls that are visible to visitors.
Display it prominently, just don't overuse it.
For example, using your logo on every wall and every glass facade would be overkill.
As an alternative to using your logo, can you use parts of your logo design or logo mark to create an abstract pattern?
Or, can you ditch the text from your logo and only use the shape?
If you can build up a range of patterns and textures, it gives you a much bigger scope to improve your office branding, while remaining true to your company's brand guidelines.
Built Up Nearly Always Looks Better Than Lay Flat
When looking at your signage options, try to use built up signage as often as possible.
Why?
Because it nearly always looks better than flat signage.
Not to chirp on about logos in a blog about office branding, but think about your company logo for just a minute.
Or, think about Canny's logo design.
If we were to print out our Canny text and the partner link icon onto a flat sign, then fit it to the office wall, it would look ok, but not brilliant.
However, if we invested into cutting out the lettering and partner link icon out of a thick foamex (think PVC type plastic), wood, or steel, and arranging it onto the wall, it would look a million times better.
How?
Well for one, it adds a more high end and interesting feel.
When lit properly (either from above, below, or behind) it's easy to make built up lettering look fantastic.
Check out this example below:
Don't you agree that this just looks a cut above standard signage?
And the same goes for vinyl lettering too. If you cut your logo out of vinyl plastic and stick it to the wall, it looks just ok.
Flat vinyl has a shiny feel, and when the sun catches it, it looks cheap and like it's going to peel off.
Whereas built up lettering often has a more matte like finish, and the sun does far less damage to it.
Flat vinyl or wallpaper is often super easy to miss, whereas more often than not, people will take notice of a built up sign.
And it's not just your logo you can do this with either.
Think about:
Displaying your brand values
Building up your directional signage
Using it for an inspirational quote or other brand messaging
One word of caution though, is that built up lettering often comes at a much higher cost than flat signage.
But if you want to improve your office branding, then this is a sure fire way to do it.
Squares and Straight Edges Suck!
Picture the scene:
You've just invested in a rebranding project. Your brand is on point, and you're about to go in for the kill with your office branding idea.
The inside has been decorated, the outside has been painted in your beautiful new brand colour.
And then, you pay a signmaker to create a square sign on 5mm foamex and attach it to the outside of your new building.
Imagine having that big blank wall, all of that space to get creative, and just slapping on a square or rectangular sign.
It looks cheap and uninteresting.
It's over before your office branding has even had a chance to get started.
Try and avoid straight edged signage.
Ask yourself the following 2 questions:
Can you paint directly onto the wall rather than screwing in a sign?
Can you achieve something similar with a freestanding sign or something different?
Just like with design in general, you normally try to avoid mounting or framing your design inside of a shape. It can look forced, and sometimes, just kind of odd.
Sometimes, square signage is a necessary evil, but more often than not, there are better options available to you.
However, if you're going to do it, consider it properly;
Can you use different materials? Perhaps wood or metal would be better than plastic.
Is there a way to make the signage more interesting?
What have others done to make their office branding stand out?
Typically, these square, straight onto the wall, type signs are used for more practical things like;
Car parking signage
Delivery signs
Directional signs
But there are a million different ways you could handle each of them.
For designated car parking spots you could invest in freestanding signs that are concreted into a planter at the end of each space. Or, paint directly onto the car park floor.
Both options look better than screwing a square sign saying "CEO Car Parking" onto the wall in front of the space itself.
For delivery signs, how about painting the word "deliveries" in your brand typography straight onto the wall. Or perhaps an icon of a truck.
There are a boat load of options available to you, you just have to get a little creative if you want to really improve your office branding.
Form Over Function (Yes, You Heard That Right!)
With design, 99.9% of the time, you're designing for function over form.
It has to be functional, before it's beautiful.
One of my favourite design quotes is actually;
"Good design is actually a lot harder to notice than poor design, in part because good designs fit our needs so well that the design is invisible,"

― Donald A. Norman, The Design of Everyday Things
Good design just fits in perfectly.
However, with your office branding, you can get a little bit funky!
Imagine the following scenario.
Your company owns a 3 storey office building and around a 200 person staff team. The same staff team uses it day in and day out.
In that scenario, do your toilets really need a boring directional sign? Does your lift have to say the word lift, or can you do something more creative?
And you might argue "what about our guests?"
But to that I'd ask, "how often are your guests roaming their way through your office building unaccompanied?"
Next to never. There'll nearly always be someone there to meet them.
So yes, you can get fun, get creative, and show your imaginative side!
Take your branding agency for a site tour to plan out your office branding with them. And then use their creativity and imagination and let things go wild.
Sure, you might stay a little more pedestrian in the most commonly accessed areas.
But what about your staff kitchen, staff room, and break rooms? There's a whole load of opportunities to get fun and creative there.
For example;
If you're one of those businesses with a ping pong or pool table, how about making that area of the office sports themed? Chalkboards or whiteboards for scores, crowds printed on the wall, astro turf etc!
Remember though, when getting creative, there are legal requirements for certain things;
Fire escapes
Fire extinguishers
Fire doors
First aid kits
No smoking signage
You shouldn't mess with these!
There are plenty of ways to improve your office branding, without touching the health and safety signs. So leave them alone!
The Materials You Choose Matter
One of the easiest ways to improve your office branding is to choose the right materials.
The materials you choose matter.
Think about 2 different types of businesses;
A high end law firm based in the city
A surf shack bar and cafe based at the coast
Sure, the surf shack doesn't require an office. But, it helps to illustrate the point.
The materials that each of these businesses chooses will make a huge difference to how they're perceived.
If a high end law firm used cheap foamex signs, and bright neons, they would definitely stand out, but for all of the wrong reasons.
Unless their brand positioning called for neon signage, then it's probably the wrong choice entirely!
They'd be better with a higher end material. Perhaps backlit black metal lettering, or a custom cut and built logo mark.
Meanwhile, a surf shack would be much better using wood, found materials, and hand painted custom designs to stay on brand.
The materials you choose:
Help to position your company properly
Should reflect the type of company you are
Go a long way to improving the quality of your office branding
More often than not, brand guidelines documents don't go as far as to denote the type of signage you should use in your office branding.
You just have to be sensible and think practically about it.
Decide what sort of thing you want to convey with your signage and branding, and then work with an agency to see it through.
Again, take them out to survey the site and let their ideas run free.
Once they come back to you with their ideas, improve and iterate, then it's off to the signage company to see it through.
Your marketing team should be building relationships with a branding agency anyway, and quite often, branding agencies know signmakers they can recommend.
Beware what you buy though, sometimes you can get a better signage quote by shopping around!
One signmaker might recommend one material, but another might have a cheaper alternative that will look just as good.
Consider The Whole Job At Once
One of the biggest mistakes that we see when it comes to kitting out your office branding, is people not considering the whole job at once.
Slowly dripping your brand throughout your office won't make the same splash or impact as doing it all together.
Launching a brand is a fine art, and your office branding should be part of your launch strategy. You don't want your visitors or staff team to be seeing the old brand ever again once your new brand has launched.
You need to consider the investment you'll have to make into your branding deliverables at the start of your branding or rebranding project, and tie it in with the budget.
By doing it all in one go, you benefit from;
Your agency knowing what they're working with from the start
A better rate from your manufacturer because they can keep labours costs down
Afterall, there's no point in rolling your branding through one floor of your office, and then another later.
At that point you might have missed the stairwell, and the colour or materials have changed slightly, and each floor ends up with slightly different variants.
Your office branding needs to be one consistent exercise and project.
So which areas of your office should you consider?
Here we go;
The main office walls
Your reception area
Any stairwells or landing areas
The glass partition walls or windows
Social and common areas
The lift and area next to the lift
Toilets
Kitchen and staff rooms
And even the carpet! (Yes, one of our clients had a branded carpet!)
And don't forget, your brand isn't limited to being colours, logos, or slogans stuck on the wall.
What about working with a local artist to commission a mural? Or maybe a local photographer to capture images that reflect your brand? Or work with your design agency to create posters and wall art.
The possibilities are endless when it comes to your office branding.
Think it through, partner with a branding agency you trust, and get crazy together. You can always reel it back in later!
Office Branding Ideas, Designs, and Inspiration
With all of that said, if you're looking for office branding ideas, designs, and inspiration, then you're in the right place.
Fire up your office branding Pinterest board as we dive into some of the most creative office brand ideas from around the world.
Lego
Known for play, Lego have teamed with world-renowned architects to create beautiful, inspirational, work spaces.
From massive slides, to wide open office space, the Danish toy manufacturer has really blown the office branding game wide open.
Way back when Canny started, we wrote about how Rosan Bosch and Rune Fjord had transformed the Lego offices.
Since then, other premises have popped up, with new architects and designers getting involved, and Lego have created some of the most unique space in the world.
Google
Google transcends "office branding."
They brand entire campuses depending on exactly where they spring up. And, you'll not notice many Google logos along the way!
From Mountain View in California, to their busy London offices, Google's office branding relies on creating innovative spaces, giving the team space to think, create, and develop the Google brand as we know it.
Corus Quay
The head office of the Corus Entertainment Group over in Toronto made the news for the huge floor to ceiling side they installed.
And to be fair, it is impressive!
With green walls, colourful benches and open plan spaces for creating and thinking, Corus has created not an office, but a destination.
7 Tricks To Improve Your Office Branding (with Ideas and Examples!)
Getting your office branding right can be a tricky task. As always, we recommend creating a design brief to help get your expectations down on paper.
If you put a good brief together, then coupled with this post, your Marketing Manager and branding agency should be on the same page from the off.
By using the tips and tricks in this post, you'll be able to go beyond your logo design, avoid boring looking signage, and create office branding you're proud of.
Remember:
Stay away from those square edges, don't be afraid to get creative, and you'll not go far wrong!
Have you got great office branding? Let us know and share some photos in the comments below.