We are back exploring rebrands (one of the things we do best) and the start of the new year saw the holiday village chain, Center Parcs Europe, completely transform its brand identity.
With resorts across the Netherlands, France, Belgium, and Germany, that are home to acres of beautiful land, and cosy woodland accommodation, 2023 was the time for Center Parcs to refresh their look to fit their vast and growing audience.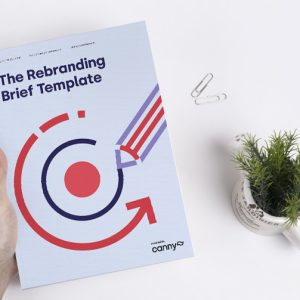 The Rebranding Brief Template
The Rebranding Brief Template is a free template that will help you get the brief for your rebranding project right. ...
So, that's exactly what they did!
Everything from the logo, right through to the website design and billboard adverts have been updated to reflect what customers cherish most: time with loved ones, and time spent outdoors.
So, with that, let's dive into some of the new elements of the Center Parcs Europe branding!

Credit to Underconsideration
Logo
First off, let's start with the logo and new brand marque.
The original Center Parcs logo that fashioned a bird from two falling leaves above the brand name has been scrapped, and instead, DesignStudio gave us a new take on Center Parcs Europe altogether.
If there were ever a branding 360, it is this new logo, as the colour palette was changed to warmer tones of green, using a darker forest green as a backdrop to a lighter leafier green for the brand name itself.
This positions Center Parcs EU far better by linking the brand to the natural world and this is further reflected in the new brand marque.
This graphic perfectly encompasses the 3 main elements of the company: the name, nature, and humans.
The marque itself is up for interpretation as one may see the "CP" symbol, and one may see a sprouting plant, or perhaps you might see both. However, it's neatly and cleverly done, as both letters are in proportion with one another, and the rounded shapes match perfectly with the new Bagoss typeface.
Not only does this new logo bring the natural roots of the brand to the forefront of the branding, but it helps to differentiate Center Parcs EU from the Center Parcs UK branding.

Credit to Underconsideration
Illustrations
The illustrations help to prevent this new brand identity from looking more like a national park or nature reserve, and instead aligns the branding with the family-friendly holiday resort vibe, by using bold colours, and a charming but simple drawing style.
Each "character" included on the Center Parcs website is different and diverse and is shown to have their own unique personality, whether they are rowing a boat, reading a map, or climbing trees.
This helps the company to appeal to a wider audience by including characters of all ages, genders, and races and firmly places diversity, equality, and a sense of welcoming right at the heart of their branding.
These illustrations in particular do a great job of creating both an exciting and calming atmosphere, by using a range of bright colours mixed with language such as, "Find yourself in nature" and "Where memories are made".

Credit to Underconsideration
Messaging and Positioning
That brings us nicely to the new positioning and messaging used by the brand.
The focus has clearly been shifted to wellness, health, and happiness, which is presented in the identity introduction video on the companys website.
There is a very clear emphasis on slowing down and reconnecting with nature while taking a holiday or a break from the day-to-day, whatever that may look like.
Instead of the typical advertisement of activity-filled days with no time to stop and relax, the new campaign from Center Parcs provides the audience with the right balance.
Anywhere branding is visible (particularly kiosks, billboards, and the website) the messaging is clear that Center Parcs is inviting you to slow down and create your next holiday with them.
With the opportunity to go for a long walk, or soak in the bath, go swimming, or enjoy activities up in the tree tops, the brand is now actively encouraging its audience to make a connection with nature in an idyllic environment.
This is brought together through illustrations, messaging, and brand photography that ultimately sells it to us, with imagery of families, couples, and friends enjoying a rural break.
At One With Nature: The Center Parcs EU Rebrand Explored
So, there we have it, our personal take on the Center Parcs EU rebrand.
It's very clear that this was a full transformation of the company branding that now better connects with the core brand value of bringing people together in nature.
This new identity places better focus on the natural elements of the holiday villages, all while still including what the brand offers in terms of lodging, activities, and refreshments.
The Center Parcs brand now perfectly blends the idea of a family holiday with wellness and taking a mental break as well as a physical one. This is paired perfectly with the emphasis on cherishing nature and time with loved ones after the recent Covid-19 pandemic.
Timing is everything when it comes to announcing a rebrand, and Center Parcs has timed this transformation well, as populations are moving towards a slower, more thoughtful way of living.
This includes making time for others, being environmentally conscious, and protecting mental health and well-being, all of which are right at the centre of Center Parc EU's branding.
What do you think? Was this rebrand the right decision after so long? Or do you think Center Parcs could have done something differently? Let us know via the social links below as here at Canny we love to discuss rebrands big and small!