One of the biggest misconceptions in the wide world of branding is that B2B branding needs to be boring in order to gain traction.
We're here to tell you that this isn't true in the slightest, and we have the evidence to prove it.
Sure, there will be brands out there that do have their hands tied in terms of what is/isn't possible in terms of branding based on their respective market.
But isn't finding solutions to issues part of your standard day-to-day anyway?
Yeah, well, the same applies to how you brand yourself and the techniques used to stand out in front of other intuitive businesses.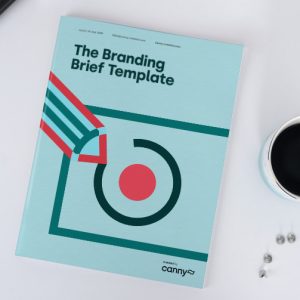 The Branding Brief Template
The Branding Brief Template is a free template that will help you get the brief for your branding project right. W...
We won't sugar coat it: navigating these branding waters can be difficult, which is why we're hoping that these B2B branding examples help spark ideas for you and your own brand.
Branding is a lot more than a simple logo and some light messaging to run alongside it.
It's all about how you carry yourself in every aspect across various channels, be it physical or digital. It's an identity that people latch onto and grip tight to.
Again, these B2B branding examples we're about to cover should help explain the various paths one can take.
Let's get into it, shall we?
Slack
We're starting off strong with the one and only Slack, a communications expert that links businesses with collaboration hubs that brings employees and clients together in the same space.
It's a platform we know all too well, and have written about countless times.
We use Slack on a daily basis.
In the service branding sense, Slack have positioned themselves in a rather unique position. They understand that communication, generally, is a human experience and that it shouldn't be bogged down by your typical corporate spiel.
Get a good look at how they interact with customers through their website and through other forms of communication. Noticed what they do differently yet?
Yeah, they understand that their platform is used by various people within a single business, and therefore have adopted a very open way of communication.
Language is an important tool in how you brand yourself, only with Slack, it feels like anything is possible which totally aligns with how many businesses (representing countless sectors) seek them out to do business.
'Inviting' is the word you could use to describe this B2B branding approach.
Slack is the perfect example of how a brand can leverage its product in its branding efforts.
Using personality to let the brand shine through, that's how Slack do it differently.
Focus Lab
B2B brands tend that prioritise partnerships are often the most successful in their branding efforts as the line between business transaction and collaboration begins to get a little hazy — which is what many agencies (like Canny) pride ourselves on.
Partnerships matter, but it's how you phrase it that matters, after all, many do come across as disingenuous.
Focus Lab is a fellow agency that gets it.
And yes, we do realise that Focus Lab is somewhat of a competitor, still, we're one for giving out dues when it's earned — or when we want to make a point to benefit the B2B marketers reading this.
They (Focus Lab) champion partnerships and ensure that you know how important these bonds are to the branding they've established.
Partnerships are always balanced well with a proven track record as it validates all claims. Unfortunately, this can be tough to establish as a startup brand with no experience to pull info from.

Credit to DotGo
DotGo
Sometimes, your products/services are very difficult to explain in a simple format, which is why you see so many B2B companies take the drab explanation route.
They'd rather explain things in a very cut and dry type of way, instead of exploring the limitless branding opportunities available to them.
There are work-arounds to this, as proven by DotGo.
DotGo is a provider of rich communication services (RCS) and other business messaging solutions, took an interesting approach to how it showcased its work to those on the fence — or confused.
What did they do to change this?
Simple: they began providing whitepaper content to provide clarity.
We'll admit that it's not the most creative idea in the world, but sometimes some of the simplest branding ideas are often overlooked.
Whitepaper content is a free resource — just like the download we've included within this post — it exists to lend a helping hand or to act as an explainer.
Some of you reading this might consider a whitepaper 'boring' but we don't.
The fact that the info is displayed in a completely different meaning provides value to the brand from a loyalty standpoint — more so if the content provided is interesting enough.
Drift
Drift quite literally drifted from what was expected of them in terms of service branding.
We could have an entire article on these guys if we wanted based on what they've managed to do in branding themselves to step outside of the noise.
As a brand, they understood that the B2B SaaS market had reached a tipping point of saturation, and that every brand sort of just fell into the shuffle after a while.
Building and knowing you have a quality product isn't enough these days, it's how you brand it that matters, especially in a B2B branding sense.
Eventually, they began looking at things a little differently, they began to approach branding as a way to put perceptions first, and products second.
In other words: they bet on themselves in hope that the brand would sell the products as an extension.
The Seeking Wisdom podcast, for example, was created for the company to share internal thoughts/conversations to provide an inside look.
It wasn't about ROI, or leads (although leads are a byproduct of the podcast as it's an indirect approach), it was about fleshing out the brand and providing a second screen experience through audio.
MailChimp
Another Canny regular on the blog! MailChimp are back again, this time to showcase how the use of social media can help boost B2B branding.
MailChimp is an email marketing platform first and foremost, used by businesses here, there and everywhere. We know that for a fact.
We also know that the brand is a big personality based on the number of animations and bright colours there are used across almost all of the brand's marketing/branding assets.
We were toying with the idea of talking exclusively about the use of brand imagery and eye-catching visuals to attract new business, but the way they approach social media marketing needs to take priority.
Task time: Head on over to the Instagram page for MailChimp, and take notes on what you see and the types of feelings you get from it all.
Now look at them and tell us: does this look like a B2B business to you?
The answer is an obvious no, and yet, MailChimp is, arguably, the most known B2B business there is!
MailChimp has embraced its community, and embraced the little things that connect themselves to the businesses — and the customers of those businesses directly.
Try not to think of social media as this dead weight that you lug around and occasionally post to.
Treat it like a community page and all those boring connotations will disappear quicker than you can follow us on our IG.
DP Fasteners
DP Fasteners might not be a name you're familiar with — unless you've spent a decent amount of time lurking around our case studies, that is.
In case you haven't already put two and two together: DP Fasteners was a previous client of ours!
The brand is a B2B company operating out of the UK who came to us looking to rebrand in a bid to keep up with the times and attract more business as a result.
Outside of designing them a new logo, we questioned what could help their brand/website stand out, which is when we decided to implement illustrations to run alongside the very professional logo to serve as somewhat of a creative contrast.
The point is: implementing illustrations and other attention-grabbing elements to your branding/its guidelines can do a lot in raising your brand.
It's a tip that works for every business, no matter the size, from the startups all the way to the industry heads.
There are thousands of B2B brands stuck in the past, and hey, if you're still making money and generating interest then fair play. But you could be making even more of an impact by having something unique and current to share.
B2B Branding FAQs
Before we dive into more B2B branding examples, we thought we'd take a look at some important FAQs.
Hopefully these answer your most pressing questions and ensures we have left no stone unturned in the world of b2b branding.
Why Is Branding More Important for B2B Companies?

Strong branding is particularly important fo B2B companies, as decision-makers aren't spending their own money – they're spending the money of the company they work at. This contrasts heavily with B2C buyers who have the luxury of making quick decisions, as they only have themselves to answer to. As such, branding in this space needs to instil a sense of trust and credibility, otherwise buyers will look elsewhere.

What Is B2B Branding?

B2B branding is all about building a relationship with the end customer, and convincing them that your product/ service is the best. A salesperson is usually in charge of selling the products/ services through direct means (i.e. over the phone or in person), and B2B companies must offer a complete solution to a problem. Branding is this space must convince the buyer that the challenges/ pain points they currently face, will be solved with this new purchase.

What Is a B2B Branding Strategy?

A B2B branding strategy defines everything about your company, including who you are, what you have to offer, what your brand stands for in the market, and what value you bring to your customers. It should also include your goals and objectives and how you plan to achieve them.

Credit to Cisco
Cisco
Storytelling is a fantastic tool when looking to create a corporate brand that sticks. This is something that applies to your own brand story and the stories of your client base.
Just don't tell stories in a very by the numbers fashion, as this has been done in a million and one different ways, and is as outdated as it is boring.
There's that word again.
Just because you're a B2B-orientated company doesn't mean that you need to tell stories like one. Your brand is your own, and your stories are your own, so tell them how you want to.
That's what Cisco did, and look at how big they are.
Cisco is a cutting edge technology company from the US that has separated themselves from the pack through the solutions they offer, yes, but also: video content that pulls at the relatability-strings.
Just look at the video shown above and tell us you weren't invested in the story told.
Cisco has produced many of these videos, each showcasing the various companies working with the company, but every video is different enough to keep you engaged because every story is different.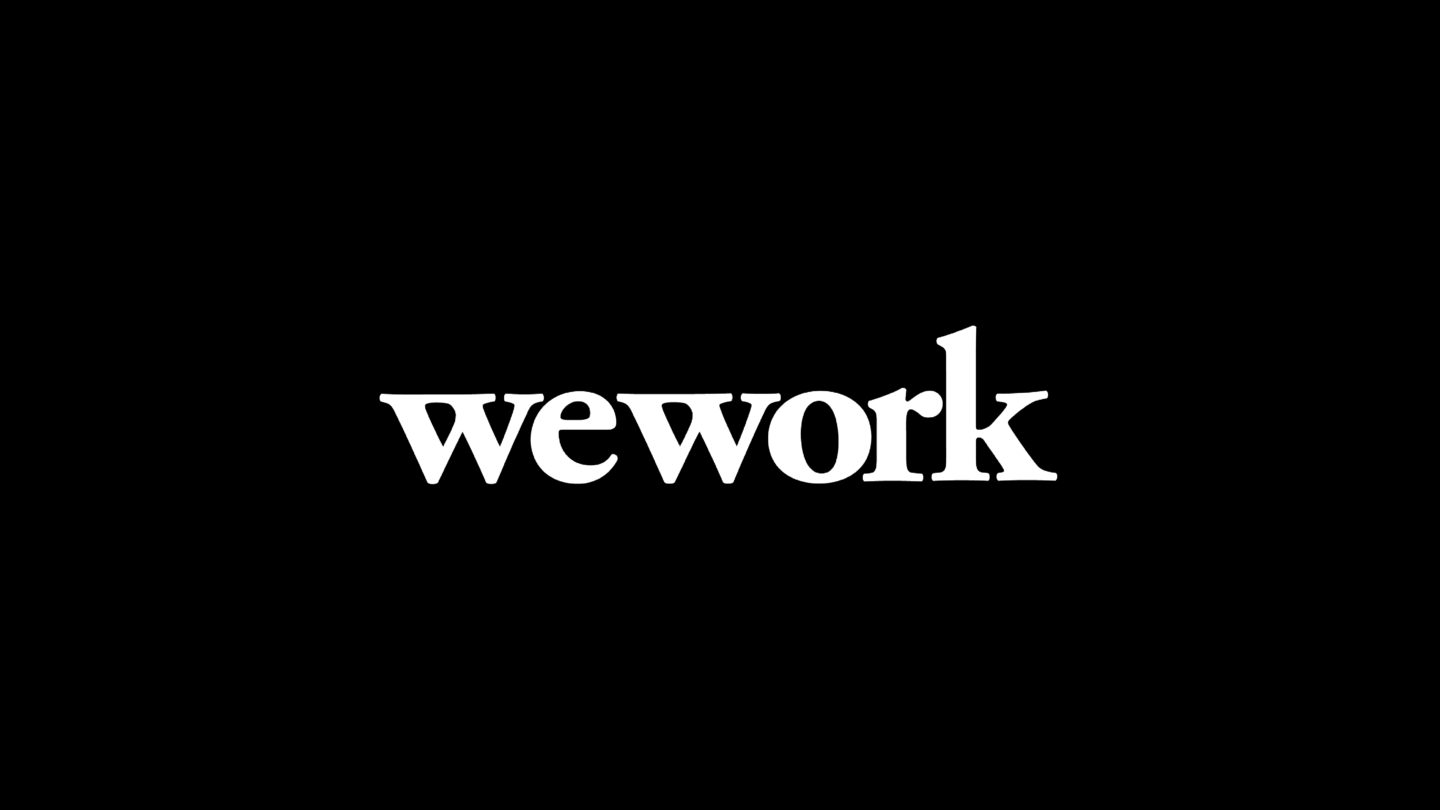 Credit to WeWork
WeWork
While many of the B2B branding ideas shared do fit that creative category, it's important to understand who you're wanting to position yourself in front of.
Reining in your ideas wherever possible is an underrated talking point, one that not a lot of B2B brands know how to do.
Your branding should always reflect the company you want to create, but your target audience will always underpin your ideas in one way or another.
Everything you do branding-wise needs to keep these individuals — or businesses in the case of B2B — in mind.
WeWork is a company that helps businesses find workspaces and they understand this tenfold.
This is why, after launching a campaign following the introduction of an in-house creative agency, WeWork's VP of creative strategy stated:
"We wanted to make something that was relatable," and added: "The scenarios in the videos… represent real challenges that a lot of businesses deal with on a daily basis."
In the campaign itself, WeWork created a series of digital spots showing workers in really cramped locations, compared to the open/comfortable workspaces they offer.
This idea could have easily gone off topic from a branding standpoint, costing WeWork interest and value in their market.
Still, they found a way of leveraging what the brand is all about without alienating anyone!

Credit to Nagarro
Nagarro
Nagarro recently underwent a rebrand, changing the logo and brand identity to something a little more elastic.
We know we said that branding "is a lot more than a logo and some light messaging," but both are still key components in your identity, and are what most people will think of whenever your brand crosses their mind.
We've picked Nagarro out to talk about the brand logo, a logo that is very experimental for a B2B brand.
Service branding tends to be quite static — dare we say, boring? Whereas Nagarro's updated logo is anything but, a definite upgrade from the previous one they were using.
The updated service branding shown aligns with the brand's moves in the tech solutions market.
Nagarro wanted something a little more freeing — a logo that could apply itself to countless areas of the site, and marketing materials, with ease.
The squiggly N used is a little out there in that it can take a few glances before you work out what it is. It might have been an issue if it weren't for the Nagarro wordmark sitting next to it.
Still, you can't underestimate the quality of an effective logo that has a decent level of thought behind it.

Credit to HubSpot
HubSpot
If we're going through the Canny blog regulars then we need to give HubSpot a mention on our list of the best B2B branding examples from across the business spectrum.
You can commend HubSpot in various aspects of their branding, only we'd like to direct your attention to the dependence on original content, content that covers everything from blogs to resources.
HubSpot is known for its CRM platform, and the endless number of helpful blog posts found on its native website.
Blogs that have elevated the brand, increasing value and the convincing power of HubSpot.
You might be wondering how this applies to B2B branding, and the simple answer is: it plays into your brand messaging.
A brand that claims to benefit the client will and should look for opportunities to cut straight to the chase, offering something original that serves a purpose.
Name a better way to cut straight to the point than optimised blog content that serves a specific purpose and answers key questions that revolve around the product of services offered by the business outright.
We understand that HubSpot's approach is very similar to what we've already covered with Drift — and Slack to some extent.
We just wanted an example that showcased content marketing and SEO a little better, that's all. And there's no better example to pull from than HubSpot in that regard!

Credit to KlientBoost
KlientBoost
Knowing how another business can assist you typically requires an initial meeting or through emails.
Only that isn't the case with KlientBoost and its 'like-magic' website that auto adjusts, finding your brand and hinting at the various ways that they can step in and make a difference!
Their message is simple: 'We'll be the last marketing agency you ever work with.'
A bold claim, but one they work at backing up from the moment you enter the website for the very first time.
Emoting the right message from the get-go ensures that nothing is lost in translation. Potential businesses shouldn't have to scroll through multiple pages of your site to find out what you're about and how you can help.
KlientBoost clearly understands this, which explains why their website is one we talk about often in the Canny office — mostly for its magic 8-ball predicting abilities, if we're being honest.
Oh, and the B2B branding approach that cuts straight to the chase. We admire that about them too!

Credit to Everpress
Everpress
The importance of an effective website can't be stated enough.
Everpress is another brand that comes to mind when thinking about a B2B website that you could point out in a line up quite easily — one that leans heavily on the brand in order to garner interest.
This custom shirt printing brand is built on community, linking creators with creative sh*t — a rule that applies to every page on the site.
The creative/free-flowing nature of the brand can be felt instantly when on its site, not to mention all social channels associated with Everpress.
One of the major hallmarks, or values you could say, tied to the Everpress name is sustainability, something that they are very open about.
Countless pages on the site are dedicated to the types of materials/garments used — they mention on one page about "embarking on a sustainability journey that aligns with our mission to support grassroots creators and reduce waste in fashion."
It's important to relay your brand values in line with your target audience. We'd say this is equally as important as having a decent website with your name spread all over it.
YardLink
We know, we know.
Tooting your own horn twice in the same blog is pretty cheeky, but we wouldn't include them in our B2B branding post if they weren't important.
YardLink is another one of our clients, a tool hire/rental company working out of the UK that prides itself on delivering an effective service to the businesses that require things like cherry pickers and scaffolding — you get the idea.
We're highlighting them here to demonstrate the benefits of effective messaging, and how branding can get lost in translation when it isn't structured a certain way.
You see, before seeking our help, YardLink went by a completely different name. The previous brand identity (Yardlynk) felt like a misspelling of a much simpler name, and it was costing them some important brandability points.
A name is just as important as the logo, the messaging, and how you go about displaying it all. Sure, the logo and what you do is what people think about, but it's your name that they parrot in front of others when recommending you to others.
The more complicated the name, the harder it is for others to connect.
The YardLink name brought the company into the modern day, making them a lot easier to find organically too. It was a win win type of deal!
B2B Branding Examples: Why B2B Branding Doesn't Have To Be Boring
Difficult to pull off? Yes. Is it possible? Also yes.
We're, of course referring to effective B2B branding that puts you front and centre and isn't as boring as it could be.
The list you've just read above was in no particular order, by the way.
Every B2B branding example shown was there to simply give you a rough idea of how you can really take your B2B brand to the next level.
A lot of the time, B2B service branding involves changing your perspective, rather than changing your situation.
You can operate in the most difficult lane/market possible, but your brand doesn't need to limit itself to what everyone else is doing.
Find your niche, find what makes you, you — and find branding that conveys emotion through your values and the you'll find yourself at the top of your respective mountain.
How do we know so much about this stuff?
That's easy, we've helped many B2B companies find their footing in the past from a B2B branding standpoint, a content standpoint and a web standpoint, with the last two kind of being somewhat of an extension of the brand, when you think about it.
If you'd like to join B2B brands like Aspire and Complete Strategy, then get in touch.
Let's get your branding sorted.