When it comes to B2B rebranding examples, you'll never be short of some inspiration!
Lots of B2B businesses choose to rebrand for a whole host of reasons.
Perhaps it's because they're current branding is looking a bit outdated, or because they're trying to leave a negative image behind (AKA Uber).
Whatever your reason for rebranding, it has to be carefully considered and planned.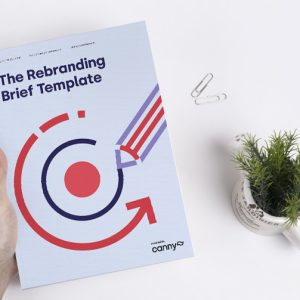 The Rebranding Brief Template
The Rebranding Brief Template is a free template that will help you get the brief for your rebranding project right. ...
If you get it wrong, this could have huge negative consequences on your business (which we'll explore in more detail using the examples below).
However, if you get it right, rebranding provides a huge opportunity for growth. Essentially, you're giving your brand some much needed TLC and you're rethinking the direction you want to go in.
Often B2B brands can lose their way a little, and forget the attributes that make them who they are.
When you undergo the rebranding process, you're forced to think about each and every aspect of your business to make sure it's on point. You're taking it back to basics, to reevaluate where you are vs where you want to be.
Perhaps you're sitting on the fence when it comes to your rebranding project and you're unsure if the process is right for you. Rebranding in the B2B space is always going to be a risk, as you don't want to alienate your current customer base in your pursuit for an ever wider customer base.
To ensure you don't make these same mistakes, it can be helpful to look at some B2B rebranding examples.
And that's exactly what we're going to do!
So, let's get stuck in.

Slack
Founded in 2013, Slack is an online collaboration tool that enables businesses to easily communicate both internally and externally.
Using different 'channels' businesses can easily keep track of different conversations which improves workflow and productivity.
Their original icon was a colourful hashtag shape which was used as the primary icon to represent individual channels of communication.
However, thanks to social media, the purpose of this symbol was quite ambiguous and users were unsure what it represented.
The original logo also caused problems due to the colour, as there were 11 colours in total! As such, depending on what background was used to display the symbol, it either looked distorted or it blended in.
In 2019, the company decided to rebrand to bring some visual cohesion to their brand.
The previous rainbow logo was replaced with an abstract shape which consisted of speech bubble shapes to visually represent communication. This creates synergy between the visual aspect of the brand, and the purpose behind it.
Also instead of using 11 colours (which was both an eye-sore and confusing), the new logo sticks to 4 primary colours.
The visual icon is paired with either a black or white wordmark which is instantly recognisable and easily readable.
What went right?
To avoid alienating their current customers as a result of rebranding, Slack's new logo still pays homage to some of its previous design elements.
This includes using some of the colours from the old logo, and opting for a similar shape when it came to reworking the hashtag symbol.
As such, whilst the rebrand is highly effective and stands out from its previous design, it's clear that it still represents 'Slack'.
This maintains a sense of familiarity with its current customers, instead of creating something that is too detached.

Airbnb
Airbnb launched in 2008 and capitalised on the idea of being able to 'rent anywhere.'
The aim is to provide users with a whole range of accommodation options compared to the traditional hotel offering.
Instead, you can take advantage of staying in all sorts of cool and quirky places, whether it's a tipi, castle, hut, or tent. There's also the opportunity to stay in people's homes as anyone can advertise their own property on the platform.
As such, this empowers homeowners to make some extra cash whilst providing travellers with a unique experience.
Whilst Airbnb is highly successful, and used by holiday makers around the world, it decided to rebrand in 2014 to emphasise its core values.
Previously, these values weren't apparent through their old branding, yet they are so important to the purpose of the brand.
Therefore, they re-focussed and places more emphasis on 'community' and 'global connection' by changing from 'rent anywhere' to 'a place for everyone to belong.'
To communicate this message to their audience, Airbnb created a unique icon called the 'Belo' which combines 4 concepts: people, places, love, and of course Airbnb which ties all of these concepts together.
It's a simple, hand-drawn 'heart' symbol which bridges the gap between any communication barriers.
It can easily be recognised by anyone, from any culture which naturally brings communities together. This is exactly what the Airbnb platform is all about.
What went right?
By creating a logo which puts their values at the forefront, it humanises the brand and tells the audience exactly what it's all about.
Airbnb puts such a strong emphasis on being globally accessible, as the properties they advertise span locations around the world.
Therefore, the 'global' aspect is hugely important, which is beautifully represented by the new emblem. There's no typography, meaning regardless of what language you speak or where you're from, you'll recognise the 'Belo' icon.
Furthermore, Airbnb is all about people.
From advertising peoples homes, to helping people earn more income, to delivering unique experiences for holiday makers, people are at the core.
The heart symbol encapsulates this message, and brings communities together.

Zendesk
ZenDesk is a global customer relationship software company that launched in 2007.
Whilst they started with a single customer offering a single product, this expanded into offering 6 distinct products ranging from live chat, to analytics, to reporting.
The word 'zen' is important to their ethos which was built around the idea of peace and tranquility.
Both of these themes were visually represented through their old logo by featuring a lotus flower and a cartoon Buddha.
However, for the brand to grow and keep up with its expanding customer base, they needed a logo which was easily scalable.
Unfortunately, their old logo simply wasn't up to the task.
Whilst they wanted to keep the playfulness of the old design, they understood that a more sophisticated approach would enable them to scale.
In 2016, they underwent a significant rebrand, and created a logo which was very distinct from their previous design.
Featuring a geometric theme where 7 abstract shapes come together to form a 'Z', their brand name is still immediately recognisable whilst creating a sense of interest.
They also switched the colour green to a dark navy which makes much more of a visual impact.
What went right?
We mentioned this in the intro, but when you decide to undergo a rebrand, your new direction has to align with your brand goals.
If you're changing up your brand messaging and your logo, then there needs to be a strategic reason behind it.
Saying 'I just don't like it' is not a good enough reason for a full rebrand.
Zendesk understood the importance of this, by aligning their new brand identity with the direction they wanted to take.
They are on a journey of business growth, and they needed a logo which would appeal to a larger audience of business professionals.

Dropbox
Dropbox is a content sharing platform that allows users to easily upload and store numerous files.
Founded in 2007, the brand kept the same identity for 10 years before deciding its branding no longer communicated the capabilities of the platform.
After all, it's so much more than just a 'place to store your files', as users can also upload video, images, code, and sound files to create content.
Therefore, a rebrand was necessary to communicate the full wealth of possibilities available within Dropbox.
The new look features a multi-coloured palette, illustrations, and brand typeface Sharp Grotesk. It has also retained elements of the old design such as the brand's box symbol.
However, this has been modified to appear more abstract and now comprises five diamond shapes. The blue shade has been brightened, and the brand name is in a bold black font which demands more attention.
The rebrand also aims to represent the platform's aim to encourage collaborative working by creating a living workspace that brings ideas together.
The use of illustrations brings the brand to life through a combination of hand-drawn sketches coupled with abstract shapes. The look will also evolve as more artists submit their work to re-emphasise the idea of creative co-working.
What went right?
Because Dropbox is much more than a file storage system, it's important all of its capabilities are communicated through the branding.
This is the first thing people see when they come into contact with your brand, and it needs to visually communicate what is possible when using the platform.
The introduction of work from different artists also adds an interesting element, as it plays into the idea of 'collaboration' and 'coworking'.
As such, this not only acts as a piece of visual interest, but also aligns with the brand messaging.

Siemens
Siemens have been in operation for 170 years, so it's no surprise that they were in need of a rebrand!
As time goes on, it's natural that brands will struggle to stay relevant and current, which is why rebranding gives them an opportunity to reconnect with their audience.
As one of the largest technology companies in the world, they knew their brand had to be as dynamic and as innovative as their products.
Otherwise, it doesn't matter how good your products are if your audience is not engaged from the outset. You need to capture their attention and give them a reason to buy into you in the first place. This is why your brand is vital.
However, it seems this was stuck in the 90's with its very corporate messaging and flat design.
It really wasn't screaming innovation to anyone.
Make way for the rebrand.
In 2018, they decided to change up their brand image and introduced the tagline 'ingenuity for life' which pairs technology with a purpose.
They also binned the corporate, stuffy visual identity that had previously surrounded the brand, opting for a vibrant blue as the primary colour.
The imagery was also filled with cool, trendy individuals instead of the corporate looking shots that had existed before.
This portrays their innovative and entrepreneurial spirit which is exactly what the brand stands for.
What went right?
As part of the rebrand, Siemens still used their corporate colours but with a twist!
By adding the electric blue and edgy portraits into their print advertising, they are appealing to a younger demographic whilst communicating their core messaging.
Let's be honest, people in suits and ties don't really say dynamic.
And, they didn't stop there. Aside from visuals, Siemens also introduced an audio rebranding by featuring a female voice across their adverts and presentations.
Using the sound consistently is a great strategic move as sound can boost brand recall by as much as 46%. Younger consumers also relate better to sound which ties in with their targeting of a younger audience.

McKinsey & Company
McKinsey & Company is one of the most recognised consulting firms, and covers several industries, including advanced electronics, oil and gas, retail and real estate.
When it came to their rebrand, they wanted to renew their commitment to their clients, and to realign their brand with their mission.
When McKinsey first started out, they didn't have half of the clients that they do now, which reflects how much their business has grown since it launched. However, their old branding didn't reflect this journey, so it needed bringing up to date.
Throughout the rebrand, McKinsey & Company were very careful not to loose too much of their old branding. As such, they wanted to strike a balance between old and new, heritage and modernity to retain what makes the brand so special, whilst still being current.
The rebrand signaled that some things about the company are changing, whilst still reconfirming its commitment to its current customer base.
McKinsey and Company are such a trusted firm, that through reinventing their brand, they didn't want to appear as though they were losing confidence.
However, they have managed to strike the perfect balance, as their new brand identity still nods to the previous design. However, through some subtle changes such as the stacked wordmark, they have brought the logo into the modern day without being too detached.
What went right?
The great thing about this rebrand is that McKinsey didn't follow so-called design 'trends.'
All too often, brands fall into the trap of thinking that a rebrand has to be drastic in order to be seen.
However, this can cause the issue of alienating your existing customers who have been very familiar with your current brand identity.
Instead, McKinsey and Company found the gap between the past and present, and made the necessary changes to bridge it. This brought the brand into the digital age through a subtle modern retouch.
They also kept the serif style, which sets them apart from other brands who are chasing sans serif and neon sans identities.
In turn, this goes to show that changes don't have to be huge. They just have to be meaningful.
B2B Rebranding Examples FAQs
We've reached the halfway point in our exploration of B2B branding examples, so we thought we'd take a look at some FAQ's.
This ensures we've covered all bases and left no stone unturned in the world of B2B branding.
How Do You Rebrand a B2B Business?

When it comes to rebranding a B2B business, you need to have a well-thought out and carefully executed plan. There are various steps to follow such as understanding where you sit in the market, where you want to be in the market, and what strategies you are going to use to get there. You also need to nail your brand identity as this ties all of these separate entities together. Essentially, your brand identity is everything that makes up your company (from your visual assets to your messaging).

How Do You Announce a Business Rebranding?

Before you announce your rebrand, you need to have a rollout plan. This includes utilising tactics such as social media, your blog, and writing press releases. You want to shout about your new branding and show it to the world. Having an idea/ plan of how you're going to do this is key.

What Is a Rebranding Strategy?

A rebranding strategy is your plan of action in terms of how you are going to rebrand your company. This involves thinking of a new brand name, visual identity, and message. You need to work out how your new brand is going to look and how it will stand up against competitors in the market place.
Microsoft Bing
Whilst this isn't the most inspiring rebrand of all time, it is rather effective.
Microsoft Bing decided to change up their name and logo to sport a much more contemporary look.
Sticking to the classic 'B' shape, they introduced a range of colours to make the logo more eye-catching and visually appealing.
They have also scrapped the precious flat design, and made the new logo 3 dimensional to add more form and structure.
It's also a lot more fluid and aesthetically pleasing, as the previous logo looked a bit awkward. This is probably a result of its jagged edges which unapologetically stick out in different directions.
As part of the rebrand, they also announced that Bing would officially be called 'Microsoft Bing' to integrate different search engines under the Microsoft umbrella.
What went right?
Keeping the 'B' shape is a wise move, as this communicates the name of the brand.
Also, by injecting some colour into the existing shape, the company has been able to retain a sense of brand familiarity but with a twist.
They have also chosen to include 'Microsoft' at the front of the brand name which keeps everything under the same umbrella. In the mind of the consumer, this demonstrates that Bing is part of the Microsoft family and it creates a sense of cohesion.
This is very important as it makes the brand easily recognisable and easily understandable – two key priorities when you're trying to engage your target audience.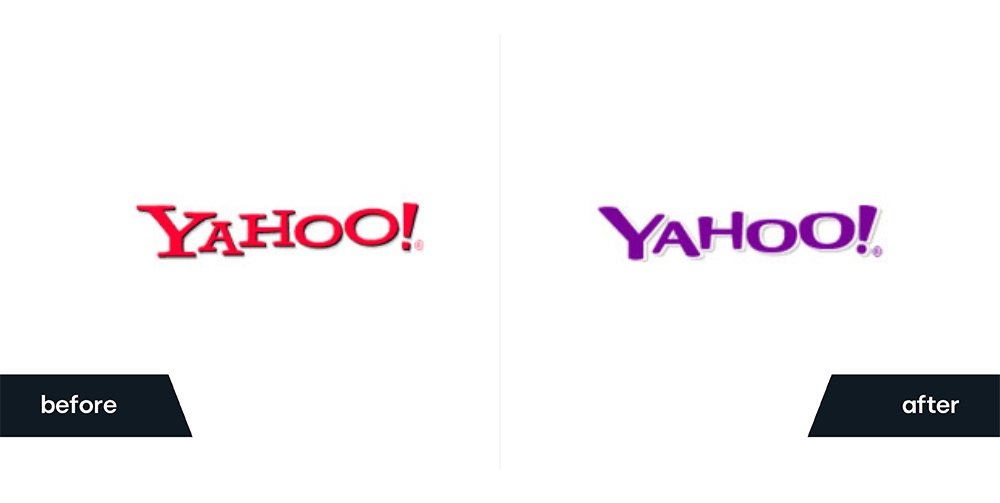 Yahoo
Yahoo rebranded three times over a 10 year period – now that alone can't be a good sign.
They first decided to update their logo back in 2009, when they took the decision to flatten it and go for purple as their primary colour (Yahoo used to be red for any of you who have forgotten).
Then again in 2013, their new logo got another makeover under the leadership of CEO Marissa Meyer.
Bringing it up to 2019, Yahoo took the decision to rebrand again, with the help of design agency, Pentagram, one of our favourite creative agencies.
The news came on the back of its new ownership under Verizon (which acquired Yahoo in 2016), and as the company revealed a series of redesigned versions of its offerings, including its mail app.
Whilst the new logo keeps the colour purple, and the exclamation mark which is highly associated with the Yahoo brand, the design is completely different from what existed before.
The Pentagram-design identity features chunky, curvy letter forms, which don't look like Yahoo at all.
Whilst it's a very crispy, friendly finish, it's too detached from the original design which had character and personality.
Pentagram said they tried to keep elements of the 90's logo, but after some careful consideration, they simply had no place in today's world.
However, rebranding 3 times in such a short time frame, creates a great deal of confusion in the mind of a consumer. Whilst the new design is modern, and I agree, more fitting for today's digital era, how long until it changes again?
What went wrong?
Rebranding should also be approached with caution.
Whilst it presents a fantastic opportunity to breathe new life into your existing brand, rebranding too often can mean your brand lacks credibility.
You need to decide on one direction and stay with it.
This allows you to focus all of your efforts in one place and gives you a clear sense of direction.
When you're chopping and changing all of the time, it's very hard to build up brand awareness. After all, how can customers become more familiar with your brand if you're constantly changing the way it looks?
The lesson to learn from Yahoo, is think about the rebranding process before jumping into it. Follow our step-by-step rebranding post to help.
Maybe you only need a brand refresh rather than a full brand overhaul?

Amazon
Amazon's latest rebrand has caused people to draw some very unfortunate comparisons.
They recently changed their app logo, and were quickly accused of representing Adolf Hitler.
Not someone you want to associate your brand with!
The criticism came as they used a piece of blue tape which looked like a Hitleresque moustache.
Their design team clearly didn't make this connection when designing how the app was going to look to consumers, yet the shape of Hitlers moustache is forever embedded into our brains.
To make things worse, the moustache shape sat above the Amazon smile swoosh, and this is not something you want to be happy about!
Following an onslaught of criticism, Amazon quickly changed their logo and replaced it with a block of blue tape – which clearly represented what it was supposed to be.
There was no room for ambiguity here, and the folder blue tape is much more obvious.
What went wrong?
All too often, brands can jump into a rebrand without thinking about how it can look from the eyes of a consumer.
I understand what Amazon were trying to achieve, as the blue tape is associated with packaging parcels which is what the company is all about.
However, by not looking at the tape from different perspectives it's easy to overlook something which is quite obvious – well, now that it's been pointed out.
Careful planning and consideration is a huge part of the design process, as rebranding needs to work for your target audience.
You need to be very careful customers make these sorts of associations as it could taint your brand.
I think in this scenario, they probably jumped in too quickly and didn't spend enough time reviewing the individual design elements of the app.

HSBC
As we've seen with lots of the rebrands in this post, keeping up with the digital age is an absolute must if you want your brand to stay current.
The same applies to HSBC, one of the largest banks in the world.
During their rebrand, they wanted to make their brand identity more fitting for the 21st century. They also wanted to demonstrate their commitment to their customers as they help people to prosper in the world of finance.
When you look at the new logo in comparison to the old logo, the differences are quite subtle.
Of course, it's obvious that it's had some much needed TLC, but lots of the original design elements have been retained.
For example, the logo still features the red and white hexagon which is synonymous with the HSBC bank.
However, the new design features a san serif font and the red is a deeper shade. The hexagon is also bigger and bolder which demands more attention.
To support the transformation, HSBC also launched a campaign called 'Together we thrive', to reflect its core value of being committed to helping its customers flourish.
What went right?
The HSBC rebrand puts its core values front and center.
Across all of the brand imagery, there are people nested within the iconic hexagonal shape.
As such, this is an example of a B2B brand who has aligned their visual identity with their core messaging. The bank is there to help people better manage their finances, and to enable them to enjoy their money.
Also, by retaining elements of the old logo, it has allowed HSBC to modernise without alienating its current customer base.
I'm a big fan of the new bold typeface, as it delivers a much stronger message and works well across both physical and digital platforms – a necessity in the modern world.

TLR Global
TLR Global employed the services of Canny Creative as they wanted a full brand rebrand and website overhaul, to set them apart from other cyber security firms.
They wanted to elevate the professionalism of the company while invoking a sense of relief in being open and transparent. One of their main aims is to eliminate the stigma of fear that surrounds the digital security sector.
Their old branding and website was outdated, confusing, and did not portray an IT security firm for the modern day. Finding any sort of information was hard and didn't invoke a sense of trust.
Instead, it felt like you were trying to break an enigma code!
With the rebrand, we did a full overhaul.
Stripping TLR back to the bare bones, we built them back up to where they should have always been. We worked with TLR to position them as a living breathing partner, rather than a corporate and faceless firm.
Our first steps were delving into the brand strategy.
We dug deep to find out who they were and who their competitors were so that we could set them apart from the competition.
The brand went through a major overhaul across all audience touch points, from their logo, colour palette, all brand and web material, and content language.
The rebrand has seen instant success in lead and client generation from the outset.
We are an ongoing partner with TLR in helping them continue to grow!
What went right?
By approaching the rebrand head on, we positioned TLR as a friendly, approachable brand to mitigate the 'fear factor' that surrounds cybersecurity.
So many brands in this space overwhelm users by confusing them with tech speak and jargon, which actually leads to a great deal of confusion.
Instead, we wanted to humanise TLR and educate people about the importance of cybersecurity. It's not about making them fearful, but instead about making them understand the implications of what can happen if you don't have a robust solution in place.
This is evident through the entire branding, and the language used throughout is clear and concise. In turn, this engages consumers and makes them interested to find out more.
Cyber security doesn't have to be scary!

NBC Universal
NBC Universal are an American media and entertainment company based in Manhattan, New York.
Their old logo (shown on the left above) was pretty much known around the globe, primarily due to the rainbow-like shape in the middle of the words 'NBC' and 'Universal'.
Because of this colourful emblem, the logo stood out on a range of brand touch points including both online and offline assets.
It was also the only part of the logo that people really remembered as it's the most striking and eye catching. Therefore, it seems very odd that when NBC came to rebrand, this was the part they ditched!
Uh-oh.
Instead of keeping the colourful icon, they went in a totally new direction and opted for something much more corporate.
The rainbow was sadly replaced by a large purple box and a Times New Roman-ish typography.
Whilst it does make the name stand out, it's not half as memorable (or visually interesting) as the original logo.
What went wrong?
When undergoing any rebrand, you need to consider what works against what doesn't.
If there's a certain part of your current logo (whether it's the typography, colour scheme, or a particular shape) that customers resonate with, then this should stay.
Essentially, it doesn't make any sense to ditch the parts of your logo that are actually working.
B2B Rebranding Examples (What Went Right, and What Went Wrong)
When it comes to looking at rebranding B2B examples, there's a lot you can learn. Choosing a branding or rebranding agency will help you on your way.
Then, by looking at the successes and failures of some of the biggest b2b rebrands, you can incorporate some of these ideas into your own rebranding project.
You can also make sure you avoid the same issues (*cough* Amazon) by taking the time to evaluate your rebrand to ensure it works.
Remember, it's a careful balance between setting the direction for your new journey, without waving goodbye to all of your existing customers. These are the people who got your brand to where it is today.
Retaining what makes you who you are, whilst solidifying your new direction, is the perfect combination.
However, how can you be sure you've got this right?
By using a team of branding experts of course!
At Canny, we've led various rebranding B2B projects to help businesses reshape and remodel their current brand identity. We understood that this has to be approached with caution, and we have the expertise to help you on your new journey. Don't try to muster through it on your own! Get in touch with our friendly team and find out how we can help.