Even entrepreneurs need to relax now and again, what better way to do it than with one of the best businesses movies?
When we can combine entertainment with something inspiring or even educational, that can only be an added bonus. 
Now, it's not unreasonable as an entrepreneur to assume that movies won't have that much to offer in terms of lessons you can take away and apply to your own business ventures. 
At least, not compared to books or podcasts from industry professionals. (We also have a great guide to the 27 best marketing books everyone should read if you enjoy books or are looking for further inspiration for marketing your business.)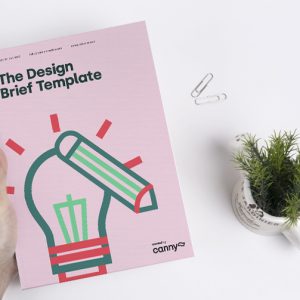 The Design Brief Template
The Design Brief Template is a free template that will help you get the foundation for your design project right. Whet...
And if that's not enough, we also have a post about the best marketing TV shows, incase you don't have enough time to dedicate to an entire film.
The truth is though, that there are movies out there that can teach us a lot, even if sometimes it is simply what not to do!
Documentaries and movies based on real people or events can teach budding entrepreneurs about perseverance, good business values or how to think outside the box to make ourselves stand out. 
Here, we have compiled a list of the 23 best business movies for entrepreneurs. Let's get stuck in…
The Social Network
We simply couldn't talk about the best business movies for entrepreneurs without including this masterpiece.
Directed by David Fincher and starring Jesse Eisenberg, Andrew Garfield, Armie Hammer and Justin Timberlake, The Social Network tells the story of how Mark Zuckerberg (played by Jesse Eisenberg) invented Facebook, from its humble origins from his Harvard dorm room to the all-conquering juggernaut it is today.
It also tells the story of the ensuing lawsuits brought against him by co-founder Eduardo Saverin (Andrew Garfield) and the Winklevoss twins (Armie Hammer) in a separate case in which they claimed he stole their idea.
There is quite a bit to unpack here over what makes this a great movie for entrepreneurs to watch and learn from. Like many movies on this list, it shows that success doesn't happen overnight and that even the biggest businesses in the world started out as small businesses.
The Social Network also shows how, with the right business plan and understanding of your intended market, sometimes that switch from moderate success to massive success can happen very quickly and you need to be prepared to manage and capitalise on it when it does. 
There's a great scene in the movie (the famous "billion dollars" scene) where Justine Timberlake's Sean Parker explains how you can make more money by attracting multiple little fish than by trying for the big fish right from the start.
This is a key lesson entrepreneurs can take away. Like Zuckerberg choosing not to run ads on Facebook at the start, thus attracting a massive user base and building customer loyalty, listening to your target audience's needs, desires and pain points, and creating the first phase of your service or product around that can result in a much higher probability of success.
Of course, The Social Network also warns that you can expect to ruffle some feathers and make some enemies when your business starts to grow. This is especially true if your business is an industry disrupter, such as Facebook was.
It teaches resilience and determination in the face of opposition. It also teaches you not to alienate those who helped you from the start when you were still just a little fish in a sea of sharks. 
The Social Network is available to stream, rent or buy on Netflix, Amazon, Youtube, or Now TV.
Thank You For Smoking
Directed by Jason Reitman and starring Aaron Eckhart of The Dark Knight fame, Thank You For Smoking is a satirical comedy centred around charming tobacco lobbyist Nick Naylor.
In this movie, Nick Naylor is the chief spokesman for the Big Tobacco industry.
Though he is a master of spin and successfully defends the tobacco industry even in the face of extremely challenging situations, he struggles to balance his job and be a good role model for his son.
Thank You For Smoking is a must-watch for entrepreneurs eager to learn a few skills on how to sell absolutely anything, as well as the importance of public relations and successful crisis management.
Thank You For Smoking is available to watch, rent or buy on Disney+, Amazon Prime, Youtube and Google Play.
The Wolf of Wall Street
Directed by legendary director Martin Scorsese and starring Leonardo DiCaprio, Margot Robbie, Matthew McConaughey and Jonah Hill, The Wolf of Wall Street tells the crazy true story of Jordan Belfort (played masterfully by Leonardo DiCaprio), a corrupt Wall Street stockbroker that plead guilty in 1999 to stock market manipulation and running a penny-stock scam.
Based on the book of the same name, written by Belfort himself, The Wolf of Wall Street details his rise and fall as an entrepreneur, as well as shining a light on the culture of greed within Wall Street. 
In many ways, The Wolf of Wall Street is very much a cautionary tale of what not to do as an entrepreneur.
Yes, it can be argued that Belfort was an incredibly successful entrepreneur, having built from scratch a billion dollar empire. However, the movie also shows how he let greed and ambition get the better of him and led to Belfort getting involved in illegal activity which led to his downfall.
There are positive lessons to be learned here as well. For all his faults, Jordan Belfort always thought big, was always thinking of the next step and was willing to work his butt off to be successful.
The clear lesson here is to never let yourself become complacent and don't be afraid of dreaming big. Just don't go committing illegal acts to get there. The goal is to achieve and keep success, after all!
The Wolf of Wall Street can be streamed to watch, rent or buy through Netflix, Amazon Prime, Youtube and Now TV.
The Pursuit of Happiness
Another movie based on a true story, The Pursuit of Happiness tells the story of Chris Gardner (played by Will Smith) and how he and his young son struggled with poverty and homelessness until someone took a chance on him and offered him the opportunity to intern as a stockbroker and prove himself until he is finally offered a full-time, prosperous career.
This is such an uplifting, motivational story for any entrepreneur to watch. We watch Gardner struggle to get by with virtually nothing, but is still willing to work hard to prove himself and provide for his family. It is truly inspirational to see him finally reach his goal by the end of the movie. 
The Pursuit of Happiness teaches all of us the importance of never giving up, even in the face of adversity and believing in ourselves and our potential.
You can watch, rent or buy The Pursuit of Happiness on Amazon Prime, Youtube or Now TV.
FYRE: The Greatest Party That Never Happened
If you were online much in 2017, chances are you would've heard about the hype and subsequent failure of Fyre Festival.
FYRE: The Greatest Party That Never Happened is a 2019 Netflix documentary directed by Chris Smith that examines the great failure that was Fyre Festival. 
Organised by Billy McFarland and rapper Ja Rule, Fyre was supposed to be the ultimate luxury music festival, held at Great Exuma in the Bahamas.
They brought in massive social media influencers such as Kendal Jenner, Bella Hadid, Hailey Baldwin and Emily Ratajkowski to promote it on Instagram (all of whom, notably, didn't initially disclose that they were being paid to promote the festival) and had some major musical talent lined up to play, including the likes of Blink-182, Disclosure and Migos.
The only snag? The whole thing was a scam set up by Bryan McFarland. Or so the allegations go, as McFarland apparently has a history of starting fraudulent business ventures.
Fraud or not, what can't be disputed was the absolute lack of planning and mismanagement which led to hundreds of attendees showing up to a rainy island with inadequate food and shelter accommodations, with many attendees comparing the experience to being like something out of The Hunger Games. Not quite the vibe McFarland and Ja Rule were going for, I'm sure.
There is a lot that budding entrepreneurs can take away from watching this documentary, the first and foremost being to make sure that you have planned and invested money into your project so that you can deliver on your promises before you even start thinking about selling it.
Bryan McFarland went into setting up and promoting Fyre Festival with little to no idea of what goes into planning and running a successful event of this magnitude and put too much of his money into social media marketing and not enough into making sure he could actually deliver on his promises.
The Fyre Festival aftermath starkly shows just how important that aspect of business is.
FYRE: The Greatest Party That Never Happened can be streamed on Netflix now.
The Aviator
Another great movie that saw director Martin Scorsese team up with Leonardo DiCaprio in the starring role, The Aviator is a biographical movie about the legendary eccentric billionaire and business tycoon Howard Hughes. 
The film portrays Howard Hughes' life from 1927 to 1947 and charts the rise and fall of his career up to his biggest failure – what was supposed to be the biggest aircraft ever to be used for the war effort during WWII, the Spruce Goose. Ultimately, he failed to have it finished on time and when it was, it ended up flying less than 100 feet before crashing and severely injuring Hughes.
The Aviator also does a great job of portraying Hughes' struggles through his life and career with ever-worsening OCD which eventually led to him becoming a perfect recluse in his later years. A truly sad ending for such a brilliant mind.
One of the best biographical movies ever made, The Aviator teaches budding entrepreneurs about battling seemingly insurmountable obstacles, both in their personal and professional lives. It also warns against making grand plans and promises unless you are absolutely sure you can deliver on them.
The Aviator is available to rent or buy on Amazon Prime, Youtube and Google Play.
The Founder
Starring Michael Keaton and directed by John Lee Hancock, The Founder tells the story of how businessman Ray Kroc turned McDonalds into a global chain of restaurants everyone knows today.
In this movie, we watch as Ray Kroc finds out about McDonalds while working as a travelling milkshake machine salesman. Seeing a golden opportunity, he convinces the McDonald brothers to allow him to help them build their small burger restaurant in California into a franchise of McDonald's chain restaurants across the country and, eventually, the world. 
This is a great movie for aspiring entrepreneurs to watch, as it shows the importance of perseverance and resilience in the face of adversity. It also teaches you about scaling up a business and being confident in your business message. 
There is also a bit of a cautionary tale here too, in regards to the treatment of the original McDonald brothers. When working with investors, always make sure you read the fine print and know exactly what's in it for you so you don't end up losing out in the long run.
The Founder is available to rent or buy on Youtube and Amazon Prime.
Moneyball
Another movie based on a true story, Moneyball is a must-watch for any aspiring entrepreneur, even if you know nothing about baseball.
Directed by Bennett Miller and starring Brad Pitt as Billy Beane and Jonah Hill as Peter Brand, a character base on the real life Paul DiPodesta, Moneyball follows the Oakland Athlete's general manager (Beane) as he pioneers the moneyball strategy to use sophisticated sabermetrics to analyse and scout his team using undervalued players to build a competitive team on a limited budget.
Despite having all the odds stacked against them, Billy Beane's strategy paid off and the Oakland Athletes made incredible strides in the 2002 baseball season and the Major Baseball League (MBL).
Moneyball teaches an important lesson in making educated and well-researched decisions in order to give your business it's best opportunity to succeed.
As an entrepreneur, you're likely to be faced with very stiff competition from more established businesses so success probably won't come easily. However, by taking calculated risks and willing to think innovatively outside the box, your endeavours will have a greater chance of success.
Moneyball is available to rent, watch or buy online on Netflix, Amazon Prime, Youtube and Now TV.
Jerry Maguire
This well-known rom-com starring Tom Cruise and Renee Zellweger also has some important gems of inspiration to impart on entrepreneurs. 
Jerry Maguire tells the story of how failed high-powered sports agent Jerry Maguire (Cruise) starts up his own sports management agency and his journey of self-discovery as he is faced with and learns to overcome the hurdles and pitfalls involved in starting his own company in a high-powered industry. 
Entrepreneurs can certainly learn a lot from this movie in terms of the importance of good communication, networking and nurturing important business relationships. It also shows that sometimes, all you need is one good customer and a lot of determination to get ahead.
Jerry Maguire is available to watch, rent or buy from Amazon Prime, YouTube or Now TV.
Joy
Directed by David O'Russell and starring Jennifer Lawrence in the titular role, Joy is a biographical film about self-made millionaire Joy Mangano who founded her own business empire.
The movie follows Joy on her journey to becoming a self-made business magnate. We're first introduced to her living in a run-down house that she can't afford the repairs for with two kids, her divorced parents, grandmother and karaoke-singing ex-husband.
We then see her journey to success as she invents the revolutionary Miracle Mop and experiences the highs and lows of getting her fledgling business off the ground. 
As well as being a refreshing change which tells the story of a successful female entrepreneur, Joy is truly an inspiring film for any entrepreneur just starting out.
It shows all of the madness that goes on behind the scenes with start-up businesses, as well as the realities of managing a work-life balance while trying to make your business a success.
Joy also shows the importance of believing in and trusting the process, as well as not shying away from trying different marketing strategies until you find what works for your product or service.
Joy is available to watch, rent or buy online on Netflix, Amazon Prime, Youtube and Now TV.
Pirates of Silicon Valley
The second film on our list to chronicle the life of Steve Jobs, this 1999 TV movie starring Noah Wyle and Anthony Michael Hall takes us through the  rivalry between Steve Jobs and Windows founder Bill Gates between 1971 and 1998.
Based on the book Fire in the Valley: the Making of the Personal Computer by Michael Swain, Pirates of Silicon Valley shows both Jobs and Gates in their college days and chronicles how both of these innovators disrupted the technology industry.
It is definitely interesting to see both their stories told simultaneously within the same movie, as both Jobs and Gates really did come up in the industry more or less at the same time. Even today, you will find people debating over which system is better, Apple or Windows?
Entrepreneurs can take a lot of inspiration from this movie as it shows how even some of the most successful entrepreneurs made mistakes and struggled to get their businesses off the group and make them the success they are today.
You can watch, rent or buy Pirate of Silicon Valley on Amazon Prime.
One, Ten, One Hundred
One, Ten, One Hundred is an innovative Webby Award winning six part  original documentary series by video marketing company Wistia.
Part documentary, part marketing campaign, Wistia set out to explore the impact that production quality has on having a successful marketing campaign. 
They teamed up with the advertising agency Sandwich Video to create three video adverts to promote the launch of their Chrome extension video creation project Soapbox at three different price points. The first advert had a budget of $1000, the second $10,000 and the third had a budget of $100,000. 
They looked at factors such as, can you produce a good quality video advert with just an iPhone camera? Or do audiences respond better when an advert has had the full production crew and professional equipment treatment?
One, Ten One Hundred also looked at factors such as how and where the adverts were distributed and measured how they performed for brand awareness and for driving installs.
This is a really clever documentary especially for entrepreneurs looking at how to best market themselves. It teaches a lot about innovation, creativity and encourages businesses to not be afraid of taking chances and experimenting with advertising style. Best of all, One, Ten, One Hundred proves that you don't have to break the bank to produce an effective marketing campaign.
One, Ten, One Hundred can be watched online on Wistia's website, Youtube or can bought or rented from Amazon Prime.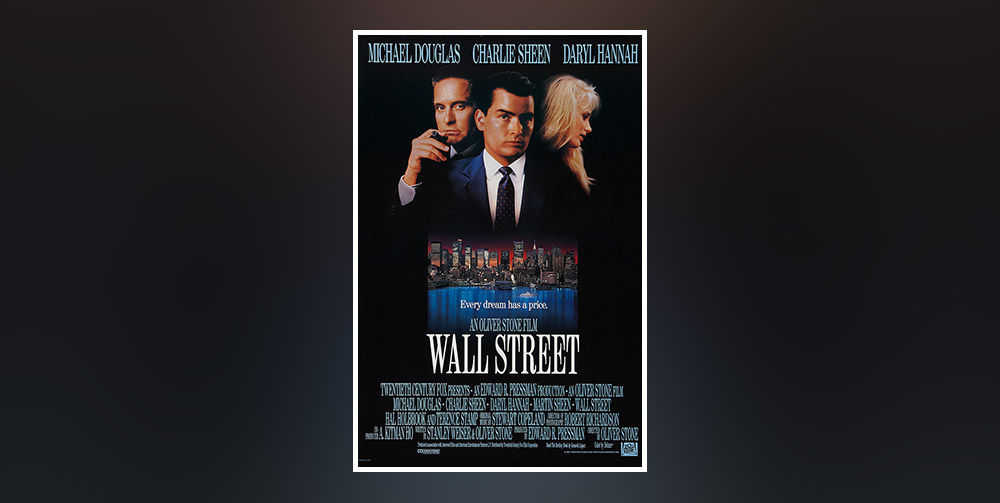 Wall Street
"Greed is Good."
This is the mantra of Wall Street's Gordon Gekko, played brilliantly by Michale Douglas in this 1987 cinematic masterpiece, directed by Oliver Stone and also starring Charlie Sheen as the main protagonist Bud Fox.
Widely regarded as one of the best business movies ever made, Wall Street tells the story of young, determined but impressionable stockbroker Bud Fox as he strives to succeed and impress his hero and mentor Gordon Gekko. 
This movie shows how easy it is to get carried away by the glamorous lifestyle and high-stakes excitement of the stock market industry, while also highlighting the greed and corruption rife in Wall Street during the 80s stock market boom.
Wall Street is a great cautionary film for entrepreneurs to learn from. Yes, it shows the importance of hard work and determination, but also shows how important it is to make sure that you don't let greed get the better of you and lead you down the road to making unethical decisions.
Wall Street is available to rent or buy on Amazon Prime, Youtube or Now TV.
Steve Jobs
Ask most people to describe Steve Jobs and they'll picture a thin, black turtleneck wearing, bespectacled man. We all recognise Steve Jobs as the creator of Apple, the father of the iPhone and the man who reinvented how we access and listen to music.
But what about the man himself? How did he become the multi-millionaire success story we all know and recognise?
This 2015 movie starring Michael Fassbender as Steve Jobs, directed by cinematic mastermind Danny Boyle and written by Andy Sorkin (who also wrote The Social Network) follows Steve Jobs through three pivotal moments of his career. The finale of the movie takes place in 1998 at the launch of the first iMac.
Based on the 2011 biography by Walter Isaacson, this movie adaptation isn't afraid to show Steve Jobs' failures and his faults as a person while also celebrating his success. This is what makes this particular interpretation of Steve Jobs' life so compelling to watch. It is also a great movie for entrepreneurs to watch.
Steve Jobs is an entrepreneurial icon for a reason, and we can also learn a lot from him in terms of hard work, confidence and perseverance. This movie also shows that even the most successful and savvy of entrepreneurs can fail.
It also shows how they can bounce back and thrive through sheer determination and belief in what they can offer. A lesson we can all learn from, I think.
Steve Jobs is available to watch, rent or buy on Netflix, Amazon Prime, Youtube or Now TV.
Becoming Warren Buffet
Warren Buffet is known as one of the most successful businessmen and entrepreneurs in the world. Today, he is also known to be one of the wealthiest people on the planet. 
It's hardly surprising that so many people in business admire him.
Becoming Warren Buffet in a 2017 HBO documentary that looks at his life and successes, both in business and in his personal life. We learn about his early life as a numbers-obsessed young boy in Omaha, Nebraska who started his career early by selling newspapers, bubble gum and soda pop door to door at the age of only 13.
The documentary also uncovers hurdles he faced along the way, including his social awkwardness and fear of public speaking, as well as how he learned to overcome these issues and eventually become the CEO of Berkshire Hathaway.
As well as being an astute and intelligent businessman, Becoming Warren Buffet highlights how humble and down-to-earth this legendary investor and businessman remains. 
Featuring a conversation with the man himself, entrepreneurs can learn so much from watching this documentary. He talks very frankly about his ups and downs, as well as how he overcame obstacles in his career.
When it comes to entrepreneurial role models, you just can't get better than Warren Buffet.
You can watch Becoming Warren Buffet on Youtube and Amazon Prime.
Startup.com
Startup.com is a 2001 documentary directed by Jehane Noujaim and Chris Hedgedus that follows real-life dot-com start-up company GovWorks.
GovWorks were a promising start-up company that raised $60 million from Hearst Interactive Media, KKR, the New York Investment Fund and Sapient.
Unfortunately, due to mismanagement and internal power struggles, as well as being a victim of the "boom and bust" nature of the dot-com era.
Startup.com is a great cautionary tale for entrepreneurs who are just starting out. It shows how friendships can be threatened by business partnerships, as well as the importance of good management and team building skills.
Startup.com is available to watch on Youtube.

Glengarry Glen Ross
Glengarry Glen Ross is an adaptation of the Pulitzer Prize-winning play of the same name starring Al Pacino, Jack Lemmon, Alec Baldwin and Ed Harris as four real estate salesmen whose jobs are put on the line when they're told that, in a week's time, only the top two performers will be kept on.
This is a must-watch for anyone just starting out in business, especially as it includes and explains the well-known marketing technique AIDA (Attention, Interest, Decision, Action) that all entrepreneurs and marketers should know.
If you have a team working under you, Glengarry Glen Ross highlights how decisions made at the top can have a knock-on effect on everyone working for the business. 
Other key takeaways for entrepreneurs is how you can use such high pressure sales environments to push your skills and thrive, as well as how to successfully sell and how not to sell. Needless to say it's one of the very best business movies, period.
Glengarry Glen Ross is available to watch, rent or buy from Amazon Prime, Youtube or Now TV.
The Big Short
Based on Michael Lewis's book of the same name, The Big Short is a biographical movie directed by Adam Mackay and starring Christian Bale, Brad Pitt, Ryan Gosling and Steve Carrell.
It tells three separate but parallel stories about three financial experts that were not only able to observe the problems with the US housing bubble but also predict and profit from the subsequent financial crisis of 2007-2008. 
The Big Short provides a lot of insight into the events that led up to the financial crisis that put most of the world into a financial recession.
It is also noted for making complex financial events and concepts such as "subprime mortgages' easier for regular people not in the financial industry to understand.
What makes this a great movie for entrepreneurs is that it teaches the value of knowing when to be cautious and when to take calculated risks.
The Big Short is available to watch, rent or buy through Amazon Prime, Youtube and Now TV.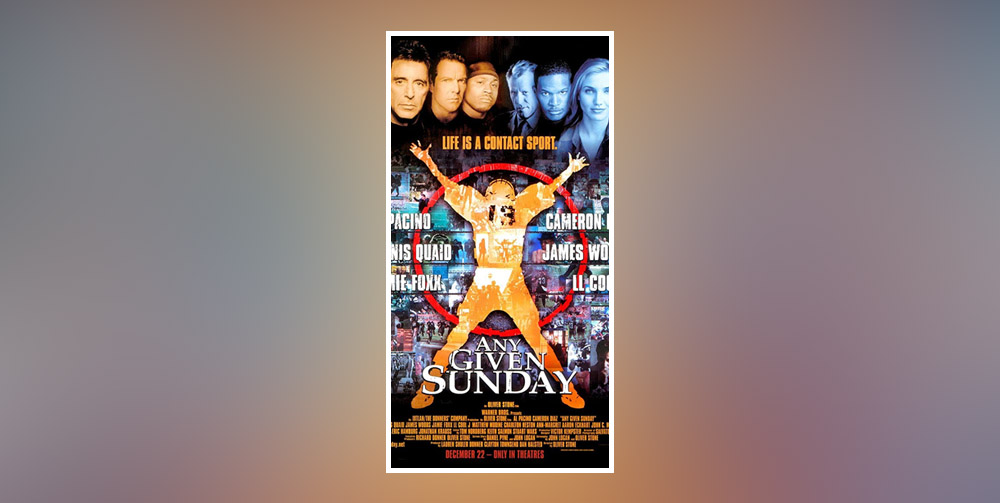 Any Given Sunday
Directed by Oliver Stone and starring Al Pacino, Cameron Diaz and Jaime Foxx, Any Given Sunday is more than just a great movie for sports fans.
Al Pacino plays veteran American football coach Tony D'Amato struggling with his team's losses and internal struggles alongside his own problems with the team's new owner, played by Cameron Diaz. 
In a scene that takes place prior to a crucial playoff game, Pacino delivers a truly inspiring speech about the power and importance of teamwork. While the speech is given within the context of American football, the sentiment is something we can all learn from, especially within business.
The lesson entrepreneurs can take away from Any Given Sunday is Tony D'Amato's sheer determination to succeed in the face of adversity.
As an entrepreneur, you are bound to run into challenges and seemingly insurmountable obstacles. But by believing in yourself and pushing through, you are way more likely to come out the other side successful.
Any Given Sunday is available to rent or buy from Amazon Prime, Youtube or Google Play.
The Greatest Movie Ever Sold
To give this its full title, POM Wonderful Presents: The Greatest Movie Ever Sold is an absolutely genius documentary film by Morgan Spurlock – the same man behind 2004's Super Size Me.
The premise behind The Greatest Movie Ever Sold is simple – it's a documentary movie about product placement, marketing and advertising, paid for entirely by product placement, marketing and advertisements! 
In his trademark humorous style, Spurlock fixes his sight on the advertising industry and how brands get their names and products out to the public in today's product placement culture.
We see his journey through reaching out to various brands for sponsorship deals, going into meetings to discuss what his documentary is about and how the product placement would be used, giving us a unique insight into how sponsorships come into being, particularly within the entertainment industry.
The Greatest Movie Ever Sold shows us how, in many ways, the entertainment industry and advertising have formed an almost symbiotic relationship over the years as a result of the consumer's growing lack of trust in more conventional forms of advertising.
It shows how marketing and advertising had to adapt to get their brand names and products in front of consumers in a less obtrusive way. It also shows how many in the entertainment industry (film makers, TV studios, etc) can benefit or sometimes even rely on these lucrative brand sponsorships to get their product made and on the air. 
Interestingly, though this documentary came out in 2011, it gave us a glimpse of the early beginnings of influencer marketing culture and touches upon the need for earning consumer trust, as has been documented in recent years as the influencer bubble started to burst.
Entrepreneurs can learn a lot about marketing and advertising through The Greatest Movie Ever Sold. It teaches the importance of a good marketing campaign, as well as how transparency will earn more customer and consumer trust, building more brand loyalty in the long run.
If you want to learn more about the subject of product placement, we wrote a piece about the history of product placement in movies that you might find interesting.
The Greatest Movie Ever Sold is available to rent or buy through Amazon Prime, Youtube and Google Play.
Boiler Room
Loosely inspired by the fraudulent stock trading company founded by Jordan Belfort (yes, THE Jordan Belfort of The Wolf of Wall Street fame), Stratton Oakmont, Boiler Room is yet another cautionary tale against being swayed by greed and corruption.
Starring Giovanni Ribisi, Ben Affleck and Vin Diesel, Boiler Room is about a college drop-out who gets hired as a broker for an investment firm full of aggressive young stock brokers who worship Wall Street's Gordon Gekko, only to find out that it employs shady tactics to con people into buying penny stocks.
As well as delivering a strong cautionary message against being swayed by greed and deceit, Boiler Room also shows entrepreneurs that you don't necessarily need a university degree to become successful in business, as long as you are willing to work hard and not be afraid to commit.
Boiler Room is available to watch, rent or buy from Amazon Prime, Youtube and Now TV.
ENRON: The Smartest Guys in the Room
This 2005 documentary directed by Alex Gibney and based on Bethany McLean and Peter Elkind's book of the same name examines the fall of the Enron Corporation in 2001 and what would become known as the Enron Scandal – considered one of the biggest and most shocking cases of business corruption in recent American history.
ENRON: The Smartest Guys in the Room covers the full scale of the scandal, misappropriation of billions of dollars and subsequent lawsuits and trials.
As well as talking to the authors of the book, the documentary features interviews with the book's authors, as well as with former Enron executives and employees, stock analysts and the former governor of California Gray Davis.
It is a fascinating look at the downfall of what was once the seventh largest company in America through sheer greed and corruption. As well as being great for anyone interested in business history, ENRON: The Smartest Guys in the Room is a stark cautionary tale against greed and unethical business practices.
You can rent or buy ENRON: The Smartest Guys in the Room on Amazon Prime, Youtube and Google Play.
Walt Before Mickey
Walt Before Mickey is a 2015 biographical movie directed by Khoa Le and starring Thomas Nicholas as the man himself, Walt Disney.
The movie chronicles Walt Disney's early life from his childhood in Missouri through to his early business ventures up to the beginnings of Disney studios that the world knows today.
Though made on a low budget with a first-time feature director at the helm, Walt Before Mickey does a great job of depicting both the highs and lows of Walt's early career, including his first animation studio Laugh-O-Gram in which Disney started to become a household name and its eventual bankruptcy and closure.
Walt Disney is an interesting figure and a great inspiration in general for entrepreneurs. This movie serves as even further inspiration as it shows one of the most successful and recognisable entrepreneurs experiencing great adversity and poverty.
It's an inspirational story of determination and perseverance. It shows that success rarely happens overnight and sometimes you have to be willing to make sacrifices and trust the process before you start to taste success.
Walt Before Mickey is available to rent or buy on Amazon Prime.
The 23 Best Business Movies for Entrepreneurs
So there you have it, that was 23 of the best business movies for entrepreneurs. Are there any movies that you think we've missed?
Naturally with the exception of documentaries, while it has to be acknowledged that most movies, even those based on true stories won't necessarily be completely factually accurate.
However, there are still things that entrepreneurs can learn from movies such as those featured on this list. 
Of course, if you'd prefer to watch something more directly educational, check out our list of the best Youtube business channels.
At the very least, these stories are great sources of inspiration or serve as cautionary tales for what not to do when founding and running a successful business.
If you are looking for advice or help creating the best marketing campaign for your business, please don't hesitate to get in touch with us today and see how we can help.