When it comes to consumer goods packaging, you should never compromise on the design.
The way these products look from a visual standpoint, is a huge contributing factor in why people buy them.
Think about this from your own perspective.
Have you ever bought a bottle of gin just because you liked the packaging?
It's not the brand you normally buy, and you've never even tasted the flavour, but it's visually really intriguing.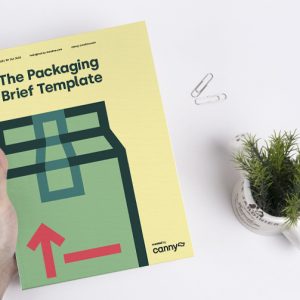 Or let's look at this a different way.
Have you ever not bought a brand of chocolate as a gift, because the packaging looked really cheap?
Instead, you opted for the brand of chocolate on the shelf above – the one that was wrapped in shiny gold foil, with lovely swirls and patterns all over it?
As you can see from the two examples above, the way a product looks can really sway the consumer's purchasing decision.
Before we've even tried a product, it's the outside packaging that we see first so this has to make a positive, lasting impression.
In this blog post, we're going to look at some examples of consumer goods packaging design to give you some inspo for your next project.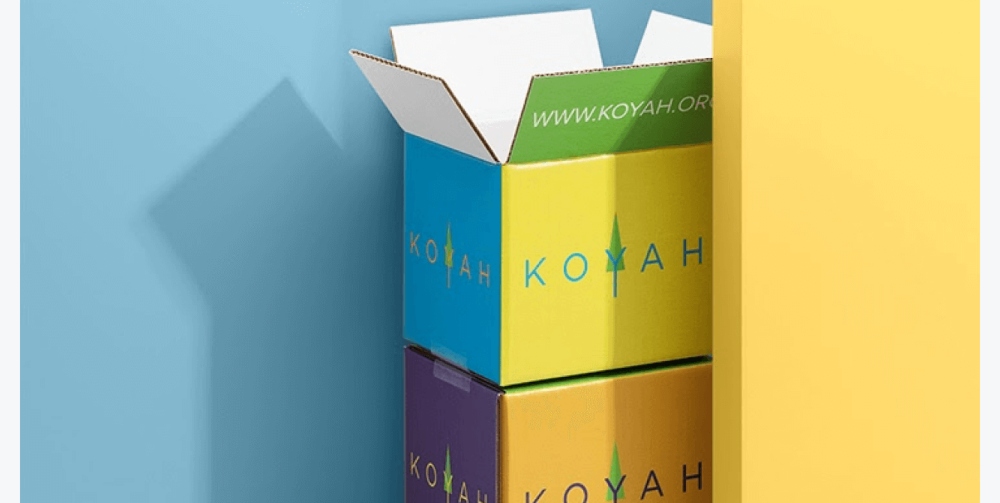 Credit to Tidio
Koyah
For consumer goods packaging design to be successful, it doesn't need to be busy.
Sometimes, a simple colour palette is enough to capture the attention of a customer without overloading them with cluttered shapes and patterns.
Of course there has to be some sort of balance between being simple and boring, but choosing the right colour palette can be very powerful.
An example of a brand who does this perfectly is Koyah.
They sell nutritional supplements such as fruit and vegetable powders, and by their very nature, these products are bold and colourful.
This is reflected beautifully in their packaging design as different colours represent the contents inside. For example a bright yellow is the colour for the banana, whilst other ingredients are represented by shades of orange and blue.
This is a very clever, but simple way of communicating what's inside a box before the consumer has even opened it.

Credit to Greater Good
Freddie's Flowers
Freddies Flowers is a flower delivery service based in London, which makes beautiful bouquets delivered straight to your front door.
The owner, Freddie Garland, has always had a love for flowers after growing up in his parent's flower shop.
In his own words:
"We've grown a lot since I was packing boxes in my parents' garden and delivering my flowers on an old milk float! But my mission to send you the most sensationally seasonal stems (packed with meaning, knowledge and creativity) is still the same.'
Freddies Flowers are committed to providing fresh flowers to their subscribers on a weekly basis so that people always have a new bouquet to enjoy. Their service is also very personalised which is reflected in their product packaging.
All of their flowers are delivered in high quality, craft boxes that come complete with handwritten letter forms and illustrations.
Whilst simplistic in design, these illustrations add a very personal touch and emphasise that this is a small business.
This helps customers make a connection with the brand (Freddie) so that they feel encouraged to buy more.

Credit to Greater Good
Ugly Drinks
Now to the other end of the spectrum, an example of a very bold consumer goods packaging design.
Ugly Drinks were originally a sparkling water brand but they have now moved into other flavours such as lemon & lime, triple berry, orange, and tropical flavours.
You can buy these drinks online from the likes of Amazon and Tesco to either purchase in store or have them delivered straight to your doorstep.
To attract customer attention in a very saturated market, they use bold, distinctive colours with a retro-like typography to conjure up a sense of interest.
The typography is also very fluid which perfectly represents the contents inside creating a strong synergy between the exterior and interior of the product.
The designs are very playful, and the typography mixed with the pastel colour palette would appeal to a younger demographic who are looking for a fizzy alternative to other mainstream brands.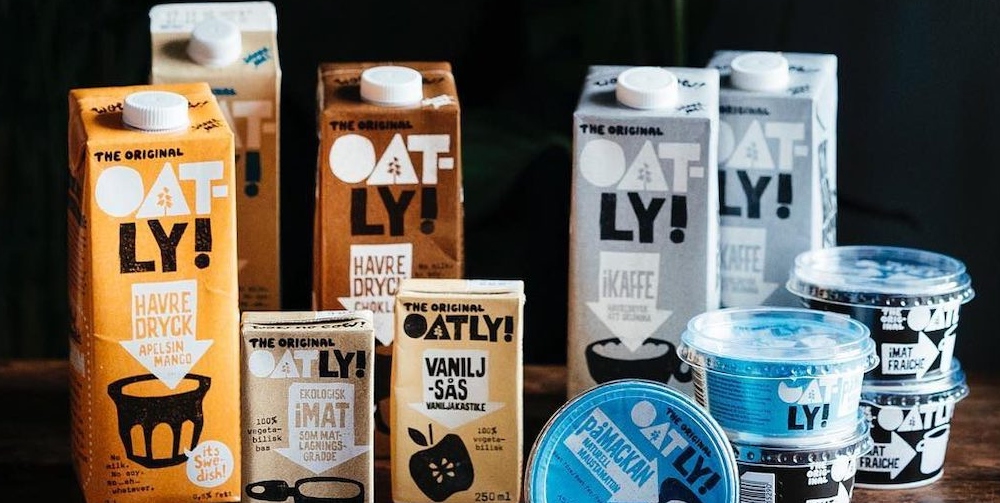 Credit to Green Queen
Oatly
Oatly is a company that produce a whole range of alternatives to dairy products made from oats.
From milk, to ice cream, to yogurts, Oatly makes it possible for everyone to enjoy these products without having to consume any diary – it's oatly unbelievable!
Apologies we're bad at jokes, let's get back to blog writing instead.
When it comes to their product packaging, they keep it simple and to the point.
All of their products are packaged in a very pastel colour palette which allows for the text to really jump out at you. After all it's the brand name that sticks in the customers' minds and ties all of the different products together.
For example, the misshapen and quirky arrangement of the word 'Oatly' takes center stage with its chunky, bold lettering.
Oatly are also committed to health and sustainability which is visually represented in their packaging as it showcases a 'clean' design and uses renewable materials.

Credit to Food Manufacture
Graze
Graze paved the way for how customers can experience convenience and delivery through their boxes of healthy snacks.
By signing up to this subscription service, customers get a box of healthy goodies delivered straight to their door.
However, as the brand has expanded, you can also buy a range of Graze products in shops and supermarkets so that you can enjoy a healthy snack on the go.
As this market is so overcrowded, the product packaging for Graze needs to be eye-catching and inspiring.
They need to motivate consumers to try these healthy snacks instead of opting for a more sugary (and perhaps safer) option. The term 'healthy' can carry negative connotations with many consumers believing it to be 'boring'.
However, the product packaging for Graze is far from that.
Utilising bright, energetic colours such as purple and orange, it creates a sense of excitement and doesn't fall into the cliche trap of using the colour green.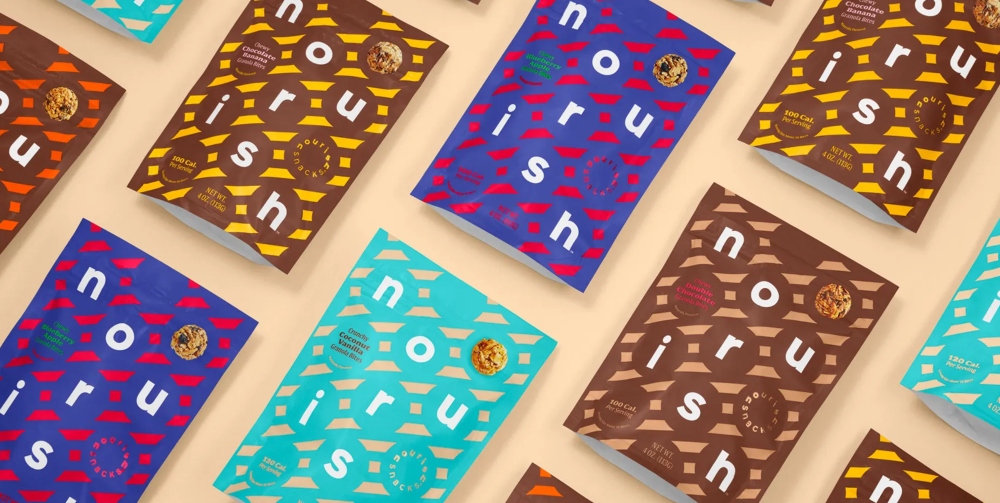 Credit to Dieline
Nourish Snacks
From one healthy snack to another – proof of just how crowded this marketplace is!
Nourish Snacks is a food company founded by nutritionist Joy Bauer, and they provide a whole range of organic, wholesome snacks.
When designing their product packaging, Nourish wanted to appeal to a wider customer base.
They employed the help of agency Collins, who created a new identity for the healthy food brand to capture more consumers.
The designs are inspired by memories from when snacking was less complicated and more fun which is where the random placement of the letters was born.
Furthermore, the bold diagonals that carry across this packaging design are reflective of the stripes seen on snacks sold at the circus, carnivals. and baseball games.
The idea behind this was to invite people to try something surprising, different, and healthier.

Credit to It's nice that
Co-Op Alcohol Range
Own-brand alternatives can often be seen as a second choice by the consumer.
If their usual brand of food or drink isn't available, then often they will buy the brand's own product range instead.
However, the Co-op didn't want to be perceived as 'second-best'.
Instead, they wanted to be actively chosen by the consumer by stepping away from safe, conventional packaging design. It's fair to say their previous product packaging was a little dull and would have quite easily blended into the background.
So they turned to Robot Food to create a hero brand that recognises the individuality of each product (cider, lager etc), but in a captivating but cohesive collection.
The brand identity they created ties all of the individual products together – something their previous packaging was clearly missing.
A consistent colour palette of blue, white and black, and a silver Co-op brand mark was used to create consistency across the entire range.
These colours also bring the products back to the Co-op by employing their classic colour palette of blue and white. Expressive typography and bold graphics were then applied to create a distinctive look for each product.
This is a fantastic example of consumer goods packaging design as it shows a brand who is not going to shy away from their own-brand status and instead, leans into it.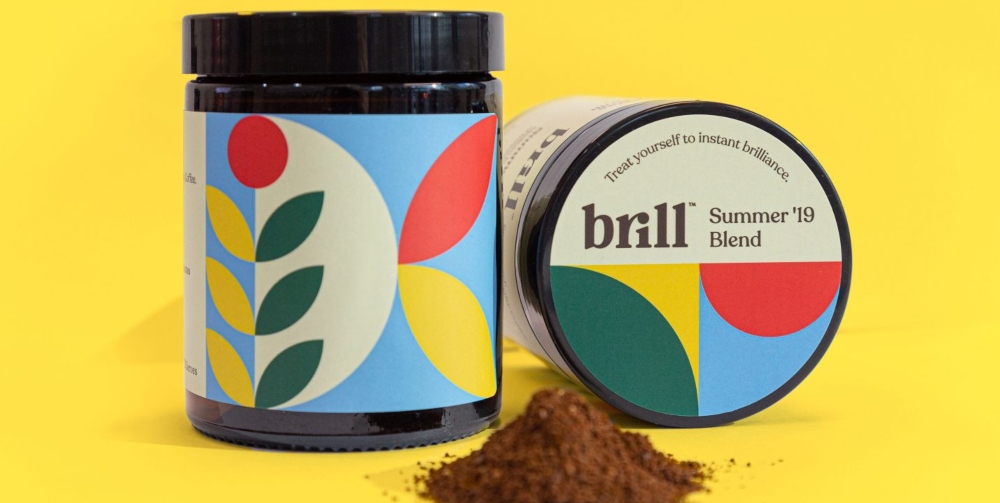 Credit to Shillington Education
Brill Instant Coffee
Brill Instant Coffee is a premium freeze-dried coffee business launched by the founders of DSR branding.
What gives this coffee brand a competitive edge is the way it is produced.
Unlike other coffee brands, it is made in small batches using only the highest quality of ingredients which means it is more expensive.
But if you're a coffee connoisseur and you want to enjoy the best, then you'll be prepared to pay a little extra for the quality.
This element of 'luxury' and 'quality' is carried through to the product packaging as it showcases bold geometric shapes and a bright colur palette.
However, it's not messy or cluttered as every pattern has been carefully thought-out to give a premium result.
There is also a clever meaning behind the different shapes as the idea was to reimagine the flags of the places where the coffee was grown.
Whilst this idea is subtle in practice, it's still very eye-catching and immediately stands out to other well-known coffee brands on the market.

Credit to Packaging of the World
Socilink Canned Fish
From freeze-dried coffee to canned fish.
Yep, we're really mixing it up on the Canny blog with this one!
Considering how vast the consumer goods packaging market is, we want to try and cover as many design examples as possible.
So, back to canned fish.
When Socilink, a company dedicated to the marketing of selected food products, launched a new collection of canned fish, they asked Rui Veríssimo Design for a little help.
Their brief was to create a brand that presented a refined, gourmet experience whilst also being healthy food for your body.
And the end result is exactly that.
The graphics on this product packaging design are reminiscent of the age-old culture of the Portuguese people, drawing on the tile tradition which can be seen through the blue and white shapes.
However, Rui Veríssimo Design has put a modern twist on this nostalgia feel with a fresh and contemporary look that makes it fitting for the consumer of today.
The product packaging is full of personality, and while these designs feel refined and authentic, they're not playing it too safe either.
The colour palette is also very minimalistic comprising only blue, orange, and white, but it's really the graphics that take all the attention.

Credit to Behance
Intermission Skincare
Cosmetic company Cutigen Laboratories asked CFC develop a new brand identity and packaging system for their new skincare brand, Intermission.
They based the new visual identity around the symbols of a test tube and flower, representing both science and emotion – 2 key pillars for the brand.
This is because there is a real balance between the emotional and functional benefits of the product, so both of these elements needed to be visually recognisable.
This notion was also carried through to the product packaging which shows systematic charts to represent science, and calligraphic letters for emotion.
In turn, these designs cleverly strike the perfect balance between the two themes.
What I especially love about the example of consumer goods packaging is that it's unapologetically daring. Because of the hand-written lettering 'Rest-up balancing' it immediately grabs your attention and makes you want to find out more.
Lots of brands are afraid to go down this almost 'messy' route when it comes to their product packaging, but I think it looks really cool and would make a real impact on the consumer.
Whilst a little out there, all of the information is still readable through the hand-written lettering which means it is both daring but practical.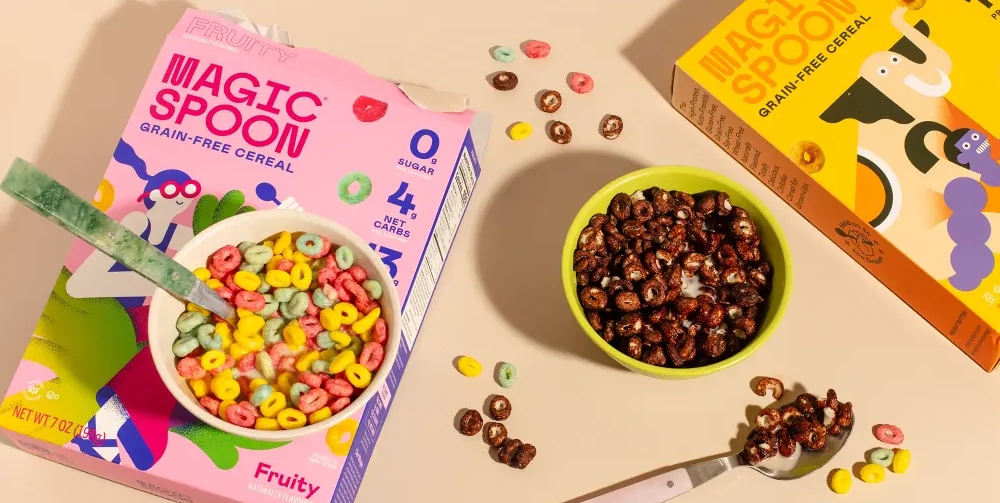 Credit to The New York Times
Magic Spoon Cereal
Magic Spoon Cereal is a cereal brand which pushes the creative boundaries.
Whilst yes, it is only a cereal, the product packaging creates an experience and makes you excited before you've even tasted what's inside.
However, there is something slightly different about Magic Spoon as it's committed to providing a new brand of childhood cereal but in a high-protein, low-sugar form.
When it comes to their limited-edition variety pack, the packaging features unique illustrations for each flavour to really get the taste buds sizzling.
The use of electric colours such as purple and yellow really captivate your attention and scream 'pick me!' off a busy shelf.
These illustrations were created by Levi Jacobs, alongside the company's in-house design team, and what a great job they've done! The graphics are fun, playful, and different, which really ties into the theme about taking customers back to their childhood.
The finished result is a colourful, contemporary and stylish aesthetic that grabs attention, while retaining an underlying sense of silliness.
This is the perfect brand for children and adults alike, and injects a little more fun into breakfast time.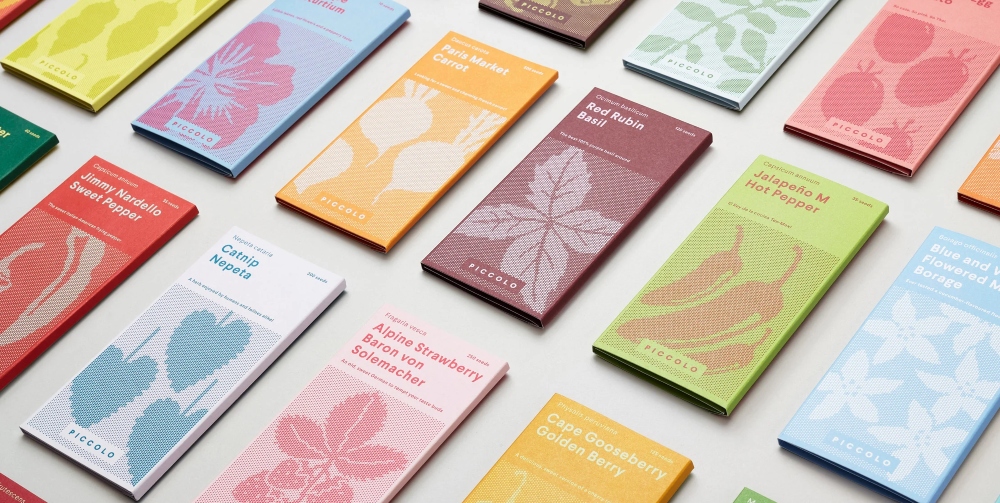 Credit to Dezeen
Piccolo Seeds
There's something about this packaging design that makes me feel so calm and zen!
Piccolo is an Italian seed brand aimed at urban growers with limited space to grow things in such as a small garden or a balcony terrace.
In order to develop a fresh, contemporary visual language across their packaging designs, the company paired with UK-based studio Here Design.
These guys took their brief and created a storybook-like, illustrated approach that cleverley depicts the history of Piccolo.
This is a key aspect in engaging the consumer as it sheds light on the rewarding experience of growing your own produce.
In turn, this attracts urban gardeners from around the world and makes them excited to get started on their own project.
Whilst some might argue that using the colour green is a little cliche (after all green representing a garden isn't exactly mind-blowing), I think the texture and graphics really add a point of difference.
Friedas Frozen Yoghurt
Now we couldn't talk about the best consumer goods packaging designs without mentioning one of our own.
After all, we have worked with some fantastic clients and we're very proud to show you the end result.
Friedas operate a food truck (otherwise known as The Dairy Godmother) and tour summer fayres/markets across the South of England, serving up delicious frozen yoghurt, only they weren't going to let the opportunity at effective branding melt away so easily.
They approached us to create a bold identity that would help them stand out at busy markets in amongst other like-minded brands/businesses. They were looking for an agency that would create something distinctive and a little quirky, whilst remaining family friendly.
We approached the project by looking for inspiration in the products Friedas sell. Yoghurt cups seemed like a natural area for exploration given what they sell.
This led us down a very interesting path, one that tried to walk the line very carefully. Still, this didn't stop us from trying a few out of the box ideas in an attempt to appeal to the family-orientated nature of the project.
Jokingly we illustrated the spoon as if you were scooping out either delicious yoghurt, or cow brains. Half joking, we suggested it to the client who loved the idea, and the Friedas brand was born!
Once this was signed off, with it came a range of deliverables, from yoghurt cups and merchandise, to a design for The Dairy Godmother herself.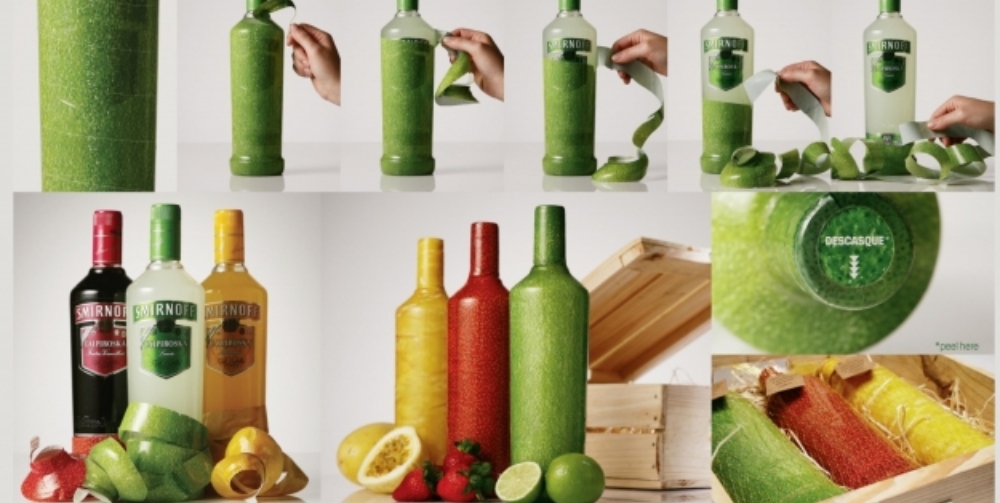 Credit to Adeevee
Smirnoff Caipiroska
A vodka bottle that you can peel – have you ever heard anything like it?!
Because that's what JWT Brasil designed for Smirnoff to add something a little different to their alcohol beverage.
So, what was the idea behind it and how does it work?
Well quite literally it does what it says on the tin – a customer can peel back the packaging and reveal the bottle of Smirnoff Caipiroska underneath.
Not only is this visually intriguing and fun to do, but it also has a practical purpose.
It signifies that this flavour of vodka is fruity, as fruit has different layers which you can peel.
There's more to this idea too, as these limited-edition bottles were sent to a select mailing list in a wooden box, the same way fruit are usually transported.
""To launch the new formula of the flavors of Smirnoff Caipiroska, the Brazilian drink that is popular worldwide, we created bottles with the texture of the fruit for the flavors lemon, passion fruit and berries and a diagonal perforation, so that consumers could feel the unique experience of peeling a drink made of fruit. And we even sent the bottles in wooden crates to a select mailing list, just like the fruits are transported in large produce markets in Brazil." – JWT, Brasil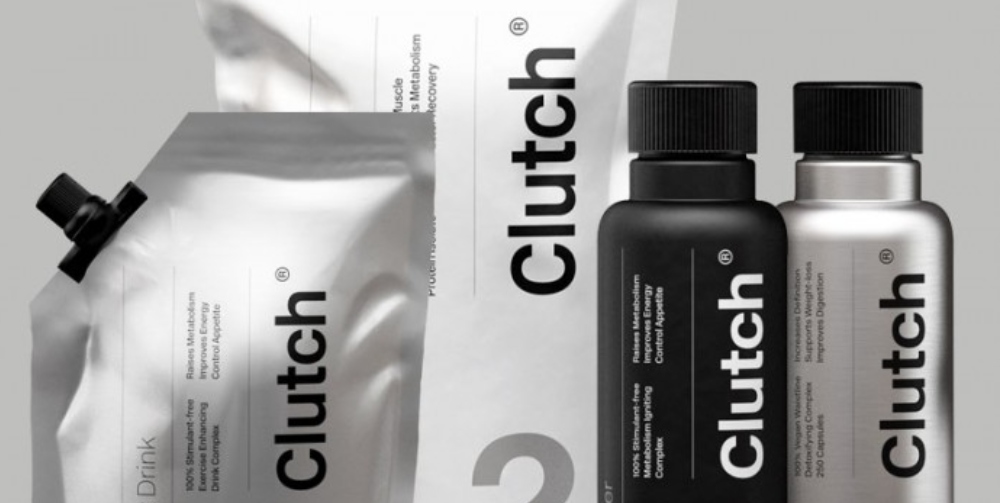 Credit to Socio Design
Clutch Bodyshop
Minimalism and simplicity are themes that are really at the center of these consumer goods packaging designs.
Clutch Bodyshop are specialists in health and wellness programs to inspire people to live their happiest and healthiest lives. To do this, they employ a very straightforward, simple approach to really bring people on board.
This is transitioned to the typography as they employ a sans-serif font which makes up most of the packaging. However in contrast to this understated look, the brand has used big, bold lettering which immediately grabs your attention.
This, in combination with the big numbers really hones in on matters most to the consumer – the benefits of using these products and how they can make your life better.
This notion is further supported by the monochromatic color scheme which elevates the importance of keeping your routine clean, healthy, and pure – 3 key pillars of Clutch Bodyshop.
Now moving over to the position of the wording and numbers as this conjures up visual interest.
The orientation of both the words and number are printed sideways causing consumers to tilt their head to take a good look. This is a very clever move and makes customers do something which is more memorable.
Unwrap the Secrets to Great Packaging: The Best Consumer Goods Packaging Design
From canned fish, to cereal, to health supplements, we've covered a lot of ground when it comes to consumer goods packaging designs.
How these products look is absolutely paramount as this market is hugely overcrowded. Because these products are used often and replenished frequently, there are so many competing brands offering consumers exactly the same thing.
To stand out and have your product picked off the shelf and put into the basket, you've got to make an impact; you've got to be memorable.
Customers don't just pick any random product (although they might think they do) as each purchasing decision is conscious. You can drive these decisions and make customers choose you by creating effective consumer goods packaging.
But you don't have to do it on your own. At canny, we have worked with lots of CPG brands such as Kono Coffee to create packaging that makes a lasting impression. Let us do the same for you by getting in touch with a member of our team.