If there's one thing we love about potato chips – other than eating them of course – it's chip packaging design.
We love them because, like other FMCG, they come in a variety of shapes, sizes, and styles – similar to soda packaging, which we've also covered recently in a blog just like this one.
Highlighting soda and chips packaging; we sure know how to keep you guys fed with high quality content, don't we?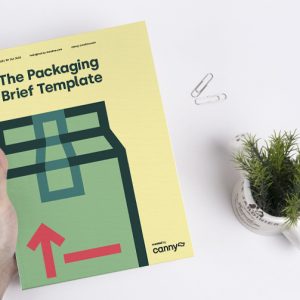 Below you'll find some of our favourite examples of chip packaging design, some that are currently out at the moment, others that are simply concepts found on the portfolios of some very talented packaging designers.
We thought we'd offer you a mixed bag in this way, as some of the other blogs we've read on this particular subject tend to lean on one particular side, choosing to highlight either or, instead of celebrating both.
And that's exactly what this post is:
A celebration of expertly designed packaging; the kind that sticks with you long after you've finished the last chip.
Now, let's jump right in, starting with one of the hottest packaging designs around.

Credit to Paqui
Paqui (One Chip Challenge)
We're kicking off the list of great chip packaging designs with a personal favourite of mine, from a brand known for its viral challenges. I'm of course referring to Paqui, the infamous brand behind the One Chip Challenge.
Now, I've never tried one of its chips as I'm a big spicy food guy – or like torturing myself with food, generally – but I have seen the packaging designs for these chips and they are a cut above all the rest.
You see each pack comes with only one chip, so Paqui decided to box it up in what looks like a miniature coffin of sorts – one decorated in hazard symbols, flames, grim reapers, and anything else you'd associate with danger or death.
They've gone through a few different chip packaging designs in recent years, my favourite of which has to be the one you see above (the one soaked in red).
If you've seen any of the One Chip Challenge videos online, you'll notice that barely anyone gives any attention to the packaging, and will simply throw it to one side.
I'd be keeping it if I had the stones to actually try one of these things.

Credit to Doritos
Doritos
You'd have to be living under a rock to have never tried Doritos – or at least know what they are and just how popular they are to people around the world. And that's without mentioning just how recognisable the Doritos logo and its packaging is.
That said, I bet you haven't seen Doritos quite like this.
What you see is the work of packaging designer Peter Pavlov, who has reimagined the limits of chip packaging design with this Transformers-like design that simply pops open whenever you're ready to eat.
There's multiple reasons as to why I think this is an exceptional concept, but what takes the cake for me is the fact that the triangles you see on the front are both referential and part of what helps the packaging go from one shape to another.
While cool, it's an example of something you rarely see on supermarket shelves given how much it would cost to produce at high volume.
Still, a chip-loving, packaging design lover like me can dream, can't I?

Credit to Popchips
Popchips
There's a lot to appreciate with our next packaging design. Popchips – the brand known for its 'popped not fried' approach to potato chips – has been very creative in branding its range of products.
The most recent design is as sleek as it gets, wasting very little space on each packet, with each flavour getting its own colour and styling to help separate it from other flavours within the Popchips family.
Another great thing about this iteration of the design is that it has reduced the size on the inside and outside plastic layers, meaning it doesn't use as much materials.
"Better for you doesn't have to be boring and our new pack design reflects the positive, fun and colourful personality of the popchips brand."
– Kevin McNair, KP's Marketing Director
KP Snacks, the company behind the popular chip brand, has estimated that this change will save up to 23 tonnes of materials, the equivalent of over five million fewer packets a year.
This is part of KP's 'pacKPromise' which involves using less packaging company-wide, with the end goal of all its plastic film packaging being fully recyclable by 2025.
Sustainability goals aside, I love this packaging.

Credit to Tostitos
Tostitos
Simplicity isn't always so bad as it might seem; just look at this Tostitos packaging design for the perfect example. Sure, the design isn't as complex as the Doritos and Paqui ones before it, but I wouldn't call it bad, or say anything negative about it.
I think it looks pretty good – plus, I'm a sucker for logos that reference what the brand sells. In this case, there's a chip getting dipped between the two T letters.
Seeing such a great logo in the middle of the packet instantly puts a little smile on my face.
Maybe you feel the same?
The various coloured shapes, how everything on the packets are spread out, and the fact that they include dipping suggestions for each flavour, only add to the overall appeal of this chip packaging design.
If I could wrap up why I like this chip packaging design in one line, I'd say this:
This FMCG brand has perfected the art of the see-through packaging window.
There's just something about seeing food in the packaging that's so interesting to me, which more than likely has something to do with my mistrust with these brands when they say "20% bigger," when in reality, all that's changed is the size of the bag.
Seeing what's inside is also confirmation that they aren't all smashed to pieces. Anyway, I'm rambling.
We're giving Tostitos' chip packaging design a big thumbs up.

Credit to Kettle Chips
Kettle
Kettle Baked Chips are another popular brand that you might be familiar with? Like Popchips, Kettle cooks its chips very differently compared to other brands.
For those not up to date on how chips are made, kettle-cooked chips are done in batches, whereas regular chips are made in a continuous process.
Both are still fried in oil but they do have a different taste/texture to them.
Kettle's branding and packaging designs definitely stand out on shelves, but the design we want to direct your attention to is another experimental concept – this time from Junpyo Kim, a creative designer from Seoul.
Kim's packaging design is unlike anything else we've seen, in that we can't say we've ever seen chip packets that you can open and reseal – in the same way you would face wipes and various other hygiene-based products.
Here's Kim's reasoning behind such an interesting design choice:
"You may have experienced sort of annoying moments when trying to enjoy a packet of potato chips.
For example, it is not easy to open the bag by grabbing each side and pulling it apart. You have to put your hand deeper in the bag as you eat, ending up with getting your hand dirty with oil and crumbs.
It is not handy to share it with someone as the open side would not accommodate two hands at the same time. This design suggests a new way of enjoying your chips by helping solve such problems."

Credit to Terra crisps
Terra
Next up is Terra and its range of sophisticated chip packaging designs for its range of real vegetable chips.
So, what's to love?
The first thing that stands out to me is the very striking typeface at the top; that, and the image of the chips in the centre that are lit by a spotlight of sorts.
I also love that all of the ingredients can be found towards the bottom of the packet, telling you everything you need to know about the flavour without having to look on the back for the info. The fact that there's text underneath each ingredient also helps given how small the ingredients are.
Some vegetables look alike, so having that information on the front of the packaging certainly helps in terms of providing clarity.
Most vegetable-based chip brands tend to go for something that is super bright and evoking. What's great about Terra is they've chosen to go in the complete opposite direction with something that's a lot darker without alienating the uniqueness of what's inside.
At Canny, when we work on packaging designs we always try to envision what the product will look like on shelves, and how easy you can spot the product when it's surrounded by others.
Terra has no problems standing out in that regard.

Credit to Cheetos
Cheetos
It ain't easy being cheesy, and it ain't easy to reinvent your packaging designs multiple times without alienating your customers.
Cheetos is the master of reinvention, and has been for quite some time, and if you want evidence of that just look at how Chester Cheetah has changed his stripes over the years.
He's gone through multiple art styles, and interpretations, and is still kicking around. The application of Chester has always entertained me in some way or another, and is often the first thing I look for whenever I see these cheesy chips out in the wild.
In previous packaging designs he's worn hoodies, ridden bikes, played football (soccer for the Americans reading this), and even juggled.
We should point out that Chester isn't always the focal point.
In some countries, there's no crazy mascot on the packaging – like in the UK, for example. Instead you'll find images of whatever's inside, accompanied by a custom type that tells you what flavour it is.
Both chip packaging designs (with and without Chester) work very well at grabbing your attention. The logo of Cheetos is also worth highlighting when you consider the fact that it's gone unchanged for so many years.
Sure, the placement of the logo has shifted around a bit, but it's always angled the same way and can be found dead centre towards the top.
Are Cheetos considered chips, by the way?
Hell if I know; we're still including them in our list of the best chip packaging designs, regardless.

Credit to Tyrrell's
Tyrrell's
Old meets new in wonderful ways is one of the only ways to describe the packaging designs of Tyrell's chips – a brand that is also a part of the KP Snacks company.
What I love, love, love about these particular packaging designs is how simplistic they are. There's no over-the-top icons or illustrations that distract you; it's just:
Black and white image
Distinct colour
Brand name
And chip flavour
It's so simple, and yet, so effective.
What's also effective is how absurd the images are when they add certain ingredients into the mix. For example, in the Sweet Chilli & Red Pepper flavour, there's an image of three firefighters all holding onto a giant red chilli.
It's funny. It's fun. And it helps Tyrell's stand out from the crowd.
I don't think the chip packaging designs would be as good if it weren't for these inclusions. They're almost like mini pieces of art in and of themselves; something you might display at home if they were offered as prints.
Tyrell's, if you're reading this, please start selling these designs as prints, because there's a lot of us out here that would love to make a purchase!

Credit to Mara Design Studio
Popitas
If you're a big fan of illustrative designs on your FMCG products, then you're going to really enjoy the next chip packaging design on our list.
Popitas is another hypothetical branding/packaging design project – one that we could easily see become a reality given the quality of what we've seen.
There are four unique flavours of Popitas, each with its own colour and style. You have:
Cheddar
BBQ
Sea Salt
Crema Cebolla
It's hard to pick a favourite Popitas design out of the four chosen designs, as they all have something interesting going on. That said, I'd probably have to go with the BBQ flavour due to its inviting colour scheme.
I also like the type of the word 'BBQ' a lot better than some of the other flavours. The red background behind it is also in the shape of a sauce packet.
It's the little things like this that make a massive difference from a design POV.
Mara Rodríguez is the packaging designer behind Popitas, someone who has a portfolio full of unique designs if you fancy taking a look at some of her other works.

Credit to Lays
Lays
Lays, Walkers, call them what you want; they're still one of the most popular chips out right now. Personally, I don't really like them as far as flavour and all that goes, but that's just my opinion.
On the packaging design side of things, the brand does an exceptional job of separating itself from the pack*
The asterix there is purposeful, as I feel like the Lays packaging design is at its best when it's for an exclusive/limited edition run – like with the brand's 'Smile' packaging series.
I love this series because it adds a vital ingredient to the packaging, that being:
A strong sense of personality.
The Smile packaging has gone through multiple iterations in the past, all showcasing various different expressions and people. I can't say I've seen anything like it on a bag of chips before.
China even received an exclusive line of designs that featured various cartoons instead of people that looked pretty good too! Those are a lot more cheeky, and feature some highly creative designs too.
The basic packaging for Lays is great in a very simplistic way too, I just find these exclusive versions a lot more engaging in comparison.
Bright, Crunchy, and Pretty Sweet: The Best in Chip Packaging Design
So, what did you think of our selection? Would you purchase any of the chips mentioned above based solely on the design of the packaging?
I certainly would if I came across some of them in my travels (Paqui's, Tyrrell's, and Popitas come to mind as the best of the bunch). Would you agree, or do you have your own favourites in mind?
Either way, if there's one thing we can all agree on, it's this:
Packaging design, in general, is such an important aspect of any FMCG product.
Without a compelling or eye-catching design, your product is likely to get passed on time and time again. These days, customers are very picky about the brands they interact with, and consume on a regular basis.
Having a great tasting product is only half the battle. Which is why if you're currently in the process of bringing a product to market, you need to ensure that your packaging design and branding is up to snuff.
These are areas that we can help you with here at Canny.
We're a creative agency that has played its part in bringing various packaging designs to market – be it Opi Frutta, Noochy Poochy, and Shodai, to name but a few.
These brands have all gone on to find continuous success, and you can too.
So what are you waiting for?
Get in touch today and let's create something that fully connects with your customers, through and through.