Rebranding is a huge opportunity to drive growth for any business.
When a company gets their rebranding right, it can boost their image for the better, raising brand awareness and increasing sales.
Rebranding can provide a great space for a company to reinvent themselves and to revisit the direction the company is going in.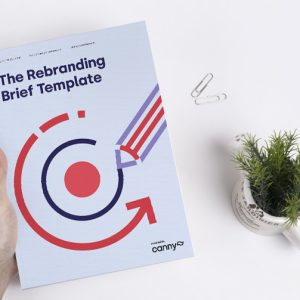 The Rebranding Brief Template
The Rebranding Brief Template is a free template that will help you get the brief for your rebranding project right. ...
Maybe things are starting to look and feel a little tired, and don't serve a purpose anymore.
Rebranding a company, especially an established company, can be a brave move. Follow our guide, How to Rebrand a Company, to help.
And as we've already covered in another blog post, some companies get their rebranding very wrong.
It's a fine balance between changing your existing image, without alienating existing customers.
Some companies do this perfectly, and strike a happy medium.
Let's take a look who has got it right…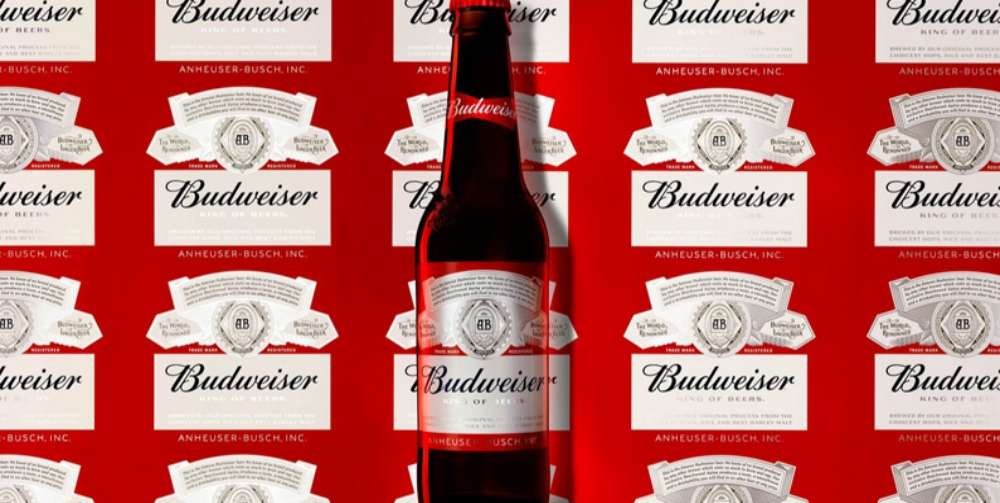 Credit to creativebloq.com
Budweiser
Dating back to the 1870s, Budweiser is one of the most globally recognised brands.
It is the flagship brand of Ansheuser-Buch, who own nearly a 50% slice of US beer sales to retailers.
Due to its global presence, any rebrand would need to be carefully considered.
As we're seeing with lots of rebrands, Budweiser chose to strip back any unnecessary elements and bring the core essence of the brand to the forefront.
Their new logo is much cleaner, and utilises an elegant script that looks beautiful. The original script from 1860 has been taken and then redrawn to make it timeless and iconic.
It's obvious how much effort has gone into perfecting every little detail.
"Budweiser as a beer is one of the hardest to brew. It takes roughly 30 days. We wanted to apply the same effort to design principles as to brewing. So we spent twice as long drawing every piece of type and vector art by hand, such as the medallion, leaves, grains and hops." – Tosh Hall, Creative Director at Jones Knowles Ritchie agency
The problem with the old design was that it was too cluttered. It was distracting and looked very busy on packaging. The new design is much simpler and there is a lot more white space which allows you to enjoy the different elements.
The Budweiser typography has also been made flat compared to the 3D lettering of the previous design. It looks crisp, modern, and is reflective of modern day trends.
The design changes transfer well to Budweiser packaging and the looks great across bottles and cans.
Check out our post on the best alcohol packaging if you're looking for further inspiration in this area.
Burberry
In 2018, this iconic British brand undertook a rebrand.
Under the direction of Chief Creative Officer Riccardo Tisci and with collaboration from Peter Saville, renowned British Art Director, the aim was to create an exciting brand that remained true to its heritage.
Burberry needed to rebrand and tell a new story.
The challenge was creating an identity that communicated the new direction of the brand whilst holding onto its historical foundation.
In the 2000s, it had become part of 'chav culture', I'm sure we can all remember the Burberry caps and handbags? Pubs even began banning customers wearing it, and Burberry almost lost its prestige and exclusivity.
This was not the image the brand wanted to be associated with. Until this time, the iconic chequered pattern was for the country aristocrat.
So how did Burberry turn it back around?
They used their new positioning to their advantage. They got ahead of other luxury brands by positioning themselves as 'authentically streetwear'.
The merge of high fashion and streetwear gave them a competitive edge and allowed them to overshadow other brands.
Burberry were clever and still managed to stick to their roots.
By interlocking the 'T' and 'B', it pays homage to founder Thomas Burberry, yet still resembles the iconic Nova Check Burberrys is so well known for.
It's contemporary yet retro, and has combined past and present design elements.
Dunkin Donuts
The company wanted to broaden their horizons and move away from being a specialised brand.
In their rebrand, they ditched the word 'donuts' and became 'Dunkin' which allowed the company to be more diverse.
Instead of being quite narrow and promoting just one of several offerings, the name 'Dunkin' allows them to diversify.
The big driving force in this rebrand was the popularity of 'Dunkin's' coffee. It was one of the most popular purchases at the food chain yet it was believed the name was causing confusion.
Would customers just think they could buy donuts?
In their rebrand, the company will still appeal to its target audience and will remain recognisable. By keeping the same colour palette and typography, this is a subtle change but shows their understanding of the current market.
This is a great example of a brand who isn't afraid of change. Customers are evolving, and so are their needs.
For brands to stay current, it is important they embrace these shifts and continue to improve user experience.
Slack
Slack is a collaboration tool that helps workers to communicate quickly and easily.
Using design firm Pentagram, they have embraced a new brand identity which retains the softwares personality whilst introducing a more refined colour palette.
In its first redesign since its launch in 2013, the company concentrated on the main element of its logo – the hashtag symbol. This works as an organisation element, signalling the beginning of different communication channels in the platform.
This is where the collaboration meaning comes into play as individuals and teams can work together on different projects.
To render better across different platforms, this icon has been simplified. Instead of using 7 colours, the new design embodies 4 primary colours which work al ot better against different backgrounds.
It still retains Slack's distinctive purple colour, meaning it's instantly recognisable when used on mobile or desktop devices.
Derived from the old design, the new logo is made up of two basic geometric shapes – a speech bubble and a lozenge.
The speech bubble evokes communication and connectivity, which is the core meaning behind the platform.
The new logo is also fitting with digital trends, as it can be easily scaled up or scaled down to increase legibility at various sizes.

Credit to underconsideration.com
Intel
With their rebrand, tech giant Intel has gone back to basics.
In its first design update since 2006, the brand has simplified it's logo and has replaced the circular swirl with a pared back wordmark.
The finish is a strong, bold, and clean aesthetic.
Intel understood the importance of revamping the design for the modern day and hope the redesign bridges the gap between past and present day.
The swirl-less design is reminiscent of the original logo, which was in use between 1968 and 2006.
By keeping the colour blue, the logo remains recognisable and still speaks to a mass audience.
It's bright, eye-catching, and relevant with the square above the 'i' representing a processor. I thinkthis is a quirky feature and beautifully ties the design of the brand with its functionality.
It's a simple yet strong reminder of the power of this legacy brand.
The simplicity of the new design makes it look exciting across various products including packaging, t-shirts, and mugs.
It's a dynamic graphic and emphasises that Intel is a modern brand, whilst still retaining familiar elements.

Credit to itsnicethat.com
Fisher Price
Established over 90 years ago, we've all enjoyed or endured a Fisher-Price toy!
For it's rebrand, design firm Pentagram, chose a subtle yet effective route.
Keeping the iconic red the brand is so well known for, they adapted the shape of the awning, changing from 4 semicircles to 3.
This not only creates balance, but internally, represents the three founders of the company – Herman Fisher, Irving Price and Helen Schelle.
In contrast to the old design, the logo has been drawn in all lower case which is more playful and appeals more to children.
The hyphen between 'Fisher' and 'Price' has been changed to a semi circle which echoes the smile on children's faces, and the enjoyment of playing with a Fisher-Price toy.
The monogram has also been animated to add a fun and playful element to the brand identity. Using different squiggles, the 'f' and 'p' work beautifully together and can be placed inside either a circle or square shape.
It's a lot more versatile, and gives the brand scope to be more creative and versatile.
Adobe Creative Cloud
It's hard to escape Adobe Creative Cloud.
If you work in design, videography, or photography, you would definitely have used these services at some point.
A huge advantage of Adobe is the different things you can do. There's so many programs all offering a different service.
A problem that stems from this offering, is keeping all applications under the same family. Whilst each is unique in its own right, they all fall under the Adobe Creative Cloud, and there needs to be an overarching identity to cement this.
With their rebrand, Adobe wanted more connection between different applications instead of just adding 'Adobe' to the front of each one.
Colour has always been a huge part of the Adobe brand. Everyone knows blue represents Photoshop and pink represents Indesign.
To unify the different apps, the logo was revamped with a colourful rainbow display which brings the different applications under one umbrella.
After all, there is so much you can do with a single subscription that the branding needs to communicate this offering. Utilising different colours strengthens this point in a users mind while still keeping the brand coherent.

Credit to thedrum.com
Siemens
Big technology corporations can get stuck in a rut when it comes to their branding.
It's quite refreshing that Siemens, a 170 year old company, chose to rebrand.
They wanted to reposition themselves to communicate the positive impact their technology has on society and our way of life.
The new strapline 'Ingenuity for life' underpins this positioning and represents their work across 3 core areas – the Future of Manufacturing, Sustainable Energy, and Intelligent Infrastructure.
The global rebrand will affect the entire brand communication and follows the adoption of a new strategy which focuses on automation and digitalisation.
The company wants to move away from just being known for mobile phones, and to be recognised for their role in society.
'It's really important to try and position ourselves as a company that is really behind your infrastructure and important things like and to leave that phone image which is not what we want to be anymore." – Claire Jarvis, Director of Communications at Siemens
To support the new positioning, Siemens developed a marketing campaign including press, PR, online, outdoor advertising and social media.
They also put a more human connection to the brand and in 2016, featured a woman with blue hair (iconic to the Siemens brand) in one of their advertising campaigns.
Little did the public know, but Siemens developed the automation behind the production line that allows this shampoo to be mass-produced.
The idea was to diversify the brand and show consumers what Siemens actually does – aside from selling mobile phones. They wanted to change their identity and clearly show what they're capable of.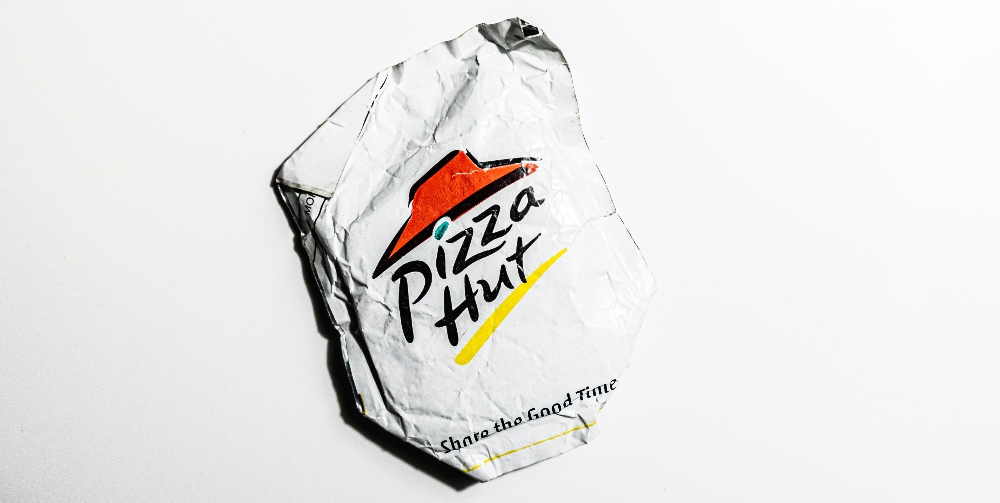 Pizza Hut
As we've seen with other recent rebrands, Pizza Hut returned to its retro logo in 2019.
The company wanted to return to the days when it was dominating the American market.
By returning to the original design, the logo went back to when it was most successful. The original logo was used between 1967 and 1999, and it was during this time that Pizza Hut was the biggest pizza company in the world.
It's market share has been decreasing since this peak, so it needed a revamp to reinstate the brand in consumers' minds.
The old version features the red roof more prominently and the Pizza Hut typography is more bold and black. This gives the design a much stronger aesthetic.
"Pizza Hut is an iconic brand that is ingrained in the hearts and minds of so many of our customers, we felt it was our job to make our creative reflect both the rich legacy of Pizza Hut, as well as nod to where we're headed," – Marianne Radley, Pizza Hut's Chief Brand Officer
Aside from the logo, Pizza Hut understands the need to stay ahead of its competitors including Dominos and Papa Johns.
As part of it's reboot, the pizza chain also reworked the recipe of its 'Original pan pizza' with new flavours and sauces. It also expanded its beer delivery program across various locations and introduced new meal deals.
These efforts keep Pizza Hut ahead of the industry and keep the brand current.
With this retro rebrand, Pizza hut wants to remind customers who their favourite pizza restaurant was long before the newcomers arrived on the market.

Credit to underconsideration.com
PayPal
PayPal is the leading online payment company in the world.
With the help of design firm fuseproject, PayPal revamped their brand to appear better across digital platforms.
The new logo renders across all screen sizes including high definition TVs.
Keeping the same blue colour palette, the brand remains instantly recognisable for customers all across the world. The platform serves over 190 markets worldwide so the news colours and typeface need to be easily accessible.
Connection is a big driving force behind the brand in terms of connecting money and people. This remained the focus point in the rebrand as the logo still includes the 2 overlapping P's.
By making the colours bold but transparent, it emphasises human connection and the transparency of the service.
The italics have also been strengthened to represent forward thinking which shows the brand is constantly innovating and evolving.
The new monogram looks great across various mediums including printed t-shirts and bags.
In their TV campaigns, they emphasise the importance of connectivity by featuring normal people in their everyday surroundings. These people are busy in their lives and are looking for ways to make it easier.
Make way for PayPal.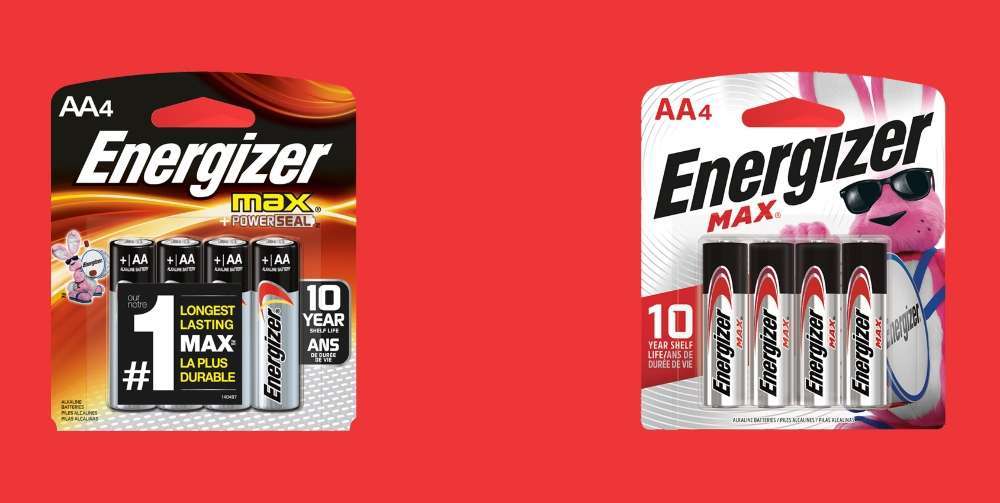 Credit to underconsideration.com
Energizer
Instead of making their logo more colourful to stand out, battery brand Energizer took the very opposite approach.
They stuck to recent trends and simplified their design, stripping away any unnecessary details and decoration.
In their visual branding, they opted for a clean, bold typeface that was all black. The new text slants upwards which suggests a sense of speed and movement, and important characteristics of the brand.
On their packaging, they also added a more playful theme using their iconic rabbit mascot. Although this appeared on previous designs, they added more colour and made the rabbit bigger to inject a sense of fun and personality into the brand.
I think it really works and makes the brand stand out against competitors.
"We spent three years developing our new look, talking with consumers and researching their preferences to deliver an experience that's both powerful and fun," said Lori Shambro, the Vice President of Global Marketing at Energizer
Consumer feedback said they loved Mr.Energizer (the iconic rabbit) so by placing more emphasis on this design element, it shows the brand has listened to their customers.
They've made him bright and engaging which gives more personality to what could be quite a boring brand.
​The new visual elements provide a contemporary look with new colours which appeal to existing customers whilst also acquiring new interest.

Credit to underconsideration.com
Guinness
With its intense, dark colour, Guinness is one of the most well known brands in the world.
Any rebrand needs to be carefully thought out as it's loved by consumers globally. The rebrand in 2016 was a fine line between creating something new whilst staying true to its heritage.
In contrast to the 2D flat design trend we're seeing so many companies adopt, Guinness decided to do the complete opposite.
They gave the iconic Guinness harp more form and created a contemporary logo that reflects the brand's history.
It's stronger and has more stance than the previous logo.
The redesign is the first in 10 years and demanded careful consideration to retain existing customers.
London based firm, Design Bridge, wanted to breathe life back into the iconic harp shape featured heavily across the branding.
The typography is hand drawn and takes inspiration from the first Guinness print adverts dating back to 1920.
This evokes nostalgia and is reflective of the effort that has gone into making the rebrand a success. The detailed logo stands out great on packaging, and sets the Guinness brand apart on a cluttered shelf.

Credit to itnicethat.com
The Huff Post
The news platform has rebranded to 'Huffpost' and has revamped its identity with the help of New York based agency Work-Order.
Along with a new logo, the brand also redesigned its website for the first time in 12 years and shared the name change across all social media channels.
The newly renamed brand utilises a bold sans serif font which is very different from its previous logo and more representative of a newspaper masthead.
It also features a forward-slash shape that hugs around the brand name, which Julia Beizer, head of product at Huffpost, says "symbolises the company's movement forward".
The slashes at either end of the full logo can also be merged to form an abstract "H" shape. This gives Huffpost a unique and modern logo which can be used across various platforms.
It's a concise monogram but easily recognisable as still relating to Huffpost.
The overall aesthetic is also a lot brighter, showcasing a neon shade of green which makes the brand really stand out.
The idea behind the redesign was to make the platform more authentic and to help readers understand what's real news and what's fake news.
As well as the logo, the homepage has also been redesigned to enhance user experience.
Elements on the new homepage include a "splash" image which presents the most important story of the day so users don't need to browse the website to find it.
It new design presents users with the information they need quickly and easily.
Rebranding Case Studies Spotlight: A Compilation of the Best Rebrands
Rebranding can be a fresh beginning.
Whilst this list focuses on the visual and brand identity side of a rebrand, there are also multiple business reasons to rebrand. Our post 13 of the Most Successful Rebrands Ever covers that side of things.
From improving your brand's reputation to raising brand awareness, rebranding offers businesses the opportunity to reinvent themselves. This was the case for our of clients, YardLink, who needed to reconnect with their core audience and reestablish their identity. The solution? To rebrand!
However, it's about you find the right balance between where you currently stand as a business, and where you want to be.
As we've seen with the brands above, it can be done, and it can be done very well.
Whether you work as part of the marketing team, or you're a standalone marketer, rebranding can be a big task to take on, and more importantly, to get right.
Get in touch with a friendly member of our team today and see how we can help.