Welcome to the big branding questionnaire.
This post is full of branding questions to get your head spinning, and boat floating when it comes to designing brand identity.
For any business owner, this can be tough to get right.
We've broken the most common branding questions down into four categories:
Branding Questions People Ask Us
Branding Questions We Ask Our Clients
Branding Questions We Ask Each Other
Weird and Wonderful Branding Questions
There were far too many questions to answer, so we've taken the best of the best and wrapped them up into this post.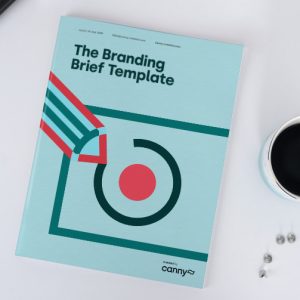 The Branding Brief Template
The Branding Brief Template is a free template that will help you get the brief for your branding project right. W...
If you have questions about branding, then section one is for you.
If you're looking to get a head start before hiring an agency, then head to section two.
Curious about the inner workings of a branding agency? Then section three is where you want to be.
Section four is full of the weird and wonderful things that we couldn't find a place for anywhere else.
And of course, if you have any branding questions of your own, either pop a comment below, or contact us.
So without further ado, let's get stuck into the big branding questionnaire.
Branding Questionnaire FAQ's
But, before we get started, we thought we'd provide a few frequently asked questions to give a general overview of why branding questions and answers are useful, and can help you along your branding, or rebranding journey!
Why are Branding Questions Useful?

Asking branding questions, whether they are internal and between your team, or directed to a creative agency are useful to help understand where your business is in terms of your branding. Questions can range from branding costs, to your competitors, and even whether branding is dead!

Is Branding Important?

Branding is an essential pillar of your business, and it can help to improve brand loyalty, recognition, brand equity, marketing activities and lead generation.

What is Involved in a Branding Project?

This is one we are asked most frequently, and we will get into more detail below, but to give you a quick insight, branding is usually split into two sections: Identity development and Strategy development. This involves research, design, story creation, brand guidelines and much more, but it all depends on what your business requires specifically.
Branding Questions People Ask Us
Let's start with the branding questions that people ask us.
These questions about branding are taken from the list things we get asked the most when someone enquires about a branding project, or just as a project is starting to get rolling.
Questions in this Section
How Much Does Branding Cost?
How Does the Branding Process Work?
How Long Will Branding My Business Take?
What Is Involved in a Branding Project / What Do You Get For Your Money?
How Do You Start a Branding Project?
How Much Does Branding Cost?
Asking about the cost of branding is often the first question people ask when considering their project.
In fact, we get asked about the cost of branding so much, we wrote a post about exactly that, which answer the big question of exactly: "How Much Does Branding Cost?"
To recap on some of the key points:
It's impossible to give an accurate cost for a branding project, because every single company has different goals and requirements.
We've worked on branding projects worth £3000, and branding projects worth £15,000.
That's a vast range.
But it really does depend on the size of the project at hand.
Think about it:
A family owned and operated pet food business is going to have completely different requirements to a National IT provider.
Another thing to consider when it comes to the price of branding, is that it depends on the type of branding project you're looking for.
Check out the branding services we offer and you'll see what I mean.
Returning to our earlier example of the pet food business, this company will require a brand identity, packaging, possibly an ecommerce website, maybe even product photography.
The National IT provider probably has sales material, internal documents, proposals, company brochures, slide decks, and presentations to consider.
Essentially, without diving into project specifics, the question "how much does branding cost?" is impossible to answer.
Here's something to consider though:
Try to consider your company branding as an investment, rather than a cost.
Sure, you're handing over your hard earned cash, but you're building equity in the business by having a well designed brand identity.
Directly from our post "What is Branding?":
Sure, if you hire an agency that provides branding services, things can get very expensive very quickly.

Branding is all about your return on investment.

If you invest £10,000 but make £100,000 as a result of branding or rebranding, then the initial expenditure has been worth it.
Once you see the value your branding brings to your business, the cost of branding will become an afterthought.
How Does the Branding Process Work?
The branding process itself is pretty easy to outline, but for the sake of having everything in one handy place:
Branding Discovery Session
Visual Branding Research
Visual Research Feedback Session
The Initial Brain Dump
Concept Creation
Internal Team Meeting to Refine Concepts
Creation of the First Brand Identity Round
Feedback Session
Iterate, Repeat Cycle
Finalise the Brand Identity
That's the ten steps we take with each and every one of our branding projects.
Essentially, to get started with a branding project, it's a meeting, then research, then a discussion about the research.
From there, we let out the initial ideas (which tend to be rubbish!)
Once our brains are empty, we can set about creating the initial brand concepts. Then we have an internal team meeting to discuss and refine them.
That leads us to creating the "first round" of brand identity design. This is then handed over to our client.
A "round" is a PDF presentation of several different routes and ideas that a branding project could unfold.
After the round is presented, it's a feedback session where everyone has the chance to discuss their thoughts and ideas.
We then iterate on the feedback, improve the round, take things in different directions, and repeat the cycle.
Eventually, a final direction is settled on, and we finalise the brand identity.
There's a lot of opportunity for clients to be involved, and we welcome discussions at any stage throughout the project.
How Long Will Branding My Business Take?
This again, could be quite a complicated answer.
Technically, it depends on the deliverables that you're asking us to create for you. That said, we've already answered one question in quite a roundabout manner.
Here's the deal:
Typically at Canny, we find that most of our branding projects take between six and twelve weeks.
We prefer to have a whole week to deliver each round of identity, typically taking five or six weeks.
Then, we like to have some time in the diary to polish and refine the final identity. After that, we can create the extra deliverables.
Just keep in mind:
If you have a list as long as your arm of "things you want" – then condense it into "things you need" first.
That way it keeps the project at a manageable size! Focusing on too many things at once can weigh down the mind of everyone involved.
Keep it simple, and you can be relatively speedy.
What Is Involved in a Branding Project / What Do You Get For Your Money?
Essentially, this is more of "see above, as it all depends on you and your business.
To help answer this question, I'm going to take a cue from our most recent branding proposal, which includes the things we typically see as part of a branding project.
Brand Strategy Development
Competitor research and report
Brand values, mission, and story creation
Brand messaging, including: who we are, what we do, and USP
Brand Identity Development
1 custom moodboard concept
Up to 6 rounds of brand identity development
3 rounds of revisions to the final brand identity
Stationery design for: business card, letterhead, and 5 promotional items
Complete brand guidelines (16-20 pages)
Social media avatar / template creation for 5 social channels
16 page slide deck
16 page company brochure / leave behind item
All files delivered in print and web format
This is what most of our branding projects tend to entail.
Obviously, this depends on your specific business, but the above should give you an idea of the sort of things we tend to work on with our clients.
How Do You Start a Branding Project?
Above, we outlined the branding process from the point of getting started through to completion.
But what about starting a branding project? How does that happen?
Here's how we deal with new enquiries:
Initial contact is made
Initial telephone conversation or Skype meeting
Agreement to a further meeting
Further meeting takes place
Proposal for the work is issued and agreed
Then from there, the first invoice is sent alongside the contract, and you're into the project as outlined above.
One thing to be aware of is that:
You really can't get started on a branding project or with a branding agency, without a telephone conversation or a meeting.
Projects like this just don't happen over email.
You need to be able to talk and bounce off each other to make your branding project a success.
So, when your agency invite you in for a meeting, or want to jump on a call, take the chance, and help them help you!
Branding Questions We Ask Our Clients
Whilst this is your big branding questionnaire, it's important we run through the questions that we ask each and every single one of our branding clients.
These questions are taken from the branding questions we use at Canny to help us evaluate a potential new client's business.
Questions in this Section
Where Are You Now vs Where You Want To Be?
What Exists in Terms of Your Brand Identity?
What is Your Intended Target Market or Audience?
Who Are Your Biggest Competitors and What Do They Do Well / Badly?
How Do You Fit Into the Competitive Landscape?
What Are the 3 Key Benefits You Bring to Your Customers?
Are You a Disruptor in Your Sector?
What Action Do You Want Your Customers to Take?
Do You Have an Existing Audience We Can Leverage?
How Do You Make Money and What Does the Buying Process Look Like?
Where Are You Now vs Where You Want to Be?
Having clear goals and objects set around a branding project drives things forward more efficiently.
Understanding where you are as a company now, and where you want to get to (by when) can help decide on the appropriate solution.
With most new businesses, the problem they have is a lack of identity, and no way for customers to recognise them.
With existing businesses, perhaps it's a case of wanting to enter a new market, ditch a tired image, or recover some sort of PR disaster. There are a whole range of reasons companies decide to rebrand.
Goal setting is a whole different post but for now, here's the deal:
Establishing clear branding goals with your agency will make sure everyone is on the same page from day one.
What Exists in Terms of Your Brand Identity?
New companies don't tend to have a lot in the way of existing brand identity.
However, if you've been in business for a while, there's a chance you'll have a mounting pile of branded products and goods.
We ask this question to get an understanding of the scale of business we're working with.
It also helps inform the list of branding deliverables as we discussed above.
To help us understand each new project, we run a brand audit in our initial meetings which gets everyone clear on the current state of play.
Once that's established, it's time to decide what's to be kept, and what's for the (recycling) bin.
What is Your Intended Target Market or Audience?
Identifying your target market is essential, no matter what you're doing within your business.
Some people find creating customer personas difficult, and I don't blame them – it's very difficult.
A lot of people focus on creating a very real person, in a very defined niche, and that's sometimes a perfect solution.
If you're going to be narrow in your focus, try noting down the following about your customer:
Demographic traits such as:
Age
Gender
Location
Occupation
Education level, etc
Psychographic characteristics such as:
Personality
Attitude
Lifestyle
Situations
Values/Beliefs
Environment, etc
And my favourite, and often most insightful, personal questions:
What does their family structure look like?
What type of car they drive?
Are they a pet owner?
What newspaper/magazines do they read?
Which websites do they visit? And for what purpose?
These sorts of things can help you build laser focused customer personas which can then be put to use by your branding agency.
I sympathise with people that find it difficult, as it's one of the tasks that I find the most difficult about running a business.
If you find creating personas difficult, remember it's okay to have multiple ideal customer personas.
These aren't "forever" documents, they're living breathing documents that should change as your business grows
If you can, picture your best customer, and use their basic information to build upon.
A lot of people tend to go vertical when creating personas, meaning they get very specific about one type of person, in one role, who works in one sector.
At Canny, we work with a range of sectors, and a range of people in different job roles, including:
CEO's – who have an interest in creativity and want to be involved
Marketing Managers and Executives – tasked with the project
Startup Owners – who have no option but to be involved
That's three personas based on job role alone.
Customer personas are important, but don't be afraid to bend the rules when creating your own!
Are You a Disruptor in Your Sector?
Disruptive is quite a strong, and often polarising, word.
Being a disruptor can be viewed as either massively positive, or massively negative depending on who you ask.
If you have a product that's going to truly revolutionise your industry, then you are without doubt a disruptor. You have no chance of fitting in, because by nature, you're going to be disruptive.
If you're an IT company who essentially, offer a range of services offered by other companies, then you have the option of fitting in.
Being a disruptor doesn't mean using bright pink when everyone else is using blue. It means choosing alternative brand values, shaping your brand strategy around that, and bringing your product to market with that in mind.
For example, one of our clients is in the recruitment space. The service they offer is completely different to anything else on the market.
They're not going with crazy colours, or pushing the boat too far in terms of their branding. They're doing the little things that align them as a disruptor, and also align them perfectly with their target customers.
Disruption can work in a number of ways, just make sure you don't end up red-faced!
Who Are your Bigger Competitors and What Do They Do Well / Badly?
It's funny to think that your competitors play a huge role in the branding and development of your business.
As above, you can decide to align with your competitors, go against the grain, or do what they do, but better.
Having one eye on your competition can not only help make you aware of what type of branding works in the market, but also inform your agency of what others are doing.
Ask yourself:
Are there any trends among our competitors?
What works and what doesn't?
Would our customers align with these brands?
You can usually spot trends with your competition, and if that's the case, it's worth discussing why they're doing what they're doing.
There might be a reason everyone is using blue as their leading brand colour.
Does it make sense to go against that? Maybe.
Essentially, the wider you can cast your net when it comes to your competition, the easier these questions become to answer.
If you can, try asking your customers what they think about your competition's brands, and then take their feedback into account when designing your brand identity.
How Do You Fit Into the Competitive Landscape?
Knowing how your competitors look is one thing, but then you have to work out where you fit into the competitive landscape.
When we talk about where you fit into the competitive landscape, we're not talking from a brand identity design point of view.
We're talking from a purely business perspective.
Are you the Rolls Royce of organic snacks, or are you the Larder?
Are you craft beer, premium lager, or real ale? Or perhaps you're even Special Brew!
Positioning is important, because it does dictate the type of visual language you might use when it comes to your branding.
Easyjet are a company who have this nailed down. They're cheap. They're cheerful. Bold, bright orange typography and plane livery is the right choice for them!
M&S and Waitrose go towards the high end of the scale, and their brand identities reflect that.
You can't be all things to all people.
Look again at your customer personas, and align that with your competitive landscape, and move into the white space.
What Are the 3 Key Benefits You Bring to Your Customers / What's Your USP?
It's important that your business has something to offer customers that's completely different from your competition.
These USPs are a good thing to help anchor your brand strategy, identity, and messaging.
If you have nothing unique, then you're "just another bakery" or "just another tea or coffee company."
Just because you have awesome packaging design, doesn't mean you have a great offering.
At Canny, we have three values that we use to hold ourselves accountable:
They are:
Awesome design, always
Partnership over profit
Small but mighty
We use these to guide the choices we make and the clients we work with.
You need to straighten out your offering before diving headfirst into a branding project.
What Action Do You Want Your Customers to Take?
This isn't so much a concern when building your brand, but your website. And as your website is part of your brand identity, that's why it's included.
The actions you want your site visitors to take must be 100% clear.
For example, if you're a B2B company, perhaps you prefer phone over email. In that case, it's no good prioritising your email address in your calls to action.
Maybe you want blog readers to opt-in to a download. We do this on the Canny blog with The Ultimate Small Business Branding Guide.
Try going through your website pages, and asking yourself two things:
What words should visitors use to get to this page?
What action do I want them to take when they get here?
Having clarity around search intent, should help you identify the logical next step in the process.
You need to be crystal clear around the desired actions of your visitors, as then you can build that into your branding, or website project.
Do You Have an Existing Audience We Can Leverage?
Having an existing audience or customer base that you're familiar with can help drive your branding project forward with ease.
Rather than stabbing in the dark or creating an identity based purely on your brand strategy, you can also ask customers for contributions.
Now, we're not saying designing out in the open and running every decision by your consumers is a good idea.
In fact, that can ruin a good project. So don't do that.
But inviting a select handful of your target audience to feedback to you on the way your branding is shaping up is a useful tactic.
We've seen this unfold in a number of different ways:
You can use online surveys using a tool like SurveyMonkey or HotJar
If you're in a service based business, you can seek feedback from customers when you meet them
You could even invite your best customers to a roundtable over lunch
Getting feedback from your ideal customers is always going to be a valuable experience that will help shape your brand.
How Do You Make Money and What Does the Buying Process Look Like?
Understanding how our customers make their money, and what drives their customers to buy, influences a branding project more than anything else.
For example, if your customers all find your services online, then you need to dedicate a lot of time in the branding process to your online assets.
However, if you find most of your customers at trade fairs or exhibitions, then you need to ensure you have the relevant materials for that.
To understand how to brand a company, it's important that we know how you make money and which brand touchpoints you're utilising. And, if it's not too much to ask, how much your average customer is worth.
Combine that with your customer personas, and you can start to build up a solid understanding of your business and brand.
From there, it's a case of creating a corporate brand strategy and identity design that appeals.
Branding Questions We Ask Each Other
We're branding experts, but we don't always have all of the answers. Quite often, we'll have branding questions for each other.
The questions here are taken from discussions we've had internally, or things that have cropped up during our branding projects.
Questions in this Section
How Can We Measure the Success of Branding?
What Software and Tools Should We Use for this Branding Project?
What Do We Think of This vs That?
Where Can We Find Good Branding Inspiration?
What's Going on in the World of Branding?
How Can We Measure the Success of Branding?
Measuring the success of branding or rebranding is tricky. Some would say impossible.
Nothing is impossible!
To measure the success of branding you first need to establish a baseline.
Before your branding project, establish:
Your current turnover
How many customers you have
How those customers found you
How your website performs (visitors, conversions, etc)
How much traction you have on social media
Having these baseline figures will help you when you're sitting on the edge of launching your new brand identity.
What Software and Tools Should We Use for this Branding Project?
There are a range of tools we use internally at Canny when working on a branding project.
In the early days, we used to change up the tools we used, however, we've now settled on a software stack.
We use the following:
Asana – for project management
Pinterest – for research
AHREFs – for technical research
Pen and paper – for creative thinking and concepting
Adobe Illustrator – for tidying up and making sense of the above
Dropbox – for file storage
Google Drive – for shared notes and key facts and figures
And that's about it.
The biggest piece of software (or is it hardware?) that you can use when designing a brand identity, is your brain. We've got tons of branding tips to help.
Remember, software doesn't make a brand identity work, ideas do!
What Do We Think of This vs That?
In the Canny office, we're always challenging each other to go above and beyond the usual.
Sometimes a piece will look finished to one person, and then the whole conversation will blow wide open, change things, and we're back into the grind.
And that's the nature of a professional design agency; top level designers, pushing each other to be even better.
It's important that at some point you stop, and take stock. Critiques are great, but at some point, things just have to ship, and that's fine too.
Challenging each other and sharing ideas is what makes our world go round.
Where Can We Find Good Branding Inspiration?
Solid brand identity design is easy to come by online these days.
If you're looking for branding inspiration, check out:
Dribbble
Under Consideration (Brand New)
Identity Designed
The Dieline (which has a focus on packaging design)
Behance (use a pinch of salt here)
Lately, a lot of great branding accounts have popped up on Instagram too. So if you're an InstaFan, then that's a good place to look too!
What's Going on in the World of Branding?
Keeping on top of changes and developments within the branding industry is part of our job description.
It's important to keep largely informed about what's going on in the world where you spend most of your waking hours.
To do this, we tune into the sites above on an almost daily basis.
But, we also check out things like:
The Drum
PR Week
Marketing Week
Design Week
Creative Review
Entrepreneur
Forbes
Inc
Branding works in tandem with marketing, which works in partnership with business.
That's why it's important that we stay on top of changes across these verticals.
Weird and Wonderful Branding Questions
This is the "odd bunch." Branding questions that didn't fit in anywhere else, but we thought we should take a stab at answering anyway.
Questions in this Section
What's The Difference Between Branding and Logo Design?
Is Branding Dead?
Do I Need Branding?
Is Branding Important?
Are Branding Costs Tax Deductible?
What's The Difference Between Branding and Logo Design?
As a quick overview:
Your logo design is simply the one mark that customers recognise about your business. Like Apple's apple, or McDonalds' golden arches.
Your brand is the whole package, it's your strategy and identity brought to life.
It's time for my favourite branding quote again:
"Branding is what people say about you when you're not in the room" – Jeff Bezos
Check out our article What is Branding? for a deeper dive into this question.
Is Branding Dead?
No, and it never will be. Undoubtedly though, branding is changing.
Rather than the flashing, "buy this, buy that" approach of years gone by, things are becoming more refined.
Branding is becoming more people focused. Hence the rise of personal branding.
This doesn't mean business branding is dead.
You now need to have a business brand, supported by great people, with their own personal brands.
People buy from people, not businesses. They want to do business with people they know, like, and trust.
No amount of solid brand identity design is going to hide the fact that you run a shady operation.
Get the people right, get your brand right, and you're going to win.
Do I Need Branding?
Every business looking to grow needs good branding.
But it does depend on your goals.
If you're a builder, and you're a one person team, doing it to tide you over until retirement age, and you're happy plodding on, you don't need professional branding.
An effective logo design would do the job.
But with any business looking to grow outside of that small team, branding is absolutely essential.
So, put the budget to one side, and as soon as you have enough to spend, get your branding taken care of professionally.
Is Branding Important?
Yes, and it always will be.
The importance of branding again, is something we've talked about a lot of times on the blog.
Here's the deal:
Branding improves recognition
Branding is an investment that builds brand equity
Branding supports your marketing activities
Branding helps generate new customers
Branding inspires employees
The list could go on and on, but the six reasons above should be enough to reassure you that branding is important.
Name a large successful business that doesn't have their branding on point?
It's an impossible task.
We now live in a brand aware world where branding is more important than ever, so don't sleep on it.
Are Branding Costs Tax Deductible?
We're not in a position to give out solid financial advice. In fact, our accountant was the first hire we made!
Look at it like this:
Branding is a business expense, and therefore would be considered tax deductible.
That said, check with a qualified accountant if you have any doubts at all!
The Big Branding Questionnaire (Branding Questions You Need to Answer)
There you have it.
The great big branding questionnaire, with a whole heap of branding questions and answers to help you understand branding at a higher level.
As you can see from the questions, there are lots of sides to branding a business successfully, and it relies on all parties playing their part.
Branding is a mighty big topic, and we hope this post has helped to shed some light on the processes we go through to produce our work.
Let us know in the comments below if you have any branding questions of your own!