Carrying out a brand audit is key before your company engages in any sort of rebranding project.
When you're building a new website, you need to understand exactly how you're currently performing.
The same applies for a brand audit.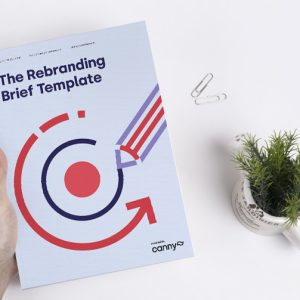 The Rebranding Brief Template
The Rebranding Brief Template is a free template that will help you get the brief for your rebranding project right. ...
It's especially important to know what's working and what's not, before making rash and sometimes costly decisions.
Here's the deal:
It's important that you and your team understand where your brand currently stands, before you rip the whole thing up and start again.
A lot of companies seem happy to gloss over this fundamental step and end up wasting a great deal of time and money.
In this post we're going to outline how you can carry out a brand audit to ensure the decisions you make are meaningful and strategic.
But first things first, let's find out what a brand audit is.
What is a Brand Audit?
A brand audit is a process that helps you to understand the purpose behind your brand, where it stands currently and where you want to take it in the future.
An audit makes you think about your company on a deeper level – in a way you perhaps hadn't before.
It's helpful for companies to run a brand audit, as it helps them understand exactly where they are, compared to where they set out to be.
Sure, having dreams and ambitions is all well and good, but you need to have a plan before you can get there.
This is helpful when engaging a creative agency as it allows them to dig into the brand and develop a deep understanding of your business from the outset.
It offers both parties a chance to look at the brand they're discussing objectively, and removes a lot of the guesswork.
When and Why Should You Undertake a Brand Audit?
Most businesses go through the process of discussing a rebrand when they want to make a change within the business, and a brand audit needs to happen before undertaking any work on a rebrand, otherwise you won't know what you've currently got.
Rebranding your company should always start by conducting a brand audit, so think of this as step 0.
Essentially:
Whatever triggers the idea to rebrand a company, is the trigger that also starts the Brand Audit.
The easiest way to look at it, is to see the brand audit as "taking stock" of your brand as it stands. You can then use this information to plan a route forward which helps you get to where you want to be.
Your company might not need to rebrand, it might just need a little TLC.
You might need to shift your brand positioning, or scale back in one area, whilst focusing on growing another.
A rebrand won't fix that, but a brand audit will highlight it for you.
It will also help you to make sure you're not making one of our branding mistakes and no-no's.

Credit to Nicsarasin
The Power of Branding
Branding is a powerful marketing tool, and most people don't realise it.
A strong brand builds awareness, creates brand loyalty, inspires employees, and creates a "buy-in culture."
People buy iPhones, because they're made by Apple.
People wear trainers (sneakers) just because they have the Nike logo on the side.
And the golden arches of McDonalds rarely fail to make tired motorway drivers hungry.
All of these brands have effective logos, and entice people to buy into them time and time again.
If you want your business to harness the power of branding, it's important you don't skip the brand audit.
How To Carry Out Your Brand Audit
Depending on the size of your company, performing a brand audit can be tricky.
For example, a large corporation will have a lot more brand collateral than a start up founder (consider things like letter heads, stationary, envelopes, merchandise, the list goes on!).
That said, if you engage with a brand or design agency to help you, the whole process can be pretty painless.
The first thing to do is collect together all of your brand documentation.
This is not every piece of paperwork that's ever been produced by your company. This is documentation, guidelines and items related to your brand and it's identity.
Here's a quick checklist to help you to pull together the relevant files for your Brand Audit, but as a side note, if you have a Brand Guidelines document, 90% of the following list should be covered in there.
Internal Documents
Brand Values
USP
Brand Story
Tone of Voice
Culture
Product/Service Positioning
Brand Identity
Logos and other brand elements
Printed collateral, stationery, brochures, trade show materials etc
Advertising
Examples of how your brand has been used or displayed in the real world
Online Identity
Website
Social media handles and relevant design work
SEO
Content Marketing, blog posts, white papers, content upgrades, case studies etc
Other
News/PR, mentions in the media and other online sources
Testimonials, kind words from customers etc
Videos, "Company Overview" videos, content marketing videos etc
An overview of your companies systems and infrastructure
Making sure you've ticked off each point on your branding checklist enables you to get your Brand Audit right.
You need to be confident you've covered all bases, and left no stone unturned when it comes to branding.
Brand Audit: Before and After
When we conduct a Brand Audit at Canny Creative, we usually hold them over the course of several meetings.
The result of a good brand audit is usually a PDF document, outlining our findings and recommending next steps.
We expect our clients to be as open as they can be with us, without revealing any sensitive information they're uncomfortable about sharing (although we do encourage people to share as much as they can.)
The more we can get to know about your business, the better.
The goal of a brand audit is to help you and your business, so we focus on bringing value to our clients as we're not simply running them through the mill.
We want all of our clients to get the most value they can from going through the brand audit process with us. We're about providing our clients with the right information, tips and advice to drive their businesses forward.
Your brand is a puzzle, and we're here to help you solve it.
Who Should Carry Out a Brand Audit?
Technically, you can perform your brand audit in-house, but this doesn't mean you should. We would always advise you to bring in a branding or design agency to help with your audit.
But, before choosing a design agency, it makes sense to pull together all files and ideas internally.
Start getting the wheels in motion and assess where you're currently at, and ultimately get to know your brand at a deeper level than you ever have before.
That way, when you bring your agency to the table you can answer their questions, and get feedback from them on elements that are concerning you immediately.
Having an understanding of the brand, where it's at and where you want it to go will make everyone's job easier.
However, working with an agency adds several layers of complexity.
When conducting a brand audit, some agencies will prefer to work in their clients office, to immerse themselves in the company and their culture.
Others will prefer to work from the comfort of their own office and have their client come to them, taking them entirely out of the situation, and forcing them to look at the brand objectively.
At Canny, we prefer a mix of approaches:
Where possible, we split our meetings between our office and our clients, getting the best of both possible situations.
What is the Benefit of a Brand Audit?
The main benefit of carrying out a brand audit is finding out exactly where your brand is, compared to where you want it to be.
You can find out if you're on the right track, and if you're off, it will help you to identify exactly where you're going wrong and how you can get back on track.
For example:
If you're attracting the wrong type of client, it could be a great opportunity to look at rebranding, or changing your website, or both.
Equally, the brand audit can help you sell the idea of change to the decision makers in your company.
You can take the brand audit to them and ask them the same questions your branding partners have been asking you.
If things aren't matching up, talk to them about change.
You should be asking:
"How many deals do we lose each month to a company with a stronger brand than us?"
Nobody likes losing deals. Creating a strong brand isn't hard if you choose the right agency to help you. Losing a contract because a competitor has a stronger brand will happen, but it shouldn't!
By conducting a brand audit, and closing out the holes, or choosing to rebrand, you're making steps to stop this happening again.
"How many prospects leave our website because we're not sending the right message?"
This happens a lot, and it's important that your brand and website are consistent with each other. They need to look like and function as part of one big marketing effort.
Imagine this:
You're handed a business card at an expo or event. It looks great and feels great. You're excited to check out your new contact's website.
You head back to the office and log-on, and bam, you're hit with popups left, right and centre, and it looks like it was built in the 90's. There's even a spinning @ symbol.
What happens?
You hit the back button, and throw away the business card. Or probably something along those lines
You need to make sure prospects and leads are experiencing familiarity with your brand touch points, as consistency is important.
"How many new clients/customers/projects would you need to win to justify the cost of rebranding your company?"
If you're a professional services business or similar, losing a job could mean a six figure loss. You could create the strongest brand in your space for less than the cost of one of your contracts.
And at that price, is it really worth taking multiple losses when you could solve your problems and begin building a strong relationship with a professional design agency?
I don't think it is, and I'm sure you'll agree!
Our Top Tools for Helping with Your Brand Audit
There are several tools we use to help when we're carrying out a brand audit, and most of these tools are web based, and have a free plan that you can sign up too.
Our three top used tools are as follows.
Asana
We use Asana to keep notes, and plan out routes for going forward.
In Asana you have a "Board" view, similar to Trello, and a "List" view, which is great for keeping a to-do list.
This tool allows you to assign people tasks to carry out, and check them off once complete.
It also opens up discussions around smaller tasks, and these discussions form the basis of some great ideas for helping companies move forward.
Pinterest
If we decide to press ahead with a rebrand, we use Pinterest to collate all of our visual research, and we use it to explore ideas for new visual directions and branding for companies.
It's a bit of a "brain dump" in terms of we throw everything up there and see what sticks, before we then discuss this with the client.
From there, we decide how the brand should move forward, and whether a complete change in visual direction is needed, or whether smaller subtle changes might be the way to go.
InvisionApp
InvisionApp is where we pull everything together. We use it to refine the direction of the rebrand, pull in ideas for language, photography, typography and more.
The best thing about Invision is it's great commenting system.
We can pull together a brand board and direction for a company and hand it over to them. They can then make comments about our findings in their own time, and at the next meeting we can discuss everything together.
Brand Audit: How to Carry Out a Brand Audit
Companies that aren't yet working towards building a long term relationship with a design agency, should start there.
Once that ball is rolling, the first thing they should do is audit their brand.
Building a long term relationship allows trust to build and ideas to flow freely.
A brand audit is the starting point of any relationship we have with our clients. Without it, it's impossible to get to know the intricacies of our clients' brands.
We like to conduct brand audits or "Checkups" periodically throughout our working relationship. This helps to ensure we're all still on the right track and pushing in the same direction.
What do you think? Have you had a successful brand audit? Are you looking to get started? If so, then get in touch!