Hiring a brand consultant will revolutionise your business.
A brand consultant can be integral in helping a company to define their brand strategy and brand identity. They sometimes have expertise in a wider range of marketing or business growth activities too.
You want your branding to:
Differentiate you in the market, improve recognition and memorability through consistent application across touchpoints, and in turn, directly impact business growth.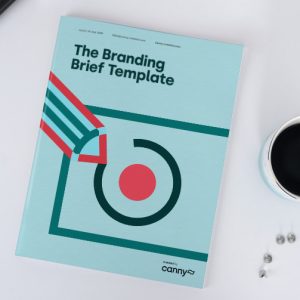 The Branding Brief Template
The Branding Brief Template is a free template that will help you get the brief for your branding project right. W...
A brand consultant brings fresh eyes to your business, spotting opportunities and gaps you might have overlooked, ensuring you stand out in a crowded market.
A Nielsen survey noted that:
59% of consumers prefer to buy from brands familiar to them.
The implication? Effective and consistent branding isn't just a nicety, it's a necessity.
Furthermore, a 2020 report by WARC found that strong brands outperform the stock market by a staggering 134%.
It's undeniable; effective branding offers an unparalleled competitive edge.
And that's why bringing in a brand consultant makes sense; to ensure your branding not only differentiates you but also enhances recognition and memorability across your brand touchpoints, driving brand and business growth.
Ready to find how more? Let's get to it.
What is a Brand Consultant and What Do They Do?
A brand consultant is a professional who specialises in creating, maintaining, and enhancing brands for businesses and organisations.
Their expertise typically centres around shaping a company's brand strategy, brand identity, and brand marketing; in turn, how it's perceived by its target audience and the broader public.
A brand consultant provides advice to ensure their client's brand is consistent, effective, and aligns with the company's wider strategy. They also help create a unique brand identity and image that stands out in the marketplace.
They also conduct extensive market research to understand customer behaviour, preferences, and needs, and help align their acquired insights with the company's overall strategy.
Armed with these insights, they'll then help to distil the company's brand strategy into a compelling brand narrative and value proposition that resonates with the target audience.
Your brand is the single most important investment you can make in your business. – Steve Forbes.
That's a pretty big statement by the Founder of Forbes magazine. But it shows the true value of branding, and explains why companies rush to bring in brand consultants to help.
Airbnb: Transforming the Travel Experience with Emotion-Driven Branding
Before the Airbnb we know and love today, they faced the challenge of differentiating its offering and solidifying its growth in the face of emerging competitors.
Enter brand consultant Jowey Roden and the team at DesignStudio.
What they identified was that Airbnb is about more than providing rooms, they're about delivering experiences, forging community bonds, and creating a profound sense of belonging.
The brand strategy steered towards Airbnb's unmatched ability to craft real connections between hosts and travellers. Brand marketing campaigns were launched that showcased genuine stories of hosts and guests, spotlighting the authenticity of these connections.
Alongside this Airbnb's visual assets, including its emblematic logo, underwent a transformation. The goal? To evoke feelings of warmth, inclusivity, and community.
Airbnb's platform was also overhauled to reflect its new brand direction. The introduction of "Experiences" presented travellers with an offering of localised events and activities, not just accommodation to rent.
The results speak for themselves. In just 12 month:
Global bookings skyrocketed, showing a surge of 80%.
The platform experienced a 50% uptick in host sign-ups, diversifying its accommodation options.
A 45% increase was observed in user engagement metrics like reviews and interactions.
Listen to Episode 2 of A Change of Brand if you want to know more about the Airbnb story.
Is a Brand Consultant an Individual or a Team?
Terms and definitions in the marketing industry are ambiguous at best. A brand consultant can refer to both an individual or a team of people within an agency, depending on the context and scale of work.
Here's a breakdown:
Individual Brand Consultant
A single professional with expertise in brand strategy and identity design.
They often have multiple years of experience in branding and can work independently or as part of a larger agency.
Typically they're suitable for specific tasks or projects, especially for small to mid-sized businesses that don't need extensive resources.
Branding Agency or Team
A collection of professionals specialising in different areas of branding, from strategy and research to design and implementation.
They provide a more comprehensive set of services and can handle larger-scale branding projects including full corporate brand projects and rebrands.
Suitable for bigger businesses or complex branding needs, encompassing research, strategy, design, digital media, and more.
So, while the term "brand consultant" typically refers to an individual, it can also mean a team or agency depending on the specific situation or the scale of branding services required.
Either way, you can utilise either to help your brand grow.
The Situations When Your Business Might Need a Brand Consultant
There are a variety of different scenarios in which your business might benefit from the expertise and advice a brand consultant has to offer.
Let's take a look:
Launching a Startup or New Brand
When launching a startup or new brand, brand consultants help to establish a strong brand strategy and identity from the beginning, reducing trial and error and expediting business growth.
Navigating a Rebrand
If your brand isn't resonating with your target audience, a brand consultant can help reshape your brand to better connect with your customers.
According to Lucidpress:
Rebrands can lead to a 25% increase in sales.
But rebranding is not something to rush into just because. Check out our post about the fundamentals of rebranding if this is a route you're currently exploring.
Introducing New Products and Services
When introducing new products or services, a brand consultant ensures that new offerings are seamlessly, meticulously, and consistently integrated into your existing brand architecture.
Mergers and Acquisitions
In the case of mergers and acquisitions or managing multiple brands, brand consultants can help navigate complex situations by defining a clear brand hierarchy and ensuring brand consistency.
For example:
When Disney and 21st Century Fox merged, they'll likely have consulted with a branding professional to assess the brand equity of both entities and guide Disney on which Fox assets to integrate into its brand portfolio and how to do so.
Boosting Online Presence
To increase online traffic, a brand consultant might revamp your brand to better resonate across digital brand touchpoints, enhancing your online presence and boosting traffic.
In this instance, they might also partner with another consultant or larger agency to widen the scope of their agreement and help you navigate the different challenges digital marketing presents.
Penetrating New Markets
When looking to break into a new market, a brand consultant can help adapt your branding and marketing to cater to the needs and preferences of your new target demographic.
Each of these circumstances lends itself well to working with a branding consultant or agency. They're tricky to navigate on your own (especially if you're working as part of a smaller marketing team).
Bringing in external expertise when faced with any of these challenges is sure to help!
How a Brand Consultant Works: The Step-by-Step Process
A brand consultant will typically follow a similar branding process to what we do here at Canny.
They'll want to understand everything, then formulate a strategy, create the identity, and look at how they can help you bring it to market.
Brand Audit: Assessing Your Current Brand Position
A brand audit is a critical initial step when working with a brand consultant.
Their audit will offer a clear snapshot of where a brand stands in the current market. They'll assess your current strengths, weaknesses, opportunities, and threats. They'll also review your current brand strategy, identity, and marketing campaigns and help to establish baseline metrics for measuring the impact of future brand and marketing initiatives.
As well as reviewing documentation and running different sessions and workshops with your team, your brand consultant will engage key stakeholders to help them get an understanding of brand perception.
As part of your brand audit, your consultant will also look at a range of your competitors, to help assess where you sit in relation to them, and show you opportunities you might be missing that they're capitalising on.
Their brand audit will provide actionable insights to leverage your brand's potential, highlight gaps and inconsistencies in your current brand communication, and give you an action plan for moving forward.
Brand Strategy: Forming a Strategy Based on Your Business Goals
After the audit, the priority is creating a clear brand strategy that aligns to the company's business strategy. This step makes sure that moving forward, every decision that's made helps to move the brand forward towards its objectives.
Your brand consultant will use the audit's stakeholder engagement data from your audit to profile your ideal customer and target audience. Without this, your strategy has nobody to connect with, and you'll find it impossible to shape your value proposition, messaging, and campaigns.
After profiling your ideal customers, they'll then tackle other essential brand strategy elements like:
Brand Positioning
Brand Story
Brand Values
Brand Mission
Brand Touchpoints
Brand Messaging
Tone of Voice
They'll also incorporate current market trends into their strategy recommendations.
It's also important to remember that your brand strategy should be treated as a living document. Market dynamics change, things happen, your brand strategy should have a solid foundation, but be flexible enough to adapt to the world as it changes.
Brand Identity: Design and Delivery of Your Brand Visuals
Your brand identity is the thing that everyone commonly mistakes for "branding." Your brand identity forms part of your overall corporate brand, but it's not the only thing that matters.
And remember, your brand identity is more than just your logo design!
A well considered and developed brand identity should include:
Logo design
Colour palette
Typography
Photography styles
Graphic elements
Your brand consultant will use their audit and strategy to inform how your brand should look. The design phase will bring your brand's strategy to life, and ensure consistent design methodology is used across all touchpoints.
The goal of your brand identity is to:
Build Recognition: A distinct brand identity should ensure immediate recognition and differentiation.
Ensure Consistency: A well-defined brand identity ensures consistency which helps to build trust and reassure your audience.
Differentiate: In any market, differentiation is crucial. A unique brand identity helps to carve out a space in the minds of your audience.
Connect: The right identity will help to connect with your audience on an emotional level, drawing them into your brand story.
Give You a Foundation: Your brand identity design should guide all marketing efforts moving forward.
Unless you're working with a brand consultancy or agency, your brand consultant is likely not a brand identity designer themselves. They'll most likely bring in a 3rd party to help construct your visual identity.
Once your visual brand identity is established, your consultant or their preferred partner will create a brand identity guideline that serves as the foundation of your brand moving forward.
Campaign Planning: Getting Your Brand Out There
The final step after brand strategy and identity creation is launching your brand through targeted marketing campaigns that connect with your audience.
A brand consultant aligns marketing campaigns with your brand strategy and identity, recommending specific platforms and campaign types to amplify your message. Your consultant will guide you to balance storytelling with direct brand promotion. Ensure both campaign types get focus.
They will also help to monitor and analyse campaign performance for continuous improvement and optimisation opportunities.
Thanks to the consultant's thorough audit and strategy, campaign visuals will align seamlessly with your brand identity. Your brand visuals will be integrated across all of your wider marketing channels and campaigns.
A survey by Demand Metric found that:
80% of organizations perceived themselves as primarily brand-building, but only half have a formally documented brand strategy.
By choosing to work with a brand consultant, you're equipped with a clear strategy, positioning you for successful marketing campaigns.
How to Hire the Right Brand Consultant
If you're looking to hire a brand consultant, then there are some things you should consider before diving in. Budgets for branding projects can quickly escalate and you don't want to make a costly mistake by bringing in the wrong consultant.
Evaluating Track Record
Looking for a consultant that has a strong portfolio showcasing past branding projects is a good starting point. A proven track record of successful brand transformations is hard to argue with. Make sure to look for tangible results, not just pretty pictures!
There are pros and cons to working with a consultant that focuses on one niche or market segment too. The main pro being they'll know it inside and out, and get every little insider term. The main con being that because they're so entrenched in the industry, getting a fresh perspective and view from them will be difficult. So decide if that's important to you.
Credentials and certifications don't typically mean much in the world of branding and marketing, it's more about their track record. However, testimonials and references from previous clients are always good to explore. Ask them to recommend some of their other clients for you to talk to.
And, as with any contractor or relationship you're looking to build, effective communication and interpersonal skills goes a long way. If it takes them 7 days to reply to your initial enquiry, bin them off. Being able to get hold of them (within reason) is key.
Pre-Engagement Questions
You'll want to ask questions about your company, and also have a list of questions for the consultant in your back pocket.
Before even starting to look for a brand consultant, make sure you've answered the following questions internally:
What is the primary challenge or goal I want the consultant to address?
Do I need a consultant for a one-off project or a long-term collaboration?
What is the desired outcome from the consultancy?
Answering these 3 basic questions will put you in the right frame of mind, and the chances are, the consultants you talk to will ask you anyway. Better to be prepared!
Before engaging with a consultant, ask them:
Can you describe a similar branding challenge you've handled in the past and the results achieved?
Do you engage with key stakeholders?
Can you describe your process?
How do you handle feedback and revisions?
How do you measure the success of a branding project?
What are the expected deliverables and timeline for our project?
These are the basics, if they can't answer, what are they going to do when things get tricky? If they don't have answers, think twice before proceeding.
Building a Productive Partnership
Preparing a branding brief is always a great starting point. It'll help to align your company goals with the expertise of your brand consultant. It also helps to set clear expectations and deliverables up front.
And just as you'd expect from your consultant, make sure you maintain open lines of communication. The client / consultant relationship isn't a one way street. They need to be able to get hold of you, just as easily as you can get hold of them.
The way we handle this at Canny is to schedule regular check-ins or update sessions. Also having an agreed communication channel works best. You don't want some messages via email, some Whatsapp, some in Slack. Get on the same page about what works best for all parties, then stick to it.
Finally:
Respect and consider their expert advice, even if it challenges your initial ideas. Afterall, this is what you're paying them for.
If you're going to constantly reject their ideas and expertise, then you may as well have done the work yourself.
Consultancy Costs
In your search for the right brand consultant, you'll come across a variety of different project types and budget levels.
It's hard to get into the cost of a branding project in a blog post, because there's so much to consider. Things like:
The size of your business
The scope of your arrangement
Hourly vs project-based billing
All change the prices of a project dramatically. If you hire a huge name consultant that's backed by one of the worlds' leading design agencies, expect to pay big bucks.
Look for the right fit, and discuss the budget with them. Be aware of potential added costs and expenditure. And when they're quoting for the work, be very clear about what you expect to see included, and what you're looking for from the relationship.
When you get the proposals back, make sure you're comparing apples to apples, and consider the ROI of your branding project against the risks of not taking action.
Red Flags: When Your Brand Consultant Isn't Working
Sometimes you get into a project, and you can't quite put your finger on something, but you know it's not working out.
Here are the 3 top reasons a brand consultant might not be working as expected:
Not Taking the Time to Understand Your Business
The first thing that can go wrong in the whole process of working with a consultant is them not taking the time to fully understand your business.
Their job as a brand consultant is to know your business inside and out.
If they don't take the time to sit down with you, understand your business, objectives, customers or other key stakeholders, that's an immediate red flag.
Rushing Into a Full Rebrand, or Focusing Solely on Design Work
The next thing we see is people being rushed into a full rebrand, or brand consultants jumping straight into design work.
Sure, there's an element of that, but as we said earlier, it's not where you start.
If your consultant is pushing you to rebrand from Day 1, or they want to start designing things straight away, that's another red flag.
Communication Problems
And the most common complaint we here from clients who've worked with our consultants is when communication drops. It goes like this:
"The consultant we worked with was fine, until they stopped emailing and calling us back." They don't understand what happened, but communication went completely sideways or stopped altogether.
If you've noticed any of these red flags, what should you do?
First of all, re-communicate your expectations. Let them know you're frustrated and give them a chance to address it.
If that doesn't work, get someone from the C-suite involved. We've seen that help to "pull people's socks up" in the past.
And if that doesn't work, sadly, it's over to the legal team to exit the contract.
Hopefully it doesn't get that far, and you have a productive and long standing relationship with a brand consultant you know, like, and trust!
Alternatives to a Brand Consultant
In today's competitive market, building a strong brand presence is more important than ever. While many companies use a brand consultant to ensure their branding is on point, some might be hesitant due to budget constraints, unfamiliarity with the process, or a desire to keep things in-house.
If you find yourself on the fence about the decision, it's worth noting that there are several other avenues you could consider.
These alternatives each bring their own strengths and weaknesses to the table:
An in-house team: This option is cost-effective and often consists of individuals who already understand the company's strategy. However, they might not have the diverse experiences and fresh perspective that an external consultant would provide.
A branding agency: Like a brand consultant, they offer specialised branding services. For larger businesses or those looking to rebrand on a large scale, choosing a branding agency can be the perfect fit, providing a comprehensive package.
Doing it yourself: Taking the DIY route is budget-friendly, but it requires a significant time investment. Plus, without specialised knowledge, the end result might lack the polish and cohesiveness that professionals can achieve.
In weighing these options, it's important to consider what aligns best with your company's goals and resources.
While each alternative has its merits, at Canny, we think working with a brand consultant or a branding agency often produces the most beneficial outcomes.
Brand Consultant FAQs
Empowering Your Brand with a Consultant
Having the right guidance can be the difference between building a brand that fades away, and one that stands out and thrives in the market.
A brand consultant or branding agency brings expertise, offering a fresh, external perspective that is essential when looking to transform your brand. Whether you're a new startup, in the midst of rebranding, or seeking to fortify your existing brand, a consultant or agency will craft a strategy and identity that connects with your audience and makes a lasting impact.
A statistic from Lucidpress solidifies the importance of brand consistency:
Consistent branding across all channels can bolster revenue by a whopping 23%.
This statistic isn't just about numbers; it highlights the tangible business benefits brought about by the meticulous and consistent planning and approach of working with a brand consultant.
In Jeff Bezos' words, "Your brand is what other people say about you when you're not in the room."
A brand with a robust strategy and outstanding identity will leave a lasting impression. With a brand consultant by your side, you're better positioned to ensure that impression is a favourable and memorable one.
We'd love to work with you as your brand consultant and branding agency. Get in touch with Canny today to discuss your project.