So, you have a great product and an excellent company name – now all you need is a great brand identity.
Can you design your own? Should you? Will it be any good?
Maybe, maybe not.
How do you do it?
There are pros and cons to every single approach. For every one person you'll hear saying "we just used Fiverr" you'll hear someone saying "pay a professional branding agency."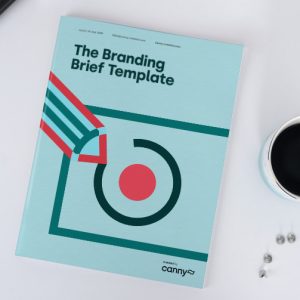 The Branding Brief Template
The Branding Brief Template is a free template that will help you get the brief for your branding project right. W...
I'm sure you know which side of the coin we fall on!
But, in this post, we're going to take you through the step by step process to designing your own brand identity – that way, you'll know exactly what goes into it!
Let's dive in.
What is Brand Identity?
In its most basic form, a brand identity is what makes a company who they are.
Think about you as a person. What makes you different? What separates you from others? It's your personality that makes you, you.
A brand identity is no different.
Every single part of a company contributes to its brand identity and influences the way it connects with consumers. It's crucial that every single part ties together or it could become confusing.
It's way more than just a name and a logo. Both of these could be spot on, but they're not enough to carry the whole business.
Customers need to feel connected with your brand and understand what it's all about. There needs to be a reason that drives people to choose your brand over every other brand offering a very similar thing.
Understanding the importance of a brand identity brings endless value to your business.
Why Is Brand Identity Important?
Without a strong brand identity, you will not be able to connect with customers.
Your brand needs to be instantly recognisable to your target audience and gives you that competitive edge in the marketplace.
Brand identity…
Sets you apart from your competitors. A strong brand identity gives people a reason to choose you over a brand doing something similar.
Provides consistency across all communications whether that be visual or written so that every piece of content ties together. Creating a set of brand guidelines enables you to ensure continuity is achieved at all times.
Defines the personality of the brand. This is hugely important when connecting a product or service to the target audience. People buy from companies they like, companies who they think share the same values as them. It's an emotive process when choosing a brand, even though people might think they do it subconsciously.
Generates loyalty. Creating a brand that people can trust and rely on will keep them coming back.
Makes your brand memorable. From bold colour choices to big marketing campaigns, a strong brand identity should be memorable. The more people see your brand, the more likely they are to use your product or services. You're creating a lasting impression then will stick in their mind.
Improves market positioning. Are you a luxury or premium brand? Having a brand identity helps position your product in this market. There are lots of brands out there which are more expensive despite offering the same thing (pretty much). Why do people shop at Waitrose instead of Lidl when they can get their weekly shop for half the price? They're buying into the brand and the quality it offers them (despite it just being a loaf of bread).
Builds brand reputation and gives you credibility. A strong brand identity with clear messaging encourages customers and prospective customers to invest in your offering.
Before Developing Your Brand Identity
Developing your brand identity isn't something you just 'do'.
It's a strategic, well-thought out, and planned process that involves research into your industry.
For your brand identity to be successful there are certain things you need to look at first. Sure anyone can have a pretty logo, but is it going to resonate with your target audience?
Know your audience – Understanding your audience and their needs helps tailor your offering to suit. You need to make sure your business is being seen by the right people. Our customer persona worksheet helps you identify your ideal customer so you can get your marketing right.
Competitor Analysis – This is key to ensuring your stand out from the competition in a crowded market. What are your competitors doing differently to you? Are they offering discounts or an incentive that would make people choose their brand over yours? Is there something here that you could incorporate into your own marketing?
Understanding your competitors is key to success and enables you to stay ahead. It's important to keep up with any trends in the industry as your competitors will react to these changes. If you don't, you could be left behind.
What makes you special? Similar to the point above, no matter what industry you're in, you will have competing brands. So, what makes you unique? It's important to pin down your unique selling points (USP's), as these are the reasons why people will choose your brand. If you're a cafe for example, you're never short of competition. So why should people come to you for their caffeine fix? Maybe you offer a signature drink that can only be found at your particular coffee shop?
How to Design and Develop Your Own Brand Identity
Brand identity is more than just visuals i.e. your logo, it's everything that connects your brand to your audience. A brand identity is the absolute core of your brand and should be consistent through every single one of your brand touchpoints.
Creating a coherent and cohesive brand identity is key to success.
Ensuring your brand identity is a success takes careful planning. It's about understanding the needs of your business and basically what you're trying to achieve. This vision should then be carried throughout the entirety of the brand so that you don't lose focus.
Set goals and objectives
This will be different for each business. Setting objectives is key to driving the brand forward and ensures every part of the brand communicates the same message. Without clear goals, the brand can get very confusing and can divert away from what you're trying to achieve.
If your goal is to attract new customers, then your marketing efforts should be centred around this. You could offer discounts via an e-newsletter to encourage new customers to sign up to your services. Or, you could attend a networking event/ exhibition to get your brand seen by different customers. This gives you a chance to connect in person and gives your brand a face.
Get Clear On Your Brand Strategy
You need to get inside your brand and understand who you are as a business.
A brand strategy helps you define these elements such as your brand values, any strengths and weaknesses, your audience, your marketing channels, and your objectives.
By creating long term goals it gives you a sense of direction and enables you to measure success over a period of time. You need to have something to benchmark progress against or you won't know what's worked and what hasn't. These lessons are vital for future success as they can be built into future marketing efforts.
A clear brand strategy also helps keep everything on track. There will probably be a few people working on your brand at the same time. You might have a Marketing Manager, a Graphic Designer, and a member of the sales team all working on your brand together. They'll each have different input and will want to contribute new ideas.
A brand strategy ensures everyone understands the end goal and can work collaboratively to ensure this is achieved. By referring back to the brand strategy, it allows you to judge the effectiveness of a particular design by how well it reflects the core aim.
Visual Research
When developing your brand identity, you need to get visual. You can't just imagine how you want your brand to look, you have to get it down on paper (or a moodboard) to test different ideas and see what works.
Play about with colours, shapes, and different forms to get an idea of what you like and what you don't. This is a great brainstorming exercise and you might discover some initial ideas you liked don't work the way you thought they would.
Whatever way works for you, make sure you do your visual research. Use online mood boards such as Pinterest to explore different designs, before pulling together the overall look of your own brand.
Create a Final Moodboard (Stylescape)
Stylescapes are mood boards taken to the next level.
By bringing together a collection of images, typography, textures, and colours it helps you envision your brand before committing to it.
It helps you communicate the look and feel of your brand in all its entirety. It's a vital part of the creative process and provides an in depth preview of the project's visual direction. Creating a stylescape allows for any amends to be made before you start designing.
When creating any brand, you're always going to think of new and better ways to do things. You'll want to incorporate these elements into your brand, and having this final mood board gives you a chance to review your ideas and make any changes.
Start Creating Concepts
IKEA. What do you think of when you read this?
Maybe it's yellow and blue. Maybe it's flat pack furniture (are you having flashbacks of numerous arguments with your significant other?) Or maybe it's the delicious 50p hotdogs at the end of your shopping spree?
This is an example of a brand concept. It's everything relating to your brand including what it looks like and how it makes you feel. Whatever pops into your mind when you think about a company, is their brand concept.
This is crucial for any business as it's the core ideas that set the focus of the marketing strategy.
Think about your mission, your brand name, your tone of voice, and style, as all of these elements make up your brand and will be applied to all marketing materials. By bringing these elements together, your brand should communicate with the right people in the right way to ensure your business is a success.
Look At Colour and What Different Colours Mean
Buying from a brand is a conscious choice. It's a thought process that can pull on our heart strings. There's a great deal of psychology behind our decision to buy a particular product. One aspect being the colour palette. Let's take the colour red. What does it make you think of? I bet it's not anything calm or tranquil. Red is bold, dangerous, loud, dramatic, intense, fiery.
This has to be considered when choosing your brand identity colour palette. If you have a new skincare brand that soothes and moisturises sore skin, red is certainly not the right colour. What about blue? This evokes images of cool, calming waters and creates a sense of tranquility. Your colour palette needs to support your brand messaging.
Deciding On Typography
The way your text looks says so much about your brand. Different types of fonts can evoke different emotions.
Are you going for playful, bold, classic, edgy? This can say alot about who you are and should communicate the message you're trying to convey. Your typography will be used across all marketing collateral so it's important it sends the right message to your target audience.
If you're a brand going for a classic theme and want to create a sense of reliability and structure, Serif fonts such as Times New Roman are a good choice. Easily readable, these fonts inject a sense of trust and work across all marketing materials.
On the other end of the spectrum, if you're trying to be more playful, script fonts are a great option. They mimic curvy handwriting and are a lot less serious. If you have a brand which is quite artistic, script fonts help create that image in a customer's mind. The typography creates a connection between the brand and the consumer.
Brand Name
This is the first thing people hear. Even if you have a fantastic product, your brand name is key to its success. Take Nike for example. Previously, the founder Phil Knight wanted to call the brand 'Dimension Six'. He was discouraged by employees as one of them had read an article in a magazine about effective brand names only being one or two syllables and including letters that sounded like 'Z' and 'K'.
After some research, they narrowed down the list of potential brand names and Nike was born. Nike refers to the Greek Goddess of victory, something lots of athletes strive for. The brand is universally recognised and very successful.
Logo
This is usually the first thing people see. As a visual means of communication, your logo design needs to be instantly recognisable and easily understandable. What is your logo trying to convey? What message is it trying to communicate about your brand? This is the heart of your business and it's important you get it right.
Take Airbnb for example, their new logo is about 'Belonging Together' which has been perfectly encapsulated through the shape of the letters. It's clear what the message is, and how this relates to the brand as a whole, connecting people and communities together, despite their location.
Marketing Collateral
Whether you're creating leaflets, flyers, brochures, catalogues, posters, business cards, or exhibitions graphics, every piece of content and visual resource should communicate the same brand message.
These are touchpoints with your consumer so it's essential they look good and represent your brand. All marketing collateral should follow the same brand guidelines (as we've covered above) to keep your message consistent regardless of the medium.
Printed marketing collateral is a physical resource which can be handed out to customers at an event. They not only need to look good, but feel good too. This might sound dramatic but I've felt some pretty flimsy business cards before and it doesn't leave a good lasting impression. They need to be high quality, after all you want a customer to pick up the phone and get in touch.
Applying It to Digital
It's not just your printed marketing materials that are important. When your digital resources synchronise with your offline marketing efforts you make a big impact with your branding.
Your website is the first thing people will see when they look for your brand online. It's important every part of your website upholds your brand identity and enhances user experience. Otherwise, even the best looking brands that have the best products will lose customer attention.
Everything from the design, language, and layout of your website should represent your brand and fully communicate your offering. Customers shouldn't have to second guess anything when it comes to your website.
What Is Collateral and Why Do You Need It?
People used to think of collateral as only being printed resources, but with the rise of the internet, websites, social media, e-newsletters, and ebooks are all different ways customers see your brand.
Gone are the days when businesses had to rely on direct contact with consumers (through exhibitions, networking etc), they can now reach thousands of people through online marketing efforts. You can personalise an email campaign and send it to your entire customer database to promote your services or create an ebook and share it across all social media channels. The options are endless.
And it's not just about attracting new customers and increasing sales.
Marketing collateral is equally important for internal use as even HR departments need to effectively promote the company to attract new employees. They need to be able to 'sell' the company including the benefits of working there to attract new talent. This could be building a new swanky careers page which tells potential employees everything they need to know about the company including different perks.
No matter what type of marketing collateral you use, each should create a good impression and attract people to your business.
Brand Identity Myths
Some businesses think a brand identity is an add-on, it's just good to say you have one and sounds like you know what you're doing.
You know who you are, what your business does, and what makes you unique, but do your customers know that?
Other businesses struggle to see how investing in a brand identity can improve their bottom line.
Let's set things straight.
I can't afford to invest in a design agency for my brand identity
Although choosing a design agency might initially seem expensive, the cost of having a weak brand identity is even higher. As mentioned, you could have a great name and a stunning logo with all the bells and whistles, but without a sound brand identity your messaging is going to be lost.
At Canny, we support clients from start ups to established business, tailoring our branding services to suit the needs of your budget.
And I can't stress how important a brand identity is. Without it, you don't have a business.
A brand identity is fluffy and just sounds nice
Brand identity is important, it should never be an afterthought.
So many companies do it the wrong way around.
They have a great product, but it falls flat. Why?
Because they haven't considered the value of the elements above.
I don't understand how a brand identity can improve profitability
A strong brand identity is the bread and butter of your business.
By creating a brand that consumers connect and engage with you will generate interest, attract new customers, and influence buying decisions.
Think about it:
You're buying a new laptop and you can either choose a Macbook or a HP laptop.
They both provide a similar offering and will give you what you need to complete your work, but the Macbook is more expensive.
What do you spend your money on?
The Macbook.
Yeah, it might have set you back more money but it feels so shiny and new. From the laptop case to opening up the screen, it's simple and aesthetically pleasing.
This modern simplicity alludes to luxury, convincing people to spend more money. To be honest, you'd probably get more for your money with the HP!
Apple have smashed it with their branding. They have influenced buyer decisions to the point that people are choosing to spend more money on a product they could have bought a lot cheaper.
They've positioned themselves as a premium brand and that's obvious throughout.
In their fourth quarter in 2020, they made a revenue of nearly £65 billion pounds.
So, next time you're wondering how a brand identity can increase profit, think of Apple.
Brand Identity FAQ's
From pricing up your brand identity to understanding what to expect from an agency, we try to answer some of your most burning questions.
How Much Does Branding or Creating a Brand Identity Cost?
When it comes to the cost of your brand identity, every business is different.
When clients ask us 'How much will my branding cost?' it's like asking 'how long is a piece of string?'
Your brand is bespoke, and what's required to make your branding successful can't always be pinned down to a set number. Our main priority is getting your branding right to achieve maximum results for your business.
What's Included?
Clients usually ask us 'Will my brand identity include my website?' The answer is yes.
As we've covered, your brand identity needs to be applied to all marketing collateral, whether that's online or offline. Having this consistent message across all platforms increases the chance of it being seen and remembered, which in turn, encourages people to invest in your offering.
As a creative agency, we always provide a set of brand guidelines. This ensures consistency is achieved across every single piece of content and set of visuals so they convey the brand message. You should always refer to the brand guidelines when creating a new piece of content, regardless of the format.
How Much Time Will It Take?
At Canny, we conduct 5 rounds of branding which includes a research process and the creation of stylescapes to give you an idea of how your brand will look and feel.
With each round there is a chance to review before making any final amends.
We also factor in approximately 1 week for creating your deliverables based on the needs of your business. This can be anything from website design, to stationery, to your packaging, but the most important thing is to get it right.
What's The Process?
Partnership over profit is at the heart of Canny. We want each and every client to feel valued and to know they can easily pick up the phone and speak to a member of our team.
From good old email, to Zoom, Slack, and Google Suit, there are various ways you can reach out to us. We want you to feel connected to your project and be actively involved at every stage of the branding process.
We also hold quarterly meetings which give both parties the chance to run through ideas and set the plan for moving forward. This gives you an opportunity to offer feedback and suggestions before we progress with the next stage.
Brand Identity Case Studies: Who's Got It Right?
The world's biggest brands are so successful because they have such a strong brand identity. They're recognised everywhere, and by everyone and attract customers across the globe.
Let's dive into some of the best brand designs.
Coca Cola
Whether you think of the classic Christmas advert, or the 'share with us' campaign, Coca Cola knows their audience to a T.
They sell 'happiness in a bottle' and create an experience for customers when they buy their product.
Everything from their playful typography, to the uniquely shaped coke bottle, to the strong colour palette makes the brand memorable and recognisable by anyone. It's also very simple and appeals to a mass audience.
The brand has also personalised the product by placing different names on coca cola bottles to create a connection between Coca Cola and the consumer. This makes people feel special and encourages them to buy a bottle of coke as it's personal to them. It's as if the brand is talking to them.
Apple
Technology giant, Apple, position themselves as a premium brand that provides a sense of luxury for all customers. Every part of the brand feels good quality and provides an experience for customers. From stepping inside the bright white, ultra-modern Apple Store, to holding the latest iPhone in your hands, it's exciting and makes you feel part of something much bigger.
Apple is creative and innovative in their design. Instead of technology being boring and dry, they have created a modern brand that is youthful and always bang on trend.
They stay ahead of the game and lead from the front, leaving other technology manufacturers desperately trying to keep up.
Greggs
How has a brand which makes sausage rolls and cakes become so globally recognised? Greggs have it bang on when it comes to their consumer and know how to serve their needs.
They also know how to engage their customers and keep them coming back. Their app is a genius idea which allows regulars to accumulate points every time they make a purchase which they can eventually use for a freebie. This small but powerful idea encourages customers to keep buying from greggs, with the knowledge that a delicious sweet treat or a scrumptious steak bake is waiting for them.
Their branding also speaks to their target audience and is simple and easy to digest. Their minimal colour palette includes blue and yellow which is an effective contrast. All of the language used across marketing campaigns is understandable and straight to the point. They don't use fancy graphics or imagery and just stick to what they're good at.
IKEA
As we've touched on earlier in the post, thinking of IKEA brings up lots of different images in our mind.
They're affordable swiss furniture attracts customers far and wide. I don't know any homeowner who hasn't bought from Ikea. From the outset their vision was to 'create a better everyday life for the many people', and their branding follows this through.
From the way they design products to their pricing structure, IKEA produces products that are affordable for the masses. It's clear people are at the heart of what they do which is obvious through their in-store experience. They're not just selling a product, they're selling a lifestyle.
IKEA has become a beacon of innovation and inclusivity. Everything from their logo to the way their brand catalogue is designed is simple and understandable, to suit the needs of their customers.
Amazon
Amazon is taking over the world. I don't know about you but I see them everywhere.
And why? Because it's so damn convenient. Need a new set of window wipers? Find them on amazon and have them delivered straight to your door, without having to move a muscle. Amazon prime is also a clever feature which encourages people to subscribe for a monthly fee so they can enjoy guaranteed next day delivery as well as having access to a whole host of films.
Amazon's positioning strategy is low priced, extra convenient, instantly accessible goods and makes life easier as possible for the consumer.
You can find quite literally everything you need. From books, electronics, health care products, pet food, car accessories, and clothing, the list is endless. This has made amazon the one stop shop for consumers as why browse 5 different websites when you can look on 1? It's an online department store that has it all.
Conclusion: Brand Identity: What It Is and How to Develop and Design Your Own
Your brand identity is the core of your brand. Without it, your brand will be lost in a sea of competitors and your chance of engaging customers is slim.
Developing a strong brand identity takes time, planning, and investment, which in the long run, will bring endless value to your business. People fall under the misconception that this is easy to do and can be done by anyone. If you want maximum results, you need to be prepared to spend time and resources on getting it right.
If you need help developing your brand identity, get in touch with a member of our team today.