Brand mascots can often become the face of companies for many decades, so it's important to start strong and create a mascot that's memorable, original, and true to the values of your brand.
Creating a character that resonates with what you sell or provide is a great way to market your offering in a more fun and engaging way.
Equally, brand mascots often come hand in hand with a brand mission statement or tagline and having a character tell your audience what you stand for can be a really useful marketing technique.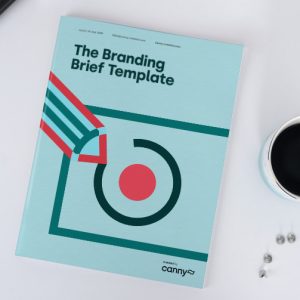 The Branding Brief Template
The Branding Brief Template is a free template that will help you get the brief for your branding project right. W...
In this post, we will be looking at a variety of brand mascot characters that are ultimately a success as they are recognised across the globe
So, let's dive in.
Are Brand Mascots the Key to Memorable Marketing?
When it comes to marketing, brand mascots are often used to further sell products and most importantly engage audiences as soon as they see the product packaging or marketing materials.
A modern-day mascot (if it's to be successful) should be 3 things:
Recognisable
Memorable
Original
For example, there's no use trying to emulate another company's brand mascot, as it will look like a direct copy and fail to showcase your brand identity.
For a mascot to be memorable it's important that the character is flexible and looks good across all platforms and materials, otherwise, a company will run the risk of their mascot looking different and confusing their audience.
Brand Mascot Examples
So with that, we thought it was only right to dive into some of the best examples of brand mascots used by companies across the world.
From cereal mascots, to the face of Walt Disney World, for this post we have explored some of the most famous brands faces out there, deciding whether they are a successful part of a company's marketing, or just a bit creepy!
So, let's get into it…

Credit to Creative Bloq
Freddie From MailChimp
MailChimp is an email marketing platform that allows users to create email marketing campaigns and newsletters that increase opens, clicks, and leads.
The platform can be used to keep an eye on your email marketing efforts through a variety of plans to help companies improve upon their current marketing strategies.
But we are interested in their mascot in today's post!
Freddie, the Mailchimp mascot, has been a constant for the company's branding, and we can see why.
The design of this mascot is fairly simple, a bold black cartoon monkey icon sporting a hat and a cheeky wink.
Now the wink may tip him slightly towards the creepy end of the scale, however, the mascot is more friendly than anything else.
He sits well on both white and yellow backgrounds that are used consistently by Mailchimp and are identical across all platforms (an important aspect of brand mascot creation.)
In the world of marketing automation tools and platforms, Freddie is something of a celebrity and certainly one of the better examples in this category!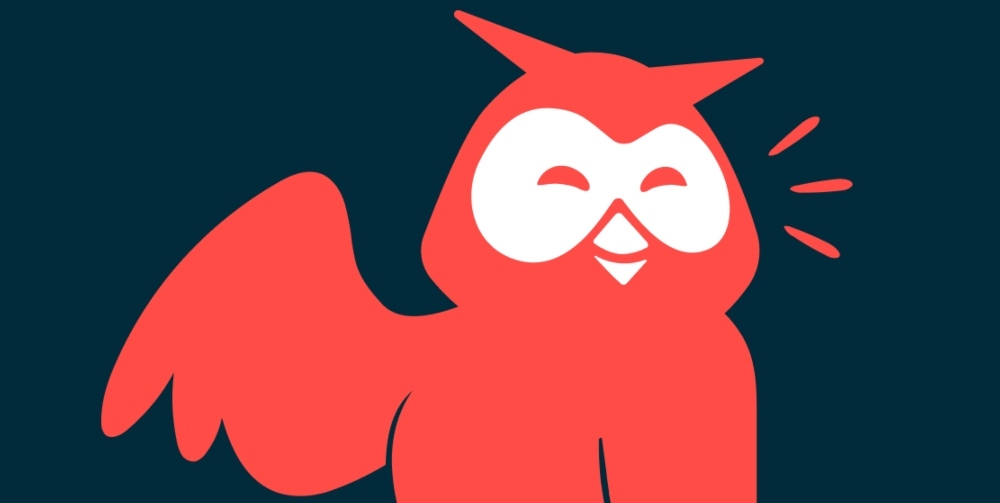 Credit to Hootsuite
Hootsuite's Owly
If content marketing, in particular social media marketing, is a priority for you, you may well know our next brand mascot example, Owly.
This character is the face of Hootsuite, the social media management platform that can be used to create, plan, and schedule social media posts on a variety of platforms.
The mascot who was rebranded in 2022, now has more of a personality, however we can't say he's any less creepy.
In fact the owl character now used by the company resembles a man in an owl costume rather than an owl, but hey that's just our opinion!
Owly is a fairly simple 2D design and his core colours are white and a bright coral which does help him to stand out among the sea of other owl mascots. Think Hooters, Duolingo, and Tripadvisor – at least we think thats an owl?
Now I know what you may be thinking, we've judged Owly too soon, he isn't that much of a creep, he's a great example of a universal mascot that appeals to the varied audience of marketers and social media executives.
However, as you scroll over him in the top left hand corner of the Hootsuite website, he gives you a wink. He seems to be lurking at all corners of the site as he is equally present as you scroll right to the bottom to find out more information.
We can't help but feel this mascot would be better presented as more of a central part of the company's branding to ensure audiences are associating Owly and Hootsuite as part of the same brand.
A nice element of this mascot is the way he is placed into brand photography, acting more as part of the customer service team ready to help you out.
Unfortunatley, Owly doesn't beat Freddie from Mailchimp just yet when it comes to the best marketing software mascots, but there is something about him that we find charming.

Credit to Nintendo
Mario
Next up we have arguably the most famous video game mascot in the world, Nintendo's Mario.
The star of games such as Super Mario Bro's, Mario Kart, and Super Mario World, Mario was created by Japanese game designer Shigeru Miyamoto in the 1980's and has continued to be at the centre of the Nintendo empire.
Much like any good mascot, Mario is suited to all platforms, from Television, to PlayStation and Xbox, right down to Nintendo DS and Switch consoles.
Mario is a small, Italian man wearing dungarees and a small red cap, and although there is some speculation on his career, to most he is known as a plumber.
This mascot is a favourite across the globe due to his likeable personality and motivational and determined spirit, that's key to encouraging players to buy the Nintendo games as they are released.
This brand mascot has helped to boost the popularity of the gaming franchise and that is mainly due to the fact that his design is so simple.
The character himself has always remained the same since the 1980's, and whilst he has been updated as technology has improved, his outfit, proportions, and features are consistent with his first ever design.
It's this consistency in the character style that creates a memorable mascot that will continue to be the face of Nintendo for years to come.

Credit to Campaign Live
The PG Tips Monkey
Moving on to FMCG brand mascots now and the PG Tips Monkey.
This character was used by the tea company particularly for TV advertisement skits with co-star Johnny Vegas.
Monkey himself was an animated knitted sock puppet monkey who would often wear a variety of outfits ranging from a shirt and tie, to pyjamas and a dressing gown, to a PG Tips branded T-Shirt.
This mascot became a firm favourite particularly in the UK due to their relatable adverts that depicted Johnny and Monkey testing PG Tips teabags against competitors or even something as simple as putting the kettle on and putting their feet up!
The comedy value is what made the adverts starring the pair so successful, as Monkey was portrayed as upper-class sometimes showing Vegas up and coming across overall more intelligent.
The brand always considered Monkey to be a star just as much as Johnny Vegas, so much so that they made soft toy versions of him available for audiences to buy.
Although a simple idea, it became popular due to what Monkey became for TV audiences, which was a bit of light relief.
However, as we mentioned earlier these adverts were such as hit in the UK due to Johnny Vegas's Lancashire accent and the way he pronounced "Munkeh". This resonated with the UK audience as they were familiar with the accent and many even spoke like Vegas himself.
These advertising campaigns involving the PG Tips Monkey were successful in finding a common link between audiences and the characters on-screen, stripping the glitz and glamour back and just keeping their branding simple and relevant to their target audience.

Credit to Trivia Happy
Larry From Quaker Oats
Our next example is another one from the FMCG sector and has possibly been around for slightly too long.
When we say Larry, you'll be thinking, who?
But we mean the Quaker Oats brand mascot which originated in the 1800s (hence why we'd advise a rebrand…)
This character is based upon a Quaker dressed in a hat and suit with long white hair.
The mascot was chosen way back when to reflect Quaker values such as honesty, integrity, purity, and strength, and this aligned well with the ingredients used and the promotion of a healthy cereal.
Larry is certainly memorable as the brand have remained so consistent it would be hard not to recognise him when browsing the cereal aisle.
This is effective when it comes to retaining an audience long-term as sticking with the same brand mascot shows reliability across the entire brand, however it can sometimes have the opposite effect.
By this we mean that the brand can become outdated if it doesn't reflect how their audience feel, what they desire, and what they're looking for from a product and a mascot.
Yet, when we think of Quaker Oats we think of a brand that has stood the test of time, not necessarily for it's packaging and mascot but for its ability to be relied upon for a nutritional breakfast option benefiting a wide audience.

Credit to Town Fair Tire
The Michelin Man
Although an unusual figure in the mascot world, the Michelin Man is without doubt one of the oldest mascots in branding history.
He is a light-hearted jolly character, and he is a mascot that incorporates the main product sold by the company as he is made from tires himself.
Today the Michelin Man is one of the most recognisable brand mascots across the world, however the core of the Michelin brand has helped to uphold this.
Although it may seem as if the Michelin Man doesn't reflect the tyres they sell, this is because when the mascot was created, vehicle tyres were in fact white.
This helps ensure the consistency and heritage of the brand continues to be a core part of the company, rather than switching the mascot up every time the product changes.
Yes, his colour has remained the same, but his style has been changed many times from his debut in 1898 to his most recent design of the 2000's.
However, we can understand why the mascot has bee regularly updated with tweaks and changes to reflect each era he has thrived in, as being such a huge icon in the mascot world comes with great responsibility.
The Michelin Man was awarded icon of the millenium by Advertising Week in 2018, which for a brand mascot is a huge win!
This shows important a brand mascot can be for companies around the world as a way to showcase values, commitments, missions, and goals, so the Michelin Man certainly gets our star of approval. Definitely, not a creep.

Credit to Marketing 91
Mr Muscle
This brand mascot is unique in that it's rare for a cleaning product character to be so memorable.
The only other mascot we can picture is the Duck character for the Toilet Duck cleaning product line, but one that trumps them all is Mr Muscle.
Mr Muscle is another example of a mascot that has remained consistent over the years, helping anyone and everyone to clean their kitchens and bathrooms with strength and efficiency.
The use of this mascot reflects the product itself which is why it's so genius!
Pairing a typically strong assertive male who is more like the superhero of the cleaning world, with a cleaning formulas that don't miss a speck of dirt, is a recipe for success in our book!
Mr Muscle himself looks to be modelled from the likes of Johnny Bravo and Mr Incredible, so no wonder he comes across as more of a superhero than anything else, and the language used for the mascot is just as effective.
He uses phrases such as "Clog solved" and "Watch this" and his mascot is there to impress and show off the quality of the Mr Muscle cleaning product line.
If ever there was a perfect pair between a brand and mascot, Mr Muscle is sure to be ranking highly, as his personality perfectly represent the strength and reliability of the products on offer.
Therefore, making our choice between creepy and memorable was easy for this brand mascot as since the 80's he has been loving the jobs we hate!

Credit to The Fact Site
Tony the Tiger
This isn't the first time we have visited cereal on the Canny blog, but instead of cereal packaging design this time we are turning to a cereal brand mascot.
There are hundreds if not thousands to choose from with cereal brands popping up all the time however we have decided to go with the trusty old Frosties mascot, Tony the Tiger.
Tony has been the mascot for Kellog's branded cereal for over 70 years, and although he has been updated from time to time, his essence remains the same.
He started in black and white and has since moved to colour format sporting the true colours of a tiger and a small red necktie.
What's most famous about this mascot, however, is his trademark slogan "They're great" which is not only a brilliant promotion of the frosted cereal flakes themselves but a catchy tagline that has remained consistent for decades.
Again we are seeing a pattern of the best mascots being consistent in their design and character, and it's no different for cereal.

Credit to Ubisoft
Mr Monopoly
Mr Monopoly, or as the die hard fans among you may know him, Rich Uncle Pennybags, has been the brand mascot for the Monopoly board games for close to 100 years.
Now aside from the mascots real name, which I only just recently discovered, this character doesn't particularly come across as a total creep, but instead more of a family friend.
Now we can assume that the majority of readers have played a game of Monopoly before, and many of you will have a version of the board game tucked away in one of your cupboards, so it's safe for us to say that he is one of, if not the most popular board game mascot in the world.
He is dressed in a morning suit with a top hat and a walking stick and is always shown to have a cheerful, welcoming expression on his face, which is possibly why he has been so successful in the world of mascots over the years.
He is one of the mascot examples that doesn't need a voice to express his personality, and that is the sign of a mascot doing it's.
Instead the way Mr Monopoly is presented on the advertisements, right through to the game board itself is aligned with the idea of wealth and business: two key pillars of Monopoly.
The Monopoly brand has extended further than board games, and most memorably to a partnership with fast food chain McDonalds (the mascot of which we have conveniently mentioned below) to bring prizes to customers.
This feeds into the persona of Rich Uncle Pennybags being a professional and successful businessman and in some ways confirms that Mr Monopoly as a mascot definitely plays a part in the success of the overall brand.

Credit to Tramps UK
Ronald McDonald
I'm afraid this is a mascot example where I just can't hold my opinions back.
Ronald McDonald instigated my childhood fear of clowns and I think he did the same (and still does the same) for millions of people around the world.
This fast food clown mascot was first introduced to the world back in the 1960s and has caused a stir ever since, as it's a constant debate whether Ronald is a creep or not!
Despite this, he is an example of a mascot who has in a sense become the brand, he isn't just an extension of McDonald's, he is McDonald's.
When you look at the golden arches, you picture Ronald.
When you look at a Quarter Pounder, you picture Ronald.
He is a mascot, much like the other we've mentioned, that is so well intertwined with the branding of a company that he encapsulates all of the values of the company.
So much so, that McDonald's created Ronald McDonald House Charities UK, that provides "home away from home" accommodation for families with ill children. This links Ronald McDonald to a charitable cause and shows that the company overall are passionate about providing help to those who need it most.
Although we may find the guy creepy, there are millions out there who love Ronald McDonald and what he stands for whether that be charity, clowning around, or simply a Happy Meal.
Mickey Mouse
Ultimately, it's only right that we end on the most famous mascot of them all, Walt Disney's Mickey Mouse.
Although he started as the main star in his short films, with a debut in 1928 in "Steamboat Willie", Mickey Mouse has grown to become the face of the billion-dollar Disney empire.
You can see him in movies, you can see him at Disney World, and you can see his face all over Disney merchandise and memorabilia.
Therefore, this mascot is ingrained into us and difficult to miss or forget about quickly!
The evolution of Mickey, similar to Mario, has ensured that the mascot's design has remained consistent for close to 100 years. This is one of the main reasons why mascots become, and continue to stay popular.
Dressed in big yellow shoes and a pair of red shorts, Mickey Mouse is a household name that has filtered down through several generations and part of this is equally due to his personality.
The mascot started out with no voice, and just a sense of humour, and gradually became an on-screen friend who smiled, danced and retained his nature and character for decades.
Brand Mascots: Super Creepy or Mega Memorable?
So there we have it, our brand mascot round-up, highlighting the mega memorable and the super creepy.
As we have discussed, brand mascots can be central to an entire company's branding and marketing efforts particularly if they're used on packaging designs, in advertisements, or as a face of a franchise.
There is no doubt that brand mascots can overtake a product and become how a brand is recognised, particularly for large organisations that have products and services available across the world.
Regardless of whether a mascot is creepy or cute, what makes a company's character successful is the originality and both how recognisable and memorable the mascot is.
Here at Canny, we work with brands to create a variety of branding elements from logos to colour palettes, to the values of an entire company. So, we understand what it means to have good branding that resonates with your audience.
If you feel Canny could help you with your branding, or even a rebrand, get in touch with one of our team today!