The terms 'brand partnership' co-branding' and 'brand collaborations' are often used interchangeably and this can cause confusion among audiences and businesses.
Although slight, there are differences between the three which we're going to outline below for clarity:
Brand partnerships involve a long-term commitment and the goal is to create a mutually beneficial relationship.
Co-branding is a strategy in which two or more brands come together to create a new product/ service that combines the strengths of each brand.
Brand collaboration is a more informal relationship between brands, where they work together on a short-term project or campaign.
So in summary (and before we delve into some examples), brand partnership involves a formal and long-term relationship between brands, brand collaboration is more informal and short-term, and co-branding is a strategy to create a new product/ service.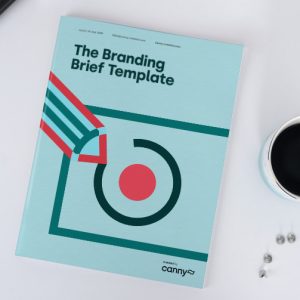 The Branding Brief Template
The Branding Brief Template is a free template that will help you get the brief for your branding project right. W...
To avoid any confusion throughout this post, we'll be using the term 'brand alliance' when referring to any one of these things. This term covers all bases as 'alliance' is a union or association formed for mutual benefit or to achieve a common goal (which all three aim to do).
When approached in the right way, each of these brand alliances are a win-win for everyone involved.
Ultimately, success for one brand means success for the other brand too as you're combining both sets of creativity, resources, and customers.
How to find the right alliance
Regardless of whether you opt for a brand partnership, co-branding, or a brand collaboration, finding the right alliance is key.
As mentioned in the intro, the success of one brand impacts the success of the other brand so it's important you get this right.
It goes beyond just choosing any brand because they have a large customer base.
Because you're leveraging each other's customers' trust and brand loyalty, it's essential that you consider the added value that your alliance is going to bring you.
When it comes to choosing a brand alliance, you need to consider:
Brand fit: You need to consider whether or not the brand is a good fit in terms of their values, audience, and brand image. A good brand fit is crucial for building trust among both audiences.
Goals: You should clearly define the goals and objectives for aligning your company with another brand. This includes defining what you hope to achieve, whether that's increased brand awareness, new revenue streams, or expanded market reach.
Communication: You need to establish clear communication channels with your brand alliance, including regular check-ins and updates, to ensure that both parties are on the same page.
Risks and benefits: You need to carefully consider the risks and benefits of the alliance, including potential benefits such as increased exposure and new revenue streams, as well as potential risks such as reputational damage or financial loss.
Legal considerations: You need to consider legal issues such as intellectual property rights, contractual agreements, and potential liabilities. It's important to have clear agreements in place to avoid any legal disputes.
Now that we've outlined the key things to consider before choosing a brand alliance, it's time to dive into some examples.
To keep things crystal clear, we're also exploring the definitions of each in more detail as well as the benefits they can bring to your business.
Let's dive in.
What is a Brand Partnership?
A noted above, a brand partnership is when two brands work together over a long period of time to achieve a common goal.
This usually involves shared marketing initiatives or business activities that leverage the strengths of each brand to create mutual benefits.
Brand partnerships are often focused on creating long-term value and synergy between the partners, and may involve a deeper level of joint decision-making than co-branding or brand collaboration initiatives.
You can also find out more about brand partnerships in the video below so make sure you give it a watch:
How does a brand partnership work?
One key component of this alliance is that brand partnerships can adopt a longevity that brand collaborations can't. In this scenario, the two brands often continue to work together, based on the success of the product, service, or campaign created.
RedBull and GoPro's brand partnership springs to mind here, which we will touch on more below.
The important thing to note about brand partnerships is that each brand can bring their own identity to join together, create something new or something that has never been done before.
TOP TIP:
When it comes to finding a brand partner, you should review your customer personas. This allows you to find brands with products that align with your audience's goals and pain points.
For example, if you are the owner of an email marketing software-as-a-service (SaaS), you may want to run promotions with a hosting company. Chances are, someone who needs help with an email list will also want to find a hosting provider for their website.
What are the benefits of a brand partnership?
A brand partnership offers several benefits to both parties involved as it can help to expand brand reach and awareness by tapping into each other's audience and customer base.
It can also allow brands to leverage each other's expertise, resources, and capabilities to create unique and compelling products, services, or campaigns.
Additionally, brand partnerships can lead to increased revenue streams and market share, as well as improved brand reputation and customer loyalty through association with a trusted and reputable partner.
The Best in Brand Partnership Examples
With that in mind, we have collated a list of some of the greatest brand partnerships that you won't want to miss, showcasing how to use the strengths of two major brands to create a partnership that lasts.
LEGO and IKEA
This is definitely an example of a brand partnership made in heaven!
Just about everyone has fond memories of playing and building cool things with LEGO at some point in their lives. Likewise, most of us have, at some point, built something from IKEA.
Ever noticed how the process feels surprisingly similar? Well, someone involved in making this brand partnership happen must have, because in 2020, IKEA launched their new BYGGLEK collection in partnership with LEGO.
Aimed squarely at parents and kids, this new collection introduced a range of storage boxes with LEGO studs on the lids, alongside a new exclusive LEGO set.
The idea behind the collaboration is to remove a barrier to children's play and learning, as well as introducing a sense of playfulness to storage solutions that children and adults alike can enjoy. Speaking on the new collection, IKEA's designer had this to say:
"Where adults often see mess, children see a stimulating creative environment"
Andreas Fredriksson, designer at IKEA of Sweden
The BYGGLEK range serves as both a secure play location that helps keep LEGO projects securely in one place, as well as providing attractive and functional storage solutions for families.
This is a perfect example of two brands with similar values collaborating to create a unique range of goods that offers significant value to both of their customer bases.

Credit to Aldi Press Office
Aldi and Brewdog
This brand partnership was truly a thing of beauty to see unfolding in August 2020.
Following German supermarket chain Aldi announcing on social media that they were releasing a new IPA beer titled Anti Establishment IPA, eagle-eyed fans of both companies couldn't help noticing the branding similarities to BrewDog's own Punk IPA beer.
Now, this could have turned ugly if BrewDog took issue with the discount copycat beer, but instead BrewDog founder, James Watt, took to Twitter to give Aldi some lighthearted ribbing over the similarities.
What started off as banter over BrewDog rebranding their beer to Ald IPA with Aldi-esque colours and can packaging design, ended up turning into a genuine collaboration between the two brands. Best of all, both brands pledged to plant a new tree each in the BrewDog forest with every crate of Ald IPA beer sold.
This is an example of two brands seeing a golden opportunity and jumping on it. Following enquiries from customers querying if the collaboration would be made real, they clearly saw the mutual benefit in partnering on this product: a shared value of giving back to the environment was also a stroke of genius to bring more customers in.
Not only does this story show the strength of a good brand partnership, it also illustrates the power of social media for brands when well-managed.
This beer definitely needs to feature in our roundup of awesome alcohol packaging!
Nike and Apple
Nike and Apple have maintained a successful brand partnership since 2006. In a New York event attended by sports icons of the time Lance Armstrong and Paul Radcliffe, Nike and Apple CEOs Mark Parker and Steve Jobs announced the launch of Nike+ – the first product resulting from their long-standing collaboration.
The idea behind the collaboration was to bring music and activity tracking to their customers workouts. Originally, activity trackers, shoes and clothing was designed that would connect to the wearer's ipod so they could track their activity and listen to music on the same device.
This has since evolved into the long term brand collaboration known as Nike+ and has continued to go from strength to strength.
This brand partnership is a genius move that recognised that there was a direct connection between music and exercise and knew exactly how to capitalise on that and add value to both of their customer bases.

Credit to PR News Wire
Red Bull and GoPro
Red Bull and GoPro have been brand partners since 2016.
For their part, Red Bull receives equity in GoPro during the brand partnership, while GoPro got the exclusive provider rights for point-of-view imaging technology at all of Red Bull's productions and events.
This brand partnership followed in the wake of probably their best-known brand collaboration, 2014's Stratos event, shown during that year's Super Bowl. Audiences saw renowned skydiver and daredevil Felix Baumgartner's triple record-breaking jump from 24 miles above the earth.
The whole jump was caught with a crystal-clear first-person shot from the pod door hovering above the earth right through to Felix's safe landing. Probably not great if you're afraid of heights, but this 30 second video was an exhilarating experience to watch as it almost made you feel like you were falling with him.
Both brands put out an image of excitement, high energy, and adventure. It made perfect sense for them to team up on the ultimate thrill ride that was the Stratos jump. What makes even more sense is that this led to a long-term brand partnership for both companies, as much of their values and public image are well-aligned.
Vans and Everyone
Renowned skate shoe brand ,Vans, have literally crafted brand partnerships with most big brands around the world.
They've worked with:
Disney
National Geographic
Toy Story
Harry Potter
Spongebob Squarepants
And more! They've even partnered with the Foo Fighters.
For everyone involved in these brand partnerships, it's a huge win-win scenario.
Disney give Vans the licensing and rights to their characters, patterns, and trademark style, Vans design and manufacture the shoe.
Both Disney and Vans split the profits. Both brands double down on the marketing.
The shoes sell out. Or I assume that's how it works!
What's not to like? A great use of everyone's resources, to drive bottom line business results.
McDonalds and Burger King
This definitely takes the prize for most heartwarming brand partnership on our list.
McDonalds and Burger King's brand rivalry is pretty legendary at this point. However, in 2019, they put aside their differences in the name of raising money for charity.
At the time, McDonald's were holding an annual event where they donated $2 for every Big Mac sold to children's cancer charities.
In a wonderful show of setting aside differences for a good cause, Burger King Argentina, as well as a few other countries, launched their 'A Day Without a Whopper' campaign, where they removed their own signature burger from their menus and actively encouraged their customers to buy a McDonald's Big Mac instead.
While it's unclear whether this actually had any impact on the number of Big Macs sold that day, Burger King especially came out of that campaign looking particularly rosy. The warmhearted campaign earned a lot of goodwill online and gave both brands some great word-of-mouth buzz.
If you're looking for great examples of brand marketing, take a look at what Burger King do on a daily basis. They've hacked photography, WiFi, and all other sorts of creative marketing to try and upstage Big Ronald.
Kanye West and Adidas
It's a little odd thinking of an individual person having a 'brand' but that is exactly what Kanye West has.
In 2016, Adidas struck a deal with the rapper to collaborate on a high-end exclusive line of footwear. The resulting limited edition Yeezy line was a resounding success, both for Adidas, who were able to score a significant win over their main rival brand Nike, but also for Kanye West and his own burgeoning fashion line.
While brands partnering with celebrities to leverage their personal brand and celebrity status is nothing new, Kanye and Adidas achieved something much bigger with their collaboration.
This brand partnership really shows the magic that can happen when two brands recognise their strengths and compatibility.
For starters, Kanye's unique style of dress was already recognised and coveted by his fans and he was also looking to start his own brand of high-end fashion. Meanwhile, Adidas were busy building their own streetwear line of clothing.
These goal alignments and a compatible public image meant that both of their customer bases were more likely to react favourably to the brand partnership.
Indeed, as of 2020, the collaboration has grown to become a multi-billion dollar partnership to rival Nike's iconic Air Jordans line.
M.A.C and Disney
High-end make-up brand M.A.C is certainly no stranger to brand partnerships and celebrity collaborations, having partnered with the likes of Rihanna, Ellie Goulding, and Barbie, to name a few.
Today, however, we are focusing on their 2019 partnership with Disney. At the time, Disney was busy promoting the latest live action remake of their classic animations – this time, the 90s favourite, Aladdin.
What really made this collaboration stand out was the amount of work that went into creating the makeup range. M.A.C have such an iconic image and a strong reputation for their high quality makeup that it may well have been enough to focus on the makeup itself while maintaining their sleek matte black packaging with only a stylish nod to Aladdin.
Instead, as well as creating a makeup range with colours designed to reflect the character of Jasmine in the movie, the packaging was also beautifully designed in hues of gold, green and purple. They also featured Jasmine's actress, Naomi Scott, prominently in their marketing campaign.
For Disney, this brand partnership served to drum up more awareness in their new movie (if not more interest), as well as an additional revenue stream from partnering with the high profile makeup brand. For M.A.C, it helped maintain their reputation as a brand with its finger firmly on the social pulse.
Additionally, this was an exclusive limited run makeup range, and once it was gone, that was it, thus creating a sense of urgency for customers to buy it while they could.
H&M and Alexander Wang
H&M are another brand that are no strangers to brand partnerships. In fact, every year they partner with a different high-end designer brand to release a limited run exclusive line of clothing such as Versace, Karl Lagerfeld, and Balmain.
So what makes 2014's partnership with Alexander Wang so special? Well, for a start, this range sold out in record time and actually crashed the H&M website servers upon release.
The other factor was a very clever marketing campaign that ignited a large amount of interest.
The brand partnership was first announced in May via Alexander Wang's Instagram shortly before a Coachella party hosted by the two brands. Later, following a slew of strategic press releases and social media teasers, they brought singer, Rihanna, onboard as a brand ambassador. By the time the range was finally released in November that year, social media hype for the collaboration was at an all-time high.
What really sold this brand partnership though, was the fact that Alexander Wang, for all that they are a high-end designer brand, very much appeals to a younger demographic, and are known to be one of the brands regularly leading the charge on seasonal trends.
While this kind of brand partnership clearly benefits H&M as it helps position their brand as trendy and fashionable as well as cashing in on that exclusivity factor, it's fair to question what a designer brand gets out of the deal. Well, simply put, it helps to create a bond with a new consumer base that will potentially aspire to purchase more designer items in the future.
Spotify and Starbucks
As part of this brand partnership, Spotify gave Starbucks employees access to premium accounts where they could create playlists that could be played in the shop throughout the day. For Starbucks patrons, they could access the playlists via the Starbucks Rewards mobile app.
Additionally, customers could earn 'Stars as Currency' for 'My Starbucks Rewards' points that can be redeemed in-store.
The partnership also encouraged active participation with their customers by inviting them to create their own Starbucks playlists that could not only be played in-store, but was something they could also access at home.
As well as being well known for their coffee and cultivating a coffee house culture, Starbucks has a long history of supporting up and coming musicians. Spotify has also championed amplifying the discoverability of brand new artists. On virtually every level, this was a perfect brand pairing.
Their fully integrated and customer-immersive brand partnership offered something of value to both of their customer bases, as well as allowing both brands to reach new customers.
Greggs and Primark
"Take two beloved high street chains and mash them together."
That was seemingly the design brief that the Greggs and Primark teams followed when going into partnership together in early 2022. By the looks of things, they certainly weren't looking to win any fashion awards!
So what happened here?
Sausage roll and pastry maker, Greggs, baked up a brand partnership with high street fashion retailer, Primark, to create a limited run of Greggs clothes.
First of all, Greggs left half eaten pasties and bakery products in Primark display stands, then they launched the fashion line.
Then, quicker than eating the aforementioned sausage roll, the entire range had sold out.
Why? It's interesting, it's unique, and people knew the range would be hard to come by.
Brand partnerships like this one are so left field, that there's not a whole load of explaining to do. The marketing teams motivated the masses, and the rest is history.
Raybans and Facebook
Facebook's Mark Zuckerberg has unveiled the company's debut smart glasses through their brand partnership with Rayban.
These cool, super-tech glasses allow users to listen to music, capture photos, shoot short videos, and take calls, all through their sunnies!
Users can then share the content on Facebook's social media, such as Instagram and Whatsapp. This means Rayban will sell more sunglasses and Facebook will have a plethora of new content across various channels.
Although Facebook's primary revenue source is from advertising, they've also made a significant investment in virtual and augmented reality so this makes total sense.
It firmly sets the social media giant on the path to building a metaverse – a virtual reality world comprising of virtual environments and online platforms that allows users to interact with one another.
In a video posted on his Facebook page, Mark Zuckerberg said, "We believe for a long time that glasses are going to be an important part of building the next computing platform."
What is Co-Branding?
Co-branding refers to a marketing strategy where two or more brands come together to create a new product/ service that combines the strengths of each brand. In other words, co-branding enables both of these brands together to create a unique offering that leverages the equity of both brands.
On the other hand, brand collaborations (explored further in the post) can refer to a wide range of alliances between two or more brands whereas co-branding specifically involves the creation of a new product or service.
How does co-branding work?
Co-branding works by bringing two or more brands together to create a new product, service or marketing campaign that leverages the strengths and resources of each brand.
The goal is to create a unique offering that benefits both partners and creates value for consumers.
Take Doritos x TacoBell as an example.
Both brands came together to create a single cross over menu item "Doritos Locos Taco", which consisted of a taco shell made using the Doritos chip recipe, filled with Taco Bell fillings.
What are the benefits of co-branding?
Co-branding offers several numerous to participating brands as it provides an opportunity for them to expand their customer base by tapping into the existing customer base of another brand.
By combining their strengths and resources, co-branded products/ services can offer unique value propositions that attract new customers and increase sales.
This strategy can also improve the reputation and credibility of both brands involved, as it signals to consumers that the brands are trustworthy and share similar values.
The Best in Co-Branding Examples
It's now time to look at some examples of successful co-branding initiatives that have helped brands reach new audiences, differentiate themselves, and create unique value propositions.
Yeezy and Gap
Love him or hate him, there's no denying that Kanye West and his clothing brand Yeezy, are highly successful. And it's through this success that brands such as Adidas and Gap have worked with the Yeezy brand to create an exclusive line of high-end shoes and clothing.
In the case of Gap, Yeezy being an extension of Ye's personality led to the two forming a sub-brand. You can see this subbrand close-up on Instagram via yeezyxgap, which is the associated account for this co-branding initiative.
Other than this account, Gap manages the marketing, with Kanye chiming in every once in a while, through his own erratic way of selling things.
A quick update: Since writing this post, Ye has ended the Yeezy relationship with both Gap and Adidas.
I'd still consider the co-brand between the two a success despite this news when you look at the buzz surrounding it, and not to mention the fact that Gap grossed over $1 billion in incremental sales during the first year selling its Yeezy wares.
BuzzFeed & Best Friends Animal Society
Not all co-branding campaigns are complex, which was proven when BuzzFeed and Best Friends Animal Society came together.
Despite its simplicity, this campaign showcases the potential for a successful co-branding effort without requiring extensive planning or a large budget.
Best Friends Animal Society sought to tap into BuzzFeed's vast readership of over 200 million people. To achieve this, they teamed up with BuzzFeed to produce an article titled "We Interviewed Emma Watson While She Played With Kittens And It Was Absolutely Adorable".
As the title suggests, the article features Emma Watson, star of Harry Potter and Beauty and the Beast, answering fans' questions while playing with adorable kittens.
The article concludes with a call-to-action (CTA) promoting the adoption of the featured kittens, benefiting both partners by leveraging celebrity appeal to drive traffic and raise awareness for animals in need of new homes and donations.

Credit to Smeg
Smeg and Disney
Smeg, the household appliance brand, is no stranger to co-branding campaigns – the most successful of which involves one of the largest brands there is. I'm of course referring to Disney.
The two came together to release a limited edition fridge to celebrate Mickey Mouse's 90th birthday. On the front of the fridge, you'll find the popular mouse in black and white reaching for the handle as if he's about to steal whatever's inside.
First off, can you believe that Mickey Mouse is 90 years old? He looks pretty good for his age doesn't he?
Secondly, what made this campaign feel like the right fit was the common values shared between the two brands. They both stand for optimism and love, not to mention, appreciation for family.
Personally I wouldn't buy this fridge, but that didn't stop others from going crazy for it.
Believe it or not, the fridge sold out quickly across many retailers when it dropped back in 2019, despite its hefty price tag.
Airbnb and Flipboard
Airbnb is the largest room-sharing platform in the world, allowing people to find a range accommodation options for a more personalised and memorable travel experiences.
In 2018, the brand collaborated with news aggregator, Flipboard, to curate lifestyle content for its users and promote its own offering indirectly.
The success of the initial co-branded campaign led the two to work together a second time on a product known as Trips, which connected Airbnb users to hosts that shared common interests, such as what books they like to read and the food they enjoy eating.
This co-branding example goes to show that one campaign can lead to bigger and better things (if it's successful.)
After all, nothing is stopping you from working with the same brands again if the first go around worked so well!

Casper & West Elm
If you're in the market for a new mattress, you may have come across Casper, the popular online bedding brand that delivers mattresses in a box straight to your door.
But what if you want to try out the mattress before buying it?
Enter West Elm, a high-end furniture company in the US.
The two brands joined forces to provide a solution: customers can try out the comfy Casper mattress in select West Elm stores before making a purchase.
This is mutually beneficial as it allows both brands to reach a wider audience. Casper can benefit from West Elm's chic and trendy image, while West Elm can advertise its stylish bedroom furniture alongside the comfortable Casper mattresses.
This co-branding initiative also gives customers more options, whether they prefer to test a mattress before buying or to envision their perfect bedroom setup.
What are Influencer and Brand Collaborations?
A brand collaboration is more of a marketing effort, particularly if influencers are involved.
It can be defined as an alliance between any two brands, in order to create or promote a specific product or service.
How do brand collaborations work?
In the case of a brand collaboration, this could involve a person, a company, an organisation, and in some cases, even an animal (which we will dive into below!)
Brand collaborations involve using one brand to help sell your brand further, either to a wider audience or to a new audience.
They can also include the creation of a product using both brand identities, for example, creating a pair of Nike trainers with limited edition Gucci laces.
Therefore, collaborations between two seemingly contrasting brands can prove successful in expanding engagement and reaching new markets.
Brand collaborations can come in various forms, such as:
Creation of a new product
Social media posts (including giveaways, competitions, and discount codes)
Unique content based around a certain product or service (such as images or videos)
Advertisements and campaigns
What are the benefits of a brand collaboration?
When thinking about brand collaborations, it's key to remember that both parties benefit from it. Whether this be through free products in exchange for content or an influencer becoming the face of a product for a limited amount of time to increase brand awareness.
There are also several other benefits of this initiative including the brand being able to target their audience more effectively when collaborating with an influencer who often has a specific niche or audience.
This can also lead to increased engagement as followers are more likely to trust and engage with content created by someone they already follow and admire.
The Best in Influencer and Brand Collaboration Examples
We have compiled some of the best influencer and brand collaboration examples below to show how people can use their personal brands to boost and promote the brands they work with.

Credit to Search Engine Watch
Subaru #MeetAnOwner Campaign
The Subaru #MeetAnOwner Campaign is a great example to kick things off.
The company involved influencers in order to showcase the Subaru Impreza in various locations in a variety of circumstances.
For example, influencer, Zach King, created video content for social media involving him impressing a date with the new Impreza parked on his driveway.
Another example for the adrenaline junkies among you, is influencer Devin Graham's (known as @devinsupertramp) video content.
This involved a slip and slide off a 500 foot cliff and in the canyon below was the Impreza.
The focus of this campaign was to bring memories and experiences to life that can be created with the vehicle, rather than the specific details of the car. This drove the company more towards the idea of intimacy and getting to know their customers on a more personal level, encouraging trust and customer loyalty.
The goal here was to attract millennial buyers by creating unique content focused on the car, and Subaru reported an increase in brand awareness after the videos were released.

Credit to Big Social Media Strategies Summit
Google x The Sorry Girls
Micro-influencers or influencers in general aren't just for brands with a smaller budget, as we can learn from the example with Google.
Google worked with 2 DIY influencers known as The Sorry Girls, to promote the new Pixelbook laptop.
The influencers ran a giveaway of the laptop via their Instagram page, and asked their 100,000+ followers to comment on how they would use the product.
Due to the following on the account and the relationship the two influencers had previously built with their audience, this ensured a large proportion of people responded to the giveaway.
This example shows the power of small and simple brand collaborations as this one post generated an engagement rate of nearly 60%.
This promoted Google's latest product to a new audience, encouraging followers to consider purchasing a Pixelbook regardless of whether they won the giveaway!

Credit to Grailed
Uniqlo x Keith Haring
Tokyo-based fashion brand,Uniqlo, produces affordable clothing and accessories, and have been known to engage in various brand collaborations.
However, we were most interested in their collaboration with the political and graphic work of Keith Haring.
This is another example of a successful collaboration as Uniqlo offers very affordable clothing basics yet they mixed this with the vibrant cartoon-style designs of Keith Haring.
The clothing line mainly consisted of t-shirts and hoodies displaying a variation of the artists designs that were clean, quirky, affordable, and included references to pop culture.
This collaboration was effective as each clothing piece referenced some of Haring's most famous work created in Tokyo in the 1980's, which pairs well with the company due to its founding in Japan.

Credit to Forbes
Balmain x Barbie
Barbie may not count as a typical influencer, but she certainly is a celebrity!
The limited edition clothing between Balmain and Barbie had to come next on the list.
This example highlights what a brand collaboration is as the pieces were created by luxury fashion house Balmain and inspired by Barbie herself.
The line consisted of 50 unique unisex pieces from dresses, to coats, to bags, and incorporated the fun pink aesthetic that is associated with the Barbie brand across the globe.
The pieces were classic to the brand with sharp tailoring and feminine silhouettes which worked in unison with the typical clothing and style of a Barbie doll.
This brand collaboration brought two huge brands together who have a great impact on fashion and culture, adding fun to the fashion house's brand and couture to Barbie's.

Credit to Insider
Travis Scott x McDonalds
Back in 2020 the "Travvy Patty" was born after Travis Scott was able to put his name to his favourite McDonalds meal.
It's worth saying that the meal was essentially a regular Quarter-Pounder with bacon, however, this didn't stop some branches completely selling out.
This collaboration was clever in that it was fairly straightforward as no new product needed to be created, just a rebrand of an existing product.
The collaboration went further than just the fast-food meal as merchandise was released too, resulting in a further increase in sales for the company.
The Travis Scott meal blew up online particularly on TikTok, with fans sharing the different ways to order their meal, including pulling up to the window and blasting Scotts music to indicate their order.
The celebrity brand collaboration succeeded in promoting the fast food chain in a time of need by increasing sales and regaining engagement after the pandemic.
This collaboration highlights how a small campaign can really boost a brand.

Credit to Hypebae
Doc Martens x Betty Boop
Much like the Balmain x Barbie collaboration we mentioned above, this crossover between cartoon icon Betty Boop and Doc Marten boots was the perfect fit.
With focus being upon feminism and liberation, this one time collaboration embodied exactly what both brands were about.
The boots, shoes, and sandals created for this collection were exactly the same as the usual gothic style, but with a feminine twist incorporating the character into the zippers and glossy prints.
This collaboration brought Betty Boop back onto the scene, encouraging people to "Be more Betty", meaning to embrace wearing Doc Martens whoever you are.
Again, incorporating the iconic Betty Boop brand with shoes that have been going since the 60's, injects a bit of fun into the Doc Martens brand, showing there are endless opportunities to mix brands.
This is a great example of a collaboration benefitting both parties as Betty Boop creates nostalgia for an audience who grew up with the character on-screen, and the company have incorporated her iconic look into the shoes, making them wearable, whilst still being a fun limited edition piece.

Credit to Mention Me
Daniel Wellington x Canadian Bros
This is what we meant when we mentioned "animals as influencers."
Daniel Wellington are a watch brand well known for their collaboration with influencers.
This particular collaboration allowed the company to reach a new audience, which is usually an advantage attached to most influencer and brand collaborations.
The target audience and following of the Canadian Bro's account is mainly dog and animal lovers, as the account follows the lives of Jaspar the Pomsky and Louie the Eskimute, giving us posts from their perspective.
The Daniel Wellington collaboration was no exception. Without losing their brand identity, and in fact using both brands together, the Canadian Bro's owner created a post including one of the watches to help attract new leads.
The caption read: "I Got Dad the Classic Bristol 40mm RG" – implying that the dog not only wrote the caption, but also bought the watch for his owner.
This created a post that was subtle rather than overbearing, as the image was mainly focused on one of the Insta-famous dogs, with the watch included in the corner, but understated.
This unlikely collaboration provided a fun and playful way to break into a new audience.
Brand Partnerships, Co-Branding, and Brand Collaborations: What's the Difference?
I hope you've enjoyed our complete guide to brand partnerships, co-branding, and brand collaborations.
Hopefully you've found it useful when it comes to understanding the differences between each alliance and how they can benefit your business.
Whether it be a one time product release such as the Smeg x Disney collaboration, an ongoing brand partnership such as LEGO and IKEA, or the promotion of a product such as Google and the Sorry Girls, each example of brands working together fits neatly into one of the three definitions.
In case you're still slightly unsure, we will summarise simply and clearly:
Brand partnerships involve a long-term commitment and the goal is to create a mutually beneficial relationship.
Co-branding is a strategy in which two or more brands come together to create a new product/ service that combines the strengths of each brand.
A brand collaboration is a more informal relationship between brands, where they work together on a short-term project or campaign.
At Canny we work with lots of brands to help them better connect with their audience so that they can achieve their goals and objectives. To find out more about how we can help you, get in touch with our team today!