There are a lot of posts about the business branding process out there.
However, those posts focus on branding a business from start to finish.
But we didn't want to write the same blog post again.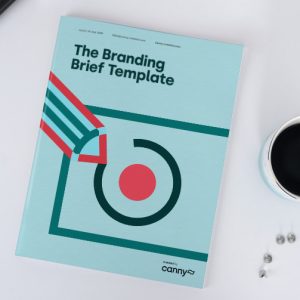 The Branding Brief Template
The Branding Brief Template is a free template that will help you get the brief for your branding project right. W...
So we decided to focus on our branding process at Canny. And how businesses can work with branding agencies to get the best results.
Obviously every branding agency will have their own way of doing things.
But:
Over my last several years at Canny, this is the branding process that I've been working to. It's also the process that we've been instilling in our team members to make sure we get everything just right.
What we're talking about below is how brand identity process works.
If you're looking for in-depth detail on conducting a brand audit, or strategy development, don't worry, we've got a post about that coming soon!
So, let's take a look at Canny's branding process, and how it leads to successful branding projects.
Step One: Branding Discovery Session
Every good branding project starts with an in-depth Branding Discovery Session.
Usually the Discovery Session takes place at Canny's offices, however, we've also ran sessions in London, Toronto, and Tokyo!
There's also the option to run your brand Discovery Session digitally (through Skype or FaceTime) but we find it better to get together around a table and really hash things out.
Normally a Discovery Session tends to last at least half a day, but quite often with bigger, projects, they'll run over and take up most of a day.
Provided the session stays on the topic of business, that's great!
The more you can share with your agency the better.
In a typical branding Discovery Session, we tend to cover three topics:
About Your Business
About Your Customers
About Your Marketplace
Knowing this information from the outset gives us a good overview of your business and tell us a little bit more about you.
With that said, let's dig into each of those in a little more detail.
About Your Business
The first of three areas we try and get to the bottom of is all about your business.
We want to know what your business does, what makes you different, and what benefit you provide your customers.
Only by truly understanding your business to the best of our ability, can we provide the best branding tips, advice, and guidance.
Here's a sample of some of the questions we ask when learning about your business.
Where are you now vs where you want to be?
What exists in terms of an existing brand identity?
What is the plan for the next 1 to 3 years?
What are your goals?
These questions help us to understand your frame of mind, and what you're hoping to achieve by going through the branding process together.
About Your Customers
Often the most important piece in any branding project, is the customers.
Learning about your business is all well and good, but without customers, you don't have a business.
With branding and design projects, ultimately, we're trying to create a brand and image that your customers want to buy into!
One thing we like to do with our clients, is set down and build out a customer persona or avatar.
This lets us drill down into each and every aspect of your target audience so that you can tailor your branding to suit.
Consider things such as gender, age, hobbies, place of work, income, family life, and pain points.
In particular, understanding your customers pain points is highly important as this is what drives a customers purchasing decisions.
About Your Marketplace
The next most important thing to assess, is where your business fits into the marketplace.
Are you the next up-and-comer, do you have a never-seen-before type product, is your service revolutionising a certain space?
We need to know this type of information to help us accurately and successfully position your brand.
Another thing we go over at this point is your competitors.
Are there any? What are they doing? What do you offer differently?
Once we have all of this information in place, we can move on to the next stage.
Step Two: Visual Branding Research
The next step in our branding process, is to conduct the relevant visual branding research.
Once we've been through the Discovery Session, we'll begin to pull together a brand board.
A brand board is the same as a mood board.
It's a collection of ideas, styles, and elements, pulled together, to form the initial visual research in a branding project.
At Canny, we use Pinterest to pin all of these visual elements to a board, that we then go through with our clients.
In the past, we've also used Invision and Dropbox to perform the same tasks.
However:
We find Pinterest is great because it makes suggestions based on what you've pinned. It's also a more familiar platform for our clients than the others.
When creating the brand board, we don't just focus on things we think will work.
We also deliberately pull out and pin design ideas and things that we think won't work for our client's business.
We do this, so that when we run through the research with them, we can get confirmation that everyone is on the same page. It helps us confirm they're not going to be expecting something radically different to what we found out in the Discovery Session.
Once we have around 100 images on our brand board, we'll quickly prune through them.
If we can remove any duplicates, or similar images before presenting the brand board to the client, it helps move the process along quicker.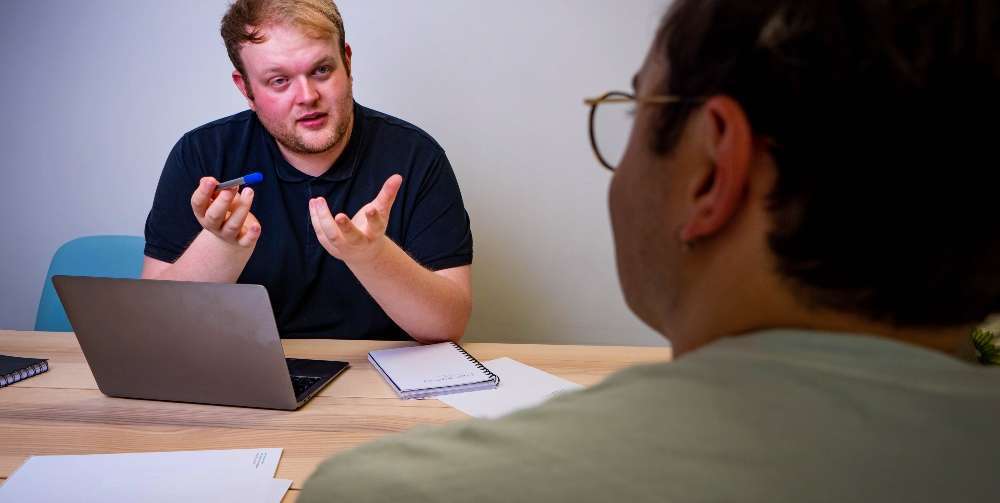 Step Three: Visual Research Feedback Session
Once we've pruned and tidied up the visual research, it's time to present it to our client.
Usually, we block out an hour via Skype or telephone call, and send the link to the Pinterest board to the client.
Then, we make cups of tea, and jump on the call! (The tea is an important piece to the puzzle.)
First, we do a general skim through the board with the client.
Usually, gut reaction takes over and we're off to the races.
There's usually one or two "Urgh! I don't like that at all" moments, which is great. That reaction normally happens to the pins we've selected for that exact reason.
What we're looking for when running through the research with our clients is three things:
Things they like: colours, fonts, style of branding
Things they hate
Concepts they think are appropriate or not appropriate
We also discuss emotion on the call. In terms of things like "This blue feels super boring, and not at all the way we want our brand to be taken."
Once the call is concluded, we'll be left with 3-5 pins that really stood out as favourites.
We'll also be left with a lot of "rubbish" and tons and tons of "middle ground/take or leave it."
And that's great.
The whole idea is to really help solidify the direction the visuals will take and give us a solid reference for a starting point.
On to the next stage!
Step Four: The Initial Brain Dump
This step is one of the most crucial steps in the process.
What this involves, is getting all of the initial ideas you had when you first talked about the project, down on paper.
For example:
If it's a travel company, in this stage, we'll be drawing aeroplanes, suns, suitcases, flip flops etc.
If it's a law firm, it'll be curly wigs, gavels, scales, and so on.
The idea behind this "brain dump" is two fold.
To clear your head of all the initial thoughts, essentially, force refreshing your brain!
To show others in the team, just incase any of these ideas might work when shared around or used in a different way.
Over the years, our brain dumps have been responsible for a lot of laughs, as well as some of the key ideas that have grown into a great project.
At this stage, we're not spending hours refining things. We're drawing things down quickly, and discussing out loud.
It's almost therapeutic!
But needless to say, some of the drawings and ideas that come out here are absolute tripe. Which is fine.
That's exactly what it's meant to be.
Step Five: Concept Creation
Once we've all "dumped our brains" we'll begin to work up a list of concepts.
For example, in a recent project for a "therapy room for hire" I had this on my list of concepts:
A safe space
Be who you want to be
The shape of the building
For hire, any time, any day, with your own access
The location in the city
Transformation
Newcastle's heritage and how this combines
Which is a very strange list!
What we're trying to get out at this stage, is what the brand is all about, what it means, what it stands for, and how we can communicate that differently.
Every concept has been explored before. So it's all about "putting your own spin on it" and making something effective for the client.
But these concepts acted as starting points for a larger discussion around the brand itself.
Step Six: Team Meeting
Step six is to hold a team meeting in which we discuss both the initial brand dump and concepts.
Between the team, we analyse the brain dumps, and decide if there's anything we can use, or want to pull out to carry forward in terms of a visual or concept.
Sometimes, other team members see things differently to the way I do, and that's why the initial brain dump is important.
When put in the hands of others, it can be interpreted or visualised in a completely different way.
This helps create a wide range of ideas and keeps everyone on their toes!
Then the next thing we do is discuss the concepts.
With the list of concepts we've each created, we take them to the meeting, and run through them.
By the time everyone's had their input, and the lists have been refined, we're usually left with 5 solid concepts and directions.
We keep all of these discussions internal because as the experts, it's essential we go back to our clients with a unified front.
With the Discovery Session and Visual Research steps already in the bank, we feel at this stage, the concepts and ideas have to come from us.
Then, they can be evaluated and reviewed with fresh eyes from our client.
Armed with our list of concepts, we start the next step.
Step Seven: Creation of the First Brand Identity Round
Step seven in our branding process is actually our first truly creative step.
Usually, our first round of ideas start as sketches. Which we then work up in Adobe Illustrator. Then, we begin to experiment with them and refine them further.
In this period of time, we focus solidly on creating visuals that build on or reinforce the concepts that we decided on earlier.
The creation of the first round of brand identity work is usually a process that takes between 5 and 10 days.
The first round of brand identity work is where we're really starting to create volume with our work.
We go for volume of design ideas early in the process, so again, we can filter and funnel these down as we progress through the project.
Essentially, round one sees us create multiple branding design ideas for the brand concepts on our list.
We want to focus on getting the fundamentals of branding right here, so we don't waste time later.
Over the course of several days, we really see some of the brand's concepts and visual directions come to life.
Once we've finished our visual exploration, we wrap it all up in a neat little PDF (usually between 20 and 40 pages) and send it off to our client.
The PDF usually contains multiple design ideas for the concepts we outlined earlier.
Step Eight: Feedback Session
The next step in our branding process, is another feedback session from the client.
We aim to deliver our branding rounds before the weekend so our clients have plenty of time to review the document.
Then, on Monday afternoon, we put our heads together and review the deliverables together.
In the feedback session for the first round of branding, we're looking at and evaluating two things:
Brand concepts
Design ideas
We're looking to assess which of the brand concepts resonate most with the client, and the ones they feel resonate best with their business.
We're then looking at the actual ideas that we've created for the concepts.
Are the colours right? Do they like the marks or pieces of visual identity we've created? Is the typography right?
And so on…
What helps at this stage in the branding process, is to consistently tie the feedback to the Discovery Session and the initial Visual Research.
It's important that everyone stays on the same page at all times, otherwise the project can go off the rails and everyone loses their heads.
We usually take the feedback session again, in person or via Skype/telephone, whatever is the most convenient. This session does tend to last around an hour.
What we want to achieve in this stage is:
Elimination of 2-3 of the least successful concepts
Elimination of several of the least successful design ideas
Have several strong directions for progression
The idea with our branding process is to start wide, and thin the herd as the project progresses.
So we want to get rid of weaker stragglers, which are usually easy to spot.
In a project, we usually have a strong feeling about 2 or 3 of the directions we want to take.
Then the client will usually have the same.
The ones that overlap are where you want to focus most of your time moving forward.
Step Nine: Repeat Cycle and Iterate
And that's essentially that.
Once the Discovery, Visual Research, Brain Dump, and initial Branding Round are complete, it's a simple case of iterating and developing things further.
In Step 8, you'll highlight the directions to progress.
So in this phase, you build them out, experimenting with form, typography, and assets as you go.
Then, another feedback session.
Repeat the cycle 4-5 times, and at the end, you're usually left with a great looking brand.
Step Ten: Finalise the Brand Identity Design / Complete Branding Process
Once our client has agreed the final brand identity, it's on to finalising the deliverables.
Normally, we'll have put together business cards, letterheads, and other branded products, so they're output as PDFs and sent ready for print.
Your new logo design is output in both screen and print formats, in both colour and black and white.
Any other assets are exported into the required formats.
Then, we create brand guidelines that we can send the client for their continued usage and guidance.
And essentially:
That's a wrap!
Branding Process FAQs
Hopefully after reading this post, you feel as though you understand the branding process a little better – or at least how Canny approach these type of projects.
We thought now would be a good time to look at some branding process FAQs to make sure we've answered your most burning questions.
What Is a Branding Process?

The branding process is a careful and systematic approach to creating and promoting a company's brand. It is key to the success of any branding project as it lets everyone see what is involved at every stage.

What Are the 5 Steps of the Branding Process?

In this blog post, we've outlined how Canny approaches branding projects, however, other agencies will have their own approach. Despite this, lots of agencies follow a '5 step process' which involves defining a brand's USP, creating a brand positioning statement, establishing a brand story, developing marketing collateral, and determining the marketing strategy moving forward.

How Do You Brand Successfully?

There are lots of factors to consider when it comes to creating a 'great' brand. For starters you need to know your brands purpose, your competitors, your audience, your USP, your brand story, and your brand tone of voice. It's also key to have a strong logo and brand message as this is what your customers will buy into.
The Branding Process: 10 Steps to Successful Business Branding
Every branding agency in the world will have their own branding process that they've built and scaled over time.
Our way certainly isn't the only way, but our branding process has served both us and our clients well in the past. If you'd like to see our branding work up-close, check out our work with virtual event company iVent.
The important thing to remember as you progress through your branding project, is to be as open, honest, and fair as you can be.
Come back to your agency in a timely manner, with constructive feedback and they'll do the same for you!
If you need any help with your branding project, then get in touch with our team of experts! As you can see from this post, our branding process is pretty comprehensive so you can be confident you're in safe hands.