Have you considered the importance of effective tea branding?
In the world of beverages, few are as universally loved as tea!
But beyond the comforting warmth and diverse flavours, there's another aspect of tea that often goes unnoticed: its branding.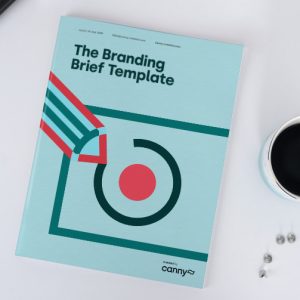 The Branding Brief Template
The Branding Brief Template is a free template that will help you get the brief for your branding project right. W...
In this blog, we're exploring successful tea branding examples and the strategies that have made them stand out.
We'll be looking at examples such as PG Tips, Twinings, and Tetley, pouring our thoughts into what makes these tea brands so popular.
Whether you're a tea enthusiast, or a marketing professional looking for some inspiration, this blog will provide you with practical insights into what makes tea branding work.
So grab your favourite cup of tea and uncover the secrets behind the success of tea brands that have made their mark in a crowded marketplace.
It's time to brew some branding knowledge that can inspire your own project!

PG Tips
PG Tips serves as a prime example of tea branding with a strong and well-established brand identity.
Their mascot, famously known as "Monkey," and the collaboration with comedian Jonny Vegas have created a devoted and enthusiastic fan base.
Recent promotions have featured enticing incentives, such as a complimentary goodie bag upon the purchase of 3 cases of PG Tips. Notably, these "prizes" consist of exclusively branded PG Tips products, ensuring enduring advertising benefits stemming from a single promotional effort.
PG Tips has consistently centered its advertising campaigns around humour, cementing its status as one of the most recognisable tea brands. These ads have effectively created a lasting and light-hearted brand image while infusing a spirit of playfulness into the brand itself.
Another integral facet of PG Tips' triumph lies in its witty approach to social media.
The invention of the PG Tips #SolidariTea social campaign emerged from the brand's aspiration to convey the message that "cuppas taste better together.", To do this, it developed a responsive social media campaign in reaction to some of the heated debates that take place on these channels.
This campaign was initially sparked in February 2020, when a tea-related dispute surfaced after the then-UK chancellor, Rishi Sunak, was photographed with a large bag of rival brand, Yorkshire Tea.
This triggered a social media backlash against the rival brand, with debates unfolding on Twitter and Yorkshire Tea defending itself against allegations of political bias.
PG Tips entered the debate with the hashtag #SolidariTea, extending an offer to share a cup of tea with Yorkshire Tea's social media manager.
This again increases their brand exposure and also helps them engage with a younger demographic who will be active across these channels.

Typhoo
"You only get an oo with typhoo".
An advertising slogan I'm sure we've all heard of.
Typhoo has a rich history of creating engaging advertising campaigns featuring famous faces and unforgettable taglines.
For example, whilst this slogan was made famous by the comedian Frankie Howerd, who first said the words in a 1984 ad for Typhoo, the campaign also featured the likes of Julie Walters, Glenda Jackson and Richard Branson.
Having this celebrity endorsement is really effective and this line is one of the first things you think about when someone mentions the Typhoo brand. It's so simple but having it rhyme also helps the slogan make a better impact as it rolls off the tongue.
Aside from their marketing and advertising, the packaging for Typhoo is characterised by its bold and vibrant orange visual identity.
The colour choice is eye-catching and easily distinguishable on store shelves, separating it from the sea of other tea brands.
The logo features the name "Typhoo" in white against the orange background, making it clear and legible even from a distance. The more recent tagline "Put the kettle on" is often prominently displayed on the packaging, emphasisng the brand's association with tea and the ritual of making it.
The brand has also highlighted its commitment to sourcing quality tea leaves and ensuring the best possible taste in every cup by placing scattered green leaves on the front of its packaging, supporting its focus on sustainability and ethical sourcing of tea leaves.

Yorkshire Tea
Yorkshire Tea, another prominent British tea brand, is known for its distinctive branding and advertising campaigns that celebrate its Yorkshire roots and commitment to quality tea.
When it comes to its visual identity, Yorkshire Tea has its iconic packaging with red stripes and a background scene of the Yorkshire countryside, again creating a link between the brand name and its heritage.
The packaging is instantly recognisable and it's also quite endearing as you can just imagine looking out at that view while enjoying a warm cup of tea.
Essentially, Yorkshire Tea has crafted a brand image that revolves around tradition, quality, and a strong sense of regional pride, whilst also being known as a 'proper brew'.
This is supported by various advertising campaigns including the "Where Everything's Done Proper" campaign. This emphasises the brand's Yorkshire heritage and the idea that everything related to tea is done properly in Yorkshire.
The ads often feature humorous and heartwarming scenarios where people from Yorkshire take their tea very seriously, highlighting the brand's commitment to quality.
The tea brand has also engaged in various partnerships and sponsorships, such as their association with the Yorkshire County Cricket Club and the England Cricket Board. These collaborations help reinforce their brand's connection to Yorkshire and traditional British pastimes.
Yorkshire tea has always been, and always will be my favourite tea brand and you'll always find a jumbo-sized bag in the Canny office.

Tetley
One of the standout elements of Tetley's branding is its lovable brand mascot, the Tetley Tea Folk.
These animated characters, resembling tiny, elderly tea-loving people, have been an integral part of Tetley's advertising campaigns since the 1970s. They have become beloved and iconic figures in British advertising, helping to establish Tetley as a trusted and familiar tea brand
The Tea Folk are known for their catchy jingle, "That's better, that's Tetley," and their charming and endearing personalities.
Tetley's advertising campaigns often revolve around the Tetley Tea Folk, and they have been incredibly successful in creating a warm and relatable brand image.
Furthermore, these ads always feature humorous and heartwarming scenarios, emphasising the joy and comfort of sharing a cup of Tetley tea. The Tea Folk bring a sense of nostalgia and relatability to the brand, making it feel like a trusted part of British culture.
Tetley also has a strong association with "builders' tea," a strong and robust brew preferred by construction workers. They have leveraged this association in their advertising campaigns, showcasing the Tea Folk interacting with builders, humorously highlighting the strength of Tetley tea!

Twinings
Twinings has a classic and elegant visual identity which is immediately visible from their product packaging.
Featuring a combination of gold and black colours, this gives the brand a premium and sophisticated appearance.
The Twinings logo is the main focus of the packaging, often accompanied by a royal warrant, highlighting their long-standing tradition of supplying tea to the British royal family!
In terms of advertising, Twinings have always focused on quality and variety by branding itself as one that offers a wide range of high-quality teas.
Their ads often showcase the effort that goes into blending and packaging their teas, elevating their commitment to delivering a superior tea-drinking experience (and tying in with their premium positioning in the market).
It also does a great job of leveraging its history and tradition by using the fact that it dates back to 1706, as a selling point. They lean on their heritage as being one of the oldest tea companies in the world adding a sense of British tradition and sophistication.
Whilst emphasising its roots, Twinings have still embraced innovation by introducing new and unique tea blends such as Cold In'fuse, which as the name suggests, is specifically for making refreshing cold beverages.
This shows that a traditional brand can still keep up with the times and cater to different audiences.

Liptons tea
Lipton's visual brand identity is characterised by its bright yellow packaging, which is easily distinguishable on shelves.
The Lipton logo features the brand's name in bold, black lettering against the yellow background which acts as a great contrast. This colour palette has become synonymous with Lipton tea, and is what most consumers will associate with the brand.
Over the years, Lipton has had a variety of advertising campaigns and marketing strategies to promote its variety of tea which include flavours such as green tea, herbal tea, and macha ice tea.
For example the "Lipton Tea Can Do That" campaign, was a long-running ad emphasising the versatility and potential benefits of Lipton tea.
It showed how the tea could be enjoyed in different ways, from hot to iced tea, and how it could be used in different recipes. The campaign aimed to position Lipton as more than just a 'traditional tea' but instead, as a versatile drink for different occasions.
They have also invested heavily in marketing to highlight their sustainability initiatives such as being committed to the ethical sourcing of tea leaves and their efforts to reduce environmental footprint.
As well as being available in standard tea bags, you can always buy Liptons iced tea in a bottle, adding a different sensory experience and an alternative way for people to consume the product.
Harney & Sons
Harney & Sons is a premium tea brand offering consumers high-quality tea blends and exceptional tea experiences.
The packaging is both elegant and sophisticated, often using classic black tins with gold accents. The logo features a heraldic lion, which conveys a sense of tradition, quality, and sophistication, again elevating their premium positioning in the tea industry.
Also, labels on Harney & Sons' tea tins typically include information about the tea, including the origin, brewing instructions, and details about the flavour.
It's this level of attention to detail that reinforces the brand's commitment to providing a premium tea experience. It's certainly not a builder's type brew!
Moving onto the brand's website, it features a clean and user-friendly design, allowing customers to explore and purchase teas easily. The website also includes educational content about tea and brewing methods, enhancing the brand's authority in the tea industry.
This includes brewing guides, tea history, and information about different tea types, showing how the brand is committed to providing an experience with their product, instead of just being seen as a quick hot beverage that you can enjoy on the go.
When it comes to brand partnerships, Harney & Sons is quite selective and often collaborates with high-end hotels, restaurants, and luxury retailers. These partnerships further align with their premium brand positioning.

Yogi Green Tea
Yogi tea started more than 30 years ago with an herbal tea blend based on Ayurveda, thought by many to be the oldest form of functional medicine.
It now offers over 40 tea blends with green tea being among the most popular varieties. The majority of Yogi teas are USDA certified organic or made with organic ingredients.
The tea is known for its smooth taste and has subtle mint and lemony flavours and this is carried through to the product packaging. Showcasing a yellow and green colour palette, this visually represents the flavour of the product inside.
These colours also have a calming feel which ties into the proposed health benefits of drinking green tea. The product packaging also features leaves circled around a cup, again creating a connection between the visual identity and the actual product.
To contrast this, the Yogi wordmark is deep red in colour which stands out well against the background colours making the brand legible even from a distance.

Mighty Leaf Tea
Mighty Leaf Tea's packaging is known for its elegant and sophisticated design.
The brand often uses eco-friendly, biodegradable tea pouches made from translucent material, allowing customers to see the whole tea leaves and botanicals inside. The tea pouches are also enclosed in beautifully designed foil envelopes, preserving freshness.
The brand's logo features a stylised tea leaf illustration, conveying a sense of craftsmanship and quality.
Furthermore the choice of earthy, natural colors in the logo and packaging aligns with the brand's emphasis on the natural origins of their teas.
Mighty Leaf Tea's marketing consistently highlights its commitment to using whole tea leaves and high-quality ingredients, resonating with customers who enjoy a more premium tea experience.
The brand also offers a range of tea varieties, including black, green, herbal, and specialty blends, catering to different tastes and preferences.
Ringtons Tea
Ringtons tea boasts a rich history dating all the way back to 1907!
This is one of the reasons why this long-standing tea brand has such a strong reputation, and continues to be the tea brand of choice in the UK.
Above everything else, Ringtons prioritises quality which is why despite its higher price tag, it has earned the loyalty of generations of consumers.
Another great thing about Ringtons is their direct delivery model. The brand is known for its unique and personal approach to customer service, where its distinctive delivery vans bring tea and other products directly to customers' doors.
And whilst this blog is all about tea branding, I need to add just how tasty their biscuits are too!
Order some, you won't regret it.
This personalised touch sets Ringtons apart in the industry, and seeing the vans drive around is also great brand exposure.
Moving over to the product packaging, this is characterised by its classic and timeless design which harks back to the brand's early days.
The simplicity of the packaging also conveys a sense of authenticity and tradition with the logo typically featuring the brand name in bold, black lettering and a gold background. This is coupled with wording that reads 'a family business since 1907' – again drawing on its origins.
Pukka tea
Pukka tea is known for being organic, ethically sourced, and dedicated to wellbeing.
The brand places a strong emphasis on using organic and sustainably sourced herbs and botanicals in its tea blends.
This commitment to ethical practices resonates with consumers seeking eco-conscious and health-focused products.
Their teas often feature unique blends of herbs and spices chosen for their potential health benefits, which appeals to consumers interested in natural remedies. By considering the mind, body, and spirit, the brand is showing consumers that they care about their overall health and wellbeing which is a powerful message.
Tying in with this notion is their vibrant and colourful product packaging which is oozing with happiness and positivi-tea (sorry, I had to).
The colourful designs also reflect the natural world and the herbal ingredients within each tea, making it stand out on shop shelves.
The Pukka logo incorporates a circular emblem with the brand name and a leaf illustration, again, aligning with the brand's focus on nature and wellbeing.
Each of the Pukka tea bags are individually wrapped in eco-friendly sachets, ensuring freshness and convenience for consumers.
Brewing Success: The Secrets of Effective Tea Branding
After reading this post, you should have a better understanding of what makes effective tea branding.
Standing out and having a strong brand identity is key in this market as there's so many tea brands out there with new names emerging all of the time.
However, all of these tea brands do have one thing in common: they understand their target market. This allows them to craft a brand that resonates with their customers whether that's through focussing on their history and heritage, introducing new flavours to keep up with changing tastes, or emphasising the health benefits of their product, they know what their customers want.
The same applies to any type of branding, tea branding or other, as your target audience should be at the centre of each decision.
If you need any help with your own branding project get in touch with our team! We've worked with lots of brands in the FMCG product such as OPI Frutta and we can help your brand make an impact.