In today's competitive business world, having a solid marketing kit can make all the difference.
You could have the greatest product or service, but if people don't buy into it, it's pretty much pointless.
You need to tell people why your offering is the best by effectively promoting your brand, products, or services.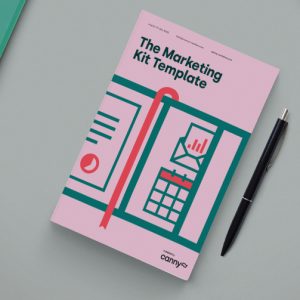 The Marketing Kit Template
A marketing kit is a very valuable set of resources which promotes your company to clients and customers. It gives them...
Think of your marketing kit as your portfolio which you can use to show off to existing and new clients. It needs to communicate the very best of what you have to offer and should leave a lasting impression on the recipient.
With that said, let's dive deeper into what a marketing kit is and get into the real meat of it: how to build your own killer marketing kit.
What is a Marketing Kit?
A marketing kit (or marketing pack) is your portfolio which brings different pieces of marketing material together to showcase your brand and its offerings.
It's your chance to get something tactile into the hands of your audience. And that's why it's critical that it makes a great first impression.
Everything you include in your marketing kit should promote your business and give people a reason to invest in your company. It's time to put your best foot forward, and collate assets that make people want to invest in your product or service.
It's a pretty big deal, and is often something businesses don't dedicate enough time to.
Whether you're attracting new customers, educating current customers, forming new business partnerships, or hiring new employees, your marketing kit tells your story and provides a full packet of information.
Think of it as a self-guided tour and each asset you include should build up a picture of what you do and why. There should also be supporting evidence about how you have helped other clients which is where case studies and testimonials come in, but we'll talk more about what to include in your marketing pack later in the post.
Why is a Marketing Kit Important?
Regardless of what stage your business is in, whether you're a startup or an established company, a marketing kit is essential. It should form part of your sales strategy and encourage people to invest in your product or service.
It also saves you a lot of time scrambling around to find resources or examples of work when trying to attract new customers.
This leads us nicely onto the first reason why a marketing kit is important…
Saves You Time
How much of your time is spent reinventing the wheel when it comes to following up with potential clients?
Think about it. You're on a Zoom call with a new customer, it's all going well, they're interested in partnering with you, but they're wondering if you've got previous experience working in their industry.
As a matter of fact you do, and you have lots of great case studies to prove it.
But where are they?
Are they buried somewhere on your website? Or have you put them in a random word document and can't remember where you saved it?
With a marketing kit, everything you need to follow up with a potential customer is right there. Just pick the materials that are most relevant to their needs, then get back to doing what you do best – making clients happy!
Tells people how you can help
A marketing kit gives prospective clients evidence about how you can help them.
It's not about the fluffy stuff or sales jargon, but tells them what you do, how you do it, and why they should choose you. By including client testimonials and previous examples of work, it gives them confidence that you're the right choice.
They will also be able to get a feel for your company culture and approach by looking through your marketing pack. Make sure you use this opportunity to sell yourself and effectively communicate why you are different from the competition.
Maybe it's because of your company values, or the fact you provide 24/7 support?
Whatever the reasons, make sure you convey these points effectively.
Flexible to different requirements
A marketing kit comprises different documents and resources, each with the same purpose – to showcase what your company has to offer.
However, these documents aren't set in stone and can be adapted as your company grows; for example, if you add a service to your offering or obtain a new client testimonial.
Whilst this is still possible with print marketing kits, it's so much easier with digital versions (something we'll be exploring further in the blog).
You can also mix and match the contents of your marketing pack depending on who you're reaching out to. For example, if you're sending it to a potential client, you could include free product samples to get them more interested in what you have to offer.
This allows for a much more tailored approach instead of sending out a generic brochure.
Who is a Marketing Kit for?
A marketing kit is a fantastic resource for attracting your target audience, as it gives them a reason to invest.
It tells them exactly what your company is about and shows them what you're capable of producing.
However aside from this, your marketing kit is also useful for:
Existing customers – Aside from attracting new customers, you also need to retain your existing ones. A marketing pack can help reaffirm why they should choose you time and time again so that they stay loyal to your offering.
New employees – Your marketing kit is helpful when recruiting new employees as it gives them an insight into what you do and encourages them to work for your company. You want to attract the very best talent, so shout about your successes and achievements.
Investors – Investors will want to learn more about your company including what your company has to offer. They'll also want to understand your company's vision, mission, and goals, to make sure your business is a worthwhile investment opportunity.
Digital vs Print Marketing Kit
As we've touched on briefly, there are two types of marketing kits – digital and print.
At one time, companies would gather lots of printed documents, put them in a folder or binder, and that would be it.
However, in a saturated market you need to be more creative. Almost every single business is active online which is why having a digital marketing kit is key.
That's not to say printed materials are obsolete. They still bring a tangible element to your business and give clients something physical to take away with them.
Instead it needs to be used in conjunction with digital assets so you're capturing more people.
Lots of companies prefer digital marketing kits as they are much easier to adapt and update for example, when you add a new product/ service.
This is just one of the advantages of a digital marketing kit over a print version. Let's take a look at some other pros and cons.
Digital Marketing kit vs Print Marketing Kit: Pros and Cons
Both of these formats have their own advantages, and in most cases the best approach is to have a hybrid of the two.
For instance, you would have a digital marketing kit which you could send to clients on email for ease, but you'd still have some printed assets (business cards, brochures, flyers etc) to hand out at an exhibition.
Let's take a closer look.
Digital marketing kit
Cost-effective – Digital marketing is often more cost-effective than traditional marketing methods where printing and shipping is involved.
Greater reach – With a digital marketing kit, businesses can reach a larger audience, including customers who may not be located in the same area.
Flexible – Digital marketing is highly flexible and allows businesses to target specific audiences with personalised messages.
Limited tangibility – A digital marketing kit lacks the tangible quality of a print marketing kit, which can make it more difficult to make a lasting impression.
Less control over presentation – A digital marketing kit can appear differently on different devices due to varying screen sizes, internet speeds, or software compatibility.
Print marketing kit
Tangible – Print marketing materials such as brochures, flyers, and business cards are tangible and can be physically held by the recipient.
Credible – Print marketing is often perceived as beng more credible and trustworthy than digital marketing assets.
Creative Design – Print marketing kits can be designed with unique finishes, textures, and colours to showcase your brand's personality.
Expensive – It can cost companies a lot of money to design, print, and ship printed marketing materials to recipients.
Environmental impact – Print marketing kits have a greater environmental impact compared to digital ones due to production and distribution.
Marking Kit vs Press Kit
The terms 'marketing kit' and 'press kit' are often used interchangeably but there are some differences to be aware of.
A press kit does not provide the same must-know information about your brand as its primary goal is to secure press coverage for your business.
It often contains fact sheets and approved images for use by the media, and this kit is usually sent to journalists alongside a press release. Essentially a press kit helps you sell a 'story' rather than your brand.
In contrast, a marketing kit is for people you plan on working with (whether that's business partners, new clients etc). It's for this reason that you want to tell them everything there is to know about your brand and most importantly, it's longevity.
Unlike a story where the details date over time, you want to prove the relevance of your brand into the future.
It's important that recipients are invested in your business, not just in the moment, but for years to come so you can further develop the relationship.
Key Considerations Before Creating Your Marketing Kit
Before we jump into how you can create your own marketing kit, there's a few things to consider first to ensure you include the right assets.
Depending on who is receiving your marketing kit, they may require different things from it. For example, existing clients will already have a good idea of your products/ services list but might need further reassurance that their money is being well spent.
In this case it would make sense to include more testimonials and case studies to reaffirm their purchasing decision.
That said, below are a list of key considerations before building your marketing pack.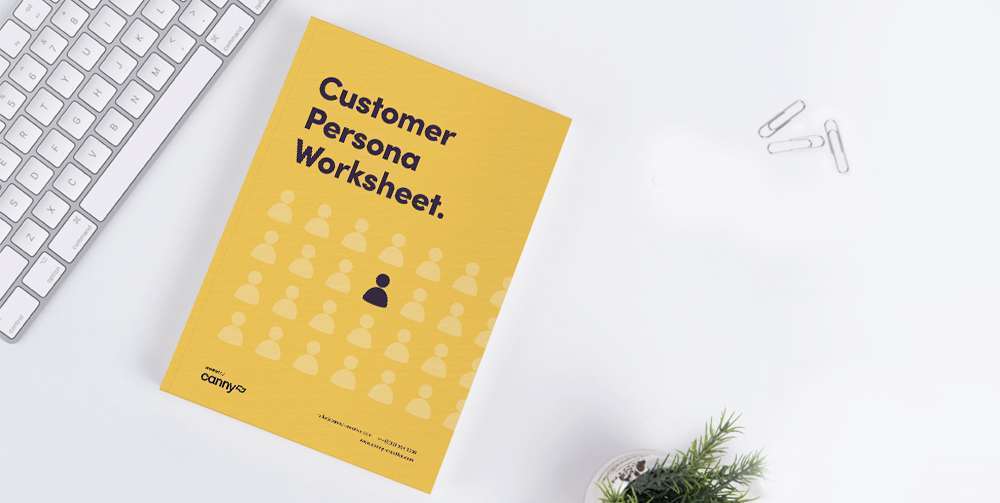 Define your target audience
Knowing your target audience is crucial when creating a marketing kit, as it allows you to tailor your messaging and materials to the needs and interests of the recipient(s).
If you're unsure of who your target audience is then make sure you download our free customer persona worksheet which lets you outline key demographics such as age, gender, income, and their challenges and pain points.
Once you've identified your audience, you need to tailor your marketing kit to their specific needs and interests. For example, if your target audience is primarily young professionals, you might want to focus on creating a modern design for your marketing materials, and highlight how your product/ service can save them time.
By keeping your target audience in mind throughout the process of creating your marketing pack, you can create messaging and materials that are more likely to resonate with them.
Identify your marketing goals and objectives
It's important to define your goals and objectives before you start creating your marketing pack.
For example, what do you want to achieve? Are you looking to boost sales, increase brand awareness, or generate leads?
By defining your goals and objectives upfront, you can create a marketing kit that is aligned with your overall business strategy.
Your marketing kit should be designed to support your business strategy, so it's important to have a clear understanding of these things first to make sure that what you're including is targeted and relevant.
Once you have defined your goals and objectives make sure they're aligned with your target audience and the messaging you want to convey.
The more specific and targeted your goals, the more effective your marketing pack will be.
Understand your marketing budget
Creating a marketing kit can be time-consuming and costly so it's important to consider your budget and resources before you start.
You need to work out how much you can realistically spend on creating marketing materials, so that you can prioritise the items that will have the biggest impact on your target audience.
Knowing your budget also allows you to decide on whether a print or digital marketing kit is best. A print marketing kit will generally be more expensive as you've got to consider the cost of printing, distribution, and shipping.
However, the real cost comes down to the complexity of the design and the number of items included so knowing your budget before you start is an absolute must.
You could consider partnering with a professional design agency when creating your marketing pack instead of trying to find the skills or resources in-house.
How Do I Build My Own Marketing Kit?
Now you understand the differences between a marketing kit and a press kit and the pros of a print version vs a digital version, it's time to look at creating your own.
Whilst your marketing kit is a collection of separate assets, not all assets will be useful in every scenario.
For example:
If you're attending an exhibition or trade show, giving out your business card or promotional products makes more sense than handing out a case study.
Again, this ties back to understanding your audience and what they need to know.
Let's take a look at what should be included in your own marketing kit.
Include an introduction
When you meet someone for the first time, it's custom to introduce yourself before you start telling them anything else.
Similarly, when a potential partner considers working with you, they want to know more about your business before they jump straight in.
They want a better understanding of who you are, what you do, and why the partnership is valuable for them.
This is why you need to include an introduction in your marketing pack so that recipients get a better insight into your brand from the outset. It builds up a sense of familiarity before you jump into any specifics.
Using your brand voice, write a few sentences about what you do and what your brand values are to help people build a better picture.
You should also tell a brief version of your brand story to help recipients understand why your business exists. The introduction section of your media pack is also a good place to include your mission statement.
Presentation folder
A presentation folder is geared towards printed marketing kits and brings all of your marketing materials together.
You can pick these up relatively cheap from stationery shops and give your clients something tangible to hold onto.
However, to make an impact you want something that is tailored to your business.
It should have your brand colours, logo, company name, and contact information otherwise how can people differentiate you from your competitors?
If you've got the budget, then custom-printed folders are the best option. That way you can truly convey your offering and grab people's attention from the moment they receive it.
Imagine how you would feel if you were handed a blank folder with no branding on, that's just stuffed with loads of documents. I know I'd feel pretty disengaged and wouldn't be excited to open it.
Give your customers a reason to delve into your presentation folder to find out more about what you do.
Business cards
Business cards are a great way of giving your customers something physical to put in their purse or wallet.
Whilst these cards might only be small, you can still communicate key pieces of information including your contact details. Exhibitions and networking events can be very busy, and there's not always time to have those important business conversations.
However, by leaving a potential client your business card, they can get in touch at a more convenient time and you can get the ball rolling. You don't want customers to leave an event and forget about you.
In today's digital era many people think that business cards have lost their place. However at Canny, we're still rooting for the good old business card and believe they are a key component in your marketing pack.
However to make an impact, they need to be designed correctly. Check out our blog post about the best in business card design if you're in need of some inspiration!
If reading content isn't your thing, then we've also made a video with some handy tips and tricks to help you get your business card design right.
Case studies
Social proof is so important when it comes to promoting your business. Whether you're talking to existing clients, new clients, or potential employees, hearing stories from real people adds credibility and trust.
They're unbiased and they give people confidence that if you've helped other people achieve success, then you can help them too.
You're obviously going to say your business is the best but you need other people to believe it too.
The way you compose case studies is totally your choice, but the main points to get across are:
An overview of the project
The challenge the client faced
And how you helped them
It's all about how you can help a customer do something, whether that's finding a new mortgage, or helping them develop a new website. Ultimately you need to solve that problem.
By including case studies, you can demonstrate how you have helped other clients and it's proof of real results.
Promotional products
You want your brand to stick in your customers mind so that you're the name they think of when they need something.
Promotional products enable you to do this by giving your audience something tangible that includes your name/ logo.
These items vary depending on what you want to give to clients but typical promo products include:
Pens
Folders
Phone chargers
Magnets
Bags
Coffee cups
T-shirts
Notepads/ notebooks
Caps/ hats
Confectionary
Mouse mat
Basically anything that you can put your branding on and give to a customer. However, promo products need to make sense to your businesses and have a sense of logic behind them. For example, if you're a graphic design agency, handing out a sketch book would be appropriate.
If you work in tech, IT, or SaaS, then a branded mouse mat or phone charger would be fitting. It would be boring but it would be fitting.
These items work well as it means your prospective customer is exposed to your brand without them even knowing. Your branded pen will be what they use in meetings, your branded calendar will sit on their desk, your branded mug will be used for their morning coffee, you get the picture!
The more a customer is exposed to your branding, the more likely it is that they will remember you when they require a product or service.
Testimonials
Customers want to know that they can trust you with their time and money, otherwise they might as well have chosen your competitor.
Hearing from people who have used your products and services in the past makes people trust that what you have to offer is genuine.
They're real words from real people, rather than hearing from your sales and marketing team. This adds credibility and authenticity as people can learn first hand how your company has helped others.
Personally, recommendations are the biggest contributing factor to why I purchase a particular product or service. Let's take skin care for example. If I hear from someone else that they've seen results by using a certain skin cream, then I'm more likely to go and buy it.
Whilst catchy slogans and pretty product packaging is all well and good, I need to know that this product actually works. And that goes for items that are £5 or £50 as I'm still parting with my own money.
The same idea applies to your business. Regardless of what you're selling, including client testimonials is a fantastic way of turning leads into customers.
Client list
This might not be possible for all brands, especially if you're just starting out, but customers like to work with people who have experience.
It gives them reassurance that you're good at what you do as you have already built up a portfolio of previous clients.
Whilst this isn't always the mark of a fantastic company, it can give people that extra piece of confidence that they need to get over the line. Perhaps you've worked with some really big names. Make sure you shout about them.
A client list can also give new customers reassurance that you've worked in their industry before. They might see a name that they recognise, which gives them confidence that you're already pretty well versed in their field.
If you haven't built up a client list yet don't worry. Everyone has to start somewhere and get their feet off the ground. On that note, maybe you need some help with your branding?
At Canny, we work lots of businesses to help them create and execute a fantastic brand. If you want to find out more, get in touch with our friendly team for an informal chat.
List of Services and Products
Whilst you know exactly what you can offer customers and clients, they might not.
By listing out the services and products available, you can give people an insight into your business. They can choose which services/ products meet their needs and might even be drawn to things that they had not yet considered.
For example:
Perhaps you work in the healthcare industry but also offer aesthetic treatments. If you don't list these out in your marketing pack then no one will know that they exist and you could be missing out on a huge proportion of the market.
Make sure you run through each and every part of your business to communicate your full product offering. Although this sounds like a drab and dreary list, it doesn't need to be.
Make sure you include images, videos, statistics, and explanations about how your product or service can help.
Price list
Including a price list in your marketing kit provides potential customers with a clear and comprehensive list of how much your services/ products cost.
This also demonstrates that are an honest and trustworthy brand as you're being transparent about your prices, instead of setting unrealistic expectations.
It also saves both you and your customers time, as if your prices are expensive then it prevents your customers investing their time in something that is out of their budget. You don't want to develop the relationship only for them to experience surprises later on.
Ultimately your price list is an important tool that can help establish your business as a credible and professional brand, making it a key component in your marketing pack.
Team bios
Team bios are an important part of any marketing kit as they provide recipients with an introduction to the people behind the products or services being offered.
Team bios can help people connect with your company on a personal level and build trust in your brand. Building trust is one of the key things your corporate brand should be doing.
When creating team bios for your marketing pack, you need to give a brief overview of the team member's professional background, including any relevant education, certifications, or previous work experience.
You should also explain the team member's role within the company and what they are responsible for, as well as any relevant achievements.
It's also a good idea to include a photo as this helps recipients (whether that's new/ existing employees, stakeholders, or business partners) put a face to the name.
Remember to keep your team bios concise and engaging, highlighting the most important information about each team member.
Marketing kit examples
We've compiled a few marketing kit examples so that you can see how other companies approach this process.
Again, anything you include in your own marketing kit should tie back to your marketing goals and objectives and should make sense to your target audience.
That said, let's take a look at some marketing kit examples.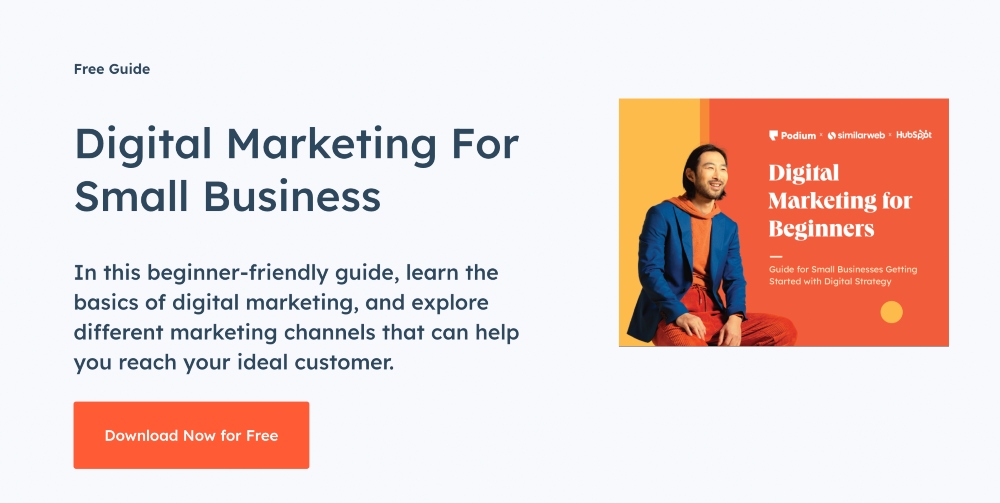 Credit to Hubspot
Hubspot's inbound marketing kit
Hubspot's Inbound Marketing Kit is a range of materials that provides resources and tools for businesses looking to implement an inbound marketing strategy.
The kit includes guides on how to create effective blog posts, social media content, and lead magnets, as well as templates for marketing materials such as email campaigns and landing pages.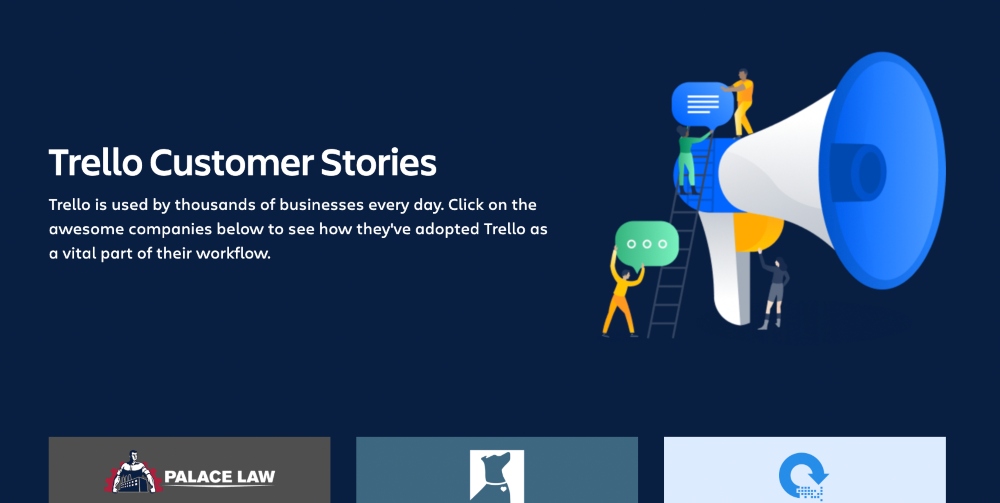 Credit to Trello
Trello's marketing kit
The marketing kit for Trello includes a variety of resources that can help users promote and use the tool. Some of the items included in the Trello marketing kit are:
Brand guidelines: This document provides guidelines for using the Trello logo, colours, fonts, and other visuals in marketing materials.
Presentation templates: Trello provides customisable PowerPoint and Google Slides templates that users can use to create presentations about Trello.
Social media templates: Trello offers a variety of social media templates for Facebook, Twitter, Instagram, and LinkedIn that users can use to create social media posts about Trello.
Case studies: The marketing kit includes several case studies that showcase how other companies have used Trello to manage their projects and workflows.
Videos: Trello provides a variety of promotional videos that users can embed on their website or share on social media.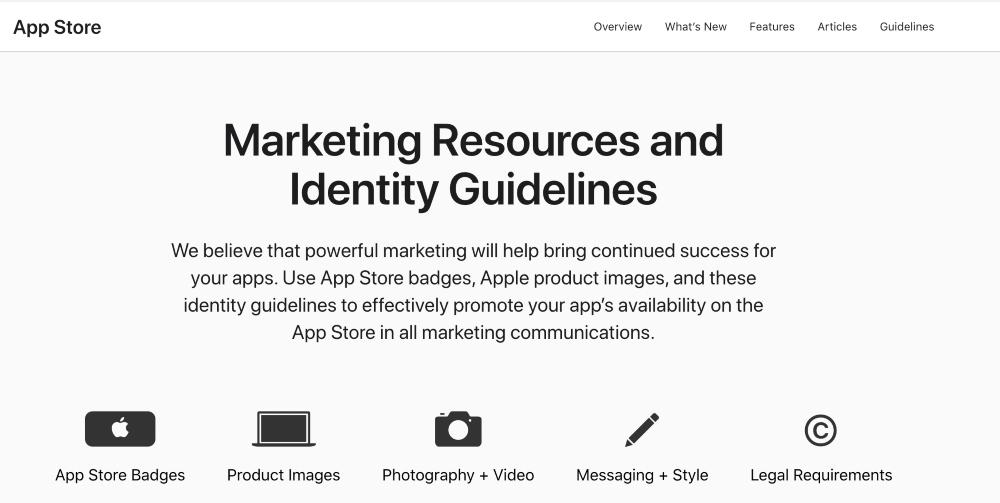 Credit to Apple
Apple's marketing kit
Apple's Brand Marketing Kit includes a collection of materials that help businesses and developers showcase their apps or accessories in a way that aligns with Apple's brand identity.
The kit includes guidelines on how to use Apple's logos, typography, and other visual assets, as well as templates for marketing materials such as social media graphics, email templates, and print ads.
How to Build a Killer Marketing Kit (with Free Template!)
Your marketing kit should make people want to work with your business. Whether that's current customers, new customers, potential employees, advertisers, or stakeholders, this is your chance to shout about your company.
Use this opportunity to engage with your audience and tell them exactly what you do. It's not about bragging or presenting people with sales fluff, your marketing kit is a selection of materials that help build trust with your audience.
This package isn't set in stone and isn't a one-size-fits all. You should tailor your marketing kit to the audience and you will enjoy better results.
Do you need help with some aspect of your marketing? The Canny team is here to help. It can be overwhelming trying to piece all of this together yourself so let us do the hard work for you, whilst you concentrate on building your business.
Get in touch with the Canny team to find out how we can help.