Choosing a rebranding agency to work with on your company's rebranding project can be a tricky task.
If you're the Marketing Manager, Director, or CMO, about to make the crucial decision on where to spend your marketing budget, there's a lot of pressure resting on your shoulders.
That's why getting your rebranding agency right the first time is important.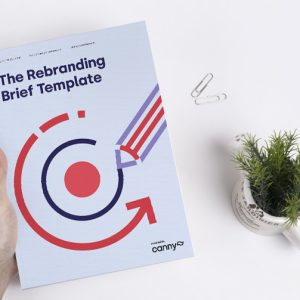 The Rebranding Brief Template
The Rebranding Brief Template is a free template that will help you get the brief for your rebranding project right. ...
Choosing the right rebranding agency to help rebrand your business will have a massive and lasting impact on the shape of your company moving forward.
However:
Choose wrong, and you could end up blowing your marketing budget on something that's considered by key stakeholders as a massive waste of time, money, and effort.
A rebranding project should be more about changing how your company looks.
Your rebranding project should address real business problems.
For example, our client's tell us that our work helps them:
Reposition and realign their business to their long term vision
Differentiate them from their competitors
and, attract and engage the right audience.
Rebranding isn't superfluous.
It should move the needle, and breathe confidence and fresh air into your company and your direction of travel.
After reading this post, you will know how to choose the best rebranding agency for your project, and how to avoid catastrophe!
Before we dive in, if you're getting questioned by your higher ups about your proposed rebranding project, check out our handy rebranding question and answer guide.
Ready? Let's get to it.
Outline Your Project with a Rebranding Brief
Finding the right rebranding agency starts with you understanding what your company needs to achieve to move forward.
Ask yourself the following questions:
Why are you rebranding?
What is the problem you're trying to solve?
What are the goals and objectives for the project?
How much marketing budget do you have to work with?
When is the best time to undertake the project?
When does it need to be ready to launch?
All of this and more is covered off in our rebranding brief template.
Getting the rebranding brief pulled together for your project is a massive step in the right direction.
It gives your internal marketing team something to rally around, and something for your board to get excited about.
And, it gives you something to take to your shortlisted agencies to help them understand your project.
Some of the questions above might seem impossible to answer without any sort of context.
Let's assume you've never ran a rebranding project, or worked with an agency before.
Here's a bit of a primer on the costs and timescales when it comes to rebranding a company.
How Much Does Rebranding a Company Cost?
Every single rebranding project is unique. Different businesses have completely different requirements.
Let's just say:
No serious agency is getting involved in a company's rebranding project for anything less than five figures.
Rebranding a company isn't easy, and takes a substantial amount of time and hard work.
Go to your big Madison Avenue agencies, or Central London agencies, and you could easily be into the six figures.
But investing in your brand properly, will hopefully ensure you don't end up on the list of failed rebrands.
Assumedly, given you're looking at a rebranding project, something didn't work out properly the first time around.
That's why it's important to get your brief nailed down. And to be honest, you need to focus on the fundamentals.
Don't just skip ahead to the "sexy design" stage. First, make sure to nail your brand strategy.
With the correct building blocks in place, you're far more likely to get your rebranding project right.
Back to budgets:
Essentially, it all depends on your requirements and the ins-and-outs of the project, but be prepared to invest a substantial amount of your annual marketing budget to make it happen.
How Long Does a Rebranding Project Take?
See above.
"Every single rebranding project is unique." And on top of that, so is every single rebranding agency.
Some agencies focus on only working on a small handful of projects at a time, others have a wide range of clients they're working to service at any one time.
Some have small teams, others have large teams with account managers and more red-tape than others.
It all depends on the type of agency you choose to work with when rebranding.
Timescales vary depending on the type of agency you engage.
However:
As a minimum you should expect to invest at least 3 to 4 months into your rebranding project.
Again, it depends on your specific rebranding deliverables and if you're looking at your website too.
For the record, you should be. And, you should be working on your new website alongside your rebranding project, otherwise your project could drag on and on.
Right, you've got the rebranding brief template, we've primed you on some of the key questions.
Ready for the next step in the process?
How to Find the Right Type of Agency for Your Rebranding Project
This next part sounds easier than it is.
If you've never looked for a design or branding agency before, you might end up confused with all of the different terms flying around.
For example:
Branding agency
Design agency
Brand consultant
Creative agency
Digital agency
Marketing agency
The list goes on and on.
And, because there's little to no barrier to entry when it comes to delivering branding and rebranding services, you have one-man-bands and small agency types spinning up all over the place.
Digital and marketing agencies and marketing agencies tend to do more work on the SEO and digital PR side of things.
Brand consultants tend to stick to the strategy and the thinking, and enlist creative agencies to help pull the actual design work together.
Branding agencies tend to handle it all. From creating a brand strategy, through to creating brand identities, and even extending out into website design and development.
So, what about "rebranding agencies?"
Well, "rebranding agency" isn't a term that tends to get used. But, given you've landed on this post, let's assume you're looking for an agency that specialise in working on rebranding projects.
What are the key differences?
What's the Difference Between a Branding Agency and a Rebranding Agency?
As we mentioned above, dedicated rebranding agencies aren't really a thing.
Simply put; rebranding agencies tend to be branding agencies that have a lot of experience when it comes to rebranding companies.
For example:
At Canny Creative we do a lot of work on rebranding projects.
We work with Marketing Managers, Directors, or higher, to execute branding projects across a variety of sectors.
However, 99% of the time, we're not creating the brands from scratch. We're actually working to rebrand existing companies that are facing their own set of unique challenges.
So, what makes the fact that we do a lot of rebranding projects relevant, and what's the difference?
Well firstly, there's the rebranding process itself.
We're used to being contacted, going out to see people, and having them unload a world of problems on us.
"Our strategy is all wrong"
"The brand doesn't look consistent"
"Our competitors are killing us"
"We don't look like we should"
"Look at the state of this"
We're used to hearing things like this.
Then we unpick the problems, conduct a brand audit (which gets to the root of the problem), and then we can start to discuss solutions.
So what's the difference between a branding agency and a rebranding agency?
The experience in undertaking and understanding rebranding projects. That's it.
Ready to find the right agency for your project? Let's move on.
Find Examples of Branding Work That Reflects Your Business
First things first:
Before diving head first into a rebranding project, you should try and immerse yourself in the world of branding.
Start out by paying attention to what's going on around you. Look specifically at:
Your competitors
Your partners
Your industry
Your geographical location
Your buyer preferences
Tuning into these things will give you an insight into what's happening in the world of branding and marketing.
We regularly visit the following websites:
Under Consideration focus specifically on rebrands, and new branding work. The rest share a lot of great marketing ideas, campaigns, news, and inspiration.
Rebrands and branding work features heavily, and is intrinsically linked to marketing. By tuning into the larger world around your business, you're getting one step ahead without even realising.
Next up, we're searching for agencies, but before we do that:
What Makes for a Good Branding or Rebranding Agency, and How Can You Tell One From Another?
It's fair to say that there is an abundance of design agencies and branding agencies out there.
And if you ask around, everybody has been ripped off by a bad agency somewhere along the line. At this point, we're fairly convinced that agencies as a whole have a worse reputation than used car salesmen.
But there are good branding agencies out there!
So, how can you tell a good one from a bad one?
The Quality of Their Work
The first thing to look for when trying to make your rebranding agency shortlist, is the quality of work that they're putting out.
Run through their portfolios, and see what immediately jumps out at you.
Ask yourself:
Can I see this working in our industry?
Have they worked in my sector before?
What sort of "feel" am I getting from this work?
On gut alone, would our stakeholders go for something like this?
Is the process clearly explained?
Do they show what problems and challenges this work helped to overcome?
It's important to note, that if you're searching in the right places (more on that later) – then all of the work should be of a certain level of quality.
If something looks rough, rushed, and just not quite right, then it's best to stay away.
If their work looks professional, and you can imagine it working in your scenario, make a note and move on.
Something to be aware of:
Smaller or newer agencies will often make up their own briefs. This will typically result in some beautiful looking work, but will be lacking in process and proving how it helped to overcome a real business challenge.
Businesses typically aren't rebranding themselves for fun!
Usually a rebranding project is progressed so you can do one of the following:
Realign the company and focus on your direction
Attract a different target audience, or more of your target audience
Freshen up your whole visual identity, helping you to stand out from the crowd
Build recognition in an industry
Consolidate brands after a merger or acquisition
Overcome some sort of PR disaster
And while having "internal projects" displayed is all well and good, it doesn't give a real flavour of how the agency can help you solve any of the problems above.
Ask yourself when looking at their work what were the constraints, what were the goals and objectives, and what results have the agency achieved for the business they've been working with.
Try to look past the quality and pretty pictures, and look for the bigger picture!
Are The Agency Well Established with a Proven Track Record?
Asking how long an agency has been trading is probably redundant. New agencies can be just as good as older agencies.
However:
Having some solid case studies and perhaps even some recognisable named clients can be testament to what they've been trusted with in the past.
This though, isn't the be all and end all.
If it was my business looking for a rebranding agency though, I would definitely be interested in seeing their track record.
A Word of Warning
Design and branding awards mean jack shit.
In the design and branding world awards are easily manufactured or bought. So don't pay too much attention to agencies claiming to be award-winning.
Creative agencies are by their very nature creative people.
Therefore it's easy to see how they may get creative with their own brand positioning and marketing language.
I repeat, pay no attention to agency awards unless you're prepared to do your full research into them.
Some are great, but more often than not, they carry no weight whatsoever.
How to Find a Rebranding Agency
And now, into the thick of it!
As mentioned earlier, "rebranding agency" isn't a term that gets used.
You want a branding agency that has a lot of experience working on rebranding projects.
So, where do you start your search?
Let's go route one first of all.


Google and Search Engines
Defaulting to Google is probably the easiest option. And yes, there's Bing, and that other one nobody's ever heard of too.
Either way, search engines are your friend when looking for an agency to help with your rebranding project.
Thing is here, you're going to get the advertisers and people paying for advertising coming up first.
I'd skip past them, and see who's coming up organically. They're normally more relevant!
Decide whether proximity matters to you. Covid changed the world, making it smaller than ever, so this is completely your call.
At Canny, we work with clients all over the world from the USA to Australia with no problem whatsoever.
On that front, there are two things to consider:
Do you imagine needing an excessive amount of face to face or workshop time? (most agencies will travel anyway)
Is local knowledge a factor in the success of your rebranding project?
If not, then you can work with anyone, anywhere. Your options of a rebranding agency are officially wide open!
Unless you're a local business targeting local people (yes, that's a League of Gentlemen reference) – then it's probably not a big consideration.
Also, if you're in a major city, the chances are you can get more for your marketing budget outside of your area.
For example:
I know Canny's rates are often up to a 1/3rd cheaper than London based agencies.
Branding and rebranding projects can often be very time intensive. But you can manage it completely digitally, using a hybrid model, or in-person. It's your call.
I'm not going to teach you how to Google, but you might want to consider the following prompts:
branding agency + [location] (if relevant)
[industry] branding agency
[industry] branding tips and ideas
best branding agencies for [industry] companies
[industry] branding case studies
That'll give you a lot to go at.
Dig through their sites asking the questions we outlined above, make a note, and revisit them later. If you're still happy when you look back at them later, add them to your shortlist.
Dribbble
If you've not heard of Dribbble, it's essentially a showcase of "pretty designs" made by designers and agencies.
It's good, but it's often not functional design.
However, it serves as a great directory and makes finding agencies easy!
Head over to dribbble.com and start digging around. You can filter projects by branding, category, and even colour preferences etc. Be warned, you can end up down a Dribbble rabbit hole!
Typically individual designers post their work on Dribbble. They might work for an agency. Sometimes they'll have it handily listed on their profile page.
With a bit of searching around, you'll be able to pull together some good additions to your agency shortlist.
Agencies You Admire
Remember when we said to find some work you liked earlier?
You can always contact the agencies that made that work too.
If you get stuck trying to find who made it, try using Google's Reverse Image Search feature.
And, if you're in the marketing and branding world, the chances are you'll have agencies that you already like and admire.
Try reaching out. Your project might just pique their interest!
Your Own Network
The best way to find a branding agency to partner with on your rebrand is by tapping into your own network.
Chances are, one swift post on LinkedIn, or reaching out to other marketers or founders you know, will help you to build up a great list of agencies to check out.
This way you can get personal feedback from people too.
Once you've got a list of agencies to check out, it's time to move on.
Analysing Your Rebranding Agency Shortlist
By this point, you've probably got twenty plus names on your shortlist.
That's far too many.
Imagine trying to entertain conversations with over twenty different agencies? You'll be too busy in meetings to make any real progress.
Let's get down to thinning out the herd.
Check Out Their Work
We touched on this earlier, but dig into their portfolio of work.
After all, what use is a branding agency that can't produce the goods?
But try and get out of the mindset of:
"That looks nice."
You want to be looking for the problem, the solution they came up with, and the results.
Professional agencies go beyond creating good looking work, and get into work that solves real world problems.
Pay close attention to statistics and real business metrics. Try and pick out things that could change the game when presenting to your Board of Directors!
And of course, looking good does help too.
Check Out Their Website
An agency's website is often the first touchpoint in your process of engaging with them. Ask yourself:
Does their website look good?
Is it interesting?
Do they offer the services we need?
Is their site updated regularly?
Do they share industry thoughts and insights?
At this juncture, I'd be looking to remove any agencies who are instantly giving you a negative impression.
For example:
Their site is slow to load, and when it does, it's full of crazy things, spinning @ symbols and the like. Or worse, it's built on a terrible free site builder.
Agencies should be making their own sites. And they should be making good ones!
At the end of the day, a website is a 24/7 shop window.
If they're not taking care of themselves, how are they supposed to take care of you and your business requirements?
If something's not sitting right, cross them off!
Look for Testimonials
Testimonials in the design world run the risk of being a little like awards. Not worth a thing.
If there are testimonials on an agency's website, check whether they've listed out the person's name, position in the company, and included a photo.
Then a cursory glance at LinkedIn will help you spot any forgery a mile off.
If you want to get really James Bond, drop them a message and ask what they were like to work with and whether they would recommend them!
A better way of assessing reviews and testimonials is likely through Google Reviews. Search the agency's name, then check the information panel on the right.
Person to person reviews on LinkedIn are good too. Head over to the agency founder(s) profile, and check what people have had to say about them.
Those reviews are slightly more difficult to forge.
Once you're done with your digging, strike off the agencies that don't have many good reviews, and move on.
Follow Them on Social Media and Subscribe to their Mailing List
Following your shortlisted agencies on social media is often a good way to immerse yourself in their world.
It's not a perfect mechanism for judging or removing people from your list, but it can give you a great insight:
What are they sharing?
Are they posting regularly?
If not, why not?
What do they seem like as people?
Can you imagine yourself working with them?
Are they responsive when people interact with their posts?
Social media can give you all these sorts of insights!
And, join their mailing list too. Are they putting out good content there too?
Putting out good content is a good insight into how they operate and think. If they value thought leadership, chances are, they're actively engaged in the industry and have a reputation to uphold.
Ready? Time to get brutally honest.
Narrow Down Your Agency Shortlist
At this point, I'd imagine you're sick of looking at rebranding agencies.
So, it's time to narrow down your selection.
Personally, if you started with a list of ten to twenty potential agencies to work with I think it's time to reduce this list down to five.
But how?
First of all, follow the steps above. To recap:
If the portfolio isn't good, strike them off
If the website isn't good, strike them off
If their testimonials are forged or there's not a lot of them, strike them off
If their social media is weak and not updated, strike them off
If their newsletter or mailing list doesn't excite you, strike them off
That should pretty much do it.
If you're still left with too many, gut feel is usually quite reliable too.
Essentially:
If you like what they're putting out and can imagine yourself working with them, keep them on the list. If not, it's time for them to go!
Next up…
Make Initial Contact
Shortlist in one hand, rebranding brief in the other, it's time to make initial contact.
A piece of advice I'd share at this stage is to use email or a contact form on their site.
The agency environment can often be frantically busy. Trying to call will often result in you ending up frustrated, or starting your relationship with them by interrupting someone in the middle of what they were doing.
Also, it's the 21st century. Who calls anyone on the phone in this day and age anyway?
When sending an email, I wouldn't ask for a quick call to discuss.
Picture receiving this email:
"Hey Agency X,
I'd like to discuss our rebranding project with you.
Thanks,
Rachel"
That sort of email is the type of email that often goes ignored or is last in a pile of promising enquiries to reply to.
Try something more like this:
"Hey Agency X,
Love the work you did on The Acme Corporation project. We're looking to rebrand our company and think your team might be a good fit for us.
We've already prepped a rough Rebranding Brief, which I've attached to this email.
Could you please take a look at it, and let me know whether it's worth setting up a call to discuss?
Thanks,
Rachel"
This type of email stands out in the inbox.
You've shown them you're researching their agency, not just using a scattergun approach. And that honestly goes a long way!
And you've done a lot of the initial leg work already, so they can look through your requirements, timeframe, and budget, assess whether it's a project they can facilitate – and then come back to you with clear next steps.
Step Back
Once you've made contact with your shortlisted agencies, it's over to them.
You've done a lot of hard work and research up to this point, so make yourself a cup of tea and relax. Try not to think about it.
Here's how I'd imagine things to go with five agencies:
The chances are three or four will reply, one is stowed off and doesn't reply, and one may or two may not have ability or capacity to do the work.
But, that leaves you with three to proceed to the proposal stage with.
A few things to keep in mind at this point are:
How long does it take to get a reply?
Is the reply comprehensive or a little generic?
Do they seem genuinely excited and motivated to do the work?
These things can be good indicators of the situation the agency finds themselves in.
If it takes them a long time to reply, they could be swamped with work. Take that as you will. Are they too busy to deal with you?
(Probably not, they'll just schedule a later start date.)
Alternatively, they are swamped and couldn't fit you in. Or, your email didn't spark immediate interest so they took a longer time to respond.
If the reply is comprehensive and you can tell they've been over the brief in detail, I'd be marking a big tick in their win column. You've taken the time to prepare the brief, they've taken your enquiry seriously and put in a lot of their time to respond properly.
If the reply is a generic response asking for a call, it'd set my Spidey-sense off. If you'd have wanted a call without context, you would've called them to start with.
And finally, if they seem excited and motivated by your project – pay real close attention to that! Genuine interest and excitement goes a long way.
You're looking to form a partnership that lasts for a long time, not just a one-and-done scenario. Genuine interest and excitement into your company and situation will serve you well in the long run.
Remember:
The agencies' responses are the first chance they have to engage with you. Ask yourself, are they engaging enough?
Compare Responses and Make Your Decision
The different agencies on your shortlist will want to handle the next steps differently.
You're likely going to come up against one of several scenarios:
No Reply
Request for a call / meeting
Acknowledgment and denial
Acknowledgement and quote
No Reply
If the agency doesn't respond within 5-7 working days, bin them off. They're not interested, or they're too busy to reply.
Request for a Call / Meeting
This is the typical scenario. If they've been through your brief and want to set up a call or meeting, go for it.
This means they're engaged, and want to bring you onboard. And any agency worth their salt, won't proceed to a proposal or quote without speaking to you first anyway.
Acknowledgement and Denial
Sometimes, an agency will flat out deny a project. And that's fine! That means you're not a good fit for them or they're not a good fit for you.
Better to find that out now than waste everyone's time along the way!
Acknowledgement and Quote
This can happen too. If your brief is super detailed and doesn't need any clarification whatsoever, you might get a trigger happy agency replying with a quote.
This isn't a bad thing, but I always imagine quotes like this to go sideways quickly when the project gets underway.
Remember:
Having your rebranding brief ready is always a good thing, but you should always expect to take a call with your agency shortlist.
Once you've had the calls, and the proposals are in, it's time to make your final decision.
But how?
First ask yourself:
Are the Proposals Comparable?
When we talk about comparing proposals, we don't mean just cost comparisons. Especially when it comes to rebranding, you get what you pay for.
Whilst going on Fiverr and getting a quick job done cheap can be tempting, it can often do more harm than good.
For a true picture of what each agency is offering, and how much "bang for your buck" you're getting, take a look through our rebranding deliverables and services page and see which of your proposals covers off all of the essentials best.
It is vital to not cheap out on your rebranding agency budget.
Why?
Getting your rebrand wrong can become more costly to repair the damage done than it would have cost to pay more in the first place!
Which Looks Best on Paper?
When you've narrowed down your choices, go back and compare each agency's work side by side.
As you go through three or four examples of work you'll start to develop an impression of the agency's aesthetic sensibilities and typical directions.
Ask yourself again:
Which work suits you and your brand best?
Which design choices would resonate best with your audience?
Does one of the agencies have a style that key stakeholders will be more receptive to?
The aesthetics and impressions that each agency gives from their previous work is vital in making the decision around which rebranding agency to select.
Another good way to decide who looks best on paper is to look for testimonials and what previous clients of the agency have said about them.
Although testimonials and reviews are completely subjective and should be taken with a pinch of salt, they are a good litmus test for how good an agency is to work with on a project.
If there are any discrepancies between services or deliverables, again, put them side by side against the Canny rebrand deliverables and services list and see if anything vital has been missed.
If there are vital things missing from one offering or another, is it something you'd rather not miss out on? Is it something that the agency could include?
There are plenty of things to consider and side by side comparisons, or putting things into pros and cons lists can be very helpful. Presenting things in a logical fashion is a really useful way of helping with your decision making process, but one of the best ways to decide is to just go with your gut.
Ask Them to Talk Through Their Proposal
Rebranding proposals can be long and winding documents.
So ask your shortlisted agencies to talk through their proposal with you, just to make sure everything is crystal clear.
This is also another good opportunity to assess your feelings on the agency, and what they might be like to work with.
Watch out for agencies saying "Ah yes, that's fine, we'll just include that, and that, and that." They're likely saying it just to win the project.
If they do that, make sure they amend their proposal to account for it!
Go with Gut Feeling
And all that's left is your gut.
I'm a big believer in gut feeling decisions. I think in today's world "just knowing" something is entirely underrated, but I find that with a bit of introspection you tend to know deep down what will be best for your company.
Your gut feeling is led by the little subconscious intangibles that your brain will pick up on without you even noticing. Think about a time where you've met with an agency or external provider and the meeting was super positive and you just felt at home.
There are a lot of things people can fake, or sidestep with salesy jargon, but faking passion and genuine interest in a project is much harder to do.
At the end of the day you are inviting an agency into your business, and you'll potentially have to work with them for the long haul depending on the scope of the project.
Think to yourself:
Who did you get on with the most?
Who had a better overall general feeling?
Who seemed like you'd work well with?
Which meeting really stood out to you?
This isn't necessarily about friendliness, as plenty of people have friends who they'd hate to work with!
On the other hand, if you don't find the agency friendly or welcoming in the first instance, you'll likely find them difficult to work with along the project.
Either way, your gut will know!
Decision Time
Once you've made your decision, let the agency know.
Now is a good time for a phone call. Everybody loves receiving good news!
Once you've let your chosen agency know, and firmed up the details, don't be a dick. Let the other agencies involved in the process know you'll not be working with them on this occasion.
There's nothing worse than hanging around for answers.
It might take a little bit of time, but there's likely to be a contract and scope of work document to read through and sign.
Do it in good time, pay the initial invoice, and get your rebranding project on the road!
Start Building That Relationship
Once you've chosen your agency, don't rest on your laurels.
Putting in the work to build up that relationship as early as possible will pay off tenfold in the long run.
As long as you're open, friendly, receptive to new ideas and prepared to be involved in the conversation whilst still respecting the expertise of the agency you've chosen, you'll set yourself in good stead.
Afterall:
You're spending your marketing budget and putting a lot of faith in the agency, but don't be too prescriptive. Work with your agency, not against them, to get the most out of your budget.
Most agencies will be able to offer services or insight into different parts of your business, and so make sure to leverage their expertise in as flexible a way as possible to get everything you can out of the relationship.
At Canny, we often hear from previous clients just to ask a question about web design, or to get a bit of guidance about a developing business opportunity or potential engagement.
Because we work across a variety of industries, agencies can often offer perspectives that not many other people have.
Developing a friendly working relationship with your chosen agency is as much your responsibility as it is theirs, but it will be far more valuable long term to your business!
The best relationships often result in the best work, so make sure you don't overlook that relationship building time.
How to Choose the Right Rebranding Agency For Your Project
Choosing the right rebranding agency will truly transform your business.
Your rebranding project will likely include;
Brand strategy
Brand identity design
Brand deliverables
Website design and development
Ongoing design work (on a retainer or similar)
Needless to say, it's not a small chunk of work. Which is why choosing the right rebranding agency for your project is vital to your success.
Equally, choosing the wrong agency could be catastrophic!
And here's the thing:
It's also a bit of a risk / reward scenario. The more trusting you are of your agency, and the more faith you put in them, often, the greater the reward.
Sometimes this can feel like handing over the keys to the treasure chest or letting the agency off their leash, but it can be well worth it!
With a lot of creative freedom and the right agency in the driving seat, the long term relationship you can cultivate with an agency can be invaluable.
Make decisions with both your head and your heart, don't go totally wild and throw all logic out of the window.
But don't be afraid to trust your instincts, and it'll put you on the path to success.
And if you want to experience the best first meeting of a rebranding agency you'll ever have, get in touch with Canny Creative today and let's set up a call.