Some of the biggest cities in the world are rolling out some fantastic city branding projects.
These branding projects are giving the cities involved a new look and feel for both residents and visitors.
City branding is vital and is a key component in successful towns and cities from around the World.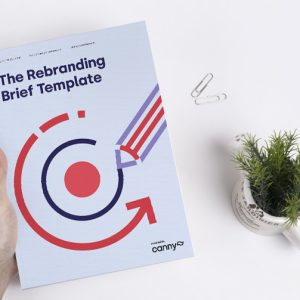 The Rebranding Brief Template
The Rebranding Brief Template is a free template that will help you get the brief for your rebranding project right. ...
You can gauge the importance of city branding, by looking at what's happening with cities across the planet.
When a huge city such as New York City continues to invest in their branding, you know it's important. NYC is one of the most populated cities in the world, and also one of the largest tourist cities.
However, they often reinvent their brand to appeal to a new demographic. It's part of the city's branding strategy.
Ten years ago, New York would be sold purely on Manhattan with its shops and bridges. Now, Brooklyn and the boroughs are where it's at.
Just like in the business world, the value of branding cannot be overstated.
Check out this video that explores city branding in depth:
If major cities are investing in their branding efforts, surely it's important for small to medium sized businesses too?
Anyway, I digress!
As we've already touched on New York City, let's take a look at two examples of the city's branding.
New York City, USA
Milton Glaser's "I ❤ NY" logo is possibly one of the most iconic logos ever.
But how did it come to be, and how did it make a difference?
Well, Artsy have a great article on the history of New York City and the impact of Glaser's iconic design.
But, here's the deal:
In 1977, New York City was a city on the brink. They faced huge financial insolvency and employment challenges. Crime ran wild.
Unions across the city ran a campaign called "Welcome to Fear City" that scared off tourists and told all that they should "stay away from New York City if you possibly can."
New York City was in chaos.
In a radical move, the New York Department of Commerce bet on branding.
They upped the state's annual tourism budget from $400,000 to $4.3 million to fund the most audacious and far-reaching rebranding campaign the state had ever seen.
Enter Milton Glaser who works his magic. The rest is history.
By 1978, New York City possessed what was to become one of the World's most renowned brand's.
The brand was credited with more than tripling the state's visitor spending revenue.
"It's freakish," said Glaser. "Also, it's something I wish people would forget, because I've done other things."
Milton Glaser's work features some huge brands, most of which are still coming out of New York City. From Brooklyn Brewery to AMC's Mad Men, Glaser's work retains it's edgy appeal and unique vision.
All in all, the "I ❤ NY" campaign turned New York City's crisis into a success.
A true testament to the power of branding, specifically city branding.
New York City, USA
Moving on to a more recent example from creative powerhouse Wolff Olins.
Now, this rebranding wasn't at all well received by New Yorkers. However, as this article by Under Consideration points out, that isn't exactly Wolf Olins' fault.
In the agency's own words:
There's only one New York City, but within it are five boroughs, approximately 191 neighborhoods, nearly a million buildings and over 8.2 million people. How could a brand successfully represent this diversity?
Well, I think the actual NYC logo does a perfect job of that.
With it's big, sturdy, letterforms that are a little on the tough side being "reflective of a New Yorker", the NYC mark provides a window onto the city.
The kaleidoscopic nature of the logo is used to showcase the city and it's diversity.
And as a standalone piece, it's a perfect example of city branding that works. It's simply other people's artwork that has let the brand down.
If all had been left in control of Wolff Olins, I have no doubt the brand would have been heralded a huge success.
Although, the numbers actually confirm it was a success either way, no matter how NYC's residents feel about it.
As provided by Wolff Olins:
In 2007, the year following the launch, there was a 13% increase in visitor numbers resulting in 370,000 more jobs for the city. 2008 became a record year with 47 million people visiting the city, generating $33 billion in visitor spending.
So, no matter how the branding was interpreted, it had an impact, and should be regarded as a success.
That said, just like with football club branding, if you alienate your supporters (or in this case residents) – is it really a success?
And before we move onto a different city, there's this colossal disaster:
This emoji and gradient laden city brand campaign was the focus of a lot of design community's vitriol when it was launched right after the pandemic.
The less said about it the better. And it makes the other 2 successful city branding campaigns look even better.
Melbourne, Australia
The city branding for Melbourne, Australia was created by Landor.
And it's easily one of my favourite branding projects. When asked for great examples of branding, this is the project that I show people.
Memorable yet flexible, Landor absolutely nailed their branding brief.
The branding is fresh and energetic, and even though the identity is growing old, it still stands the test of time.
The identity has matured and grown alongside the city, which is exactly what a great brand should do. You shouldn't need to throw everything out and start again as things change.
Revealed many years ago by then Lord Mayor Robert Doyle, he said:
The 'M' design will become an icon for Melbourne, synonymous with the modern, vibrant, cool city Melbourne is today and will continue to be in the future.
And he was exactly right.
You can find out exactly how the City of Melbourne branding project happened from Landor themselves.
Helsinki, Finland
In 2017, Werkling created a new brand identity for the city of Helsinki in record time. 7 months to be precise.
That might sound like a long time, but with over 200 city employees involved, they had to find a way to bend the approval process, to hit milestones and achieve the rebrand the city needed.
Now, based on the Economist Intelligence Unit's 2016 liveability survey, "Helsinki scored ninth place among 140 cities." So by all accounts, it's a nice place.
With city employees, residents, immigrants, tourists, and special groups as it's target, the Helsinki rebrand had it's sights set on "everyone."
From Werkling:
"This amplified the need for a flexible and memorable identity that is also easy to use."
The new Helsinki logo is based on the bottom of the city's coat of arms. Which is a nice nod to the city's past, while the new identity drives them into the future.
The wave motif from the coat of arms was also taken and used in the city's new branding.
As summarised by Armin Vit over at Under Consideration:
"This is a very difficult project in that it's a logo that is going to be used across city services as well as a tourism and marketing brand for the city and I think that Werklig did a fantastic job."
Hats off Werklig.
Paris, France (Tourism Board)
I know this one is slightly cheating, as the brand isn't specifically "city branding."
However:
The branding for Paris' official tourism organisation, Paris Convention and Visitors Bureau, is so well designed and executed, that I couldn't not include it.
The temptation to use a figurative version of the Eiffel Tower must have been overwhelming.
However, Grapheine, the agency behind the branding decided not to.
Taken from the project page on Grapheine's website, this is what they had to say about the project.
"Using or not the symbol of the Eiffel Tower was our first question. Difficult to do without the great lady, to communicate effectively about the destination "Paris" to an international audience. However, we were aware of entering a visual territory particularly used and where the kitsch border is very close. We went for simplicity, and concentrated our efforts on a typographic design that can be seen as a Parisian skyline, the drawing of the "A" directly evoking the Eiffel Tower. The result is a minimalist typogram."
And the result is beautiful.
The A in Paris become the legs of the Eiffel Tower. The I becomes a feature because of the well known "Tourist Information" symbol.
A perfect blend for the city's Convention and Visitors Bureau.
And it's not just the wordmark that works well. The rest of the visual identity is also terrific.
It's fun, vibrant, and classy.
This identity sets the bar for destination branding.
The logo is simple, memorable, and versatile. Everything an effective logo design should be.
When the logo sits with the other visual assets, it's strong, and really brings to Paris to the forefront of your senses.
Tres bien.
Amsterdam, Netherlands
The city of Amsterdam was on the receiving end of a rebrand in 2004.
The idea behind the rebrand was to show people that Amsterdam isn't just a city that revolves around, sex, drugs, and canals.
But also, that it's a great place to live and work.
The city's previous slogans such as "Amsterdam Has It" and "Small City, Big Business" were all a bit too vague.
The "I amsterdam" concept and identity has a great recognisable quality, much like Milton Glaser's New York logo.
If you've ever visited Amsterdam, the chances are you'll have seen the modern "I Amsterdam" text stood proud, contrasting against it's background, the Rijksmuseum Amsterdam.
This simple text based logo is super effective.
Drawing it's colours from Amsterdam's coat of arms, the "I amsterdam" campaign gives the city a modern edge that pushes Europe's "sin city" in a new direction altogether.
But has the campaign worked?
As reported by the Smithsonian Magazine:
"Tourism numbers are up, business is good, and Amsterdam has once again cemented its position in the top five European cities based on brand strength and cultural "assets." In fact, according to Saffron, Amsterdam's brand is actually better than their assets predict. To those who visited the city, the letters made an indelible impression and nearly every single one of them has a photo with the city's red and white logo. I amsterdam has become not only a part of the cultural identity, but a landmark."
People love the letters. They're photographed thousands of times a day. That in itself is a success.
Colorado, USA
Even though Colorado isn't a city, I had to include their state branding.
Famous for snowy mountains, craft beer, and arid plains, Colorado is the 8th most extensive and 22nd most populous state in the USA.
Back when the new identity for Colorado was created, Governor John Hickenlooper launched the Making Colorado initiative which was put in charge of creating a brand for the state.
In charge of the state's design brief, and ultimately, logo design was a team of 12 designers from Colorado.
They created a range of brand identity options for people to choose from. Eventually, a pick was made and the new Colorado logo came to life.
Research led to 72% of residents agreeing that their registration plate design is a great representation of Colorado.
"The new logo is derivative of our classic state plate design, which 72 percent of those surveyed say best represents Colorado."
The new logo design for Colorado is a snowy mountain combined the state's initials, perfectly connecting adventure with entrepreneurship, beauty with happiness and fresh air with creativity.
A lot of residents from Colorado wanted them to use the C from the state flag, but that wasn't an option for a number of reasons.
The following is taken from Colorado's Facebook page announcing their new identity.
When shown an image of our state flag, 33 percent of those surveyed outside of Colorado thought first of Chicago, while only 18 percent thought of Colorado. The remaining 50 percent thought of other destinations ranging from California to Connecticut.
While only 18 percent of those surveyed outside of Colorado associate our state flag with Colorado, nearly 50 percent immediately recognize our classic state license plate as a symbol of Colorado.
The new logo is derivative of our classic state design, which 72 percent of those surveyed say best represents Colorado.
When Colorado residents were surveyed, the new Colorado logo consistently outperformed other designs in terms of appeal and favorability.
Colorado's new logo looks to me like it sums up the state perfectly well, and I for one, think it's a breath of fresh air in among a sea of trendy hipster logos.
Porto, Portugal
The identity for the city of Porto in Portugal was redesigned back in 2014.
Taken directly from the designers of the new identity, Eduardo Aires:
"The challenge presented was very clear. The city needed a visual system, a visual identity that could organize and simplify communication with the citizens, and could at the same time define a clear hierarchy, bringing together the city and the city hall. We needed to represent Porto, a global city, the city for everyone."
And the results of the project are stunning.
With a bold blue, a whole suite of unique icons, and some great illustrations come patterns, Porto's city branding is truly unique when compared to the others in the list.
Without visiting Porto, you get a real sense of what the city is about. It's like a window into the city has been opened up.
Whilst the main typeface from the brand identity is quite plain, it anchors the intricate pattern system well, allowing it to take centre stage.
The whole identity is ambitiously crafted, and has been deployed throughout the city.
Easily one of the most creative city branding projects on the list, Porto have absolutely kicked things up a notch.
The Best City Branding Examples From All Around The World
City branding or place branding plays a pivotal role in creating destinations around the World.
Creating a single brand for a city helps highlight its offerings and interactions, allowing it to appeal to both tourists and residents alike.
A city's brand is the same as a company's brand. It's a promise of value. It's how it wants to present itself to the world.
Again, like company branding, good city branding can make a place seem desirable, but bad city branding can have the opposite effect.
Some cities succeed with their branding efforts, others fail. But all should try.
What do you think? Have you seen any other great examples of city branding? Let us know in the comments below.