Branding services and branding deliverables can get ridiculously confusing.
When you're approaching a branding agency to work with, you need to know exactly what you're looking for – and what you actually need.
But it's not that easy, when everyone you approach is simply going to recommend "you need the whole package."
We don't advocate branding packages. We believe each and every one of our clients should only take the services they need; the services that are going to bring value.
That's because every business is different. It's not a one-size-fits all approach.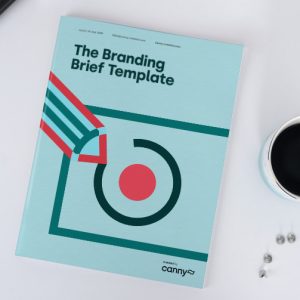 The Branding Brief Template
The Branding Brief Template is a free template that will help you get the brief for your branding project right. W...
We're here to help our client's business grow, not line our own pockets.
Branding isn't a straightforward topic, and I'm not implying that other agencies forcibly upsell or talk people around in circles on purpose.
But you might come away thinking:
Am I buying a brand strategy? A brand identity? A website? I just don't know anymore!
If that sounds like a recent experience you've had, or you're doing some research on the different branding services and deliverables, then this is the post for you.
And if you want a laugh as we try to list out as many branding deliverables listed out as quickly as possible, then check out this video:
What Are Branding Services?
Branding services are professional services provided by branding agencies to help businesses develop and improve their brand identity.
This involves defining and communicating the unique characteristics, values, and personality of a brand to establish a strong and recognisable presence in the market.
Branding services aren't hard to find.
If you Google [your location] + branding, the results will be a stream of agencies that provide branding services.
But what branding services do you actually need? Do you need them all? Or are you just looking for a brand identity?
I would argue that you need all of the branding services outlined, no matter what you're trying to achieve.
However, I appreciate you may not have the appropriate branding budget so there might be one or two areas where you could save.
Let's jump in and explore.
Discovery session
After you've handed over your branding brief or rebranding brief, it's onto the discovery session. We hold this session with every single one of our new clients.
It helps us to get an understanding of your business, and the goals and objectives of your branding project.
The discovery session also allows the whole team to pitch in, making sure everybody is on the same page with the project.
The first thing we do is run through the branding questionnaire that we've created for our clients. This helps us to gain clarity on the project at hand.
Getting clear on the goals, strategy, and route to market in a roundtable session is a solid foundation for any project, which is why we place so much value on these sessions.
It also allows us to touch on the marketplace and competitors that you're up against.
We also talk through ideal clients, building out an ideal customer persona as we go. This helps keep the project laser focused.
Towards the end of the session, once the business side of things is taken care of, we look over visual styles.
This helps us to identify what type of brand identity might work for you, as well as what won't.
We've ran Discovery Sessions in Tokyo, London, Toronto, and more! Either virtually, or in person, getting everyone "in" one room is vital!
Wrapping up a discovery session leaves everyone with a shared understanding of the task at hand.
Who needs a discovery session?
Everyone.
You just can't skimp on this stage at all. Without it, you're doomed. This session helps loop everyone in and makes sure everyone understands the project.
Marketplace research
Marketplace research takes place on two levels, and offers a macro view of the market that you operate in.
Let's pretend you're in the business of packaged snacks (check out our snack packaging post if you're in need of inspiration.)
In the marketplace research for a packaged snacks company, we'd be looking at:
Packaged snacks and the snacking industry in general – what's trending, what's working, what's not?
The geographical area in which you're going to operate – what's popular, what are you up against, how do you compare?
It's important that you gather insights on both at an industry level and a geographical level.
You can then start reaching out to potential customers and gain insights into customer preferences and behaviour.
This sort of marketplace research can then help to drive decisions later in the branding process.
Who needs help with marketplace research?
SMEs and larger.
It's always good to have an idea of the market you're entering. But a full comprehensive report can probably be reserved for larger companies.
Competitor Research
Competitor research is a crucial step in any branding project.
You need to understand the "lay of the land" before you can decide exactly where you want to pitch your tent.
A good corporate branding agency will help you understand your competitors before starting on any branding work for your business.
When conducting competitor research with clients, this is what we're asking:
Who are your competitors?
What are they doing well?
What are they doing poorly?
Do you like how they look?
What do they offer compared to you?
Why would people choose you over them?
Branding is a lot deeper than the creation of some pretty visuals.
However, it can be pretty difficult to compare brand strategies unless your competitors have something publicly available.
That said, you can easily compare their marketing efforts and visuals.
By using Google, signing up to their mailing list, requesting a brochure etc, you can quickly form a picture of the branded products and materials your competitors are putting out.
Sometimes, you learn things that make you really think about the direction you're taking, or whether you could offer something extra, or different.
Other times, all you learn from your competitors is:
"We don't want to be anything like them."
And that's fine too!
As long as you're learning something, competitor research remains a valuable branding service.
Who needs competitor research?
Everyone from the smallest owner operated businesses, to the corporate giants of the world, you've got to know what you're up against to succeed.
Brand naming
Every business needs a name.
New businesses need to create one and existing businesses might be considering a change.
There are a lot of different ways to name your business:
The list goes on and on.
If you're stuck with naming your brand, then you'll want to get help from a naming professional.
These days, a name means less than it used to. It's all about the power of branding.
Nike would've been nothing without their branding efforts and marketing spend.
Naming is tricky business, and having a catchy name gives you great brandability when it comes to domains, social media handles, slogans etc.
But, it's not the be all and end all if you can't get the "perfect name." Perfect is unachievable.
Once you have a name, you can work on your branding to build brand equity, and suddenly your brand name will blossom.
Who Needs help with Brand Naming?
Everyone needs a brand or business name.
But you can save a lot of time, effort, and money if you've already got yours sorted out!
Check out our post on How to Name Your Business Brand if you're stuck with naming your business.
Brand identity design
Most people assume this is what is meant when we talk about branding.
But it's no good having a brand identity design, without all of the other good stuff that comes with it.
That said:
Every business needs a brand identity design to build recognition with both potential and existing customers.
Think of the Apple store.
First of all there's the stark, clean, advertising that hooks you in. From there, you visit the store, and you're met with the same cleanliness and high end look and feel.
In the store you recognise the Apple logo mark emblazoned on the walls and on staff t-shirts.
Then you get to the products, and they look awesome, yet familiar. There's something consistent about the whole experience.
By having a consistent visual language that is present across all of your brand touchpoints, you're giving your customers the chance to get to know you.
Your branding isn't just the visuals that people associate with your business. That's your brand identity design.
Your brand identity gives people an easy way to identify you, and therefore, it should always be handled professionally.
If you're still unsure on what branding is, then check out our post: What is Branding?
Who needs help with brand identity design?
Everyone.
Don't attempt this yourself. At this stage, you'll definitely want a professional branding agency involved.
Brand audit
A brand audit is an in-depth examination of your brand's positioning, messaging, visual identity, and overall brand equity.
This process helps you identify your strengths, weaknesses, and areas of improvement. When conducting a brand audit, consider the following steps:
Research and analysis
Reviewing brand documents, such as brand guidelines, style guides, and marketing materials
Analysing brand performance data, including market share, customer feedback, and sales metrics
Assessing competitors' branding strategies and positioning to identify opportunities
Brand identity assessment
Evaluating visual elements of the brand, such as the logo, typography, and colour palette
Assessing messaging and tone of voice across various touch points to ensure consistency
Examining brand positioning and unique value proposition
Brand perception analysis
Analysing customer feedback, online reviews, and social media mentions to gauge brand perception
Conducting surveys or focus groups to gather insights about customer perceptions
Assessing brand reputation and sentiment analysis to understand how the brand is perceived by the target audience
SWOT analysis
Identifying the brand's strengths, weaknesses, opportunities, and threats
Evaluating how the brand can leverage its strengths, address weaknesses, capitalise on opportunities, threats
Recommendations
Providing recommendations for improving brand positioning, messaging, and visual identity
Developing an implementation plan with steps to address identified issues and capitalise on opportunities
Creating a timeline and assigning responsibilities for implementing recommended changes
Who needs help carrying out a brand audit?
Larger, established businesses who have a range of branded assets already. Smaller companies or startups with limited resources may prioritise other aspects of their business before investing in a brand audit.
As you can tell from the list above, carrying out a brand audit is pretty extensive. Trying to do this process on your own can be difficult and very time consuming which is why bringing an agency on board can be beneficial.
Customer persona development
Customer persona development involves creating detailed profiles of your ideal customers based on research and data.
These fictional representations capture key demographic and psychographic information, such as age, gender, location, interests, values, motivations, and pain points.
By understanding your target audience at this level, you can craft effective marketing strategies, enabling you to tailor messaging, create relevant content, and design products that resonate with these customers.
Persona development also aids in empathising with customers, enhancing customer experience, and making data-driven decisions to meet their needs effectively.
If you're struggling to create your customer persona, you need our free customer persona worksheet.
Who needs help developing their customer persona?
Absolutely everyone.
Without understanding who you're selling to, it's pretty much pointless investing in branding services. Every decision should be made with your audience in mind as these are the people buying from you.
Unless you're planning on buying all of your own products/ services then you need to exactly who your audience is and how you're going to attract them.
Website design and development
Website design and development being classed as a branding service might surprise you. But it we do often receive a website brief alongside a brand or design brief.
But essentially, your website is the 24/7 shop front of your business brand. Therefore, it's important it's design and functionality is considered right alongside your brand identity project.
Your website is active at all hours, whether you're asleep, away on holiday, or just busy!
You want to make sure you put your best foot forward, think strategically about your website, and try to convert those visitors into customers.
If you get your digital marketing strategy right, your website could be responsible for a huge amount of sales or enquiries.
Don't sleep on your website design when working on your branding.
It's important that your website delivers, and moves the needle of your key performance indicators!
Who needs help with website design and development?
Again, everyone.
The website is the area of your business that most people try and skimp, and end up using some website design software to build their own.
Don't do that! Considering your website is often the first port of call for many of your potential customers, that's a crazy idea!
Bring in a web design agency to help. Alongside your brand identity, I can't state how important your website is.
Partnership and relationship development
Now, this isn't specifically a branding service.
But the partnership and relationship that you build with an agency, is worth 10x what you're paying them.
A good branding agency will become like an extra arm to your business. They're your trusted resource partner, with one eye on your best interests.
Developing a relationship with an agency and getting to know each other takes time.
But if you let them help you, you can take your business to new heights!

What Are Branding Deliverables?
Your branding deliverables are the output of your engagement with a creative or branding agency.
They're the things you "take home" and put to good use when marketing your business.
So, which branding deliverables are important to have from day one? And which can wait if you don't have the right budget?
That depends on your specific business and brand vision, but let's take a look.
Brand strategy
We've covered brand and branding strategy plenty of times on the Canny blog.
By now, you know your brand strategy consists of your:
Brand Values
Brand Mission
Brand Story
Brand Positioning
Brand Messaging
Brand Voice
Every single brand needs to start here. It's unavoidable. Your brand has no foundation without a strategy.
But do you always need to bring in an agency to help develop your brand strategy?
If you have a solid branding budget, you should always enlist agency support.
However, if you don't, then check out our Ultimate Small Business Branding Guide. You can use that to help kickstart your own brand strategy.
It's important you get your brand strategy right before you move onto the next item in the list.
Brand identity design
We've already talked about brand identity design earlier in the post.
This is the branding deliverable that most people want to skip straight to and consists of:
Brand Name
Logo
Logo Usage
Colours
Typography
Brand Guidelines
Do you need to spend your branding or marketing budget on this?
Absolutely.
Sure, you could come up with your own brand or business name, but the rest of it, is an absolute must.
You need an effective logo design that people associate with your business.
Then, it's important to nail down your logo usage so you know when to use the vertical or horizontal logo lockup.
Colours and typography are also a must. How can you build a brand identity without that?
And finally, wrapping it all up in brand guidelines helps solidify the look and feel of your brand.
Sure, the cost of branding might seem like a lot, but it is a great investment for your business.
How many successful brands have you seen without a great brand identity?
None.
You need to invest in a brand identity that gives your business the look and feel it deserves. But more importantly, resonates with your customer.
Don't skimp here!

Read full case study here
Stationery design
The amount of stationery design that you need is debatable.
A lot of business go "all in" and get every single thing designed at once.
That typically includes:
Letterheads
Compliment Slips
Invoices
Quotes
Proposals
Contracts
That's a whole load of design work to bite off in one go.
If you're looking for good stationery design, check out some of the best stationery design we've seen.
From day one, I'd say that every brand has a need for business cards.
In business, you're always meeting people. Whether you opt for a digital business card or traditional printed card, you'll always want to be able to give people something to remember you by.
Especially when you're attending networking events and exhibitions it's important to give people something tangible that they can hold onto.
Lately, we've been seeing the popularity of letterheads drop off. Not many letters are printed these days, and a lot of people just opt for their logo stuck at the top of a PDF.
It's not as sexy, but it does the job.
Compliment slips have died the death. Only one in the last twenty of our clients have had those designed. They look good, but they're not vital to the operation.
Invoices these days are typically generated by an automated system like Xero or Sage, so unless you have the money to go for a full HTML template, then you don't need to worry about that.
Quotes and Proposal documents are an area I would normally advise our clients to invest in.
As they're client facing documents, I firmly believe in giving potential customers the best brand experience possible. Having your Quote or Proposal document perfectly "on brand" is a great way to do that.
Again, I want to reiterate, if you have a solid branding budget, you should make sure every single thing you put out is "on brand." Your stationery design can help sell your business.
Marketing materials
Marketing or advertising a small business can be tricky!
And it's also in the marketing or advertising of a business where costs can quickly skyrocket.
To effectively market your venture, you need to go to where your customers are.
There's no point in advertising at a Trade Fair if you're in the B2C (business to consumer) space.
Likewise, you don't want to be doing a leaflet or flyer drop if you sell specialised business products.
Typical marketing materials that we end up designing include:
Promotional Items and Giveaways
Powerpoint Presentation
Pitch Decks
Brochures
Exhibition Stands
Adverts
Do you need each of the above designed professionally?
It depends.
Flyers and leaflets should be designed professionally. They're difficult things to get right, and are going directly into the hands of potential customers.
Promotional items and giveaways can probably all be designed using some online software. Most merchandise websites have some built in design tools to help guide you in creating these items.
Powerpoint presentations, pitch decks, and brand decks are an interesting conundrum. You could argue that you'll use these in important meetings or talks, in which case they should be designed by your branding partner.
Brochures tend to be larger documents and should absolutely be designed properly. There's an art to good brochure design.
Exhibition stands can be tricky one. Some people opt for straightforward roller banners. Others go "all in" and have elaborate stands designed.
If you're exhibiting at a smaller local event, you could take your chances with your own designs. However, if it's a large event with a huge amount of traffic – you want your stand, to stand out!
Business advertising in general can be a messy business.
You need to have a plan before ordering a whole range of branded marketing materials "just in case."
Printing services
Printing is a bit of a strange area.
It's easy to be seduced by offers for 500 business cards for £5 through cheap online printers.
But trust me, the quality is never that good.
Then, you have the other end of the spectrum where companies are charging £300 for 500 cards. They're edge painted, and embossed.
They look great!
But don't fall into the trap of under or over investing in your printed goods.
Again, if you have the budget to go for the high end options, do it! You won't regret it.
Website design and development
Your website is one area where honestly, I recommend spending the majority of your business branding or marketing budget.
If you're unsure what to invest in, The Complete List of Web Design Services and Deliverables should help you out.
A lot of startups opt for a simple landing page website. We don't advocate this strategy as it can then be difficult to put any digital marketing work into action.
At the very minimum, you need to be rolling out with a blog.
We find that a lot of our clients go for a brochure website, which gives people an idea of the services they offer.
It also allows you to roll out a good content and digital marketing strategy.
Unless you're selling products to consumers, you probably don't need an ecommerce solution.
There's a huge budget range at play when you're creating a website.
So, make sure to explore your options with an agency, then think hard about the investment you're willing to make into your website.
It's important your website is right, and although the cost of website design can be high, it's an investment into the right area for your business.
Digital content and content marketing
Digital content can be created by yourself, or by an agency that offers content marketing services.
What do we mean when we say digital content? Well, there's:
Social Media Assets
Whitepapers
PDFs
Social media assets typically consist of logos and headers for use across a range of social platforms. You might also opt to have a post template designed too.
Your branding agency will typically provide your logo files to you at the end of a project, so you can either get them to make the social squares or upload them yourself.
Ebooks, whitepapers, and PDFs form an important part of our digital marketing strategy and can be quite tricky to create on your own. I recommend getting help here.
If you're fairly confident in your own design like abilities, give Canva a whirl. You can probably do what you need to for social media on there.
However, when it comes to creating good lead magnets (like resources, ebooks and whitepapers), it's important they're "on brand" as they're going to be landing directly into your customers inbox.
On the Canny site, we include a downloadable resource in every blog post so it's important they're fitting with the rest of our branding. For example, we always use icons, imagery, and a colour palette that is in line with our brand identity – otherwise it would stick out like a sore thumb!
Branding Services and Deliverables FAQs
Before we wrap up here, let's look at some frequently asked questions on branding services and deliverables.
What Does a Brand Agency Do?
A branding agency can help your business with a range of requirements from brand identity and design, to marketing assets such as social media icons and print collateral.
We sound like a broken record but if you have the budget, you should partner with a branding agency.
Instead of trying to manage everything alone in-house or outsourcing to a freelancer where multiple people will be working on different parts of your project, partnering with a branding agency keeps everything aligned and consistent.
Getting your brand right is paramount to the success of your business so whilst it's tempting to cut costs where you can, scrimping and scraping on branding services is a bad idea.
The Complete List of Branding Services and Deliverables
If you have the budget to work with a branding agency, then you should absolutely do it. The relationship you build with them can help propel your brand.
As outlined above, it's important your branding is right. If you can, try and make room in your budget for everything we've talked about in this post.
If not, then think logically about the order in which you'll need things, then make allowances to accommodate for that.
Your branding and website can make or break your business.
Invest in the right services and branding deliverables, and you'll be giving your business the best possible chance of success.
At Canny, we've worked with a range of clients across the globe to help them smash their branding. We've got what it takes to do the same for your business, all you need to do is get in touch.