Rebranding services and deliverables can be very flexible.
Each brand approaches a rebrand with different needs, requirements, goals, and objectives.
When looking for an agency to handle your rebranding project, having a strong idea of what you want can help.
Flexibility, on both your side and the agency's side, is key to any good rebrand. This can be difficult to find, as lots of agencies will recommend going for "the whole package".
We don't advocate rebranding packages.
The one size fits all approach doesn't really exist when it comes to rebranding, because you could be rebranding for hundreds of different reasons and the level of rebranding required is never going to be the same.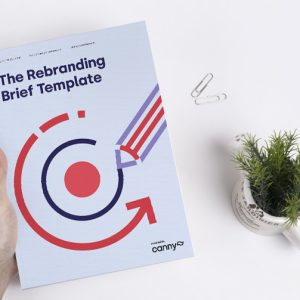 The Rebranding Brief Template
The Rebranding Brief Template is a free template that will help you get the brief for your rebranding project right. ...
We're here to help our client's business grow, not line our own pockets, which is music to any business owner's ears!
Rebranding is a complex beast to tackle, and the services you can engage an agency for are pretty wide ranging and varied.
If you've came here after speaking to an agency because you came away thinking:
Am I buying a marketing strategy? A fresh brand identity? A new website build? I just don't know anymore!
Then this is the post for you.
Hopefully, this post can cut through the noise and the corporate doublespeak and drill down into what you really need from a rebranding agency.
Rebranding Services
Rebranding services aren't hard to find.
If you Google [your location] + rebranding, the results will be a stream of agencies that provide branding services.
Unfortunately, a lot of agencies make recommendations before assessing the actual issues you're facing, and what is the driving force behind the rebrand.
By assessing your needs, we can create a bespoke rebranding strategy to ensure we get everything you need from the project.
Let's jump in and explore what your options are.
Brand Audit/Discovery Session
At Canny, we hold a Discovery Session with each and every single one of our new clients.
It helps us to get an understanding of your business, and the goals and objectives of your rebranding project.
The first thing we do is run through a brand audit to discover the scope of the potential pain points within your current brand, and identify exactly what is required from the rebranding project.
Think of this stage as almost a diagnostics you'd get at a mechanic- it may be that you came in to replace your brake disks, but if we see any major engine faults we can fix while we're doing the repair anyway, we'll definitely flag it to you!
We've ran Discovery Sessions in Tokyo, London, Toronto, and more! Either virtually, or in person, getting everyone "in" one room is vital to our process.
It lets everyone have their say and make sure everyone is singing from the same proverbial hymn sheet.
Wrapping up a brand audit/Discovery Session leaves everyone with a shared understanding of the task at hand.
Who needs a brand audit for their rebranding project? Everyone.
You just can't skimp on this stage at all. Without it, you're doomed.
The Discovery Session and brand audit helps loop everyone in, and makes sure everyone understands the project.
Revisiting Marketplace Research
Marketplace research doesn't supersede any information you've provided in regards to your target audience and main client demographics, but it is useful to provide an overview of the modern marketplace you're existing in.
Most businesses, and historically Canny has been guilty of this as well, tend to place a lot of value on the 'intuitive customer'- you just know who your target audience is.
99 times out of 100, you're right, but conducting a bit of a refresh on what your audience and competitive marketplace looks like is rarely a bad thing anyway!
Let's pretend you're in the business of packaged snacks (check out our snack packaging post if you're in need of inspiration.)
In the marketplace research for a packaged snacks company, we'd be looking at:
Packaged snacks, and snacking industry in general – what's trending, what's working, what's not?
The geographical area in which you're going to operate – what's popular, what are you up against, how do you compare?
It's important that you gather insights on both an industry level, and a geographical level.
It's always helpful to get an overview of where the industry you're operating in is, and how engagement with core audiences have changed over time. You might find that the demographic you were initially targeting has changed, and you have to be prepared to pivot with that.
This sort of marketplace research can then help to drive decisions later in the rebranding process.
Competitor Research
Competitor research is a crucial step in any rebranding project.
If you're the first in the pack to go through a major rebrand, and everyone else's brand has started to look a little tired and dated, it's a major opportunity to make a splash and take more market share.
If you're the last of your industry to rebrand and your brand is looking dated, there's even more reason to go big with it.
Either way, competitor research is vital to understanding your place in the market, and where you'd like that position to look after the rebrand.
When conducting competitor research with clients, this is what we're asking:
Who are your competitors?
What are they doing well?
What are they doing poorly?
Do you like how they look?
What do they offer compared to you?
Why would people choose you over them?
Rebranding is a lot deeper than updating your logo and website and calling it a day.
By using Google, signing up to your competitors mailing list, requesting a brochure etc, you can quickly form a picture of the branded products and materials your competitors are producing.
It can be a really cheap form of gathering audience demographics too- if all of your competitors are targeting the same audience and you aren't, then perhaps your rebrand should include something to cater for your missing demographic opportunities?
Sometimes, you learn some things that make you really think about the direction you're taking, or whether you could offer something extra, or different.
Sometimes, all you learn from your competitors is:
"We don't want to be anything like them."
And that's fine too!
Take our client TLR for example.
They provide cyber security solutions for businesses to make their teams more cyber resilient. When it came to their rebrand, they wanted to steer sharply away from what their competitors are doing.
There is a lot of fear surrounding the cyber security space, as lots of companies use fear as a tactic to win new customers. This is exactly what TLR didn't want to do.
Instead, they wanted to position themselves as a friendly, approachable company that works with security teams to help them become more cyber offensive. They didn't want to be another faceless security company, but wanted to be seen as more of a trusted partner.
And by working with Canny, that's exactly what they did. Check out some of their branding below:

Check out full case study here
As long as you're learning something about your marketplace and industry, competitor research remains a valuable branding service.
Brand Identity Redesign
Most people assume this is what is meant when we talk about rebranding.
This is the personality of the brand, and it is vital to the rebranding process.
Sometimes, a rebrand is necessary because the brand identity that was once bright and vibrant has faded over time and become crowded out by flashy competitors- a rebrand and reintroduction to this sort of brand identity is well overdue!
Sometimes, a rebrand is driven because the brand needs to pivot away from some affiliation or industry.
If your product offering has changed so significantly, this can be a more difficult rebrand to handle as it involves changing existing perceptions of your brand. This is a good opportunity to go really big with the rebrand process, and make a major impact.
Every business needs a brand identity design to build recognition with both potential and existing customers.
Think of Old Spice.
Before their major rebrand and advertising campaign in the early 2000s, Old Spice was perceived as a fairly middle of the road deodorant product for older guys in the market.

Credit to landor.com
By completely rebranding, and backing a marketing strategy that targeted millennials (which included that famous video and jingle) they pivoted to one of the fastest growing brands in the category.
The complete rebrand was necessary, and it reintroduced an already established brand into customer's consciousness with a bang. The rebrand allowed for consistency across all platforms, with no mixed messaging from the old brand vs the new.
Imagine meeting someone who looked like a 20 year old young professional, but when you shook hands with them they had the hands of a 90 year old.
It would be like something out of a horror film, right?
That's what you're doing with your brand when you don't have consistent visual language across all of your brand touchpoints. The one that sticks out is the one that will be remembered.
Your brand identity gives people an easy way to identify you, and therefore, it should always be handled professionally.
Who Needs Help with Brand Identity Redesign? Everyone.
Don't attempt this yourself. At this stage, you'll definitely want a professional branding agency involved.
If you're still unsure on what rebranding is, then check out our posts:
They'll help you to gain a fuller understanding of what rebranding is and why it is so vital.
Or, if you're looking for a step-by-step guide to rebranding then our post, How to Rebrand a Company, will help!
Website Redesign
In modern times, the mighty website has became the first port of call for many prospective clients and customers.
Whilst website design is a bit of a strange thing to class as a 'rebranding' service in the strictest sense, it would be impossible to rebrand your business without modernising your website.
The standard for websites has gone up. If your website was created at the same time as the branding that you are so desperately looking to update, then it's definitely the right time to give the website an overhaul too.
Websites, site speed, and user experience best practices age in dog years as compared to branding- it's exponential!
If you get your digital marketing strategy right, your website could be responsible for a huge amount of sales or enquiries.
Don't sleep on your website design when working on your rebranding.
It's important that your website delivers alongside your rebrand, and not as something to be done 'once the rebrand is sorted.'
Measure twice, cut once, and get everything right from the get go.
Who Needs Help with Website redesign and Development? Again, everyone.
The website is the area of your business that most people try and skimp, and end up using some website design software to change their own website around.
Your website is your entire business to new customers, it's your first impression, it's your shop front.
If you wouldn't try to rewire and rebuild your physical office building yourself just because you're good with legos, why would you try to do the digital equivalent?
Bring in a web design agency to help. Alongside your brand identity, I can't state how important your website is.
Partnership and Relationship Development
Now, this isn't specifically a rebranding service, but something to bear in mind.
When communication is easy, and the relationship is solid and built on a foundation of mutual respect and trust, everything runs much smoother.
A good rebranding agency can be invaluable.
By choosing the right rebranding agency, you're getting an entirely new department into the business, solely to look out for your best interests and make sure the marketing and branding of your business aligns with your business goals.
If you don't think adding an extra 50+ years of cumulative branding, design and marketing experience to your business will help… perhaps this isn't for you after all.
If you think it might be pretty valuable, then you're on the right track to developing a good relationship with your agency.
Here at Canny, working in partnership and building a strong working relationship with our clients is vital, and we pride ourselves on it.
Why not get in touch and set up a call to see how we might be able to work together on your rebranding project?
So, Where Can Rebranding Budget Be Saved?
Unfortunately, as far as the services involved in a rebranding project, each of the services outlined above is a vital part of the project and should be handled by a professional branding agency.
The deliverables though…
That's another story.
As a general rule, if you have the budget to spend, you should bring in an agency to help with each one of the below deliverables.
If not, we do highlight where you can save and budget a bit more on the deliverables.
Let's take a look at the typical rebranding deliverables we get asked to take over, and where we might be able to help you and where you might be able to save.
Rebranding Deliverables
Your rebranding deliverables are the output of your engagement with a creative or branding agency.
They're the things you "take home".
So, which rebranding deliverables are important to have right away in the rebranding process, and which will come naturally as your new brand becomes the new normal and engages with your audience?
Let's take a look.
Rebrand Strategy
We've covered brand and branding strategy plenty of times on the Canny blog.
Every single rebrand needs to start here. It's unavoidable.
Your rebrand has no foundation without a strategy, and you're doomed to make the same mistakes that forced the rebrand in the first place.
If you have a generous rebranding budget, enlisting help on your rebrand strategy is one of the best ways you can spend your money.
If you're on an absolute shoestring budget, then check out our Ultimate Small Business Branding Guide.
You can use that to help reexamine your own brand strategy, and possibly help you avoid some of the pitfalls you previously fell into.
Either way, it's important you get your brand strategy right before you move onto the next item in the list.
Rebrand Identity Design
We've already talked about brand identity design earlier in the post.
This is the branding deliverable that most people want to skip straight to and consists of:
Brand Name
Logo Usage
Colours
Typography
Do you need to spend your branding or marketing budget on this?
Absolutely.
As touched on earlier, without this all being developed at least in tandem with branding professionals, you're dead in the water.
Even the slightest tweaks can make all of the difference, and it's the sort of thing that only branding agencies can identify.
Most people will perceive some sort of disconnect, or something not quite working, but professional agencies can pinpoint the issue and fix it before it causes any more damage to your brand.
How many successful brands have you seen without a great brand identity?
None.
You need to invest in a brand identity that gives your business the look and feel it deserves and, more importantly, resonates with your core audience.
Don't skimp here!
Stationery Design
The amount of stationery design that you need is debatable.
A lot of business go "all in" and get every single thing redesigned at once.
That typically includes:
Letterheads
Compliment Slips
Invoices
Quotes
Proposals
Contracts
That's a whole load of redesign work to bite off in one go.
If you're looking for good stationery design, check out some of the best stationery design we've seen.
Business card redesign is a must.
It's a question of looking professional, and not putting out conflicting brand messaging.
For a really fair quote on business card printing, we tend to use Stationary Direct, as they produce high quality work at quick turnaround times for a reasonable price.
Once business cards are boxed away, everything else is pretty dependent on what you are realistically going to use, and what you tend to use day to day.
Letterheads are an easy win, as they can be designed up in the new style and just stuck on a printable PDF- definitely not as flashy as having luxurious thick paper, but definitely serves a purpose.
If you use compliment slips often, it's maybe worth going in on the redesign but honestly, this would be one of the easiest wins for your budget to just phase them out- it's definitely a cool thing to have, but in the modern day it's probably a bit archaic and outdated, which could work against your rebrand anyway!
Redesigning your invoices similarly seems a bit excessive, as most are automatically generated by a non-branded system anyway.
Quotes and Proposal documents are a must, as it avoids brand confusion and can make or break a sale, but again, the redesign process can be fairly streamlined and simple for this.
I wouldn't skimp on it though, just because they are client facing documents, and giving the best brand experience possible maximises a potential customers' overall impression of your business.
Again, I want to reiterate, if you have a solid branding budget, you should make sure every single thing you put out is "on brand."
What you ABSOLUTELY MUST DO is stop using any stationery that has the old branding on.
To pivot away from your old brand and messaging with a rebranding project only to keep pedalling the old brand and messaging to customers is an exercise in madness.
This goes doubly for all of your marketing materials, which will definitely need to be redesigned to match the new brand- either by a professional design agency or in-house, depending on budget.
Remember, your stationery design can help sell your business.
There's no point skimping and saving if you don't have to!
Website Design and Development
Updating your web design is a really good investment of budget.
It is a great space to announce your new brand, as well as being one of your primary vehicles for branding going forward.
That having been said, there are lots of ways to save budget or economise your website through a web redesign.
Streamlining core buyer journeys, enhancing CTAs, and improving core web vitals that impact search engine optimisation are just some of the simple things that a website redesign can do that will pay huge dividends going forward.
What is vital is that your website sends the right message, and is user friendly and accessible.
Although the cost of website redesign can be quite high, it's an investment into the right area for your business- if you pay for a £3 haircut, you've got to be prepared to walk around with £3 hair!
Don't skimp on good website design. It's really not worth it.
Digital Content
Digital content can be created by yourself, or by an agency.
Content marketing, when executed correctly, is one of the most powerful, valuable and cost effective tools in any businesses' toolkit.
When done poorly, it can be one of the biggest wastes of resource and time in a business.
Agencies, and especially agencies like Canny who have high client retention rates, tend to have a really good track record with digital content creation.
Why not check out our list of digital marketing services and deliverables to get a better overview of how important digital content marketing is, and where you might be able to get away with a little bit of DIY!
After the full rebrand, all of your existing digital assets will need to be rebranded to fall in line with the new branding anyway, so it's well worth taking a look at your overall digital marketing strategy at the same time.
The Complete List of Rebranding Services and Deliverables
Do you know what the definition of insanity is?
It's doing the same thing over and over again and expecting different results.
Don't do that with your rebranding project.
If you have the budget to work with a branding agency on your rebranding project, then you should absolutely do it.
The relationship you build with them will help shed new light on opportunities for your business, and they will become an invaluable resource going forward.
A good agency will also be able to help advise on the appropriate rebranding services and deliverables for your specific business needs.
As outlined above, it's important your branding is right. If you can, try and make room in your budget for everything we've talked about in this post.
If not, then think logically about the order in which you'll need things, then make allowances to accommodate for that.
Your branding and website can make or break your business.
Invest in the right services and branding deliverables, and you'll be giving your business the best possible chance of success.
If you think you're ready to discuss your rebranding requirements in greater detail, and want to get some prices around it, why not get in touch with us and start building your most profitable partnership yet?