Finding the best tech events to attend can be difficult when you consider the number of events that run each year. This is why we've decided to do all the hard work for you by curating a complete list to use as a reference!
The events featured take place throughout the year and cover a range of different industries – from IoT, to SaaS, to IT – and consist of multiple different event types, which include:
Conferences
Trade Shows
Summits
Seminars
It goes without saying that all of the above event types vary in terms of size and scope. Conferences tend to attract the largest crowds and are held to educate, inform, or train those in attendance.
Tech seminars sit at the opposite end of the scale and are a lot smaller in comparison, typically consisting of a single speaker speaking to a room of dozens (the number of attendees will vary from seminar to seminar).
Brand Strategy Made Simple
Developing a brand strategy is no easy task. It's something we've seen people struggle with time and time again. W...
Like some of the other sector events we've covered in recent weeks, technology, broadly speaking, has forever changed how these events are run, attended, and consumed.
You now have the option to attend these events in person or virtually. The same applies to vendors who are often given the opportunity to set up booths, host panels, and engage with attendees, all in a virtual space!
In other words, these events have never been more accessible, which is one of the main reasons why the number of technology-based events continues to grow year after year.
Let's start with the tech events taking place in January.
January
Below are some of the best tech events taking place at the start of the year.

Credit to Consumer Electronics Show (CES)
Consumer Electronics Show (CES)
When: 5 Jan 2023
Where: Las Vegas, Nevada, USA
Tickets: Register for info
The first event we want to direct your attention to is one you might have heard of already?
CES is hailed by many as being the most influential tech event in the world, and the proving ground for breakthrough technologies and global innovators.
It's the place where the world's biggest brands do business and meet new partners. It's also the place where the sharpest innovators hit the stage to share their work with thousands.
This upcoming CES will feature over 2,200 exhibitors representing 158 different countries. CES is a hybrid tech event, meaning it can be consumed both in person and online.

Credit to METAVSUMMIT
METAVSUMMIT
When: 11-12 Jan 2023
Where: Dubai
Tickets: Register for info
METAVSUMMIT is a Dubai-based event that specialises in linking web 3.0 companies to investors and vice versa.
The majority of individuals in attendance visit this event to gain a greater understanding of the web 3.0 industry (blockchain, metaverse, and NFTs) – an industry said to have a lot of potential.
According to METAVSUMMIT, the event "holds the position of being the most focused investment event for the web 3.0 industry."
If that sounds like something you're interested in then the event takes place on the 11th of January.

Credit to AIBC
AIBC Africa
When: 16-19 Jan 2023
Where: Nairobi, Kenya, Africa
Tickets: Register for info
AIBC has drawn experts from across the globe to act as thought leaders and industry pioneers, sharing their well-earned wisdom through panels, fireside chats and inspiring keynote speeches.
Hundreds of exhibitors are expected to be present during this three-day event, which includes:
1xBet
Galaxsys
Habanero
Mancala Gaming
Velex Advisory
And many more!
One of the main reasons for this event's existence is to promote Africa's ability to leapfrog from one level of technological infrastructure to another, making it a potential hub for technological innovation.
February
Tech events in February are just as stacked as they are in January!

Credit to Civo Navigate
Civo Navigate
When: 7-8 Feb 2023
Where: Tampa Bay, Florida, USA
Tickets: €700 – €2,700
Civo Navigate is an in-person tech event packed with talks and workshops focused on navigating and succeeding within the cloud native landscape.
This year, there will be an overriding theme of innovation, with a focus on helping companies better leverage cloud-native technologies. Education will be at the forefront of all talks and workshops, aimed at various skill levels.
Some of the brightest minds in cloud native will be in attendance, including an opening keynote speech from Apple co-founder Steve Wozniak!

Credit to Developer Week
Developer Week
When: 15-17/21-23 Feb 2023
Where: San Fransisco, California, USA + Virtual
Tickets: Register for info
DeveloperWeek 2023 is the gift that keeps on giving if you're looking for a tech event that offers something new to experience each day.
Here you'll join 8,000+ professionals across multiple conferences, expos, workshops, technical talks, and keynotes. There's also a hackathon, where 1,000+ developers are all invited to build apps from scratch and compete for $100,000 in cash and prizes.
Please note: DeveloperWeek is only in-person between February 15th to the 17th. It's only virtual from February 21st to the 23rd.
Check out the DeveloperWeek website for event updates and a full breakdown of each day.

Credit to Product Con
ProductCon London
When: 21 Feb, 2023
Where: Barbican Centre, London, UK
Tickets: Free
Organised by Product School and structured around the trendiest topics in product management, ProductCon takes place only four times a year in cities such as San Francisco, London, New York, and online.
Product-oriented professionals from around the world take part in each of these events – people from the likes of Facebook, Google, Amazon, and more. ProductCon is in every successful product manager's calendar for this very reason.
Here are but a few speakers taking part in the London event this coming February:
Deepika Adusumilli, SVP of Product at King
Simone Paul Tamussin, VP of Global Products at MasterCard
Vijay Iyengar, Director of Product at Mixpanel
Katie Cummings, VP of Product at Deliveroo
Georgie Smallwood, CPO at Tier
March
March is a month many will have circled as it's the month that South By South West takes place.

Credit to SCaLE
SCaLE 20x
When: 9-12 Mar, 2023
Where: Pasadena, California, USA
Tickets: Register for info
SCaLE is the largest community-run open-source and free software conference in North America.
It's an annual event held in the greater Los Angeles area that mixes speakers, workshops, and all-round fun!
SCaLE's mission is to provide educational opportunities on the topic of Open Source software. Open Source software is any software that meets the litmus test of the OSI (Open Source Initiative).
Examples of OSS are GNU/Linux and the various BSD operating systems, and applications such as LibreOffice and Firefox.
We'd highly recommend checking out the info on some of the previous SCaLE events. Doing so will give you a better idea of what to expect alongside who typically takes part and the companies they represent.

Credit to AIBC
AIBC Eurasia
When: 13-16 Mar, 2023
Where: Dubai
Tickets: $91-$392
Drawing the leading figures of the emerging tech world to the Middle Eastern, the 2022 AIBC UAE expo plans to unite the policy-makers, developers, C-suite executives and legal experts of the burgeoning AI and Blockchain sectors.
The Emirates will be prioritising renewable energy, transport, education, health, technology, water, and space as well as frontier tech such as the blockchain.
Through three days of educational panels, inspiring keynote speeches, workshops and networking events, the expo seeks to create the foundation that "the Industrial Revolution 4.0 can be built upon."
In other words, AIBC Eurasia is promising a peek into the world of tomorrow.

Credit to QCon London
QCon London
When: 27-29 Mar, 2023
Where: London, UK
Tickets: £2,340
QCon London is offering something invaluable with its upcoming event. They're promising to help attendees "make the right decisions by uncovering how senior software developers at early adopter companies are adopting emerging trends."
Staying on top of tech trends is arguably the hardest part of the job for businesses and developers alike. This event provides the solutions, giving attendees practical inspiration alongside the best practices on how best to implement them.
The information shared comes directly from senior software developers at early adopter companies – teams that are more than qualified to share this information with you.
This event will have an online component, allowing attendees to take part externally as well as in person.
April
Definitely check out DeveloperWeek in the month of April, it's one of the best tech events, period.

Credit to Startup Grind
Startup Grind 2023
When: 11-12 Apr, 2023
Where: San Francisco, California, USA
Tickets: $249 – $499
Are you a startup founder looking to build your tech-based business? If you are, then you might want to attend Startup Grind 2023. This event is an annual gathering of startup teams from around the world who are building the next big thing.
2023's edition will take place in Silicon Valley this April (11-12) at the Fox Theater in Downtown Redwood City, which is on 2215 Broadway.
The prices listed above do vary depending on the package you go with. Group packages are available upon request by simply getting in touch with the organiser.

Credit to World AI Summit
World Summit AI Americas
When: 19-20 Apr, 2023
Where: Montreal, Canada
Tickets: Register for info
Now in its fifth year, World Summit AI Americas returns to Montréal and will connect the AI community in person over two packed days of AI content.
This year is an opportunity to join the brightest AI brains and leading industry speakers and influencers from business, science and technology to discuss the hottest topics in artificial intelligence.
The full AI ecosystem will be in attendance, including start-ups, academics, investors, business leaders, and all the big tech companies. Through the conference, interactive workshops, networking and expo there are plenty of opportunities to achieve your objectives.

Credit to DeveloperWeek
DeveloperWeek Europe
When: 26-27 Apr, 2023
Where: Virtual
Tickets: Register for info
DeveloperWeek Europe 2023 is the largest virtual software developer conference & expo dedicated to Europe's tech community. Over 2,000 engineering professionals are expected to be in attendance.
There are multiple conference tracks to be aware of if you're going to attend this event. Below you'll find a preview (more details can be found on the DeveloperWeek website):
DevExec & Devlead: A 2-track summit for executives and managers with the purpose of discovering technical leadership and the best practices for peer-to-peer education and thought leadership on technical management.
JavaScript Summit: Front-end and back-end development frameworks, discussed at length by some of the top minds in the business.
Dev Innovation: What new technologies and trends are accelerating software development? This track looks to find the answers to such a question, from dev tools and cloud services to bug tracking and code security.
May
May is one of the busiest months of the year for tech-based events.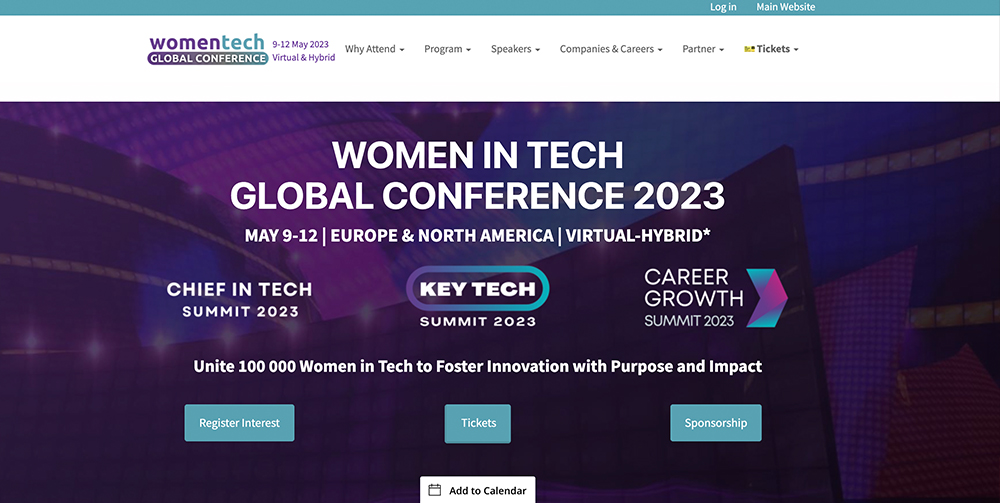 Credit to Women in Tech
Women in Tech 2023
When: 9-12 May, 2023
Where: Hybrid + Virtual
Tickets: $149 – $1,490
WomenTech Network's mission is to empower communities of talented and motivated women in tech through leadership development, professional growth, mentorship, and networking events, the goal being:
To make a difference by building impactful and inclusive products and technology services.
The benefits of attending this event are hinted at in its name. This is an event for women, minorities, and allies in tech that targets every sub-sector of the tech industry – from product managers to engineers.
This highly-engaging conference focuses on the latest and emerging technologies. It also looks to spotlight personal stories that are bound to motivate and inspire you in your own journey.
By attending WomenTech Global Conference (WTGC) you can build a stronger network with women in tech communities worldwide, collaborate locally and globally, find new opportunities and contribute to the community to make an impact.

Credit to 5G Expo North America
5G Expo North America
When: 12 May, 2023
Where: Toronto, Canada
Tickets: Register for info
At the 5G Expo North America you'll hear from leading digital experts and discover key strategies for making your digital efforts a success. Explore the critical technologies and approaches needed to improve customer engagement and drive your organisation's digital culture.
Not a lot is known about the 2023 event, but if it's anything like the last one then you should expect only the best across multiple conference tracks and various networking opportunities.
In 2022, speakers from the likes of AT&T, Orange, and GE Research were worth the price of admission alone (some of the clips were uploaded to YouTube, definitely check those out).
Expect more of the same next May!

Credit to ACE! Conference
ACE! Conference
When: 18-19 May, 2023
Where: Krakow, Poland
Tickets: €290
ACE! is the largest regional conference of its kind in Central Europe, attracting people from all over the region, and is summed up perfectly by its tagline:
"Building Software Better.
Building Better Products."
The next ACE! Conference will take place in Krakow, Poland and will combine two tracks in Agile Software Development and Product Design & Management into one conference.
Building Software Better is a great place to learn for Scrum Masters, Agile Coaches, Project & Product Managers, Team Leaders, attendees on the C-level position and everyone engaged in the Product Delivery process.
The Building Better Products track is for everyone involved in creating products, which includes product managers, UI and interaction designers, and UX designers/researchers.
There's something for everyone if you're in tech, essentially.

Credit to Dublin Tech Summit
Dublin Tech Summit
When: 31 May, 2023
Where: Dublin, Ireland
Tickets: €235
Hailed as "Europe's fastest-growing tech festival," Dublin Tech Summit 2023 is shaping up to be quite the event.
As one of the world's most active technology hubs, Dublin has become the EMEA base for some of the biggest global tech companies and over the last 6 years, DTS has emerged as one of Europe's fastest-growing B2B tech events.
Come and share a pint with tech leaders and the innovators of tomorrow!
– DTS
Over 8,000 attendees and more than 200 speakers are expected to take part, with around 60 countries represented in total. This should give you plenty of opportunities to grow your network while picking up a new trick or two.
June
There's plenty of tech events happening in the summer that are worth checking out.

Credit to JSNation Conference
JSNation Conference
When: 1 Jun, 2023 + 5 June, 2023 (Virtual)
Where: Amsterdam, the Netherlands
Tickets: Register for info
JSNation is a 2-day 2-track event focusing exclusively on JavaScript development. Discover the future of the JavaScript development ecosystem and connect with a wide range of people who eat, sleep, and breathe this area of tech!
This year, the format of the event will be hybrid, meaning you can take part on the first day (June 1st) either in person in Amsterdam or virtually. There are benefits to both, so how you choose to attend is completely up to you.
The second event (June 5th) promises big things, too, which include numerous free workshops, all streamed to a global audience.

Credit to Reuters
Global Energy Transition 2023
When: 7-8 Jun, 2023
Where: New York, USA
Tickets: Register for info
Sustainability and tech go hand-in-hand in the modern day, which shows when you look at the number of tech summits that are based on that very topic.
Reuter's Global Energy Transition is one of the main events flying the flag of sustainability in this market and is attended by over 750 senior decision-makers and over 150 CEO and executive speakers.
Rather than explain what this event is all about, we'll let Reuters do it for us with this expertly-worded agenda:
"We must critically evaluate the status of the energy transition, re-scrutinize success, and ask the hardest questions around the reality of, expectations for, and pathways towards net-zero. Are we on the right track? Are we setting realistic and tactical goals? Can the gaps be bridged by action and technology? Do we need a new agenda to the green future?"

Credit to VivaTech
VivaTech
When: 14 Jun, 2023
Where: Paris, France
Tickets: €280 – €790
Where business meets innovation, Vivatech accelerates innovation by connecting startups, tech leaders, major corporations, and investors responding to our world's biggest challenges.
It is visited by over 91,000 visitors and participated in by over 2,000 startups and over 1,700 investors. Needless to say, if you're looking to widen your understanding of certain topics and network with experts in your field, then this is the place to do it!
The appeal of this event is only heightened when you look at some of the previous speakers at this event:
Mark Zuckerberg (Meta)
Margrethe Vestager (European Commission)
Tim Cook (Apple)
Vitalik Buterin (Ethereum)
Satya Nadella (Microsoft)
Melanie Perkins (CANVA)
And so on
July
There aren't a lot of events planned in the month of July as of yet. Hopefully, this picks up in the coming weeks/months.

Credit to Product Con
ProductCon Online
When: Jul, 2023
Where: Virtual
Tickets: Free
This is your second opportunity in the year to take part in ProductCon, the product management-centric tech event that gathers product professionals from around the world!
As it stands, this event is entirely virtual and not a lot of details have been shared. We'll update this section when we know more, but we imagine it will be similar to the other event scheduled to take place in January.

Credit to Gartner
Gartner Data & Analytics Summit
When: 31 Jul, 2023
Where: Sydney, Australia
Tickets: Contact for more information
At this tech summit, you'll learn how to deliver a world-class data and analytics strategy, one that is highly adaptable based on your individual wants and needs.
Let's look at what happened at last year's event to help you better understand what to expect in 2023, and to recap how great of an event the last one was, of course!
Gartner Data & Analytics Summit 2022 addressed some of the most significant challenges that data analytics leaders face as they build the innovative and adaptable organisations of the future.
At the conference, the top sessions that data and analytics leaders attended consisted of:
The Future of Data Science and Machine Learning: Critical Trends You Can't Ignore
The Foundation of a Modern Data and Analytics Strategy
How to Govern Self-Service Analytics
Data Lakes, Data Warehouses and Data Hubs Aren't the Same: Know Their Capabilities and Purpose
Top Trends in Data and Analytics for 2022
Details on the 2023 event are yet to be released but we will update this section when we know more.
August
We're into August now and into a range of unique events that are definitely worth checking out!

Credit to Black Hat
Black Hat USA
When: 14-16 Jan, 2023
Where: Las Vegas, Nevada, USA
Tickets: Register for info
Like some of the other tech-based events we've covered, Black Hat runs multiple different events around the world throughout the year. The only difference is, these events are a lot more hands-on and a lot more cybersecurity-focused.
Not a lot of information has been included just yet, but we imagine Black Hat USA 2023 will follow a similar format to the previous event which consisted of a four-day event, with two days dedicated to training and the other two to briefings and more.
We also expect the event to be offered up in a hybrid format, allowing people to attend physically and virtually.
The goal of these events is simple:
To strengthen your businesses' awareness of online threats and provide solutions that help mitigate those threats.
September
There are plenty of events to attend in the month of September if tech is your main area of expertise.

Credit to Intelligent Health
Intelligent Health
When: 13 Sep, 2023
Where: Basel, Switzerland
Tickets: €52 – €799
Intelligent health will return to Basel, Switzerland, in September 2023 to bring together the global AI and health communities to advance discussions on how to apply AI and drive technological collaboration between healthcare brands.
C-level executives, clinicians, hospital heads and scientists from pharma, biotech, medtech, health provisions, tech, startups and investment companies from every corner of the globe will join at the exclusive physical summit and online via Intelligent Health's global platform.
According to the organiser, the next event has "tossed away the rulebook" and has re-designed the event to focus on what matters most, which is to help drive advanced discussions on how to drive technological collaboration in healthcare.
Be ready to think like a physician and code like a developer!
This event could have easily appeared in our post on the best healthcare events to attend. We threw it in with the other tech events here as healthcare and tech seem to always run in parallel with each other.

Credit to UCX USA
UCX USA
When: 13-14 Sep, 2023
Where: Austin, Texas
Tickets: Register for info
Simply put, UCX USA is where unified communication and collaboration innovators and workplace leaders come together to co-create the future of work. UCX USA provides a platform for everyone to collaborate and evolve, everyone being:
Branded manufacturers
Business leaders, startups
Tech companies
Investors, media and analysts
You'll learn a lot at this event, from building a strategy and culture for hybrid working success to alignment around the customer experience to integrating technology a lot more efficiently.
What's more, the event promises "best in class matchmaking," meaning they pair you up with the right people based on your own specifications. This ensures that your time at this event is spent wisely.
Head over to the official website for more information.
October
October has plenty going on in terms of events in the technology sector.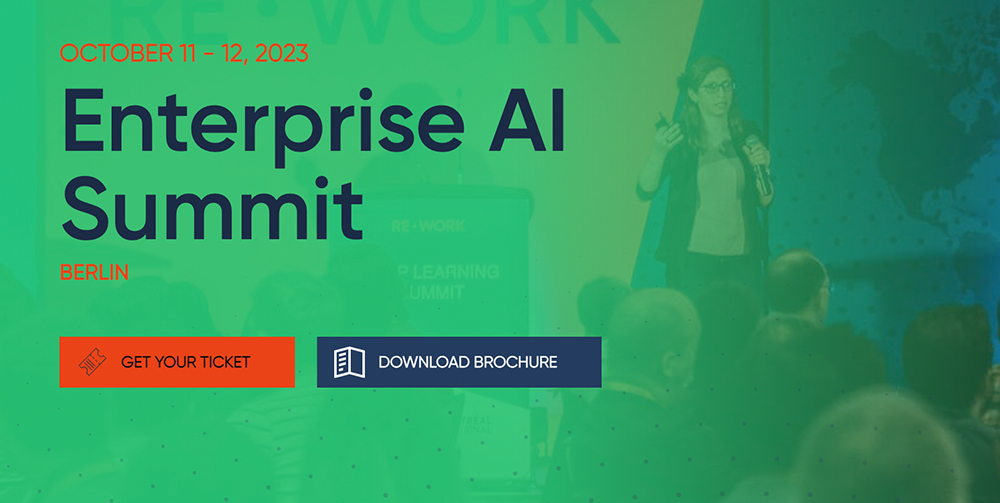 Credit to Re.Work
Berlin AI Summit
When: 11-12 Oct, 2023
Where: Berlin, Germany
Tickets: €295 – €2,395
The Berlin AI summit is another event focusing on the latest technology advancements of AI, but also, how best to action AI in your business in order to reap the benefits. Topics covered at this event will include everything from cloud computing to backpropagation.
"Explore how deep learning will impact and solve challenges in industry and society through diverse applications."
– Berlin AI Summit
Representatives from the likes of Google, DeepMind, Facebook, Apple, BMW, Just Eat, MailChimp, and SoundCloud have all been in attendance at previous events, which goes to show how revered this tech event is.
There are many reasons to attend the Berlin AI summit:
Extraordinary Speakers: Discover advances in deep learning and smart AI from the world's leading innovators.
Discover Emerging Trends: The summit will showcase a range of emerging trends and how best to capitalise on them.
Expand Your Network: A chance to interact with a range of individuals in an open setting, from business leaders, to influential technologists, to entrepreneurs.

Credit to Product Con
ProductCon San Fransisco
When: Oct, 2023
Where: San Francisco, California, USA
Tickets: Free
If you missed any of the other ProductCons throughout the year, then this is your chance to catch up. This event will take place in San Francisco, and like the other ProductCon taking place in July, the details of this event are scarce.
Again, we'll update this section as soon as we learn more.
November
We're nearing the end of the year now! Have you got a list of tech events you like the look of?

Credit to Product-Led Summit
Product-Led Summit
When: 01-02 Nov, 2023
Where: Sydney, Australia
Tickets: Register for info
The Product-Led Summit is another event to add to your calendar. It's an event attended by hundreds, and with good reason. They offer keynotes, panels and interactive roundtables addressing your questions, with actionable insights that can take your career to the next level.
The speakers for next year's event have already been revealed, and what a lineup it is:
Sumitha Pillutla (Zoom)
Cassie Peretore (Cleo)
Saswata Biswas (Sunday)
Sanjeev Mervana (Cisco)
Shishir Agrawal (Google)
Divya Moolrajani (PayPal)
Sneha Iyer (Meta)
Sumanta Chatterjee (TikTok)
What makes this product-focused event unique is that it takes "a community-based approach to product development." We'd highly recommend joining the Product-Led Summit Slack channel to join in the conversation ahead, during, and after the event.
December
We expect the number of tech events in December to pick up as 2023 progresses.

Credit to Cisco Live
Cisco Live
When: 5-8 Dec, 2023
Where: Melbourne, Australia
Tickets: Register for info
Cisco Live never disappoints judging by what we see and hear from attendees.
Everything about this event ticks the boxes. Keynotes, breakout sessions, leadership sessions, innovation talks, creative labs, and everything in between, you can take part in all of it at Cisco Live.
An event that can be experienced in person or online, Cisco Live delivers education and inspiration to technology innovators worldwide through large-scale in-person and digital events, as well as on-demand education.
This is a Cisco event, meaning there are opportunities here to meet with engineers, executives, and other individuals to discuss your unique technical or business-related questions and challenges.
One of the main reasons you should attend this event comes down to just how fun it is! Cisco has done a stellar job of giving attendees a reason to, well, attend.
Activities such as 'World of Solutions' and social media Tweet Ups, only add to the experience and will keep you engaged throughout.
The Complete List of Tech Events For You to Attend
Will you be attending any of these tech events in the future? Or have you already attended? If you have then we'd love to hear about your experience and whether or not it lived up to your expectations.
We'll be updating this list as time goes on, so it might be worth bookmarking this page to come back to it at a later date. As we said at the beginning of this post, the number of these events grows by the year, so there should be no shortage of tech events to add to your calendar!
If you've never attended or taken part in a tech event before know that you're missing out.
These events are the perfect opportunity to meet with like-minded professionals from the tech sector, stay up to date on the latest technology trends and insights, and in the case of businesses, sell your business to prospective customers and investors.
High-quality branding, an intuitive website, and content that maximises lead generation are also really good at selling your business to the right individuals, and we can help you in all three areas.
If you're planning on running a booth at an upcoming tech event, we can also help with banners, landing pages, social media assets, stationery design, and anything else you might need.
To find out how we can help you in any of these areas simply get in touch!