Web design services and website deliverables can be overwhelming, especially if you're somewhat new to the wide world of websites.
With so much to choose from, it's easy to see why so many marketers and planners get confused.
And some of you reading this might think that you already know what you want, which is more than likely due to how simple web design packages have made it all seem.
In our opinion, website packages suck as they don't recognise your individual requirements, meaning you spend money on functionality and design that you don't need.
Which is why we've never offered web design packages at Canny and never will.
When looking for web design services, you need to know exactly what your website requires.
The Web Design Brief Template
The Web Design Brief Template is a free template that will help you get the brief for your web design project right. W...
To help, we've put together a complete rundown of web design services, not to mention, a comprehensive list of website deliverables.
Reading on should help you answer some of those lingering website questions you may have, such as:
Do I need a brochure website?
An e-commerce website
A WordPress website?
A responsive website?
And do I need UX and UI design?
We understand that time is money, so let's jump right in.
The Different Types of Website
Before we begin to explore website deliverables and services, let's take a quick look at the various different types of websites there are.
Brochure Websites
Brochure websites work to show your customers exactly what your business is about.
This type of website is a simple solution that pushes your business online, without any added complications.
The entire site is designed to look and feel like a printed brochure, and contains copy and images that promote a company's products or services.
A brochure website doesn't typically have a large number of pages, so it's a great option if you looking for a website design that's concise and informational.
If you're looking for an example of a brochure website, check out YardLink from our portfolio.
Ecommerce Websites
Ecommerce websites allow your customers to buy from your business whenever it's convenient. It's important that your ecommerce website sells, without creating friction or complications for your visitors, in order to provide a seamless online journey for each consumer.
Specifically for ecommerce, the main options for your website are Woocommerce or Shopify.
There are other ecommerce options available, but there is a reason that these two giants of Ecommerce dwarf all others in terms of existing user base and usability.
Firstly, Woocommerce is a flexible platform that allows users to create highly-responsive and top performing websites. and has a range of some of the best website features such as plugins and themes. If you're looking to make a website about your entire company Woocommerce is the top choice as you can create several pages to include news or a blog or an "about us" page.
However, Shopify is a quick and easy to use platform that is secure, mobile ready, customisable and has consistent 24/7 customer support. So depending on your website needs and goals, it's a good idea to weigh up the pros and cons of each platform before making a decision!
WordPress Websites
WordPress is the world's most popular platform and powers over 15% of the world's top websites. The great thing about WordPress is it allows you to easily update your site, changing content, images, adding blog posts and that's not all!
WordPress allows you to focus on what really matters, good design, good content, solid HTML, CSS and JavaScript (technologies used to build your website).
From a developers point of view, using WordPress means we don't have to design and build the backend, it already exists! Equally, there's a global network of experts you can rely on to help.
The site you're currently on was built using WordPress.
We can't say enough good things about the platform!
Responsive Websites
With the growing popularity of mobile and tablet browsing, it's important that your website always looks good.
Mobile responsive websites adapt to your device, giving your visitors the best website experience.
For any website to be effective, you need to cover the following steps in the web design services journey.
These steps are:
Website discovery session
Marketplace research
Competitor research/analysis
Website design and development
Partnership and relationship development
That final bullet point, 'partnership and relationship development,' is an area a lot of designers skimp out on, or even miss out altogether!
The partnership we have with our clients here at Canny is the key to the success of our projects.
We like to be in regular contact with the people we work with, just so we're in the loop and we can keep you updated with everything that's happening on our end from start to finish.
This allows for a level of flexibility and reactivity that larger teams, or those who simply don't have the time to over communicate, simply couldn't achieve. This is always good for your business.
If you're ready to talk about the web design services you need, why not fill in our web design brief template to get the ball rolling?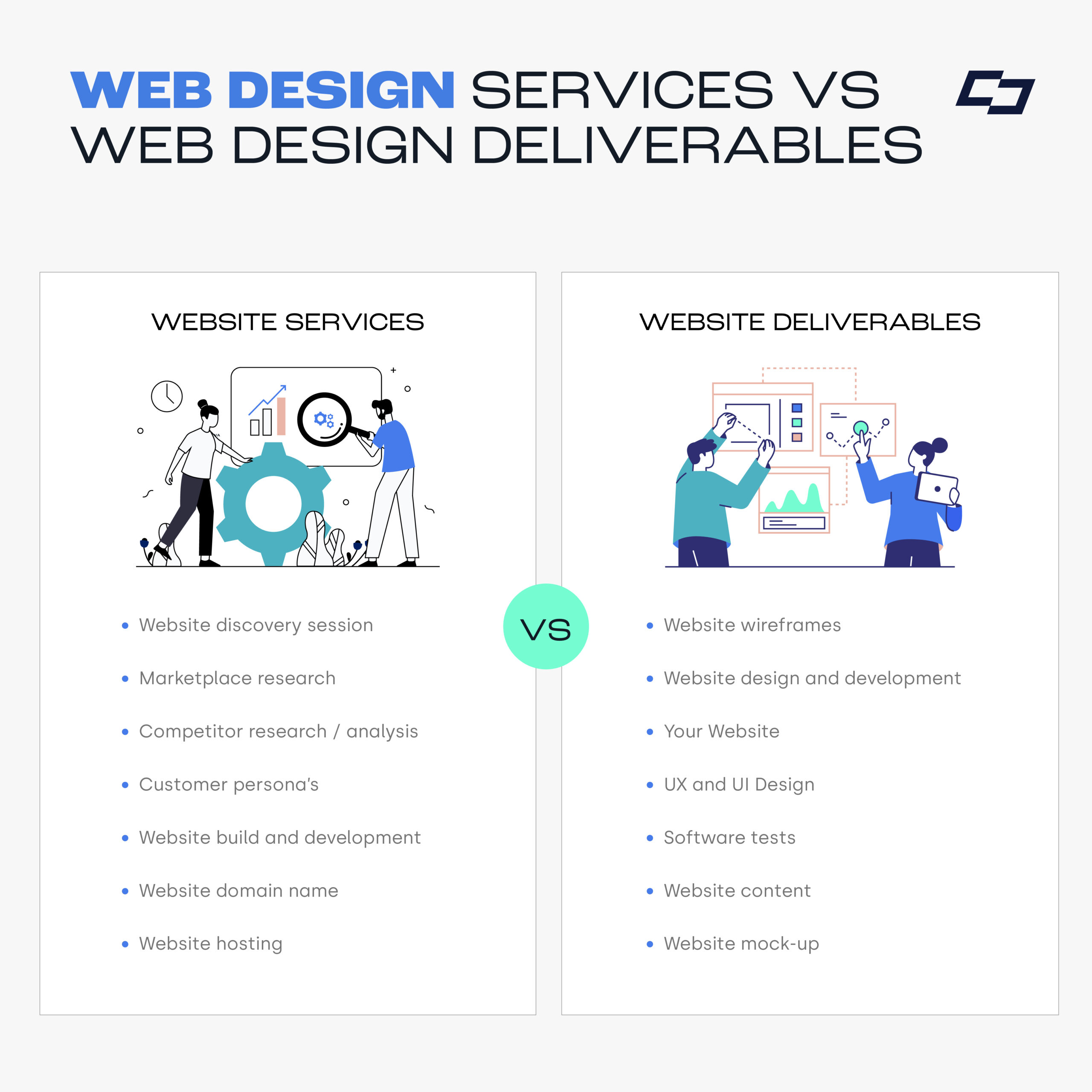 Website Services
Web design services are very easy to find, so when searching you will be presented with an endless list of them!
This is the stage where you might find yourself asking the questions just outlined.
Again, these questions may be: do I need a brochure website? An e-commerce website? A WordPress website? A responsive website? And do I need UX and UI design?
You may need a WordPress website with e-commerce or just a WordPress website. You may also just need a brochure website or even a single landing page site.
So, which is it?
Regardless, you will definitely need a content managed site.
We use this in all of our sites (including our own, as mentioned).
You will also need UI and UX design in any type of website. The harder part is deciding the right type of website for your business.
Enter your website discovery session.
Website Discovery Session
Your website discovery session is designed to help you and us.
Simply put, they are designed to gain a solid foundation of what you're looking for in your new website.
This also means gaining a good understanding of your business, the primary goals and objectives of your website project, what actions you want your visitors to take and more!
The partnership we have with our clients is the key to the success of projects, and your discovery session gives us a great insight into your business and helps to get that ball rolling.
Firstly, you will answer a questionnaire that will help us gain insight into your project.
At this stage, the goal is to build a solid foundation to build your website upon, and it will allows you to outline the "dos" and "donts" of the website project!
It will also allow us to see your marketplace and competitors that you are facing.
Then we will talk about your ideal client and start to build up your ideal customer persona.
Near the end of the website discovery session, we will look over the visual styles, and identify what type of website will work best for you and your business, and which options are to be avoided.
As a matter of fact, we have ran discovery sessions across the globe, as we have clients spanning from Australia to Canada. We carry out these sessions both physically and virtually as it's important that everyone involved in the project is well, involved!
Who Needs a Discovery Session?
Everyone.
You just can't skimp on this stage at all. Without it, you're doomed. The Discovery Session helps loop everyone in, and makes sure everyone understands the project.
Marketplace Research
There are two levels to Marketplace Research. It gives you a top-level view of the market that you operate in.
For example: if you were in the business of photography, you'd need a photography website.
So, we'd be looking at:
The photography industry in general – we'd ask questions such as: What's trending? What's working? Who you're up against and how do you compare against them?
The actual geographical area in which you operate or are going to operate – again asking questions such as: what's popular, what you're up against and how do you compare against them?
At this stage, it is very important to gain insights at both an industry (photography in this example) and geographical level.
Once this research has been carried out, it is time to start reaching out to your potential clients or customers, and this is when you start to get a feel for customer and client preferences and behaviour (and truly understanding your target market).
Who Needs Help with Marketplace Research?
SMEs and larger.
Always good to have an idea of the market you're entering. But a full comprehensive report can probably be reserved for larger companies.
Competitor Research/Analysis
Carrying out a competitor analysis is paramount in the success of your business. It is essential in order for you to grow your business. Some of the elements carried out there include:
SWOT analysis
Look into the future
Competitor inspiration
Use your competition to be competitive
You want to ask yourself:
Who are your competitors?
What are they doing well in?
What are they doing not so good in?
Do you like how they are?
What do they offer compared to you?
Why would your clients choose them over you?
Using a SWOT analysis will be very helpful when looking into your competitors.
It is very easy to compare websites (especially photography websites), as you can look at how the websites are structured, see the visuals, and get a feel for the overall user experience.
Once the comparisons have been carried out you will know what might work and what might not. You will also see current trends, you may even want to look into future trends in order to plan ahead, and hopefully get ahead of the competition.
Who Needs Competitor Research?
Everyone.
From the smallest owner operated businesses, to the corporate giants of the world, you've got to know what you're up against to succeed.
Customer Personas/Avatars
To identify your target audience, and consider how they use websites, we will build customer personas (sometimes referred to as avatars).
This will give you a better idea of how you should build your website, what a typical user journey will look like for your ideal customers, what demographics you should be targeting, and even what sort of language and tone you should use on your site.
These personas help guide the design of your website and can even help you decide which type of website would be most suitable for you and your business.
To get an idea of what goes into creating a customer persona, and how in-depth we go with our research, check out our customer persona worksheet.
Website Build and Development
Building a website involves taking the sitemap and web design files created by a design team, and using a mix of coding languages to bring them to life in the form of an all singing, all dancing, fully fledged website.
Most websites are made up of several key languages, so let's think of it like a house starting with a solid foundation and building until you can finally decorate the place exactly as you desire.
HTML
HTML stands for hypertext markup language and is used to construct the building blocks of your page. This is the foundation and main structure of your house.
PHP
Some websites prefer Javascript over PHP, but PHP allows you to connect to data stored in a database and display it on your website. PHP is like the pipes that serve utilities to your house, it connects your website from one place to another.
CSS
CSS is the language used to style your website up and getting it looking perfectly on-brand. This is the paint, wallpaper, and carpets you add to your house.
Javascript and jQuery
Javascript and jQuery allow you to take and manipulate code in fancy ways, adding unique functionality such as popups, animations, and more. This is the painting that you hanging above your fireplace, or a motion sensor outdoor light outside of your front door.
Website Domain Name
Your website domain name is extremely important, as it's seen by customers/clients and search engines.
It's also a huge part of your brand.
We are saying this now and we will say it again later, don't just pick a random name if the one you want is not available, put some thought into it.
For example, at Canny our domain name is "canny-creative.com" it is relevant to our brand because it's our company name, and the hyphen in between doesn't change the name so much that it will confuse users.
However, if we had made a simple error such as spelling the domain name this way: "cany-creative.co", it looks far more sloppy and careless, and doesn't match up to our brand!
So, in short, choosing the right domain name will:
Improve your marketing and visibility
Build online and offline credibility
Get more traffic to your website
Increase your search engine ranking
Your domain name needs to match your business name, it will be used on:
Social media
Business cards
Invoices
Emails
Search engines
All URLs (on your website)
You want to make sure you start looking for a domain name as soon as possible!
Who Needs Help with Website Domain Naming?
Well, everyones website needs a domain name.
It's important you secure something relevant and meaningful to your brand and the information you provide through your website.
Check out our post on How to Name Your Business Brand if you're stuck with finding a good domain name.
Website Hosting
Canny also offers a website hosting service for when your website is live and operational. You can pickup hosting options for peanuts, but with Canny you know you're in good hands, and in the hands of people who understand your website back to front, top to bottom.
We're the ones who built it, after all!
'Cheap' or free hosting options often serve slower website times, have unprofessional looking URLs, adverts from 3rd party providers on your site, and worse.
The web is littered with horror stories about bad hosting, if you care to look for them!
But fear not, as with Canny you're in safe hands, and can rely on an end to end hosting solution, which manages everything from plugin updates, security, and general functionality, to faster loading pages, xml sitemap management, and even network reporting.
If you're part of the marketing department, or a startup founder, it's more likely than not that you're short on time.
Using Canny for hosting buys you back all of the time you'd otherwise spend trying to sort out the multitude of technical issues that can crop up at any time.
Our packages start from £50 per month, and can save you from constant headaches from website trouble.
If you're not hugely technical, or you don't want to devote all of your time trying to fix server issues or fight cyberattacks, this is a no-brainer.
Where Can Website Budget Be Saved?
Building a website from scratch is a difficult thing to do.
Your website is often the first experience a customer has of you, and so it shouldn't be skimped on at all.
You can save budget by not having an all singing, all dancing website, but even then you're presenting yourself with false savings.
You should view your website not as a cost or initial outlay, but as an investment that will pay for itself ten times over the course of your business life cycle. The true answer to the question "where can budget be saved when building a website?" is:
Elsewhere in your advertising or branding budget.
Don't go cheap on your website, because it will harm you and your profit margins in the long run.
It's as simple as that.
Website Deliverables
For those not in the know, website deliverables are the output of your engagement with a dedicated web agency.
They're tangible things that you, or the agency, take and apply to your site.
We've put together a website deliverables list below, so try not to worry if you're slightly confused about the difference between the last section and this one, we will make sure the difference is clear as we go!
Website Wireframes
The very first step into having a website made is the wireframing. A wireframe will show how elements are laid out on the web page and how the site navigation will work.
The wireframe is free from design and colours. It is there to focus on the layout and navigation only. It is paramount in order to get your website structure just right.
The next step is the mock-up.
Your website mockup will have the layout and navigation from the wireframe, but with your brand colours, logo and content.
It will mimic the real-life version of your website.
From here you can easily make any changes before the website is developed. Once everything is good to go, it can be brought to life with code.
Your website is your 24/7 online brand touchpoint, So it's important that the design and functionality are in line with your business and brand.
Who Needs Help with Website Design and Development?
Again, everyone.
The website is the area of your business that most people try and skimp, and end up using some website design software or out of the box web package to build their own.
Don't do that!
Considering your website is often the first port of call for many of your potential customers, that's a crazy idea!
Bring in a web design agency to help. Alongside your brand identity, I can't state how important your website is.
Website Design and Development
Your website is the place where you want to spend most of your business branding and marketing budget.
For your website to work properly, you need to have a solid digital and content marketing plan. This is because your website is a huge portal for sales and enquiries.
As a matter of fact, when working with a professional agency that focuses on long term relationships you will get a digital marketing plan.
The "plan" you get is part of your website deliverables.
At a basic level your digital marketing plan will likely include a plan for each type of content you will be creating that may includebut isn't limited to:
Social media
SEO
Customer reviews and testimonials
Blogging
Video
Podcast
Email marketing or a newsletter
Be sure to check out the post above to see what a full digital marketing plan consists of.
We have already mentioned that your website is your brand, but you need to have a solid brand all throughout your business.
We have also stated that you need to have a solid marketing plan in place.
But, you also need your overall brand to work for you. This means you need a brand strategy, only this post is not focused on your branding strategy. So, we will direct you to our Ultimate Brand Strategy Development Guide instead for more insight onto creating a great strategy for your brand.
Your Website
The most obvious deliverable is your actual website.
To get a good idea of what you will get, here is what could be included in a typical business website:
Homepage or landing page
About page
Contact page
What you do page
Services page
Each of these pages will have good content that is driven by your digital marketing plan.
It shouldn't just be any old content just to "fill up the webpage", it needs to be meaningful and relevant.
UX and UI Design
If you're looking to build a complex web app or software product, then you'll want to consider in-depth user experience and interaction design. Without consideration, you run the risk of alienating or disappointing customers.
You can only either have a brochure website or an Ecommerce site, and both of these types of websites we design and develop use WordPress and have user experience and user interaction in mind.
One final point: every website we output is fully responsive. This is always a surprise to us, but we always find poorly designed "responsive" websites.
We see things from horizontal scrolling navigation to elements not even falling in place properly on small screens.
You may have even noticed this yourself!
But why does this happen?
This is down to inexperienced people setting up their own websites (using builders).
Check out our work with iVent to see an example of what can be achieved with good website design.
Website Services and Deliverables FAQs
Let's recap a few things, while answering other frequently asked questions relating to website services and deliverables.
Website Deliverables and Services: Considerations
There are always additional considerations that fall outside of any obvious remit in projects like these.
At Canny, we cover all bases for you, and often find that something we provide as standard hasn't even been considered by the client!
Here are some examples of the added value extras you get with Canny.
SSL Certificates
SSL certificates add a bit of extra security to your website. It gets you that little padlock icon in your URL and lets visitors browse your new site with confidence.
This also has an influence on your 'findability', as Google prefers to serve SSL certified websites in their search engine results.
Payment Providers
For any Ecommerce or commercial offering site generally, it's vital to integrate a trusted payment provider so consumers can buy with confidence and trust.
At Canny we tend to use PayPal as our go-to on web payment provider, as it is a well established, high profile and secure brand. If you would prefer a different or more flexible payment option on your site we can integrate lots of options, including Stripe payments.
Video and Imagery
Integrating video and more dynamic elements to your website can be tricky if you try to go it alone.
At Canny, we consider serving multimedia assets from all angles from day one — if it's going to effect load speeds, where it should sit on the page from a UX/UI point of view, what is going to be the most impactful, autoplay options etc.
We also offer services to create original video content in partnership with our clients, so you get professional, clean looking video that fits seamlessly into your site.
Partnership and Relationship Development
The partnership we have with our clients is the key to the success of your projects.
It applies to every project we work on.
The partnership you build with an agency is priceless. An agency will be a nice little extra to your business. Your go-to when you have problems and your trusted resource partner.
Developing a good relationship with one another will allow your business to grow even more so.
At Canny, we focus on building partnerships with our clients.
This means that we support you every step of the way, beyond the delivery of the website, to ensure success. Some agencies view website projects as a 'once it's done, it's done' sort of deal, as they have met the criteria of their contract.
At Canny, we believe sustainable support and partnership is the best way for everyone involved to get exactly what they want out of any project, whether it be content based, design and branding based, or web development based project.
The Complete List of Web Design Services and Deliverables
Hopefully, this blog post has given you a solid idea of what web design services, and what website deliverables, are out there.
Remember that your business, branding, and website are all rely on the other in order to bring your company success. Your website is part of your brand (not an afterthought) and your brand is the foundations that hold everything upright.
You simply need to work with the right agency in order to grant your business the best possible success.
Enter: Canny Creative
When you're ready to engage with us to talk websites, feel free to get in touch.