Corporate branding is not just about choosing a catchy name and designing a memorable logo. It's much more than that.
A game changing corporate brand is a mix of outstanding strategy, visuals, storytelling, engagement, and application.
We live in a world where we're constantly bombarded with brands, advertisements, slogans, and social media. For fun, try and count up the brands you've encountered before you leave the house in the morning.
We're becoming numb to it all.
Your corporate branding is there to make you stand out.
In fact:
It's the only way you can stand out.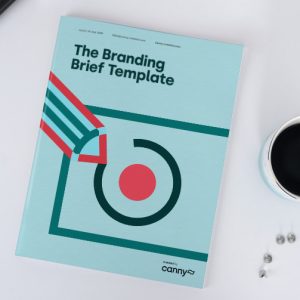 The Branding Brief Template
The Branding Brief Template is a free template that will help you get the brief for your branding project right. W...
Think about some of the biggest consumer brands in the world; Coca-Cola, Nike, Apple, and Tesla. These are companies that have harnessed the power of their corporate brand.
They don't just sell products and services, they sell experiences, emotions, and ideals. And they have licence to do so because of the brands they've built.
This post will guide you through the corporate branding landscape. We'll share the process we use at Canny to craft brands that truly stand out. You'll also discover examples of familiar companies, gaining insights into how they've created successful and engaging brands.
Ready? Let's dive into the world of corporate branding.
What is Corporate Branding and Why Is It Important?
In the design industry, terms like corporate branding, brand strategy, and logo design are often confused or used interchangeably. Let's clarify each term.
Corporate Branding
Corporate branding is the practice of promoting the brand name of a corporate entity, instead of specific services or products.
For example:
Apple Inc is the company name, Apple is the corporate brand
The Coca Cola Company is the company name, Coca Cola is the corporate brand
Tesla Inc is the company name, Tesla is the corporate brand
Creating a successful corporate brand involves establishing a strong brand strategy, a brand identity that stands out, activating it across your brand touch points, in turn building loyalty, trust, and engagement with your brand.
Corporate branding involves establishing a strong, consistent, and unique brand image that represents the values, culture, and vision of a company. The aim is to create a brand that stands out and not only attracts, but retains loyal customers.
Brand Strategy
Brand strategy is the long-term plan that outlines the key elements of your brand.
When we develop a brand strategy here at Canny, we look at 9 different elements of your brand.
They are:
Audience Personas
Competitor Research
Brand Positioning
Brand Story
Brand Values
Brand Mission
Brand Touchpoints
Brand Messaging
Tone of Voice
Your brand strategy defines what you stand for. It's essentially "the ultimate guide" to your brand.
A well-crafted brand strategy can guide all aspects of a business, from marketing and customer experience to product development and partnerships.
Brand Identity
Brand identity is the visible side of a brand, the way you present yourself. It's your colour palette, typography, logo design, and overall style. Typically, your brand identity is summarised in a brand guideline document.
Your corporate identity includes all of the visual and verbal elements of your brand. It also ties directly into your brand strategy.
It's this combination of the visuals and strategy that gives you a brand identity and helps distinguish your brand in your audience's minds.
Logo Design
A logo design is a symbol, mark, or graphic element that serves as the visual representation of a company's brand. It's typically the thing most associated with a brand.
Think Nike's Swoosh, Apple's Apple, or Coca Cola's famous red script logo. That's logo design.
Logo design is the process of creating a distinct and recognisable asset that people associate directly with your company.
Now that we're clear on the terms, let's look at how to build a great corporate brand.
How to Build a Powerful Corporate Brand
Building a leading corporate brand is straightforward in theory, but challenging to deliver.
It's important to take a targeted strategic approach to your corporate branding.
The first step we recommend each of our clients to take is to write a branding brief. This ensures you get buy-in and alignment from your key stakeholders before the project begins.
Once you have that foundation, it's crucial to understand the three core objectives of corporate branding. They are:
Differentiation
Consistency
Memorability
Differentiating enables you to highlight the unique aspects of your business that can attract and retain your desired audience.
Consistency strengthens recognition and trust among consumers, building a stronger relationship between your brand and your audience.
A memorable brand consistently stays top-of-mind, leading to increased loyalty, sales, and referrals.
At Canny, we follow a proven process and methodology to help our clients get the best results with their corporate branding.
Let's get into it.
Conducting a Brand Audit
Before you do anything, you should audit your current brand. If you're only just starting out, move straight onto the next section.
However:
If you've been around the block a few times, it's time to step back and ask some tough questions about your brand.
What is a Brand Audit?
A brand audit is a crucial diagnostic tool that helps to uncover any issues you're facing with your brand.
You can use it to ensure your brand is aligned with your business objectives and that it remains consistent and relevant as you move forward.
A brand audit is a health check for your brand assessing its strengths, weaknesses, opportunities, and threats. Not only does it help in maintaining brand integrity but it also provides ideas and insights into areas of improvement and growth.
How to Run a Brand Audit
We've covered running a brand audit before on Canny's blog. As a quick recap, here are the key steps you should follow:
Survey your stakeholders: Gather feedback from employees, customers, partners, and your board to understand the perception and positioning of your brand.
Review your brand assets: This includes your brand strategy, brand guidelines, logo, marketing materials, in-house materials, and any other visual assets you've created.
Measure brand awareness: Take note of key business metrics (think social, email, Analytics data) and compare against 3, 6, 9, and 12 months ago.
Record your findings: Capture all of your data and information in a spreadsheet or document so you can easily refer back to it throughout your branding process.
Create an action plan: The final step is to create your action plan.
Either on your own, or by finding a branding agency to work with, it's important to take the insights and data gathered and translate them into actionable steps.
Whether it's a visual refresh of your branded marketing materials, a change in your brand messaging, or a complete overhaul of your brand strategy and corporate brand identity, your audit should show you your clear next steps.
Every audit action plan will vary depending on the results of the audit, but make sure to include yours in your branding brief.
Creating Your Brand Strategy
Your brand strategy is the foundation stone of your entire corporate branding and identity. It's crucial to get your strategy in place before starting any design work.
We've covered brand strategy creation in this post.
Be aware:
Developing your brand strategy isn't something you can do overnight. It's not a one day exercise or quick win workshop.
The purpose of your brand strategy is to help people to understand your business, goals, and brand. It should answer the following questions:
Audience Personas: Who are your customers and what can they teach you about your brand?
Competitor Research: Who are your biggest competitors and what can you do to stand out?
Brand Positioning: Where does your brand sit in the market and where do you hope to go?
Brand Story: What led you to where you are today?
Brand Values: What really matters to you and your brand?
Brand Mission: Why do you do what you do and what do you hope to change in the world?
Brand Touchpoints: How and where do people interact with your brand?
Brand Messaging: How are you communicating what makes your brand unique?
Tone of Voice: How do you use words to channel your message?
Our ebook Brand Strategy Made Simple will take you through a series of exercises to help.
An Electrifying Brand Strategy Example: Tesla
You thought Tesla was about sleek looking cars? Think again. Dive deeper, and you'll see it's all part of Elon's grand design. Their mission? A bold call: "to accelerate the world's transition to sustainable energy."
They're not just about zero-emission drives to your favourite coffee shop. It's about shaking up the status quo, setting the gold standard in innovation, and, dare we say, saving the planet one Supercharger at a time.
Their lineup, from the sporty Roadster to those solar roof tiles (yeah, they do those too!), all echo their core values: pushing boundaries and being green without being boring. And with their flair for the dramatic (remember that car in space?), Tesla doesn't just create products; they craft stories, and stir up emotions, all tied together by their brand strategy.
While other brands are playing checkers, Tesla's out here playing 4D chess and winning the corporate branding game.
Establishing Your Brand Identity
With your brand strategy complete, it's time to move on to your visual brand identity.
Your brand identity is the visual representation of your brand strategy. It encapsulates the look and feel through various visual elements such as logo, colour palette, typography, imagery, and more.
It's how your brand visually communicates with your audience.
The Importance of Brand Identity
Your brand identity is the first thing people see when coming across your brand for the first time. Before they get to understand the story, the meaning, or the mission, they'll see your visual identity.
A strong brand identity helps to establish:
Recognition: A distinct brand identity ensures immediate recognition and differentiation. Just think about McDonald's arches, or the simple Apple silhouette, or Nike's Swoosh. With just a glance, you know exactly what company you're dealing with.
Consistency: A well-defined brand identity ensures consistency which helps to build trust and reassure your audience over time.
Differentiation: In crowded markets, differentiation is crucial. A standout visual identity carves a distinct space in your audience's minds.
Connection: The right visual identity evokes specific emotions in your audience. For example, certain colours can induce feelings of trust, excitement, or calm.
Foundation for Marketing: Your brand identity guides all marketing efforts, ensuring aligned and effective communication.
Your brand identity is the visual DNA of your company. It doesn't just make a brand look appealing; it communicates its entire story and strategy.
So how do you do it?
The Elements That Build Your Brand Identity
At Canny, we love designing visual identities for brands. But it's more than just design; it's about giving a brand a unique look that tells its story, connects with people, and helps them stand out.
To create a leading corporate brand identity, you need to design and curate the following elements:
Logo design
Colour palette
Typography
Photography styles
Graphic elements
This is what you need to consider when designing each of them:
Logo Design
Your logo is the face of your brand. It should capture the essence of your brand in one memorable visual.
When designing your logo, ask yourself:
Is it distinct enough to be remembered after just one glance?
How does the logo scale? Will it be recognisable in both small and large formats?
Does it work in both colour and black and white?
Can you sketch the logo quickly and easily (typically within 5 seconds or less)?
Are you avoiding cliches and boring solutions?
Can it stand the test of time and adapt to various mediums?
At Canny, we recommend that your logo passes the 7 criteria of effective logo design.
Your logo should work in both colour and black and white. Sure a lot of things are digital nowadays, but ensuring it works as a solid black shape opens up a wide range of applications.
Colour Palette
Colour is a hugely undervalued element of a brand identity. The colours you choose have the power to evoke emotions; it's important that they are communicating correctly with your audience.
When working on your colour palette, ask yourself:
What primary and secondary colours evoke the correct feelings that you want associated with your brand?
How do these colours differentiate you from competitors?
What emotions do your chosen colours elicit?
Are there any specific colours you should avoid? (e.g., tech brands often go blue).
Are the chosen colours accessible and legible, especially in text?
Are you in-line with ADA requirements?
Should you have defined print (CMYK) and web (RGB) colours?
At Canny, we recommend that you construct a primary and secondary colour palette as a minimum, and also create varying tints and shades of each for different use cases.
Your colours need to work equally well in traditional print marketing and digital marketing activity or you're at risk of sacrificing consistency.
Typography
Typography and font choice can speak louder than your words. Your typography choices should echo your brand's strategy and tone.
When choosing your typography, ask yourself:
Which typefaces align with the brand's personality?
Does your chosen font further amplify your brand's character?
Do you need a combination of typefaces? If so, how do they harmoniously work together?
Does your typography choice enhance the legibility and comprehension of your content?
Do you need to purchase the correct licence for using any of your chosen fonts?
Have you managed to avoid using Comic Sans?
At Canny, we recommend that you have a maximum of 3 fonts:
Logo font
Headline font
Body font
We then utilise different styles and weights of the chosen fonts if we need to build out their usage further.
Not all fonts and typefaces are free, in fact, most of the good ones aren't. Don't use free font websites for your brand. Stick to Google Fonts or buying a typeface from a reputable type house.
Photography Styles
Photographs have a unique way of capturing attention, invoking emotions, and illustrating stories. The right photography style can bring your brand to life and set you apart from a sea of competitors.
When looking at your photography, ask yourself:
Do you have access to a stock library or will you need to commission original work?
Will you use real-life photos, illustrations, or a mix of both?
What mood or theme should your images consistently convey?
Do your photos align with the overall tone and message of your brand?
Are they versatile enough for different platforms and mediums?
How do they set you apart from the competition?
Your photography choices should not just showcase your brand but amplify its essence and differentiate it from the crowd.
At Canny, we believe a picture is worth a thousand words. Original photography is a luxury but not always affordable. To avoid cheesy stock photos, try using Unsplash, Pexels, or even generating your own work with AI in Midjourney.
A beautiful photo can be compromised by a blurry or pixelated image. Make sure if you're commissioning a shoot, that you get access to the RAW files or highest resolution images possible!
Graphic Elements
Graphic elements serve as powerful tools in conveying a brand's look and feel, breaking down complex ideas, and guiding viewers through visual content. The style and approach you take can either amplify your brand's identity or confuse its messaging.
When working through your graphic elements, ask yourself:
Should your elements be geometric or organic in design?
How do they complement other visual elements?
Could patterns or textures add depth to your designs?
Is there a way you can use your logo or other assets to form a pattern?
Do your graphics provide a consistent look and feel across platforms?
Are they engaging and easily digestible for your audience?
Ensuring alignment between your graphic elements with your other brand visuals is key to creating a cohesive and powerful visual identity. You'll use all of these elements when creating your marketing kit and branding deck.
At Canny, we believe in simplicity. Take away as much clutter as you possibly can to improve communication and recognition.
Icons should be simple. Patterns should be interesting and repeatable. If they're not, try again.
Standing Out with a Bright and Bold Brand Identity: Slack
Business communication tools can be boring. And Slack took objection to that. They stand out not just for their functionality, but also their vibrant and welcoming brand identity.
Unlike its counterparts that lean towards more traditional corporate aesthetics, Slack uses a lively colour palette and playful logo, underlining its promise of simplifying workplace communications. That's probably why they're the tool of choice for creative agencies and startups.
In their early days, they had a masterstroke of success by bringing in Sandwich Video. The introductory video was infused with humour and relatability, presenting Slack as the solution to typical office miscommunications. This light-hearted approach, combined with their distinctive visual brand elements, carved Slack's niche in a crowded market, and doubled down on their strategy.
The takeaway? Sometimes going against the industry standard and aesthetics can put you miles ahead.
Working with a Branding Agency
We'd always recommend working with a branding agency to conduct your brand audit, create your brand strategy, and establish your brand identity.
Give them your completed branding brief, then use the questions above as a guide to help direct your project.
Choosing a branding agency to work with is tricky, because there are a lot of options out there.
I've always said to potential clients that you should make your choice based on 3 things:
Did you like them when you spoke to them?
Do you like their work?
Can you imagine building a long term relationship with them?
If you can answer yes to those questions, you've probably found a good agency match.
The Pros of Working with a Branding Agency
Working with a branding agency offers a range of branding benefits and services that utilising a freelancer or in-house resources doesn't.
Working with a team: A branding agency offers a comprehensive team to work with, all with varied experiences and ideas. It also means there's cover incase of sickness or annual leave.
Efficiency and scale: Agencies have processes in place that can expedite the branding process and can handle large projects, small projects, campaigns, launches, and everything in-between.
Fresh Perspective: Using an external agency offers a fresh perspective, sometimes missed by in-house teams deeply embedded in company culture.
These are just a few examples of why working with an agency on your corporate branding makes sense.
The Cons of Working with a Branding Agency
Working with a branding agency doesn't come without its challenges too. There are some things to consider before diving into a relationship.
Potential cost: Agencies might come with a higher upfront cost compared to a single freelancer or utilising an in-house team.
Risk of impersonality: While they bring fresh perspectives, they might initially lack the deep cultural understanding an in-house team inherently has. However, a good agency would start with a deep dive to help them understand your company fully.
Possible delays: In some cases, if an agency is juggling many clients, there could be prioritisation challenges.
As a branding agency, it's always going to be our recommendation to work with an agency like us on your corporate branding. For businesses looking for a thorough, robust, and consistent branding approach, an agency is the optimal choice.
Wrapping It All Up with Your Brand Guidelines
Now that your corporate branding is finalised, you need to wrap it up in a brand guideline.
We've covered creating brand guidelines before on the Canny blog, so we'll not go into every single detail here.
But:
A brand guideline, brand book, brand manual, or style guide (whatever you want to call it!) is "The Ultimate Guide" to your brand. They're used to ensure a consistent strategy, look, and feel across your entire corporate brand.
Your brand guideline should include all of the elements from your brand strategy and your brand identity design. Further things you should include are:
The do's and don'ts of your brand identity
A written explanation to the assets, how to use them, and where to access them
Usage across different touchpoints
Example brand and marketing campaigns
Who to contact with questions
There are some great examples of brand guidelines online, including Walmart, Asana, and Starbucks.
It's also worth noting that your brand guideline document doesn't have to be a simple PDF. As you can see from the companies above, people are going above and beyond, creating digital experiences and combining their brand guides with culture manuals.
Think back to your brand strategy, and create a brand style guide that works for you.
Corporate Branding Activation Across Your Brand Touchpoints
With your fresh new brand style guide in hand, it's time to roll out your new corporate branding across your brand touchpoints.
As we highlighted earlier, consistency and memorability are two of the most important factors when it comes to building a powerful brand.
Remember:
Consistency drives memorability.
This means that your new corporate brand should be applied across each of your organisation's brand touchpoints. From your stationery and print design, through to your corporate branding merchandise. Everything you produce with your new brand identity on it will need to be carefully considered.
Common brand touchpoints include your:
Website
Blogs
Email
Events and Networking
Word of Mouth
Direct Mail
Social Media
Brochures
eBooks
Advertising
Videos
Podcasts
Interviews and FAQs
Case Studies
Public Relations
And then anything industry specific too. For example pubs and hotels will have a huge range of different touch points compared to a company selling a B2B SaaS product.
When activating your brand across your touchpoints, we think about things in 4 buckets:
Cold leads: These people have no awareness of your brand. They're trying to find solutions to their problems, not necessarily looking for outside help.
Warm leads: These people are aware of your brand, but need more convincing.. They've been to your website, followed you on social media, or come across you elsewhere.
Hot leads: These people are almost ready to buy, but still considering their options. They've likely been to your site several times, maybe used live chat, or even sent an email enquiry.
Customers: These people have a relationship with your brand, and that needs nurturing and growing. Your customers are typically always happy to be engaging with you. Now you need to find a way to grow that relationship, and then surprise and delight them.
For each of these buckets, plot out a table with 3 columns:
Customer mindset
Touch point
Benefit / idea
Then work through each stage in the funnel and map out each element.
This will give you a list of each of your brand touchpoints. It'll make sure you don't miss anything, and also help you to spot any opportunities to enhance your touch points and customer experience as you go.
Remember:
Every touch point is an opportunity for brand storytelling and communicating with your audience. It's important not to let any opportunities go unexplored.
Once you've completed your brand activation and rollout, remember to backfill the details into your guidelines.
Launching Your Corporate Brand
Finalising your strategy and brand identity then activating across your brand touchpoints is one thing, but how do you make a big splash with your target customers?
This is something we come up against every day at Canny.
And that's why we introduced the RESET framework. This is how it works:
Reassure: Let your customers know you're making changes but it's for the better.
Explain: Explain why you're making the changes and what's changing.
Sell: Highlight the benefits of the change to get your customers to buy in.
Essentials: Give them the essentials, what they need to know, and what it means to them.
Timely: Announce the rebrand in a timely manner so it doesn't just drip out with a whimper.
How you do this will depend on your specific business type.
In B2B it's typically a blog post, an email newsletter, and a PR campaign.
In B2C and Direct to Consumer business it could be an email newsletter, something all over social media, and maybe even TV and paid advertising.
You can get creative, but following the basic principles of Canny's RESET framework will help you launch your corporate brand effectively.
Building Loyalty Through Your Corporate Branding
Your corporate branding has the potential to play a huge role in building brand loyalty with your customer base.
The best way to explore this is through looking at established brands that have built up loyal brand following.
IBM: The Titan of Tech and Trust
IBM stands as a testament to continuous innovation, adaptability, and forward-thinking. While many other tech companies have faded away, IBM's commitment to pioneering technological solutions tailored for businesses has ensured its success by building a base of loyal clients in some of the largest companies in the world.
To do this, they centred their efforts on:
Customer-focused innovation: IBM has consistently pushed boundaries in technological advancements, ensuring businesses have the best tools at their disposal.
Creating educational resources: They offer numerous certification programs and courses, ensuring that its users are well-educated and can fully utilise its solutions.
Strong ethical brand values: IBM's commitment to ethics, transparency, and corporate responsibility has fostered trust among their customer base.
Lego: Beyond Toys, Crafting Generational Loyalty
From its humble origins in a Danish carpentry workshop to becoming a global powerhouse in the toy industry, Lego is renowned for their creativity and quality. Their commitment to creating high-quality and innovative products, has turned the brand into a cherished household name.
Building community platforms: Lego Ideas lets fans submit their designs and then have people vote on the next Lego Ideas kit, building a strong community connection.
Thematic sets and collaborations: Partnerships with brands like Star Wars or Harry Potter keep Lego culturally relevant and their audience wondering what's next.
Legoland and experiential branding: The theme parks immerse visitors in the Lego universe, deepening brand affinity and giving customers a new way to explore the Lego brand and touchpoints.
HubSpot: Nurturing Business Growth and Loyalty
HubSpot are the champions of inbound marketing and have transformed the way businesses approach online sales and customer engagement. By providing a comprehensive suite of tools and nurturing a thriving loyal community of marketers, HubSpot has become the gold standard in its domain, building brand loyalty that leads to business growth.
Inbound philosophy: By championing inbound marketing, HubSpot positioned itself as a thought leader, attracting businesses that align with this approach.
Extensive educational resources: The HubSpot Academy offers free courses, helping businesses succeed while promoting platform loyalty.
User-Friendly platform: Their integrated suite of tools for marketing, sales, and customer service is intuitive and efficient.
Active community engagement: HubSpot nurtures its community with regular webinars, user groups, and an annual INBOUND on-site and digital conference event.
Each of these brands have leveraged their corporate identities to create unparalleled customer loyalty. Their strategic alignment, compelling narratives, and commitment to their brand strategy have been key to their success.
Without the foundational elements in place, these brands might have faltered. Instead, they stand as shining examples of building a powerful corporate brand.
Engaging Your Employees with Your Corporate Branding
Your employees aren't just your workforce; they're your brand ambassadors. When they believe in your brand, they deliver better service and also promote your brand on a personal level.
Here's how to get them onboard:
Brand introduction: With your new brand in place, bring everyone in, talk them through the decisions, and introduce them to your new corporate identity.
Brand induction: Initiate new hires with a comprehensive introduction to your brand strategy and guidelines. Make it an immersive experience so they feel they're becoming a part of something bigger.
Regular training: As your corporate brand evolves, ensure that the team is updated. Run refresher courses with your team on a regular basis.
Incorporate feedback: People on the frontline often have the most valuable insights. Create ways for them to share feedback about the brand and what they're hearing from customers. This inclusion not only assists with your strategy but also makes them feel valued.
Celebrate the brand: Mark big milestones with internal celebrations. This creates a sense of collective achievement.
Provide branded collateral: From uniforms to desktop wallpapers, infuse their work environment with the brand. It's a constant, subtle reinforcement of who you are and what you stand for.
Remember:
A brand that speaks to your employees is more likely to speak to your customers. When your team is fired up and invested in your brand, it can create a domino effect that can lead to greater customer loyalty and trust.
Maintaining a Strong Corporate Brand
Even the best and most powerful corporate brands can start to wane if they're not taken care of. Maintaining a strong brand requires diligence, foresight, and adaptability.
Here are 5 steps to maintaining a strong corporate brand:
Run regular brand audits: Back to the first point in this post, running a regular brand audit will help to evaluate your brand's health. Monitor metrics, conduct customer feedback surveys, and ensure you're meeting, if not exceeding, the standards you've set.
Stay true to your brand strategy: While evolving is crucial, the core of your brand strategy should remain consistent. It's the anchor that customers and employees relate to and that your corporate brand is built upon.
Consistent communication: Ensure your brand strategy, identity, and messaging across all channels remains consistent. A unified voice strengthens brand memorability.
Protect your brand: This includes taking legal measures like trademarking your name and identity, but also maintaining the quality of your products and services, and addressing any public relations challenges proactively.
Celebrate and innovate: Acknowledge brand anniversaries or big milestones. But also be open to innovation. Add new product lines and improved services to maintain brand appeal.
Creating a strong corporate brand isn't a one-time achievement; it's an ongoing commitment. Regularly nurturing and defending your brand's integrity ensures it remains an industry leader, attracting customers and talent in equal measure.
Corporate Branding FAQs
Unleashing the Power of Corporate Branding
Corporate branding is a blend of art and science, strategy and creativity.
Now more than ever, it's evident that a powerful corporate brand isn't just a luxury, it's a necessity. The market is overly saturated, and your brand is your only way to differentiate.
From the formulation of your strategy to your identity design and marketing campaigns, every aspect of your brand should be considered and scrutinised. Your branding plays a pivotal role in differentiating from your competitors, standing out in the market, and attracting both customers and talent.
As you move through your branding journey, remember:
Your corporate brand is more than just a name or a logo; it's the heartbeat of your business. Nurture it, invest in it, and watch as your company transforms.
We'd love to work with you on your corporate branding project. Get in touch with Canny today to discuss your project.