You've arrived here because you're wondering 'how much does a corporate video cost?'
And I don't blame you.
If you type this question into Google you've been inundated with different companies all telling you different things.
Should you be paying hundreds of pounds for a corporate video? Or thousands of pounds?
Well, it all depends on what you need alongside a whole host of other factors. This includes how much time needs to be spent on the project, how many people are involved, and which video format you choose. And let's not forget about location. There's a big difference between jetting off to a tropical island and filming in your local park.
But more on that later.
With so many things to take into consideration, the overall price can vary massively.
The quality of your corporate video is also imperative. Regardless of whether this is seen by internal employees or external customers and clients, your video is representing your business and will leave a lasting impression on people.
Can you afford to scrimp and scrape on this?
Let's start by understanding what corporate video is.
What is Corporate Video and What Can it Do for Your Business?
A corporate video is produced by a business to communicate a specific message. The aim of this medium is to use video as a communication tool to attract and engage your target audience.
Corporate video can take many forms depending on what you're trying to achieve. For example, explainer videos, demonstration videos, and location videos are just a few examples which we'll cover in more detail below.
In terms of what corporate video can do for your business, the opportunities are huge.
Video is an engaging medium and sustains audience engagement far better than any other format. In a world where people are very busy and have limited attention spans, video acts a great way to keep them interested in your brand for longer.
Customers connect better to visuals than they do text which is what makes this type of content so successful. Aside from being used for external purposes, video can also transform your onboarding process. By producing videos of different departments, you can introduce new employees to the company much quicker. They will also be able to get a better feel for the company and as such, will have a more positive experience when they first join.
Now you know the potential of this medium, let's look at the different video services that an agency offers.
What Video Services Do Agencies Offer?
Corporate video takes a lot of planning to get right. It's not a case of just creating a video and uploading it to YouTube.
For starters you need a video script and a storyboard so that you know what you want to shoot. Taking the time to get this stage right is important as it sets the direction for the rest of the video. People often get too carried away with filming and want to dive in straight away.
You also need to consider the format of your video. Is animated better suited to your target audience or live action?
Or perhaps you have no idea and just have a few ideas written down on paper.
And that's fine too. It's the job of a creative agency to help you unjumble these ideas to identify what type of video will suit your project best. For example, if you work in the IT or SaaS sector and have a very complex product, then an animated video is probably best. This is because this type of video allows you to break down difficult concepts into simple icons, enabling your audience to grasp a better understanding.
If you choose live action video featuring real people and real settings, then you need to consider lighting and framing. This is very important as it affects the overall quality of the final product.
Can you imagine filming something that was dark or chopped someone's head off?
I don't think this would get the right message across somehow.
Therefore having the right level of expertise is vital to ensure the process runs smoothly. This is where a creative agency steps in as they manage the process on your behalf right from the planning stage through to execution. They are the experts in video marketing and understand what it takes to create a great final product. One that you are proud to present to customers and clients.
They will also be able to offer their expertise when it comes to developing different ideas. No one knows your industry better than you, but equally no one knows video better than a dedicated videographer. It is their job to transform your ideas and create engaging content that people want to watch.
What Video Services Do Canny Offer?
At Canny, we love video content and love helping our clients achieve maximum results through this medium.
We put out videos every single week including our 'Building Better Brands' series which explores different topics in the world of branding, as well as 'Rebrand Review' where we take a deep dive into some of the best (and worst) rebranding projects.
As such, you can be sure that we're talking from first hand experience. We know what it takes to create a great video, as we undergo the process ourselves each week.
When it comes to creating video for clients we offer a range of services depending on your business needs and the type of video you want to create.
Let's break this down into the different types of video we offer:
Corporate video – We've covered this above so we'll keep this fairly short and sweet. A corporate video is produced by a business to convey a particular message and engage a target audience.
Animation – Animated videos are created by using original drawings, designs, illustrations, and computer generated effects. They are edited together into a sequence to move in such a way that is eye catching and engaging for the viewer. Cartoons, 2D animation, 3D animation, motion graphics, whiteboard animation, and CGI are some different types of this style of video.
Location tours – A location tour video is a full motion video of a particular location. It involves someone doing a walk-through of a location as they are recording to give the watcher a full scope of the surroundings. The video is filmed at walking pace whilst the camera pans the location and moves from one point to another. This allows the watcher to feel as though they are present regardless of where they are viewing the content.
Event videos – An event video involves capturing social and special events by a videographer. This covers a wide range of applications including conferences, exhibitions, networking, and live performances. This is a great way to promote your event and reach new audiences online as part of a wider marketing campaign.
Drone videos – A drone video involves capturing footage using a remotely-operated or autonomous unmanned aerial vehicle (UAV), also known as an unmanned aircraft system (UAS). In more common terms, this is known as a drone. This type of video is particularly effective when filming at height as it captures footage that would not otherwise be impossible.
Explainer videos – An explainer video is a short form video used for marketing and sales purposes. Its aim is to highlight a business's product or service in a compelling and efficient way. They are often placed on a company's homepage, landing page, or relevant product page to explain how something works.
Product demos – A product demo is a video which shows how your product works by seeing it in action. They are a great way to communicate the value of your product to potential customers by demonstrating what it can actually do. This is much more engaging than just reading a list of key features and specifications.
Testimonial video – A testimonial video captures a customer or client praising a company. It is used to highlight their positive experience of using their products or services to influence other people to invest. In most cases, the customer will talk about how the company helped them to solve a particular problem and the reasons why they would recommend them to other people.
Photography – Photography can be used in various ways for your business to add some visual depth. Maybe you need some new images for a catalogue or promotional flyer, or perhaps you need some updated imagery for your website. Whatever the reason, photography is a great way to bring your brand to life.
However, before we produce any of the above, there is a lot of planning and research to ensure the video has a purpose.
At Canny, we also provide the below services:
Video Strategy – We take a deep dive into your business and work out what you're trying to achieve from your video content. We don't take a generic approach, but instead explore what makes you different and how this can be expressed through the medium of video.
Research – Before starting video production, we research your company and the industry you operate in. This gives us a better feel for the type of content you should be creating and allows us to position you as the expert.
Storyboarding – A storyboard is a vital component of a successful video project. Without it, your video has no direction as you need to see the story laid out in front of you. This provides a solid base for the rest of your video and also ensures everyone involved understands what is required of them.
Script Writing – You could have the best video in the world, but without a script, you're setting yourself up to fail. At Canny, we help you curate a script that communicates your message clearly and concisely. Regardless of the type of video you're creating, having a script helps you develop the narrative of the video and also keeps the dialogue succinct.
Social Media Distribution – Once your video is created, it's time to share it with the world! You have a fantastic masterpiece, why wouldn't you want it seen by as many eyes as possible? When you partner with Canny, we distribute your video content through a variety of social media to ensure it gets in front of your audience.
Different Video Costs
Unfortunately, the cost of corporate video is not cut and dry.
There are various factors that affect the overall price and it all comes back down to the decisions you make along the way.
That said, let's take a look at some of the factors that affect video costs.
Type of Video
The type of video you wish to create will have a big impact on your budget.
For example, there is a big difference between creating a live action video and animated video. If you're unsure what each of these videos mean then let's take a step back.
Live action video is based on real life footage whether that's featuring people, animals, or any other type of setting. These videos are used for a variety of reasons including product demonstrations, case studies, and client testimonials.
Depending on the purpose of the video, they can be informative, humorous, or professional with the core aim being to attract an audience by featuring real people.
On the other hand, animated videos are created by using original drawings, designs, illustrations, and computer generated effects. They are edited together into a sequence to move in such a way that is eye catching and engaging for the viewer.
Cartoons, 2D animation, 3D animation, motion graphics, whiteboard animation, and CGI are some different types of this style of video.
If you're unsure which video to choose, then the below infographic might help you decide the best route.
In terms of budget, animated video is usually cheaper than live action video. This is because the cost is more malleable as you can simplify the process. This might include shortening the length of the overall video or using less graphics. However, thinking of ways to reduce the cost does not lead to the best creative output.
Also, as animated video is created from scratch this needs to be factored into the price. This requires a pool of special talents as creating high quality sketches from hand is a real skill. As a result, this will also contribute to the price as you're paying for a bespoke service.
Moving over to live video.
This type of corporate video is usually more expensive and budgets can increase very quickly. Of course, it depends on what you're trying to achieve and how many people need to be involved to make it happen.
You can easily make a video with 2 or 3 people from your office, or you could go to the other end of the spectrum, and hire a full set of professionals. It totally depends on what you want the final product to look like, and more importantly, how much you can stretch your budget.
Obviously if you're hiring actors and a full camera crew, then the budget will rapidly increase. This is why live video is very difficult to quantify as it depends on your own criteria.
Location
Are you wanting to film a new launch video on a luxury boat in the Bahamas?
If so, then get ready to bring out the big bucks.
This type of video would be very, very expensive, because well, you're filming in the Bahamas.
Think about the number of costs involved in this process…
First of all, you need to get everyone to the Bahamas and on set to film. Flights aren't going to be cheap, and neither is transport to and from the airport. Also these people need to be fed, watered, and put up in a hotel whilst they are filming. All of these things come with a hefty price tag, and the more people involved, the more money you'll need to spend.
You also need to consider the weather. If you're filming in the sunny Bahamas then how are you planning on keeping the cast cool? If you're using professional actors and a professional crew then they'll expect good working conditions.
Otherwise productivity will slow down and you might even end up with some diva moments!
This is why choosing the right location is so important, and making sure you have enough budget to make it work.
To keep costs down, you could always shoot the video in your office. However, whilst this is tempting, an office looks, well, very much like an office. Unless of course that is the aesthetic you're going for – which might be fine if you're filming an introductory video for new employees.
However, if possible, try to be creative with your location choice. Where you film has a huge impact on the final video as the location reflects the mood you're trying to set. Therefore it's important you choose somewhere fitting.
Start by brainstorming some ideas of suitable locations. For example, a public park, a nearby coffee shop, a library, or a museum could all be good options. This will fall down to the type of video you're creating and its purpose.
Once you've decided where you want to shoot, you can start ringing around these places and asking for permission. Some places will let you shoot for free, whereas others will charge a fee. This needs to be factored into your overall budget.
Cast
As we've touched on earlier in the post, you need to consider who you want to feature in your video.
Are you just going to use some internal employees or do you want to hire professional actors?
The choice is yours, and there are pros and cons to each decision.
For example, if you choose to use your own employees, then the video looks more authentic as you're using real people within your own business. For some videos this is absolutely essential as you're introducing people to your company. An example of this would include recruitment and training videos.
If you've got new employees joining your business then they'll want to put a face to a name. That's why using department heads and managers is a great way to make people feel more welcome.
However, the downside of using real people within your business is that not everyone is comfortable on camera. A lot of people get anxious as soon as the camera starts rolling and can stumble on their words.
We've all been there!
You know what you want to say, the camera points at you, and suddenly your mind is totally blank.
Again, this might be fine if your video is more relaxed and is only being used for internal training purposes. You don't need to have the best presenter in the world, as long as they communicate the key information staff need.
However if you're producing a launch video to promote a brand new product which you want consumers to buy into, then the person featured on the video needs to be confident. You need to be able to trust that they can effectively 'sell' the product and entice your target audience. If they're stumbling all over the place and confusing the product details, no one is going to watch your video and buy your product.
As a result, understanding the purpose of your video and its audience is essential. In many cases, it might be a better idea to dedicate some budget to hiring a professional.
Timescales
There is a direct correlation between the time it takes to shoot a video, and the cost of the video. As a general rule, the longer the video takes the more money you will end up spending as the production team is dedicating more hours to your project.
Before engaging the services of a corporate video production company it's important to understand their process and the way they work with clients.
At Canny, we follow a set process when partnering with a new client. This helps both parties identify exactly what we're trying to achieve and when, so that we can be confident each video campaign is a success.
It also helps clients understand the way we do things so they can be sure they've made the right decision before engaging our services.
Below is our video process:
The client approaches us with a video brief (if you don't have this yet don't worry, you can fill in our video brief template and send it over to us).
We meet with the client to discuss how we can develop the brief.
We create some storyboards to help visualise the brief and agree on a style, music, formats, hosting, and deadline.
The client sends us the final approved brief including all of the above and the agreed storyboards (it's very important that both parties are in agreement before we move forward).
We prepare to shoot the video.
Shoot day commences.
Now it's time for the fun part – editing!
First draft is sent to the client for approval.
Client sends through any amends they might have (which is very normal at this stage as we want to fine tune all of the details to make sure everything is right). We then action any amends.
The second draft of the video is sent to their client for further feedback.
Video is approved and the final version of the video is exported.
Ta-da!
You have a high quality video which you can use to communicate your products and services to the world! By partnering with a professional corporate video production company such as Canny, you can be confident that the end product will be effective. Our team of experts have all the knowledge and experience required to turn your vision into a reality.
Maybe you're at the stage where you have some video ideas, but you're unsure how to execute them. Don't fret – that's what we're here for!
We work with you to get all of those thoughts down on paper and create something which is engaging, focussed, and mostly importantly, successful.
If this sounds like something you need, then get in touch.
Set and Props
I'm going to return to my earlier example of shooting a launch video in the sunny Bahamas.
If you're planning on using a swanky boat in your filming, then be prepared to pay a lot of money – even if you're only hiring it for a few hours.
Props like this are not cheap and you need to decide whether or not they're really necessary. Any prop you use should support your overall message and should have a purpose. You shouldn't be spending vast amounts of money on something if it doesn't strengthen the overall campaign.
For example, if your product is swimwear or false tan then filming on a boat in the Bahamas is absolutely fitting. However, if you're selling IT software, can you think of something more appropriate, and more importantly, more cost effective?
The props you use should relate back to the purpose of your video. Don't run away with different ideas without considering the cost implications first.
Another thing you need to bear in mind is how you're planning on capturing the footage. If you're filming on a boat, do you need to hire a plane or helicopter for an aerial shot or bring in special equipment such as a drone?
Again, this will all affect the cost and such your budget will need to be stretched further.
Editing
Once you have shot your video, it all needs to be edited together to create the final product. The editing process is vital. This is where you create the style and substance of your video, and turn your footage into something people actually want to watch.
When you're shooting footage you'll usually find that you have recorded much more than you need. However the editing process is when you sequence all of these separate assets into a cohesive story that communicates your message in a clear manner.
But to get to this point, there is so much to consider.
For starters, you'll need to cut down your footage and piece it together so that it flows logically from one frame to the next. You will then need to consider what text/ graphics is going to go on the screen and how these are going to work visually. Furthermore, you'll need to think about different transitions that you can use so that people aren't just watching one scene jump shakily to another.
As you can see from the above, there's a lot to get right. That's why it takes the skill of a professional videographer to create your final product. Of course this will add to the price in comparison to managing the editing process yourself. However, by partnering with a professional, you can be confident that the final product is a success.
Another note on the point of editing, is how much time this is going to take. It's best to have a conversation with your chosen video production agency as to how many rounds of edits are expected in your project. If you're constantly going back and forth, and asking the agency to make even more amends, then this will add to the cost.
Why Is Corporate Video Hard to Quantify?
As you can see from the above factors, corporate video is difficult to quantify if you're looking for a raw figure.
That's because you're in the driving seat. You make the decisions and set the scope for your project from the get-go. The decisions you make can dramatically affect the overall cost which is why you need to speak to a corporate video production company first as they can advise you on the best course of action.
Instead of presenting you with a set package which is based on a list of standardised services, they will work with you to determine exactly what you need, and exactly what you can afford.
If you decide a 10 man team, a professional crew, and a tropical location is absolutely necessary, then your chosen video company will set a price based on your bespoke requirements.
Alternatively, if you can produce an effective corporate video using two people from your own business set in a nearby park, then the cost will be adjusted to suit those requirements instead. And remember, you don't always need a fancy video, just an effective video that appeals to your target audience.
Essentially it all boils down to what is required to make your vision happen. You can expect to pay anywhere from a low four-figure sum to a high five-figure sum depending on what you need.
If you're unsure, then a video production company will be able to help.
At Canny, we've worked with a range of clients to shoot fantastic corporate video. From location tours to testimonial videos to animations, we've done it all. We can answer your video queries and create a strategic video campaign that brings tangible benefits to your business.
What If I Don't Have the Budget for Professional Corporate Video?
At Canny, we understand that not every business has the budget to invest in professional corporate video services.
And to us, that is a real shame.
The power of this medium is huge, and video content is not slowing down any time soon. It's become an integral part of a business' content marketing strategy as consumers love visual content.
However, let's get back to your budget.
If you're struggling to secure the necessary funds required to partner with an agency then there are some things you can do in the meantime…
Invest more of your own time
These days, everyone has a video camera sitting in their coat pocket.
Of course I'm talking about your iPhone.
These devices are pretty smart, and even better, they can produce high quality video content.
Although the video produced by your iPhone will not be able to compete with the video produced by a professional agency, it is a great place to start if you don't have a big budget.
This option is more risky when producing external videos which are going to be seen by your entire customer base. However for product demonstrations or internal training videos, using your iPhone in the short-term is a good alternative.
Make sure you do some research beforehand to make sure you have got the lighting, angle, and framing right before producing footage which is unusable!
Barter
If you have an interesting product or service – you could always try bartering.
This won't be an easy route, as agencies get pitched a lot. At Canny, we tend not to barter as we know the level of expertise we can bring to our clients. But we know others that do so it might be worth the ask!
If you truly believe in your video campaign, but you're struggling to secure the necessary funds then bartering might be your only option. You could see if there's something you can provide the video production agency in exchange for their time on your video.
This way it becomes a win-win situation with both parties benefiting from the deal.
Consider Freelancers
Before we go into this point, using freelancers can be risky.
It all depends on the level of experience they have as some freelancers are fresh out of university whereas others have worked in the industry for years.
Again the choice is yours, as these guys are handling your money and your reputation. Industry experience isn't directly reflective of skill, as someone can work in the industry for years and still not be very good at it. However, wealth of experience does instill a sense of trust as you would expect them to be more familiar with the process.
If you haven't got a lot of budget, then hiring a freelancer might be your best option. This way your team can manage some of the production in-house (such as script writing and location scouting) and then you can hire a freelancer to shoot the video. This saves you forking out for a full-service production company.
However, you need to consider that the quality of the final product might be compromised.
Go back to your big boss
Sometimes your big boss can be difficult to convince, especially when it comes to dishing out the money.
Before you can convince them that your video project is a good idea, they need to understand the benefits it will bring to the business. They don't care about fluffy stuff, so make sure you present them with real, tangible benefits.
For example, tell them that the video will improve conversion rates and generate more sales. Or, maybe the video will instruct employees on how to do something and therefore improve safety within the business.
For them to invest in the idea, they need to understand the idea otherwise they will shut it down.
You should also support your argument with key stats and figures about the potential of corporate video to help them grasp the wealth of this opportunity.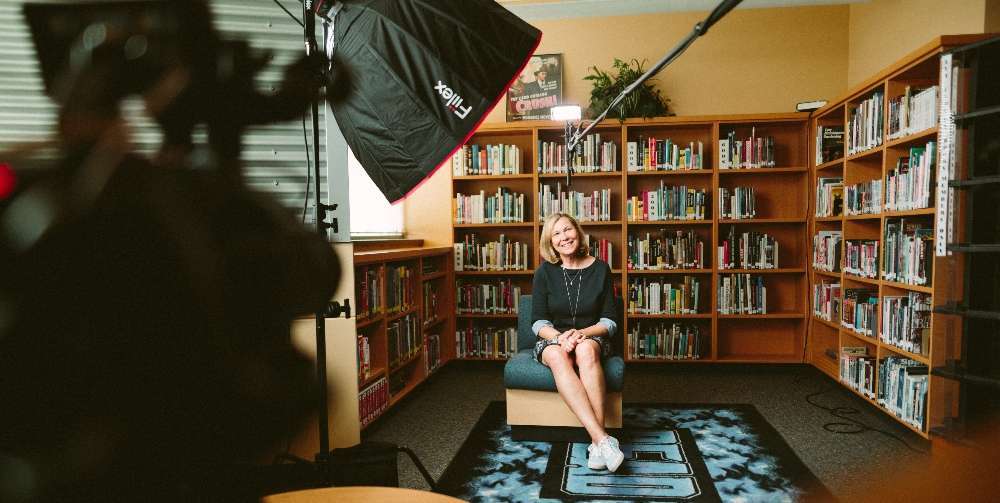 How Much Does Corporate Video Cost?
Corporate video costs vary depending on the scope and scale of your project.
As we've covered in this post, if you're wanting to hire a private boat and jet off across the globe then be prepared to spend a big wad of cash.
However, you can still make an effective video which clearly communicates your message on a smaller budget. It all depends on your project requirements as you also need to be careful about cutting corners just to keep the price down.
Whilst budget is very important, the quality of your corporate video needs to be prioritised. It is reflective of your brand and therefore needs to represent you in the right way.
At Canny, we produce a range of corporate videos to suit a whole range of budgets. We don't offer a blanket approach, or a 'video package' but instead work closely with you to identify exactly what you need from us. This way, we can tailor our services to suit your individual needs to create something that is bespoke to your business.
Whether you're a stand alone marketer or part of the marketing department, our services can help bring your vision to life through video. Don't get left behind when it comes to video marketing. Get in touch with our team of experts today.