Coworking space in Austin has become increasingly popular as the city becomes a magnet for entrepreneurs and professionals.
This is the result of a thriving, modern-day business culture that has given rise to a whole host of new businesses across a variety of industries.
With great cafes, restaurants, nightlife, museums, and other cultural attractions, Austin has become a very desirable place to work and live.
As the capital of Texas, it has access to a large population including millennials who are embracing change and innovation. In fact, Austin actually outranks Seaton Valley which is the home of many leading tech companies.
With so much on offer, it's not hard to see why many startups are gravitating towards this space. However, with increasing rental rates, and lots of teams now working remotely, there needs to be a better alternative to owning a large, somewhat unnecessary, office building.
This is where coworking space in Austin comes into play, as this allows businesses to work alongside other businesses in a shared space.
There are many obvious benefits including reduced rent, lower overheads, increased productivity, and access to community events.
With that said, let's take a look at some of the best coworking spaces in Austin for startups and entrepreneurs. We're covering a whole range of locations, from upstart offices to quirky hotspots.
Heritage Office Suites Coworking Space in Austin
Where: 1000 Heritage Center Cir, Round Rock, TX 78664, United States
Contact: [email protected]
Heritage Office Suites provides modern, flexible coworking space in Austin.
Their Round Rock site is in Williamson County's downtown business district which is one of the fastest-growing communities in the United States.
This location is ideal for businesses as it's only a short drive to Downtown Austin.
It's also only a few minutes to the local shopping center, Dell Diamond stadium, fitness centers, and many fine restaurants and cafes which are ideal for business meetings or hosting clients.
Throughout your working day, you'll also be able to look out at the beautiful rolling hillside views, which brings the outside in. There's direct access to all major freeways meaning the office space is easily accessible – a huge perk for both you and your team.
And there's no charge for parking either, so you can happily leave your car all day without worrying about fees.
Heritage Office Suites is designed to foster a community of like-minded professionals and offers an attractive alternative to traditional offices.
There are a variety of meeting rooms, complimentary refreshments, free parking, and an onsite support team for all members to take advantage of.
The facility is open 24 hours a day, seven days a week which caters to a variety of different businesses and working patterns. You can also get involved in numerous social and professional events held each month to expand your network further.
The Domain Coworking Space in Austin
Where: 11801 Domain Blvd, 3rd Fl, Austin, TX 78758.
Contact: +44 20 3695 7895
With a range of renowned fashion outlets, delicious food stalls, and quirky coffee houses, The Domain is situated in one of the fastest growing neighborhoods in Austin.
This enables businesses to be part of an exciting, evolving area that enhances their businesses and networking opportunities.
Spanning two floors of a brand new building, this coworking space in Austin offers a modern and sophisticated interior. It's also dog friendly, which all of your pet lovers will be pleased to know!
So, if you don't want to leave your dog at home for the day, then feel free to bring them to work with you.
They (and you) will be able to enjoy a generous outdoor patio space, relaxing common rooms, and a collection of intriguing artwork which fill entire walls and inspire your creativity.
There's plenty of on-site support and amenities available such as enhanced cleaning services, touch-free dispensers, ample parking, showers, and a mothers room, which comes complete with a refrigerator and sink for your convenience.
This is an ideal coworking space in Austin for any entrepreneur, professional, or startup who wants to be part of a thriving business community.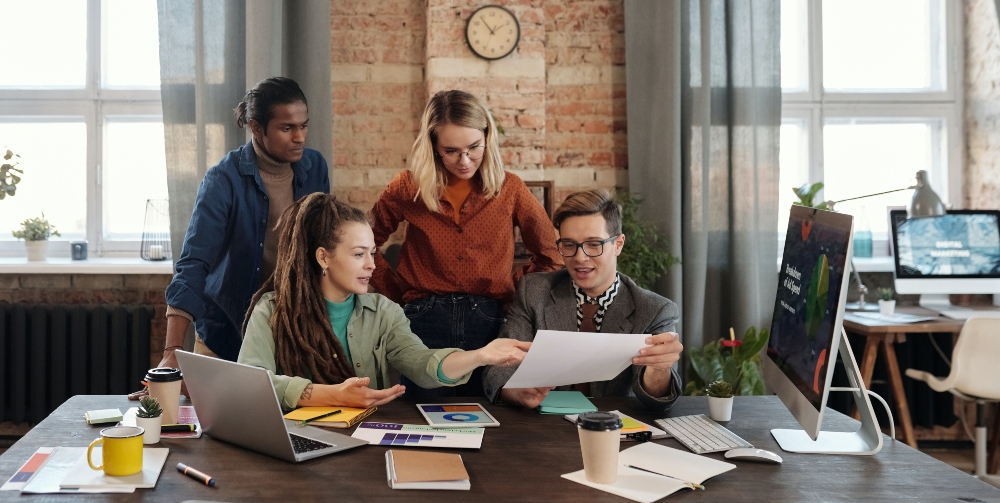 Capital Factory Coworking Space in Austin
Where: 701 Brazos St, Austin, TX 78701, United States
Contact: [email protected]
Capital Factory is one of the most accessible coworking spaces in Austin due to its central location.
The shared office space spans over 80,000 square feet, and members will have access to 900 tech-focused events and 150+ of the top tech mentors in Texas.
Capital Factory prides itself on being more than just your everyday coworking space as it aims to create a community of entrepreneurs, who can add real value to one another.
Each entrepreneur faces the same challenges, and this coworking space provides all of the resources businesses need to achieve their goals. Whether it's advice about fundraising, recruiting, intellectual property, marketing, or sales, The Capital Factory helps businesses get to the next level and offers a full-rounded approach.
The founders are passionate about meeting the best entrepreneurs in Texas, and then introducing them to their first investors, employees, mentors, and customers. Essentially, they help people get onto the business ladder.
All of these services are complemented by a range of top-class amenities including an onsite gym, a virtual reality lab, local beer on tap, and a fully stocked kitchen!
What's not to like?
Vuka Impact Hub Coworking Space in Austin
Where: 411 W Monroe St, Austin, TX 78704, United States
Contact: [email protected]
With locations in Bouldin Creek and North Loop, Vuka Impact Hub is an excellent alternative for a flexible coworking space in Austin.
It offers five different membership packages, depending on your individual needs and budget.
This includes:
Part-Time Coworking – three days of access per week
Full-Time Coworking – seven days of access per week
Dedicated Desks and Private Offices – 24/7 access
Virtual Offices – 24/7
There are also guest passes available in case you're meeting clients, and there are a range of conference rooms for members to take advantage of.
If you only need office space for a single day, perhaps you're on vacation and visiting the area for a short period of time, then Vuka Impact Hub provides Day Passes so you can go and leave as you wish.
The coworking space also comes with a range of amenities including onsite parking, phone booths, kitchen outlets with bottomless coffee and tea, community events, networking, happy hours, and it's dog friendly too!
All of the space is semi furnished with desks, chairs, and a rug which saves you money kitting out your entire office.
The space is designed to help entrepreneurs reach their full potential through a range of impactful programmes that bring individuals together.
This includes The Austin Impact Accelerator – a free acceleration program that develops a cohort of solutions focused on affordability and workforce development.
Woof and Work Coworking Space in Austin
Where: 4930 S Congress Ave building a, Austin, TX 78745,
Contact: [email protected]
Work & Woof is a coworking space in Austin with a difference – it allows pet parents to bring their four-legged friends to work with them.
Can you think of anything better?
Not only does this mean you don't have to worry about leaving them at home, it also saves you time and money sourcing additional animal care.
The coworking space provides a supervised indoor and outdoor play park where both you and your canine friend can stretch your legs, and enjoy some much needed time away from your computer screen.
Alternatively, you can keep your dog with you by your desk if you can't bear being apart from them for too long!
Whether you're hosting meetings, or getting your head down to do some work, there are 3 private offices, 18 open desks, and 5,000 sq ft of total work and play space to take advantage of.
In terms of pricing, there are four different membership packages available which we have outlined below:
Day pass: $35
Monthly hot desk: $400
5 pass pack: $150
10 pass pack: $27
All of the coworking packages include doggy daycare whilst you're working, so you can be confident your dog is in safe hands.
You will also have access to a variety of services including indoor and outdoor parking, air conditioning throughout the premises, security, hot and cold beverages, and free WiFi.
Oh and did we mention there's also a bathing and teeth cleaning service for your dog?
Yes, they'll be one very pampered pooch!
Industrious Coworking Space in Austin
Where: 201 W 5th St 11th Floor, Austin, TX 78701
Contact: [email protected]
This workspace is designed to simplify the working week and is placed in the core of downtown in a brand-new building.
As such, the location aims to boost your productivity effectiveness, and is located in Austin's vibrant Warehouse District. With a range of unique restaurants, shopping experiences, and nightlife, there's plenty for you to do once 5pm arrives!
The gritty backdrop creates a very scene that draws thousands of locals and visitors. The Warehouse District is also home to a diverse crowd thanks to its range of entertainment, delicious food, and world-class attractions.
As such, this is the perfect place to take your team out for lunch or even to host business meetings with clients. With so much variety, there's something for all interests and tastes.
You'll also be spoilt for choice when it comes to deciding where to dine – and let's be honest, food is very important when you're working hard all day!
Inside the coworking space, you can reap the benefits of various amenities, including a fitness facility, event space, free WiFi, a wellness room, and a private conference room.
There's also a team of staff on-site who can help with any of your set-up requirements.

The Common Desk  Coworking Space in Austin
Where: 2301 W Anderson Ln Austin, Tx 78757
Contact: [email protected]
If you're looking for a coworking space to inspire you then look no further!
According to their website, "Common Desk's mission is to make days better by creating thoughtful moments, human connections, and a sense of belonging–for all."
Essentially, they want to bring people together to create a strong sense of community. This message follows through to their staff who strive to be energetic, welcoming, tight-knit, and fun as they provide much needed support to members on site.
For any business professional or entrepreneur looking for a coworking space where they can work hard, but equally recharge and relax, then this is the place to be.
The Common Desk is perfectly situated near some of the best cafes, restaurants, bars, and attractions in the area, making it a bustling and vibrant hub.
If you enjoy staying in the office rather than venturing out, then you'll be able to take advantage of indoor and outdoor workstations, bottomless craft coffee, super-fast WiFi, community events, and virtual mailing.
When you couple these amenities with a double-decker terrace, recreation activities, and weekly happy hours, it's easy to see why so many professionals choose this as their go-to coworking space in Austin.
WeWork Coworking Space in Austin
Where: 221 W 6th St, Austin, TX 78701, United States
Contact: N/A
WeWork is a coworking space in Austin that has a diverse community of young, start up business and established players in the tech industry.
Businesses are welcomed with open arms at WeWork locations because there are no capital or leasing agreements involved.
Its members include more than a third of the Fortune 500 businesses but there's plenty of room for businesses from a range of sectors.
WeWork has a lot to offer in terms of coworking, as there are various meeting spaces, lounges, and single occupancy work stations for people wanting to get their head done and have some peace and quiet!
Other perks include fast and reliable WiFi, onsite staff to provide setup support, enhanced cleaning services, and hands-free dispensers, just to name a few.
There are a number of WeWork premises across the country, including in Austin, which is useful if you're a professional who likes to travel! Each of the premises are modern, bright, and equipped with all of the tools and equipment that your team needs for success.
In terms of pricing and membership plans, these are available on request so get in touch with WeWork to find out more.
SXSW Center Austin
Where:1400 Lavaca St, Austin, TX 78701
Contact: N/A
Starting at $30 a day, this coworking space puts you right at the center of the city's business scene. You and your team will be close to some of the best business leaders which is highly beneficial for interacting and networking opportunities.
Situated opposite the Texas State Capitol and sharing the same building as the SXSW headquarters, there are lots of vibrant bars and restaurants just a few blocks away.
Ideal when you and your team want to get away from the office for a spot of lunch (or a beer or two!).
Aside from this, there's also the Museum District to the North which offers teams the opportunity to immerse themselves in Austin's vibrant cultural scene. This could make for a great team building experience or a fun day out!
The ultra-modern office space features a range of plush sofas, comfy armchairs, and high desks with bar stools to give entrepreneurs comfort and freedom when choosing where to work.
Prefer curling up on the sofa with your laptop and a coffee? Or do you need to be sitting upright at your desk to concentrate? Well, whichever way you work best, there's a set up for you at the SXSW Center.
If you're holding private meetings, then there's a range of smartly composed office spaces which are sure to impress any new clients.
There are also parking spots available and electric vehicle charging stations to make sure your vehicle is well served throughout the day.
Westview Austin
Where:316 W 12th St 6th Floor, Austin, TX 78701
Contact: Online booking form
This is an ideal coworking space in Austin for businesses across a whole host of sectors, and it provides a stunning view of the city's historic Capitol building.
With floor-to-floor windows, a modern interior, and large meeting spaces, this is a great location for hosting internal or external client meetings.
Occupying three floors of a six-storey building, this creative space provides open lounges, bright spaces, and sophisticated meeting rooms to boost productivity and create an enjoyable coworking culture.
Westview is also geared towards networking events, social events, and casual meetups thanks to the large conference spaces which allows different businesses to come together to collaborate and share ideas.
There are lots of perks to be enjoyed as a result of being a member, including bike storage, a mothers room, outdoor space which comprises various balconies and rooftops, a wellness room, and a fitness center. This creates an immersive coworking environment where both your professional and personal needs are met.
This coworking space is available to book for just under $30 a day (or starting at $10 an hour for a meeting room) and can easily be booked using the WeWork On Demand app.
Quarry Oaks II
Where: 10900 Stonelake Boulevard, Building 2, Suite 100, Austin, TX 78759
Contact: Online booking form
Home to tech giant Microsoft and leading national charities like the American Heart Association and the American Cancer Society, Stonelake Office park offers a vibrant and amenity-rich coworking space.
There's lots for you to do on your break, or when you need to step back from your laptop for 5 minutes, as the scenic walks around Quarry Lake make the perfect lunchtime stroll. You could also enjoy some outdoor games with your team on the nearby Quarry Field – a perfect team building exercise!
Inside, the coworking space features a range of expansive conference rooms, stylish lounges, and furnished office spaces to equip you and your team with all of the resources you need for a productive working day.
The variety of conference rooms are also ideal for networking events, social events, or daily stand up meetings with your team. The choice is yours as the space is readily available for you to take advantage of.
The interior is also very bright and inviting, with white splashed walls, wooden furniture, and an array of indoor green plants. In turn, this helps boost your productivity levels and keeps you focussed throughout the working day.
So, if you're a startup business looking for an environment to grow with your team, Quarry Oaks provides the perfect coworking space in Austin. Fostering a business community based on interaction and collaboration, this shared workspace is ideal for any business of any size.

Createscape coworking Austin
Where: 701 Tillery Street #12, Austin, Texas, 78702
Contact: [email protected]
The clue is in the name of this coworking space!
Createscape Coworking aims to provide a solid working base for people in the creative world.
And there's a lot to like!
For starters, it's dog-friendly meaning you can happily take your pooch to work with you, mitigating the worry (and cost) of finding animal care.
There is also free parking on offer, meaning you can park your vehicle at your leisure without worrying about incurring additional charges.
To add to the perks even more, Createspace has a grocery store and cafe on-site, which allows busy professionals to do their grocery shop without even having to leave the office.
This takes convenience to the next level and is a huge benefit for any entrepreneur or startup who struggles to find enough hours in the day!
Professionals can choose between a full-time or part-time membership, based on their needs and budget. You can also choose where you work as there's multiple spaces including a 'Groove room', 'Study Hall', and 'Howdy room' each complete with their own theme and office set up.
For example, if you prefer solo work then the 'Groove room' is for you as there's lots of small pods for you to get your head down and concentrate. Or maybe you prefer in larger groups, which in that case, the 'Study hall' would be your best option.
As such, this coworking space in Austin is flexible and adaptable to meet the needs of different startups and entrepreneurs.
Coworking Space in Austin for Startups and Entrepreneurs
So, there's your list of coworking spaces in Austin that enables you and your team to get some much-needed work done!
Coworking space offers many benefits to business professionals, as you can take advantage of the different amenities on offer. There's also usually support on hand in case you have any IT issues or set-up queries.
Furthermore, you'll be surrounded by other hard working professionals which not only makes you more motivated, but also lends itself to a wealth of networking opportunities.
At Canny, we work with entrepreneurs across the globe from Australia to the US. We provide branding, website, and content marketing services to help you catapult your business to success.
With existing clients in the US, we know exactly what it takes to make a successful business in the States. To find out more about how we can help, simply get in touch.