Drinks branding needs to be effective as you're competing for consumer attention before they've even had a chance to taste what's inside.
For the purpose of this blog, we'll be covering all sorts of drinks brands, including:
Alcohol
Coffee
Fruit juice
Fizzy drinks and sodas
As you can imagine, the term 'drinks branding' is broad and refers to every type of beverage that there is.
However, the one thing all of these drinks have in common is their effective branding and the way they connect with customers.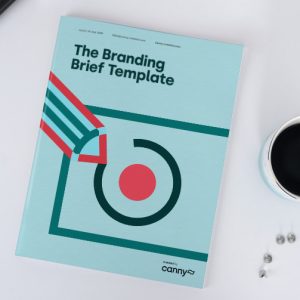 The Branding Brief Template
The Branding Brief Template is a free template that will help you get the brief for your branding project right. W...
Of course, every type of drink requires its own approach. For example, the way you brand alcohol will be very different to the way you brand tea and coffee.
Essentially it comes down to the most important people: your customers.
Whether you're thinking about launching your own drinks brand, or you're a marketing manager looking for some branding inspiration, keep reading to explore some refreshing examples of drinks branding.
Let's start by pouring our thoughts into a well-known smoothie brand.
Innocent Smoothies
Since they first launched in 1999, Innocent smoothies have boomed in popularity thanks to their positive brand image and brand ethos, as well as the fact they create delicious, healthy drinks for customers who want to feel good.
Using real fruit, they have positioned themselves as the go-to smoothie brand and have built up recognition through their iconic visual identity.
Utilising a child-like illustration for the logo, Innocent smoothies have created a strong brand narrative. With connotations of playfulness, transparency, and literally, innocence, they appeal to a wide audience.
Even the typography they use looks like a child has written it, with the absence of any capital letters that ties into their brand narrative and storytelling.
Apart from the hand-drawn illustration and wordmark, there's not much else to unpick on their visual branding – it's quite modest. This matches their brand origin story and how they started as Innocent had a very humble beginning.
In 1999, they started by selling their drinks at a festival and placed signs next to two bins on their stall, one saying 'yes' and one saying 'no.'
They then asked members of the public to vote on whether they should quit their day jobs and start making smoothies from real fruit – by the end of the day the 'yes' bin was full.
This sense of humility has stayed with the brand from the very beginning and continues to underpin everything they do. They've also associated themselves with a positive brand ethos by committing to sustainability, tackling social issues, and helping charities.
In 2022, the juice and smoothie brand had a brand value of roughly 2.02 billion U.S. dollars, up from 1.73 billion dollars in 2021. – Statista
Oatly
Oatly's branding success can be attributed to the fact that it focuses on something consumers care a lot about – the environment.
As a plant-based alternative, it engages environmentally conscious consumers who still want to enjoy milk, without harming the planet.
However it wasn't always plain sailing. The brand actually started as 'Mill Milk' which was rolled out across Europe but with minimal success. Following this, an oat-based yoghurt with Danone was launched, which unfortunately, also flopped.
This pushed the brand to go back to the drawing board and start from scratch. Recoginising the needs of a growing market, Oatley was born, initially making its mark in Sweden before expanding across the world.
The reason for success? Oatly saw an opportunity and took it. The opportunity in this case being the rise of eco-conscious, vegan consumers.
Aside from being in the right palace at the right time, Oatley's success is also rooted in its unusual marketing strategy. Instead of investing lots of money in paid ads, the brand decided to reach out to artisanal coffee shops across the US (a huge market for coffee drinkers).
By offering consumers something a little different with their cup of Joe, Oatly took advantage of a captive coffee-drinking audience.
They also continued to focus on what sets them apart – their commitment to the environment – which has been a pillar of the brand since the very beginning. This message is communicated through all of their advertising campaigns as they strive to convert customers of all ages into their plant-based alternative.
The 'Help Dad' campaign for example targets teens, encouraging them to convert their dads to Oatley as middle-aged men were defined as the audience segment who are least likely to give up regular milk.
Aperol
This one had to be included on the list of drinks branding as it's a personal favourite of mine.
Initially starting in Italy, this orangey-red drink has become one of the most instagram-able drinks ever. This is most likely down to their creative marketing campaigns, headed up by Campari, the company who owns Aperol.
One of the reasons it became so popular was due to a deliberate coordination between the drinks brand and the States a few years back,booths popped up at popular New York city events such as the Jazz Age Lawn Party and Governors Ball.
There was also a further push at the Hamptons and Palm Springs which led to lots of influencers taking snaps of the drink and posting them on social media. Essentially, Aperol associated the drink with young, trendy, hip people so that everyone wanted to get their hands on it.
The other great thing about Aperol (and what makes it such a nice drink to photograph) is the way it's presented. Usually served in a glass the size of a bowl, with crushed ice and a huge wedge of orange, it looks so aesthetically pleasing. You can just imagine yourself sat on a terrace, the sun beaming down on you whilst you sip the drink of the summer.
You're basically imaging yourself as one of the influencers who you've probably seen on Instagram in the same scenario.
Little do we know, but Aperol has been pushed on it through these influencers as we aspire to be like them and have their lifestyle – part of this being to sip Aperol.
The brand has worked hard to position itself as a refreshing drink that transports you to a sunny terrace somewhere in Italy.
Birra Moretti
Sticking with the theme of aperol, we're moved onto another popular drinks branding example – Birra Moretti.
Also starting in Italy, the drinks brand tells a strong brand story focussed on enjoying moments together. Essentially, it embraces a theme of Italian culture encouraging people to make time for what matters.
Lots of their advertising campaigns feature groups of friends and family gathered round in the Italian sun sipping a bottle of Moretti, tying into their ethos of spending quality time together. Just take a look at the ad below for example.
To further push this message to the forefront, Moretti attended the British Summer Time Festival in Hyde Park which provided the perfect space to promote their brand ethos.
Taking inspiration from where Italian people usually spend quality time together, they built an authentic Italian Piazza, complete with food stalls, bars, and shops. They also surprised audiences with theatrical performances, making the event one to remember and reinforcing the message that Moretti symbolises good times, together.
Moving onto their logo, this visually represents the brand's origin featuring the 3 colours of the Italian flag. The mustached-man in the centre of the logo also has a story of his own.
According to Moretti's website:
The man sipping a fresh pint of Moretti on our label is 'Baffo'. The story goes that Luigi Moretti's nephew saw Baffo in a bar and instantly knew he'd found the embodiment of the real values of his beer in this man. Being a passionate type, Moretti's nephew approached Baffo, asking him for a photograph. Baffo requested one thing in return – another Birra Moretti. He has been on our labels ever since.
Coca-Cola
We can't write a post about drinks branding without including the global fizzy drinks giant that is Coca-Cola.
There's multiple reasons why this drink's branding is such a success so let's start by unravelling its logo and visual identity.
The most iconic and recognisable part of Coca-Cola's visual identity is the colour red. This has been synonymous with the brand since it began and it's what consumers typically associate with the brand.
So why red? This colour signifies passion, excitement, and a zest for life – all things the brand wants customers to resonate with. It also signifies urgency, which is a strong driving force when people are making a purchase.
Secondary to this, is the white, italicised typography. In fact, consumers have become conditioned to seeing red and white together and immediately knowing that it's Coca-Cola, even in the absence of the brand name.
We can't write this brand review without mentioning their Christmas campaign. The red Coca-Cola truck and festive jingle is a real staple of the brand, and it's something consumers genuinely look forward to.
Essentially, Coca-Cola makes people 'feel' something and by playing on the festivities it creates an association between the drink and the feeling of happiness.
However, the brand is also aware of the increasing number of health-conscious consumers who are worried about the level of sugar in Coca-Cola drunks. Therefore, whilst the brand is established and there is an enormous amount of brand equity in the fact that they create fizzy drinks, they have diversified their offering.
Their product range includes Diet Coke, Coca Zero, and Coca-Cola no sugar to show consumers that they are responding to their changing needs.

Red Bull
"Red bull gives you wings."
Probably the first thing that comes to mind when you think of this drinks brand as Red Bull is meant to give you energy.
It's positioned as a 'quick hits' drink which is to be enjoyed on the go when you're feeling a little sluggish and you need a lift.
In terms of the product packaging, there's obvious synergy between the brand name and the visual identity. The logo quite literally features two red bulls going head-to-head underneath the wordmark.
This further ties into the energy aspect as the red bull symbol is actually meant to represent word-ethic. A bull symbolises strength, stability, and stamina, all associations that the brand wants to make.
When you have a can of red bull, you're meant to start feeling these things so that you're set up for whatever the day throws at you.
It's a strong message and appeals to a wide variety of people who will be looking for a little pick-me-up when they're on the move.
The colour palette also connects to this as red symbolises courage, action, and strength. All of these connotations relate to a bull, making this colour a good representation of the drink.
A gold circle is often featured behind the bull icon and wordmark which could be used to represent success. Again, linking to the idea that by drinking Red Bull you're more energised and ready for the day, it alludes to the feeling of achievement and being successful.

Alhambra Lager
Next on our list of the best drinks branding, we're pouring our thoughts into another lager.
This time, Alhambra lager, from Granada in Spain.
Inspired by classic German Pilsner style recipes and the Alhambra monument, this is a light, balanced lager with a mild bitterness and unique flavour for beer-lovers looking for something a little different.
It's also crafted to be a little fruity with flavours such as honey, nuts, apple and banana to strike the right balance between bitter and sweet.
These flavours are beautifully carried through to the product packaging which displays colourful, geometric shapes to tie the product into the visual identity.
The logo is also quite stripped back and minimal with plenty of white space, drawing most of your attention to the wordmark and the description underneath: "Lager singular."
Alhambra also comes in both bottles and cans to give people a variety of ways to enjoy the drink as it's designed to be a relaxed, food-friendly match for the likes of tapas and outdoor dining.
Fritz Limo Orange
Next up, is an orange juice which I'm going to take a wild guess, you haven't heard of!
Fritz Limo is a brand from Hamburg and is the third biggest cola brand in Germany.
However they've now branched out into other products to grow their offering, including the production of a fruity orange juice.
Now let's look at the branding, as it's intriguing to say the least!
Whilst there's not a whole lot to it, the two faces in the middle of the logo are drawing me in. I'm not entirely sure who they are (the founders perhaps?) but they make you interested to learn the story behind the brand.
Glass bottles instead of cartons are also a very trendy way of consuming orange juice and there's something quite nice about having to take the cap off first. The contents always feels more fresh, and it feels slightly more sophisticated and grown up than piercing a plastic carton with a straw!
The choice of the orange strip around the bottle is quite obvious (given it's orange juice) but I think the simplicity coupled with the someone strange-ness of the two faces definitely make this brand jump out!
Monster
We're back talking about energy drinks now with Monster.
You can't mistake this brand thanks to its powerful product packaging. Whilst the drink comes in various flavours, for the purpose of this review we're going to explore the original flavour – Apple.
With a bold black can, and a large 'M', this wordmark immediately signifies the brand name. Furthermore, by making this green the brand is visually representing the flavour of the drink which in this case is Apple.
The green is also applied to the words 'energy drink' which sits underneath 'Monster' creating a simple but bold colour palette. The vibrancy of the neon green contrasts well against the black background, creating product packaging that has impact.
Considering the drink is called 'monster' this dark, almost twisted visual approach is very fitting; featuring frilly designs or bright colours wouldn't exactly align with the brand identity!
On this note, the 'M' could also be the claws of a monster, again tying into the brand name. This further adds a sense of humour and personality to the brand, making it stick in the minds of a consumer.

Jack Daniels
Jack Daniel's whiskey is know for its iconic logo, featuring a distinctive and timeless design that showcases an elegant Old No. 7 encased in a regal emblem.
This not only symbolises the brand's heritage but also its commitment to quality. This logo is instantly recognisable and conveys a sense of tradition and craftsmanship.
Jack Daniel's visual identity, characterised by its dark, sophisticated packaging and the deep amber hue of its whiskey, gives the impression of class and authenticity.
Now let'a dive into the brand messaging which is equally powerful, emphasising a rich history dating back to 1866 and the storied tales from Lynchburg, Tennessee.
The brand is known for its strong sense of independence and non-conformity, resonating with consumers who are looking for a unique and genuine whiskey experience.
Anae Gin
What I love about this drinks brand is the simplicity of the design.
And in fact, the simplicity of the drink itself. Made with only 8, natural ingredients, this creates a lovely synergy between the exterior packaging and the contents inside.
Featuring a hexagonal-shape logo with a green colour palette, this immediately gives the impression of a cool, refreshing summer drink, which is exactly what gin is.
Furthermore, green is often associated with nature, the earth, and sustainability which works well as this is a 100% organic gin, which whilst tasting delicious, is that little bit better for you and the planet.
I'm also a big fan of the gold emblem at the top of the logo, as it looks very regal and adds a stamp of class to the brand, positioning it at the higher end of the drinks market.
The name 'anae' is French, and this has been beautifully tied into the visuals with the colours of the French flag at the bottom of the design. It's still quote subtle, but gives a gentle nod to where the drinks brand has originated from as it is distilled in Bollinger.

Cacao Brew
Brewed from a kitchen in Newcastle, UK, Cacao Brew is an indulgent alternative to coffee.
Using whole cacao beans, brewing cacao offers coffee-lovers a similar taste, but instead, relies on roasting and grinding whole organic cacao beans.
The brand is also committed to only using ethically-sourced, fair trade cacao beans, to help support farmers and their families who work so hard. This is a compelling brand value and is something the brand have stood for since they started 5 years ago.
It's featured across their website and product packaging to show their commitment to supporting ethical and sustainable farming practices. This is also demonstrated through their product packaging as they use biodegradable paper brown bags, which are much better for the planet!
This also allows the product to slot easily through people's letterbox, supporting their direct-to-consumer sales model.
Let's look at the packaging in more detail.
Whilst simplistic in design, it ties into the environmentally, sustainable ethos of the brand and draws your main focus to the logo which comprises of a large C, imperfect C which looks as though it's formed from scattered grown cacao beans.
Whilst the colour palette isquite muted, featuring dark and light shades of brown, it visually showcases the product inside.

Whittard
Whittard are known for creating a range of hot drinks including tea, coffee, and hot chocolate. They really need to be on top of their packaging designs.
For now, let's stick with tea.
As a brand, Whittard is definitely positioned at the higher end of the scale. Their products have a higher price point than the likes of Tetley or Typhoo, and this premium aspect can be seen through the product packaging.
Featuring an italicised wordmark with the words 'Chelsea 1886' underneath it harks the brand back to its heritage. It also demonstrates the fact that this is an established brand which carries credibility as they have been around for nearly 150 years.
The typography also carries an aura of elegance, prestige, and tradition with flowers and leaves positioned around the 'W'.
Adding to this notion is the type of packaging the tea comes in. It's not a standard cardboard box, but instead, a silver tin which also makes it feel more premium.
The brand's success can also be attributed to its gifting and personalisation service which is very popular particularly around the festivities. As well as custom gift sets, the brand also offers personalised tags and labels making it the go-to choice for shoppers.
Drinks Branding: How to Craft a Brand that Refreshes the Market
Drinks branding is vast, and it all depends on what type of drink you're selling.
Like we mentioned in the intro, the way you sell a brand of coffee would be different to the way you sell a brand of alcohol as they serve two different purposes.
One being something warm and comforting, whereas the latter is something to unwind and relax with. However regardless of this, understanding your audience and how you can make your brand stand out remains key.
That's what all of these brands do as there's a reason why they're so popular.
Hopefully after reading this post, you have some useful inspiration for your own branding project.
At Canny, we've helped lots of clients create brands that make an impact. Whether that's creating outstanding visuals on product packing, a focussed marketing campaign, or a brand name that encapsulates what the brand is all about, we're here to help. Get in touch with us to find out more.