You may think that getting vehicle designs are only for big companies. Maybe you think that all you need is your logo on your van, which if you are a well established company, could be true.
But there are plenty of ways you can stand out from the crowd and engage your potential customers with your vehicle wrap design. Even if they are only going to see if for a few seconds!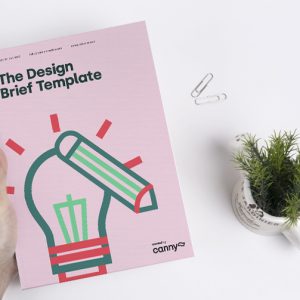 The Design Brief Template
The Design Brief Template is a free template that will help you get the foundation for your design project right. Whet...
Hopefully these example below will give you ideas of how you can use your vehicles as an extra and effective marketing tool.

Credit to Aura Graphics
Sky Vans
Not everyone might be as big as Sky. And sure, it'll be costly to change up your van wrap every few months. But Sky shows how you can advertise your products or services on your vehicles in a way that is instantly recognisable as yours.
The same loose design system is used on each van and whether they are advertising a film in Sky Cinema, or the latest drama on Sky Atlantic, the design style is instantly recognised as Sky.
But don't think this can only be achieved when you are a multi-million pound company.
If you put a little thought into the initial design of your vehicle wraps then you could advertise all of your products on the same wrap. Or, if you have multiple vehicles you can create a brand style that is recognisable as you, but on each different vehicle you are advertising a different product.

Credit to Kuehne + Nagel
Kuehne + Nagel Trucks
The Kuehne + Nagel trucks take a different approach to the Sky designs. They are a deep rich blue with nothing on other than the logo.
This incredibly simple design also creates an instantly recognisable vehicle design. Even if you don't know what they do as a company, you will know the name and the vehicle design.
Vehicle designs are a quick snapshot for a potential consumer to take in your brand and get the information they need. So making the designs stand out and portray your brand and business successfully will lead you onto a winner of vehicle design.

Credit to Eskimo
Monster Milk Van
Monster Milk uses their brand identity heavily in their van wrap design. In the brand they have created characters and illustrations and a specific typeface to bring together a unique brand style.
This style, including the typography and a big illustration of a blue creature feature on the vehicle wrap, when it comes to vehicle design, picking a particular model of vehicle can also bring your brand through. The quirky illustrations and typography are matched with a quirky choice of vehicle.
Choosing a quirky vehicle can make you stand out. Just ask our client, Friedas!
A little word of warning, setting up design for an older or more custom vehicle can be a lot of back and forth between designer and the company wrapping the vehicle. It may also fluctuate in price, depending on the design you go for.

Credit to Evening Standard
Range Rover At Harrods
For all this isn't strictly a vehicle wrap, I am sure you all seen on the news that Land Rover put one of their new Range Rover vehicles outside of Harrods with spray painted remarks of "cheater" all over the car.
For all it looked like someone got at least part of what they deserved, this was all an elaborate PR stunt.
Social media did its thing and was absolutely full to the brim of images of this new Range Rover, and as they say, publicity is publicity and the Range Rover was all over people's social media feeds.
Now I wouldn't suggest spray painting your fleet of vans with graffiti from a fake spurned lover, but this sort of striking visual that got everyone talking and posting photos could do you the world of good if you have an interesting design on your vehicles.

Credit to Garden Creamery
Garden Creamery
The Garden Creamery already have a pretty different brand. A little old school compared to what most new food and drink businesses are coming up with. They have used this brand to create a visually striking vehicle.
Mixing the bright red and white with the typography of the brand plastered nearly the full length of the van means you simply can't miss it. Garden Creamery also uses the van as sort of an attraction, they have a shop front but also use social media to post updates over where the van is located on a weekly schedule.
Using this schedule almost gives the van an exclusive feel (sort of like the Coca Cola trucks), as consumers need to catch it in their area while it is there. A quirky and clever way to build a brand story and communicate regular updates to consumers. This is perfect for travelling food and drink trucks.

Credit to Dan Blackman
Tictail
Tictail had a mission to help emerging brands without a website design or web presence make waves with potential customers. So what better way to do that, than drive a brightly painted delivery van around New York City shouting your message to the public.
Much like the Garden Creamery, they have created a striking vehicle wrap that is simply unmissable. Bright yellow and blue and separated by big chunks of black with the Tictail logo on it.
The one thing we really like about this vehicle wrap is they have took into account where they are, New York City (and especially Manhattan) is a place where you don't build outwards, you build upwards. So with this in mind, they have specifically designed the top of the van, normally unseen by people on the street, but people in buildings will only see the top of the van.
So understand where and how your vehicle will be seen, and is there anything specifically you can do to enhance the interaction a potential consumer has with your vehicle?

Credit to Interbrand
Air Arabia
Air Arabia have had a new brand, and for an air travel company, that means a lot of media needs updating, and one of the big things are the planes themselves. Their old livery had a small logo and a dull grey colour cover most of the back end of the plane.
The new livery has a big bold red logo, letting you know instantly who's plane this is. Couple the new tail design with their new icon and it makes the plane look more dynamic.
Putting the new livery next to their competitors, you can clearly see it sits much better. A clear name and brand lead the way, ditching the dull grey with crisp white until you get to the tail design.
This is a good lesson in doing your research.
When it comes to small or medium businesses, there are plenty of competitors that you can't just blow out the water by spending millions on vehicle designs. But if you do your research and see where you sit with your competitors, then figure out where you want to sit, you can compete.
Do you need to be more striking to catch the eye, or do you simply need to make your information more clear?

Credit to Ben Whitla
Lord Hobo Brewing Company
Minimalistic brands and designs have been trending for a little while now, and this brewing company have used this design style to its advantage. The brand is simple and the vehicle design is no different.
Using dark black background they create a canvas of opportunity. Put any bright colour on this and it will stand out, and that's exactly what they do. Using a script font that covers the full length and half the height of the vehicle, they have written one of their brand strap lines.
Essentially other than a small logo underneath and a logo on the back, they don't have much more on there. This approach is simple, clear and very recognisable.
So think about what you want to say with your vehicles, and then think about what you could lose, making it clear and concise for consumers.

Credit to Fork
Mary Wong Noodle Bar
Another perfect example of this minimalistic design style is Mary Wong's Noodle Bar. Again they use a black van with gold lettering on the side that simply says "Noodle Bar" with an effective logo design.
Rather than the logo being large, these two examples have went for strap lines, or in Mary Wong's case, a very clear explanation of what they are.
This clear, attention grabbing message could be all a potential consumer has time to take in if the vehicle is driving past, so it is important to be clear on what you do, and you can't get much clearer than "Noodle Bar".

Credit to Tory Cunningham
Canvas Van Wrap
Canvas create protein shakes focused on healthier living and a healthier world. Their van wrap portrays this by using cream and green earthy colours reflecting the environmental and healthy aspect.
They also use a strap line "Better Health, Better World" alongside their key products. Showing the product is always a good move and on this design they are incorporated into the design of the hills and forests so they sit alongside the design perfectly.
If you are going to put your product or packaging on your vehicle, make sure you don't just slap it on. Think about how the product can sit on the vehicle, and if you have a brand visual style, how that will sit alongside your packaging design.
Everything has to work as one cohesive advert for your business, with a clear message that impacts your customers.

Credit to Muller
Muller Milk
I think alongside the Eddie Stobart trucks, the Muller Milk trucks are the most recognisable vehicles on any motorway in the UK. It is such a simple idea yet it works so well.
The dairy giant simply uses a cows black and white appearance to make their vehicles stand out. When you partner this black and white design with a bright red Muller logo, even just having glimpsed at it, you will know what it is.
Now they don't advertise any products on there, but cleverly what all their products are made of. So maybe you don't have to have your product or a strap line on your vehicles, you could simply have a pattern or design that relates to your brand.

Credit to The Brownie Bar
The Brownie Bar
The Brownie Bar have a pretty simple van design, their logo with a strap line and a bright orange strip along the bottom.
The strap line is a direct statement to the reader, "bringing gooey, to yooey" This more conversational element engages a reader and has them asking questions and wanting to know more.
Asking a question or making a statement that will shock or engage a potential consumer is a surefire way to grab their attention which is what you are wanting to do with the little time you vehicle could be in view.

Credit to Bates Y&R
Copenhagen Zoo
This advert for Copenhagen Zoo as a vehicle wrap of a bus is a great example of being clever with a vehicle design. The advert shows a snake coiling round and crushing the whole bus.
Finding a clever idea like this could be pretty hard, but have a long think about what you could do with a vehicle design before you go for a minimalist approach or a bright and vibrant look. By working with a branding agency, you might be able to get the same striking effect with a clever, well executed idea.
And the cleverer the idea the more people will look, and the more people looking will surely be better for business.
Conclusion: Driving Home Your Vehicle and Van Wrap Design
Hopefully these examples have given you some food for thought when it comes to your vehicle designs.
You have to stand out.
Whether that be through striking visuals or clever ideas, you have to let people know who you are, utilising your logo and your product.
You have to engage the audience, starting a conversation with a potential consumer or making clear statements, and you have to be aware of how and where you vehicle will be seen and design accordingly.
Do you have ideas about your vehicle wraps, and need help getting them over the line? Give us a call and we can help you with that.