If you're looking for inspiration in the downloads department then look no further than the ebook examples shown here.
Downloads and resources are an essential part of your content marketing output, dare we say they are as important, if not more than the blogs you create?
To some, that might ring true, especially when it comes to generating leads and getting potential customers into an optimised email funnel.
Electronic books and white papers seem simple in concept: they possess information that businesses will often flock to in order to gain knowledge/insight on a particular subject.
The Marketing Brief Template
The Marketing Brief is a free template that will help you get the brief for your marketing project right. Whether ...
Many ebooks fall into similar categories in terms of the content or knowledge shared. How they separate themselves is through the ebook design and how it's structured.
Remember to keep that in mind when formulating your own ebook ideas, as it's super important that what you create reflects your branding and voice (more on crafting your own ebook later).
We find that the best way to learn is through case studies, you know, examples.
Which is why we've compiled some of our favourite ebook examples in this one location for you to read at your own leisure.
Should we begin?
10 Ebook Examples That We Can't Put Down
Most businesses operating in the marketing space will offer ebooks and white papers — the same applies to blog content if we're talking content marketing as a whole.
These resources are often referred to as 'lead magnets' in that they are very good at attracting the right kind of attention right off the bat.
White papers aren't the same as ebooks in that they exist on single pages and are a lot more information-driven. Ebooks are a lot less formal, longer in length most of the time too.
Why that is comes down to the intent of the user. Writing a blog that is quite open ended in its informative approach is great and all, but there are some customers who search with the goal of finding specific information through the keywords they've picked out in their search.
When users search with intent it often dictates how marketers structure content, which explains why resources and downloads are so cut and dry in terms of the approach.
Okay, time to look at some ebook examples. It's what you're here for, right?
Dropbox for Creatives by Dropbox
We're kicking the list off with Dropbox, and its ebook titled: 'Dropbox for Creatives,' one of various resources found on its native site.
This resource makes gathering feedback less of a taxing process — which applies to internal and external feedback.
This is an example of an ebook that plays into the service offered by the business directly. It's a technique that works very well, acting as somewhat of a guide for users that aren't in the know.
Think of it like a self help guide, but with an actionable twist.

Credit to Jacob Shourd
History of Graphic Design by Jacob Shourd
Looking to heighten your ebook design game?
Check out the History of Graphic Design by Jacob Shourd, a very engaging read to say the least, mostly from a visual perspective.
There have been countless blogs tackling the topic of graphic design and its rich history. Sharing that content in blog format is great for accessibility, but they can be a slog to get through.
Displaying the information in an ebook format is a great change of pace in more ways than one. Also, it gave the designer the ability to run wild with the design, which you can't do on a website.
The Global Agency Interview Collection by LinkedIn
Not every ebook needs to come from you and your perspective, as proven by The Global Agency Interview Collection ebook, put together by LinkedIn.
In this resource, LinkedIn went out and spoke to a variety of thought leaders to gain insights on what works for them, how they adapt to change, the future of programmatic advertising, and some off topic info on the last show they binge-watched.
This content finds that nice balance between helpful and entertaining. You have the side that looks to benefit the marketing managers, and a much more relaxed side that gives you a look behind the curtain.
So, what can you learn from this ebook example?
That's simple: you can create an ebook that fleshes out your brand, one that doesn't have to conform to the standards already set.
You can create anything with an ebook, and be as informal as you like as long as what you create offers something of value.
In this case, the value lies in the opinions of experts.
The B2B Content Marketing Workbook by Velocity
The topic of content marketing is covered in a wide range of electronic books, only this one seems to do things a little differently when it comes to the design side of things.
Most ebooks tend to fall into the portrait category, whereas this one from Velocity tries to do something a little different, and it works pretty well in grabbing your attention.
This ebook example looks and feels more like a series of flash cards, displaying relevant information and the odd statistic or two, but it's balanced nicely with illustrations and multiple fonts/colours.
Velocity more than likely understands that short and snappy is a lot more effective than something long and something that could come across as a 'by the numbers type.'
Study this ebook, it's very well done.
How to Convert Facebook Traffic Into Sales by AdEspresso
This ebook is streamlined, it's mostly why we like it.
Streamlined in the sense that it outlines a very specific topic, and sticks with it. You'd be surprised to learn how many downloadable resources out there stray from the topic at hand.
Honing in on a very specific topic is more than ideal if you can help it, especially if that topic is tied to a popular question or problem.
This ebook is on converting Facebook traffic into sales, a very popular question amongst marketers currently running social media marketing campaigns with no money behind their efforts.
How AdEspresso has condensed this information down into a 4-step method should also be praised. Simplifying the content found in an ebook will only increase the number of downloads received!
The Marketing Meeting Agenda Template by Canny
Okay, okay, yes we've included one of our own templates in this list of ebook examples.
We're bragging, we know, but not for the reasons you think.
Yes, the cover is really nice to look at, only how we've presented this content isn't the same as other downloads you'll find out in the wild.
No, we've tried to be as helpful as possible with the Marketing Meeting Agenda Template, by allowing anyone that downloads the ebook to edit it directly.
You see, a lot of ebooks come in a PDF format, making them somewhat of a pain to edit and apply your own copy. With ours being on a Google Doc, you can edit it as you see fit.
We've even included template text to give you a rough idea on what to include, for inspiration, of course!
The lesson: consider which format you're going to present your ebook in.
Beginner's Guide to Conversion Optimization by Quicksprout
Understand that a lot of the businesses downloading your ebooks are only just say starting out, and therefore don't have a lot of knowledge on a subject, or have anyone to guide them really.
Which is why you should consider how you frame your downloads. In this ebook example the words 'beginners guide' are used, which go a long way in attracting a very specific type of audience.
Framing complicated topic under the guise of something catered towards beginners is a fantastic way of appealing to people not in the know.
There's plenty of beginners guides out there, only we chose this one as it approaches the content in a very cool and interesting way.
Also, it's written by SEO wizard Neil Patel… So yeah, go look if you wanna learn sharpen your conversion skills.

Credit to HubSpot
100 Mission Statement Examples & Templates by HubSpot
Very few can match up to HubSpot when it comes to content. They are at the top of the mountain when it comes to a lot of things, including the resources they offer to site visitors.
This ebook, the one that includes 100 mission statement examples is super informative, and done in a way that makes it almost impossible to ignore.
Here you can learn the mission statements for companies such as Calendly, Twitter, Asana and even HubSpot themselves. Only it doesn't stop there.
The mission statement templates shown give businesses from various areas of expertise something to go off of, so that they can form statements of their own.
It identifies a problem, provides case studies and then solutions.
It's all you could ever want from a resource.
The Field Guide to Human-Centered Design by Design Kit
Here's another design-centric ebook, this one from Design Kit (go figure).
It's an ebook design that proves there is beauty in simplicity across every page. The use of collage-like shapes create this scrapbook feel to it all, which works perfectly for an ebook centred around human-based designs.
What's more, Design Kit give visitors one of two options to view this book, they can either:
Download a PDF file
Or purchase it in paperback form
It goes to show, if you have an ebook design that really stands out, then you could make some additional money out of it by turning it into a product of its own!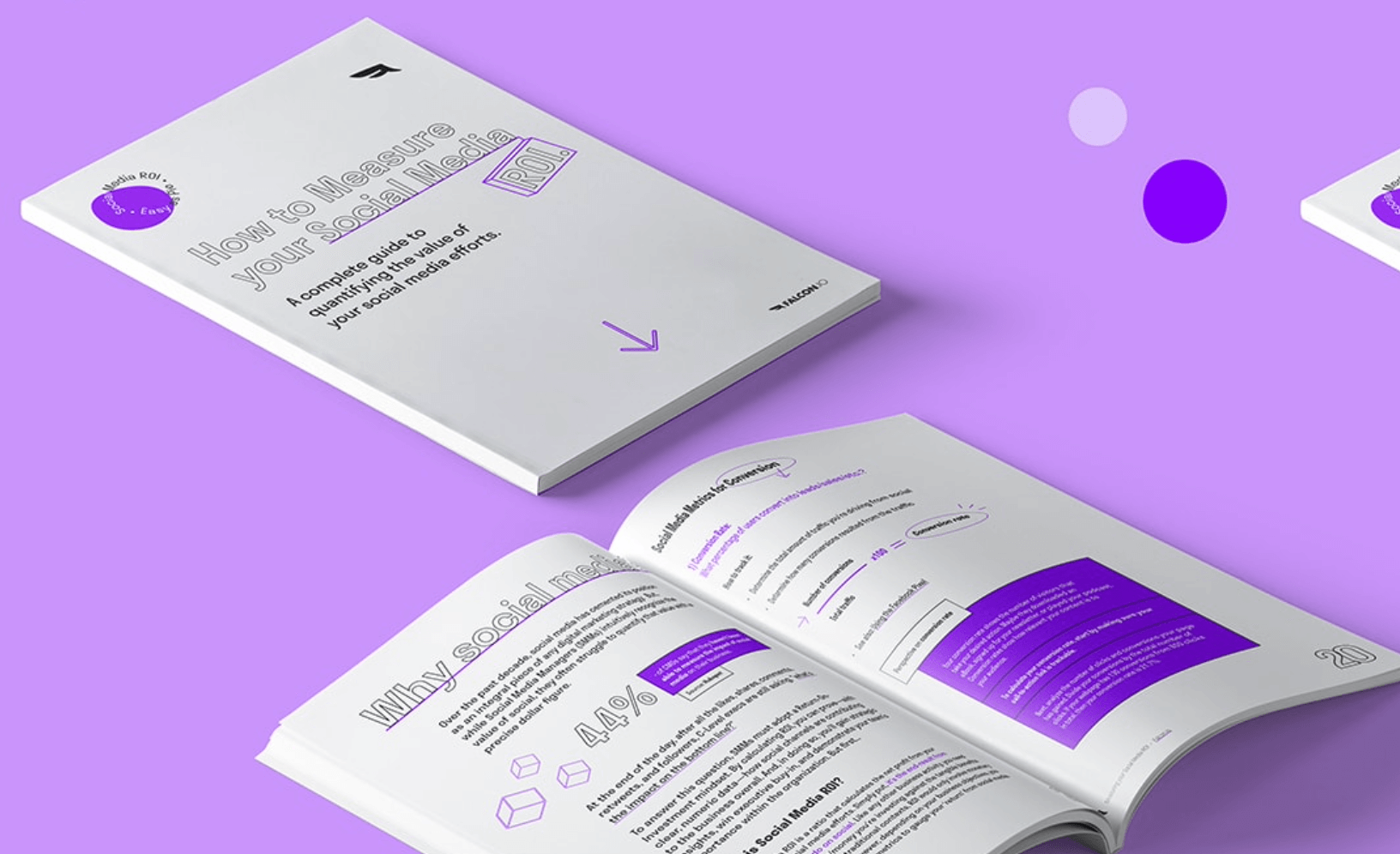 Credit to Falcon
How to measure your Social Media ROI by Falcon
Last, but by no means least, we have 'How to Measure your Social Media ROI by social media account condenser, Falcon.
We like this ebook for many reasons, the most obvious being how unique the design is — and because of the premise of this download (measuring social ROI is something every savvy marketer should know about).
The ebook design on show here is very simplistic, complete with scribbles that remind us of the vandalised textbooks you'd always get given in school.
Using white and purple only was a very smart choice, as it helps it stand out from the rainbow-like ebooks that many businesses produce.
Ebook Ideas: Creating Your Own Content Upgrade
If the ebook examples shown above don't get you thinking about the type of content you want to offer, then nothing will.
We tried to offer as much variation as possible above, to give you a pretty good idea of the types of downloads that you can offer, and the various angles you can take.
We also tried to find downloads that sport the best ebook design, again, to inspire you.
Do you have a favourite of the bunch?
At this point you should have a rough idea of what it is you want to create, but there are a few considerations you need to tick off first to ensure that the content upgrade created hits the mark.
Here's a quick rundown of what you need to consider:
Is your ebook better than those offered by competitors?
Ask yourself: would you download it based on the design?
The content within the ebook, is it up to snuff?
Will the ebook be grouped into a bigger bundle in time?
How readable is the download, could it be better?
Follow these questions to the letter and your resources will begin to gather leads, increase website traffic and grow brand reputation in no time!
Ebook Examples: Study your Competitors
Not sure where to start when researching the type of ebook you want to create and launch on your site?
Take a look at your competitors — preferably those that have ebook examples to show as it would be kinda pointless otherwise…
Look at the titles and themes of these resources, also, look at the descriptions of these content upgrades. Doing so should give you a rough idea of the types of content your target audience typically go for.
Look at Ebook-Related Keywords
If you want to be triple sure that the downloads you're crafting have an audience simply look at the keywords tied to these resources.
Keywords with high search volume are 100% worth creating, more so if the keyword difficulty of these terms are on the lower side. Low difficulty keywords are a lot easier to rank, which you'd know if you read our blog on forming an effective B2B SEO strategy.
Simply searching for a specific keyphrase with the word 'template' next to it should yield helpful results.
We research the viability of every download we create before we even get to work creating it.
And you should too.
Ebook Design is Super Important
While the content shared within your downloads might crossover with others, your ebook design on the other hand doesn't.
We hope you were paying close attention to the designs of the ebook examples shown above, as these examples do give you a rough idea on what works.
Bright colours and unique icons are great in making your downloads feel a lot more memorable — this applies to the content shared too by proxy.
Try to create a cover that is eye-catching, one that references the topics of the download outright.
A well designed graphic heavy cover tends to work a lot better than using a single image, in our experience.
Case in point: every download we've created up until this point.
The Helpfulness of the Content Within
Visuals are hella important to ebooks. Still, if the content isn't up to snuff, then it will all be for naught.
Ask yourself: is the content you're offering answering all of the questions that marketers have surrounding that topic.
Be as comprehensive as possible, it's an ebook, it's supposed to cover all the major talking points, problems and solutions in its pages.
Be Comprehensive: Make sure the content within your ebook answers the sub questions your readers might have on a topic outside of the main questions.
A quality download content-wise could inspire these readers to look at some of your other resources. Showing value this way is great for retention marketing, or to simply work them through the stages of your marketing/sales funnel.
Offering Ebooks in a Bundle
Updating your downloads if they are years old might be a good idea. The last thing you should want is your ebook design to seem outdated.
That could cause keep your target audience from engaging with you in the ways you want.
Ebooks are around 75% visual and 25% content, so make sure it looks the part.
Another thing you can do to breath new life into your downloads is to group them together in the same bundle.
Only bundle them with downloads that link to the topics covered. For example, you could link ebooks covering SEO, blogging and content marketing under the same download.
This works perfectly if you offer over a dozen ebooks on your website and are looking to condense them down.
Question the Readability of your Ebooks
You might think that readability refers to how the download is written, and you'd be right in thinking that, but wait, there's more.
Readability also refers to how the content within your ebook sits in line with the ebook design. If your ebook leans too heavily on design, it could cause the content to suffer.
You should want to find that perfect sweet spot.
In an ideal world your ebooks should have eye-catching designs and images, weighted with the content that they reference directly.
Ebook Ideas: Consider the Font Style
Font/typeface is a key part of your ebook designs, and is so often overlooked as marketers tend to only think about the cover and nothing else.
The fonts you choose should be easily readable, and not stray too far away from your brand and its individual identity.
That being said, ebooks do give you the opportunity to experiment a lot with the look and feel of it. So feel free to try something new if you feel like it would be beneficial.
Netflix change the thumbnails of its programming all the time. You could do the same to see if this yields different results. Could it lead to more
See how it goes for a few months, and if you aren't getting the results you want, change the ebook design up a bit again.
It goes without saying, but should you ever change your logo, you should then go and update it wherever its used, which typically includes the ebooks you've created that live on your site.
Educate, Entertain and Engage: Ebook Examples That Hit the Mark
Did you pick up a thing or two from the ebook examples shown? Or have you downloaded some of them already?
Either way, we hope we gave you something to think about as far as taking your own ebook ideas and crafting them for real.
If there's one thing you take away from this post let it be this: always create content that looks to solve deep-rooted problems that another business might have.
By doing that, you establish a level of trust, becoming reliable in the eyes of your leads.
Lack the time and resources to do create ebooks of your own?
As a creative agency, we are pretty skilled in a variety of areas, content being one of them, and under content comes ebooks and white papers.
All we need is more info on you, what it is you're hoping for, and who your intended audience is.
From there, our design and content teams will put together an engaging resource that brings you that much closer to your target audience!
Ebook Examples FAQs
What purpose does an ebook serve?
An ebook is an educational tool, used by businesses in their content marketing efforts. These resources help other businesses gain knowledge in areas of importance. Ebooks are a great way of generating leads and trust.
Is ebook design important or not?
Yes, ebook design is just as important as your ebook ideas and the content on every page. How it looks will determine whether or not it's downloaded by visitors and how much information they retain.
What makes for a quality ebook?
Your ebook should be as informative as possible, covering the pain points surrounding a specific topic. It should also contain CTAs somewhere, so that you can promote the benefits of working alongside you.
What should be included in an ebook?
You should have a front cover, a contents page where you outline what is included within the file, headings, the content itself, visual elements, and CTAs. All of those should help create a pretty comprehensive ebook!