Financial services branding and finance branding are often misconstrued as stuffy and boring.
But that's not always the case!
For a while now, there have been some brands making great headway into creating interesting, unique, well designed brand identities in the finance sector.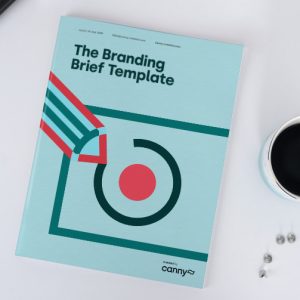 The Branding Brief Template
The Branding Brief Template is a free template that will help you get the brief for your branding project right. W...
From banks, to insurance providers, and payment gateways – effective and impressive financial services branding is on the rise.
There's also the "Sea of Blue" – which we'll talk about a little later.
But for now, let's take a look at why financial services branding is incredibly important…
The Importance of Branding in Financial Services
In any sector branding is important as it builds trust.
However, this is particularly important in the financial sector as you're dealing with people's money.
As a result, every part of your branding needs to ooze honesty and reliability. You're asking customers to not only put their faith in, but the future of their finances too.
They need to feel secure and reassured that your company is right for them, and that's what good branding can do.
By carefully crafting your brand values and brand messaging, you can create a brand identity that instills a sense of trust and security.
This is also a great way to differentiate your business from other companies offering the same service, as it gives customers a reason to choose you over someone else.
Now that we've covered the importance of financial services branding, let's start by looking at some examples…

Deutsche Bank
Deutsche Bank is a leading global investment bank based out of Frankfurt in Germany.
And their branding is the type of project you look at and explore when studying branding at University.
"It's just a blue square with a line in it."
Sure, from the outset, that's exactly what it is. But let's dig a little deeper.
Deutsche Bank's own logo history document outlines the thought behind their logo. It also gives a great insight into the brand's logo design history.
In 1972, Deutsche Bank commissioned eight renowned artists and designers to create a new logo for the finance giant.
They eventually chose the Anton Stankowski's the "slash in a square."
As explained by Deutsche Bank themselves, the logo design is:
Simple yet striking form, able to generate and ensure recognition.
Supports the identity of Deutsche Bank.
A consistent frame of reference.
The "slash" stands for consistent growth and dynamic development.
The square-shaped frame can be interpreted as a sign of security and a controlled environment.
The Deutsche Bank brand identity meets the branding brief set out by the bank.
"To achieve differentiation from the competition with the implementation of a new and striking visual appearance."
Check out this post if you're curious about writing a branding brief.
To dig into Deutsche Bank's brand and strategy further, check out this article by The Finance Brand.
A job well done.
And now, for something completely different…
Monzo
Alongside Revolut, Monzo are one of the fastest rising newcomers to the UK's banking scene.
And they're absolutely crushing it.
From the outset, Monzo's brand and website is completely unassuming. Infact, it's completely unremarkable. Nice, but unremarkable.
But then, there's that awesome orange card.
And that's what earns Monzo a spot on our list of the best finance and financial service brands.
Their orange bank card has become somewhat of a fashion statement.
People are choosing to switch to Monzo, just for one of their gorgeous bank cards. And who can blame them?
Their bright bank cards have grabbed people's attention. On a wet, grey, miserable British street, the neon orange card stands out a country mile.
"Give people something that captures their attention."
It's a great strategy from an otherwise corporate looking startup bank.
Transferwise
Transferwise make international payments a complete breeze. In fact, we use them when working with some of our overseas clients.
Their identity was designed by London based design agency, VentureThree.
Technically, their brand identity design could probably fit into the "Sea of Blue" which we're going to talk about later.
However:
The way they've paid such close attention to their logo mark, typography, and website style, earns them a place on this list.
I also love the fact they've named their logo mark. It's called The Fast Flag.
"It signals the revolutionary spirit and speed of the TransferWise service, as well as its growing global profile." – Transferwise
Their website design is particularly strong, especially the way in which they've used animation throughout the site.
They've created a clean iconography and illustration style that helps make their point stronger, whilst not straying too far away from a traditional looking finance company.
And looking into them again for research, it appears they too have launched a neon banking card. Only this time, it's green.
Monzo, watch out!
Stripe
Stripe are a payment processing company that in the world of web design and Woocommerce, have stepped up their efforts to go toe to toe with Paypal.
They can help clients take card payments, at a much lower rate than market alternatives.
And, when their in-house design team unleashed their new branding and website back in 2017, the world of finance brands rushed to copy them.
Their modern and vibrant blue green gradient is derived from banknotes from around the world. A subtle little nod indeed.
Stripe's "brand tidy up" encapsulated a new style of finance brand and website that had never been seen before.
They changed the dot of the "i" in stripe to, unironically, a stripe. Which works nicely.
It's a good job they say "imitation is a form of flattery" or Stripe would have every right to have their knickers in a twist!
Ted Todd Insurance
I've said it before, and I'll say it again. Focus Lab, based out of Georgia, USA, are hands down one of my favourite design agencies and biggest inspirations.
And as such, they have two pieces of featured work in this list.
The first, is for Ted Todd Insurance. One of the largest insurance firms in the Allstate area.
In their own words, this is the challenge Focus Lab faced:
Always an innovator in the industry, they distinguished themselves after Hurricane Charley ravaged Florida—while competitors cut their offerings in the state, Ted Todd fought to offer better products with more options. True to their commitment to accessibility, they tapped us to make their brand and user experience more interactive and engaging. Having worked before with Ted Todd on their brand and website gave us a running start and an intimate understanding of the client.
Focus Lab laid the foundation of the work with a solid brand strategy. The logo design and colour palette was then refreshed.
Paired with a beautiful icon set and refreshed website design, Focus Lab prove once again how good branding can make an impact.
To see more about the project, check out the entry on Focus Lab's website here .
Financial Services Branding FAQs
We're reached the mid point of our list of financial services brands, so we thought we'd take a pause.
To make sure we've covered your most burning questions, we have devised some helpful FAQs below.
Why Is Financial Branding Important?

Financial branding helps build value among your customers and and generates future business. Furthermore, a solid brand differentiates you against your competitors, driving more demand, and increasing market share growth. It can also help you generate more referral business which will bring in new clients.

What Are the Branding Strategies of Banks?

Banks use a range of tactics to attract customers and to retain their place in the market. This includes blogging, social media content, sound customer service, video campaigns, digital signage, reward programmes, community initiatives, and strategic partnerships.

What Is the Role of Advertising and Branding in Financial Services?

Advertising plays a role in the financial sector as it makes the consumer aware of the different products which are being offered to them, for example, loans and mortgages. Branding also creates a relationship between the company and the consumer instead of the bank being a corporate, faceless brand.
Peachy
Peachy are Focus Lab's second (and final!) entry in our list of financial services branding and finance branding you can bank on.
Unfortunately, the Peachy branding is only available in the form of early exploration on Dribbble.
However, that doesn't stop it from having an immediate visual impact.
Peachy's new brand identity features a wordmark only. As described by Joshua Krohn of the Focus Lab team:
Coming out of strategy, we knew we were going after a logotype-only approach. Not every company needs a mark. In fact, if our clients request a mark, we often ask for their reasons why. They want it tell so much of their brand story and their brand attributes. While we certainly try to take these things into account while designing a brand identity, this isn't the only job of a logo. And actually, the logo is only the first part of that story; it's a conversation. We're looking forward to helping Peachy tell that story as their brand evolves.
And this is why brand strategy and visual discovery sessions are important.
Having a clear brand strategy will help to inform your brand identity design as your project progresses.
Peachy benefited from Focus Lab's creative insight and came away with a great looking wordmark and illustration style, as well as several brilliantly designed posters and advertising pieces.
It's a shame the project isn't yet live in the wild, but we hope to see it one day soon.
Natwest
What's a list of the best finance brands without including one of Britain's most well known high street banks?
Incomplete. That's what it is.
We've looked at startups and disruptive banks already, but what about good old Natwest.
Well recently, they've been pushing the envelope in terms of style when it comes to their brand identity design.
Natwest's rebrand happened way back in 2016, and was put in the more than capable hands of Futurebrand.
I'd always been a fan of Natwest's pre-existing identity. It was based around the idea of three entities coming together to form one, which is exactly how the high street bank started life.
Initially, when Futurebrand got their hands on it and made it 3D and gradient-tastic, I lost interest.
However, as the identity has unfolded over time, and I've seen more of the collateral and marketing material in the wild, it's really won me over.
The custom alphabet design and colour palette both play a big part in my love for this financial brand.
The choice of colours, the odd angles, and downright strange letter construction intrigues me, and massively elevates the whole identity.
Go Compare
At Canny, we always talk about branding not just being your logo or your brand identity.
There's a lot more to branding than that.
And that's the sole reason we've included Go Compare.
Now, if you're not in the UK, or you're not of a certain age in the UK, "The Go Compare Guy" probably doesn't mean a lot to you.
But if you're 23 or over, you'll know exactly what we're talking about:
Go Compare's visual identity is nothing to gush over. It's alright. But their series of operatic advertising was on another level.
People hated it, and more specifically, him, with a burning passion.
But, loathe it or hate it, it was everywhere, and everybody was singing the damn tune!
Eventually, Go Compare dropped the "Go Compare Guy" but recently, I've seen him making a resurgence in a role that sees him getting his comeuppance for pestering our nation years ago.
Compare The Market / Compare The Meerkat
Compare The Market, another British insurer struck gold with their brand marketing campaign around the same time.
Likening the word market to meerkat created good hearty laughs across the nation as Compare The Market introduced us to Aleksandr Orlov – an aristocratic Russian meerkat.
Sounds bizarre? It is.
But not as bizarre as the fact that this new meerkat marketing device really picked up steam and spawned a range of:
Meerkat plush toys
An autobiography
Sponsorship programmes
Restaurant tie ins
A whole range of other adverts
On top of that, they also built an actual meerkat comparison website, which again, played into the good natured fun of the campaign and tickled wholly tickled Britain.
Then, they went ahead and tied Compare The Market to cinema. And offered 2 for 1 cinema tickets if you've bought insurance with Compare The Market in the last 12 months.
And, more than a decade later, the whole meerkat campaign is going just as strong as ever.

With Jack
With Jack are a completely unique looking insurance company.
Given that they offer insurance for designers though, you can see why they might need a completely different approach!
With Jack was founded by Ashley Baxter up in bonny Scotland. Then it was beautifully branded and illustrated by North East based designer, Vic Bell.
Whereas others go for something corporate looking (Meerkats included), With Jack have steered their ship down a completely illustrated path.
Considering this company is aimed at designers, the end result is very fitting as there is a lot more room to be creative. This is a fantastic example of a brand who's visual identity reflects its core messaging and values, as both of these elements tie together.
And just looking at the site and branding work, how can you not love it?
Featuring 'Jack' as a cartoon sailor, alongside soft, rounded typography, it is both approachable and playful.
The aesthetics of this insurance company would appeal to any freelancer who was looking for some advice in the world of legalities – which can often be a daunting thought.
So, definitely a stand out in the often humdrum world of financial branding!

MasterCard
"There's some things money can't buy…" – yes, this fantastic branding engagement with Pentagram!
MasterCard is one of the World's most popular credit cards.
And over the last several years, their branding has evolved significantly.
Back in 2016 they rebranded the company, and did away with the identity that they'd had for 20 years.
The MasterCard rebrand split opinion across the design community but I have to admire Pentagram's reworking of the brand.
With the goal of:
"Creating a brand identity that emphasizes simplicity, connectivity and seamlessness." – Pentagram
I'd say they've hit the nail right on the head.
The new identity is sleek, sharp, and modern. And, by emphasising on the overlapping circles, and positioning the mark away from the text, Pentagram has brought focus to the seamlessness.
It's a great improvement for the MasterCard brand and a lesson in simplicity from the branding giants.
So.. What is the Sea of Blue all About?
We've talked throughout this post about "the sea of blue."
Which is essentially a "best of the rest."
Most of the financial brands above all stray away from the common "blue means finance" branding trope, which means they stand out.
However, we feel the need to acknowledge some of the best looking finance and financial service brands who've embraced the blue.
Because we've already talked about the best of the best in financial branding, we're going to fly through these and leave you to discover them on your own.
Tide
Tide uses a rich bold blue colour in their branding and offers up a new credit card solution (fulfilled by MasterCard.)
They use friendly looking typography and icons to give their brand an approachable look.
Betterment
Betterment offer "a smarter home for your money."
Again, another shade of blue and a sans-serif wordmark doesn't help them differentiate, but it's nicely executed.
Wealthfront
Wealthfront are more purple than blue, but not different enough to escape "the sea of blue."
What is nice about Wealthfront is the style of illustration they use on their website. It's a lot more mature than some other illustrative work in the financial space.
Coinbase
Again, Coinbase don't do enough to escape, but they do beautifully execute a flat blue colour and sans-serif wordmark.
But they do fall into the "oh, another one of these" category. The icons are well designed though.
PayPal
PayPal offers up a little bit more than a blue logo. They bring together a nice concept of two overlapping P's, bringing together the idea of Paypal and their customers.
It's a lot more consumer friendly than their previous identity, and definitely an improvement on mass market financial branding.
Financial Services Branding and Finance Branding You Can Bank On
Financial services branding and finance branding doesn't have to be blue! And if it is blue, it doesn't have to be boring.
Money is one of the items that human beings come into contact with every single day, and have done for millennia. So we're always looking for new, creative, financial solutions.
If you're entering the finance or financial services world, be different.
Boldly go where no-one has gone before.
That's the way to get yourself noticed in the incredibly competitive financial landscape.
At Canny, we love to talk all things branding, whether that's financial branding, recruitment branding, or anything else for that matter!
As a global creative agency we've worked with brands across a whole range of sectors and we know what it takes to make your branding stand out. To find out more about how we can help you with your next project, get in touch with our friendly team.