Regardless of what we eat for breakfast, there's no doubt that cereal packaging designs catch our eye as we browse the supermarket aisles.
Whether it's flakes, hoops, granola, or oats, all types of cereal have unique packaging whether it's the classic rectangular box, or a resealable pouch.
Although 9 times out 10 cereal is packaged in a box, some brands have taken more of a risk and used unique containers and tubs to set their product apart from the rest.
Despite many cereals being boxed up and ready to grab from the shelves, this doesn't mean the design has to be plain and simple.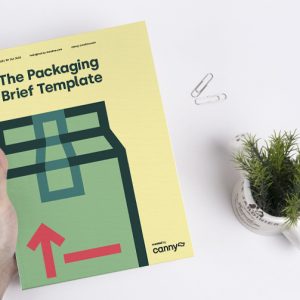 Cereal packaging often uses bright colours and characters or mascots to create playful, fun, and innovative designs to appeal to audiences young or old.
After all, the cereal packaging audience is cross-generational and we are all looking for something exciting to pair with our morning cup of tea or coffee!
As with other FMCG packaging we have explored in the past, for this post we have highlighted some of our favourites, exploring the colours, the mascots, and the overall designs, to discover what works in the eyes of the consumer.
So, with that let's start off with what makes a good example of cereal packaging design!
What Makes Cereal Packaging Design Good?
We have seen countless cereal brands try and differentiate from the mainstream brands that use the same mascots, layouts, colours and style for years on end.
However, in doing so, the newer start-up brands have all landed in a position where they have started to look very similar and appeal to niche audience.
An audience that's willing to pay more for cereal that can be used as part of a healthy lifestyle

For these newer companies, health has become more of a prominent priority, and using protein and avoiding sugar have become core values for brands such as Magic Spoon, Surreal, Eleat, and many others.

This is of course a positive when it comes to promotion of healthy eating, however it saturates the market for "healthy breakfast options".

In turn, brands have had to adapt their packaging as well as their recipes in order to ensure the uniqueness of their brand against others in the industry.

On the other side of the coin, cereal brands often take inspiration from cereal giants such as Kellogg's, and try to emulate their iconic look and packaging style. However, due to the original brands worldwide presence this doesn't always result in success.

Yet, what does work and we have seen time and time again in the world of FMCG packaging, is collaborations with other brands and free offerings that are attractive to children and young families in particular.

Think of the Frosties and Avatar packaging collaboration, or the Merlin group which includes theme parks such as Alton towers and Legoland, working with Kellogg's to bring freebies and discounts to consumers.

In short, "good" cereal packaging design needs to speak to the consumer and focus clearly on a specific target audience.

It may be one brand has a charming mascot, another has brightly coloured packaging, and another focuses on organic or vegan ingredients, and therefore each brand is focusing on one group of customers rather than trying to provide a product that suits the needs and desires of the entire consumer population.

So, with that let's take a look at some examples of brands that are successful at engaging their audience with packaging design that stands out above the rest!

Credit to Magic Spoon
Magic Spoon
Magic Spoon is a cereal brand that uses colour like no other, to promote their healthier breakfast choice.

With 0% sugar, and 13g of protein, this cereal offers a wide range of quirky flavours from cookies and cream, to gingerbread, and even birthday cake.

Certainly the best range of flavours we have seen thus far!

Interesting fact: Magic Spoon received an $85 million investment during their start-up process, which included several large companies along with a random collection of celebrities including, Shakira, Nick Jonas, and Russell Westbrook.

As for the cereal packaging design, this company can be likened more to the brands we have yet to mention, Surreal and Off Limits, as they use a unique colour palette and quirky characters for each and every flavour.

The colour of the logo on each box is different depending on the flavour you choose and provides a nice contrast to the base colours, for example the cocoa packaging is a chocolatey brown with a baby blue logo and character.

Each cartoon mascot is shown to be riding a different animal, and clutching a spoon as if they are charging toward a bowl of the hoops themselves. Both the product and packaging compliment each other nicely, as the roundness of the cereal hoops is replicated within the smooth curved edges of each characters design.

At first glance the 2D designs look to be fairly basic, however, each character has its own personality and style, one being an astronaut, another being a cowboy!

All in all, the Magic Spoon cereal packaging has a duality to it, appealing to both adults and children alike, with vibrant colours and funky cartoons, as well as being a healthy option for all.

Credit to Eat Surreal
Surreal Cereal
Now we don't like to choose favourites, but we think this example might be it.

Branded as the "healthy cereal option", Surreal cereal is doing everything right when it comes to packaging design.

They have ditched the classic bright primary colours and mascots, and opted for a more subdued colour palette and fun visuals.

Currently, the company offers 4 cereal choices: cinnamon, frosted, peanut butter, and cocoa, and each flavour has its own unique colour and design.

What's nice about this cereal packaging is that the colouring used is softer than your average box of hoops, and the company uses a baby blue, light teal, honey yellow, and a pinky-orange for each of the boxes.

The colouring used perhaps mimics the 0% sugar, and high fibre content, compared to the big cereal names that use brighter colours, and this provides a nice contrast.

Another appreciated feature is the enlarged squares at the bottom of each box, outlining the protein, carbohydrate, and sugar content for each cereal, as our population becomes more and more conscious about living a healthy lifestyle.

Each box design features the corresponding cereal hoops scattered across the box, surrounded by small white detailed lines, showing the cereal spinning or bouncing around the space.

The central design of each box is simple yet effective, using a different photographic image for example, a cowboy riding a peanut in place of a horse, or a woman breakdancing on a bar of chocolate.

With this cereal packaging design you won't be able to miss what flavour is inside that's for sure!

The great thing about this brand is the name surreal is a nod to the word "cereal", as well as the incorporation of surrealism style art onto each box, for example, characters heads being replaced with cereal bowls with smiley faces.

This works well overall by mixing a unique style of design, with a very modern take on cereal.

Credit to McCabes Granola
McCabe's Granola
Onto a slightly healthier option now, and some packaging that uses the product inside to create a bit of fun.

McCabe's Granola is an all natural brand that comes in a variety of flavours, from True Original, to PB and Chocolate.

For this example we get a nice change from the regular cereal box design, as instead this company uses pouches to package their granola, with a small note along the top seal reading "Rip it…rip it good".

If this doesn't encourage you to give it a try, then maybe the design itself will.

For each pouch we see a new mascot including a farmer, a musician, a rockstar, a lady with a beehive hairdo, and even their take on a caveman!

This reaches out to multiple audiences, and is fun for adults as well as children too.

The best feature of this packaging is by far the use of the transparent sections revealing the granola inside, as the company gets playful and creates the illusion of granola as hair for each character. The colour of the product really helps with this visual aspect as the blonde and brown tones of the granola mimic hair colour almost perfectly!

This works particularly well for the farmer's hat and the caveman's crazy hair, and ultimately allows customers to see a glimpse of the product.

What's more, the colouring of each pouch is split into two horizontal blocks, white along the bottom then a colour along the top corresponding to the flavour, which neatly ties the packaging together.

Equally, this brand uses a nice blend of fonts, something more straight and reliable for the company name "McCabes", then more of a funky style for the word "granola", linking to the fun flavours they have on offer.

The word "granola" has a more rough and messy style, which matches the personality of the brand and packaging, but also the granola product itself.

Credit to Cap n Crunch
Cap'n Crunch
We're going back in time for this one, and although still available in the cereal aisles, Cap'n Crunch has been around since the 60's.

Starting off with the box design there is a definite similarity to the Lucky Charms box which we are yet to discuss, as the base colour is a similar shade of red only slighter brighter.

The mascot here is the focal point of the cereal box design, as over the years he has been adapted and there is now a pillowy volume to the Captain figure.

Compared to previous design, Cap'n Crunch is now more of a 3D animated style character, and somehow his eyebrows are on his sailor's hat. How? We'll never know!

The most interesting aspect of this cereal packaging design in our opinion, has to be the offering of a cereal on a spoon.

The Captain's hand holds a spoonful of cereal that seems to break through the front of the box and spill onto the cereal aisle.

There's a reason this packaging design has worked for decades, and as consumers we feel as if we are being offered a bite of the cereal by the mascot himself, creating a relationship as we browse the cereal aisle.

Overall, the language of the packaging is bright and hard to miss, which perfectly fits and compliments the Cap'n Crunch character.

Credit to Eat off limits
Off Limits Cereal
Moving forward and to a more quirky design, we are taking a dive into the packaging design of Off Limits cereal, the brand for all you conscious breakfast lovers out there!

As with many examples so far, this brand still uses a regular box but have recently created a new style that is smaller and can be used as a single-serve box that doubles as a bowl.

If you're on the go it's perfect as this box even holds milk, and has a perforated top.

Much like Surreal cereal, Off Limits have 4 flavours, ranging from coffee and cocoa, to strawberry, using 4 colours, and 4 characters.

The colouring of each box is certainly unique and this company has the same idea by using bright but more pastel colours in orange, blue, yellow and pink.

This colouring is unlike famous cereal packaging that has sat on the shelves for decades, and therefore definitely appeals to a more mature audience.

The brand identity is based around the creation of the four characters: Zombie, Dash, Sparky, and Flex, and how each figure links to the flavour within the box.

For example, Dash owns the coffee-cocoa flavour that turns milk into cold-brew, and in turn creates a playful way for adults to have chocolate cereal and get that caffeine buzz all in one bowl.

Each cereal is gluten-free and vegan and hence why we mentioned this option is for the more conscious among you!

It's certainly becoming more of a trend to create and consume healthier cereals, so the space on the shelves is definitely opening up for more brands like Off Limits.

Credit to Eleat cereal
Eleat
Finally, we have arrived at a cereal that isn't available in a box, and that is Eleat.

At first glance we will admit, this cereal looks more like a pouch of protein powder, and there is some truth to this, as this cereal is a high protein, high fibre, low sugar option.

There are 4 flavours currently, consisting of vanilla, chocolate, strawberry and cinnamon, all fairly typical in the world of cereal, but like we've said before if it works why change now?

Eleat is branded as "cereal reinvented", and design-wise the pouch for each flavour is much more modernised.

This is the first example we came across that used much darker colours across the board, still incorporating brighter pinks, purples, and oranges, but using a very dark navy blue as a base colour.

For each packet we see the cereal splashing onto a spoon full of milk to give us an idea of exactly what is inside, however the harsher lines and sleekness of the design is what pulls you in.

The line that strikes through the packaging reminds us of a mountain or an upward trend, both typical symbols linked to protein, fitness, and a healthy lifestyle.

This paired with the simple yet strong logo lettering, makes for a robust packaging design, you know what you're getting and they're guaranteeing you will "power up with plant goodness".

Credit to Cinnamon toast crunch
Cinnamon Toast Crunch
Although there are multiple flavours of Cinnamon Toast Crunch, in this post we are focusing on the standard cinnamon flavour box design.

We decided to include this cereal box design as we like the idea of the mascot being a piece of cereal with little googly eyes and a cheeky personality.

Firstly, we know what you're thinking, the box is plain, white, and too simplistic. However, this works as a great base for the logo colouring to stand out.

The lettering uses purple, red, green, and blue to add some life to the branding, and there is a subtle nod the the cereal shape by using a small square to dot the "i".

As well as the white box colour acting as an ideal base for the logo, the colour white is considered clean and refreshing. So, rather than this cereal coming across as sugary, and targeted only towards children, it has a fresher more attractive identity.

Alongside this, the mini cinnamon square mascot is staring lovingly down at the bowl of his friends below, implying that despite him being one of them, they still look like a tasty choice to him.

In addition, there is a subtle sprinkling of cinnamon across the box itself, placing even more emphasis on the use of real cinnamon in the cereal, and there's plenty of it.

Although perhaps not the most exciting design of the bunch, the packaging for Cinnamon Toast Crunch is comforting with its likeable character and warming blend of colours.
Credit to Grandma Crunch
Grandma Crunch
Aside from the odd name, this cereal follows a similar vein to Surreal, Magic Spoon, and Off Limits, the quirky new brands we have already mentioned.

By this we mean that this start-up brand have gone down the route of creating a healthier alternative to a sugary morning meal, and paired it with an engaging and unusual packaging design.

To match the cereal name, the "mascot" (if you like), is a cartoon grandma which actually does a good job of attracting customers old, young, and everyone in between!

The grandma is shown to be wearing sports clothing such as a basketball jersey and shorts, ready to take on opponents in a match, or riding a surfboard on a wave of milk.

The colouring of the packaging doesn't shy away from traditional cereal box design shades, using bright tones of red, yellow, orange, pink, and purple. However, the coconut flavour uses a muted brown shade so we can see that as the brand expands there will be room for far more colour variations.

Again there are a variety of flavours much like the other cereals in the new wave of healthy options, however, what is specifically unique is that the cereals are split into two categories: Keto and Protein.

The keto cereals contain 0 g of sugar, 16g of protein and 6g of carbs, whereas the protein cereal is made using 11g of pea protein and 0g of sugar.

Therefore, it's clear thought has gone into the content of the cereal not just the packaging.

This start-up has real potential to continue to capture more and more audiences as one of their main values is providing protein through cereal because let's face it who doesn't need protein. Whether you're plant-based, dairy-free, high carb, or even diabetic, Grandma crunch has an option for you.

Credit to Lucky Charms
Lucky Charms
First up is probably one of the most famous American cereals of all time, originating in the 60's, and that's Lucky Charms.

We are starting off simple as this cereal uses typical box packaging (which of course is an ongoing theme throughout this post) and this box is completely red (another ongoing theme but we'll get onto that!)

This cereal brand has never strayed from the focus of the Leprechaun standing over his pot of gold.

Don't fix it if it ain't broke, am I right?

The mascot is always smiling and excitable, holding a rainbow in his hands that is populated with individual Lucky Charms.

Underneath this is a pot of gold, that doubles up as a bowl for the cereal, and is shown full to the brim with the tasty breakfast treat.

This cereal no doubt appeals to a younger audience, as this packaging has the element of magic, with sparkling Lucky Charms and bright colours.

However, the manufacturer, General Mills, hasn't been a company to shy away from limited edition boxes to reach out to a range of audiences.

For example, chocolate Lucky Charms, with marshmallow clovers that turn your milk green, or our personal favourite "Loki Charms" in honour of the Marvel series.

For this box in particular, we see the same layout but of course darker colours and a different mascot, with "Loki" covering "Lucky", rebranding the cereal as his own.

Overall, Lucky Charms is a staple cereal and a brilliant example of how consistency is key for packaging design.

Credit to Fruity Pebbles
Fruity Pebbles
No surprises here but we are back with another red box, and this time we are exploring the packaging design of Fruity Pebbles, featuring the Flintstones!

This design has a fairly similar layout to that of Froot Loops, Lucky Charms, and Cap'n Crunch, including a bowl of the cereal flakes at the bottom of the box.

The logo lettering is perhaps one of the only aspects of this design that sets it apart from the others.

This logo is rigid and each letter is designed to look like a rock or stone, as a nod to the caveman era, and of course the Flintstones.

The colouring however we can't quite work out, as although 9 of the letters are yellow, "RUIT" in the word fruity, are randomly coloured.

Of course the colours are taken from the colour of the cereal flakes, we know as much as that, however there is no solid reasoning or explanation as to why?

The Flintstones are the mascots for this box and bring a sense of nostalgia for parents as the cartoon originated in the 60's, so in a sense this cereal appeals to both children and adults alike.

The two characters are shown to be throwing their hands in the air celebrating the fruity flakes below them, and that in itself creates an instant pull, as if your favourite childhood characters love the cereal, you must too!


Credit to Mush Cereal
Mush
Onto our final cereal, and we chose Mush overnight oats for this example as they rebranded in 2021 to something simple but effective.

The packaging is now far more colourful than before, using a different colour for each of the 9 flavours.

The colouring looks healthier, if that's even possible, but with cereal it seems the higher the sugar content, the brighter the colouring.

Whereas for this low sugar, high protein option, the colouring is earthier particularly with the specific shades of chocolate brown, oatmeal, and leafy green.

Another nice aspect to this cereal or should we say oats, is the single serve ready to eat packaging.

Due to the nature of this breakfast option being overnight oats, this means rather than a big box of do it yourself, everything is already done for you in one neat little pot.

The lettering is strong, and certainly more noticeable, and the "U" and "S" are slightly curved providing a little bit of irregularity but not so much that it would throw you off.

Overall, the packaging design has a clean aesthetic look, and this is enhanced with the bold logo that stands out far more than the previous design.
Grab A Spoon: Diving into Cereal Packaging Design
So, there we have it, our top picks when it comes to the world of cereal packaging design.

How did we do? Did we miss any obvious designs that you pick up every week?

What we eat for breakfast is of course a preference, and this can be influenced even slightly by the design of a box or pouch containing our favourite cereal.

Ultimately, it seems the cereal giants stick to what they know, using bright colours (particularly red), bold lettering, and mascots to entice consumers and remain top of the rankings.

However, new brands are becoming increasingly attractive, straying away from the norms and instead using pastel colours, funky cartoon characters, and focusing heavily on creating a healthy alternative.

Here at Canny we have the knowledge and expertise when it comes to content, web, and of course design. We have helped numerous businesses across the globe creating bespoke packaging, for example creating vibrant product packaging for Opi Frutta that stands out on the shelves.

If you feel your branding could use a helping hand, get in touch today and we can help you connect with your customers in ways your competitors can't.