Once you have secured your place as Marketing Manager, the natural thing to wonder is how to become a marketing director.
Although manager and director positions are often confused with one another there are some fundamental differences to understand before you can even think about applying and moving up the ladder.
Marketing directors are generally in charge of overseeing each of the marketing managers within a business, this means that they are responsible for all of the campaigns and projects that are occurring at the same time.
This is a huge change from a marketing manager who usually oversees one project and a team of executives at a time.
Marketing Career Handbook
Marketing is an industry that is growing in opportunity and managers are always on the hunt for fresh ideas for campaigns...
Moving up to a marketing director role involves decision-making that affects the entire department such as budget control, marketing reports, collaboration with other departments, and knowing the industry inside and out.
In this blog we will dive into exactly what it means to become a Marketing Director, from pathways into the role, all the way through to how to progress to the next level in your career.
So, let's get started!
Marketing Director Job Description
In a nutshell marketing directors must watch over the marketing strategy for an entire company.
This involves leading one or more marketing managers ensuring that their teams of executives and assistants are all on task and successfully completing campaigns and projects they have been assigned.
Therefore it's important for marketing directors to be aware of exactly what each team is responsible for, and recieve regular updates on the progress of projects.
In addition to this marketing directors must be able to take control of the marketing department budgets, in order to correctly allocate them across all areas of marketing, whether that be print and digital materials or marketing events.
Equally, at this stage in your marketing career you need to know consumers and their behaviour like the back of your hand, in order to make adjustments to marketing plans based on trends and research.
However, this is just a summary, as we will go into more detail on all of the main responsibilities of a marketing director later in this blog!
First things first, and before you can even consider the task and challenges you will need to take on, you need to decide how you are going to get yourself into the role in the first place!
How to Become a Marketing Director
Due to the senior nature of this role, the requirements of getting into a role such as this are slightly higher level than a marketing executive or assistant role.
A larger amount of experience is needed as leadership is involved as well as being confident with the day-to-day tasks that are usually carried out by a member of the marketing team.
Therefore, it is essential to have high level qualifications or a solid foundation of experience in previous roles such as a marketing manager position.
There are a few ways you get into this role which we have outlined below:
University
Work experience
Masters or MBA
Additional certifications
Let's explore each of these routes in some more detail!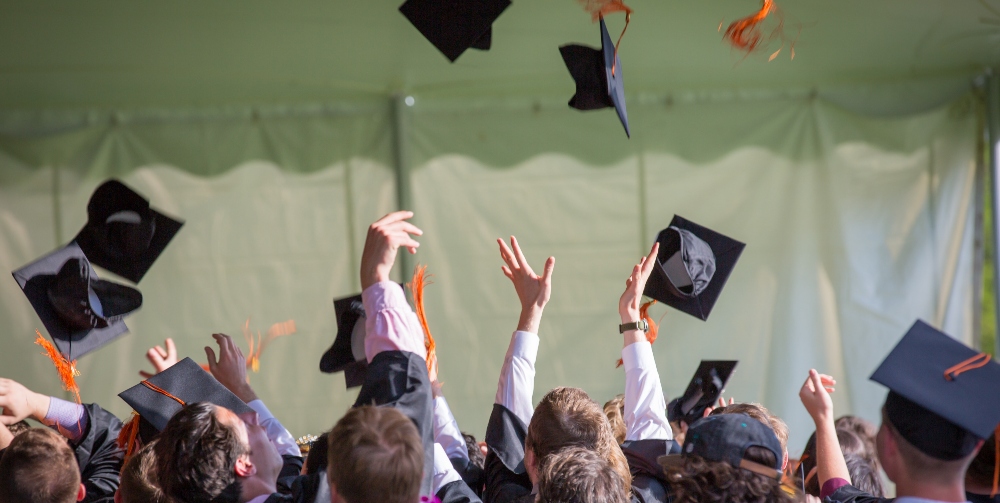 University
If you're looking to become a marketing director, more often than not it is expected that you will have an undergraduate bachelor's degree or an equivalent qualification, such as completing a degree apprenticeship.
Therefore it is preferable to have gained a degree or qualification in areas such as:
Marketing
Business
Communications
Journalism
Each of these degrees will help you to gain relevant knowledge and understanding of leadership, interpersonal relations and communication, market research, sales, consumer behaviour, and marketing more generally.
Although studying at University is not crucial to becoming a marketing director, it is often a path that is taken by many aspiring marketing professionals.
Alternatively to this, it may be that you have studied a degree in a completely different subject area, perhaps finance, or English, however there will be skills acquired from these degree subjects that can be applied to this role.
However, it may be that you have acquired a degree (or maybe 2) in related fields and you need something extra to boost your application, such as further experience or qualifications.
Masters or MBA
There are two further qualifications that are highly valued by those hiring for marketing director positions: a Masters degree and a Masters of Business Administration (MBA).
If you have already completed a bachelor's degree in one of the fields outlined in the section above, it may useful to complete a masters degree in an area such as:
Content and Media
Marketing Management
Economics and Business
Business Management
International Business
Now this list is not exhaustive, however it gives you an idea of the kind of extra qualifications that could set you apart from other candidates applying for a marketing director position.
Alternatively, if you'd rather gain a qualification that's slightly more specific to a higher level role, gaining an MBA qualification might be the right path for you.
A Masters of Business Administration is a prestigious postgraduate degree that is recognised and appreciated by employers as this course provides an overview of key business practices.
This is useful to have on top of a bachelor's degree in say marketing or communications as it helps to provide you with knowledge and understanding of the business management side of things.
This is necessary if you're going to take up a role that is more leadership focused and requires you to oversee multiple projects in the marketing department, as you will need to know what effect each campaign has upon the company overall.
These qualifications are in no way required or mandatory to secure a director position, however it demonstrates your keen interest in the role and willingness to improve upon your existing knowledge and skill set.
After all, you will be part of the senior team, so this is a great way to show that you want to be there!
Work Experience
Previous work experience could be the difference between being instantly hired or not even being invited for an interview.
Typically employers like to see that you have 5+ years of experience in a management position, this could be in marketing or a related field such as business or public relations.
Nevertheless, if you take one thing away from this blog post let it be this:
A marketing director role is not an entry-level position
Hence why we haven't included gaining qualifications that are any less than degree level or equivalent, as it is expected you will have proof of qualifications or experience in a similar role in order to consider applying to be a director.
If you didn't choose an academic route and decided University wasn't the right path for you in your career it is completely possible to work your way up the marketing ladder through work experience.
If anything this is admired by employers as it's clear you are invested in being a successful marketer and have years of hard work to show for it!
That being said, if you lack qualifications after A-Levels or Level 3 standard, you need to ensure you have a wealth of experience under your belt which may take up to or over a decade.
However, years of working as a marketing assistant, executive and finally a manager, gives you real experience of the workplace and helps to build you up and mould you (slowly but surely) into a marketing director.
Now, this isnt always the case as everyone's career journey is different, and a route that might take someone 15 years, may only take 5 for someone else particularly depending on the specific roles you have experience in.
Additional Certifications and Training
Additional certifications and training are always helpful to boost your knowledge and skills, along with your marketing director application.
If you are already in a marketing manager position or similar, there will opportunity for you to train on the job, and this may involve:
Attending conferences and workshops
Completing online courses in areas you are qualified in
Re-engaging with previous training programmes to brush up on knowledge
Completing more leadership based training
It will be useful to search institutes such as the Digital Marketing Institute, Online Marketing Certified Professionals, or the American Marketing Association, to find a course that suits your interests and goals best!
Although sometimes desired and valued, certifications and in some cases training courses are not essential to secure a director position. However, if you are looking to become a more senior member of the marketing team you will need to show initiative and that you are interested in improving your skills as you go.
Skills Needed to be a Marketing Director
Although you need to bring the skills you already have with you to this role, there are some skills unique to this position that need to be built.
For example, your leadership skills must be exceptional as you are no longer managing just one team, but quite possibly a range of marketing managers and their teams.
To be successful in this role you will need to be confident in all aspects of marketing from leadership, down to managing the marketing department budget.
Therefore, you will already have skills such as:
The ability to market products and/or services
Excellent verbal and written communication skills
The ability to use your initiative and problem solve
Strong attention to detail
Knowledge of media production and communication
The ability to use a computer and the main software packages confidently
You need these skills as a foundation for your day-to-day responsibilities and tasks, as you will often be the person marketing managers in particular will come to to aid problem solving, and even CMO's will come to you for regular reports and department updates.
In addition to this, it is necessary for you to have more senior level skills such as:
Excellent leadership and ability to motivate a team
Comprehensive knowledge of business and brand management
Thorough knowledge of analytics tools
Good project management
Ability to assign and delegate responsibilities
Numerical ability and understanding of company budgeting
In your role as marketing director, you will be stepping away from administrative tasks and assigning them to other team members in order to focus on tasks that affect the business more generally such as budgets, overall marketing strategy, and project management.
Think of a marketing director as an umbrella that covers the rest of the marketing team. You work on the wider picture and tasks at hand while other team members drill down into specific aspects of campaigns and research.
So with that thought, let's jump into what the day of a marketing director may look like.
What the Role of a Marketing Director Involves
The role of a marketing director is again a very varied position, as you will be working on multiple different tasks day by day.
Whilst this role will differ depending on where you work, a marketing director is usually responsible for the following tasks.
Analysing Competitor Activity
It is important that you understand your competitors if you are going to fully understand the market and industry you're in.
Keeping an eye on what other businesses similar to you are doing within their marketing, from social media posts, to gaining and valuing customer feedback, will help you to stay one step ahead.
This is vital as at this stage in your marketing career you should be able to determine exactly what your target audience are looking for and how to give that to them through your marketing.
Therefore, you should still be conducting competitor research as marketing director, but on a wider scale.
While executives and assistants will be conducting competitor research for specific campaigns and projects, you will need to be conducting industry wide research.
You need to find the competitors that your customers may easily switch to, and essentially come up with ideas to prevent that from happening.
For example, your company may offer a specific healthcare service that is affordable and accessible, however there are thousands if not millions of other companies like this already out there in the industry.
Therefore, it's key to find and implement your niche in order to stand out overall against competitors.
Start by making a list of top competitors in the industry and then drilling down into what they are doing as part of their big picture.
Are they offering competitive prices or exclusive offers?
Are they using advertising in a unique way to target a wider audience?
Whatever it may be, it is part of a marketing directors job description to analyse what competitors are doing and how to make the company's marketing strategy bigger and better.
Developing New Campaigns and Strategies
Despite the marketing director position being more senior than the others we have touched on in this series, this doesn't mean involvement in campaigns and strategies disappears.
At this point in your marketing career you are likely to be an expert in how to create an effective campaign that considers the company budget, engagement and reach, resources, and most importantly your target audience.
Therefore, developing new campaigns and strategies is still very much a part of the job description.
You should still have input into the campaigns that will promote and spread awareness surrounding your latest product, service, or event as it has a direct effect upon the business.
Keeping Up to Date with Industry Trends and Marketing Techniques
If you aren't up to date with the best marketing techniques, or the general trends circulating the marketing space, how can you expect your department to be?
It is expected that you will have a good understanding of the current campaigns around you and how they affect your company, or how your company can take inspiration in order to stay relevant to your audience.
This can be as simple as subscribing to the newsletters of other companies in your industry or following competitors on social media channels, in order to remain aware of what they're up to.
In addition to this it is expected that you will take online courses to ensure you are always using the best processes and practices possible within your department.
Whether that's switching to marketing tools that are more time or cost effective, or brushing up on areas you lack expertise in for example, brief creation or digital marketing.
Finally, attending seminars and conferences throughout the year to expand on your business knowledge is usually part of this job role.
We will get onto these in more detail below, however as a Director it is no longer just marketing expertise you need, but business development and management.
Therefore presentations or training programmes on topics such as hiring, research, department management, budgeting, along with many others are particularly useful within this role.
Generating Marketing Reports
A marketing report is a collection of data from different marketing sources, and is basically used to show the performance of your current marketing efforts.
Therefore, you need to firstly understand what data should be put together in order to analyse progress.
To start off you should be able to access and make a list of the goals for your marketing campaigns (after all you are in charge of the teams who are responsible for them!)
Depending on whether you're looking to increase sales, increase brand awareness, or boost revenue, you will know the data you need to assess.
For example, you will be expected to find, analyse, and come up with ways to improve upon data in areas such as:
Social media data – followers, engagements, interactions, impressions, audience demographic
Email marketing data – subscribers, unsubscribes, open rate, click through rate, bounce rate
Website analytics – paid vs organic traffic, page visitors, channels, behaviour, devices, clicks
Leads and customers– qualified leads, engaged contacts, new customers, customer acquisition cost, attribution
Due to this position being managerial it's important you have this data to ensure you know exactly what parts of your overall strategy are working, and which aspects need to be changed or improved upon.
Creating marketing reports is an equally important part of this job role, as it will show your CMO that you are up to date and in control of each and every team.
Attending Meetings and Events
As we mentioned above, meetings and events are a crucial part of this role, not only for self-development in a professional sense but also to show support for your company.
To begin with, meetings will be happening all throughout your marketing department, and although you will most likely have marketing managers in place running these meetings, it's part of your job role to ensure you regularly attend.
Whether you pop your head in for 5 minutes to get an overall update on the progress of a campaign, or you hold a meeting yourself with a team during the initial planning stages so you have essential information from the get-go.
As a marketing director it's now important that you have access to updated information on each campaign your company is working on as it is your responsibility to create great marketing reports.
This will be quite the task if you have no data!
At the very least attending meetings regularly gives you insight into:
Timescales
Costs
Resources needed
Goals of the projects
This gives you the information you need if the CMO asks you for an update on any campaign across the company.
Overseeing Vendor Relationships
Unless your company produces 100% of your content and materials in-house, you will need to have strong relationships with vendors.
As a marketing director, it is your job to ensure that these relationships are strong and built upon excellent communication.
Hence why we mentioned communications as one of the key skills for a marketing director!
This all starts with choosing the right vendors, as the chances are once your vendors are secured you have gained the right skills overtime to maintain these relationships and keep them running as smooth as possible.
Making the choice between suppliers could be the difference between a hugely successful marketing campaign, and poor quality marketing materials or content that customers will soon forget!
This is where your research skills come in handy, as it is part of a marketing directors job to determine what each supplier brings to the table, this can be measured based on:
Value of the offer
Expertise in the area
Communication
Flexibility and cooperation
Compliant with regulations
These are just a few qualities to consider when searching for vendors to work with, however it will depend entirely on the individual needs of the company you're working for.
Collaborating With Other Departments
Working with the teams in the marketing department and external vendors is not your only concern, as there will be other departments such as design that you will need to work with closely.
Ultimately, campaigns will most likely go through you before they are signed-off and ready to go, so it's vital that you are involved in each process from the initial brainstorm of ideas, to material designs, right through to the launch.
Therefore, if you are unable to work with other teams, its unlikely you will make a successful marketing director.
You are likely to have so many visions and ideas sent your way for approval, amends, or insight, so you need to be able to collaborate effectively, and this includes giving feedback (whether its positive or negative).
Not all of the ideas thrown your way will be your cup of tea, and as we mentioned before at this stage you will know whether it will be the right style, tone, idea, and design for your target audience. Therefore, you need to be involved in the entire process, working with your department and others to help create the right campaign that will generate success, and at the same time avoid several rounds of alterations and time wasted!
Managing Marketing Budgets
In many companies, a marketing director will be responsible for establishing and reviewing the budget for the marketing department.
The budget you have to work with is very much dependent on the company you work for and therefore managing and allocating budget to different department areas can be more of a challenge for some directors.
However, going into this role it is expected that you are able to:
Treat the budget like it's personal – you can skirt close to the upper limit but don't put yourself in a risky position by spending too much in one area over another.
Consider your past efforts – go back and review your past campaigns and work out which ones were worth spending money on and which ones didn't create revenue for your company
Split your budget fairly – you need to allocate your budget tto both long-term and short-term efforts and avoid channelling all of your budget into one idea or part of your strategy
If it's not working, don't spend money on it – if some strategies are underperforming don't be afraid to cut them off and try something new in its place
It is expected at minimum you are able to do this to get the most out of your marketing budget and ensure that every penny you spend is on a strategy that works and ultimately creates revenue for the business.
Why Become a Marketing Director?
Aside from the healthy salary and professional development opportunities, securing a role as a marketing director will give you multiple avenues for career growth.
Whether you are looking to find your place as a CMO in the future, or you're looking to become a high-level manager or director within another industry, a marketing director role will help you get there.
Ultimately, becoming a marketing director is the perfect platform to boost you into a CMO or VP of marketing role so if that's your initial goal, you're on the right track.
Alongside this, a specific benefit of being a marketing director is you'll never be bored!
You will have a varied workload meaning you are working on different tasks and projects each day, so you will always be challenged and involved creatively as well as with more business-focused tasks.
Equally, as previously mentioned this job role will give you a huge variety of transferable skills, so if you find that the jump to CMO isn't for you, you have multiple other career pathways to choose from.
Marketing Director Salary
The salary figure for marketing directors grows considerably due to the increase in responsibility as they tend to be involved in all aspects of marketing with a company.
This can range from brainstorming with the marketing department to leading and nurturing the entire team to ensure success.
Therefore, in the UK an average yearly salary for a marketing director sits around £68,000, and in the US a larger $154,000. This is around 3 times the wage of a marketing executive, therefore it's clear that responsibility increases dramatically.
Of course as with all job roles, salaries differ from company to company as usually the higher level of experience you have the more you're worth to a company.
Equally, some companies have more budget to spend on their marketing team so offer competitive salaries to get the right person to lead their entire marketing department.
Marketing Director Career Path and Progression
With experience, and years of hard work at this point you will be well on your way to becoming CMO, as unless your company has a VP of Marketing, this is the next natural step.
Chief Marketing Officers generally have up to a decade of experience working in the marketing industry, without it you will find it slightly more difficult to compete when it comes down to the interviewing process.
This is because the top marketing roles require more than marketing experience, for example working on campaigns, planning events, copywriting, and working as part of a team.
CMO's must have a good grasp of the way the entire company works as they are responsible for the entire marketing strategy of the organisation.
Ultimately, this role requires business management and growth experience too as the marketing of a company has a direct correlation to how the company grows.
You will already be on the right track to becoming CMO if you have consistently moved to higher-level positions at intervals during your career.
Remember: It's not necessary to stay at the same company
You can do this, and you can still work your way to the top but if you want to gain a range of experience working for different companies then that is an alternative pathway option!
At this stage in your marketing career (as a marketing director) you will have most likely built up a good few years of experience and one way to further build upon your resume is networking.
Attending networking events with others in C-level positions is a good way to get your foot in the door and show your interest in CMO positions.
This will allow you to showcase the skills and experience you have and it may be that one of your contacts knows of a position perfect for you!
Ultimately, if you're looking to progress from a marketing director upwards there is scope to do so, however be prepared for a good few years of hard work consistency before you get there!
Tips to progress from a Marketing Director to Chief Marketing Officer (CMO)
The jump from a marketing director position to a chief marketing officer role requires more preparation, than say moving from a marketing assistant to a marketing executive.
A CMO is responsible for overseeing an entire organisation's marketing and advertising initiatives from start to finish.
That's a big weight to carry on your shoulders!
Therefore it's essential that you properly prepare for progression into this role.
This can be done by:
Accepting more responsibilities
Building up a strong foundation of experience
Undergoing further training and development
Adopting an in-depth specialisation such as SEO, copywriting, or PR
The ways to progress into a CMO role from a marketing director position are not limited to this list, however they are certainly a good place to start.
What is key to note is that when applying for a CMO position you need to be confident in your current role as director as experience is important. What we mean by this is you need to be confident in everything that is expected of you in your current role from admin tasks, all the way through to team management.
The chief marketing officer position comes with a whole lot more responsibility, so don't go into your interview underestimating the extent of the role!
Marketing Director Job Roles
As with the vast majority of marketing roles, marketing director positions aren't hard to come by, and are available on a range of recruitment websites.
The websites we would recommend in particular are:
Michael Page
Indeed
LinkedIn
Reed
TotalJobs
These websites in particular offer a full length job descriptions that includes benefits, salary expectations, day-to-day responsibilities, and qualifications or experience needed.
However, as we mentioned right at the beginning of this blog post, the titles "Marketing Manager" and "Marketing Director" are often confused as the same search term and therefore you may end up applying for a manager's position without considering the difference in job description.
Albeit there are only a few differences in terms of requirements for each role, it's important to take into account that the two roles are usually slightly different from company to company.
Marketing Director FAQ's
How to Become a Marketing Director
So, there we have it, an in-depth look into how to become a marketing director.
We have explored the skills needed for the job role, and the responsibilities attached to this high-level position. From leading a team of managers, to understanding the consumer, marketing directors must know the marketing strategy from head to toe.
Although not quite a top level role, marketing directors are responsible for other team members, in some cases this may be marketing managers, in others it may be full teams of executives, so it's essential to understand that leadership skills are a must to be successful in this position.
Whether you're looking to become a marketing director, or you've got your sights set on that big CMO position, we hope this post has been useful in giving you a run through of all the essentials to get you started in this role, or even excel to the next one!
Here at Canny marketing directors make up a large portion of our clients, as we collaborate with marketing teams across the world, to create everything from company branding, to content marketing strategies that get results!
If you want to create branding or a marketing strategy together that will outshine your competitors, get in touch with one of our friendly team members today!