In order to learn more about your target audience and to increase engagement, you need to know how to create a poll on Facebook.
This function is interactive and requires minimum effort from users, meaning it is more likely they will respond to the questions you ask!
So, if you're struggling to get people engaged with your content, polls are a great way to get more people involved.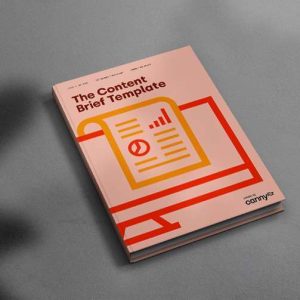 The Content Brief Template
The Content Brief template outlines all of the key information needed to help anyone writing your content, understand...
By using polls on Facebook you are able to ask customers questions about your company and receive customer feedback via one quick click.
This post will explain the function of a Facebook poll, how to set one up within your group or events page, and how to increase audience engagement with every poll you create.
So let's get started!
What is a Facebook Poll
A Facebook poll is exactly what it sounds like – a poll created on the Facebook platform.
These polls are similar to a survey as they allow you to ask questions, and provide potential answers in a multiple choice format, giving users time to choose the answer that suits them best.
Anyone who owns an account on this platform can create a poll and they can be posted on personal walls, on stories, in messenger chats, and in group or event pages.
This means you can target your polls to the exact group you wish to gain insight from, and add a deadline, so you have time to analyse the results once the poll is closed.
This function ensures that your customers feel valued and makes it clear you are listening to them and taking their suggestions and opinions on board.
In turn, this can help you to better understand your customer base, and make smarter business decisions based on their feedback.
How to Create a Poll on Facebook
For this post we will focus on creating polls within groups and on events pages, as audiences are more likely to respond in these spaces.
If you are looking to increase audience engagement, posting polls to pages with a large number of participants or members will boost the likelihood of receiving responses.
For example, if you are looking to receive consumer opinions on your brand, product, or services, chat or story polls are limited to a smaller group and you may end up with responses from the wrong audience.
So, we thought it might be helpful to run through exactly how to set up polls in Facebook groups and events pages before diving into how to optimise them to increase participation.
After all, it's pointless knowing how to optimise this tactic if you don't know how to create a poll in the first place!
Facebook Group Poll
If you have a Facebook group dedicated to your company that consumers and followers are part of, it can be useful to use a poll to gain their feedback.
This way you know you are receiving suggestions and opinions from people who are interested in your company, including previous or potential customers.
However, first things first; you need to ensure you know exactly how to create a poll within the facebook platform, before using methods to increase participation and engagement.
To get started you should:
Tap the menu button, choose groups, then your groups
Select your chosen group, and click "write something"
Scroll down and select poll
Enter your question, then click "add poll option"
Enter your answer options into each poll option box
When you're happy with your poll, tap the post button
This is the basic guide to creating and posting a poll onto a Facebook group, however we have included some methods later in this post that will help to enhance them further.
So don't leave us yet!
Events Page Poll
If your company is the host of an events page this provides another opportunity for you to create and post a poll to a highly targeted audience.
Users who are attending your event, or interested in the conversations on your page will likely respond to the polls you post.
To get your poll underway, follow these steps to ensure you have the basic outline:
Open the Facebook app or web page
Click menu, then events
Select your chosen event, then click the discussion tab
Click the poll option (or the three dotted icon to show more then choose poll)
Enter your questions and possible answers into your poll
When you're happy with your poll, tap the post button
It's that simple!
Now that you have your basic foundation for your poll and you know how to set one up, it's important to consider exactly how to optimise each poll to increase audience engagement.
How to Increase Audience Engagement With Your Polls
Before you tap post and your poll is out there for your audience to respond to, there are several actions you can take to ensure top performance for your poll.
To be sure your audience is engaging with the questions you are asking, you first need to think about past poll performance, peak social media traffic time, and responding to feedback.
Monitor Past Poll Performance
A good place to start is by checking how well your polls have performed in the past.
Now, we may be assuming you have experience creating polls, but if you don't, keep reading, as this section will help to outline the type of questions to trial out first.
Past polls can help to highlight:
Who your target audience is
Audience preferences
Size of demand for your product or service
Sentiment around what you offer
Searching through past polls you have created and uploaded to your group or events page should highlight the questions that usually receive more engagement.
For example, to find out more about user experience on your website, you might have previously asked:
"How easy did you find searching for products on our site?"
If this type of question received a large amount of responses, it's clear your respondents like to give feedback through polls.
However, if the response count was low for this question, it may be that your audience is more interested in hot topics within your industry, or more specific information about your products or services.
Therefore, when planning future polls it is a good idea to focus your questions around customer feedback, as it's clear your audience is highly engaged with this type of poll.
By creating more polls you will be able to get a feel for exactly what topics your consumers respond well to, and which questions don't attract feedback at all.
Keep Polls Interesting and Relevant
Polls are a useful way to receive customer insights on your company, so it's important to keep things on topic!
There is no use posting polls to Facebook that don't involve your brand, or hot topics in your industry, as this won't be relevant to your target audience.
Make sure every question you come up with is centred around what your audience is interested in, whether that is:
Product launches
Company updates
Industry news
Providing feedback
Business events
This ensures that your polls are relevant to your audience, relevant to you, and you are able to receive real-time feedback.
It is vital to make sure that your audience actually cares about the topics you are posting about, and that goes for any content!
Alongside keeping your polls on topic, it is essential to keep track of the questions you have asked in the past.
Your audience will be less likely to provide a response if they have already answered a question that's similar or exactly the same a few weeks before.
Keep It Short and to the Point
The shorter your poll questions are, the more likely it is people will engage.
Just like any other social media post, if it's too long readers will drop off before they reach the call-to-action, or in this case, the answer box.
Providing a short and concise question such as, "Would you prefer video or blog content on our website?", will encourage people to quickly click to answer as they scroll.
This is because the question is simple, and respondents will know their answer immediately depending on how they prefer to receive their content.
It is equally important to provide easy answers to your poll questions that are phrased in a way that attracts engagement, for example "Video all the way!" or "Blog content is for me!"
Users are more likely to be excited about the question with these options, compared to simple "Video" and "Blog" options, as they will feel their response is more valuable to you and you are equally excited to hear their feedback.
Post During Peak Traffic Times
Every social media platform has a peak time to publish a post, in order to capture audiences and receive responses.
This is no different for Facebook polls!
Therefore, it's essential to find out Facebook's peak traffic time so you can publish your polls in this period.
This way you will collect a vast amount of answers as it is more likely your audience is online and ready to engage.
Equally, this means you receive real-time results as people will respond immediately as providing a response can be done in one quick click.
You can also hold audience attention further by announcing that you will post the poll results later that day or the next day, as your audience will likely be interested to see the end results.
Be specific about when you will provide the poll results, (it is a good idea to do this in the peak time period) as then, respondents will return and engage further with your posts outside of polls.
Remember To Respond
You should treat polls as an extra chance to interact with your followers.
One quick click is all that's required for you to find out a bit more about the people that make up your target audience.
By creating a poll it can help you to build up a rapport with your respondents by establishing a connection in a simple way.
For example, it may be that you haven't provided enough answer options to suit all users, therefore this may start up a conversation in the comments section.
Respondents can voice their opinion or suggest alternative answers to the question you have asked with more of an explanation of their opinion.
It is important not to create your poll then leave it hanging without addressing the results, so respond to any comments that are left beneath each poll.
Equally, you need to make respondents feel valued so you should explain in the post why you are looking for an answer to this question specifically, and how their answers will be used within your business.
This will ensure every person who responds knows that their opinions matter to you, and in turn, they are more likely to engage with your polls in the future.
Don't Overdo it
Although this type of survey is useful for gathering customer feedback and increasing engagement, it is important to use them occasionally.
If you post polls several times a week, your audience will become uninterested and unresponsive if they are seeing the same type of questions day in, day out.
This will become repetitive and eventually ineffective!
Instead posting a poll once or twice a week will help to keep your audience engaged without overloading them with information. For example, posting a poll at the start and the end of the week on different topics helps to keep things interesting.
Using varied topics will allow audiences to share their opinions on industry news and your company rather than polls acting as a feedback form.
How to Create a Poll on Facebook to Increase Audience Engagement
So, that's our guide on how to create a poll on Facebook, that will help boost engagement with your company, and help you to gain real-time customer feedback.
Although it may be straightforward to create and post a poll, there is more to it than simply posting a question with simple yes and no answer options.
There are a range of things to keep in mind when creating your poll, as posting the wrong question, out of peak traffic time may result in 0 responses.
It is important to prioritise exactly what you want to find out through using the poll function on Facebook before posting questions that attract little to no attention.
For example, it may be that your main aim is to increase audience engagement with your content, however you may wish to pick up some customer feedback along the way!
If you are struggling with creating engaging content that will attract the right audience to your company, get in touch with Canny.
We have experience and knowledge in what it takes to create content that is relevant to your target audience, and will help you to enhance your strategies and achieve results.