Have you defined your brand touchpoints? Maybe, maybe not.
So let's start with this:
Your customers are your absolute everything.
They are the very core of your brand, and the very reason you are where you are today.
Brand Strategy Made Simple
Developing a brand strategy is no easy task. It's something we've seen people struggle with time and time again. Which...
They come to you because you're able to solve their problems, and they trust in your brand because of their previous experience with you.
So how have you done it?
Primarily, it's because of something called touchpoints. Brand touchpoints to be exact.
Want a video to help explain how to use brand touchpoints to your advantage? Then this is for you:
This post goes into more detail than the video, so keep reading if you want to know more!
These are what have defined and refined your brand, creating stimulating and engaging customer experiences.
What is a Brand Touchpoint?
A brand touchpoint is any bit of interaction or communication made between a brand and its customers.
Brand touchpoints are normally crafted and constructed by the brand in order to engage their customers, giving them the best brand experience they could possibly have.
Think about when you book into an expensive restaurant. You encounter some of the following brand touchpoints:
Their website when booking your table
Their brand tone of voice if you call them to book
Their signage when you enter the restaurant
Their menu when selecting your food
Their uniforms when giving your order
And so on.
Each of these elements should be considered as a brand touchpoint. And therefore, should be designed in a way to be consistent with the rest of your brand.
Wikipedia explains it like this:
"Touchpoints in marketing communications are the varying ways that a brand interacts and displays information to prospective customers and current customers. Touchpoints allow customers to have experiences every time they "touch' any part of the product, service, brand or organization, across multiple channels and various points in time…"
All true.
But, to put it simply, brand touchpoints are the brand's opportunity to communicate with their customers on a day-to-day basis. Customers are then able to get closer to the brand, and as a result, continue to use your services.
Therefore, every single form of contact a customer has with your brand needs to be on-point, effective, and customer enlightening.
So, What Brand Touchpoints Should I Be Looking At?
The possibilities with brand touchpoints are constantly updating and evolving with time.
It's crucial to keep on top of the wide range of touchpoints available to your customers and capitalise on them, otherwise you might find yourself seriously lagging behind your competitors while they pick up customers from the places you've missed.
When deciding what Brand Touchpoints to focus on, start by thinking of your customer's journey, and pay attention to each and every one of the touchpoints throughout the journey.
How do you generate leads? How do your competitors generate leads?
Try to split the leads into sections before adding in the brand touchpoints that the customer will come into contact with throughout the lead journey. Are they;
Cold Leads – with no awareness of your brand, product, or service
Warm Leads – aware of your brand, but need more convincing
Hot Leads – almost ready to buy, but still considering other options
New Customers – new customers now have a relationship with your brand, and that needs nurturing and growing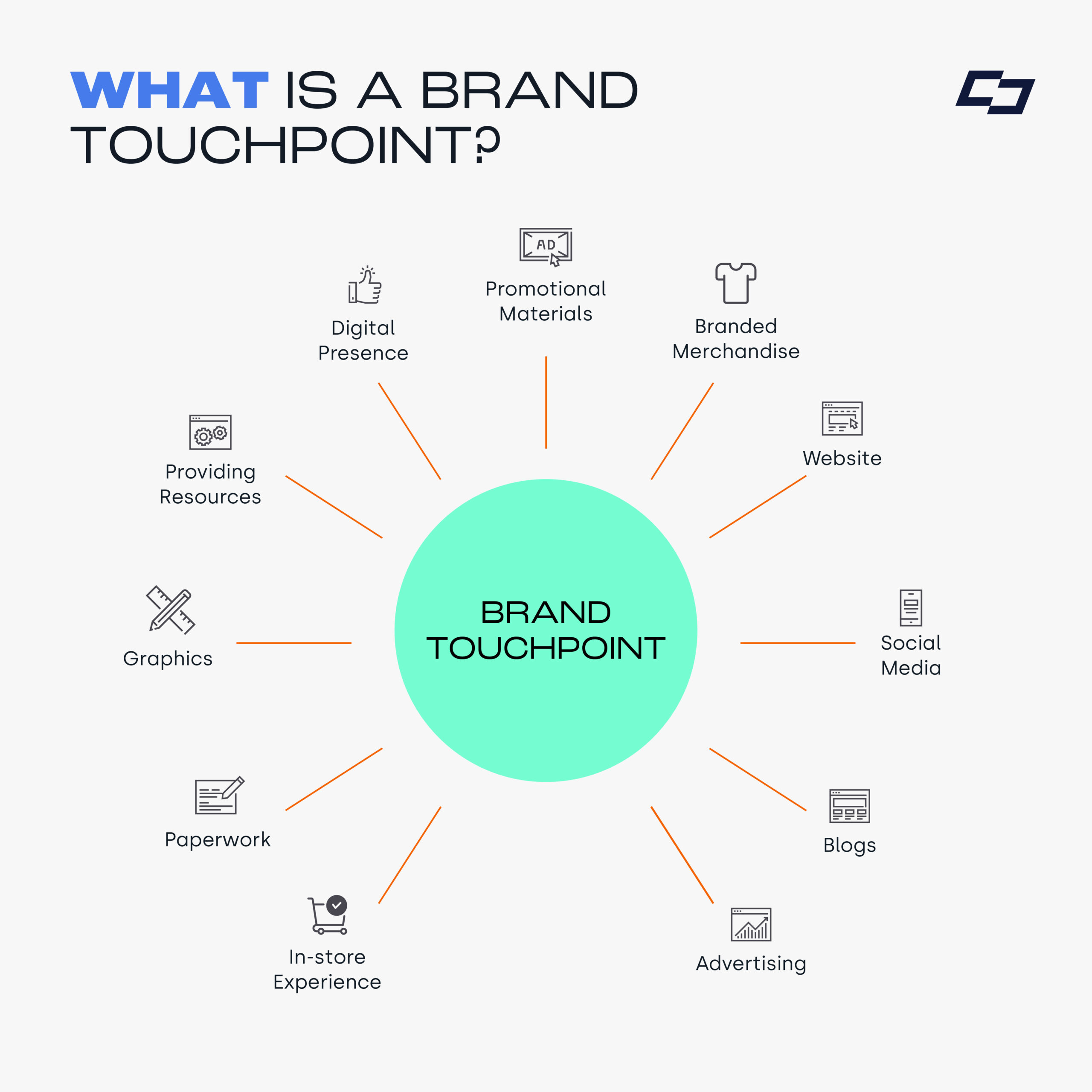 Website
Everybody knows that the website is the customer's first port of call when scoping out a brand, and a slick, functional site with a simple customer journey is essential.
Making sure your website is optimised correctly with functioning social media buttons and landing pages going to the right place seems obvious, but these are simple errors that are often overlooked.
We always advise investing in a partnership with a professional web design agency to build you a bespoke site which communicates your message clearly, and so they can help to deal with any technical difficulties along the way.
Using a professional agency means you can also use their advanced technical expertise to add extra touchpoints to your site that your competitors may not have.
For example:
Having an on page contact or a live chat bot is ideal for quick and easy customer service and to personalise your brand – just make sure someone is actually on the other end to get back in touch!
Blogs
We know, blogs are part of your website. But many brands website's are simply a promotional platform with an 'about us', a gallery, and a page to collect contact details from customers and not a lot else.
And that's fine! But don't you want to do more?
Consider adding a blog into your marketing mix and focusing on your content marketing, creating a whole new brand touchpoint, (if you're willing to put the time into coming up with engaging content that is!)
Share industry news, write up how to's, create your Top 10 list and post it. The world is your oyster!
You may feel like you're giving away valuable chunks of knowledge for free, but don't be discouraged, this demonstrates your passion and knowledge for your industry and builds trust with the reader.
Social Media
These days, social media is just as important as your website. A viral social media post can make or break a brand.

But before you start thinking about any social media marketing campaigns, making sure that your brand has a place on every suitable platform is essential, so you're investing time into the right channels that are going to strengthen your brand awareness and get you more business.
For example:
A nail salon probably doesn't need a LinkedIn, but not having an Instagram would be just silly.
Care home marketing teams are less likely to focus on Twitter (that's for the hip youth of today!) and put more emphasis on family friendly Facebook.
Make sure bios and contact details are up to date, and invest time into creating high quality content that will appeal to your target audience.
Think outside the box with your social media campaigns, is there another way you can communicate your message in a more creative way than your competitor?
Keeping on top of the latest social media trends is a job in itself, adjusting your content to suit interactive Instagram stories, reels, and Tik Tok's needs to become second nature to stay one step ahead.
Have you created a unique hashtag for your brand? It's a good idea to search yourself from time to time, find out what customers are saying about you online.
As well as a marketing tool, social media is also a main customer service brand touchpoint, and your strategy to look after this needs to be thoroughly considered.
If you're a brand on social media, you're most likely going to face people complaining about you online at some point. Even if it's just Karens who love whinging. Minimising your chance of bad public feedback is important.
One way to combat this is to create an automated message on your socials that details your working hours, it helps to avoid customers feeling ignored when they message you at 5.30pm Friday and won't get a reply until Monday.
Tip; It may seem obvious, but it's important to respond to customers in a timely manner, even just to say 'Hi, we've received your request and somebody will be in touch soon'. Facebook records your average reply speed and tells the customer it's prediction of when they can expect a reply from you – and 'in 3-5 business days' isn't a good look!
In-store Experience
This includes everything from your brand HQ, storefront or office, the area you choose to work in, to your staff uniforms and the tone of voice they use to greet customers.
All of these things set the tone for your business and will build upon or detract from the customer brand experience.
We understand, some of these are more difficult to change than others. If you're providing a high end service but can't quite afford the rent in a fancy part of town, put time into training your staff up to a high standard of customer service, and investing in a smart uniform, to showcase this as part of the customer experience.
If your brand vision is to be a little more laid back, encourage staff to use a friendly tone, and strike up a chatty conversation with customers.
Creating a solid set of guidelines in your brand development strategy that can be referred back to by your staff is imperative to give them a guiding light.
Why not send a mystery shopper to your business from time to time to get a true understanding of the brand experience your customers will get. What's outstanding, and what needs improvement?
Advertising
Choosing the correct advertising campaigns to hit each part of your target market appropriately is essential.
Imagine you're a bar and restaurant. Your social media presence might be bang on, but if you have no physical marketing to back this up with for example posters, A-boards, or banners around the venue to push the campaigns you're running online, it can be a waste of time.
Make sure you are utilising every appropriate avenue in advertising, and think about how one method might go hand in hand with another to ensure ROI.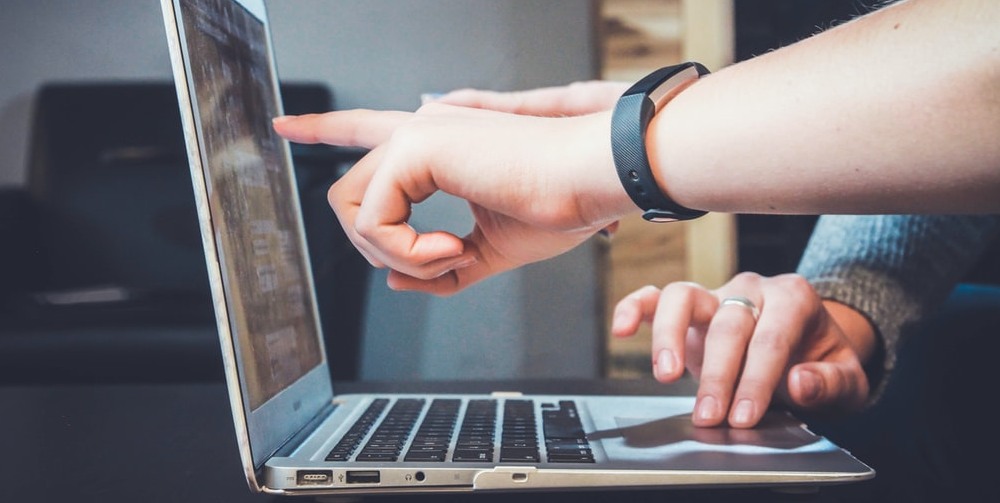 Digital Presence
Aside from social media, keeping a strong online presence is important to gain front of mind awareness for your customers.
Utilising email campaigns and newsletters to keep your target audience up to date is essential. Customers might not check up on your social media profiles 24/7, but most people check their emails a good few times throughout the day.
It's a good idea to create something useful that customers want to read, by giving away free information your audience will be sure to come back for more. Keeping your mailing list up to date on what's going on in your industry in an engaging and creative way is ideal to keep them interested in the service you provide, and utilising email as a direct line is the perfect way to do this.
Branded Merchandise
Anything with your name on that customers take home with them has to scream your brand. From the standard branded biro and business cards, to something a little more exciting to receive, like branded reusable coffee cups and power banks.
Let's start with the boring stuff – is there a way you can upgrade your standard stationary offering? Maybe use recycled paper if that aligns with your brand values, or a hologram on your business cards to stand out.
The best branded merchandise are things that people will use everyday, or something useful that they'll be grateful for when they really need it.
Picture the scene:
A potential customer is about to leave for the airport but their phone is low on battery, nightmare. But, you previously gifted them a branded power bank, and it gets grabbed as they're walking out of the door and used the whole trip.
It's those last minute lifesaver gadgets that really make your brand stand out against the others. They show that you've put thought into what your customers would really make use of, giving them an all round great experience of your brand and creating a great first impression.
Providing Resources
We touched on this in the newsletter section, but giving away free information isn't selling yourself short. Producing complimentary resources such as digital downloads that need to be accessed by signing up to your mailing list, and uploading free, informative content regularly are important marketing tools to consider.
If customers think of your brand as a port of call for advice and help, they are more likely to trust your opinion and choose to spend their money with you over your competitors. It's important to build up that trust, and is an easy way to stand out against others in your marketplace.
Graphics
As with any aspect of branding, it's essential to have a guideline for all imagery used in your branding. From your website gallery and icons, to your social media posts, it's important to create a running theme to help strengthen your brand identity.
If your website is full of crisp, bright clear colours, it's important to have this reflected in the images used on your social media too. This way, customers can switch from your website to your Instagram and the message you are trying to send them is still consistent and clear, across all platforms.
Paperwork
This doesn't need a massive amount of time spent thinking into it, as ultimately paperwork such as invoices and contracts still need to be functional, legible and professional documents.
However, take the time to ensure that all copy is up to date and inline with your latest policies, and the papers are branded using your current logo and brand colours. Small changes make a big difference!
Promotional Materials
We're thinking magazines, catalogues, flyers and brochures. These can be posted through letterboxes, picked up in store or handed out to potential customers at industry events.
These promotional resources can be overlooked in the digital age, but if you do choose to use them, they're an important part of your marketing strategy and should be brought up to date and inline with your latest branding.
Review the tone of voice, can it be amplified to strengthen the brand identity? Are the fonts, colours and graphics consistent with the rest of your branding?
Oh, and don't forget to add your social media handles on there too! This makes it easier for people to find you.
We delve into this much deeper in our Brand Strategy Made Simple eWorkbook, check it out here.
Why Are Effective Brand Touchpoints Important?
Brand touchpoints are practically the make-or-break of your business, so they have to be well planned and structured in order to wow your customers and keep them coming back for more.
When used effectively, they can enrich your brand and ignite your marketing strategy, allowing your business to take flight.
Every time a customer comes into contact with your brand, some kind of impression will be made. This is a killer because the slightest slip up can have a detrimental effect on your business, leaving a dampener on your brand's integrity.
Oh boy. That's a pretty heavy weight to have on your shoulders!
But rest assured, you are most likely doing well on the touchpoint front, believe me. You would know it if you weren't.
So how can you create and deliver the very best brand experience for your customers? How can you build and sustain killer touchpoints for new and existing clients?
Let's run through seven steps that will fuel your brand touchpoints and help get your customers singing and dancing about your name.
After that, we'll take a look at several real world examples of brand touchpoints in use.
1. Identify and Improve Existing Touchpoints
To begin with, identify all of the existing brand touchpoints that your business already has set in place.
So far, these are the bad boys that have won the heart of your customers, set out your customer journey, and brought your business to where it is today.
Remember:
Your brand's touchpoints are any form of interaction that your business has with its customers.
It may be as small as a post on Instagram, to something as big as an advert in a magazine.
No matter the shape or form, all touchpoints need to:
Clearly represent your brand
Stand out to your customers
Motivate your customers to take action.
Once you have identified your brand's touchpoints, ask yourself the following questions:
What is my first impression when I come across each touchpoint?
Does it fit with my brand strategy and brand identity?
Are they different to my competitor's touchpoints?
Will it attract new customers?
Will it move my existing customers to act?
Will my customers be left with a positive impression of my brand after interacting with this touchpoint?
Try and focus on streamlining your current touchpoints, making them thread between one another as a unit rather than separate, individual pieces.
This can help to improve brand awareness and highlight your position as a professional business.
When customers come across each touchpoint, they should be able to easily identify you amongst the masses, allowing them to draw closer to you and continue to contribute to your business
Why is it Important?
Even though your current customer touchpoints are successful, the game is changing all the time.
New technology comes into play; the constant growth of digital media is outstanding, and so is the number of people growing with it!
So you need to be aware of the ever-evolving changes in technology and what that can mean for you and your customers.
We are all attuned to the trends of the digital world, and our clients even more so. Therefore, we must make sure that when the world changes, we move with it. Sometimes, we even need to go beyond it, to keep our customer's perception of us fresh and positive.
It may mean updating your online presence or perhaps using new ways to reach your customers. Whatever the reason, you need to keep tweaking your brand touchpoints in order to create the best customer experience possible.
2. Develop New Brand Touchpoints
After identifying and polishing up your current brand touchpoints, you will more than likely find new and exciting ways to build an array of additional touchpoints for your clients.
Before you do so, you need to ask yourself two questions:
Where will my customers be?
This goes back to your brand strategy and what you provide for your customers.
For example:
You may be a photographer looking for new ways to reach and engage with your clients – therefore you would need to find places (either online and offline) where you know your potential clients will be.
If you're a wedding photographer, there's no point trying to reach your customers by placing your photography advert in a cooking magazine.
Instead, you would wisely choose a wedding magazine with the goal of reaching potential customers.
How can I draw in new clients?
Similar to the question above, you want to think of where your new clients may be. You may be expanding your business and creating new areas of service. That in itself will then mean creating new touchpoints to reach a new clientele.
Even if you are not creating different service packages, you can still brainstorm new ways to engage with consumers. Maybe crafting new touchpoints on social media that don't get used often.
Remember that as you try to reach out to new customers, your current clients will also be able to reach out and engage with you on any new service or platform you use.
They are your most treasured, loyal customers!
So make sure they are still enjoying their customer journey and don't stray them away from the main reason they connected with your brand in the first place.
Why is it Important?
The way consumers engage and communicate has evolved over time, following the trends of today's fast-moving technology.
Customers need to be wowed within the first few seconds. They need to be actively involved from the get-go, especially if they're online or using a mobile device.
It may mean coming up with new, creative customer touchpoints and building a strong online presence that moves with the times.
Doing so will give you an edge over your competitors and help you to stand out amongst the crowd.
But ultimately, your goal is to provide the best customer experience possible for both new and existing clients.
3. Learn From Other Brands
It's a known fact that to improve and enhance your craft, the best way to do so is through imitation.
And that's the case when it comes to your brand too.
No matter how long you've been in business, no matter how popular you are with your customers and no matter how high you rank on Google, there will always be someone more knowledgeable, more experienced, and more educated than you.
But you know what's great? You can use this to your advantage!
You've got an oyster of talented people – just like yourself – around you who have created some killer brand touchpoints for their customers, giving them the best possible journey a customer could ask for.
So look at what they're doing, and imitate them, or ask for help and advice! Most people are happy to share their success stories.
Why is it Important?
As a brand and business owner, you need to be ahead of the game – you need to be one step ahead of your competitors.
The only way to improve your brand's interaction with customers and ignite your business is to take in knowledge and put it into practice.
And, of course, one of the best ways to learn is by example. Learn from those closest to you.
It doesn't have to be some big, world renowned brand. It may well be a business owner in your field of work that you respect.
Why not reach out to them, see how they have crafted and planned their customer touchpoint strategy? See how they have successfully built such loyal customers through the touchpoints they have created.
4. Make Touchpoints User-Friendly
One of the best ways to entice your target customers comes from mapping out how they will interact with your business.
How are you going to get them to focus on your brand and stay on the journey with you?
Whenever a consumer/customer comes into contact with you, whether it be online, on social media, in the newspaper, on the radio or through their best friend, you want them to have an enjoyable, hassle-free experience. This way, they are more likely to stick with you and your products to the very end of their journey.
But there is a slight problem…
Our customers are fickle; they are easily swayed by popular opinion.
I know. Frustrating, isn't it?
The reality is that customers will often choose the easiest, simplest, and even the prettiest option out there, no matter how much your services might be the best for them.
So your brand touchpoints are where you need to wow them.
Take a leaf out of Apple's book here and focus on creating a stunning design, simple interactivity, and easily accessible touchpoints.
You want to make your brand touchpoints are user-friendly and easy to use.
Customers want to have a simplistic, fast moving, stunning experience with all of your touchpoints. Speed and convenience are key, and will keep customers coming back to your business and it's services.
The thing is brand touchpoints cover such a huge area of ground, there's so much to think about!
Primarily, your online, techy touchpoints need to be clean, minimal, and crisp. But it also works the same with any brand touchpoints you may have offline, such as any products, samples, demos, or surveys you may dispense to your customers.
What this includes:
Easy to use apps
Clear, concise content / how-to articles / instructions
A simple and beautiful website with easy navigation
Short, easy to read content that gets straight to the point
Easily recognisable logos and designs
And much more.
Why is it Important?
If you were to click on a website of a brand you expected to be high end, only then to come to a homepage full of huge garish images, block text, and loud colours, your first inclination would be to click that back button as fast as your fingers will let you.
Your customer journey just came to a fatal end.
That cannot be how your customers feel about you! Follow our top web design tips to make sure your website doesn't alienate your customers.
Your image, your design and brand appearance matters and should represent who you are as a brand. You want modest, fresh and concise touchpoints that will not only keep your customers on board but will also prove your professionalism and your personal interest in them.
"Design is not just what it looks like and feels like. Design is how it works." – Steve Jobs, Co-Founder of Apple.
5. Get Feedback From Your Customers
Along with learning from the best, it's time to learn from yourself as well.
That's right! You can become your very own teacher!
Well… your customers can.
It's time to start getting feedback from your customers and learn everything you can about their experience with your brand.
This is a great, practical way to see what you are doing right, and perhaps point you to areas you could improve on. There is no better way to actively review your progress and brand touchpoints than by involving your customers in the experience.
It does sound pretty scary, but this feedback will fuel your brand and get it storming ahead of your competitors. You'll be able to better understand your clients and craft better touchpoints with them in mind.
Perhaps start by using the bigger touchpoints you have in order to reach out to customers, and then the window is wide open for you to invite them to conduct a survey.
In most businesses, the top three brand touchpoints are likely:
Your website
Your main phone line
Your email address
And if you have a physical store, that would be in there too.
To run surveys on your website, you can use a tool like Hotjar that will ask your site visitors questions.
To do the same via email, you could drop a link in your email signature to a Typeform or similar.
On the phone and in-store, well, you just have to ask!
Be assertive. Just ask your customers what they think of you! Get them to tell you where you need to improve and what you need to continue doing.
In doing so, not only will you be able to improve your customer's experience, but you will show them you are taking a personal interest in them; you'll prove that you really care about them.
But, this is no easy battle.
You want to get feedback without coming across as needy or irritating – and that can be difficult! To get a breakdown on how to create first-class customer surveys, step over to Survey Monkey for some spot-on advice.
Why is it Important?
Your customers are the heart and soul of your brand. What they say matters, and getting their views will strengthen your resolve to work hard to map and create better experiences for them.
Having "real world" feedback will allow you to make meaningful adjustments to your brand touchpoints – rather than just guessing!
6. Think Like Your Customers
Once you have collected the data on what your customers want, you'll be better equipped to create new touchpoints, or improve on your existing ones, giving them a more tailored experience.
In addition, you'll become a pro at knowing what your customers want and you will be able to deliver that to them.
Customers want to feel understood and well thought of. They want to feel you have made a personal effort to reach out to them and to find out their likes, dislikes, wants, and needs.
To do so, you need to think like your customer. This is key to winning the hearts of your consumers, and you can do it in just a few simple steps:
Conduct customer surveys to scope out what they need from you
Keep a record of what your customers are loving most about you
Create personable touchpoints that will draw your customers closer to you
See what other services are popular with your customers and client base via social media
Whenever you create a touchpoint, think about how it will benefit your customers
Make mindful adjustments when you receive negative feedback.
To make customers feel valued, you've got to think like them!
Why is it Important?
No one will put their trust in a business that doesn't resonate with them. Consumers need to feel acknowledged, appreciated, and wanted, even if they haven't given anything out to you.
Therefore, mapping out your customer touchpoints must be done with the customer in mind in order for them to contribute to your brand and see the need to use your products and services.
7. Stay True to Your Brand
And breathe.
You've done it. You've swatted up on defining brand touchpoints and are hopefully a little more confident in creating the best brand experiences for your customers.
While you continue your journey as a business owner, keep your eyes focused on the main reason you started your brand. In order to effectively create and sustain your customer's journey, you need to stay true to your brand.
Never feel that in order to attract and successfully interact with your customers means that you have to put in all airs and graces.
Just be yourself.
Your loyal customers are loyal to you because of who you are as a brand. They see you on the internet, on their smartphones, and in their favourite magazine. They see you when they hear anything that's connected to the work that you do and the services you provide. They are loyal to you because of your consistency and your unwavering stability.
So even when businesses around you force themselves to be the best one out their – to come first place in their field – even if it means losing or completely changing parts of their identity, let yourself be known as a brand with a strong sense of identity and integrity.
"Too many companies want their brands to reflect some idealised, perfected image of themselves. As a consequence, their brands acquire no texture, no character, and no public trust." – Richard Branson, Founder of Virgin Group.
Why is it Important?
Your customers have already made a connection with your brand, and they like you because you're you. Every time you interact with them using your touchpoints, you are shaping and reshaping their impression of you.
Dramatically changing your tact or imitating other brands to the point of losing yourself will make you lose your customers too.
So keep your brand integrity and stay true to your brand strategy, and to your customers.
Focus on crafting unforgettable experiences for your customers by making every touchpoint count.
When Brand Touchpoints Work: Some Top Notch Examples
You want your customers to have the best experience possible, and you want them to interact and relate with your business in the same way that they do with the big brands out there.
If that's the case, why not take a look at some of those big brands? Why not see how they have mastered customer touchpoints and achieved their success?
Let's learn from the big boys and feed off their knowledge in order to create, and sustain, brand touchpoints that work for your customers.
Apple
I'm sure you saw that one coming.
Arguably one of the biggest brands on the planet, Apple sets the bar on creating beautiful brand touchpoints that truly resonate with their customers worldwide.
How have they managed to come out on top worldwide? And how have they set themselves up as one of the most successful brands to date?
I'm sure you won't be surprised when I say that it all boils down to their outstanding relationship with their customers; their complete and utter devotion to delivering the best experience to those who use their products.
Let's have a look and see what it is the makes Apple come out gold, and how you – a budding business owner – can imitate their example and provide the best experience for your customers.
Customer Interaction
Apple sure knows how to create brand touchpoints that successfully reach the hearts of their customers.
They use creativity and innovation to effectively form powerful bonds between them and their target audience, and they have calculated strategies that reach a large range of consumers worldwide.
To reach such a wide-span audience, they have adopted many brand assets that have made them stand apart from their competitors, therefore winning over a multitude of people.
These assets include:
Hands-On Customer Service
"Apple has elevated customer service into a science. Today, the company stands shoulders above the competition when it comes to alleviating the stresses that accompany a faulty tech product." – Yoni Heisler, business entrepreneur.
In comparison to its competitors, Apple goes above and beyond when it comes to giving customers the very best experience they can have. With a hands-on team ready to help each customer, assistance is given a practical, simplistic way.
Enter any Apple store and you'll see this in action.
They operate like a clinic for technology. Staff members are on hand, strolling through the vertically lined benches, seeking to give assistance to their customers.
A Simple, Innovative Website
As a customer, being able to access your favourite brand from anywhere is essential. Everything needs to be a few clicks away – whether it is on a desktop or a device.
This is where, again, Apple come out trumps.
Not only is their website accessible on all platforms, it performs like a pro.
Customers can see what they want (or what they didn't even realise they wanted) as soon as they enter the site, no search needed.
The images are crisp, clear and alluring, allowing customers to envision what it would be like to own one of their products without even holding it.
Clever.
And, to top it off, the natural design and minimalistic make-up of the website in all its forms perfectly represents the brand and its customers.
Applying this to your small business website could be tricky – but try and think logically about your customer, and what they want to see when they land on your site!
An Interactive Showroom
You walk through your local shopping centre, minding your own business, only to be amazed at the library that is the Apple store. Customers are engaged at each desk, testing, practicing, and prodding the devices as though it's already theirs.
This is, in my opinion, one of the best brand touchpoints that Apple has created.
Allowing customers to come in and try out their products for any length of time has no doubt increased sales, also increasing the customer's trust and reliance in the brand's products.
It gives off the impression that they are open and honest with their products, and that they are willing to allow the public to come and test the products for themselves, with no obligation to buy.
Once again – clever.
Customer Experience
Each touchpoint Apple creates has formed engaging and stimulating customer experiences that have given Apple the name they have today.
They are simplistic, innovative and alluring; customers worldwide have enjoyed purchasing and using their products as it far succeeds the vision they imagined.
Nike
They are by far the leading brand in their industry, crafting high-quality products for their customers, and networking with their audience in new, dynamic ways.
They tailor for a wide range of audiences – from the general public to professional athletic teams – and have successfully won the pockets of numerous sports fanatics.
Just how have they managed to make themselves the guru of the sports world?
You got it.
Via the way they make contact with their audience – their brand touchpoints (assisted by their huge advertising budget!)
When it comes to brand touchpoints, Nike has grand-slammed all areas in order to successfully hit the ground running with their customers.
Customer Interaction
Nike uses a multitude of brand assets in order to achieve satisfying interactions with their customers. You could even say that their products alone provide adequate interaction and promote their brand without even having to formally advertise.
They have created a care-free, "just do it" aura through various means, and they have elevated themselves above all other sportswear brands because of how they communicate with their customers.
What marketing strategies and brand assets have they used in order to slam-dunk the sports world?
Feast your eyes on just a few assets they use:
They Associate With The Big Guys
Does the name Michael Jordan mean anything to you? Or Air Jordans, perhaps?
These very trainers are well associated with the basketball player himself, and, despite their price, have sold to an innumerable amount of people all over the globe.
Thank you, Michael!
Names such as Tiger Woods and Cristiano Ronaldo are also in the mix, and it's not just their fans that have then made contact with Nike, it's the multitudes that have been in contact with the fans.
Associating with such big names, as it were, is a well-known branding strategy that has proven time and time again to be successful in creating positive interactions with customers.
They Use Dynamic Advertising
Nike's ads truly harmonise with the brand's slogan, "Just Do It", exploring how powerful and colourful their products make a person.
Their ads stimulate their audience to act by appealing to the audience's want to look and feel sexy.
And when you see a Nike ad, you know within the first second that it's them. They've completely nailed it when it comes to creating their identity and letting it be recognized without even saying a word.
Their huge advertising budget does help with this – but by working with an agency to provide branding services to your company, you could make a meaningful impact with your business on a smaller budget.
They Appeal to a Wide Range of People
No matter where you are, you are bound to see people wearing Nike. On the train, in the supermarket, at the gym – every day you will see someone in Nike clothing or footwear.
Even when you cross oceans and land in foreign territory, you'll see adults, teenagers, and children – even babies – wearing a pair of kicks designed by Nike.
And you don't even have to be a sports fanatic!
Nike has broadened its brand to attract a wide variety of customers.
They have managed to motivate an audience with such wide degrees of difference, and have proven themselves loyal when it comes to their touchpoints – they never deviate from their story and they stay true to their word at each and every point of interaction with their customers.
Customer Experience
Empowerment. Liberation. Luxury.
That's how their customers feel before, during and after purchase because of the interaction they have had with Nike.
Customers who have worn Nike products in the past remain loyal because of the service they received, and the experience that was delivered to them.
To feel like they can "just do it" when they wear those trainers or style that hoodie; to feel like they could walk the earth twice because of how comfortable they feel – that's the experience many will relay when they interact with the brand that is Nike.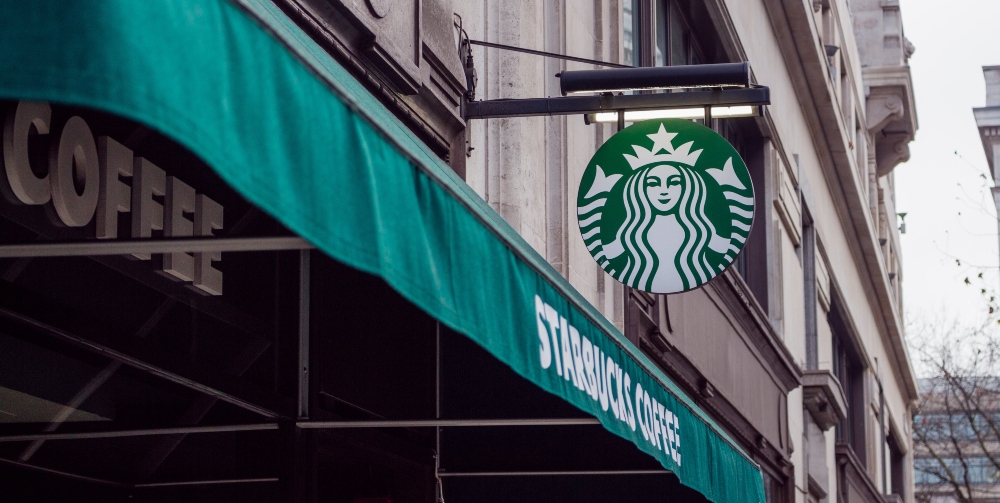 Starbucks
There's no place like home.
Well, even when you're not technically "home", you may find that no matter where you are in the world, you can find your home under the roof of Starbucks.
That latte you always order – the one with the extra cream? You got it.
Even in Thailand.
Starbucks seems to have found themselves in the hearts of consumers worldwide and they continue to spread their wings in countries that may surprise you.
Their loyalty and consistency is the backbone of building home-like experiences with their customers.
Plus, they manage to somehow show up at times when you're desperate for a coffee.
How have they managed to create and sustain such brand touchpoints that build this kind of rapport with their clients?
Excelling at Customer Service
When you walk into a Starbucks store, you are greeted with a smile and treated like coffee royalty. Not only are they warm and friendly, but they are quick and efficient when it comes to taking, making and selling your order.
One little perk is they take your name, write it on a cup, and then when your purchase is ready, your name is sounded and you, again, get served with a smile.
Even though it's something small, it's a nice little personable touch.
A Comfortable and Familiar Atmosphere
The design and layout of Starbucks across the world are that of comfort and ease. It's not outlandish, bright or overbearing; it's ambient and spacious, catering for groups or those riding solo.
And no matter where you go in the world, you can guarantee that Starbucks will be the same as the one back home.
It's easy to find a seat, a table, and a charging port. Which makes it a great stopping point for the busy business owner!
That's what stands out the most with Starbucks – they have the ability to make you feel at home. Customers feel relaxed and ready to face the rest of their day after spending time in one.
The Loyalty Program
"Earn more with our loyalty card." – And that's exactly what they do.
Starbucks love their loyal customers; so much, in fact, that they are ready to reward them to build brand loyalty.
This, in itself, motivates people to be a loyal user of their services because they are being rewarded. That's the key – make your customers feel that they are gaining, even after they empty their pockets.
After building up points on your card, you are eligible for free drinks, special offers and exclusive access to Starbucks' newest products.
Pretty sweet, hey?
Customer Experience
When customers come into contact with Starbucks, whether it is before, during, or after their actual purchase, they feel a million times better because of the excelling service they have received.
They feel like they are truly benefiting from using the service.
And to top it all off, they feel at home – they feel comfortable and at ease – no matter where they are on the planet.
Brand Touchpoint FAQ's
Before we wrap up, we thought we'd address some of the most asked questions when it comes to brand touchpoints.
What is an example of a Brand Touchpoint?

Brand touchpoints are the first point of contact between your business and your customer. This can be online via your website, via and advert, in your store, or through your customer service, to name a few.

What is the basic definition of a Brand Touchpoint?

A Brand Touchpoint it the individual point of contact between a customer and a brand, however this isn't reduced to a one-time occasion. Brands often have multiple touchpoints that customers can come into contact with before they gain interest and want to learn more or better still, make a purchase!
How to Define Brand Touchpoints for a Winning Customer Experience
First things first, let's accept it's pretty unlikely that we're the second coming of Steve Jobs.
We've learned in this post that we don't own the Nike tick, and we don't have stores worldwide selling people amazing coffee! (Or maybe you do).
But what we can learn, is our customers are vital to our business success. How we interact with, treat, and respect our customers plays a massive role in driving our business forward.
The big brands have perfected this. They interact with their customers perfect, and bring about authentic experiences for them.
You can do the same with your small business brand, you just have to open up, ask customers what they want, then get creative about it.
No matter how small or big your business or brand is, your brand touchpoints play a massive role in your success.
Integrating some of these ideas into your business, will put you miles ahead of your competition.
How do you work brand touchpoints into your customer experience? Let us know in the comments below.