The Eurotunnel Le Shuttle, often referred to simply as Le Shuttle, is a transportation service that operates through the Channel Tunnel, connecting the United Kingdom and France.
As the name suggests, it is a shuttle train service designed for transporting both passengers and vehicles including cars, motorcycles, coaches, caravans, and motorcycles.
It offers a convenient and efficient way for people to travel with their vehicles between the UK and continental Europe, with the journey taking only 35 minutes. During the trip, passengers remain in their vehicles with the idea of simply driving away once they've reached their destination.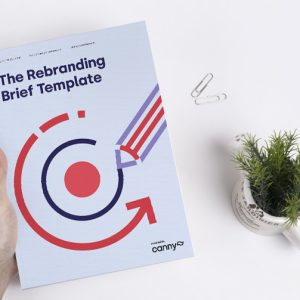 for all this service sounds great, you're not alone if you've never heard of it. Or if in fact you didn't know that you could use it to travel by car.
Data carried out by the brand revealed that there's a lot of confusion around the service offering, most notably between Gen -Z and millennials.
This was the biggest driver for the rebrand which was headed up by design agency, Landor & Fitch.
"There are generations of travellers born after the Channel Tunnel's opening who are more familiar with flying than self-drive," – Landor & Fitch.

Credit to Creative Review
An Understated Look
Comparing the old to the new logo, you can see that the latter is much more simplistic, and deliberately so.
I'm sure we can all agree that travelling can be a bit hectic, and at times, a total headache. This preconceived idea goes against what this service aims to do, as the whole point is to make your trip easy and hassle free.
By staying in your vehicle with your belongings, your entire journey from A to B is meant to be less stressful. This concept is carried through to the visuals and is represented by how stripped back the new logo is.
Landor & Fitch have removed any unnecessary, extraneous details from the previous emblem to make it more simple. Not only does this convey their goal of making travel easy, but also helps the brand appeal to a younger generation.
A series of ligatures reflect the ease of connections, while the eyes of both 'E's represent point A and B of travel (entering and leaving the Channel Tunnel).
Aside from the logo, the wider brand identity also appeals to a younger demographic by distancing itself from traditional train services. For instance, the brand photography is much more playful with the idea of evoking emotion.
A particular favourite of mine shows a dog leaning out of a car window with the wind in his fur as he's about to ride Le Shuttle and go off on his holiday. It's fun and energetic, bringing a sense of enjoyment to a bigger audience.


Credit to Design Week
It's All In the Eyes
We've touched on the 'eyes' above but I think they deserve more attention!
As noted, the purpose of these icons is to represent the journey from one stop to the next. It's a simple but effective idea, again tying into the overall aim of LeShuttle which is to make travelling hassle-free.
Softer, rounded bowls have been introduced to represent care which makes the brand more appealing and engaging. When you're travelling on any service, you want to feel cared for and looked after which is why these shapes work so well.
In contrast, sharp corners have also been included to emphasise speed, as aside from being cared for on your journey, you also want to arrive at your destination quickly!
The "journey of the traveller" is really at the heart of the redesigned logo and is further achieved through the conjoined L and S. This indicates the length of the underwater tunnel and visually represents the journey people take.
According to Landor & Fitch executive creative director, Graham Sykes, this approach also helped the brand avoid the "traditional travel industry convention of pairing icon and wordmark" by creating a unique, typographic logo instead.


Credit to Design Week
A Colour Palette Fit for the Future
Moving over to the colour palette, this has deliberately changed from the "nationalistic identity" which consisted of blue, red, and white, to predominantly black and white with hints of purple.
This overhaul was necessary for two reasons – firstly to reposition LeShuttle as a premium brand and secondly to make the brand fit for the modern day.
An overhaul of the colour palette was needed to reimagine LeShuttle as a premium service brand which meant leaving behind the traditional nationalistic sensibilities and infrastructure semiotics of the previous red, white and blue hues", says Sykes.
Landor & Fitch incorporated an "Electric Lavender" and "Aqua" shade into their monochromatic black and white base, symbolising a representation of "innovation and optimism."
More colours have also been added to represent the European landscape, again drawing a link between the brand identity and the service it offers.
These designs will be rolled out across all touchpoints for LeShuttle and will help change the way people think about the Channel Tunnel experience for the next decade.


Credit to Design Week
Making the Connection: The Eurotunnel LeShuttle Rebrand
The new brand identity for LeShuttle is the largest refresh for over 30 years and I think it was very much due.
Since confusion has existed for many years about what the service does and the benefits it brings, communicating the key values is so important.
Putting the journey of the user at the forefront is essential as this helps people understand why they would use the service and what they can expect from it. The updated colour palette of brighter tones also helps steer the brand into the future, attracting a wider (and younger) audience.
At Canny we love diving into rebranding projects, analysing what worked against what didn't. We've partnered with lots of brands across a range of sectors to transform their brand identity to better connect with their customers. To find out more about how we can help you, get in touch.