Marketing podcasts: the perfect solution to keeping on top of the latest marketing trends, actionable advice and motivational success stories, when you simply don't have the time to commit to reading books or trawling through long form content.
Pick any of these best marketing podcasts to listen to on your way to work, on your coffee break, during your lunch hour or on your commute home for the perfect dose of actionable advice and thought-provoking insights.
The Marketing Brief Template
The Marketing Brief is a free template that will help you get the brief for your marketing project right. Whether ...
If you're still a sucker for a good old fashioned paperback or magazine however, head over to our round-up of the best marketing books.
Whether you've got 15 minutes or an hour to spare, this is our list of the best marketing podcasts.
Marketing Week
If you work in the world of marketing and communications, we'd assume that you've heard of Marketing Week and probably get their newsletter delivered to your inbox on a daily basis.
But, do you ever actually get chance to read through them?
If not, we highly suggest tuning into Marketing Week's weekly podcast to hear their award-winning editorial team (and their industry-leading guests) discuss key topics such as the power of purpose and measuring the effectiveness of creativity.
Pick which series tickles your earbuds from 'Marketing Week Meets…', 'Marking Week Explores', 'This Much I Learned' and new 2020 segment, 'Inside B2B'.
Marketing Over Coffee
If the thought of eavesdropping on casual conversations with some of the best marketing minds in the world (Seth Godin, Simon Sinek, David Meerman Scott, Ann Handley, Mitch Joel, and the likes) makes you a little bit giddy, then Marketing Over Coffee is the podcast for you.
Recorded in a casual, conversational style, hosts John J. Wall and Christopher S. Penn deliver their 20 minutes episodes in a local coffee shop and cover everything from social marketing and SEO tips to copywriting and affiliate marketing.
This is the perfect accompaniment to your morning caffeine fix and will leave you feeling thoroughly inspired for the day ahead.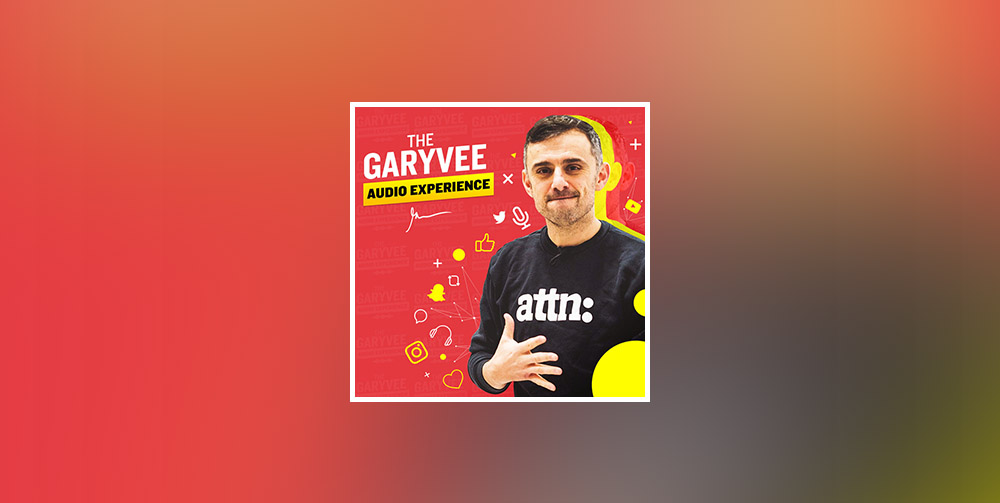 The GaryVee Audio Experience
5-time New York Times bestselling author and CEO of VaynerMedia – a full-service advertising agency servicing Fortune 100 clients across London, New York, LA and Singapore – Gary Vaynerchuk is a highly sought-after public speaker and he can be all yours when you subscribe to his global top 100 iTunes podcast, The GaryVee Audio Experience.
Vaynerchuk's podcast includes a mix of my #AskGaryVee show episodes, keynote speeches on marketing and business, segments from the WEEKLYVEE video series, interviews and fireside chats, as well as new and current thoughts recorded exclusively for the Audio Experience
"Tune in to GaryVee's regular 4Ds (Daily Discovery Digital Deepdives) where he sits down with a roundtable of select people. These episodes are always fire, because so many good questions and answers get covered. Really practical and packed full of tips."
The Stream UK
Delivered by London-based PR powerhouse, Allison + Partners, The Stream UK features the latest news and trends making the biggest waves in media and marketing.
Discussing absolutely everything from B2B influencers to marketing during COVID and industry predictions, The Stream gives you everything new and exciting in communications and digital marketing.
Social Media Marketing Podcast
Snapchat ads, organic LinkedIn marketing, TikTok content marketing, social media videos… does the world of social media marketing either terrify or exhilarate you? Perhaps both at the same time? Great, then this is the podcast for you.
Michael Stelzner and other members of the Social Media Examiner team dish up 45 minutes of social media nous every Friday, focusing on new social media features and the actionable strategies to actually help you see tangible results and conversions from your social marketing efforts.
The Science of Social Media
If your attention span is short but your Podcast expectations are high, then we can't recommend The Science of Social Media highly enough.
Created by the team at Buffer, this podcast has a community of over 25,000 weekly listeners – and for good reason. In 10-20 minute episodes, Buffer provides extremely actionable social media advice that'll be as pertinent for social novices as it is for longstanding practitioners.
You can rely on these social media gurus for timely, well-researched segments that keep listeners on top of new social strategies as they become relevant.
If you don't already, we also recommend Buffer's blog for insightful and aesthetically-pleasing digital advice.
Marketing School
10 minutes of daily, actionable marketing advice – what's not to love?
The titles of these marketing tidbits are enough to whet any marketers appetite: 'Do you really need to write 2,000 words to rank high on Google?', 'How to monetize your SEO traffic without ads', 'how to rank on page 1 of Google in 2021'… I mean. It's as if they crawled into our heads and stole our thoughts.
There's even handy time-stamped show notes on their website, if you can't spare 10 minutes of your day to listen to the episode in full (though we highly recommend that you do).
The power couple behind this podcast is Neil Patel – one of the biggest love/hate personalities in content marketing and Eric Siu, CEO of digital marketing agency Single Grain, which has worked with some of the most successful businesses in the world.
Market School delivers bite-sized portions of tips, tactics, strategies and insights on extremely relevant and timely topics.
The Hustle and Flowchart Podcast
Marketing duo Joe Fier and Matt Wolfe are experts when it comes to building your audience and driving online traffic. On the Hustle and Flowchart podcast, they chat to the high-profile people behind the industry's biggest success stories and glean the insightful gems that can help out the rest of us. Topics are centred around traffic, brand awareness, wealth growth, podcasting, marketing automation, mindset, lifestyle and business systematisation.
However, the duo are first to admit that their script can go a tad wayward from time to time and describe their podcast as "a life improvement podcasting masquerading as a business podcast."
Intrigued? Then tune in weekly to get your 60-90 minutes of marketing goodness.
Online Marketing Made Easy
Marketing guru Amy Porterfield promises 'to make EVERYTHING you listen to as actionable and profitable as possible'.
To really get the most out of your listening time, Amy even segments her podcast into 3 collections that pair with whichever stage your business is currently at:
'Start Strong': How to build a lucrative email list that fuels your business
'Scale Fast': Lessons for creating blockbuster courses that leverage your time and profits
'Sell More': Master webinars, funnels and Facebook Ads to grow and automate your business
With expert interviews, mini execution plans and intimate behind-the-scenes secrets from her biggest launches, Amy Porterfield breaks down these big strategies into step-by-step strategies for start-up businesses.
Demand Gen Chat
B2B marketers – this one's for you!
Chili Piper's Demand Gen Chat, hosted by Emil Shour, is all about helping B2B marketers throttle leads and revenue contribution.
Each episode features a candid interview with different marketing and demand generation experts on topics like SEO, advertising, marketing automation, sales enablement, and career growth.
Growth Marketing Toolbox
Growth Marketing Toolbox is a weekly podcast by growth marketing consultant Nicholas Scalice. With over 9 years of experience in the marketing industry, Nicholas is the founder of marketing consultancy Earnwrothy, online marketing resource Landing Page School and – of course, this top-rated podcast.
Nicholas specialises in helping brands turn their website visitors into customers, through landing page design, A/B testing, and conversion optimisation. So, Growth Marketing Toolbox provides exactly that: the marketing tools and technologies to improve everything from your Facebook advertising campaign to your content marketing.
You can expect candid interviews with the people who actually make, market and use these marketing tools themselves. This podcast is an absolute must-listen for both marketers and business owners.
Perpetual Traffic
If paid traffic's your bag, this weekly podcast will be a total treat for your ears.
Presented by Ralph Burns (Tier 11) and Amanda Powell (DigitalMarketer), the pair shares
cutting-edge strategies on acquiring leads and sales for your business through paid traffic.
Whether you're a PPC expert or are yet to create your first social media ad, you'll hear all about the best actionable strategies for using paid traffic to generate more leads and achieve more sales.
Perpetual Traffic combines the paid traffic strategies developed at DigitalMarketer with the real-life agency experience of Tier 11. There's real stories of business owners overcoming their digital marketing and online advertising struggles, as well as all the insights you could dream of for how to make Facebook, Instagram, YouTube, Twitter, LinkedIn and Google AdWords advertising work for your business.
Noah Kagan Presents
If you're a marketer or entrepreneur who likes to kickstart your morning by hearing from the most inspirational and widely-acknowledged people in their field, the Noah Kagan Presents podcast is for you.
From frank conversations with authors of the best marketing books like Donald Miller to insightful chats with some of the world's most successful marketing entrepreneurs, Noah Kagan leaves no marketing stone unturned.
If you're interested in how Lululemon managed to build a brand with a cult following or how Matt D'Avella went from $100k of debt to creating a 2.7million subscriber base on YouTube… wonder no longer. Tune in every Thursday for 45 minutes of inspiring business, marketing and even personal life advice.
Call to Action
Are you trying to make sense of the world of advertising, or would you just quite fancy an hour of straight-talking, no bullsh*t marketing chat? Either way, look no further.
Your host is Giles Edwards, founder of an award-winning marketing agency that was dubbed "fearless and inventive" by The Drum.
Giles believes in "proper (timeless) marketing" and its vital role in the boardroom. He rants about this and more, alongside esteemed guests, on this hugely popular UK Top 5 podcast. Launched in February 2019, he's subsequently hosted and interviewed some of the industry's greatest minds.
You can expect a no-holds-barred commentary on modern marketing and business alongside chin-wags with "heroes and allies from the front line".
In April 2020, Giles launched the charitable initiative ISOLATED Talks® – a rallying call across the lockdown divide for the advertising industry to unite and share ideas that help others whilst appealing for donations to the Samaritans; a charity under increasing pressure due to enforced isolation caused by the Coronavirus crisis.
The Animalz Content Podcast
From SEO consulting to brand awareness, lead generation and product marketing, Animalz is a full-service content marketing agency that creates unique content marketing solutions for companies investing in long-term, sustainable growth.
So, The Animalz Content podcast is – unsurprisingly – a podcast dedicated to content marketing strategy. Hosts Jimmy Daly and Jan-Erik Asplund talk through topics like how to become a thought leader, the inputs required to create a content strategy and how to wean off paid traffic.
How I Built This with Guy Raz
Described by The New York Times as "one of the most popular podcasters in history', Guy Raz is the host, co-creator and editorial director of 3 NPR programs, including TED Radio Hour and How I Built This. Both shows are heard by more than 14 million people each month around the world. So, you'll be in good company if you decide to tune in.
Guy takes a dive into the stories behind some of the world's best known companies and most inspiring innovators, entrepreneurs and idealists – unearthing the unexpected paths to their success.
If you're looking to be motivated by great entrepreneurs or learn how to develop an entrepreneurial mindset, listen to the podcast, order Guy's new book – or both!
"Discover how Steve Ells, founder of Mexican food chain Chipotle transformed the way we eat fast food, how Sara Blakely went from selling fax machines to setting up Spanx (an apparel company that now has a net worth of $1 billion) and how Jo Malone founded the self-named, world-renowned fragrance brand when she was in her 20s."
The CMO Podcast
This is not your typical marketing podcast. This is a unique look at the thought process and motivation of the Chief Marketing Officer (CMO).
Jim Stengel, former CMO of the largest marketer in the world (Procter & Gamble) and now small company entrepreneur, sits down for intimate, in-depth conversations with the most dynamic CMOs from all over the industry to reveal more about this pivotal role every brand seeks to fill.
Through personal and revealing discussions, Jim and his guests paint a picture of this demanding position that very few understand, yet affects the entire consumer experience.
"Listen to Lilian Tomovich of MGM Resorts talk about how MGM offers up more than a casino, or a resort – they're actually one of the largest entertainment companies in the world."
Conclusion: The Best Marketing Podcasts to Help Grow Your Business
So, there's our list. But what about yours? Have we missed off your absolute must-listen marketing podcast? Let us know in the comments.
Whether you're hoping to learn how to generate a tangible return from your marketing efforts – or simply how to write a marketing brief, we can help.
Get in touch with us today and we'll help you figure out the best way forward.