The right marketing team structure is critical to the success of your business.
Having the right people in the right seats is key to ensuring you attract and drive sales, but how do you structure your team for the best?
Marketing is very vast and there's lots of different roles and responsibilities to consider. Not every role will be right for every company as it all depends on how you market your offering and the strategies you use.
It also depends on the size of your company and your budget as you need to be able to afford the people you hire!
Marketing Career Handbook
Marketing is an industry that is growing in opportunity and managers are always on the hunt for fresh ideas for campaigns...
In this blog post we'll be diving into three of the most common marketing team structures to help you organise your own team more effectively.
We'll also be discussing the different skills to look for when hiring, to ensure you've got a marketing powerhouse that can drive sales and boost business.
Let's get started.
Marketing Team Size
Before we dive into how to structure your marketing team, let's take a look at how big marketing teams usually are.
Again, this really depends on the type of company you are and how many employees you have.
For instance, a startup business might only have 3 or 4 employees with one of them dedicated to marketing. This is because they won't have the budget to afford an extensive team with various responsibilities.
At the total opposite end of the scale, a tech giant like Google who runs multiple campaigns globally, will need a large marketing team to manage different marketing activities.
From paid advertising, to social media, to graphic design, they'll have more areas of marketing to consider and will need more hands on deck.
With that said, below are some typical guideline sizes when it comes to quantifying a business:
Small to medium-sized businesses: 1-100 employees
Mid Sized businesses: 101-1000 employees
Enterprise: 1000+ employee
The size of the company affects your marketing team structure as usually:
A bigger company = means bigger budget = means bigger marketing team
Key Considerations Before Structuring Your Marketing Team
It can be difficult to provide the 'ideal' marketing team structure as every business is different.
Before we dive into the 3 'typical' structures of a marketing team, there are some things to think about first.
It's pointless deciding you want a 10 man marketing team with a dedicated social media assistant, copywriter, and videographer if you don't have the budget to support it, or in fact, the need.
As discussed, not every role will be relevant for every company – it depends on what value they bring and what channels you use to market your product/ service.
Before you jump into the hiring process, make sure you:
Define your goals
You need to identify what goals you want to achieve with your marketing team, what responsibilities they will have, and how this contributes to the overall strategy of the business.
On top of this, you need to consider how many people you're going to employ which will be impacted by the size of your company and how much budget you have.
As mentioned above, it's pointless deciding that you want 10 people in your marketing team if you only have enough budget to hire 3.
Be realistic and consider what value these people are going to bring. Don't hire for a role just to fill a 'space' or to copy what other companies do. Every hire needs to tie back to your company strategy and should make sense for the business.
Decide which people you need in your marketing team
This links to the point above as by deciding what you want to achieve with your marketing team, it will help you decide which roles you need to hire for.
For example, have you identified a gap in your current marketing strategy in terms of social media?
Perhaps you already have a team of content writers and an email marketing executive, but your social media activity is lacking. If you believe this is an area that could add value but you don't have anyone to manage this function, then a social media executive should be part of your marketing team structure.
Be specific about your requirements
Once you've identified which professionals you need in your marketing team, it's time to get specific about what competencies they need to have.
For example when hiring a content writer, do they need to have experience in link building and SEO too? Or when hiring a marketing executive, do they need to be comfortable designing visual assets on Adobe?
If so, these requirements need to be included in the job advert. Being specific in terms of what you require helps you hire the right people the first time and ensure the structure of your marketing team is right.
Focus on experience
When searching for employees, make sure you focus on the skills, experience, and character traits that bring the most value to your business.
For example, when hiring for the role of a copywriter (if this is a position you decide to have in your marketing team), they need to be strategic yet creative.
Similarly if you're hiring for a marketing manager, they should have previous management experience and be well versed in various areas of marketing including content writing, events, and email.
To make sure you've got the right fit, it's wise to give interviewees a task to make sure they're capable of performing the role – before you hire them. This lets you assess their knowledge and skills before you commit to a decision.
How to Structure Your Marketing Team
As discussed in the intro, there's typically three marketing team structures that companies have.
This is dependent on the size and predictability of your business, as well as the marketing channels and tactics you use to generate leads.
For instance, if your company generates 90% of its leads through organic blog content, then you might not see any value in employing a pay-per-click specialist.
Similarly, if your company doesn't generate much traffic through social media, then your marketing budget might not justify having a full time social media executive.
It's up to you to decide what roles work best for your company and what marketing team structure will generate the most value. This blog is all about creating a marketing powerhouse and that's exactly what we're going to help you do!

Marketing Team Structure by Function
This marketing team structure is the most traditional arrangement for a marketing team and focusses on the key pillars that make great marketing.
This structure works best for smaller marketing teams who might be limited in terms of budget, resources, and headcount.
If you've previously been a solo marketer and you're now looking to build a team, it's wise to start with this structure first. It covers all of the key roles needed for marketing success without drilling down into several different specialisms.
Operations
These people are responsible for the technical aspects of your marketing. They're in charge of various responsibilities such as maintaining the tech stack, automating workflows, ensuring processes are in place, and building relationships with clients.
Potential roles
Marketing Ops Specialist
Email Marketer
Creative
Your creative team is responsible for producing the work that customers or clients will see. Whether that's writing blog posts, creating visual assets, or designing printed collateral, these people are key in attracting and driving leads.
Potential roles
Content Writer
Graphic Designer
Project management
Those on your project management team will be responsible for keeping projects on track and within scope to make sure they don't overrun. Your project management team will liaise with both your creative and operations department to keep projects running smoothly.
Potential roles
Project manager
Account manage
Procurement specialist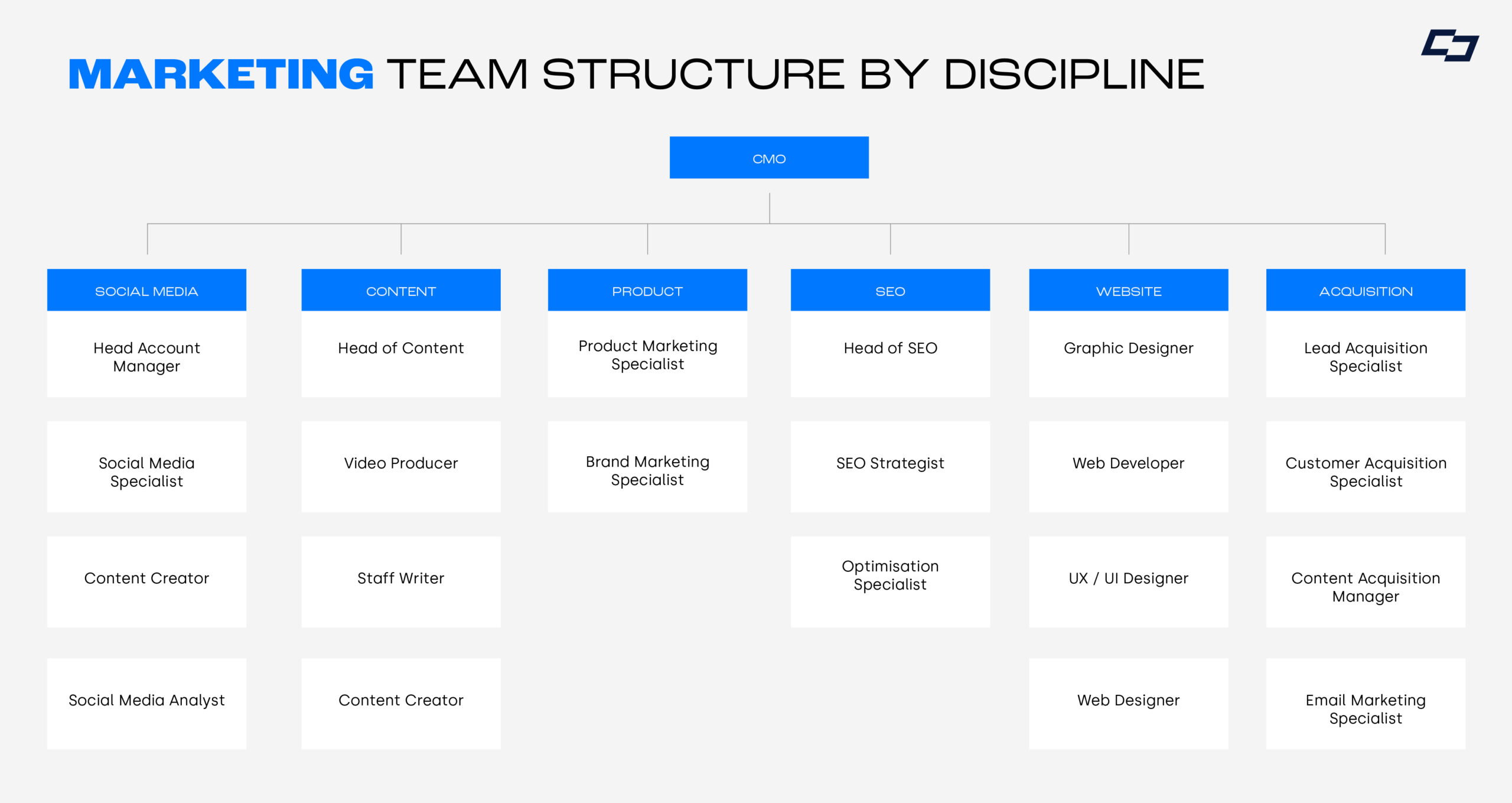 Marketing Team Structure by Discipline
A marketing team categorised by disciplines is the most common type of team structure.
This is usually the arrangement in medium-sized companies where the marketing team has a set budget and is integral in driving leads.
This means there is more predictability in the business as the founder or director feels comfortable allocating a set budget which the marketing team spends in areas that generate the most value.
They will plan, create, and execute multiple campaigns over the course of a year to help the company achieve its goals.
Below we're diving into some of the roles that make up a marketing team structure that is defined by discipline.
Content
Your content team are the people responsible for making sure your brand tells a compelling story.
Their responsibilities will include creating content website copy, blog posts, social posts, and email marketing campaigns.
Naturally, they should have strong writing skills and a keen attention to detail. They should be able to spot any grammatical errors or typos from a mile off as this affects the credibility and professionalism of your brand.
This team should also be comfortable using a variety of marketing tools and platforms such as WordPress, Grammarly, Ahrefs, and Google Analytics.
Potential roles
Head of Content
Content Strategist
Copywriter
Videographer
Social media
Your social media team will be responsible for creating and executing various social media campaigns.
They'll have knowledge of how to plan successful campaigns that generate brand awareness and drive more people to your brand.
They should also be comfortable using a range of software including visual tools such as Canva and Photoshop and scheduling tools such as Hootsuite and Buffer.
More experienced social media professionals should also understand how to report on different campaigns and how to use these insights to inform future decision making.
Potential roles
Social Media Executive
Social Media Analyst
Content Creator
Product
This team is responsible for communicating the key features of a product and most importantly, the benefits it will bring the customer.
It's their job to identify your target audience and to devise messages and campaigns that speak directly to them. Whether that's through ad copy or product pages, this team must drive your product forward so that people actually want to buy it.
When hiring professionals for your product team, you want to make sure they have a thorough understanding of marketing from research, to analysis, to advertising.
Ultimately it's their job to bring a product to life to ensure it meets your customers needs.
Potential roles
Product Marketing Manager
Marketing Manager
Brand Specialist
Search Engine Optimisation
Your SEO team is primarily responsible for driving traffic to your website by optimising content so that you rank highly in the search results.
This involves carrying out in-depth keyword research to see what keywords users are searching for, and then naturally seeding these into your content.
To be successful in this role, SEO professionals must possess strong technical, programming, and writing skills. In some instances, they must also write, edit, and proofread content to make sure it is optimised for the reader.
Anyone performing this role should understand how to conduct keyword research, how to build links, and how to monitor the performance of content. This involves using software such as Google Analytics and Google Search Console to draw insights and areas for improvement.
Potential roles
SEO Manager
SEO Strategist
Data Analyst
Website
The website team is responsible for designing and developing a visually appealing and user-friendly website that effectively communicates with your audience.
They are an important asset to your marketing team as a website is often a key touchpoint in the customers journey. This makes it a very powerful and valuable conversion tool which is why it needs to be right.
Additionally, the website team should optimise the website for search engines, create high-quality content, and track performance to provide insights to the marketing team on how to improve the website going forward.
Potential roles
Graphic Designer
Website Developer
UX/ UI Designer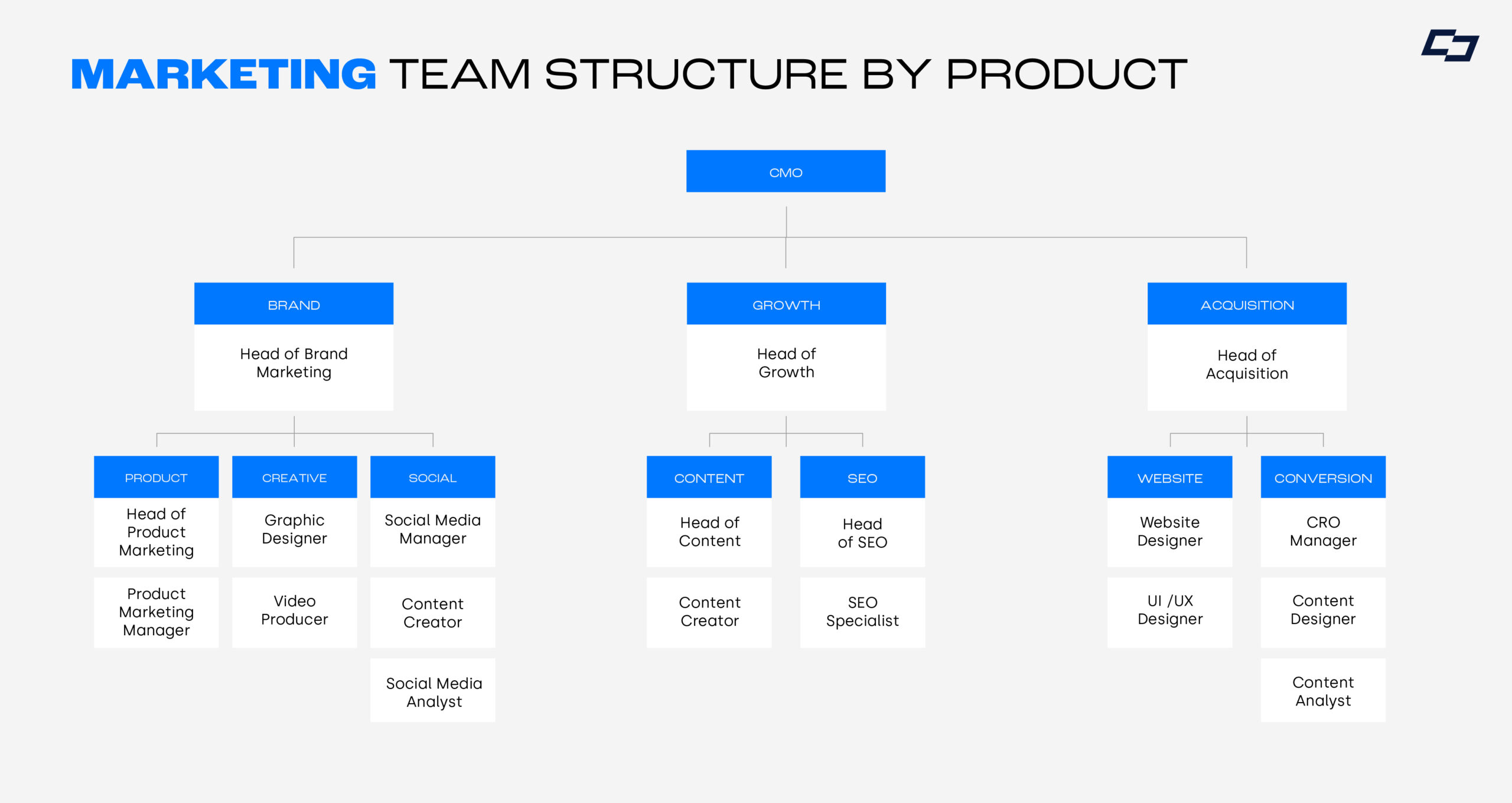 Marketing Team Structure by Product
Structuring your marketing team by product is a good idea for enterprise teams who generate predictable revenue.
If there's a proven marketing system in place to generate demand for the business, you can leverage a product-style marketing structure which allows you to grow in new ways.
There are three typical "products" within this type of marketing structure which we're exploring below.
Brand team
Brand is anything and everything related to your business.
When working out to build your marketing team around brand as a product, consider the following things:
Who would be responsible for devising the brand strategy?
Who would be responsible for the way the brand looks and sounds?
Who would be responsible for influencing the brand in other parts of the business?
Who would be responsible for the day-to-day promotion of the brand?
Growth team
Your growth marketing is responsible for generating demand and leads for the business. They identify opportunities in both existing and new markets allowing you to expand your offering.
When building your marketing team around growth as a product, consider:
Who determines how much we grow, how fast we grow, and in which markets we grow?
In which channels do growth opportunities exist?
What is the short-term and long-term payoff of the growth strategy?
Acquisition team
Once you have successfully attracted your target audience and set growth goals, the next step is to focus on your acquisition "product" in order to generate leads and fill your sales pipeline.
If you are building your marketing team with a focus on acquisition as a product, think about:
Who will be accountable for developing the acquisition strategy?
Who will be responsible for lead scoring and lead nurturing?
How will the team measure success and attribute it to their efforts?
What to Look for When Structuring Your Marketing Team
Regardless of which marketing team structure you decide is best, it's important to hire individuals who are passionate about your company and eager to learn.
Whether you're a small company with 5 employees or a large enterprise with 1000 employees, each hire needs to contribute towards your greater goal.
Otherwise what value are they bringing?
Considering marketing is such a key function in any business, make sure you look out for the following attributes when devising your marketing team structure. These skills apply to those from CEO to Junior level.
Organisation
Any hire needs to be organised.
Without this vital skill, deadlines can easily be missed and projects can soon overrun. This applies to any marketing role as the longer a project/ task takes, the more money and resources you're wasting.
Marketers also juggle multiple projects at a time, so being organised helps them manage their time more efficiently, prioritise their work, and meet deadlines.
They'll also be working with different teams (even in smaller companies there'll be cross over with other members of the team) so it's important that they can communicate effectively and provide timely updates to keep everyone on track.
Willingness to learn new things
Being eager to learn new things is a fantastic trait in any new hire, as it shows their willingness to take on a new challenge.
As a marketer, you also need to stay ahead of industry trends which can involve learning new technologies and strategies to improve the way you attract new customers.
Aside from this, marketing is a multidisciplinary field that requires a range of skills from content creation, to data management, to social media.
A good marketer should be a well-rounded professional; this is particularly important if you're a smaller team relying on one individual to manage various marketing activities.
T-shaped marketer
This leads nicely on from the point above as a T-shaped marketer has knowledge of lots of different areas of marketing which allows them to devise more integrated campaigns.
They are also more capable of adapting to change and can embrace new technologies and tactics that allow them to stay ahead of the curve.
As the marketing industry is always changing, this is a key skill that can really push the business forward.
Analytics skills
Analytical skills are essential for marketers as they need to make data-driven decisions on a daily basis to improve the effectiveness of marketing campaigns.
Without understanding what's working against what's not, you could be spending hundreds or thousands of pounds on tactics that aren't generating value.
For example, if you've been spending 10 hours a week on social media, but you're not seeing any increase in engagement or interactions, then is this really time (and money) well spent?
Similarly if you're writing blog content and you've seen a huge search in traffic for a particular post, then you want to optimise that post to the absolute max!
BUT: you can only make these important decisions by hiring marketers who understand how to use the data.
Strategic thinking
Marketers need to be able to think strategically about how to generate more leads and drive business growth.
This involves identifying the best way to reach their target audience by understanding their challenges and pain points. This allows them to create campaigns that addresses these needs and speaks directly to them.
A key part of their role is building brand awareness which involves understanding market trends, competition, and consumer behaviour, allowing them to develop marketing plans that align with business goals.


Download your free Marketing Career Handbookhere
Marketing Team Resources
As a marketing manager, you'll have a lot on your plate.
Not only are you responsible for creating the most effective marketing team, but you also need to stay ahead of industry trends to remain competitive.
At Canny, we work with lots of marketers to help make life a little easier.
From providing free templates, to lists of books and podcasts to enhance your knowledge, to understanding how to advance your career, we help you progress in this field.
Take a look at some some of our resources below that can make your job a little less stressful:
Marketing Team Structure: How to Create a Marketing Powerhouse
To ensure your business is successful, it is crucial to establish an effective marketing team structure. The key to attracting and driving sales is having the right individuals in appropriate roles. However, determining the ideal team structure can be challenging.
Marketing encompasses a wide range of responsibilities and roles, and not all of them may be suitable for every business. The structure of your team will be influenced by your marketing approach and strategies and also by the size of your company and budget.
Hopefully after reading this blog post, you have a clearer idea of how to structure your marketing team for optimal performance and success.
At Canny, helping marketing teams to succeed is what we do best. We work with marketers across a range of sectors helping them to create effective campaigns that drive the business forward. To find out more about how we can help, get in touch.