You have an established brand, but you need to redesign your logo.
Maybe it's looking a little tired, or maybe it doesn't convey the correct brand message anymore.
It's a common issue impacting brands everywhere.
The question you have to ask yourself now is:
How do you make it better?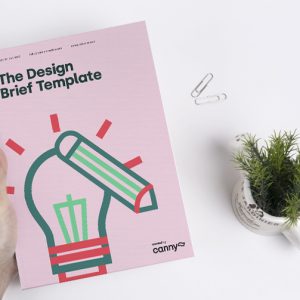 The Design Brief Template
You have an established brand, but you need to redesign your logo. Maybe it's looking a little tired, or maybe it do...
A huge part of having a successful brand is having a successful logo. And yes, we know a logo alone isn't the only element of what we'd call 'branding.'
That said, a logo is often the first thing your prospective customers see and is what they typically remember when coming into contact with you.
In other words:
You could have the best product or service in the world, but if you have a bad logo, customers will be less likely to invest in you.
Visual communication is a core part of engaging with your customers as visuals are easy to digest and understand (or at least they should be).
Your logo should reflect who you are, your brand values whilst being eye-catching and easily recognisable.
To help you strengthen your own brand identity, we've dedicated a post to spotlighting some of the best brand redesign examples, where a brand has completely reinvigorated itself with an updated logo design.
We hope you find it useful.
Understanding Modern Logo Redesign Trends
When it comes to logo changes, you could get lost at the bottom of the pile. There are lots of evolving trends, and companies need to stay ahead of these to remain current.
Some of the redesign trends spotted in the modern day are throwbacks to the 80s and 90s whilst others are new on the scene and more experimental.
A big redesign trend at the moment is the transition of logos from 3 dimensional to 2 dimensional to appeal to a more digitally focussed audience.
You see, our world is much more digital than physical and brands have started to wise up to this.
Much of our communication is absorbed through online means, which 3D logos aren't best suited for. Flat, 2D logos render much better on digital devices providing users with a better overall experience.
Logo simplification is another biggie on the redesign front.
A cluttered logo does not appeal to the consumer of today. People are busy and want something they can easily digest and understand without having to try and work out what a logo means.
An effective logo design is memorable and simple, so try and keep elements clear and easy to follow.
If you're a brand looking to redesign your logo, you should also think about colour gradients. Instagram (which we cover a little further down) have encapsulated this perfectly in their logo redesign.
A colour gradient is a great way of adding personality and vibrancy without overpowering the overall aesthetic.
11 Top Logo Redesign Examples
As promised, below we've outline 11 top logo redesign examples for you to check out — each as unique as the last.
We should point out that this list is in no particular order, so feel free to go through these brand redesign examples at your own leisure.
Let's begin with a personal favourite of ours — a cheeky B2B brand that we've mentioned many times here at Canny — that being:
MailChimp.
MailChimp
Starting in 2001, MailChimp was originally developed as an email marketing tool for small businesses who lacked the capacity and resources of large organisations to access tools that would enable them to grow.
As the company evolved, customers wanted more functionality so the co-founders launched a selection of new channels including social posting digital ads, a marketing CRM, shoppable landing pages, advanced automations, and much much more. It has now expanded into a leading marketing platform for millions of businesses around the world.
Not bad ey?
The whole premise of the MailChimp culture is to be humble, independent and creative. This creativity shines through their branding, with Freddie the monkey as their playful icon.
When the company decided to redesign, they wanted to keep the playful MailChimp spirit that is known and loved by the earliest customers whilst creating space for the brand to grow and connect with new customers. It was about balancing the company's loveable heritage while capturing their growth.
Some of the changes include simplifying 'Freddie' into a single colour treatment with slight tweaks to its shape and finer details so it looks great in any size. This simplification means it's suitable for wider reproduction with less fur, no 'M' on the cap and a simpler headline.
Notably one of the biggest changes is the loss of the script. While I like the aesthetics and fluidity of the old script, it has been replaced by a quirky wordmark which beams personality and visual presence. It's a strong identity which is difficult to ignore.
Keeping in line with the playful theme, what better background colour to use than yellow?
Particularly because this is the colour of bananas (Freddie's favourite), but also because it's not a colour used a lot on the web.
Combined with the black font this creates a bold yet fun identity which harnesses the brand's core values.
Instagram
Instagram is one of the largest and most arguably loved social media platforms of today allowing people to share and interact with all kinds of photos and videos at their fingertips.
It has become a way for people to express themselves and share an insight into their lives.
But since its launch in 2010, Instagram has become so much more than just a photo/video sharing platform.
It is now a tool for selling, networking and serious content creation for individuals and brands. And of course, it gave rise to a new breed of social media influencers (love them or hate them, you can't ignore their huge social presence.)
Because of these changes, Instagram didn't feel like their polaroid camera logo represented their community best.
Instead they refreshed their logo so it became flat and minimalist, moving away from the 3D appearance of the previous design. They also changed their colour palette into a vibrant 3 colour gradient using pink, purple and yellow whereas the colours in the previous design were all separate.
The overall appearance was vibrant, fresh and young, which ties in perfectly with their largest audience of 25-34 year olds.
For unity, they also applied the new 3 colour gradient to other applications including boomerang and layout so the whole brand was beautifully tied together.
Now although everyone has become accustomed to the new design, it wasn't always plain sailing. When the logo redesign first launched, people criticised it for being tacky.
From individuals to news sources to celebrities, the app received a lot of negative publicity.
But Instagram stuck to their guns, and judging by the size of the company today, they knew exactly what they were doing.
eBay
Back in the day, eBay was the go-to auction site for bidding on second hand bargains and getting that cheap thrill when you won someone's used high heels.
Bringing it up to modern day, eBay is now an all-encompassing ecommerce platform that enables consumer-to-consumer and business-to-consumer sales, operating more like a general shopping website. Sure, you can still bid, but it's no longer the essence of the business.
The redesign of the eBay logo represents this shift as it's moved away from the jumbled, playful typography to an organised set of lettering. This elevates the more serious positioning of the platform and the purpose it serves to individuals and businesses alike.
It's no longer people just selling 'stuff' for rock bottom prices but a platform where you can buy items directly from companies and resellers.
Although the letters no longer overlap they do still touch which is a subtle reflection of eBay's connected and diverse community.
Despite changing the typography, eBay has kept the same recognisable colour palette as this is one of the most well known elements of the brand.
Keeping this the same throughout reflects eBay's proud history but also points towards it's dynamic future.
Uber
Uber's last logo redesign in 2016 unfortunately coincided with the start of a lot of bad press for the company involving their culture, business practices and overall appreciation.
After pressuring CEO, Travis Kalanack, to step down in 2017, Uber was on a mission to save its brand image. They wanted to transition away from the negative press that had been surrounding the company.
The redesign of their logo signified something much bigger; they needed to prove to people they had changed and left the mistakes of the past behind. They needed to show they were a respectable company and regain the trust of their customers.
Although changes to the logo were quite subtle, they were effective in emphasising this u-turn.
By using only the company name instead of an icon it's more focussed on what Uber does. It creates a lasting impression and is instantly recognisable.
The brand opted for a clean, clear typography which was much easier to read by as many people as possible. Lots of cities globally rely on Uber so it needs to be clear and distinctive.
There is no fluff or decoration on their new logo – it simply does what it needs to. The core goal is for Uber to focus on the service they're delivering to their customers and not to distract away from this.
Following the onslaught of bad press, the aim is to build back trust from customers and deliver a good service.
Burger King
Fast food giant Burger King embarked on their first logo redesign in 20 years, designed by creative agency Jones Knowles Ritchie.
Keeping in line with emerging redesign trends, their new logo is flat which is easier to use on digital communications as 2D images render a lot better.
Other changes include a simplified logo and colour palette as the blue has been removed altogether. The colours are still vibrant and reflect core ingredients to engage and entice customers into the brand.
This rebrand takes Burger King back to a classic look and feel of the logo used throughout the 1970s, 80s and 90s. The simplified logo is clearly two bun halves with the words 'Burger King' in the centre which is a throwback to the designs pre-1999.
"We were inspired by the brand's original logo and how it has grown to have an iconic place in culture. The new logo pays homage to the brand's heritage with a refined design that's confident, simple and fun."
– Jones Knowles Ritchie
People applauded this redesign as it took them back to the classic look Burger King was so well known and loved for.
The revamped logo is a tribute to Burger King's heritage and emphasises the iconic place it holds in the world.
Netflix
Back in the 1990s, Netflix originally began by selling and renting DVDs by post; a world apart from what the TV and film industry is at today.
Who remembers that feeling of going into Blockbusters on Friday night to rent a film? And buying a huge tub of Ben & Jerrys to go with it of course. Unfortunately times have changed, and buying and renting DVDs just doesn't happen anymore.
As times have rapidly changed, the logo for Netflix needed to reflect this.
Netflix decided to redesign in 2014, changing to a much more modern, stylish logo. As we've seen with other brand designs, they got rid of their 3D lettering and opted for a flatter design which is a lot more clean and crisp.
They also dropped the colours and background shadow which evoked memories of an old-style cinema and trapped the logo in the past.
Keeping the iconic red Netflix is known for, they brought this to the forefront creating an easily recognisable, strong brand.
Aside from their logo, Netflix have continued to smash their branding, turning their classic 'ta dum' (you can't help but play this in your head) into a longer music display for films that receive theatrical releases.
Teaming up with composer Hans Zimmer, Netflix wanted to create a sound that was intense and loud, but still felt familiar. The challenge was to keep the 'ta dum' audio but make it bigger and more cinematic for larger audiences.
"We were sitting in the theatre and the 'ta-dum' would come on and it would feel so short and so abrupt that you really didn't quite understand what you saw before you dove right into the film."
– Tanya Kumar, Brand Design Lead at Netflix
Peugeot
Peugeot describes itself as the 'world's oldest surviving automotive brand' and updated its logo for the first time in 10 years.
"A new logo and brand identity are significant developments for any marque, let alone Peugeot, who has a history spanning more than 210 years."
– Julie David, Managing Director of Peugeot UK
For the first time in 50 years, the car manufacturer decided to drop the lion's body from their logo and throw it back to their 1960s emblem which featured just the lion's head and mane.
As with every redesign of the Peugeot logo, the lion's head remains the centre piece as this is the most identifiable part of the brand.
It also looks stronger as it has a much bigger space and presence now the body of the lion has been removed.
This strength is further elevated by keeping the lion's head cased in the metal shield – another recognisable feature of the classic logo.
The redesign was introduced to mark the transition towards becoming an electrical car manufacturer. By 2025, Peugeot claims they will offer an electrical variant of every car model they produce.
The new logo reflects the changing model line-up and new philosophy of the brand as they move towards a more eco friendly offering.
Airbnb
First launched in 2008 by two students, Airbnb is an online marketplace which allows people to list their own property as short-term and long-term accommodation options.
Accommodation ranges from the usual two bedroom houses to a lavish castle (of which there are more than 600 listings) so you're spoilt for choice!
Why not live it up like a King for a week or two?
The brand totally disrupted the hospitality industry and since it started, has grown into one of the go-to websites for anyone looking to book an overnight stay.
Belonging has always been a core part of Airbnb and their new brand positioning 'belong together' perfectly communicates this. It encapsulates the 4 meanings people, places, love and air b 'n' b into one logo to elevate the sense of community they hold so strongly.
In terms of the old Airbnb logo, it included tightly spaced, cushiony letters which, although communicated a sense of comfort and casualness which the brand represents, wasn't strong enough and very rarely appeared anywhere outside of their website and mobile apps.
'Linetos circular' was chosen as the new typography and is a lot nicer, cleaner and easy to read by as many people as possible in as many places as possible. As the company has grown, their intent is on increasing brand awareness to a mainstream audience which is where the new logo comes in.
Initially, the logo received some criticism at the time of its launch with people comparing it to the paper clip-esque logo of software company 'Automation Everywhere.'
For any brand this is unfortunate, as you want your logo to be unique and set you apart from other companies.
Coors Light
Coors has been on the market since the late 1970s and was produced in response to a need for a weaker beer with even fewer calories.
With the rise of craft beers, Coors saw a shift in consumer behaviour and didn't want to be left behind. Whilst Coors are definitely not a craft beer (link to beer packaging post) they're still competing in a busy marketplace so they knew it was time for a refresh.
Their old logo was outdated, loud and cartoon-like lettering which desperately needed bringing up to date.
By changing to a flat logo, and getting rid of the loud 3D style lettering, it immediately looks more stylish, underrated and modern. Keeping the same minimalistic colour palette, the brand is still recognisable yet cool.
From the old logo, they have stripped back as much unnecessary detail as possible to reveal a crisp set of lettering.
The iconic mountain has also remained in the background of the wordmark, adding some form to the layout of the logo whilst playfully cropping the 'Coors' script.
To help differentiate Coors even further, the new logo comes with the tagline 'born in the rockies.'
Having this tagline accompany the Coors logo helps create an emotional connection between the brand and its consumer by telling the brand story.
TripAdvisor
Have you ever booked a holiday without checking the reviews on TripAdvisor? If so, you're very brave!
From honest (and sometimes damning) customer reviews to the best tourist day trips to travel photos, TripAdvisor is the world's largest travelling platform.
Hosting over 460 million users each month, the site helps millions of people enjoy better travel experiences by providing unbiased reviews and guidance.
Established in 2000, TripAdvisor celebrated its 20th birthday last year by embarking on a rebrand . The anniversary marked the perfect time to reflect on TripAdvisor's positioning in what has become a very crowded marketplace.
The company enlisted New York studio Mother Design to rethink their brand identity for the consumer of today. Due to the brand's global recognition, TripAdvisor were keen to keep their distinctive assets and refine them to create a more cohesive visual identity.
The iconic owl symbol remained but was made simpler into a single colour treatment. This small change reduced the complexity of the icon and made it easier to reproduce to a high standard in multiple sizes.
"The previous logo had quite a bit more detail, and only worked when rendered in multiple colours – one red pupil, one green pupil and a yellow forehead. We kept its signature large circular eyes, built its ears and beak from a single triangle, and increased the line weight," says Mark Sloan, Head of Design at the studio.
"By allowing the logo to live in one colour and reproduce well at all sizes, we've made it more flexible and less susceptible to misuse in the marketplace."
Also, the typeface changed to 'Colophon Foundry' which is a strong font that carries the weight of the global, human connection the brand believes in. People are at the heart of TripAdvisor as it's focus is to improve the travel experiences of others, so this typography ties in perfectly with it's ethos.
Despite the need for a rebrand, keeping the logo recognisable was key. Do you trust a hospitality venue which doesn't have their TripAdvisor rating displayed?
The TripAdvisor rating has become a global seal of approval, displayed proudly in both online and physical formats in display windows and on reception desks.
Nissan
Nissan's logo redesign was intended to mark a key milestone in the Japanese maker's transformation plans.
Their new logo has kept classic elements such as the sun and bar design but unlike previously, these are not raised. This joins the likes of Volkswagen, BMW and Mini who have replaced their 3 dimensional emblems with a 2 dimensional logo.
As well as the visuals, the font has been refined with the lettering stretched out to create more space and offer a cleaner, minimalist aesthetic.
By making the logo flat and creating more space, the new design is a lot more user friendly.
The ties in with their aim to revitalise the brand and make it more human, transparent and energised. This human element is very important as Nissan wanted something that could easily be reproduced and was pleasing to the eye.
"The overall effect of the redesign is a transition from a hard-edged, industrial feel to a refined, familiar and digital-friendly look. Nissan's new logo symbolizes the company's dedication to keep innovating for new generations of customers."
– Nissan
Nissan understands that our world is now more digitally focussed so brands need to have effective touchpoints to engage with customers in both offline and online formats.
Despite the changes to design, the company name has been kept at the centre. This evokes past memories and the heritage of the brand, whilst also conveying evolution and their commitment to adaptation.
Nissan combined the launch of the new logo with the launch of the electric Airya SUV to elevate their passion to keep innovating for new generations of customers.
Logo Redesign FAQs
We're going to look at some more brand redesign examples in just a second, but for now let's answer some of your frequently asked questions.
More Brand Redesign Examples
All of the above examples are perfect examples of logo redesigns in the modern age, but we're in a giving mood. Which is why we've gone and put together an honourable mentions section.
Think of it like a bonus round where we cover more modern logos from the brands you know and care about (or had no clue about, until now).
Like with the previous main section, we will continue to update these logo redesigns as time goes on, A) to keep this post fresh, and B) because there are always new and exciting logos to talk about.
Now, let's jump back in.

Credit to Zapier
Zapier
Savvy marketers, you've more than likely come across Zapier in your travels. You might even use it yourself to automate various marketing and business-related actions?
We use Zapier ourselves, which is what makes the brand redesign of the B2B brand so interesting to talk about.
The updated look only happened recently, and is said to represent the "infinite possibiltles for what can go onto the platform that are inspiring."
Design-wise, the platform is pretty utilitarian (their words, not ours). It's not flashy or overly exciting, but it's what their customers that do with it that makes it special, which explains why the logo is so playful; playful and yet, so professional at the same time.
Degular is a very bright type, and was chosen because "its human-forward joyfulness balances with legibility and maturity."
It's easily one of the best modern logo redesigns, hands down.
What do you think of it? Should it have made our batch of 11 above?

Credit to Glitschka Studios
Kiwi
The Kiwi brand has been around for tens, if not hundreds of years (its main thing is shoe polish, you might recognise it). With the old brand you could tell it was looking tired and dated.
But the problem is making sure you don't lose all that history and recognition in a rebrand while still making a pretty big step forward.
Kiwi have done this by creating a bold and confident Kiwi character. The bold text only adds to this version, making it quite striking to look at.
Brand recognition is still on point, with the bright red colour and the overall simplicity of its execution.
It's for this reason that Kiwi is the first entry in our honourable mentions section. The new version doesn't change a lot, which is proof that a little can go a long way.

Credit to Sylvain Labs
WNBA
You could say that the WNBA has had a tough time in separating itself from the competition.
But in times of massive social change, the WNBA has taken the step outside of the NBA box with this rebrand. Which is great for all involved, as the WNBA needed its own identity if it's to reflect the growth of women's basketball.
Knowing where you're going brand-wise is equally as important as where you've come from. There's a place for history, but memorable branding is decided by those that dare to challenge.
A bit like women's basketball, when you think about it.

Credit to Wieden and Kennedy
Formula 1
We go from one sport to the next with the F1s rebrand that left fans in a tizzy when it was announced. It's a logo rebrand we've covered before on the site in a post about sports branding.
This logo is, in a word:
Quality, despite what a lot of racing fans had to say when it was originally revealed in 2017.
Let's face it, the old logo was going nowhere fast, and it no longer captured the regal nature of the sport that emphasises tech and competition.
Many have warmed to the new F1 logo in time, but it took a while for many to go from one lane to the next as far as opinion goes. It's an example of a logo redesign that gets better with age.
It's such a drastic switch up from the original too, making it one of the perfect examples of sticking to your guns if you're looking to try something so different.
In other words, quality logo design is a marathon not a sprint.

Credit to Red & White
BT
BT's previous logo screamed early 2000s, much to its own detriment. That was until the telecommunications company rebranded and rebranded strong.
The emphasis on purple and modern design brought the company into the modern day while carving out its own little niche in contras to Sky and Virgin, two of BT's biggest competitors.
There's beauty in simplicity, and BT's updated logo proves that. If there's a lesson to learn here, it's that you don't need to overly complicate your logo designs.
Sometimes some of the simplest designs work the best at attracting your target audience.

Credit to Jones Knowles Ritchie
Dunkin
Dunkin Donuts took a bite out of its own name to become Dunkin in 2019, a change that was fuelled mostly by coffee and the rise in healthy lifestyles.
And that's not to say that people have stopped buying donuts from them either, because they clearly have given the number of pastries sold by the chain.
If you line up all previous examples of Dunkin's logo through the years you'll notice that they've made things a lot simpler with every update.
Dunkin falls into a similar category that Burger King sits in, where stripping back your branding has led to great things.
Modern Logo Redesign Spotlight: 11 Best Logo Changes
Logos are the visual representation of your brand so getting them right is crucial.
Getting the design of your logo right is arguably even more crucial as people become accustomed to your branding and it's about making a smooth transition.
Companies choose to redesign their logos for a whole host of reasons. Some require a complete overhaul whereas others just need a few tweaks here and there to make them more user friendly and to bring them into modern day.
Whatever the change may be, your customer and their needs should be at the forefront otherwise you run the risk of losing them.
It's something we see product managers struggle with a lot (coming up with logo that best represents them that they're happy with).
Logos inform overall branding, but all of the best full rebrands require a little bit more commitment to change!
If you're in the market for a new logo, be sure to get in touch with us here at Canny.
Rather than outline our process and talk about how effective we are at creating logos, we'll instead link you to our portfolio page.
Everything you need to know about our logo design skills is in there.