Writing about the most successful rebrands ever had never entered our content plan until recently.
Why?
Well, at Canny Creative, we're paid to challenge marketers, their thoughts, and perceptions. That means we often start from a negative or pessimistic perspective.
And, we're paid to look at and think about branding and rebranding, whether it works, and whether it doesn't.
Being from the rainy North East of England (where on most days it looks like "North of the Wall") probably doesn't help either!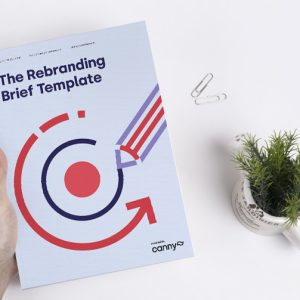 The Rebranding Brief Template
The Rebranding Brief Template is a free template that will help you get the brief for your rebranding project right. ...
Needless to say…
We're often more critical than not.
As you'd already expect, we've already covered the biggest rebranding failures of all time.
Today though, we're going to bring out our radiant sunshine, optimism, and positivity as we talk about 13 of the most successful rebrands ever.
Let's get into it…
What Makes a Successful Rebrand?
Before we dive into the list, let's look at what makes for a successful rebrand.
What gives one of these projects the title of "best rebrand" or "top rebrand?"
Is it how it looks? To a degree.
Is it how it helped the company perform afterwards? Kind of.
Is it the fact it wasn't just a straight up failure? Absolutely.
For me, it's all about the connection between the brand and their intended audience.
As we've said in nearly every one of our blog posts, and every one of our videos, and every episode of our podcast, it all starts with your target audience.
Who are you trying to reach, and are you managing it? Is the rebrand connecting to your intended audience, and are they buying in?
"Measuring ghosts" is a term that gets used often when talking about measuring the effectiveness of a branding or rebranding project, but I think you'll agree, the brands in this list made the leap from good to better.
What Makes a Rebrand Fail?
What's the flip side then?
Well, we all know what happened when Gap rebranded.
Their audience revolted. Social media (it was probably Myspace back then!) revolted, and everybody was up in arms. Nobody cared for it at all.
The backlash was so bad, they were forced to change it back almost immediately.
The same thing happened recently with Leeds United. They tried to unveil a new club logo that was torn to pieces by their fan base.
Quick sidenote:
Branding in the world of sports is something else entirely. It's easy to get wrong, and you're going up against the most vocal of fan bases on the planet. It's the most honest feedback you'll ever get.
Both of these rebrands failed, because they didn't resonate with the intended audience. In fact, it was the opposite. They responded with vitriol.
There's also something else to explore here.
Sometimes a brand or company will look to rebranding as a last resort, to save them from the brand grinder, being obliterated from the face of the earth.
And that's not entirely fair.
Sure, a top tier successful rebranding exercise can go a long way to propel a brand.
But if you're looking at a rebranding project to save your arse, it's too late.
It's like that old saying about marketing:
"Good marketing won't sell a bad product. It'll simply speed up it's failure."
I'd credit the saying, but I don't know where I first heard it. It was probably GaryVee.
Right…
Now that we're done with the definitions, let's get into the list of the best rebrands and most successful rebrands ever.
The Top 13 Successful Rebranding Examples
You've probably heard of nearly every brand on this list. Perhaps that's a sign they're among the top rebrands?
Anyway:
Here are the most successful rebrands ever, in no particular order.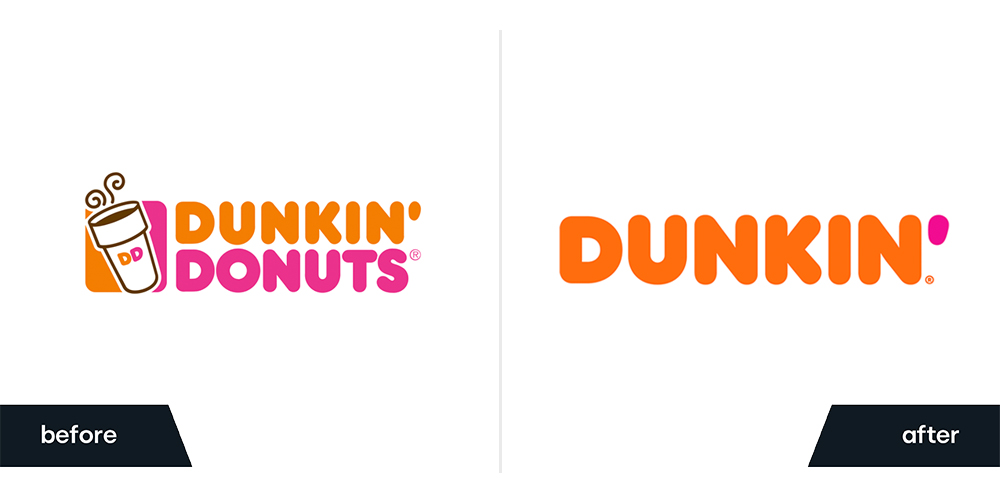 Dunkin's Rebrand Drops The Donuts
Not long ago, Dunkin' Donuts became Dunkin' (and on their cups and branded merchandise, even DNKN').
Their rebrand was handled meticulously by Jones Knowles Ritchie, and it's not their only entry into our list of top rebrands.
We've actually covered Dunkin's rebrand before on multiple occasions:
Firstly in our post about tea and coffee packaging design
Secondly, in our post about food packaging design
And now we're talking about it again. Yes. It really is that good!
So what makes JKR's rebrand of Dunkin' so successful?
First of all they capitalised on the popularity of Dunkin's coffee, and did away with the donuts. Brave move for a brand that had built it's reputation on donuts.
But brave moves can help build great brands.
Dropping the donuts also helped with their brand positioning, immediately taking away the question – "do they only sell donuts?"
When they announced the rebrand, a lot of their launch collateral was focused on this messaging too. They rolled out animations like the below:
Jones Knowles Ritchie also played a great game by essentially keeping true to the previous Dunkin' identity in everything but name too.
The big curvy typography is still there, so is the colour palette. It's almost exactly the same.
They've cleverly changed the apostrophe to the pink colour. Remember kids, an apostrophe is also used to denote missing letters, not just to show one thing is possessive of another. It's a clever play on the removal of Donuts.
The fact the slogan for Dunkin' Donuts was already "America runs on Dunkin'" is proof that the renaming of the company is another step in the right direction.If people are already calling it Dunkin' anyway, then JKR are helping people out by having the brand steer into it.
The brand identity rolls beautifully through all of the packaging, cups, and associated paraphernalia too.
Anyway, 'nuff said.
Top Takeaway
Not every rebrand is all about changing the entire corporate brand and identity and associated visual system. Getting your brand positioning right in the hearts and minds of your customers with a "simple" name change like this, is worth every penny spent on the rebranding project.
Burberry's Rebranding Magic
Burberry have gone through several rebranding efforts over the last few years. Their 2009 rebrand was far and away their most successful.
Let's just put it out there:
Before their successful rebrand, Burberry was for chavs (townies, hoodlums, gangsters – depending on where in the world you're from.) Put it this way, nobody with any decency would be seen dead in anything Burberry in the late 90s / early 00s.
And then, they performed some rebranding magic by making the new movie superstar, Emma Watson (of Harry Potter fame) the face of the company
Suddenly, Burberry was all the rage, and Emma Watson's fashion status eclipsed her movie status. No easy task given the fact that the final instalment of the Harry Potter franchise was about to be released in cinemas.
So what did Emma Watson do for Burberry?
She was the start of their 2009/2010 autumn/winter campaign, with photographer Mario Testino shooting the photos in Westminster in London, just around the corner from Burberry HQ.
Modelling a classic Burberry Trenchcoat:
The results of Miss Watson's photoshoot are perfectly aligned with the chic and oh-so British style of Burberry. By Jonathan Fulwell (Source: C. Vautard)
As a result, Campaign magazine reported that Burberry's revenue was up £1.2bn, exceeding the £1bn mark for the first time, and up 21% on the previous year.
On top of that, the young Harry Potter actress had also managed to shed Burberry of the "cheap market stall cap worn by scallywags" image.
Avada Kedavra to you! (That means it's dead, to anyone that hasn't read or watched Harry Potter.)
Rebranding success.
Top Takeaway
Sometimes you need to go backwards to go forwards, and that's what Burberry did here. Again this rebrand wasn't about changing course, it was about reminding people exactly what Burberry is all about.
Mailchimp's Rebrand Goes Bananas
You may or may not be familiar with email marketing platform Mailchimp, so let me take you for a brief trip down memory lane.
Mailchimp was launched all the way back in 2001. It was early in the world of email and newsletter campaigns!
And even back then, their brand featured a monkey in a hat who came to be known as Freddie.
I first ran into the Mailchimp brand back in 2012 when they released their very first public annual report, causing a huge buzz in the marketing world.
Freddie had really grown up. Into a 8ft tall real life character, walking around the streets getting his photo taken.
It was surreal yet beautiful.
The brand grew and grew and then they sponsored Serial, the world's biggest podcast. And they grew even more.
And then, bang. The rebrand happened.
They took Freddie the Mailchimp back to basics by flattening him out. The brand mascot had a fresh new do. And people were buzzing for that.
Freddie was now simple and memorable. Two of the five essentials for creating an effective logo design.
They also opted for a sans-serif logotype and people were upset about losing the traditional Mailchimp script font they'd come to know and love. A disappointment for sure.
But…
People quickly got over it when the agency behind the rebrand, Collins, revealed their masterstroke. The beautiful hand drawn illustration library they'd created to support the rebrand.
These sexy sketches were everywhere. They were clever, interesting, metaphorical, moving, and a lot of other adjectives too. At the same time, banana yellow was reintroduced into the brand's palette for the first time in a long time.
This is what Mailchimp had to say about their successful rebrand:
With this redesign, we set out to retain all the weird, lovable elements that endeared our earliest customers to Mailchimp, while creating space for the brand to grow and connect with even more small businesses. We didn't want to lose our heritage in the process, so we focused on capturing the essence of what Mailchimp has always been.
The long and short of it is Mailchimp grew, grew some more, sponsored a podcast, rebranded, and the whole thing went bananas.
Top Takeaway
Rebranding isn't a tactic for when you're failing. Mailchimp were on top of the world, and by having their in-house design team partner with Collins, they took the brand from good to great. You can always improve your visual identity.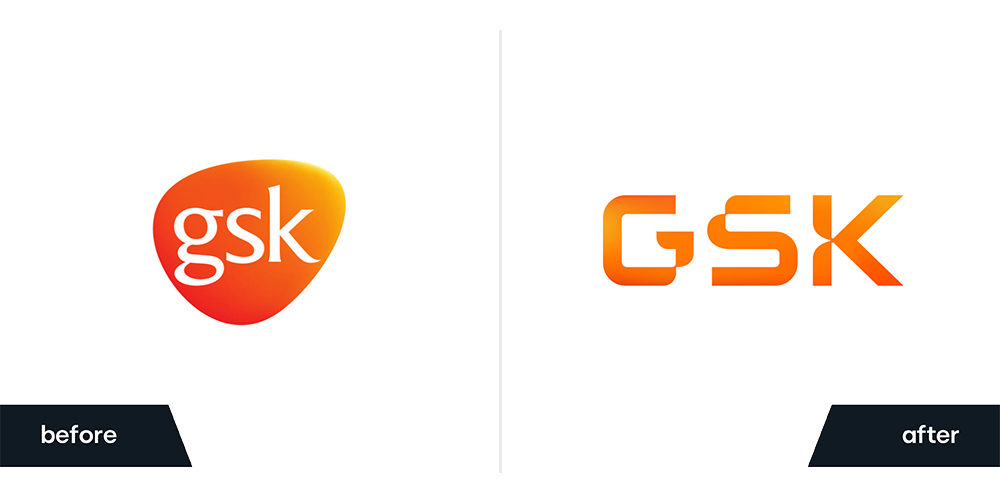 GSK's Rebrand Brings the Human Touch to Big Pharma
Glaxo Smith Kline is the result of a lot of pharmaceutical companies merging together.
If you're not sure who they are, but you've ever had a malaria vaccine or brushed your teeth with Aquafresh, then you've used their products.
And yes I know, it feels a weird disconnect, vaccines and consumer packaged goods. But it's all pharmaceutical so it all goes together.
The Glaxo Smith Kline rebrand to the much shorter, snappier, and easier to say, GSK, was handled by one of my favourite creative agencies, Wolff Ollins.
So what's it all about? And why does it make the list of the best rebrands ever?
They've rolled it out under the pretence of a "50 year celebration" which doesn't feel hugely relevant when stacked against the quality and effectiveness of the work.
First there's the shortened name, which of course has resulted in an excellent new brand identity.
Gone is the weird pill type oval shape. Gone is the awful typography.
And in comes a sexy new logotype that stays true to the orange colour palette already established by the brand.
The logotype is rounded in all the right places, bringing a sort of friendly and approachable feel to a huge corporate conglomerate.
They've coupled that with some excellent people focused photography to bring a genuine and personable feel to their identity. Not something I thought I'd ever say about big pharma.
To me, it feels like they've made pharmaceuticals accessible and interesting to the rest of the world. It almost looks quite startup-esque. Make no mistake though, GSK faces much different challenges than startups when it comes to their brand and marketing.
This rebrand succeeds based on the identity changes alone. Couple that with the name shortening and bringing in a real world feel to the world of giant corporations, and GSK have a real winner.
Top Takeaway
You haven't always got to change everything. Think about the real challenges your brand is facing and go from there. GSK faced a naming challenge and a lack of connection to people. They kept their orange palette and iterated on the rest. You don't always have to change everything.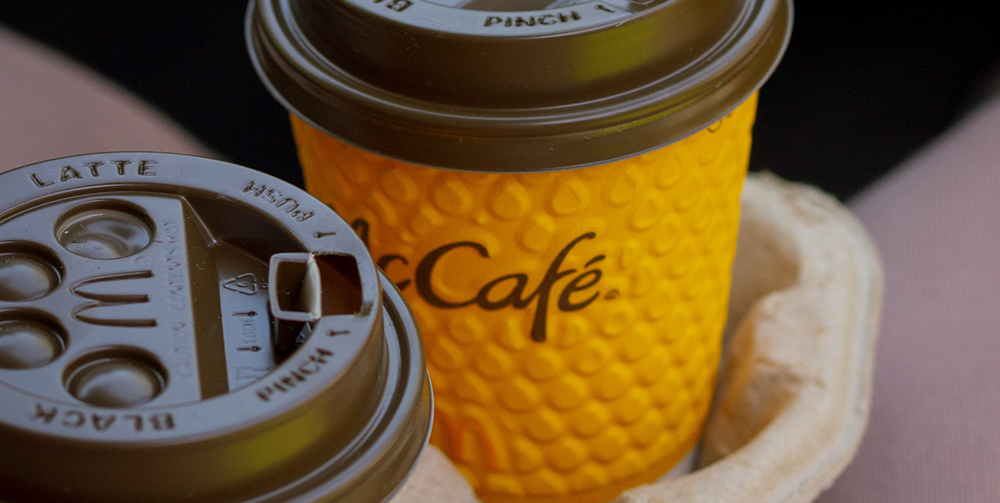 McDonalds' Rebrand Ages Up
Right, we all know McDonalds.
We've all been seduced by their glowing Golden Arches on a late night drive. We've all sneaked in a dirty double cheeseburger on our way somewhere.
But those Golden Arches have never changed. And the fries have always been served up piping hot in their classic red packaging.
Their other packaging design changes quite a bit.
With that said then, what McDonalds rebrand am I talking about?
Cast your mind back to being young. Depending on your age you'll remember certain things about McDonalds:
Every kid in your class having a birthday party there
Ashtrays on the tables
An abundance of characters from the creepy Ronald McDonalds to the ever awesome Grimace and of course, the Hamburglar
Classic Happy Meal toys
Red and yellow everywhere
And then:
They introduced the McCafe.
They went upscale. The design brief was likely "make McDonalds more like Starbucks."
They introduced free wifi that was actually good. They improved their coffee. Salad was introduced to the menu. Vegetable and fruit bags became options in Happy Meals.
They retrofit all of their restaurants to appeal to their target audience, who were growing up.
I've actually had several meetings with clients and suppliers in the McCafe. And it's great.
Their successful rebrand, like Dunkin's, was all about a repositioning. And it worked beautifully.
The good stuff never went away. The audience just got older, had their own kids, and introduced them to it too. McDonalds has been successful in appealing to both audiences.
And there's less of the creepy clown brand mascot, which can only be a good thing!
Top Takeaways
Audiences change. In marketing, nothing is forever. New developments in the market, technology, ageing, things in the real world, the news, and more, can all make a massive impact. Revisit your ICPs regularly and adjust your brand and marketing to suit.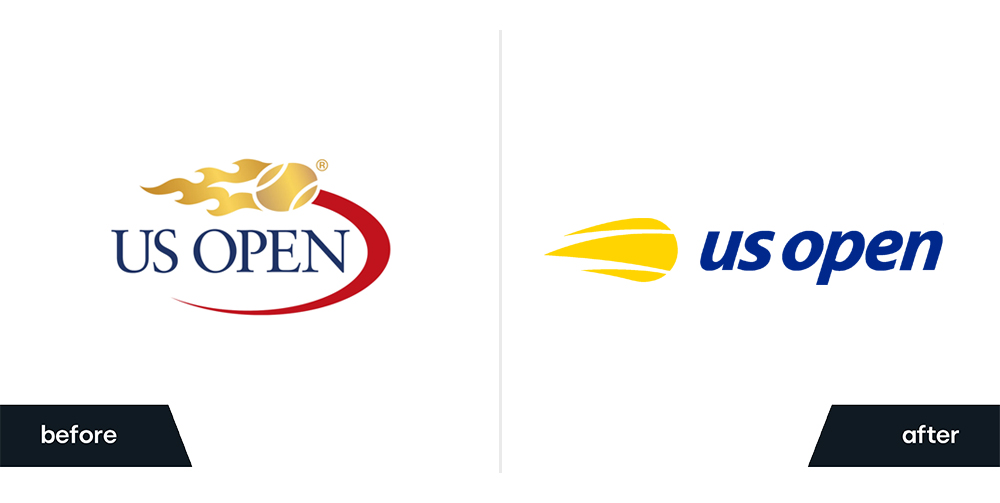 The US Open's Rebrand Has Everyone In Love
As I mentioned earlier in this post, the world of sports branding is absolute insanity.
You're dealing with the fans who love the sport, the athletes playing the sport, and of course, the general pubic, who are never the easiest of people to please.
The world of tennis is flush with iconic brands, including the Wimbledon Championship, and the recently rebranded Australian Open.
The US Open came in swinging with their rebrand back in 2018. And to say it split the audience would be an understatement.
People said:
It's too simple
It doesn't look sporty enough
It's boring
It looks like a rubbish version of the existing logo
Why bother?
But they bothered for a lot of different reasons.
Like GSK, the brand identity redesign is to help celebrate their 50th year. But also, their rebranding brief was to bring a whole new experience to tennis fans.
The identity is a lot more modern. From the website and app experience, to the screens inside the stadium, it works better digitally.
To be blunt about it, it just feels more like a brand.
There's now a huge range of great looking branded items and collateral out there that people actually wear with pride. The t-shirts, caps, and water bottles, blue with the emblazoned yellow logo just like right.
And:
Every time I see the new brand identity on screen, or on social media, it leaves me impressed.
The blue and yellow stand out so well against the natural greens of tennis or against a busy crowd.
It's simple, which I have no problem with, and it's effective. It all contributes to making their rebrand succeed..
Game, set, and match.
Top Takeaway
You're never going to please everyone with your rebrand. The design community will probably hate it, social media will revolt, and you risk alienating your diehard fans, or your audience in general. However, that's not a reason not to rebrand. If you have the right reason, then you've got to steer into the fear!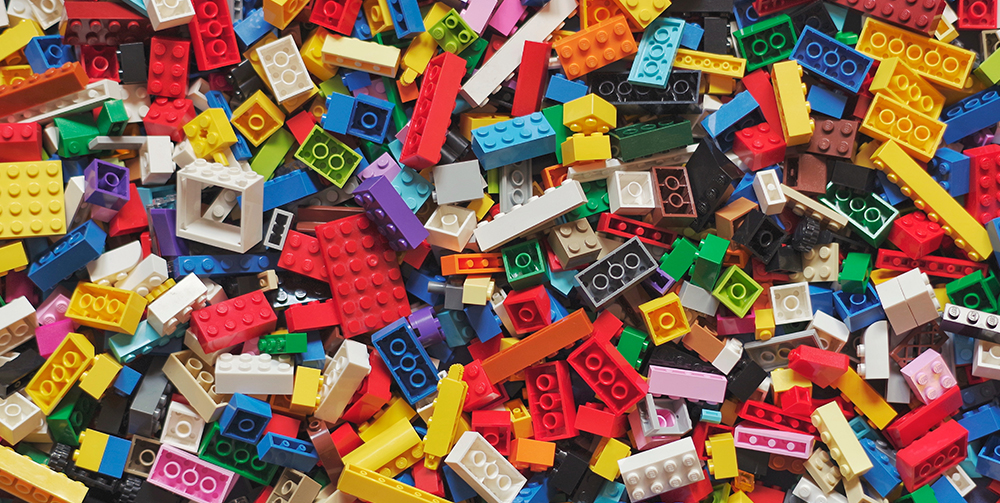 Lego's Brand Gets Torn Down and Built Back Up
Lego has been torn down and built back up more times than, well… Lego.
Can you honestly ever picture Lego failing?
No, me neither. But it has, and it's been brought back from the brink of death multiple times by reinventing itself and listening to its customers.
Their most recent revival has been hailed as the greatest corporate turnaround in history. It was actually so good it led to them overtaking Ferrari as the world's most powerful brand.
Let's take a look.
Back in 2001, Lego we're burning through money all over the place. They'd taken the Mattel approach and launched branded:
Clothes lines
Theme parks
Jewellery
A video games studio
And most of them failed. The theme parks cost £125m to build and lost £25m in their first year alone. No amount of theme park marketing is going to pull that around quickly.
Enter Vig Knudstorp, saviour of the Lego corporation. He joined the company from McKinsey back in 2001 and was promoted to "boss" within 3 years. Crazy career trajectory!
He rescued Lego by rebuilding it. Brick by brick.
First, he cleaned up some of the operational things at Lego, including:
Selling the Legoland parks to Merlin Entertainments (Lego make toys, not theme parks)
Reducing the amount of brick shapes Lego produces by half
Then he introduced the Lego Creators initiative, where people that suggest winning Lego set ideas, get 1% of the product's net sales.
The Lego Movie was the next masterstroke. "Everything is Awesome" was stuck in everybody's head for at least a whole summer back in 2014.
The movie was insanely popular and received widespread critical acclaim. Outstanding performance for a movie about toys. It also went on to spawn other movies in the Lego Universe such as The Lego Batman Movie and The Lego Ninjago movie.
And on top of all of that, Lego just started making great toys again. Classic lines like City and Space were given a new lease of life. And they introduced new sets and ideas too.
There were countless other marketing campaigns, programs, and initiatives that helped Lego turn their future around.
But how does this all related to rebranding and not just business strategy?
Well, they go hand in hand.
But what Vig Knudstrop did at Lego, was realise what the Lego brand is and isn't, drop the stuff that wasn't working and double down on what did.
He revisited and then utilised their brand strategy, stayed the course, and stuck the landing.
Top Takeaway
Don't try to be something you're not. Lego diluted their efforts and nearly paid the ultimate price. By planning your brand strategy effectively, and sticking to it rather than chasing shiny objects, you'll see better results.
Burger King's Retro Rebrand Sizzles
The King is dead. Long live the King.
In 2001, Jones Knowles Ritchie (yes, them again, they're really good at rebranding!) killed of Burger King's high gloss identity.
Gone was the shiny bun, faux-3D appearance, and meaningless blue swoosh.
And in came one of the most admired rebrands in recent memory.
The visual look and style of Burger King's rebrand was one of the biggest talking points online for at least a week. In internet terms, that's like 100 years.
Even the design community was positive about it! And that's a near impossibility.
It was so good that we instantly jumped in and made an episode of Rebrand Review about it:
And it may, or may not, have been our highest scoring rebrand ever!
The brand identity that JKR introduced for Burger King, is a retro throwback to their 1969 through 1999 identity. A flat burger bun with the words Burger King sandwiched between it in red bubble style typography.
It's clean, it's iconic.
But it's the way the brand adapts and works across all of Burger King's brand touchpoints that puts the cherry on top of the already beautiful cake.
Here are some of the highlights of this outstanding rebrand:
A monogram design that cleverly combines the B and K
Typography that grows, stretches, and adapts to create unique illustrations
A colour palette that is grounded in natural earth tones
Staff uniforms that look like they're straight out of a fashion shoot
A digital application that combines retro and modern with spectacular results
The success of Burger King's rebrand is testament to the hard work and creativity of the team at Jones Knowles Ritchie.
The agency's ability to strike the perfect balance between nostalgic and modern have helped to revitalise the Burger King brand and drive the fast food chain forward.
Now, it's time for a Whopper.
Top Takeaway
The speed of your brand activation and rollout is key. When it comes to your rebrand, make sure you roll out everything together, and change your existing collateral at the same time.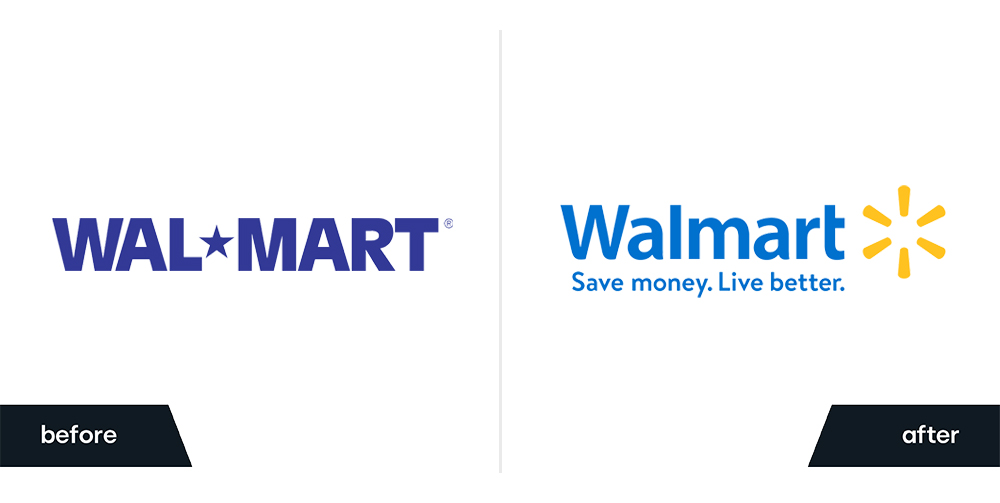 Walmart's Rebrand Offers a Fresh Spark of Inspiration
Way back in 2008, Wal-Mart became Walmart.
At the time, nobody could have given less of a hoot. Under Consideration claimed it as "the most underwhelming [rebrand] unveiling yet."
But 2008 was a different time. And had Walmart rebranded 10 years later in 2018, I think their rebrand reveal would've been handled completely differently.
More than 10 years later though, the success of the Walmart rebrand is easy to see.
Designed by New York based agency Lippincott, the identity has become well respected. It still stands the test of time even though it was designed way back in '08.
Why?
Because they've followed the golden rules of creating a lasting and memorable brand. Keep it simple.
On top of that, a copy of their full brand guideline was released online which brought a new level of critical and design thinking to the change.
The "Walmart Spark" has become an icon known the world over.
It even got introduced to Asda's brand identity in the UK when Walmart wanted to make their presence known overseas.
The way it's used is outlined in a separate document, and this level of detail alone is worth noting. They have rules, regulations, and considerations for everything.
As well as the introduction of the Spark, Lippincott changed the tagline from "Always low prices." to "Save money. Live better." The idea behind this change was to appeal to the lifestyle side of shoppers, showing them the benefits that Walmart provides.
Although, having seen the amount of packaged candy, chips, and soda they sell – I'd have to disagree with the "live better" statement.
On top of that:
With acquisitions in the UK such as Sainsbury, the introduction of online shopping and curbside pickup, their 2015 purchase of Chinese e-commerce retailer Yihaodian, and the growth and explosion of Sam's Club, Walmart are leading the pack in what they're doing in the retail world.
And on top of that, in 2018 they launched a tech incubator initiative called Store No.8 that focuses on transforming the future of retail, cementing their position as a market leader.
In the USA, Walmart turns over nearly double Amazon. That's crazy when you consider the size and scale of Amazon and everything you know about it.
And all of this has happened since their rebrand.
Overall, the campaign was a massive success. Soon after the new tagline and logo appeared, people started rushing to Walmart to see if shopping there will really make their lives better. And when they got to the stores, they were greeted by a completely new visual experience. – Brandsonify
The fact it's still alive and kicking so many years later, and still looks as fresh as it did back when it was released, says it all.
Top Takeaway
There's more to brand identity design than your logo. Even looking beyond brand strategy, and purely at the visual identity, you've got the logo mark, the type, colours, guidelines, tagline, and many other brand touchpoints to consider. Redesigning your logo alone just won't cut it.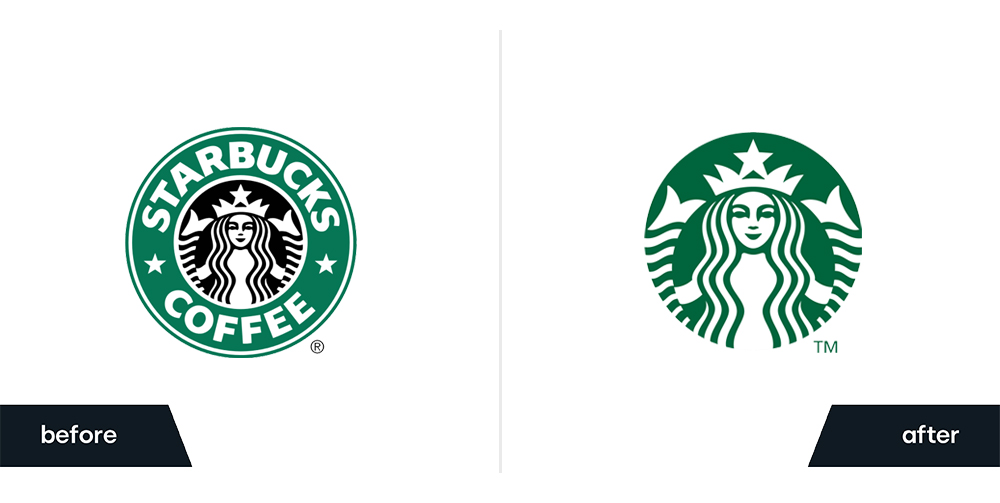 Starbucks' Rebrand Strips It Back to Basics
Starbucks was one of the first major brands to simplify their identity.
"Pointless, stripped back to nothing, hate it, Starbucks are done, rubbish." That was the sentiment back in 2011 when it first happened.
People hated it. They revolted.
Why did they do it then?
Starbucks had built a brand built around coffee. They were coffee obsessed, and had built a space dedicated to coffee lovers. A lack of innovation though started to show cracks in their previously unbreakable armour.
They needed to introduce new products, new ideas, and attract a wider spread of customers. But with a name and identity positioned around coffee, how exactly were they going to do that?
Fortunately, there was a simple solution staring them right in the face.
They removed the words "Starbucks Coffee" from the outside of their logo mark, and changed the siren from black to green, representing their commitment to the environment. They also simplified the siren shape and tidied it up.
To be fair to Starbucks, the simple tweaks made to the logo and the siren, do make it easier to spot a mile off. And even thought it was disliked to start, it has become accepted.
The success of this rebrand is fairly straightforward.
Starbucks Coffee became Starbucks, and they added interesting and diverse new product lines as an alternative.
The introduction of a loyalty scheme and writing your name on the takeout cups helped too. Visiting Starbucks feels personable. Like you belong to a club, but not a cult.
With all of this combined, Starbucks have become more easily recognised, and now attract a wider audience of people who are passionate about the brand.
Success, even if their coffees (and other products) do cost £5.
Top Takeaway
Sometimes the answer is right in front of your eyes. You don't always need to overhaul your entire brand strategy and identity, to make a significant impact. Think before you go storming in, sometimes less is more.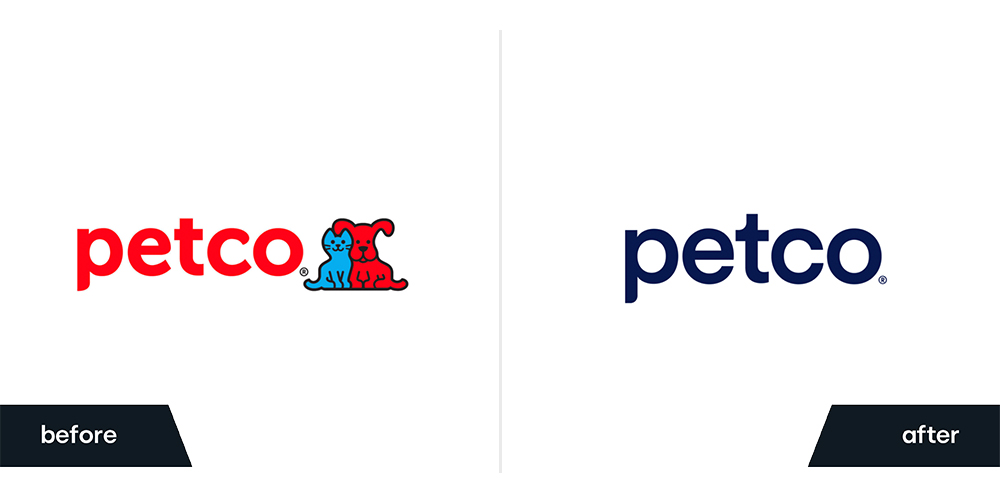 Petco's Rebrand Brings a New Focus to Health and Wellness
We don't have Petco in the UK, but we knew about their 2020 rebrand.
So what happened?
First up they dropped Animal Supplies from their name, formally becoming "Petco, The Health + Wellness Co" which in turn brought around some big changes.
It was a change in company mission, from selling supplies, to improving the health and wellness of pets and their owners.
And the change in brand mission forced their hand.
Their brand identity went through a complete overhaul, changing everything from the typography they use to their colour palette, packaging design, and even their brand mascot characters!
Everything they put out into the world after their rebrand had a focus on health and wellbeing, or at least it was designed to feel like that. Happy animals, happy owners, happy planet seemed to be the vibe they were going for.
The one item people weren't happy about losing was the dog and cat characters that sit by side, and appeared to fit together like a jigsaw puzzle.
However, they were bright blue and bright red, which goes against the new well-being angle that Petco is putting out there.
It's understandable that they changed them. They still exist, but now they appear to be on the side of delivery boxes.
Their new colour palette also helps differentiate them further from competitors Petsmart, which is a big step in the right direction.
Having a brand identity closely aligned or easily mistaken for another company is a big no-no.
Differentiation is key in branding and marketing. In fact, it should probably be a standalone item when it comes to branding services.
The new packaging design is smart and sleek. A complete contrast to pet ownership. But, it's instantly recognisable and looks great in their promotional materials.
On top of their visual change, Petco is planning a further expansion into the world of pet care. To truly reinforce their new brand positioning, it appears they are:
Looking to expand their in-store vet hospital and treatment centres
Create new and expanded healthcare solutions including a reward programme and nee annual insurance options
Working on a full redesign of their website and app, including online appointment setting, curbside pickup, and same-day delivery
Although the identity hasn't been a smash hit with fans of the brand, the company appears to be moving from strength to strength.
What Petco have achieved with their rebrand, is take a brand that's quirky and unique, and maybe a little rough around the edges, and make it appeal to a mass market.
It might seem boring, but it's likely needed for them to step up to the next level.
Sometimes you have to do unpopular things. For all I'm a fan of the Petco rebrand, it didn't land with everyone. But that's okay. If you have a mission, then sometimes you're going to upset a few people along the way to achieving it.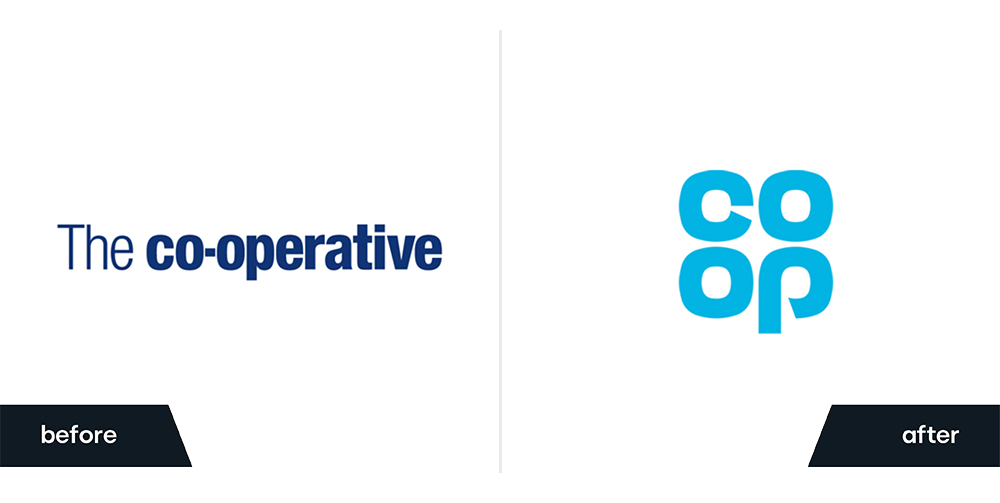 Co-Op's Rebrand Loses the Corporate Identity
The Co-Operative Group is responsible for a lot of brands and shops that appear on the British high street.
They include:
The Co-Operative Food
The Co-Operative Bank
The Co-Operative Travel
The Co-Operative Funeral Care
You get the picture. Things people need, but aren't crazy about.
The Co-Operative brand has existed since 1844 but in the mid-2010's it all nearly disappeared. The banking brand lost £1.5billion and their chairman left in disgrace as a result of a personal scandal.
Needless to say, it was a rocky time for the brand.
They brought in a new leadership team who immediately looked at restructuring and rebranding the company.
For reference:
Everyone in the UK calls the food shop "The Co-Operative Food" – "The Co-Op" – naturally. Because it's much much easier to say.
So that was an easy first win for the new leaders. Out with "The Co-Operative" and in with "The Co-Op."
They then introduced a new logo. Similar to the Burger King rebranding above, they brought back a nostalgic identity by reintroducing the cloverleaf type design, albeit a little more modern looking.
The nostalgic logo combined with blue, which as we know from colour psychology invokes feelings of trust, compassion, and security, reminded customers of happier times.
The new management and leadership team also re-adopted the "members first" approach from the old days. This could be seen in their tone of voice, language used, in-store, promo materials, marketing and advertising and more.
The customer was back at the heart of The Co-Op.
After the rebrand, they also brought in Leeds based Robot Food to redesign the packaging for their alcohol, baby food, and vegetarian food ranges.
Each of these designs breathed further excitement into the rebrand, and showed customers how the brand was going to look, feel, and act moving forward.
In 2017, the year after the rebrand, The Co-Op operated at a profit. Members received £61million in rewards, and the brand spent £13million on a range of different community products.
Robot Food also reported that their packaging redesigns helped contribute to a 21% increase in alcohol sales too.
Another clear sign that the rebranding campaign worked was the 15% increase in active membership.
Things appear to be on the mend for The Co-Op. Hopefully that means we get even more amazing packaging designs soon!
Key Takeaway
Sometimes you have to make big moves to make big changes. With the correct planning and a strategic plan in place, rebranding will positively impact your bottom line.
GoDaddy Ditch The Nerd with Their Rebrand
GoDaddy, as historically problematic as they are, managed to pull off one of the best rebrands in the last several years.
We actually reviewed this one on Rebrand Review a while back:
At the time, we weren't super hot on the GoDaddy rebrand but it did earn an admirable score nonetheless. Keep in mind when watching that it had only just been released and we weren't sure how it was going to work long term.
Now we've had a chance to live with the rebrand, and see exactly how it's unfolded, it's safe to say that not only has it worked, it's been a roaring success.
The problem GoDaddy were facing with their brand, in all honesty, was not being taken seriously.
That stupid looking logo with the ginger nerd looking guy was hideous. And it made them look like a dated, nerdy, overly techy company. They also had a horrendous reputation for customer service and support, something again, that you'd associate with the tech industry and specifically, cheap website hosting companies.
At the time of the rebrand, the design industry lamented the loss of another "interesting characterful brand" – and in hindsight, it was the right move.
Before the rebrand, anyone that took business even half seriously, wouldn't have touched GoDaddy's services with a large shitty stick. They were bottom of the barrel jokers, who sold crap services, and were impossible to get help from.
But their rebrand has helped them turn the tides.
First of all, they managed to change their brand identity in a way that retains character and completely modernised the brand. This helps them look like the professional outfit they are.
Even though the logo design itself is a little plain, the main brand colour palette, typography, and distinctive illustrations stand out a mile. And the motif and meaning in the heart in the logo is actually quite nice too.
As well as the visuals, they've revolutionised their customer support.
It's now easier than ever to contact GoDaddy and get an actual human, with a helpful response.
For a company that helps small businesses get set up online, that's a massive tick in the way the company has changed since their successful rebrand.
With their audience in mind, GoDaddy has created an approachable, modern looking tech brand that will help millions of businesses get set up in the future.
Key Takeaway
Rebranding without a purpose or a plan is completely pointless. It's a marketing tactic that should be used when you've got something to change at a company wide level.
13 of the Most Successful Rebrands Ever (with Key Takeaways!)
People dive into the rebranding process. And sometimes they do so without a good reason. If you're going to rebrand, make sure you're rebranding for the right reasons.
Remember, a rebrand won't save a business that's failing. That's money down the drain that you could be using elsewhere.
As you'll notice from the rebrands in this post, there are 3 recurring themes:
Brand positioning – use rebranding as a way to change your position within the market
Audience – use rebranding if you're looking to connect with a completely new audience
Visuals – use rebranding to improve the visual strength of your brand, but remember, it's not just about changing your logo!
Rebranding can be used to drastically impact your businesses bottom line, and in turn, it's trajectory
It's not something that should be taken lightly, and you should always do a good amount of sense checking before diving in.
If you're going to rebrand your business, then choosing the right rebranding agency is key.
We'd love to help out with your project, so why not contact us?