Nordstrom Rack first opened its doors in 1973 as an off-price division of Nordstrom Inc – an American luxury department chain headquartered in Seattle.
The store offers up to 70% off regular prices from brands that customers would usually find in the main, luxury department store.
The first Nordstrom Rack opened as a clearance center is the basement of downtown Seattle yet it has since expanded into 250 stores across the United States, providing more affordable yet high end, accessories and apparel.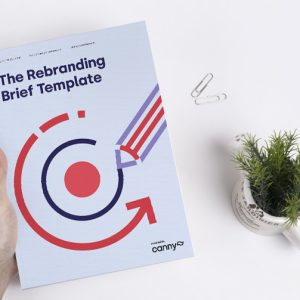 The Rebranding Brief Template
The Rebranding Brief Template is a free template that will help you get the brief for your rebranding project right. ...
Eight more stores are set to open this spring as the brand continues to penetrate the off-price retail market. However, to help differentiate the store in an increasingly competitive space and to attract new customers, Nordstrom Rack has introduced a new identity designed by Jones Knowles Ritchie.
And it seems the design studio has looked back in time for inspo rather than looking forward, to create a logo that is reminiscent of the 70s and 80s.
This is a design trend that we've seen a lot this year, so has it been executed well?
Let's take a look at the details.


Credit to Under Consideration
Making the brand more independent
The only issue with the previous logo is that it was a little dull.
It was also a bit rigid and lacked any sort of personality.
Considering the store offers luxurious brands at slashed prices, they could have had a lot more fun with their visual identity. They're also appealing to a different audience as these are buyers who probably have less disposable income and want more discounts.
The previous logo was very (if not too) similar to the Nordstrom Inc logo, which didn't differentiate what the two brands have to offer.
Whilst they are sister companies, Nordstrom Rack serves a different purpose which is to allow customers to enjoy the same high-end brands but at a fraction of the cost.
The new logo now allows the discount store to exist more independently from the pricier brand and to build a personality of its own. In turn, this better reflects the prices, offerings, and shopping experience that are inevitably going to be very different from going to the luxury department stores (and paying the more expensive prices).
It also demands more attention as the new design has a strong visual presence with its chunky, unapologetic lettering. This is a bold wordmark and makes the distinction between Nordstrom Inc and Nordstrom Rack much clearer.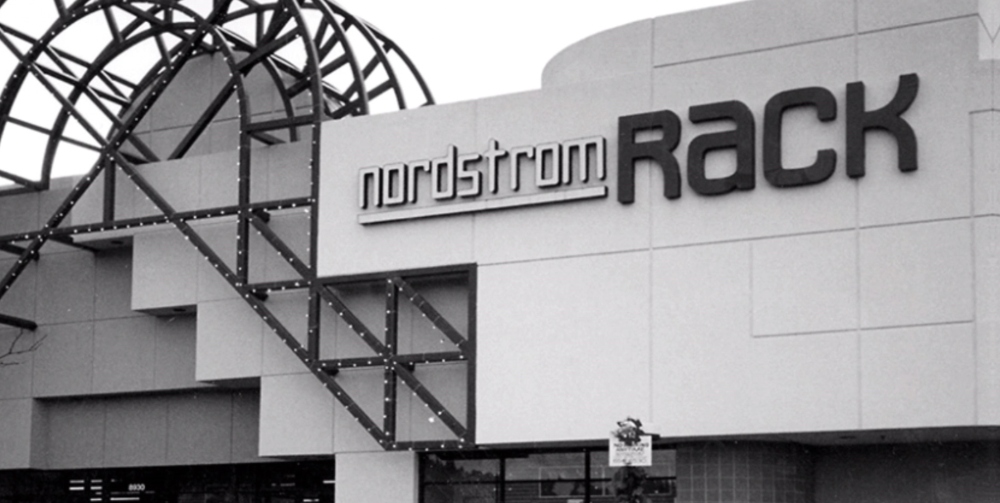 Credit to Under Consideration
A retro-esque logo
The updated logo takes inspiration from the version used in the 1980's (as seen above) without going overboard.
There is a good balance of retro-style and modernisation to create something that appeals to the consumer of today. Jones Knowles Ritchie have also introduced a modular grid, so that the updated mark can be responsive on a range of platforms, both physical and digital.
As mentioned above, the logo is very chunky and looks like it's been cut out of blocks with only a teeny amount of space in the middle to make each letter make sense. The size of these letters and the brighter colour palette also signposts towards a louder, more confident brand expression, again giving the brand greater independence (instead of it living in the shadows of Nordstrom Inc).
Something else that intrigues me about this logo is the inclusion of the uncapitalised 'a'. It's the only letter in the wordmark which isn't capitalised and again, I think that adds a sense of playfulness and differentiation.
Also, regardless of the mix of capital and non-capital letters, all of the letters are the same size. This means even when the logo is stacked so that the 'R' and 'A' sit above the 'C' and 'K', it still makes sense and is easy to read.
This all feeds into the sense of playfulness and personality that JKR have added to this rebrand.


Credit to Under Consideration
Playful or too Playful?
Whilst injecting a sense of playfulness into the Nordstrom Rack brand was overdue, I'm left wondering if applying this approach to the whole identity is a bit too far.
This becomes more apparent when you look at the logo and identity in terms of product photography and the advertising campaigns.
It's almost so blocky and bold (both the typography and the bright colour palette) that it's very in your face.
Whilst this definitely demands your attention and is great from a marketing perspective I'm not sure if it's too distinct from Nordstrom Inc.
It's almost like the identity is too fun that it detracts from the luxury affiliation — even if it's just by name — to Nordstrom.
Also, because 'RACK' can sit quite comfortably on its own without even including the word 'Nordstrom', I wonder if people start to use this when talking about the brand.
If so, this detracts even more from the high-end affiliation as 'RACK' sounds very much like a discount store where you can expect rock-bottom prices.
It's a fine balance between creating a distinction between the two stores to reflect the two purposes they serve whilst retaining the luxury aspect. After all, the brands you find at Nordstrom Rack and still high-end, it's just the price point that alters.


Credit to Under Consideration
Now There's a Throw-Rack! Nordstrom Rack Rebrand Explored
All-all-in, despite my reservations about the brand pushing the 'playful' element too far, I think this rebrand has been well executed.
It's bold, eye-catching, and serves a different purpose to the main brand so it's only right that it has its own identity.
Instead of living in Nordstrom's shadow, the sister store can exist independently whilst attracting a different type of buyer with a different type of budget.
For this reason it makes sense that the updated brand identity is bolder and more expressive to differentiate its offering in the marketplace.
At Canny, we love dissecting rebranding projects, working out what works and what doesn't. We've partnered with numerous clients around the world, helping them transform their branding to better connect with their target audience. To find out more about how we can help, get in touch!