We wrote "our 10 favourite creative agencies" a long, long time ago. Way back in 2013 to be specific, back when the creative design agency landscape looked a lot different.
At the time, I was the only person working at Canny.
Since then, we've grown into an agency 10x the size!
And with our growth comes a completely different viewpoint, not to mention, a greater understanding of the best creative design agencies out there, currently.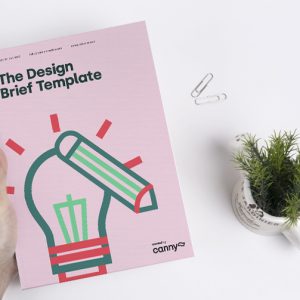 The Design Brief Template
The Design Brief Template is a free template that will help you get the foundation for your design project right. Whet...
Bottom line? We thought it was time for an update to our list of our favourite creative agencies.
To accompany this post we also put together a quick video where I break down 5 of my favourite creative agencies.
Here's the video for those interested:
*Spoiler alert*
The 5 creative design agencies mentioned in the video are also included in our list below; as are some of the OG agencies listed in the 2013 version of this post.
That said, some of the agencies covered in that 2013 post no longer exist, unfortunately.
This post goes out to them and their work that constantly inspired the rest of us.
Now, let's get going.

Image from Design Week
Pentagram
How Pentagram wasn't included in the list of our favourite creative agencies to start with is beyond me.
I'm blaming it on being young and naive to the world of branding back then!
For those that don't know, Pentagram is one of the largest design firms in the world, with studios in Berlin, London, New York, Austin, and San Francisco.
Pentagram's studios are all independently owned and operated, but all come together as part of the Pentagram brand.
Highly active on Instagram, every single thing that comes out of the agency is tremendous.
Picking a favourite project is impossible, so I've picked several.
Check out Pentagram's work for:
These three projects alone will show you what some of the top creative thinkers in the world can do!

Image from Under Consideration
Focus Lab
Focus Lab was on our original list of our favourite design agencies. And they remain one of my personal favourites.
Watching them evolve over the years has been an interesting journey.
Pioneers of the Dribbble platform, Focus Lab (and Bill Kenney in particular) shot to fame by creating striking, desirable brand identities that captured people's imagination.
Since then, they've grown out a massive staff team from their Georgia based office space and they've picked up clients such as Adobe, Netflix, and Marketo along the way, too.
We may as well just make three the magic number, because there's no way I can pick only one Focus Lab project to showcase.
Have a look at these 3 projects to get a sense of the depth and breadth of the creative work the Focus Lab team create:

Image from Landor
Landor
Thousands of brands that people encounter every day were created by Landor.
Brands such as Kellogg's, British Airways, Volvic, BMW, Citroën, INTU, Jameson (we could go on) were all crafted at the hands of brand transformationists, Landor.
Whether they're re-positioning companies with nearly 100 years heritage, creating interactive art showcases, developing restaurant concepts or delivering viral campaigns, there's not much that Landor can't do.
Check out some of our favourite projects below:

Image from The Brand Identity
DesignStudio
We can forgive DesignStudio for having probably one of the best URLs ever, because truthfully, they deserve it. No big deal really, these guys have only really worked with small-timers like Evernote, Depop, the Premier League, Deliveroo, Airbnb, HelloFresh… oh, who are we kidding.
These guys are the sh*t.
DesignStudio goes the extra mile to 'create brands the world loves'. For instance, to get a proper insight into the Airbnb community, DesignStudio travelled to 13 cities to research locations, users and hosts.
We look forward to the day when that kind of trip is considered 'business'.
As a result, the tagline 'Belong Anywhere' was born.
Here's some of our favourites:

Image from The Drum
Red Antler
The Red Antler founders were part of Inc.'s most influential entrepreneurs list a while back.
The only person above them on the list?
Elon Musk.
No biggie.
And it's easy to see why, really. Their case studies are epic – let alone the actual work.
As a sneaky way to show you 4 examples rather than just 3, check out this as the epitome of a full-service project, encompassing:
Brand Strategy
Naming
Brand Identity
Brand Messaging
Digital Experience
Engineering
Photography
Creative Production
Industrial Design
Packaging Design
And here's some of our other faves:
Disclaimer:
Hingie is one of favourite creations ever, the Red Antler Creative Director said of the brand's adorable mascot:
"The goal was for our audience to feel affection for Hingie, while at the same time rooting for his death."
Our Content Strategist officially died and went to wordy heaven when she discovered the Hinge messaging — she'd have wanted me to tell you that.

Image from Dixon Baxi
Dixon Baxi
Trusted by just a few of the world's best known brands such as Audible, AT&T, ViacomCBS, V&A, British Land, Capital One, Premier League, WWE, IMAX, Paradox Interactive, Channel 4, Eurosport, Netflix, and AC Milan…
It's fair to say the team at Dixon Baxi know what they're doing.
From a duo of, well, 2 – to around 35 today, Dixon Baxi are a London-based agency with a huge global presence.
With an open-source monograph and even a feature film that premiered at the 2016 Tribeca Film Festival in New York, I guess you could call these lot somewhat of a big deal.
Here's some of our Dixon Baxi highlights:

Image from The Drum
Ragged Edge
We'd sort of assume that anyone working in the branding space would be popping on the Ragged Edge site for inspiration more times than they care to admit.
From bold, brilliantly-executed concepts to messaging that just works (case and point Bulb 'positive energy'), Ragged Edge have produced some truly stand-out brands.
Let's keep this rhythm going and look at some of our favourite projects of theirs:

Image from Under Consideration
Ueno
Ever wondered which lucky design agency gets tasked with jobs like creating Santa's village for Google, overhauling the Lonely Planet website or redesigning Slack's user interface?
Well, that someone is Ueno. With agencies in San Francisco, New York, LA and Reykjavík, Ueno don't take themselves too seriously, which is one of the reasons why we love them.
The other reasons are that they do some bloody delicious work with some of the world's tastiest clients.
They have a tone of voice to die for, a website that just makes our soul a little happier. Oh, and they've also pledged to donate at least $1m to charity over the next 10 years.
They host their own annual creativity "conference" amongst other Ueno⁠-⁠related events, they have a site dedicated to their team's design inspiration and they have a pretty damn cool online store, too.
Check out some of their dreamy work:

Image from Mother Design
Mother Design
Mother Design does some really lush and clever work; the kind that makes you turn your head every-time you see it.
Whether it's a series of Instagram posts encouraging people to dial down the pressure during the COVID pandemic, or big billboard campaigns that are impossible to ignore – Mother Design know how to combine mouthwatering visual identities with thought-provoking messaging.
If you've ever come across the Tripadvisor branding and were wondering which creative design agency was responsible, then cast your eyes over to Mother Design.
It was hard to pick just 3, but we particularly love these projects:
Fueled
Fueled are an award winning mobile app and development company based in New York City.
Their team is made up of members from around the globe —a team that includes Newcastle's own, Rob Palmer.
This creative design agency has worked with some of the world's biggest companies including: Porsche, P&G, Ducati, and The Chicago Bulls.
Also, yes we understand that this creative agency doesn't specialise in branding-related services as much as some of the other creative design agencies mentioned.
We're simply making an exception given the quality of its services. Honestly, take a look at some of the apps they create and tell us they aren't doing something hella creative?
Also, they're experts in digital marketing, so…
Engage Interactive
Like our home city of Newcastle, the creative scene in Leeds is thriving.
It's where I studied for my degree and it's a bonafide hotbed for exciting new creative agencies.
Engage Interactive have just recently moved into the fantastic Duke Studios and the work they produce is outstanding.
Engage have produced some tasty looking work for food chains such as Cafe Rouge, Strada and Bella Italia.
As the years have gone on, the Engage brand has continued to find success across a range of unique projects, such as:
Landor Associates
Landor Associates have branded some of the biggest companies in existence including BP, FedEx and Smirnoff.
Early in the 2010s, Landor rebranded DC Comics which led to a lot of controversy in the comic book universe. Some loved it, some hated, others thought it looked suspiciously similar to the Discovery History logo.
Love them or hate them, Landor produces great work that can't be ignored.
Here's some of my personal favourites from one of the very best design agencies around;
Happy Cog
Happy Cog is the brainchild of Twitter celebrity Jeffrey Zeldman.
Since its inception, this creative design agency has worked with awesome companies, like MTV and Zappos, to produce some fantastic design work.
One project that comes to mind is the O Music Awards brand, which included the development of brand aesthetics and a fully responsive, user-centric website.
They have a ton of great case studies on their site, which display perfectly what they're all about. We've picked out a couple for you to look at here:
I Love Dust
I Love Dust were one of my biggest inspirations when I was going through college, and continue to be a major inspiration for us here at Canny.
They produce consistently brilliant illustrations, packaging and branding for clients such as Nike and Absolut Vodka.
I can talk about their creative design projects for days, but what I want to talk about is their own branding, and how it's gone through many iterations throughout the years and never lost its sting.
The current version of the brand is easily its best yet; you'll see this first hand if you head over to the ILD site through one of the case study links included below:
Ptarmak
Ptarmak (pronounced "tar-mak") are a design agency based in Austin, USA.
They create exciting and retro/vintage looking branding for businesses. We've featured some of their work for on the Canny Creative design blog before, but they add so many exciting new projects to their site, it's hard to keep up!
Ptarmak are experts in design — especially packaging design through their work alongside Bear Naked Granola, Madécasse, and Late July.
This doesn't apply to branding per-se, but Ptarmak has an incredible website, one that reflects the quality of this creative design agency's branding perfectly.
Be sure to get a good look of it for yourself when looking at it when you click on one of the following:
WonderEight
WonderEight are the creative agency behind the Classic Burger Joint branding, alongside a who's who of creative design-based projects.
WonderEight are based in Beirut, Lebanon and produce brilliant branding for a variety of companies the world over. In other words, WonderEight is a global branding agency — one that has achieved some incredible things over the years in the design department.
Beyond their work for Classic Burger Joint, I love their work for Uptown 966, and Beirut Street Kitchen.
And that's without naming some of the other projects that stand out for us (links below):
No Entry Design
There's just something about painted murals and dazzling street art that makes us not want to look away, which is where the last creative design agency on our list truly shines.
I'm of course talking about No Entry Design, a studio straight out of Brooklyn, NY that takes pride in being 'Unprofessional. Unreliable. Unfriendly.' — everything you shouldn't never want out of your dedicated design agency, and yet they make it work!
No Entry Design are experts in office branding, too; I just want to put that out there.
We've included some of No Entry Design's office-based projects below, for reference:
Creative Design Agencies FAQs
Before we finish up we should look at some creative design agency-based FAQs — the sort of questions you've always wanted to ask but never got a clear answer to.
What is a Creative Design Agency?

A creative design agency is a dedicated third-party that assists other brands through a range of bespoke design services. These services cover everything from logo design to branded design elements.

How Can I Get In Touch With a Creative Design Agency?

You can usually get in touch via a contact page found through the website of the creative design agency you like the look of.

Alternatively, you could reach out via social media. LinkedIn and Instagram being two of the best platforms for this. Twitter too, although, the other two tend to be where most creative design agencies dedicate their time.

If you have the email addresses of anyone at the agency, you could also try contacting them directly this way too.

How Much Do Creative Design Agencies Charge?

The answer to this particular question will vary from creative design agency to creative design agency.

A logo alone could cost you thousands by choosing to go with some of the more reliable/known agencies. A full rebrand might cost even more in comparison, which could include everything from brand guidelines to various branding elements.

Here at Canny, we only charge you for the things you actually need, meaning we don't offer branding-based packages that sell you on unnecessary things that bring you no closer to your actual goals.
Our 17 Favourite Creative Design Agencies (Updated August 2022)
There are many great creative design agencies around the world, each doing their own thing.
And we've covered quite a few of them in this post detailing our favourite creative design agencies.
Like with similar posts to this, we'll update this list over time, as agencies change, move, merge, and all the rest!
What makes these agencies special to us, is that we've seen their work grow and change over time. Following them and seeing them succeed is very rewarding indeed; it's also inspiring which I'm sure other agencies will agree with me on.
Did we cover any of your personal favourite creative design agencies, or have we left any off our list that should be included?
If we have, don't hesitate to let us know via the social media platform of your choosing.