Rebranding a company isn't easy.
There are always going to be questions asked. But that doesn't mean you shouldn't do it.
There'll be questions from your boss, your company directors and even the general public.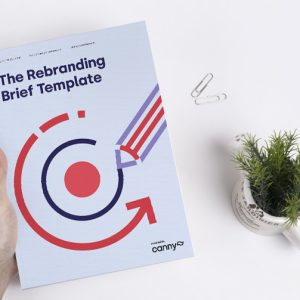 The Rebranding Brief Template
The Rebranding Brief Template is a free template that will help you get the brief for your rebranding project right. ...
If you're lucky enough to be your own boss, then great… but I'm sure you still have questions!
On top of that, when your company gets to a certain size, the thought of rebranding can send shivers down your spine.
If you own your own company, well you're in luck; you're the boss and this post is for you!
If you work at a company that's looking to rebrand, and you've been asked to find a design agency that offers branding services who can help, then you're in luck too, because this post can also help you.
Here are the 7 questions that we hear from almost every single client looking to rebrand a company:
How Much Will It Cost to Rebrand?
The first thing that everyone asks us when talking about design work is: How much it will our rebrand cost? And more often than not, that's not the right question.
A better question would be:
I know this will cost my company money, but will it benefit us in the long run? What is the ROI of rebranding? Can we afford to make the investment and will the benefits of rebranding now have a long lasting impact on our company?
A few years ago on the Canny blog, we wrote about the cost of logo design in which we tried to answer the question: How much does logo design cost?
The short and sweet answer is: It depends.
But that's not a very conclusive answer, and it's certainly not going to satisfy a boss who needs to understand the costs involved in rebranding a company.
So, how much will a rebranding project cost your company?
The answer relies on you being able to answer several questions:
Why are you rebranding?
What problem are you attempting to solve?
What happens if you don't rebrand?
Do we have money to invest in a rebranding project?
Is there a web element involved?
The answers to each of these questions are long enough to form their own blog posts (and in the future, they might!), but having the answers will help your chosen brand partner define the scope of your project.
Let's take a look at each of those questions in a little bit more detail, and see if we can help your company avoid some of the biggest no-no's in branding.
Why Are You Rebranding?
There are a whole host of reasons your company could be considering a rebrand. Does the old brand not speak to your target audience?Perhaps it looks dated? Or maybe, you're trying to escape a recent PR disaster?
Knowing what you're trying to achieve when rebranding a company is key to the success of your project. It'll help put your chosen agency in the picture, as well as help to form goals and expectations from the outset.
What Problem Are You Attempting to Solve?
Businesses and companies normally exist to solve a problem. So, what problem is your brand attempting to solve?
Changing your company's brand identity won't add purpose to your company.
It can help uncover more purpose or build out your value proposition. But, if you don't have your mission statement outlined and the groundwork laid, a rebrand won't help push your business forward.
In that case, you have bigger problems that no brand partner or design agency can help you address.
What Happens If You Don't Rebrand?
What's forcing your hand? Is the reputation of your company damaged beyond repair?
If so, that's likely to have a negative effect on your bottom line. And nobody wants that!
Being open and transparent about this question will help you and your agency work together to formulate the right plan and get things set straight.
Do We Have Money to Invest in the Project?
This is one of the biggest questions you need to answer.
If you have no budget for the work, there's not much point in reaching out to people. You need to focus on raising the capital to start the rebranding process.
If you do have money to invest — even if you're not sure how much you'll need — then it's worth starting to reach out to people who might be able to help your company rebrand.
Is There a Web Element Involved?
Some people say "branding" and they just want to partner with a design agency to help them create a new visual identity.
Then, they run off and build their website on Wix or some other free website builder.That undermines their rebranding efforts and strips credibility from their company.
If you're rebranding, it's likely you'll need to change each and every one of your business' touch points.
Websites and web elements can easily be costed out and added to the rebranding budget, but don't forget to mention it to your design agency!
No two company rebranding exercises are the same. Therefore, its impossible to give even a rough budget range without talking to you about your project.
At Canny, we've worked on rebranding projects with budgets as low as £1000 and as high as £40,000.
There's a solution for every budget level. And that's why it's important that we know your budget from the start. Without knowing your budget, or at least having an indication of your budget range, it's impossible for us to put together a detailed project proposal.
That said, we'd love to talk to you about your rebranding project and find out what you're trying to achieve.
How Long Does It Take to Rebrand a Company?
As I've already said, every single rebranding project is different.
If you have a smaller company with less design work involved, you could expect the process to be quicker.
However, if you have a larger company and there's a lot more involved in the project, things will naturally take a little longer.
On average, our branding and company rebranding projects take between eight and sixteen weeks.
There are several things that contribute to the length of time a project will take, and more often than not, they're the same things that determine the project scope and budget.
How much work is involved?
How many consultations will be needed?
Are there any pressing deadlines your company needs to meet?
How busy are your chosen branding partners?
How busy are you and how much time can you dedicate to the project?
Is there a web element involved?
Let's discuss a few of the key points below:
The Amount of Work Involved
If you run a small cafe that understands its demographic, there's a high chance that you might only need help creating a new logo, printed goods such as menus, and a shop sign. You might not even have a website. You should, but TripAdvisor might do for now!
And that's fine.
If you're working at or own a large sporting goods company that have several outlets, a headquarters, company vehicles, attend trade shows and sell product through their website, then that's a much bigger project!
And that's fine too.
However, it's likely the cafe's rebranding project could happen within six to eight weeks, whereas the sporting goods company could be waiting a lot longer, especially if the website is also getting redeveloped.
Consultation Time and Meetings
Meetings can have a huge impact on the timescale of a project.
At Canny, we prefer short and snappy meetings, and we try to run most of them digitally.
When you start factoring in travel time, group consultation sessions, and trying to appease shareholders, you can see how your timeline could easily become skewed.
Pressing Deadlines
A common mistake we see happen a lot is people leaving their project until the last minute.
With a bit of common sense and planning, we can avoid massively pressing deadlines. This allows the work to happen organically, and nobody is left settling for sub-par design work.
And, if you have a huge event in four weeks' time and expect a design agency to march to your beat, you'll probably be quite unlikely to find a partner willing to take the work on.
Which brings us to our next point…
Time Dedicated to the Project
A rebranding project involves both sides. We can't do it without your input, and you can't do it without ours.
If you don't have the time to dedicate to a project, it might be worth delaying or rethinking your plans. It's important to remember that your design agency won't be working only on your project.
That's just not how design agencies work.
If we commit to a project, we're transparent about the time we can give, and clearly outline in our proposal documents what will happen and when.
By agreeing to our proposal, you're also agreeing to dedicate time to the project. Sure, it won't be every second of every day, but we find our projects run best when we're interacting with clients, and sharing ideas and thoughts every couple of days.
So…
How Does Rebranding a Company Work?
The rebranding process will undoubtedly vary from agency to agency. And, having founded Canny straight from University, I can only talk about our own process.
We have a written post on all of our branding services and deliverables, but for now, let's take a look at our in-house process:
Getting to Know You
In our experience, the best branding projects start with us developing an in-depth understanding of your company's world. Our organic process keeps you involved in the project and helps us both make the right decisions for your business.
Understanding Your Inspiration
Knowing the inspiration behind your brand allows us to make creative decisions that resonate with your team and vision.
Goals & Objectives
Having an in-depth understanding of where you are now and where you want to go helps us position your brand to meet your goals.
Your Competitors
By researching your competitors thoroughly, we can ensure your brand is unique and stands above the rest.
What Your Brand Stands For
Understanding the beliefs, ethos, and values of your brand allows us to connect your brand to its customers.
Establishing Your Target Audience
Looking at demographics and building customer profiles lets us refine the identity of your brand and make better-informed decisions.
How Your Brand Communicates
Creating consistency in how you communicate with your audience allows you to connect with your customers on many different levels.
An Organic Process
Everything we do is based around you and your brand's needs. Using our natural back and forth process, we implement your feedback throughout the project and, together, make informed decisions about your brand identity.
Discovery & Exploration
After learning about your business, we start our discovery and exploration process.
For Us
It's all about understanding the types of design and visual styles that appeal to you. It's also helpful for us to know what you're currently working with and deciding what is and isn't working.
For You
This is an opportunity for us to bring you into our world. We show you how things are done professionally and creatively which helps you to understand what can be achieved through design.
Working Together
The discovery process helps us understand each other, bond and work together as a cohesive unit, and align our visions.
The Design Process
After getting to know your company and running you through our discovery and exploration process, we'll begin to design your company's brand identity.
At Canny, we design and deliver our work in rounds. This means our process is very organic.
For example:
In Round 1, we might send you between 6 and 12 different concepts for your brand identity design. Then, we'll discuss it with you. Naturally, you'll dislike some and like others.
In Round 2, we'll strip away things that don't work and develop ideas that do. And then there's another discussion.
Over time and through multiple stages of refinement, your new company brand identity will begin to take shape. Our process includes you at every stage and relies on your inspiration, vision and our professional expertise.
Creating Long Term Partnerships
Building a strong relationship with you is our priority. Working together allows us to provide greater value and build trust. We have over 85 clients and we're still working with over 75% of them on a regular basis.
Looking Out For You
We'll be actively looking out for opportunities, products, and services that will help grow your company.
Your Extended Team
You can come to us with any of your branding and marketing challenges. We'll be there to consult and deliver a creative solution.
Trust & Expectations
You can rely on us to provide you with quality work within your budget and time frame.
Sharing In Success
What matters to you matters to us. When you succeed, we succeed and acknowledging our success together allows our relationship to grow.
How Do We Choose the Best Branding Partner for Our Company's Project?
Failing to choose the right design agency or branding partner will have a huge impact on your rebranding project.
So, how do you choose the right design partner for your project?
More often than not, a simple Google search will suffice.
However, there are a few key things to consider when rebranding:
Your Budget
First things first: Let's get straight about your budget. Decide what you have to spend, and look for people who will be able to bring your work in on budget or around the level.
It's important that you let your design partner know your budget. This helps them understand what they're working with and how they can best utilise their skills to help your business.
Setting a branding budget can be tricky, so don't be afraid to ask for help if you need it!
Their Proximity To You
Then, you need to decide how important it is that the company or designer you choose is close to you.
Are you and your company prepared to work digitally, or will you require a hands-on approach?
You could find out if your preferred partner is prepared to travel. We've been to both Tokyo and Toronto for our clients, and we'd do it all again.
But, it's important to answer this question honestly as it will help you narrow the playing field.
The Type of Partner You Need
Are you looking for a design agency or a freelancer?
There's a massive difference that we'll look to cover in a separate blog post. However, most branding or big rebranding projects are far outside of the remit of a single freelance designer.
Nevertheless, if you're a small company or have a much tighter budget than a larger design agency are prepared to work with, then choosing to engage a freelancer might be your best option.
The Strength of Their Portfolio
The final piece of the puzzle: The strength of a designer's portfolio.
Find out if they've done any work in the same field as your company. Ask them to explain how they helped businesses like yours to grow.
If you like the look of their work and they align with your company goals, then it's worth making your approach.
How Involved Will They Be?
It's important to know what sort of involvement you expect from your design agency and the working relationship you'll form with them.
You need to decide whether the project will work digitally, or whether you'll require your chosen design agency to attend on-site meetings and consultations.
Different agencies have different approaches, and it's important that you outline what you expect of them.
Regular communication is key to the success of any design project. Whether that's daily, every few days, week or bi-weekly depends on the project but a good design agency will want to talk with you regularly.
But, what sort of information do you need to share with them?
Do you need to talk about profits, margins, salaries and other statistics? Maybe, maybe not. It really depends on the goals and desired outcome of the project.
But, you do need to be open and honest enough with them to share statistics that are vital to the success of the project.
At the end of the day, if you're expecting your chosen agency to have an effect on your bottom line, they need to know in which ballpark they're playing.
It's important that both sides are open and honest with each other.
You need to learn to trust your agency. At times, they'll be brutally honest with you, and they're doing it because they have your company's best interests at heart.
There's a lot to be said for transparency, and at Canny, that's how we operate.
We don't work with companies that don't trust us. It creates a bad feeling. And why would you want to work with people you can't trust?
Sure, trust is earned over time. I've learned that over my first four years at Canny.
So:
Start small, involve them in the right decisions, share what needs to be shared and watch your relationship grow.
What Information Do They Need From Us?
No rebranding project will work without the transfer of knowledge, key information, and vital statistics.
At a basic level, your design partner will probably ask to see your business plan or growth plan for the next year or so.
If they don't ask to see that, then they should at least ask to hear about your current brand positioning, values, vision, and customer demographic.
By sharing that with them, they can help to position your company more effectively.
If you don't have any information put together, you could start by running through this post again, and map out your answers to each of the questions that have been asked.
At Canny, we have an initial client assessment that helps us decide whether a company is a good fit for us.
Here's a sample of the questions that we ask:
Can you tell us a bit about yourself, the business, and how it makes money?
Where do you see your business in 12 months after launch/finishing the project and how do you intend to get there?
Can you tell us about timescales, any important events or dates that are coming up, and deadlines that you need to meet?
Do you have a budget range in mind? Are we looking at £1k, £5k, £10k, £20k or more?
Do you have any way of measuring your current successes or failures?
What problem is this project going to solve?
If you can answer those questions and the other questions asked in this post, that's a great starting point for your company rebranding project.
Couple that with trust and reliability, and you have the foundation of a strong relationship in place.
Other information that can really help your design agency include:
Knowing When You're Available
Not being able to get hold of clients can kill a project and its momentum. And being able to pinpoint your agency and their team members is crucial.
For example:
We have some exciting new developments to share  and call for a catch-up. You're not available. The initial spark and "Oh, we have to tell them this!" is gone.
And it's not about being constantly available. That's not a feasible solution.
But do try and keep your agency in the loop with what you're up to. Either only call for scheduled appointments (which for me, takes away the organic nature of things) or consider running a joint project calendar.
Knowing The People Involved in the Project and Their Roles
This can be another huge project killer or time drain.
Without having roles defined on both sides of the project, it's impossible to know who's involved and who's making the relevant decisions at certain points in the project.
It's a good idea to clearly outline the roles and responsibilities of all involved parties at the start of the project.
If new staff are drafted in or out throughout the project, make that apparent too.
Nobody likes writing an email and CC'ing 18 other people. So, get specific and cut down on inbox time for people who don't need it!
What Your Deadline Entails
Ah, deadlines. People love to set them, more often than not, for no real reason. It's important to have a scope of work in place and an estimated timescale is critical.
However, don't set arbitrary deadlines.
"We need the website live by Monday the 7th of July." Okay, but why? What happens then? Is there a big event planned for the end of July? Are there ads booked in around the internet? Are you running a promo piece?
Or are you just setting deadlines for deadlines' sake?
Yes, set a framework for the project, but don't just make up a deadline for the sake of it.
Talk with your agency, and get that framework in place early on. Then, don't be flexible on the end result, but be flexible on the journey.
What Is the Next Phase?
At Canny, our goal is to build long-term partnerships with our clients.
We don't work on a project, shake hands at the end, and part ways. We love working with companies that want to grow, and we want to be along for the ride.
So, what's the next phase in your project?
Great, the rebrand is complete, but let's not leave it there. Are we creating a marketing campaign to accompany the rebrand? Perhaps the website gets redeveloped next. Maybe there's a larger strategy at play here.
Branding and rebranding strategies can be tricky to execute. They have many different layers and levels of engagement. And there a lot of different things to consider when rebranding.
And that's why you need to keep your branding agency in the loop. Don't spring things on us, because there's a chance we could help you out earlier than you think.
If we're working in 12-week sprints, don't wait until day six of week 11 to land us with the next piece of work.
Start talking about it early, and together we can work out how to execute for the best, and make the most of your budget!
Will Our Company Rebrand Improve Our Bottom Line?
It's always been a big debate: Can the ROI of a rebranding project be proven?
In short, rebranding — executed properly — will have a positive ROI. But obviously, there's more to it than that.
So, how can you prove that it will all be worth it in the end?
The short, sweet and surprisingly unsexy answer is: brand metrics.
There are countless metrics that can be taken into consideration when measuring the impact of rebranding your company.
Think about perception metrics, performance metrics, and financial metrics. Which of these can you measure to quantify the impact of your rebrand?
Well, there's: website traffic, leads, sales, referrals, social follower count, press coverage, market share, brand valuation, cost per acquisition…
The list is pretty much endless. You can track brand metrics forever.
But how do you put these metrics to good use?
Establish a Starting Point – you need to know where you started to see the impact rebranding a company can have. Pick your top five metrics to start and remember that the only useful data is actionable data. Note these down into Excel, or whichever analytical tracking platform you prefer.
Measure the Rebranding Impact – After a period of time has passed since your company's rebrand (usually 12 weeks), return to the spreadsheet you've created. Then, enter your new data and compare and contrast from where you started.
Evaluate and Optimise – From there, you'll have a ton of useful data and if your rebrand has been executed correctly, you'll be seeing a huge upswing in your data.
Branding is a continuous process and should never stop. It's not a one-off project. Use your data to develop next steps, and remember what we said about keeping your agency involved? Share this with them too.
Okay, so the theory is nice, but what about a real-life example?
Neil Patel and Eric Siu
Marketing specialists Eric Siu and Neil Patel run a podcast called Marketing School. In a recent episode, they talked about the positive ROI that branding had on their businesses.
Neil ran a campaign where he paid social influencers to hold signs saying "Who is Neil Patel?"
He attributes that campaign alone to a huge rise in brand awareness and claims it had a positive impact on his bottom line.
Other Ways to Measure the ROI of Rebranding
If you're statistics-driven, here are more ideas to help measure the impact a rebrand can have on a company.
Surveys – If you don't have any widely available statistics, reach out to website visitors and customers and survey them. You can then use this as the baseline to compare results.
Google Searches – The world's biggest search engine will give you a great indication into your branding efforts. You can use the Keyword Tool or Google Trends to monitor search volumes of your branded terms over time. If search volume increases, your rebrand is paying off.
Brand Loyalty – How many repeat customers are you getting? Or what's your current customer retention rate? Brand loyalty is massive and it's a great way of measuring your rebranding efforts.
Then there are other ways you'll notice an upswing in your branding efforts.
For example:
More kind words and emails from customers, or prospective customers commenting on your visual identity and how nice your new website is.
Pride amongst employees is also a hugely underrated part of rebranding a company.
We recently worked with a London-based company who were embarrassed by their brand identity. As soon as we got to the concept stage, we had the office buzzing and staff couldn't wait to share the design work and start using it in their day-to-day life.
Tracking rebranding by the numbers can be tricky and sometimes expensive if you don't already have a system in place.
However, there's no argument against rebranding.
People buy into brands, so don't let your rebranding project come under fire.
If you're looking for rebranding inspiration, check out these case studies that we pulled together a little while ago.
And if you're looking for things to avoid, have a look at these rebranding failures and find out how much they cost.
Company Rebranding Facts
And if you or your boss are still looking for additional benefits to rebranding your company…
77% of consumers don't want a relationship with your brand
From the outset, that doesn't sound like a great fact.
But think about it like this:
If 77% of people don't want a relationship with your brand or company, then 23% of people do. That's a large percentage of people willing to openly engage and build a strong relationship with your brand.
Source: https://www.entrepreneur.com/article/237296
Colour increases brand recognition by up to 80%
What colour is Coca-Cola? Red. McDonald's? Gold and red. Pepsi? Blue.
Colour plays a fundamental role in the recognition of your brand. Alongside your branded materials, your brand's colour instantly bolsters your branding efforts and creates a memorable identity.
Big brands are even going to war over colours now.
In 2013, Cadbury tried to copyright their famous purple colour. However, rival company Nestle went head to head with them and won a court battle allowing them to use the colour too.
Source: University of Loyola, Maryland Study
72% of marketers think branded content is more effective than advertising in a magazine; 69% say it is superior to direct mail and PR.
That's quite a strong backing in favour of branding your company and using it in your marketing efforts.
72% of professional marketers are backing brands to succeed with 69% saying branded online content is superior to more traditional marketing efforts.
That's quite an upswing in favour of a more modern media approach.
Why wouldn't you want your company onboard with that?
Source: https://www.ceros.com/blog/state-b2b-content-marketing-25-need-know-stats-infographic/
Rebranding a Company: 7 Things Your Boss Wants to Know
Rebranding a company can, indeed, be quite the challenge. However, there are numerous reasons that you might be thinking about rebranding.
Maybe your brand has changed its goals, its demographic, or mission. Maybe everything is just starting to feel a little stale. Or maybe there's a huge change in your market space?
Whatever your reasons for considering rebranding a company are, we'd love to hear from you. If you have experience in rebranding a company, we'd love to know how it went.