Shining examples of medical and healthcare branding are admittedly hard to find.
Why?
Because everyone seems to take the most obvious route possible. And it's hard to blame them!
In these uncertain times, people are looking for:
Safety
Trust
Professionalism
Essentially, when they interact with your healthcare brand, they want to know "I'll be safe here!"
There's too much going on with the current state of the world to be taking any risks.
That said, there's too much "boring blue" and safe choices in the world of medical and healthcare branding.
It's easy to see why, with the NHS being one of the world's most recognised medical institutions, why people would go down that route.
However, regardless of whether you're an established brand such as the NHS or a start up founder, your brand needs to engage your audience.
In this post, we're going to share branding from a range of companies who are doing something different.
Let's dive right in…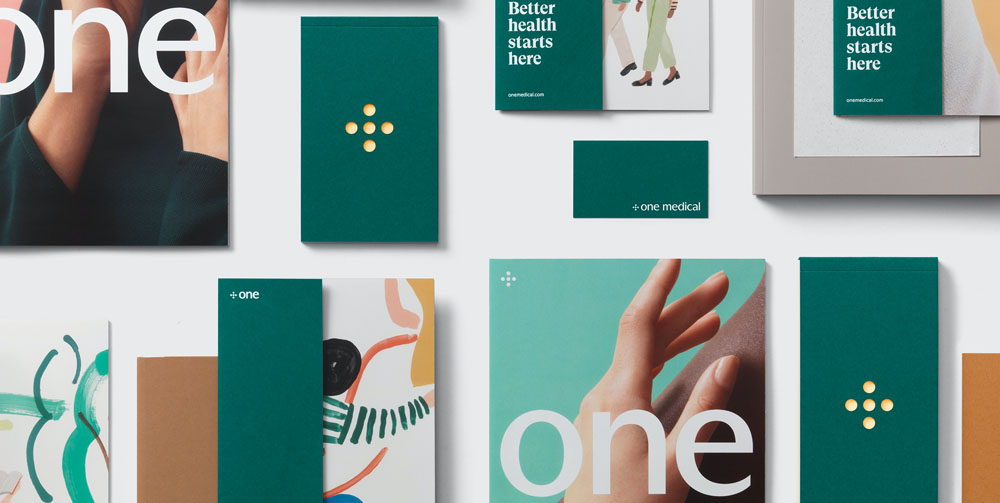 Credit to Moniker
One Medical
One Medical are "that brand" that just keep showing up every time you search for examples of great medical and healthcare branding.
And rightfully so.
The One Medical team (and respective branding agency, San Francisco based Moniker) has absolutely nailed their brand identity and website design. It really is tip-top.
The way the brand has been designed and positioned, is almost like that of a lifestyle brand.
We're based in the UK and are super lucky to have the NHS, our free National Health Service.
One Medical is an American company, where healthcare does come at a cost. Which would explain the accessible lifestyle brand positioning.
The One Medical branding is friendly and welcoming, you want to join.
In fact, I think the One Medical brand identity would also work well for a care home brand. It would look modern, friendly, and welcoming. Things you want for a care home.
The green tones, the use of characterful illustration across the website, and the beautiful typography make me want to be a One Medical customer.
I'm a particular fan of the For Kids section on their website! There's lots of exciting illustrations and brand messaging going on behind the scenes there.
All in all, a truly shining example of medical and healthcare branding. Hats off to Moniker.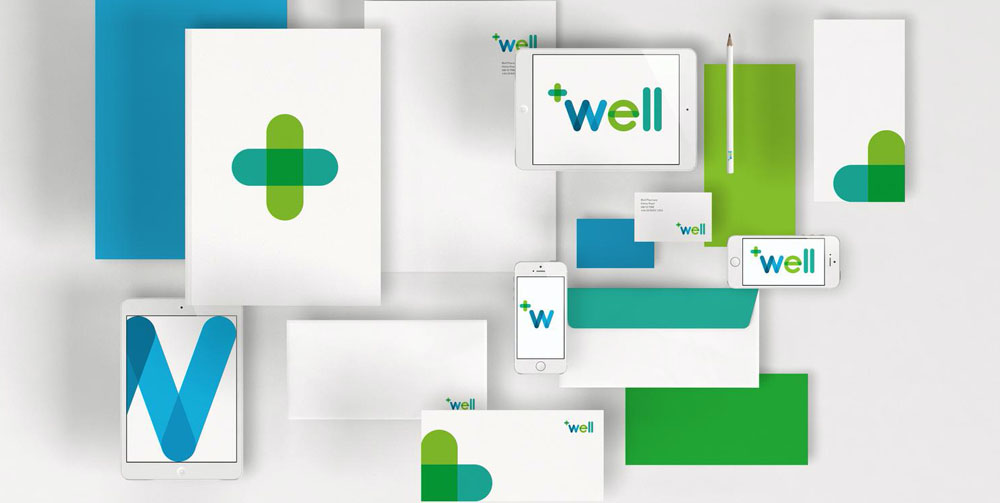 Credit to Pieter de Groot
Well
From the USA, across the pond, to our home shores of the UK.
Well were formerly known as the Cooperative Pharmacy, one of the UK's largest pharmacy chains, an offshoot of the Co-Op, along with Co-Op travel, Co-Op funeralcare and more.
The brand architecture of the Co-Op has always been a little convoluted.
And the pharmacy rebranding to Well is definitely a good decision. They've opted for a standalone brand, rather than fitting into the typical hierarchy, and it's paid dividends (pun intended!)
What first caught my attention about the Well branding, is their vehicle and van wraps. They're truly unique, and look great on the streets of the UK.
The Well branding feels modern, and yes a little clinical, but friendly nonetheless.
The colour palette is very typically healthcare, but it has a unique twist. Overlapping blues and greens result in some interesting hues, that are then used across the branded materials.
Their website is no-nonsense, opening with the direct customer benefit:
"NHS prescriptions delivered to your door, for free."
It's direct and to the point, although it does feature some brilliant little illustrations.
To me, the Well branding feels like the NHS and Co-Op got their heads together and said "We need to create something more accessible, that people buy in to."
It's a super job by South African designer, Pieter de Groot, who shares more of the work over on his portfolio.

Credit to Vin Guarnieri
Prognos Health
Prognos Health promises "prognosis transformed."
They're trying to identify opportunities earlier, intervene earlier, and hopefully, change outcomes of the patient's prognosis.
The Prognos Health branding focuses on circles and soft shapes.
And across their website, the shapes almost change and morph, alluding to the changing state of health and healthcare that Prognos are hoping to bring.
The website also features these shapes subtly moving across the background, a sign of things moving in the right direction.
Their logo mark is a circle containing "key points" – presumably representing check in points throughout a prognosis.
It's quite a layered concept, but designer Vin Guarnieri has done a great job of bringing it to life.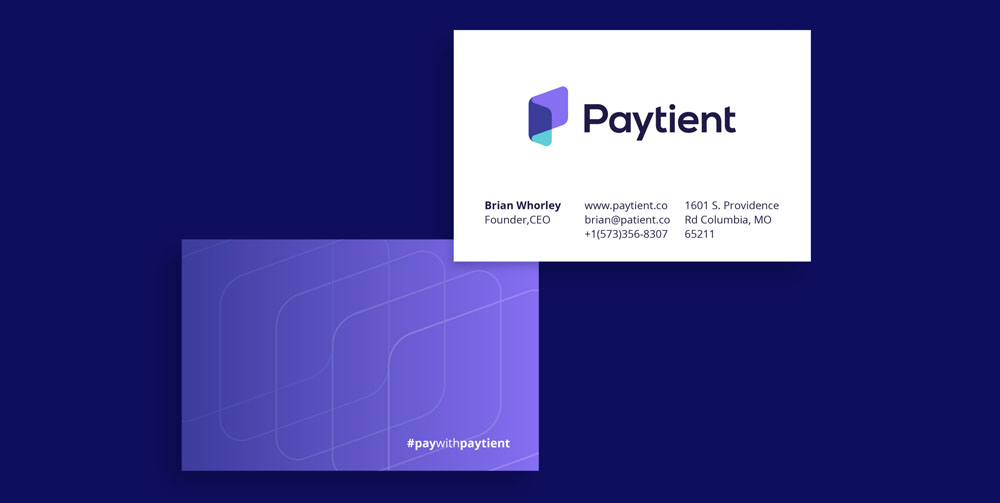 Credit to Carazan
Paytient
Paytient's focus is on removing cost as a barrier to good care.
From their website:
Sponsored by employers, Paytient is a payer for their employees' out-of-pocket medical, dental, pharmacy, vision, or veterinary expenses. Alongside any health plan, Paytient enables employees to live better lives by accessing care earlier without financial harm. We make high deductibles financially healthier for everyone.
Created by brand creation agency, Carazan, the P in the logo mark is shaped to look like a folded wallet.
Almost as if to say "Paytient means you can put your wallets away, healthcare doesn't need to cost the earth."
On top of that, they've layered another concept.
In creating their folded wallet logo, they've used overlapping shapes, showing that there are no barriers. There's no definitive edge in their identity. No barriers!
One worry I have with the identity is their very "on trend" colour palette. I feel like within a few years, that'll be revised.
However, that's not the end of the world.
Another great example of how you can get creative with medical branding. They've combined medical branding with financial services branding, to create one of the most conceptual health care logos in the list.

Credit to The Smile Space
The Smile Space
The Smile Space is a family owned and ran dentist and orthodontist based out in Seattle.
The dentist's logo design is pretty simple. It's a space, with a smile. It says exactly what it does on the tin.
The Smile Space is a place you go, if you're looking to improve your smile.
A lot of people fear the dentist, and from looking through their digital collateral, you can see they're doing their part to ease anxiety around dental healthcare.
They've designed The Smile Space to look friendly and welcoming. There's lots of light and plenty of plants and vegetation. It just looks like a welcoming place.
One thing that I really admire about the brand, is that on their social media channels, they show other things.
There are photographs of them enjoying family time, and getting up to normal things, away from the world of dentistry.
This plays well into their family owned ethos, and adds a level of realism and relatability to this sparkling dentist brand.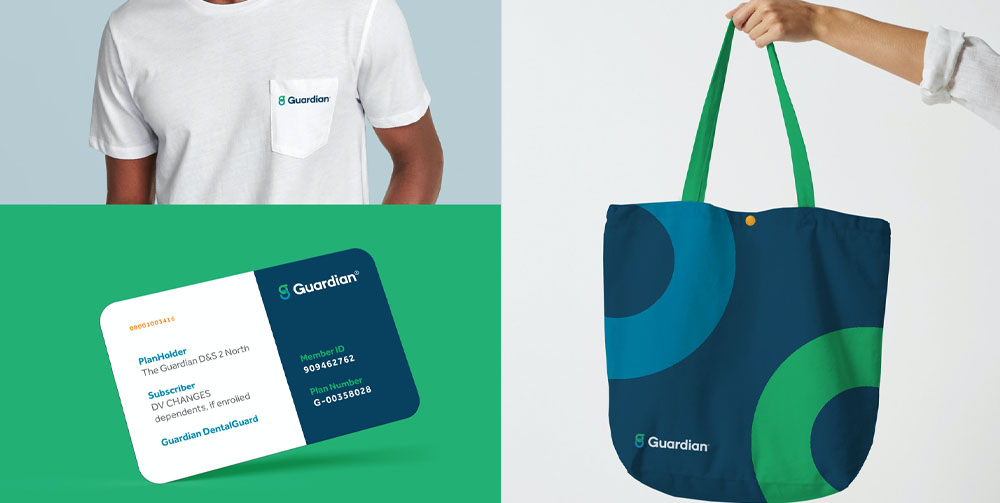 Credit to The Working Assembly
Guardian Life Insurance
Guardian Life Insurance are a provider of life insurance in the USA.
Established in 1860, Guardian is one of the largest life insurance companies in America.
A Fortune 250 company, with more than 9,000 employees, it provides life insurance, disability, and other benefits for more than 26 million customers.
No wonder they could afford to hire NYC based agency, The Working Assembly to work on their rebrand!
And, it's money well spent in my eyes.
Like I've said before, branding is an investment into your business, and when you've got the money to invest, it's worth every penny.
Let's start with some of the negatives, or whisperings from within the design community:
It's very middle of the road
It uses "blandroids" (faceless illustrations of people)
It's just not that exciting.
All of which are hard to disagree with.
I saw the illustrations as friendly and approachable at first glance, but the more I look at them, the more I feel they could've used some expression.
The website is very clean and minimalistic, making it easy to use, which is an absolute must.
What I particularly like about the brand identity, is the logo itself.
Now, there's several things that make this logo design effective.
First of all, it's simple, memorable, and versatile. It's also timeless. The alphabet isn't changing anytime soon!
But it's also very conceptual.
The "g" logo mark shows encompassing. One part of the shape is encompassing, hugging, or interlocked, by the other.
It's essentially a symbol for protection, which plays beautifully with the name of the brand.
Another example of healthcare branding executed properly. So, pish to the design community, I'm not entirely with them on this one!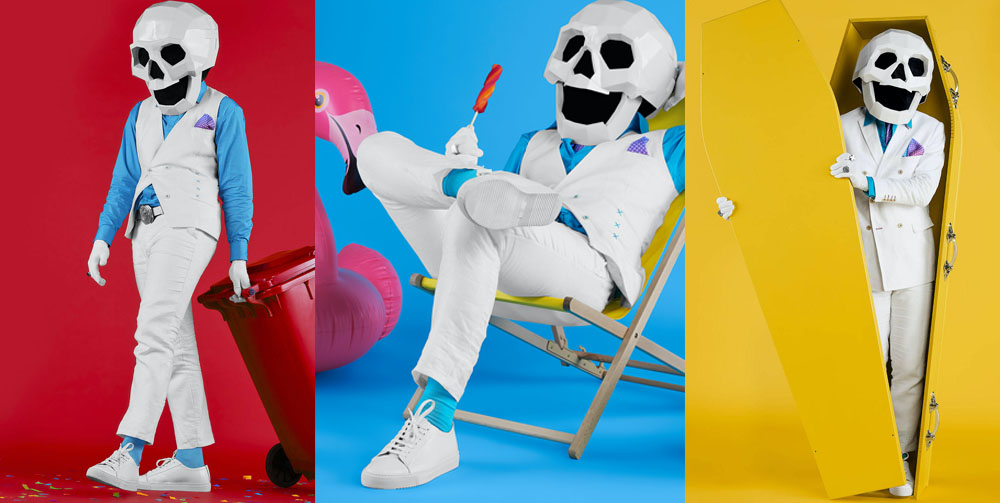 Credit to Dead Happy
Dead Happy
Easily the most polarising example of medical insurance branding on the list.
Dead Happy is definitely not middle of the road. And nobody is criticising them for that! They're getting a lot of criticism for other things, but definitely not for being middle of the road.
Proudly proclaiming:
"Life insurance is dead!" (before trying to sell you life insurance), Dead Happy are looking to change the way death is talked about and handled.
Throughout their branding, they use skeletons, skulls, and other symbols synonymous with death.
And rather than "setting up a life insurance policy" with Dead Happy, you "make a deathwish."
You can see why it might get under the skin of the wrong audience. On their website, they've even gone as far as pointing out critical articles and reviews of the brand.
The Dead Happy brand is definitely not for everyone. It's for "quirky" people. I was targeted with it through a Facebook ad, maybe that says something about me.
I feel as if Dead Happy have made up their Facebook ad audience by setting the following parameters:
Likes horror films
Likes dark comedy
Is aged 30-40
The dark humour and black subject matter of the brand, is contrasted by vibrant, popping colours.
You can definitely imagine them struggling to print some of those colours. I bet a lot of their collateral is digital!
As well as that, some parts of their website don't work particularly well.
That being said, the concept, design, and illustrations featured in Dead Happy's brand identity are worth applauding.
If you're looking for a humorous, yet informative read, check out Dead Happy's FAQs.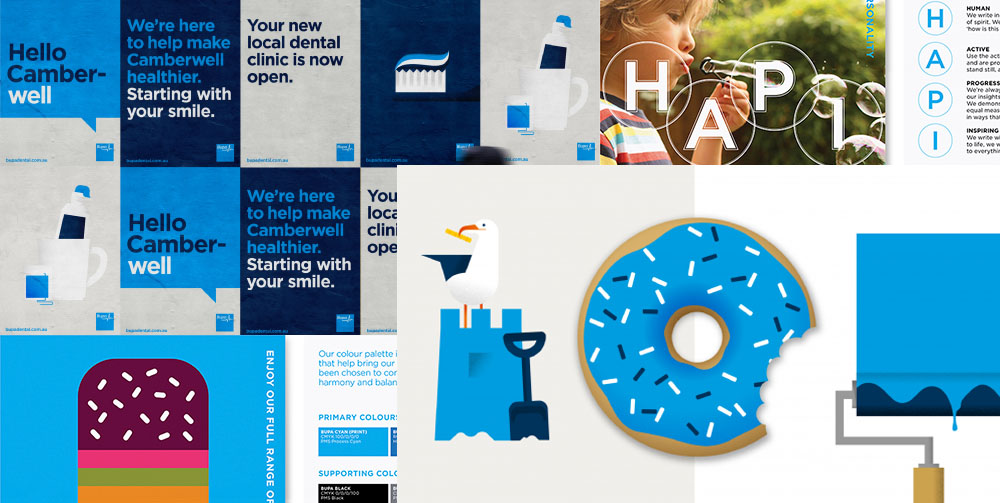 Credit to Driven x Design
Bupa
If you're from the UK and even researched private medical cover or private healthcare, you're probably familiar with Bupa.
They're probably one of the first private medical companies that rose to prominence.
However, their brand identity is nothing at all to write about.
It's stagnant, and not at all imaginative. Recently it had a little bit of a tidyup, but again, it's nothing special.
However, these two "Driven x Design" projects are:
This sort of project is exactly the sort of thing that Bupa needs to invest in when it comes to their sterile medical branding.
They both take the very corporate looking Bupa identity, and inject fresh life into it.
In the first example, adding the additional dark blue shade helps dramatise the identity and give it a new lease of life.
With the second, the funky pop type colours give things a fresh new look which you'd imagine would bring new eyes to the product range.
Across both identity projects though, it's really the range of illustrations that catch the eye.
Illustrations can often be hard to work into the vernacular of quite a corporate brand, but both of these projects manage it successfully.
Again, in the first project, that navy really helps lift the illustrations up. Combined with subtle shading and poignant messaging, they sit perfectly together alongside the adventurous new advertising campaign.
In the second, there's something almost retro and kitsch about the illustrations, but that's not a bad thing either. I'm not sure on combining "find the healthier you" with a picture of an ice cream lolly, but hey ho!
If Bupa were serious about refreshing their brand, these two projects would be a great starting point.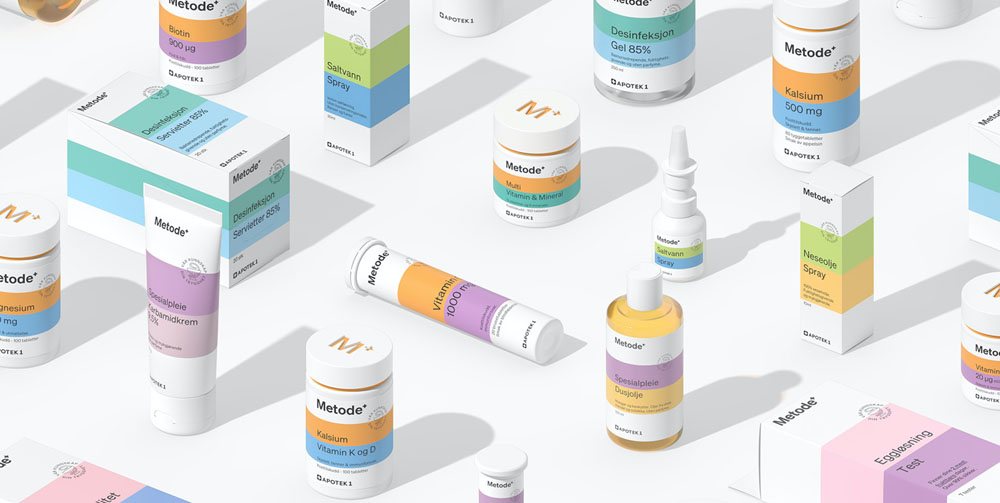 Credit to Goods / Apotek 1
Metode
There's not a lot of information out there about the Metode brand.
From what I can gather from Google Translating various sources, press releases, and news articles, Metode is a product range by Norweigan pharmacy Apotek.
Created by branding agency Goods, the Metode range features over one hundred different medical products.
The colour palette and packaging design is approachable and appealing, yet clearly medicinal. There's definitely no risk of kids getting it mixed up with sweets.
Built using a strict grid system, and sharp sans-serif typography, it communicates the minimalistic look that Scandinavian countries have become renowned for.
There's something in it that reminds me of older style packaging too, but most of all, I love the commitment to sustainability.
Metode committed to releasing the range of products (where possible) is sustainable packaging. Something that will be tricky to do given the nature of the products!
Medicine packaging design sounds like it could be quite boring, but Goods have done a great job of proving it doesn't have to be.

Credit to Cossette
La Fondation de l'Hospital de Montreal Pour Enfants
Le Fondation de l'Hospital de Montreal Pour Enfants, or Montreal Children's Hospital Foundation were branded by Cossette, a creative agency based in the same city as the organisation.
The concept for the brand identity is based around three key messages:
Heal
Love
Bond
Each of those messages is brought to life using the visual metaphor of a sticky plaster or elastoplast.
First, a straight up horizontal sticky plaster. Then, two overlapping to form a heart. Then the position of the plasters is moved up over to represent bonding.
It's a beautiful concept and to see one shape used in three different forms is a designer's dream.
Alongside this, Cosette worked with the organisation to create a beautiful range of clothing, that features outstanding use of colour.
In a world of drab colour palettes, Montreal Children's Hospital Foundation keeps it fresh and friendly, almost cartoon like, and it all works perfectly.
A job well done by Cossette.

Credit to mixed creatives on Behance
Tend
Tend are a chain of private dental clinics spread across New York City.
Now, there seems to be something about the branding in New York City, it's always cream of the crop. Even the city itself has great branding!
The Tend branding is beautiful in it's simplicity.
There's no contrived logo mark, just a simple word mark and muted colour palette that exudes professionalism.
Recently, Tend secured a whole load of funding, which I'm guessing goes some way towards paying the surely extortionate NYC bills.
But more importantly, it allows the chain to kit out it's premises with state of the art technology, including ceiling mounted TV's that allow patients to watch Netflix during their treatments.
The Tend website features an ecommerce store, hosting a range of their own, and other people's products. Unique for a dentist!
On top of that, they write a blog. Superbly titled "The Gargler."
The muted palette, simple logo, and big approachable photography lets the service and product shine through.
And that's exactly what good design is all about.
As Jared Spool once said:
"Good design, when it's done well, becomes invisible. It's only when it's done poorly that we notice it."
And Tend's branding is exactly that. It sits back, and let's the product and service offering do the talking.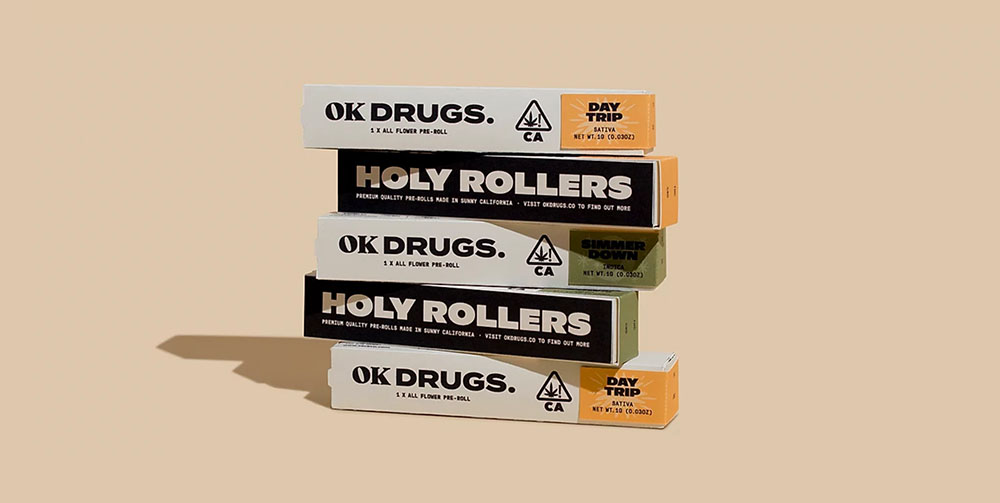 Credit to OK Drugs
OK Drugs
And finally, let's end on something less medical, and more, erm… herbal.
OK Drugs was recently brought to my attention when interviewing Junior Designers for a role at Canny.
In their own words:
Ok Drugs was founded in 2018 as a feel good brand focused on bringing relief to a crazy world, with a joint in one hand and an unabashedly blunt attitude towards living, Ok Drugs is shaking the serious, escaping the grind and getting down to what matters- LIFE.
Now, is it just me, or is that O in the logo formed to look like a pill? And when paired with the D, it's a complete mismatch. But I can't help but love it.
That said, I'd probably have stopped twice to think about my drug brands initials being OD.
What I can't work out with OK Drugs however, is exactly what they do. So I headed to their about page for more answers:
We stimulate through our curation of high quality pre roll releases and respect the source and place provenance high on our agenda, we only work with small farms we know and love. Ok Drugs is your feel good fix that brings you back to life.
To me, that sounds like they don't just want "ok drugs." They want their drugs to be the best.
On top of this, they also randomly offer branding services for other cannabis and CBD brands.
OK Drugs have created a great looking brand, and a wildly popular Instagram account. But, they still feel like a brand just getting started.
They look great, but look more like a lifestyle brand, and their online presence is verging on plain weird.
It'll certainly be interesting to see where they take it in the future!
Shining Examples of Medical and Healthcare Branding
Like I said at the start, medical brand and healthcare branding could do with a new lease of life.
However, I hope by looking through these examples, you have the courage to step up your branding efforts and try something new.
You can look safe, professional, and trustworthy, without falling into the same mould as other healthcare brands.
At Canny we know what it takes to transform your healthcare brand into something that is vibrant, captivating, yet still communicates your key messaging. Check out one of our previous clients, Health Matters, to see how the Canny team approached this project.
And remember, you don't have to push all of the boundaries (like Dead Happy), but you could be taking smaller steps to improving your brand.
You're more than safe, professional, and trustworthy. There's more to your business brand than that!
If you need help figuring out who you are, check out this post about creating your brand strategy.
But what about; personable, friendly, caring, approachable, fun, transparent, honest?
You can be these things too!
Take baby steps, and you'll be improving your medical or healthcare branding in no time!
What do you think? Are healthcare brands, hospitals, doctors, dentists, and other medical brands making the right choice by playing it safe? Let us know in the comments below.