Have you ever considered what skills a B2B business development manager may need?
Then look no further, this blog post is for you!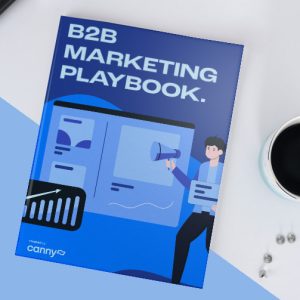 B2B Marketing Playbook
Have you ever considered what skills a B2B business development manager may need? Then look no further, this blog post...
To be a successful B2B business development manager, there are several essential skills you need to harness first.
Gone are the days when simply being a good sales person was enough. In this role, you'll need to identify new business opportunities, improve profitability, generate revenue, and help the business grow.
That takes serious planning and strategic thinking to ensure the business achieves its goals.
In this blog post we delve deep into the role of a B2B business development manager and the 7 key skills that are vital to achieving success.
So, let's get right into it.
What does a B2B Business Development Manager do?
Day-to-day, business development managers are mainly responsible for driving business growth within a company. Ultimately, the success of the business development manager directly affects a company's growth and stability.
So, you've got a lot on your shoulders!
The role is also very varied, and there's a lot more to it than meets the eye.
B2B business development managers have a range of responsibilities such as:
Generating new leads and clients
Researching the market and identifying new business opportunities
Maintaining and developing client relationships
Enhancing business operations
Meeting with customers both face to face and over the phone
Devising client contracts
Responding to customers needs
Liaising with internal and external teams
However, this is in no way an exhaustive list and will vary from one organisation to the next.
To make sure you fulfil these different responsibilities, you will need to master 7 essential skills which we've outlined below.

7 Skills Every B2B Business Development Manager Needs
Whilst some of the skills listed below such as communication and flexibility may already be familiar to you, there may be other areas such as project management where that extra tweak may be needed.
Although there are certainly more than 7 skills required to be a successful B2B Business Development Manager, the 7 listed below are the skills we think are most important for you to focus on.
Communication
Communication is so important as a B2B Business Development Manager to build and maintain professional relationships that last.
Whether that's with customers or colleagues, being able to communicate is absolutely essential.
After all, it's your responsibility to make new contacts and to generate leads for business growth.
Existing customers and clients
Maintaining relationships with existing customers and clients has so many benefits, so don't disregard the original and the reliable, for the shiny and the new!
Existing customers can create a large amount of revenue regardless of how long they've been with you, and these are the people who have built the business to where it is today.
Tactics such as remarketing to original clients, creating customer loyalty programmes, providing customer support, and ultimately providing the best service possible, all add up to keeping your clients happy and loyal!
As well as maintaining these relationships, nurturing them is just as important.
As your business grows and changes, so do your clients and therefore, you must understand and respond to their needs.
Keep in mind the changing goals of your clients to ensure your business offering remains competitive.
Building new relationships
As well as keeping tight hold of your existing clients, getting your hands on new clients is fuelled by good communication and strong interpersonal skills.
If you don't recognise the benefits of adding new clients to the business, then the business will never grow.
A huge part of your role is identifying prospective leads and reaching out to them to build interest in your products/ services. As such, if you're not doing this, then you're missing out on a huge opportunity and your sales figures will remain stagnant.
You need to employ a proactive approach, and reach out to new customers whether that's through email, over the phone, or meeting in-person.

Team collaboration
Collaboration on all levels is so important for a B2B Business Development Manager, whether that be with other teams or with members of your own team.
This further promotes collaboration among team members, resulting in enhanced productivity, efficiency, and overall improved communication – a skill that we can already see is ranking highly in importance!
But what does this mean for business growth?
Collaboration among team members aids business growth as all members work and communicate with the same business goals in mind.
Therefore, it becomes simpler for business development teams to problem-solve, share knowledge, and to respect one another.
Negotiation and Persuasion
Finally, to finish our whistle stop tour of our first skill 'communication', being able to negotiate with clients and customers is highly important.
This ensures both you and the client develop long-term solutions that work for both parties, so that they keep using your services time and time again.
When it comes to the negotiation process, face-to-face meetings with clients are more personable and allow you to talk in a more relaxed setting.
As a result, this is an easier way to navigate these types of conversations and should result in a positive outcome for everyone involved.
It's important to remember that you should never be pushy or overly-salesy when trying to negotiate with clients. Whilst having confidence is key (a skill that we will expand on further in this post), you don't want to drive prospects away by coming on too strong.
Listen to what they have to say, and take their concerns/ doubts into consideration.
Is there something you can do to reassure them that their purchasing decision is right? Perhaps they are sceptical about the way your product works, so you could show them a product demonstration.
Whatever their anxieties or push backs are, take these into account and use them to inform future negotiations.

Project Management
Essential to business development and growth, is clear and organised project management.
This requires you to take the role as a leader, guiding teams through the entire project.
This process involves setting goals, identifying objectives, risk management, budgeting, prioritisation,and organisation as you will be overseeing multiple people.
Setting Goals
Making sure a clear, attainable goal is set at the beginning of the project ensures the whole team is able to visualise an end point and understands what they're working towards.
This end goal must be specific and relevant to the company and the goals of the client.
It is your job as a B2B business development manager to ensure everyone is working toward this common goal and understands what is required of them.
For example, when liaising with colleagues to develop sales and marketing strategies, do all members of the sales and marketing team understand their contribution?
Do they know what is required of them to achieve the goal that has been set?
If the answer is no, then this is very worrying. All team members must fully understand their individual responsibilities and how this is contributing to the success of the business.
Risk Management
This area of project management concerns tackling threats such as competitors.
You should ask yourself:
Who are our competitors now?
Who will they be in the future?
What can we do to stay one step ahead?
It's important within project management to identify the kind of threats you will be up against.
For example, will your competitors fill a gap in the market before you do?
If so, then you need to get in there first!
Perhaps there's a new product or service you could develop to make your offering more competitive.
Understanding what your competitors are up to is key, as you need to give customers a reason to keep choosing you.
Identifying Objectives
In order to reach the long-term goals of a project you need to be able to effectively identify the objectives.
These are most easily described as shorter-term routes to achieving the end result.
Identifying objectives serves to help with the organisation of your project, and route to your end goal by splitting objectives into their own categories.
This may sound obvious (to some) but there are various types of objectives within project management such as financial, operational, or strategic.
For business development, your focus should be on your business objectives.
However, other objectives such as financial or strategic are important to consider too as you should treat objectives like stepping stones, if you miss one you risk falling into the stream before reaching the other side.
You will be considering multiple objectives however when guiding projects, as each team member will have their own tasks to focus on while working towards the main business goal.
Budgeting
When we talk about budget, it's more than just the basic cost of the project at hand.
Aspects such as who is involved in the project, and what materials and resources are needed for the project, will determine how much you are going to spend going forward.
Allocating the correct amount of money to a project and preventing costs that are unnecessary is key, as you'll have to feed these figures back to your big boss.
If you're spending money in areas that aren't performing or don't bring any real value to the business, then questions will be asked.
As such, understanding different costs and being good with numbers is an absolute must!

Prioritisation and Organisation
These two aspects of project management come hand in hand.
Organisation within project management structures your entire project.
Therefore, as business development manager you should be setting a clear sense of purpose and direction for your project to make sure it doesn't deviate off track.
Organisation is not limited to completion of tasks however, as keeping your team organised is also key.
This means ensuring all team members know what they are doing and when they are doing so that you don't run over schedule.
For example, allocating objectives and tasks that are set to specific deadlines, as failure to meet these may result in a set back for the whole project.
This could be something simple such as not allocating enough time for a budget to be created resulting in the whole team being in the dark about how much wiggle room they have when spending.
Understanding Customer Needs
Customer or client needs are central to business growth, as without them, businesses would crumble. Therefore, prioritising these needs only serves to help business development as you are putting your customers first.
It is your job to discover these customer needs so that you can start better serving them.
This involves understanding your customer and communicating with them.
We can already see a link back to the importance of skill number 1 – communication.
Acting on feedback, having direct conversations with customers via email or face-to-face is one way to understand customer needs. This allows business development managers to assess buying decisions and what clients want from the business as a whole.
Getting to grips with customer needs can also be done by tracking competitor activity.
Keeping a watchful eye on those prime competitors is a good way of understanding the type of content your customers resonate with most.
For example, are one of your competitors doing something and exciting on social media that is gaining your customers attention?
These competitors may be producing content that resonates with the needs of your customers more than the content you are creating.
By taking into account what other competing businesses are doing you can build on this, as this information can be taken and put into your operations.
Essentially from this, you can see what customers and clients respond well to and what may be stealing them away.
Understanding customer needs determines the loyalty of your customers.
If you are doing it right, your clients will return your products or services thanks to your efforts to get to know who they are and what they need from you.

Conducting Market Research
Market research again, much like project management, has various different aspects to dive into.
If we quickly link back to skill number 3 'understanding customer and client needs', this is indeed a part of market research.
While this understanding helps to identify what competitors are actually doing, understanding customer needs additionally helps a B2B business development manager learn how their clients want to grow and excel.
We will come onto competitor research further down in this section, so stay with us!
From this customer understanding, gaps in the market can be identified and it is the business development manager's job to think of ways to wriggle into those gaps to have the best chance of gaining new clients.
Now of course this isn't the only way to conduct market research, as B2B business development managers need to know more than just customer needs.
This role requires research into:
New markets
Areas of growth
Trends
Products and services
Reaching existing markets
Understanding The Benefits Of Technology
Technology and market research go hand in hand, as new technology can help to accelerate your research process.
Ultimately technology can help the efficiency of deals and agreements with your clients. This falls under the umbrella of communication too as with the ever-changing business environment, technology should allow you and your clients to converse more easily and quickly.
Therefore you are understanding clients' needs through the platforms they use everyday and are able to identify the best ways to reach out to them.
During the market research process, technology should be your best friend, helping you to understand the latest trends in terms of marketing your product or service so that you reach as many customers as possible.

Competitor Research
Competitor research now, the one you've been waiting for!
Competitor research is exactly what it says on the tin. It involves:
Finding your competitors
Paying attention to their strengths and weaknesses (both product and service)
Essentially, B2B business development managers need to know what competitors are doing, what is working for them, and how they can do it better.
Recognising healthy competition helps you create a set of aims that can be implemented into projects or research plans.
Discovering where the gaps lie and how to fill them, is key in gaining a competitive advantage and getting clients to choose you.
Confidence
You can't excel in this role without being confident.
Now, don't mistake this word for 'arrogance' as this can really push clients away as you need to present yourself as someone they would want to work with.
In the B2B market, you're trying to partner with these people and gain their trust. If you come across as too confident (or worse, arrogant) they will most likely choose someone else.
It's a very fine balance between having confidence in your offering and understanding how to get people on board, and being too pushy.
However, a big part of your job will involve attending client meetings and liaising with various people, so confidence has to be a key skill here. Whether you're picking up the phone to speak to clients or attending networking events/ exhibitions, you need to be outgoing.
Hiding quietly in a corner waiting for customers to come, just ain't gonna happen!
Confidence is key not only when trying to find quality leads, but also when presenting to senior management and other team members.
Resolving conflict, contributing ideas, and extending feedback, are all aspects of your job that are enhanced by confidence.

Analytical Thinking
As we briefly mentioned in an earlier section, increasing revenue and helping the business to grow is central to the job role of a B2B business development manager.
Therefore, you need to master analytical thinking as you'll be dealing with A LOT of numbers.
Whether this is sales targets, producing reports for management, or tracking performance metrics, you need to think on a deeper level.
For instance, if a certain product has doubled in sales over the last quarter, what insights can you draw from this? How can these numbers inform future strategies and decision making?
Simply seeing and reporting on the numbers isn't enough.
You need to drill down into them and use them to steer future campaigns.
Analytical thinking can be split into multiple categories including:
Effective research
Critical thinking
Creative thinking
This skill is closely related to research as analytical thinking is used to extract market data and then analyse this as quickly as possible.
As one of your responsibilities is to help the company grow, collecting this data is essential for building a plan and strategy going forward.
In order to report to senior management that your business is on the right track, it is important to collate reports that show how your efforts are performing. This keeps everyone on track and lets them see how the business is progressing towards important targets.
Adaptability
All offices and working environments differ in one way or another.
As a B2B business development manager, you're required to work with more than just your own team as you'll be liaising with various individuals and departments.
Adaptability requires being able to change the way you work in order to achieve success, and this means understanding how to work with a range of people.
From the sales team, to the marketing team, to other business development managers you need to be good at adapting to different personalities.
Involvement in client meetings, liaising with other departments, and managing projects all require moving out of your comfort zone to work successfully in changing circumstances.
These adaptations may include:
Slight behavioural changes based on the people you are working with
Making changes to tasks with the business focus in mind
Proposing new ways to approach situations
Responding to unexpected situations
Rising to new challenges
Another situation which requires you to adapt, is when you hear the word 'no'.
Not every client will be interested in what you have to offer, and some people will simply turn down your products/ services.
Therefore, you need to be ready for rejection and understand how to adapt to the given situation. Let's say you're in a sales pitch, and the client suddenly changes their mind and is no longer interested in what you have to offer.
How are you going to adapt to this when you were expecting them to say yes?
Perhaps you have another product you could offer which is best suited to their needs, or maybe you could reduce the price to regain their interest?
All of this means you need to be open to new ideas and different ways of doing things so that ultimately, you still make a sale.

7 Skills Every B2B Business Development Manager Needs
So, there's your round up.
The 7 skills listed above are the ones we believe to be the most important for you to have as a B2B business development manager.
Helping businesses to grow should be at the top of your priority list, and these skills are the way to get there!
From harnessing fantastic communication skills, to developing analytical thinking, to learning how to accept rejection when a sales pitch doesn't go your way, there's a lot to wrap your head around.
And that's without mentioning travelling to client meetings, reaching out to new prospects, and liaising with multiple departments in the business.
So, why not let us take some of the pressure off so that you can get back to generating more leads and establishing relationships?
Here at Canny, we work with many different B2B businesses all over the globe, from the US to Australia. We've helped lots of companies to achieve success, and we can do the same for you.
Simply get in touch with a member of our team and let's see how we can grow the business together.