The most successful small business advertising ideas are rarely expensive. You just have to be clever about it.
Advertising can be seen as a bit of a naughty word. People tend to shy away from it.
Even the term advertising itself is being questioned.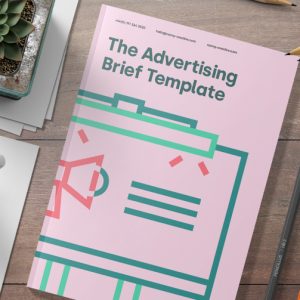 The Advertising Brief Template
An Advertising Brief is essential if your chosen agency is to understand exactly what you wish your advertisement or c...
Are you better to push than pull? Should you focus your time on inbound leads or outbound sales? The questions come thick and fast.
Here's the deal:
You're not going to make a success of your small business without advertising it. You need to show people that you exist and get your name out there.
Competition is fierce, and you need to tell (and show) people why they should choose you.
So how do you do it?
It's interesting.
When I started writing this post, I intended it to be a "bumper list" of small, local business advertising ideas.
And when I started researching, I found that those type of posts already exist. But they're all theory! No practical execution, and no actual experience with growing a small business.
So…
This is my story.
In this post, I'm going to outline the advertising strategies and ideas that I used to grow Canny, from £0 to a six figure turnover.
Let's start by going back to the beginning …
How Canny Got Started
I started Canny Creative way back in 2014. And at that time, I had nothing.
I'd just finished University, my partner and I had found out we were expecting a baby, and I had no money whatsoever.
All I knew, is that I was a good designer, and that I must be able to make some money doing it, even if I had to do it myself.
And that's exactly what I set out to do.
Having no money at all, it was easy to set an advertising budget. I was essentially working with zero pounds, zero pence.
So, what did I do to get this thing started?
Creating a Website
I knew as a designer, the first thing anyone would ask was to see examples of my work.
And so they should.
If you're considering using a designer or design agency, you want to see what they're capable of. That's why we display our work on the Canny site – to give potential clients a flavour of what we can do.
Anyways, back to the early days before Canny had even started.
So, I setup a website using WordPress, loaded it up with my University work, and started my journey towards learning the ins-and-outs of the platform.
When you're trying to advertise your small business, you need to make sure that when people Google you, you're there.
So having a professional website design should be your first port of call.
Without that, people are going to be relying on social media to find out more information about you. And that's not what you want.
You only get one chance to make a first impression, so make sure it's a good one.
Now, how did I go about advertising my new business?
Idea 1: Spread The Word to Friends and Family
The most logical step is one many people often overlook with small business advertising.
Tell your friends and family.
Put it on your new small business on Facebook page, and ask for support.
More often that not, people like to see small businesses doing well, and are more than happy to share your offering with their network of followers.
Furthermore, people are likely to check out your website and if you've already setup a Facebook page, they'll give it a like too.
Close friends and family are going to be mostly supportive. The rest, are too nosy to not take a look!
So, what have you got to loose?
Canny's first serious job came from a referral within our family. Without taking this first logical step, that would never have happened.
However, it is important to pick your moments, or mention it in passing.
Don't just spam your friends and family or keep hassling them. Take it from me, this can get very, very annoying.
Idea 2: Use Forums to Hunt For Work
Growing up, I had always enjoyed using forums. I was a member of different online groups that used forums as their main communication method.
So, I figured there had to be a forum for graphic design. And I was right.
The aptly named, Graphic Design Forum.
I started to get involved in the community and made some great connections through it.
But, on the forum, they also had a place for Tenders and Services Required. I found my first several paid client jobs through that.
To find small business forums in your sector, simply Google "your niche + forum" and you'll find a range of decent results.
Wishpond have a great article about driving traffic with forums and Q&A sites too!
Top Tip: You need to become an active part of the community. It's no good just stopping in to try and advertise your products or services. Quite often, the connections you'll make through the forums will be more valuable to your business advertising efforts than the sales you make.
Idea 3: Setup Social Media Channels
Who would've thought it?
Setting up the right social media channels for your business is invaluable when it comes to advertising your small business.
So many people now use social media that it has become an integral part of our daily life.
At one time, you would wake up and read the newspaper to find out what was going on around the world.
Now, you wake up and check your phone.
If you're not adversing your small business on social media then you're really missing out.
But just like forums, you have to participate. Nobody wants to see your business spam.
Use relevant hashtags to join in conversations about your local area as well as your industry.
By joining in these discussions, just like a forum, you'll find a lot of great people to network with.
Participation and engagement through social media and forums is key.
Top Tip: Try and add something to the discussion that doesn't already exist. When Canny started, we were asking questions of people's branding and website, which opened the door to a larger conversation about it.
Idea 4: Create Great Content
The biggest thing we did at Canny to drive our small business advertising and marketing efforts forward, was creating great content.
We've tried several types of content creation at Canny;
Blogs
Video
Podcast
Here's a little more about each idea, as well as the pros and cons;
Blog
Our blog is the main way that most of our clients come into contact with the brand.
And why is that you might ask?
It's because we explore topics which our audience actually care about. We also don't do surface-level stuff, as we take deep dives into each and every topic to make sure we've answered every question.
Essentially, we give people the answers they're looking for.
Also, it's not a form of advertising as such, but it is a marketing tactic that works.
The blog posts on our site are responsible for over 80% of our total website traffic and that continues to grow.
Pros
Attracts a high volume of traffic to your website.
Builds trust.
It's free!
Positions you as an expert in your field.
Cons
Good blogs posts take a long time to write.
You need a high converting offer to get people to take action.
You need to understand SEO to really deliver a high performing blog. (Don't let that put you off though, talk to us about it!)
Video
We've also tried our hand at video. And whilst it wasn't the most polished production, it certainly delivered some great results.
We actually won one high 4 figure job off the back of producing our video show.
The client said "It was authentic, and after watching it, I really felt like I knew the Canny team."
Because we're so busy, we've had to put video production on hold, but it will definitely be back in the very near future, so watch this space!
Pros
Shows a great "behind the scenes" look at your business.
Demonstrates your passion and knowledge.
Gives your business an authentic feel and let's people get to know you.
Makes difficult concepts easier to understand.
Cons
Good videos aren't easy to make.
They can also have a high cost of production (depending on what you shoot).
Videos can also be time consuming to create.
Podcast
With people getting busier and busier, they're looking for ways to consume more content when doing other things.
We haven't created a podcast at Canny, but it is in the works (you heard it here first!)
However, I've used podcasting when I ran a conference, and it worked wonders to introduce people to the brand, and gave us a noticeable upswing in ticket sales.
Pros
Can batch record a lot of episodes together, speeding up production time.
Lower barrier to entry than video content creation.
People can consume your content when on the go.
Cons
Can be difficult to get your head around the setup.
Need to invest in some good quality equipment at the start.
Creating the content could be a challenge.
There's a whole range of content ideas out there, but there's only 3 ways we can consume content;
The written word, video, and audio.
It makes sense to have a content plan for each!
Idea 5: Repurpose Your Content
One of the excuses people use when creating digital content, is the lack of time or creativity to get the job done.
We had this problem ourselves in the early stages.
But then, once you've created one piece of content, you can turn that into lots of other pieces of content.
This is called content repurposing.
If you create a long form video, you can use the audio as a podcast, transcribe it for a blog post, and then slice it up for lots of social media content.
Gary Vaynerchuk is the master of repurposing content.
If you've been following him for a while, you'll notice a lot of his content is derived from a longer piece of content he created. He even has a free slide deck about content repurposing.
Top Tip: If you have something to say, you don't need to create 100 pieces of original content.You can create one longer piece of content, and turn it into 100 smaller pieces. This saves you time, energy, and most importantly when it comes to small business advertising, budget.
Idea 6: Content Upgrade to Mailing List
Creating good blog posts, videos, and podcasts is all well and good, but you need to focus on getting website visitors into your sales funnel.
At Canny, we do this by creating content upgrades in the form of downloadable templates.
So inside each blog post, we have a free ebook, white paper, or checklist that is relevant to the visitor and gives them something tangible to use.
This is really important as you're adding more value to the reader by giving them something they can implement in their own business.
For example in our posts about logo design, we have links to The Logo Design Checklist.
Or if the posts are about small business branding, we link to The Ultimate Small Business Branding Guide.
By using a Content Upgrade, you're taking website visitors, and converting them into potential leads.
If there's nothing there for them to sign up and receive, you're letting a lot of opportunities fall by the wayside as they'll simply bounce back and continue their journey elsewhere.
Idea 7: Create Partnerships with Other Small Businesses in Your Area
Partnerships with other small businesses are often overlooked.
If you have a physical location, this will be an easy win for you. But it also works for service based businesses.
Let's take a look at this idea in practice;
The Physical Business Model
If you're a gym owner, you want to attract a certain type of person to your gym.
It's a safe assumption that your ideal member is interested in their health and eats a balanced diet.
So, in your local area, what businesses are they visiting?
You'll want to look for health food outlets, respected cafes and restaurants with a focus on clean living and healthy eating.
Go into those businesses, armed with your flyers and business cards, and ask to open up discussions with the owner.
You place your flyers in The Healthy Food Shop, and give their customers a discount. You take their flyers, and offer your members a discount at their place.
Reciprocal partnerships like this can really help you tap into the local community, and a wider range of potential buyers.
The Service Business Model
This is one of the key business advertising ideas we used to grow our business in the early years.
We looked for other design agencies to work with. Specifically, we went after agencies that were bigger than us, and freelancers and agencies that were smaller than this.
The idea being;
The bigger agencies would refer us work that they didn't have the time to take on, or didn't fit their design budget requirements
The smaller agencies and freelancers would come to us with work that was too big for them or outside of the scope of what they offer.
And it worked.
Referring up and down the chain helped us pick up several key clients in the early years of Canny.
Don't underestimate the power of local partnerships.
Idea 8: Networking with Purpose
No matter where you're based, if you look hard enough, you'll find a ton of networking events that you can attend.
But not all networking events are created equally.
There are certain events that are much more valuable to attend than others.
For example:
The Chamber of Commerce events are always highly recommended. You also have people that set up specific matchmaking events.
In the North East for example, we have Exclusive, who set up valuable, high profile networking sessions, with guest speakers and high level attendees.
When networking, you want to identify key prospects who might be at the events ahead of time, and then go after them.
Ask the organisers to be sat next to them, and make conversation around the topics you want to cover.
Having specific goals when networking will make your efforts more valuable and more concise.
Top Tip: You can use Eventbrite to find a range of networking events in your area. However, more exclusive networking events not be listed on there.To find those events, you'll want to get involved in the local business scene. The local business press is a good way to find out about these events.
Idea 9: Make the Most of Your Business Cards
People always say "business cards, who needs business cards in this day and age?"
Here's the deal:
The business card isn't dead. People still love giving out their card, and personally, I love receiving business cards.
Business cards make a statement.
I was a networking event once, when an Account Manager from a local design agency handed me her business card.
It was thick, embossed, and gold foiled. And it had everyone at the event talking!
They must have cost a fortune to have produced, but the impact made at the event with the cards was worth every penny of investment.
Everyone was dying to get their hands on these cards.
Business cards aren't going anywhere, what can you do with yours to make you stand out from the crowd?
Top Tip: There are a whole range of options when it comes to producing your business cards. Stay away from places like Vistaprint, because using a low cost print supplier will result in poor quality cards. Try something like Blush or Moo, or even working with a professional design agency if you're looking to up your business card game.
Idea 10: Host Your Own Events
Putting on a good event is incredibly tricky. But, it can also bring immense value to your business.
At Canny, we've been involved in putting on several events of different sizes;
Canny Live
Canny Live was a small series of workshop events and panel discussions that we hosted in Ontario, Canada at the back end of 2018.
We had a panel of local businesses and creatives come and speak about their experience of branding, web design, and digital marketing, to an audience of around 50 people.
At the event, I lead the panel discussion, asking questions and telling stories that the audience could relate to.
The event was a huge success, and I managed to come away with multiple project leads.
So hosting small events and social mixers like this is a great way to extend your network and bag yourself some new leads.
Hatch Conference
The second type of event we've been involved with hosting was a start-up business conference which had over 200 registered attendees.
The conference was a great success and we had speakers from up and down the country appear to talk on start up topics they're passionate about.
Hosting a conference was a great experience, but it did take quite an investment to put on.
However, the returns were great. I hosted the conference and also spoke about branding at the event.
Off the back of that, I was approached by several companies for work.
For full disclosure, I also worked on the conference event with a business partner, and I wouldn't have been able to do it without him.
Hosting and promoting a conference is expensive, but, it is another great way to generate leads and interest around your business.
Smaller Targeted Gatherings
I've not hosted this type of event myself yet, but it's in our marketing plan for later in the year.
Let's dive in with an example;
You're a gym owner. What you need, is Personal Trainers working out of your gym, who pay you a commitment.
Why not host an event with the title "How to Grow Your Personal Training Client List" and promote it to trainers in your area?
The trick here, is to make the event exclusive.
Only arrange to have 10 to 20 spaces at the event. Then, push out a Facebook advert that directly targets personal trainers within a 10 mile radius of your gym.
Get them to sign up if they're interested, and then pick the most promising leads from the list.
Not only does this get you the most highly qualified leads in the room, but it also gives you a great list of leads to target after the event.
Hosting small targeted events like this gives you great face time with your audience, and lets you demonstrate your knowledge in-depth.
Top TipIf you're thinking about hosting a business event, plan it carefully. Check for conflicts with other events in the area, and make sure you promote it consistently. Promotion and reminding people about the event is key. People are forgetful, and you need to get bums in seats.
Idea 11: Referrals
The best way to advertise your small business is to do what you do, and do it well.
It's the easiest way to win.
Make your customers and clients happy, and you can't go wrong.
By doing your job well, you'll generate referrals. Customers or clients are happy to refer you to their network if they're impressed with what you did for them.
We have a referral chain at Canny that has been the backbone of our business for a long time.
This is how it went down.
Several years ago, we visited a business networking event near Newcastle, called North East Expo.
At the event, we met Carly Morgan, who was working for a magazine subscription company, and I asked her to source me Entrepreneur Magazine.
She did, and we kept in touch.
At this point, I didn't know that she had her own business called The Shire Bakery. When she came to redesigning her website, she knew who to talk to.
With a job well done, she referred us to Robbie Thompson
Another job well done, and he referred us to Vortex Training Solutions
Who then referred us to eLojic
Who then referred us to Fika Consulting
So through a chance meeting at a networking event, came a whole chain of work for Canny.
At the end of a job well done, you want to do 3 things;
Ask for a testimonial
Write a case study on your website
Ask for a referral
We have a saying in the North East:
"Shy Bairns Get Nowt"
If you don't ask, you'll never get. So when people say they're happy, make your move.
Small Business Advertising FAQs
We thought now would be a good time to look at some FAQs to make sure we've covered all there is no to know when it comes to small business advertising ideas.
If you have any more questions or want to discuss your small business requirements in more detail, then don't hesitate to get in touch!
How Do I Advertise My Small Business?

As discussed in the blog, there are several ways to advertise your small business including social media advertising, paid advertising, sending out flyers and brochures, creating a website, and through referrals. The best way to advertise your small business depends on the type of industry you're in, and the product and service you're selling.

How Can I Advertise My Business for Free?

As well as paying for advertising, you'll be pleased to know there are various methods which are totally free of charge. For example, you could sign up 'Google My Business' which ensures people find your business when looking for products/ services like yours in their local area. Similarly, you could create a 'Bing Places Profile' which allows you to start capturing traffic from Bing too.

How Important Is Advertising to a Small Business?

Advertising is essential for a small business as it can drive growth and lead to more sales. Advertising works to elevate your small business marketing efforts and helps you reach the right people with the right type of message.
The Best Small Business Advertising Ideas
This is by no means a complete list of small business advertising ideas.
Like I said at the start, this is what's worked for us since we started Canny Creative. And we'll keep adding to it as we discover new things.
But, what's the best way to advertise a small business?
The best small business advertising strategy, is the one that costs the least but generates the most return.
And to find that out, you'll have to experiment for yourself.
It's no good reading posts about the best way to advertise your small business, or the best business advertising ideas if you're not going to act on them.
All of the business advertising ideas above work. It's how I grew Canny Creative from nothing to a six-figure business.
So don't be scared to jump in and give them a try!
Perhaps you need some help growing your business or putting these ideas into practice? If so, get in touch with the team and let's get things started.