Snack packaging is changing dramatically.
We as humans have become more conscious of what we eat and how that affects everything around us.
We've also become more busy, with less time, looking for more range from our grab and go solutions.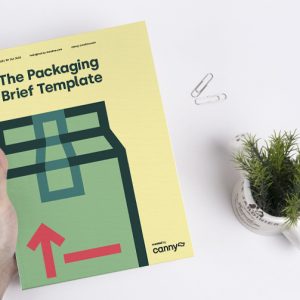 So along with the usual snack packaging for the big hitters like crisps and chocolate. There are more and more healthy snack alternatives popping up. Which brings a whole new style of packaging with it.
Below we will list out some successful snack packaging that will go through both healthy and more indulgent products.
It will shed light on some ways that you could market your product. Or how your packaging can enhance the users interaction with your brand.

Credit to Subplot
Level Ground Dried Fruit
Level Ground create multiple products from coffee and tea to spices and dried fruit. And it all comes from fair trade organisations. Being fair trade, natural and environmentally friendly are more prominent than ever when it comes to the food industry.
But it doesn't just relate to the product, it filters through to the brand and the packaging as well. Level Ground do a great job reflecting this with their packaging. They use a brown pack, which I haven't been able to find out whether the packs are compostable or not. But even so the brown pack with a bright colour looks natural and appealing.
Each different fruit pack also features a unique farmers face. These individuals are a member of the growers' association. This is used throughout all there product packaging. It's a great way to give the consumer a connection to where their food products come from.
This connection will build confidence with your consumers, and that your brand is doing good things. And in turn will make them feel good for buying your products.

Credit to One Plus One Design
Bronuts
I feel like there is a particular trend when it comes to food packaging design at the moment. Everything seems to becoming more minimal. Less bells and whistles and more white space which isn't necessarily a bad thing.
Bronuts have a great brand and great packaging to go with it. The packaging is clean and sleek, white with a big bold "Bronuts" circular logo on the top. And you can't get anymore clean than that!
As you make your way around the box everything is much the same, using the clean white approach with stand out logos. One subtle touch I love is the small semi circle on the front. Inside this it says "YUM!".
Now this is a pretty ballsy approach. You are giving very little information to a consumer, letting your product do the talking. But Brounts get away with this as there branding uses simple illustrations within the word to get across what they do.
Also, if donuts are your thing, check out our full blog post on the best donut packaging.

Credit to Studio JQ
Quintins & Co Crisps
Handcooked crisps normally come in natural looking packaging. leaning on the care and ingredients with nostalgic or farm like imagery. And this works, but Quintin & Co went for a more brash approach.
Matching striking colours and shapes with flavours. they have created a bold, lively and modern visual unlike any crisp packaging I have seen. It grabs your attention, but that isn't the end of the story.
As you look further, each flavour has its own unique name. This particular language makes everything more friendly which I connected with instantly.
Quintins has taken a different approach to crisp packaging. When it comes to your food packaging design, take a look at your competitors. Figure out whether you want to go down the same route and do something different to shake up the market. But be careful, you still have to connect with consumers. Being different is fine but if your consumers don't want to be different with you…

Credit to Midday
The Primal Pantry
The Primal Pantry create paleo or the caveman diet inspired snacks. Now if anyone knows me, they know I am not big into diets. But the snack packaging design for these tasty snacks hits the mark.
Much like the Bronuts packaging above they have kept things simple. Listing the ingredients, logo and some minimal caveman like illustrations. This runs with there straight talking tone of voice. Which in a world with a lot of fake information will always hit the spot with consumers.
When making the snacks, there is no secret method, kept under lock and key in the house of the last remaining heir of the family business. They take easy to get ingredients and press them together, they will even tell you how to make your own. Giving the packaging and brand a simple and honest approach. And this honest approach connects with consumers.
The Primal Pantry is a great example of how a brands message and tone of voice can be reflected in its snack packaging design.

Credit to Edmundson Martin
23 A Day
23 A Day is a brand created around the health benefits of having 23 or an ounce of almonds a day. As consumers are becoming more and more health conscious, there are more and more brands popping up like 23 A Day.
So with their packaging they have made it easy for a consumer to be healthy. They have one big pack with 7 packs inside, one for each day. Life changing? No, the best thing since sliced bread? Probably not.
But this simple solution makes it so very easy for consumers to buy into the brand. There is no extra work of splitting a big bag of almonds, and then finding something to keep them in. Simply grab a bag each day.
Making the consumers life easy is key with snack packaging design, it's a snack, it's supposed to be quick and easy. So don't over complicate the process with an all singing all dancing snack packaging design.

Credit to Robot Food
Kings Biltong
Healthy snacking is a huge business. And finding other healthy snacks as alternatives to fruit and nuts is something consumers are always on the lookout for. Kings Biltong is dried, sliced beef, high in protein.
This sort of snack packaging design is normally very fitness and exercise related. This type of design doesn't appeal to everyone. You health kickers may find it hard to believe but some of us don't like going to the gym.
Kings Biltong has created a design that has a more modern and neutral approach. Using quality stamps and language like 100% beef gives us health conscious non gym goers the reassurance we need that it is healthy.
Every brand has a target audience, but as you develop and grow this may change and expand. And with that your food packaging design has to develop also. In this case it has made the product more accessible. But you may be targeting a specific audience, it is all down to circumstance.

Credit to Robot Food
Bells & Whistles
Hearing "Vegan" or "Gluten Free" feels like you are losing something from the product. And when it comes to the packaging of these products it is very much the same limited feeling.
Bells & Whistles is looking to change that with its product and its snack packaging. Bells & Whistles is exactly what it says on the tin, or should I say small slice packaging. All the benefits with non of the limitations.
The packaging makes each product look exciting, alive and indulgent. The also pair bright colours and striking product image. To top it off they use messaging and tone of voice that uses language like "extraordinary" "extra" and "contains mmmhm's". It starts to feel like you aren't anything at all. If anything it feels the total opposite.
Again this is a great example of looking at the marketplace and doing something different. If you are thinking about doing this, I would always give the advice, go full hog. Don't dip your toe with this type of thing. If your going different, go different.

Credit to Ptarmak
Chomp Town Protein Cookies
Who doesn't love a cookie or eight every now and again. Well Chomp Town's packaging have made it even harder to resist the temptation, not that I was ever resisting.
Using an honest and personable approach with the brand, the packaging has a fun and lively appeal. Using beautiful colour combinations that help the product inside stand out. Partnering this with the playful typography. It gives the whole snack packaging a more light and relaxed feeling. Exactly what you should be feeling when eating one of these delicious looking snacks.
Chomp Town uses a mixture of light hearted typography with tempting images of the product inside to connect with the consumer. Showing images of the product is always a good thing when it comes to food. But make sure its a realistic image of the product. If all is not what it seems inside the packaging the consumer will feel a little cheated.

Credit to Ptarmak
Bear Naked Granola
Bear Naked Granola are a leader in their market, but with the boom of related products Bear Naked Granola wanted to reassure there dominance. The key to the success of their food packaging design is the consistency throughout the product range.
When making food packaging designs, it always pays to have an eye for the future, long or short term. If you are expanding the product line it has to have consistent visual style that works with the brand.
With Bear Naked Granola the brand orange and the bear illustration are present in all there packaging design. Each product is distinguishable from the unique window or colour they have on the design. This consistency makes every product recognisable as there's which is great for brand retention.


See full case study here
OPI Frutta
Now for one of our very own projects!
Our partnership with Opi Frutta led to the creation of a wide range of product packaging, and an ecommerce website that encourages customers to buy directly — both key ingredients in a successful brand/business!
Opi Frutta are innovating in the healthy snack sector, with an innovative new way of freeze drying fresh fruit, retaining all of the natural flavour and texture, making it a rather exciting project to work on based on the number of possibilities.
The snack sector is wildly overcrowded and the shelves are filled with "organic looking" products. Our challenge was to create a brand that positioned their fruit snacks as an exciting, vibrant, alternative choice for people looking for a healthy snack alternative.
Because Opi's snacks are a game changer in the snack space, we designed bright, eye-catching packaging that avoids organic and health food design trends. This vibrant palette makes Opi's products stand out on the shelves.
The use of real-world images of various fruits made the flavour of each universal in any language — it also gave Opi a clear cut advantage over the competition. Many of these healthy food brands use too much or too little fruit imagery in the packaging, whereas we found that perfect sweet spot.
Combining vibrant colours with real product photography, the brand is bold, exciting, and appealing across both physical and digital touchpoints. In short: we created a healthy brand that continues to shine to this day!

Credit to Midday
Hurley Burley Slaw
Now strictly slaw isn't a snack, unless you're like me and would eat it with vigor by itself. But I loved the packaging for Hurley Burley so decided to include it.
Hurley Burley brings bold flavours through its fermented foods. These bold flavours and the continuous fermentation process are represented in its brand and packaging design. The brand wraps around the container, going round and round. The bold colour palettes grab your attention as if you have had a huge spoonful of their Jalapeno and Oregano Raw Slaw.
This hard hitting packaging design represents the brand and the product perfectly. It's always a good tip to think about you product. What is it, what does it bring the consumer, joy happiness, or that kick of flavour? Then you have to figure out how your packaging will show that.

Credit to Dan O Comite
Blender Bombs
Blender Bombs are smoothie boosters, now I am not to sure what that means but the branding sells it brilliantly. "Booster" is a high energy word and gives you something "extra". The packaging design uses this and swings far away from the norm. Ditching the usual natural visual style of smoothies.
They have captured what looks like an 80s vibrant style in an explosion of neon colours and brash typography. A style seldom seen in organic ingredient foods. Grabbing the attention of consumers when looking through the shelves.
This packaging is almost at the point of being overwhelming, you don't know where to look, but that is what makes it intriguing. As a consumer I want to know more. I would recommend doing consumer testing with something so bold, not all consumers could think like me.

Credit to Johann Vernizzi
Ruffles Crisps
Ruffles is a big brand, and usually with big brands rather than a totally new brand. A redesign and tidy up comes into play.
The old packaging looked very dated in today's design world. And although the idea behind the packaging was still good it needed to be executed better. The redesign tidied up the old illustrations and colours. bringing a more vibrant and cohesive visual style.
These more vibrant colours were turned into a structure that represented each flavour. Overall we think this is a tidier and more clinical snack packaging design.
When it comes to your packaging sometimes it is a matter of a tidy up and rework rather than a total overhaul. So before pulling the plug on your existing packaging design. Have a think about what it does well, and if it still conveys your brands message.
If so you might just need to rework the existing design.

Credit to Thiago Dias
POP POP TOP Popcorn
These days people take snacks very very seriously, you get a lot of trendy artisans who will go to all lengths to create snack heaven. This has created a gourmet snack food industry and in turn a packaging design boom.
Gourmet normally means high end but with a fun and lively product like popcorn it doesn't fit. POP POP TOP Popcorn has a fun packaging design with popcorn illustrations and playful typography. This is all set on a brown pack, which gives the whole visual style a natural and handcrafted feeling.
The tone of voice of your brand and on your packaging design is key to how you come across to consumers. Using language like "gourmet" and "hand crafted" brings a sense of quality to the product. Certain consumers will relate to this and some won't, but find out who your target audience is. And all joking aside, learn their metaphorical language.

Credit to Story UK
Stoats Snack Bars
A lot of the snacks we have mentioned so far have been based around an adult target audience. But when it comes to snacks, kids are also a huge market. And finding snacks for kids that are healthy, tasty and appealing is always a challenge.
Stoats spotted this gap in the market and created a healthy snack bar which pleases parents and also kids. Firstly they manipulated their logo to come across in a more friendly manner. Using a banner background and replacing the "o" with an illustrated child's head.
They carried this illustrative style into the rest of the packaging. The main focus of each bar is the fruit they are using in it. So they created a set of friendly animal characters that mixed with the fruit to appeal to kids.
This tried and tested method of creating characters for kids snacks is always a winner. But Stoats has also managed to keep the packaging design clinical enough to also appeal to the parents buying the product.

Credit to BandB Studio
The Curators Meat Jerky
When it comes to high protein snacks, it normally hinges on the fitness industry. And the design of these snacks is influenced by the same fitness industry. The Curators have taken a different approach.
Inspired by food and flavour. Their brand idea was that they are curating the flavours much like you would art (some people would say food is an art…… me I would say that). This idea created the brand name.
This brand name reflects into the packaging design. Using bold bright colours much like the flavours they are using. And mixing this with brush like strokes linking it back to the art element of their brand.
The Curators have delved deep into their brand meaning and applied this to their packaging. This has created a very unique packaging design that seems to go against everything on the market.

Credit to BandB Studio
Snact Fruit Jerky
From high protein meat jerky to fruit jerky. The Snact Packaging focuses on there main mission points. Taking a stand or "acting" on something. And Reusing old fruit to make something tasty.
Taking inspiration from protest art they have created a vibrant and busy packaging design that grabs your attention. Once it has your attention you are hit with witty lines of typography that represent the flavour. Staying with the protest spirit.
Using a rip down the packaging they highlight the "ACT" part of the name. Again sticking with the protest style.
This packaging design is a perfect example of having an idea and running with it. They have visualised their purpose and brand messaging at every turn in the packaging. Coming together to create a busy but effective snack packaging design.

Credit to BandB Studio
Well & Truly
Healthy snacks can sometimes be quite bland when it comes to the snack packaging design. And lately there has been a big surge in trying to remedy that problem, A few examples are in this post. So when it comes to "free from", "no added" or "gluten free" we still need to get excited about its packaging design. It still needs to look tasty and appealing so we don't feel like we are snacking as a chore but more for pleasure.
Well & Truly have brought colour and joyful design into its snack packaging. Using a big bold typeface and selected colours they have brought a summer like feeling to the snack packaging.
The language used is also clever. Using words like "packed" "loaded" and "moreish" makes you feel like the snacks haven't actually lost anything with being healthy. More that they have gained something.
Getting to the root of the problem and finding a solution is what Well & Truly have done here. Realising that they don't want healthy snacking to be filled with a sense of losing out. But more with a sense of pleasure and satisfaction.
Snack Packaging Design Conveniently Digested
Snack packaging design covers many different markets in the food industry. And it is important that you know where you stand as a brand or where you want to stand if you are a new brand.
When you know that information you can start to solve some of the problems with packaging design in the market. Tailoring your snack packaging design to a solution and your brand values.
Whether that be bringing a more satisfactory feeling to free from foods.
Pushing the pleasure factor in your snacks to entice people in.
Or simply use an existing technique to make your product appeal to both parents and kids.
There are plenty of ways to make your food packaging design successful. But you need to figure out where you are in the market, who you want to be targeting and what problems you need to solve before you jump in.
If you are unsure about any of these or just want to chat through your current plan, get in touch and we can nail down your packaging design. We've helped lots of clients from the US to Australia and we can do the same for you!