Sportswear and fitness branding has changed massively over the last few years, and it's set to change even more in the coming years.
In an ever changing society, more and more audiences are delving into health and fitness. The sportswear and fitness industry is being redefined by our need for convenience and more acceptable price points.
This is without even touching on social and environmental issues.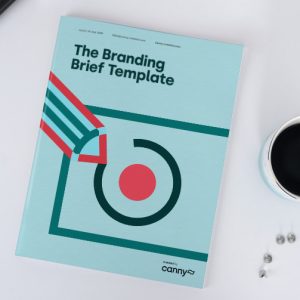 The Branding Brief Template
The Branding Brief Template is a free template that will help you get the brief for your branding project right. W...
Having the right balance between visual identity, story, and brand strategy can be key to creating or relaunching a successful sportswear or fitness brand.
This list will give you some examples of sportswear and fitness brands that have adapted to these changes in the industry.
Blow the whistle.

Branding by Darrin Crescenzi Studio
Reebok
Starting with something simple. Reebok is a sportswear and fitness brand that has, as silly as this may sound, looked back to move forward. I loved Reebok as a kid, and as I have grown older Reebok have transitioned from a more specific sports brand, to a more general fitness brand. The newer brand includes a triangle mark and changed typography that seems to have lost the recognisable aspects of Reebok.
So they decided to revert back to an older logo of the 90's with a bit of tidying up. Bringing back the nostalgia of what I used to love about Reebok, along with coinciding with a huge influx of retro fashion and sportswear.
Presumably the design brief of their most recent rebrand (they seem to have had quite a few!), was to make them cool again.
Reebok haven't just brought an old logo back from the dead though. The world has changed dramatically since the 90's, the Chicago Bulls aren't doing so good, and you aren't allowed to smoke in pubs (if you are in europe). Mobile Phones have taken over and that means a lot smaller screens than "back in the day". So Reebok have updated their 90's logo to have slimmer typography and more space in between the marks elements. Making it more legible at small sizes.
Now for most new brands they will not have brand equity built up like Reebok to fall back on. But looking back is a good idea when trying to make a change. So look back on why you created the brand, look back on styles that have come back into fashion. You might just be missing something that could reinvigorate your brand.
24 Hour or Budget Gyms
With our working and home lives getting busier and busier and health and fitness becoming more a part of everyday life. The rise of the 24 hour gym or budget gyms has been massive.
The need for convenience and the ability to hit price points that don't break the bank are key in today's gym brands. And gym brands like Xercise4Less, Pure Gym and The Gym Group have recognised this.
Offering 24 hour access is great for the busy bodies and the more shy gym goers who may not want to work out with veterans of the free weights. This "here for you when you need us" attitude opens the doors for everyone to come and exercise. And the price points build on that all inclusive attitude.
Partner this with some strong advertising, particularly from The Gym Group. Where they show people of all ages and walks of life in their gyms. They hit almost every audience rather than a specific group.
The logo marks for these gym brands may not be award winning design. But they bring a friendly and welcoming feel, using bright colours and more round typography. A long way away from some masculine and more energetic brands that are out there.
All of this comes together to create a winning formula, that doesn't seem to be going away anytime soon.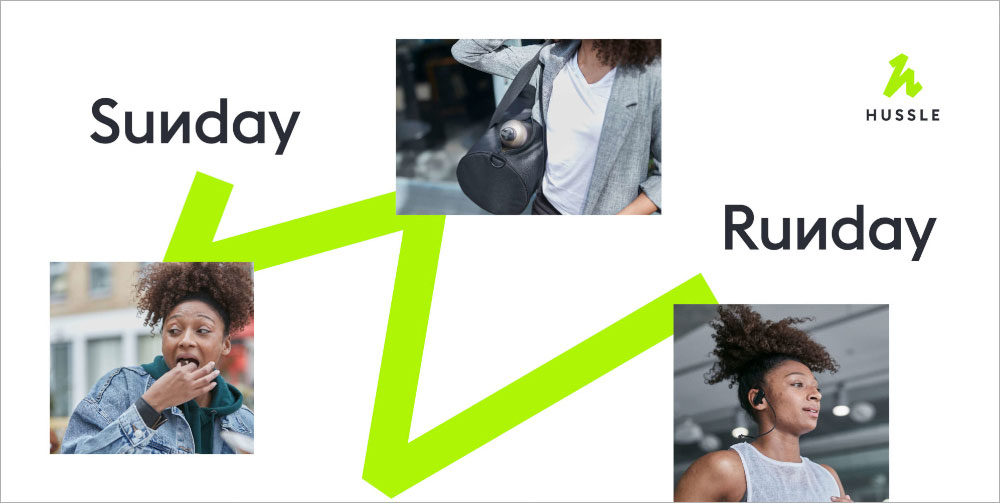 Branding by Onwards
Hussle
Similar to the previous example, Hussle is all about convenience and making your money work for you. Their rebrand is inspired by the audience that it targets. Savvy people wanting to get the most out of life while fitting exercise into a busy lifestyle. This "hustling" attitude is where the name and the logo mark comes from.
Visually they have a mark that depicts moving from one point to the next in the shape of an "H". Perfectly showing the busy lifestyle of one of their target users. The skewed shape speaks to the unpredictability of these people's lives, and how fitness is fit in as part of their life. Across the brand they have created an icon set and custom typeface that similarly reflects this visual metaphor. Bold and modern colours finish off the visual style that fit perfectly with the brands way of thinking.
Hussle has taken it a step further than the 24 hour and budget gyms. In both its way of thinking and the visual style. Creating a modern and forward thinking brand.
Girlfriend Collective
Similar to another example further in this post. Sportswear and fitness brands have evolved as time has gone by. As we as a society evolve and our views are more enlightened. Being more socially and environmentally conscious. Sportswear and fitness brands have done the same.
Girlfriend Collective are one of those brands, and are all about being inclusive and sustainable. They create womens activewear in a sustainable way for people of all shapes and sizes. Because as they put it "we believe health and wellness come in many shapes and sizes".
Similar to many of these forward thinking brands the visual style is more of that of a lifestyle brand than an energetic sports and fitness brand. It has a softer and more environmental feeling to it with natural colours and welcoming typography.
Altogether it creates a community feel of a more often than not segregated section in the sports and fitness sector. Girlfriend Collective is a pioneer of how brands are being created to sit more in line with our ever evolving society. And how our sports and fitness connects to more things than just the immediate physical health benefits.
Rapha
With cycling being a hot topic at the moment (at least it is in the UK with the pandemic). Involving a cycling brand in this list only seemed right. And as a designer, Rapha is a beautiful brand with a minimal and characteristic brand logo. But when you realise how much things cost, a newcomer like myself falls off their bike.
But Rapha has positioned itself to being the high end brand it is, and in doing so has got them brand partnerships with Team Sky among others. This high end price point creates a love or hate relationship with cyclists, you are either all in for the brand or look on in envy.
No brand wishes to alienate anyone, and this is probably a relatively extreme example. But strategy is a key part of branding and Rapha have very much when down the high-end route. And if done right, both visually and what content you create, you will gain a following of people that buy into your brand. Apple is a great example of this.
Understanding how you see yourself is key to carving out exactly who you are as a brand. And once you know this, you can build a strategy and visual style around that.
Gymshark
Social media has changed a lot in the last 10 years or so. In the beginning it used to be a way of connecting with old friends or family members. Since then it has grew into something that has touched all our lives and all our working industries. Sportswear and fitness brands are no different, yes the big names of the industry utilise social media. But social media has had a great influence on startup businesses as well.
Gymshark is a fitness apparel & accessories brand, so what? Well it is also supported by millions of highly engaged social media followers and customers in 131 countries. This is a long way from a screen printing operation in a garage that it once was. And this was all built off the back of social media.
The power of social media in this day and age is incomprehensible to some. But if done right it can be the platform that boosts you from a couple of friends trying to make some comfortable and stylish gym gear. To being an innovative brand that is pushing the boundaries of the industry.
Knowing your audience and having effective strategies for social media content is key to engaging your audience. This engagement can help grow your brand in ways you never thought it could.

Credit to Under Armour
Under Armour & The Rock Endorsement
Social media is a powerful tool, but having a famous face endorse your brand can also help boost your brand. When you are a sportswear and fitness brand, endorsements from pro athletes or public figures could be the key to your growth or your demise . Under Armour recently released the Project Rock collaboration. Partnering with world renowned wrestler and film star Dwanye "The Rock" Johnson. Just typing the name gives me nostalgic thoughts of my childhood watching taped wrestling on VHS.
Now Under Armour aren't exactly a brand in trouble, and here at Canny we love the Under Armour branding already. But getting endorsements like the above can open up a new audience to your brand. An audience who might have only seen The Rock in his films, but like the idea of fitness, thus choose your brand to get their fitness gear from. Under Armour have many different endorsements. From Steph Curry (a professional basketball player to Jordan Speith (professional golfer).
Alas, we understand not every sportswear and fitness brand can go out and get the likes of The Rock to endorse their brand. But endorsement doesn't mean they need there own signature clothing line.
The flip side of having someone endorsing your brand, is you endorsing others. Under Armour partner with Liverpool and other sports teams to deliver their kit manufacture. Sports team branding is crucial. Get it wrong and you alienate legions of fans, get it right, and you're revered among them.
Scaling this thought process down, and looking for endorsement (or to endorse others) to engage new and existing audiences will help grow your brand.

Branding by Jones Knowles Ritchie
Footlocker
Footlocker is an internationally known brand in the sportswear and fitness sector. And with the explosion of sneaker culture it is a big player in supplying them sneakers. But Footlocker to me is a slightly tired and very masculine brand. Which has created a problem for footlocker. Women are now big into sneakers, and this masculine brand has made it harder for Footlocker to engage this audience.
Instead of totally changing their brand, Footlocker decided to tidy the icon mark, create and custom typeface. They then created messaging specifically to engage women in sneaker culture. Inviting them to be part of, rather than seperate in sneaker culture.
The new typeface is partnered with reimagined stripe patterns. Inspired by camouflage used on ships from world war 1, this camouflage did not conceal, but rather, make it hard to pin point. This visual metaphor is said to be fitting for the female sneakerheads. Creating a visual language that is not only stunning, but meaningful.
This brand update by Footlocker show how the sports and fitness sector changes. And how like any industry, brands need to adapt to these ever changing markets.
On Running
When it comes to technology in sportswear and fitness brands. The big guns come to mind, Nike, Adidas, Puma and so on. But more and more we are seeing small startup companies with revolutionary technology pop up in the industry. The ability to utilise social media and funding to their advantage has allowed more of these brands to expose themselves to the world.
On Running, is one of these forward thinking brands. The mark's vertical layout gives the brand a unique and tidy logo, perfect for small spaces and legibility.
To me the logo also depicts a person. Showing the personal element of the brand. These shoes are created by and for the individual runner. One of the founders is an ex professional athlete and brings all of his many years of experience to the consumer.
Standing out in an already crowded marketplace is hard. But building on an engaging story, by using technology and a great brand can really allow you to stand out in the industry.
Koral
I have been involved in sport all my life, either through the pure enjoyment, or to keep myself healthy. But while doing this exercise I never really cared about what I looked like while doing it, as long as the gear I was wearing was comfortable. As society has moved towards fitness and being healthy as a whole, sportswear and fitness brands have recognised this.
So not only do they have to cater for people who just want gear that is comfortable. They have to cater for the people who want to look good doing it. Maybe in their favourite brands or high end activewear costing top dollar.
Koral is one of these sportswear and fitness brands that fall into this category. Positioning themselves as exclusively "luxury" activewear. Which makes them a more fashion led brand, than a sports led one.
You can see this in their logo and their website. With stylish product photography and considered design. It is exactly what this customer base is looking for. Urging you to buy into the brand and the lifestyle that comes with it.
Similarly to Rapha, this wont be for everyone. But Koral have made the choice and have went with it.

Branding by Chermayeff & Geismar & Haviv.
US Olympic and Paralympics Museum
The USA have always been hardened competitors and have always done well in the Olympics and Paralympics, or a least in my lifetime they have. And they have created a museum to document their participation. The US Olympic and Paralympic Museum.
This brand isn't so much a sportswear and fitness brand so to say. But with the Olympics and Paralympics being the pinnacle of sport and fitness I wanted to include it. Olympic and Paralympic brands are always tough to design, they come under so much scrutiny and have very little wiggle room on what you can do. And this brand was no different.
There was three main elements that needed to be included in the brand; The Olympics, The Paralympics and USA. One big challenge of this was trying not to make it look like a political campaign brand.
Using the Olympic and Paralympic colours solved the political campaign feeling. But how to involve the USA? They did this by using the stripes from the American flag, creating the feel of an American flag without the stars or red, white and blue overload.
The shape of the mark also takes inspiration from the building itself. All these elements come together to create a worthy brand mark that surely no one and turn their noses up at.
Brands like this are lovely examples of how you can build a brands visual identity by piecing the key messages of the brands values together.
Chilly's
Fitness in general has taken much more of a lifestyle path in recent years. So it's not all grunts and profuse sweating, which can be very intimidating. We have come to learn more about our diet and how making simple changes in our lifestyle can make a big difference in our health and fitness. And some brands have noticed this change in our thought process. And in doing so took the opportunity to dive into an industry that is known for energetic and intense branding.
Chilly's is a brand who create water bottles (among other products). And they don't exactly look like your typical sports and fitness brand. But we have seen more approachable and environmentally conscious brands popping up in the sector. They pioneer the use of reusable products and in doing so have opened themselves up to a totally new market. The health and fitness fanatic, who is also socially and environmentally conscious.
The minimal and unique fitness brand brings a totally different feel to the fitness sector and with it a totally new audience. Now this may not get your heart pumping like more energetic brands do, but it hits the spot with an industry that is thirsty for change.

Branding by John & Jane
On The Head Mental Health
Along with our physical health, our mental health has became a huge part of fitness. Similarly to the more environmentally conscious brands popping up in the sector. Mental health brands have also been popping up in the sector. And considering at the time of writing this we are coming out the other side of a global pandemic. Fitness and mental health have became more intertwined than ever.
On The Head is one of those brands / organisations that are tackling mental health in sport, and more precisely football. The identity is quite bulky, and as a designer the first thing that comes to mind is the size of the mark. But when you take a dive into the reasoning behind the mark it all makes sense.
The geometric lines of a football pitch are one of the most recognisable patterns in the world. Even if you don't like football, I beg to differ you wouldn't recognise it. So this acts as the attraction element of the mark. Flip the page and mental health in football is a not so recognisable aspect of the game. The mark is trying to change that, bringing to light what happens when you start to look beneath the surface of football.
Recognisable patterns matched with bright colours and straight forward messaging, completes a well thought out and visually stunning brand.
Conclusion: Sportswear and Fitness Branding That Gets the Heart Racing
When it comes to sportswear and fitness branding a lot has changed in recent years, it's not all about looking energetic and masculine. Our changing society has made these brands take a look back and forward. And think in a more social and environmental way to become more inclusive.
Sportswear and fitness brands constantly need to reach new audiences and face new issues. Building a strong brand and strategy can build followers but being able to adapt is the key.
If you have any questions about sportswear and fitness branding, or are not sure where to start with a new venture, don't hesitate to get in touch. We would love to help.