Creating exhibition stand design that not only stands out, but also leaves a lasting impression in your customers mind, can be a bit of a challenge.
Of course in the first instance, grabbing your customers attention should be number 1 priority.
Without doing this, you won't have anyone at your stand to nurture into a customer.
But once you've got them at your stand you need to keep them there long enough to really sell your business.
This is another reason why your exhibition stand is so important as it needs to be designed to leave a lasting impression. From interesting graphics on the walls, to areas for product demos, to comfy sofas for those all-important sales chats, there's a lot more to it than just pulling up a few roller banners.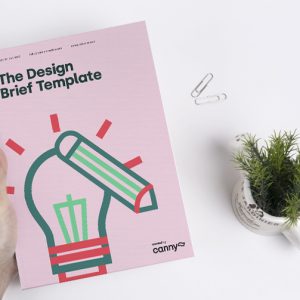 The Design Brief Template
The Design Brief Template is a free template that will help you get the foundation for your design project right. Whet...
You need to make sure that your brand stays at the forefront of your customers mind, so that when they leave, they're still thinking about the fantastic products and services you offer.
This will motivate them to reach out and engage, which in turn, increases the likelihood of them becoming a customer.
But before any of this good stuff can happen, you need to create an effective exhibition stand design that hooks people in.
It's important to remember that an exhibition stand is much more than just a shell, or somewhere for you and your team to sit while you wait for customers to walk by.
It should create an experience and make people think 'oooh I wonder what these guys do?'
Well, by reading this post we're going to tell you how to create an exhibition stand design that stands out and makes an impact.
Let's take a look.
Set Your Goals
Before you even start to design your exhibition stand you need to think about what you're trying to achieve.
This is because absolutely no company in the world exhibits at a show without trying to do something.
Whether you're wanting to promote your new product launch, enter a new market, or increase brand awareness, there's always a reason why you're exhibiting.
Knowing this information from the get-go is key as it should drive every decision you make about your exhibition stand design.
For example if your goal is to promote your new product launch, then this should be absolutely visible on your exhibition stand design.
The word 'new' should feature heavily across all visuals so that people passing know something new has dropped. This creates an immediate sense of intrigue as they want to find out what it's all about.
You could have a section of your stand dedicated to a product demo of your new product so that people can see it in action. To push the message even more, you could give away a handful of freebies so that potential customers can try before they buy.
This messaging should be loud and proud to entice people over to your booth as the truth is, no one can turn down a freebie! It's a great way to hook people in so that you can get the conversation started.
As you can see, knowing your goal from the outset is highly important as it affects the entire direction of your exhibition stand design.
Maximise Space
Less is more when it comes to exhibition stand design.
Don't be afraid of some empty space or a corner that looks a little bare, as this lets your exhibition stand to breathe.
When it comes to choosing items of furniture for your stand, choose wisely and with the customers needs in mind.
Of course it all depends on the size of your booth as to what you can actually fit in it, but packing it full to the brim is never a good idea.
Instead, think about how a customer will move through your exhibition stand so that you can create the very best experience.
Customers don't just stay in one place, but instead, move through your booth to look at what's on the walls or table tops.
You don't want to restrict this experience by having lots of chairs or tables in the way, meaning they have to squeeze past them to look at your products.
Therefore, think about your furniture carefully and consider what items are needed to really enhance your exhibition stand.
For example:
Is there a table where customers can set up their laptop and rest their coffee? Is there a comfortable seating area where your sales team can do their pitch? Is there a TV where you can show product demos or explainer videos?
All of these things need to be considered so that you can start choosing the right pieces of furniture from the outset.
As always, keep your goal in mind and think about your customers' needs first.
Don't be text-heavy
Don't fall into the trap of using lots of text when designing your exhibition stand.
Short, concise sentences work so much better as they're easier to digest. They're also much snappier too which means your customer is more likely to remember them.
Think about any good slogan that you know.
For example…
What do you notice about each of these?
They're 3 words long.
This creates a much bigger impact and also makes them much easier to remember. Make sure you apply the same principles to your exhibition stand design.
There's absolutely no need to fill every white wall with long sentences of text as your audience is never going to read it.
The reality is, in a crowded exhibition ball with hundreds of brands competing for attention, no one has the time.
Instead they want to know what you do, and quickly.
The last thing you want to do is overwhelm a potential customer which is easily done when you've got lots of wording and messaging flying all over the walls.
As a result, make sure you pair your messaging with graphics and visuals as this creates a good balance between the two.
Using an image of illustration can really help bring your messaging to life and can add a real sense of visual intrigue to your exhibition stand.
Position your logo and messaging correctly
Your brand name and logo are one of the most important assets your brand has.
Make sure both of these things are correctly displayed on your exhibition stand to gain maximum exposure.
When designing your roller banners or shell scheme graphics it can be easy to get lost in the visual side of things – after all, this is the fun part!
But displaying your logo correctly is key to ensuring people remember who you are.
It's no good having lots of pretty images and illustrations then a teeny, tiny logo hidden in the corner somewhere.
You need to think about the right proportions and make sure everything is nice and balanced.
If you have a text logo, use a font that is big and clear for people to see from a distance.
Remember the exhibition hall might be packed with hundreds or thousands of people and you want your brand to jump out.
People shouldn't be scratching their head wondering what your company is called as this should be immediately visible.
It's also a good idea to place your logo on the top half of your exhibit stand so that it's not blocked by people standing in front of it.
Planning at this stage is absolutely key as you don't want to build your stand and then realise these problems when it's too late.
Decide on the type of exhibition stand
There are lots of different types of exhibition stands available depending on the nature of the event you're attending, how often you plan to exhibit, and how often you change your messaging.
For example, roller banners are fantastic for smaller events as these still convey your message without costing a fortune.
However, if you're attending a global exhibition which always generates lots of leads for your business, then you'll want to make more of an impact.
If you know this type of show is a success, then spending a bit more on your exhibition stand design is well worth it.
With that said, let's take a look at some of the different types of exhibition stands available.
Pop-ups
As the name suggests, this type of exhibition stand quite literally pops up.
This then allows you to attach graphics to the metal frame via magnetic strips. It's so simple to use yet creates a strong visual impact.
Pop up banners come in a whole range of sizes depending on how much space you have.
The other great thing is that they're lightweight, compact, and fully portable meaning you can easily collapse them and take them onto the next show.
Compared to some of the other options we will explore, pop ups are a cost effective way to display your brand.
Shell scheme graphics
These graphics are designed to cover the walls of a shell scheme which the builders/ contractors will install before the show starts.
As the graphics wrap around the walls, it gives you more room to showcase your brand and what you have to offer.
You can also attach things to the wall such as products, shelves, and lights to create more of an experience for visitors.
The cost of shell scheme graphics will vary depending on the size of your stand, but usually they offer exhibitors a cost effective solution.
Modular display stands
Modular display stands are a bit like a jigsaw puzzle.
They consist of different modules that fit together to build up your stand.
The great thing about this is that you can reconfigure and move the pieces around to change the design of your stand.
This makes a modular display a perfect solution if you exhibit frequently and you want to mix up the design every now and then.
Be sure to check whether you can install/ dismantle the system yourself or whether you need a team to help you before making a purchase.
Similarly to shell scheme graphics, you can attach items to the wall to enhance your exhibition stand design even more.
Traditional banner stand
If you're working on a tight budget then banner stands could be the perfect solution.
They come in a whole range of shapes, sizes, and price brackets so you're sure to find something to meet your business needs.
If you want something more cost effective and simple, a single banner stand will work well on its own. However, if you're wanting to make more of an impact, then individual banner stands can be locked together to create a seamless finish.
You can also recognifure the different pieces depending on the event, which saves you money in the long run as you won't have to buy additional systems.
Bespoke exhibition stand
As the name suggests, these types of stands are built from scratch which gives your brand a totally bespoke finish.
As they are designed and built to your exact specifications, you are in control of how the final product will look.
From the overall shape to the type of flooring used, you're in the driving seat which means you can design an exhibition stand that fulfills all of your requirements.
This is the best option if you have a bigger budget as the options are endless in terms of what you can create with a bespoke exhibition stand.
Lighting is key
When designing your exhibition stand, you might overlook the importance of good lighting.
After all, it's not something you always think a great deal about as you might assume the lighting in the exhibition hall is sufficient.
However, you're attending an exhibition to show off your products and services. This is never going to be possible if people can't properly see them.
OK so maybe we're exaggerating just a little (of course people are going to be able to see them), but is the lighting doing them justice?
Especially if you're attaching products to the wall you want to have down-lighters or spotlights to really draw attention to the different items.
Similarly, if you've got an area of your exhibition stand with a sofa and table where your sales team will chat with customers, think about how lighting can be used to make this more welcoming and intimate.
You want to make your customers feel comfortable so that they decide to stick around.
When used correctly, lighting can enhance aesthetic appeal and can be used to create different moods depending on what you're trying to achieve.
Exhibition Stand Design Examples
Now that we've talked about what makes effective exhibition stand design, we thought we'd take a look at some examples.
From pasta brands to sports brands, there's a whole range of companies who've got their exhibition stand design spot on.
You'll notice that they follow the principles outlined above to make a real visual impact on their customers.
Waldorf Astoria Hotels and Resorts
What I love most about this exhibition stand is that from first glance, you would never even know it was an exhibition stand.
It looks absolutely stunning, and is totally reflective of the Waldorf brand.
As a chain of high-end, luxurious resorts, it's only right that the exhibition stand visually represents this.
In fact, it looks as though you've just stepped into one of the Waldorf hotels with its diamond chandeliers and beautifully designed ceiling.
Everything from the professional imagery, to the herringbone wood flooring screams luxury.
The Waldorf logo also sits proudly on the wall above a full-length TV screen to immediately grab your attention.
Mafka Pasta
Next up is a great example of how to design your exhibition stand with space to move around.
As we've said earlier in the blog, cluttering your stand with lots of furniture is never a good idea as visitors need to be able to move and browse.
A few items like a reception table, some chairs, and a shelving unit are enough to make an impact without overwhelming people.
And that's exactly what Mafka pasta has done.
They've also built a beautiful wooden frame on one side of the stand to add more visual interest. However, this serves a practical purpose too as they've also used the frame to hang their lights on which adds a cosy and intimate feel.
*Remember lighting is absolutely key and needs to be carefully thought out.*
The colour scheme is also very minimal apart from the red Mafka logo which is located higher up on the stand for everyone to see.
Adidas Pop-up Stand
This pop-up shop from Adidas is just genius.
OK, so whilst this isn't exactly an exhibition stand as such, pop up shops are becoming increasingly popular for brands who want to try out new locations.
It also served the same longevity to an exhibition as it was only in situ for 3 days.
By using a shoebox as the exterior of the shop, it visually represents exactly what Adidas are trying to sell:
Shoes.
It's such a creative and imaginative way of pushing a product and is sure to grab the attention of anyone passing by.
Even if you didn't like Adidas or weren't that into trainers, I can't imagine anyone who would be able to pass this without going in for a peek.
It also creates a great sense of surprise as you would never expect to suddenly see this on your journey to work!
Adidas is a great example of a brand who thinks outside the box (or maybe inside the box depending on how you look at it?!)
Superdry
Superdry has really made the most of lighting up their exhibition stand using fluorescent strips which are suspended high above the graphics.
This really highlights the outfits being shown on the mannequins and encourages people to take a closer look.
They've also created a purple/ blue mood which is representative of the theme they're going for – winter wear.
The cool blue lighting almost makes you feel quite cold and you can imagine yourself skiing up the snowy mountains in the backdrop image.
This is highly effective as you immediately want to reach for something warm and snug – the Superdry products.
Featuring a mix of puffy, outdoor jackets, waterproof trousers, and snug headwear, the whole concept ties beautifully together.
The exhibition stand isn't cluttered either as the image of the snow-capped mountains really takes center stage.
A perfect example of less is more.
Steal the Show: Exhibition Stand Design That Stands Out
To create exhibition stand design that stands out, make sure you follow the tips outlined in this blog post.
From making sure there's enough space on your stand, to using the right balance of text and imagery, there's a lot to consider to make sure you stand out in a sea of other brands.
Exhibitions and trade shows can be a fantastic way for companies to showcase what they have to offer and increase their number of sales.
That's because you get the chance to talk with customers 1-to-1 to build up a sense of rapport. However before you can do this, you need customers to actually visit your stand in the first place.
This is only going to happen if you've designed an exhibition stand with maximum visual appeal.
At Canny, we've worked with lots of brands to help them design and build an exhibition stand that steals customers away from their competitors. By designing your stand professionally, you can be sure to leave a lasting impression that allows you to turn visitors into customers.
To find out more about how we can help, simply get in touch with our team!