Originally introduced as a seasonal Christmas beer in 1926 by Brouweij Artois in Leuven, Belgium, Stella Artois is now a pilsner that is owned and manufactured by Anheuser-Busch InBev.
It holds the position of being the third most popular beer brand worldwide and it's believed to have "the world's oldest logo."
For all of its popularity, the brand wanted to appeal to a younger audience and to be seen as a more contemporary and casual option.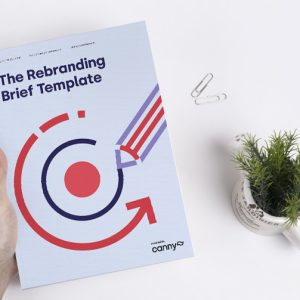 The Rebranding Brief Template
The Rebranding Brief Template is a free template that will help you get the brief for your rebranding project right. ...
This led Stella Artois to develop a fresh "brand world" crafted by the global branding agency, Jones Knowles Ritchie.
The newly created Brand World of Stella Artois, developed by Jones Knowles Ritchie (JKR), brings to life "moments of beauty around the table" through a modern design framework. This update aims to rejuvenate the brand and provide a cohesive visual framework across all touchpoints.
"JKR has been a trusted partner to AB InBev for years and they understand our brands intuitively. They brought this knowledge to the table as we worked together to build a distinctive brand world for Stella Artois that would inform everything we do moving forward. The end result is an elevated but more relevant and modern Brand World that will help us reach a diverse audience and puts us at the forefront of every beer occasion, big or small." – Tim Ovadia, Global Vice President at Stella Artois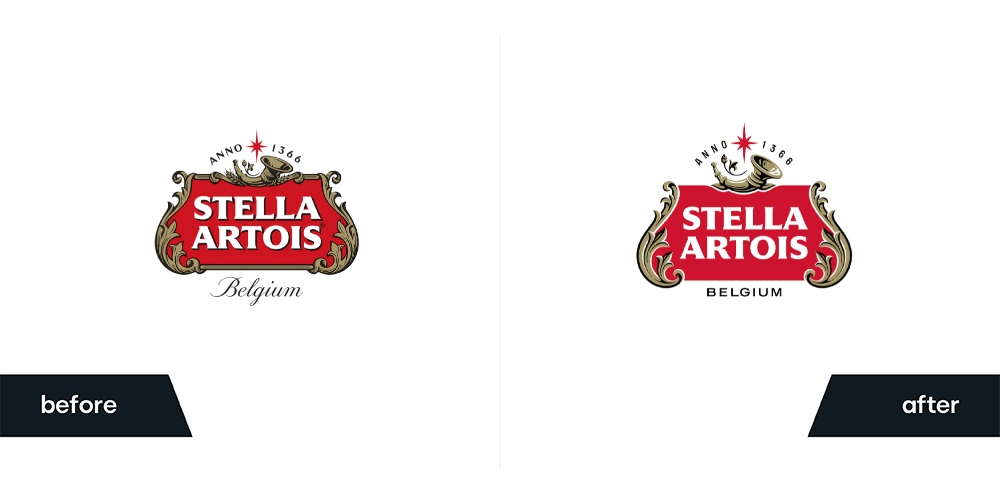 Credit to Under Consideration
A simplified cartouche
Before we dive in, let's start by defining what a cartouche actually is as this one is new to me!
A cartouche (also cartouch) is an oval or oblong design with a slightly convex surface, typically edged with ornamental scrollwork.
Now that we're clear on that, let's look at the old cartouche vs the updated design. The old form was first introduced back in the 80s which wasn't helping the brand become more modern.
The previous outline was also quite chunky which made it look as though it had been around for a lot longer than 40 years! Ultimately this stodgy tied Stella Artois to the past, a concept they were very much trying to break away from.
Coupled with this is the "Belgium" script underneath which also makes the brand feel stuffy and stuck in history.
It's certainly not a modern look and there's something quite upper-lip about it. When trying to engage a younger demographic, it's important to come across as more relaxed and informal which is why the rebrand was necessary.
The updated cartouche is far modern and strips back any superfluous details. Not only is this more aesthetically pleasing, but it also allows the logo to work better across a range of digital touchpoints.
It's flexible and scalable – both of which are needed for the brand to expand their audience base and reach a younger audience.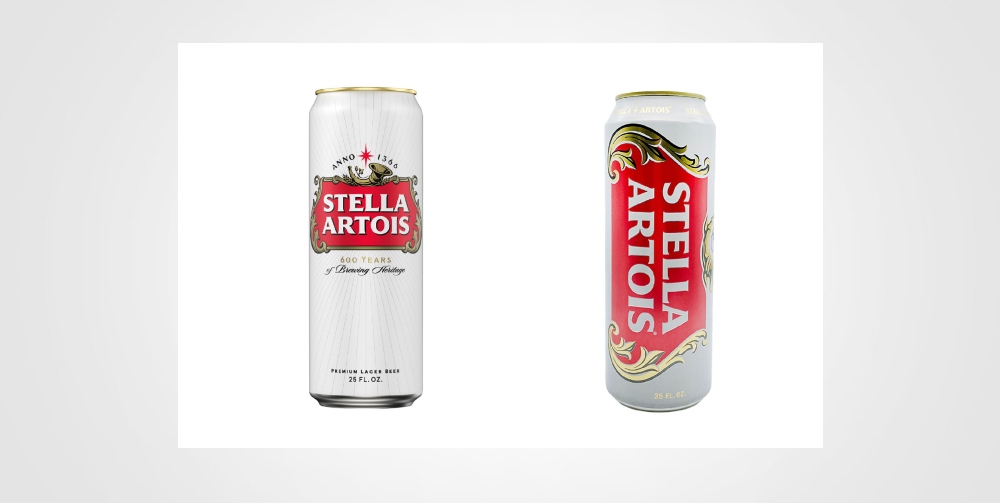 Credit to Under Consideration
Illustrative elements
One of the most iconic parts of the Stella Artois logo is the illustrative elements which are particularly visible (here's that fancy word again) in the cartouche.
The great thing about the updated logo is the amount of space between the different visual elements so that nothing feels too busy. This aligns with the decision to simplify everything – again adding to the appeal of attracting a younger demographic.
The horn illustration has also been redrawn and appears to be more 'flat' and stripped back in comparison to the previous design. The brighter highlights also add a new lease of life into the logo and the finished result is much more clean.
There's a great sense of balance throughout the visuals from the lightweight illustrations, to the introduction of highlights. Ditching the frame at the top and bottom of the logo also helps everything feel more spacious and crisp.
One thing that we must review is the horizontal wordmark because it's quite uncommon. That said, it makes perfect sense and is a very clever design choice.
When you pour a can of Stella what do you do? Tip the can sideways! And then you're able to see the updated logo in all its glory. The updated logo is also bigger; a lot bigger.
Again, a clever move as it makes the brand name stick. It also looks very nice and despite the update, it fits seamlessly into the visual system.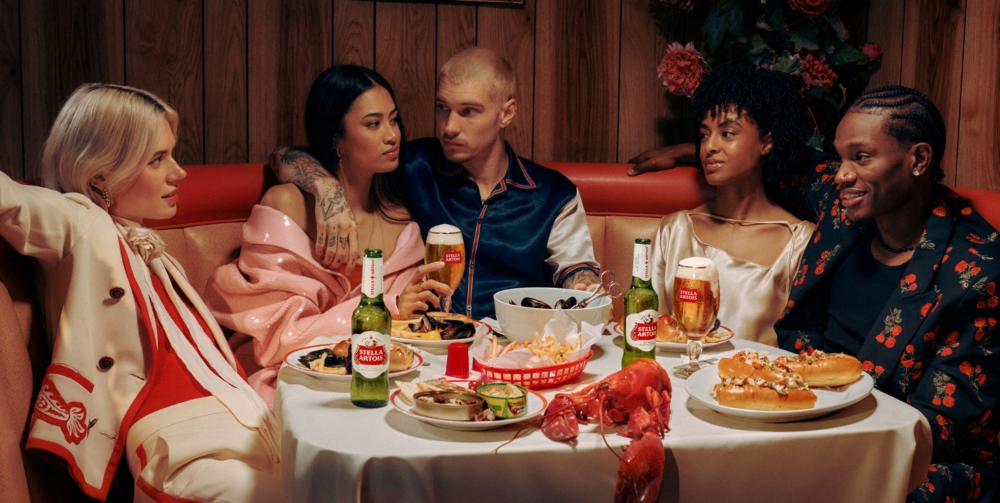 Credit to Under Consideration
Cool photography
If there's one part of the new brand world that encapsulates the aim to engage a younger audience, it's photography.
Taken by Cait Oppermann, it invites you to join a 'cool kids party' that seems to be taking place in a hip city somewhere.
Is it LA or London? We'll never know, but it's oozing cool and that's the whole point. It makes younger people want to be there; it makes them want to drink Stella.
The photography manages to capture the high/low dichotomy that the brand is aiming for without going overboard.
Star of the Show: The Stella Artois Rebrand
As the third most popular beer in the world, it's important that Stella Artois didn't divert too far away from their old branding whilst trying to pursue a new audience.
By retaining key elements of their old identity, i.e. the star, horn, cartouche etc but updating them to be more simplified, they've struck the perfect balance between retaining brand equity and appealing to a new demographic.
Subtle changes such as dropping the frame above and below the logo makes a big difference visually, and makes the overall aesthetic much more crisp.
What are thoughts on the updated branding for Stella Artois? Will you be reaching for a cold can soon?
At Canny we love diving into rebranding projects to analyse what worked and what didn't. We've helped clients across the globe to transform their branding and we can do the same for you. Get in touch to find out more.